The Czech Barista Championship 2015 took place on the last weekend of January in Prague's Jatka78, a newly open theatre for the genre of contemporary circus. Even though baristas were not using any acrobatic tools their performances were truly remarkable. The event itself brought together 29 top baristas from all over the Czech Republic to compete in two separate categories. Let us share with you what six finalists of the main category prepared for the judges and the audience!

6th Place
Tereza Benešová (Gill's Espresso Bar, Brno, the Czech Republic)
Tereza chose Ethiopian Yirgacheffe Adado (washed) roasted by Gill's Coffee in Brno, the Czech Republic. It has herbal characteristics with notes of white peaches, white grapes and apricots.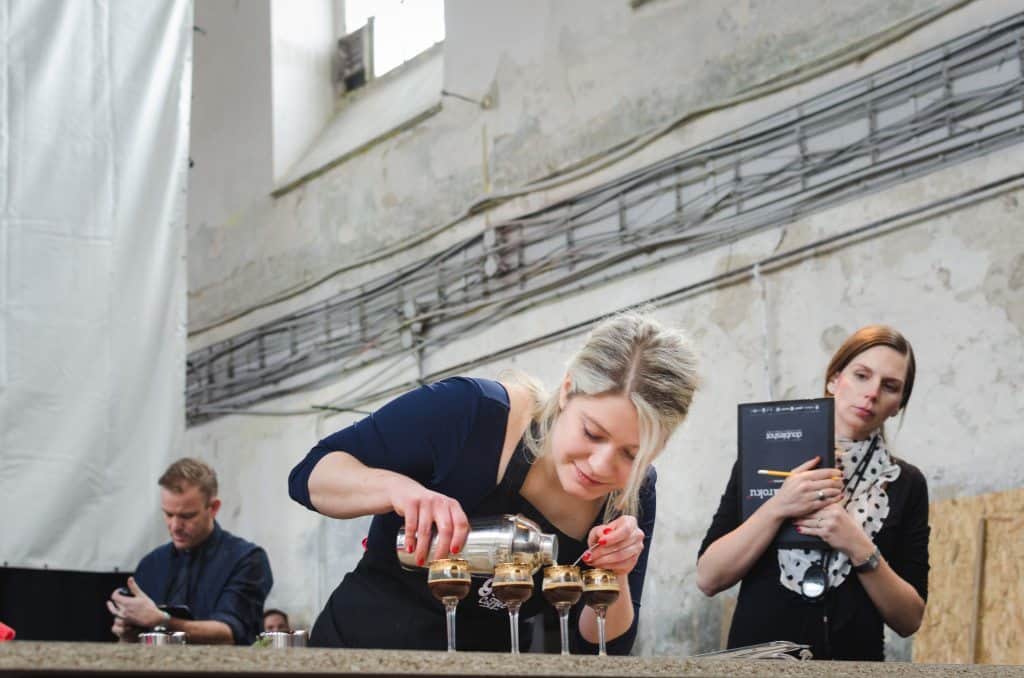 For her signature drink she prepared homemade cherry marmalade to support sweetness of the coffee. Glasses were first wiped out with a fresh leaf of thyme in order to emphasise the coffee's herbal aromatics. A thin top layer of cream was used to soften and balance the drink. Watch Tereza's performance online.
5th Place
Tereza Tóthová (Naše Café, Olomouc, the Czech Republic)
Tereza competed with Ethiopian Yirgacheffe Kochere (natural) roasted by Gill's Coffee in Brno, the Czech Republic. She has been in love with this coffee region for quite some time and there were no doubts about her choosing its coffee for the competition. She spends her mornings drinking filtered coffee on a farm in South Wales and what she likes about this coffee in particular is its versatility as it can be used for both filter coffee and espresso.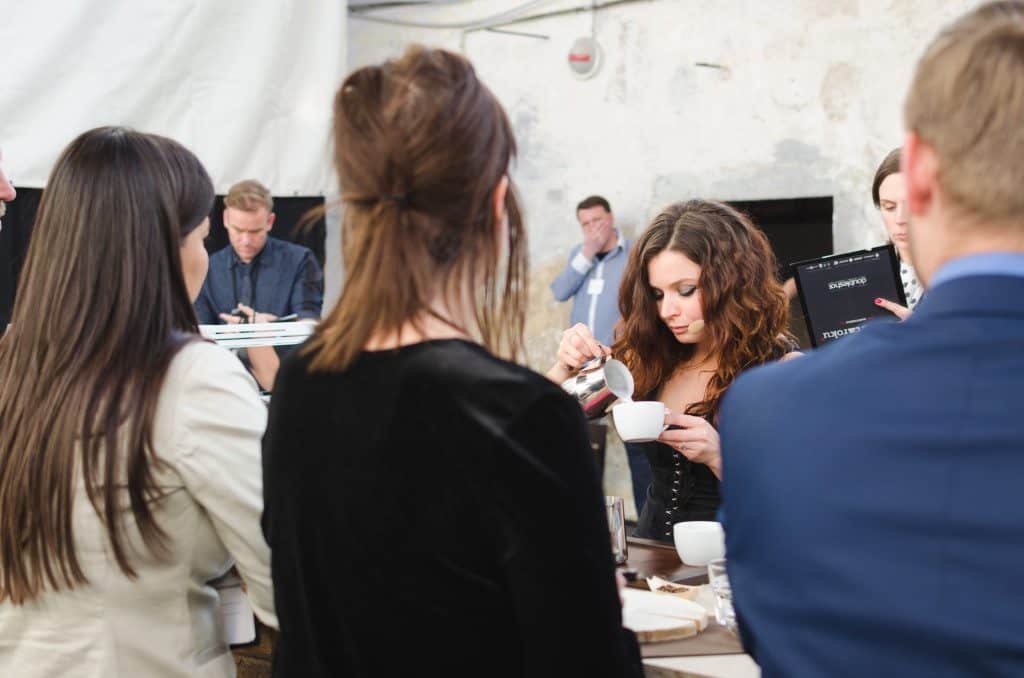 Tereza's signature drink was prepared with a 12 hours cold brew from coffee and from the mixture of strawberries, forest fruit and fruit tea. Cold brewed coffee reminded her of alcohol – whisky or rum pralines – and by adding shots of espresso she created a very juicy mixture.  It was like a fresh morning juice for her. Watch Tereza's performance online. Watch Tereza's performance online.
4th Place
Karolína Kumštová (Nude Coffee Roasters, London, the UK)
Karolina chose single origin Guatemalan La Joya (30% caturra and 70% red bourbon) roasted by Nude Coffee Roasters in London, the UK. This coffee has got heavy floral aromatics of jasmine blossom, silky body and a lingering cocoa nibs finish. It is very balanced coffee of high quality, which makes it easier to work with.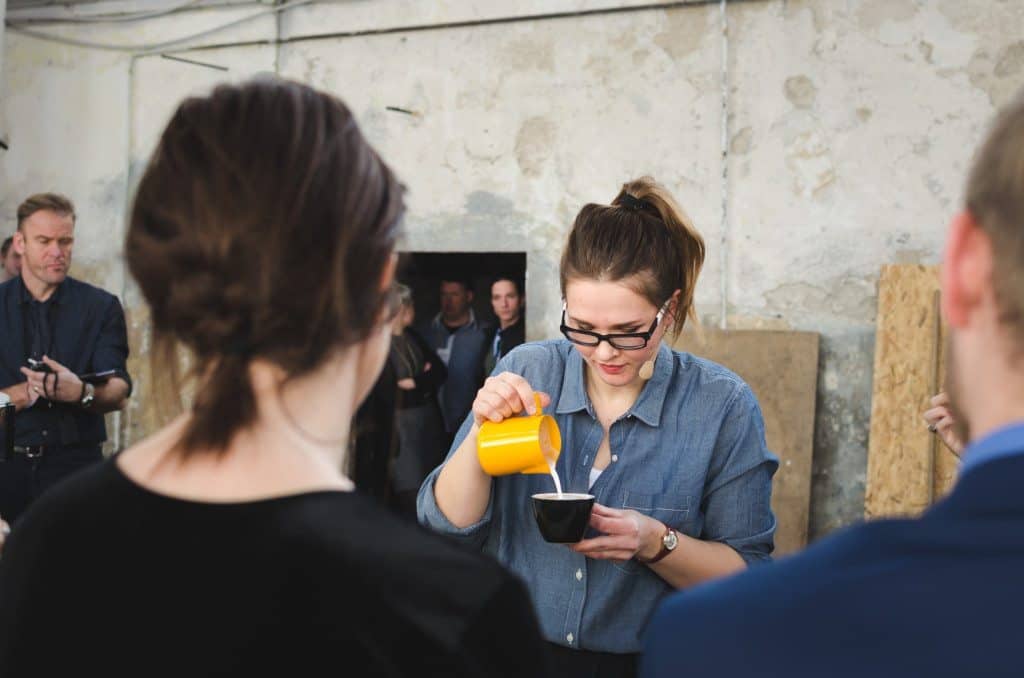 While preparing for the competition, over the weekend when the shop gets pretty busy, she would forgot to taste her espressos straight away. When she figured it out later on and gave a cold coffee try it was stunning. This made her think of using cooled coffees in her presentation. For the signature drink, she used an infusion of jasmine blossom and espresso infused with cocoa nibs from Madagascar. She wanted to create a drink that can be used as a summer drink, as the cooled espresso created a bridge between espresso brewing and cold brewed coffees. Watch Karolina's performance online.
3rd Place
Jakub Hartl (La Boheme Café, Prague, the Czech Republic)
Jakub chose coffee from Burundi, Kayanza region, that made it all the way to the final table of Cup of Excellence 2014 (scoring over 90 points). It's a nice, elegant and balanced coffee to work with.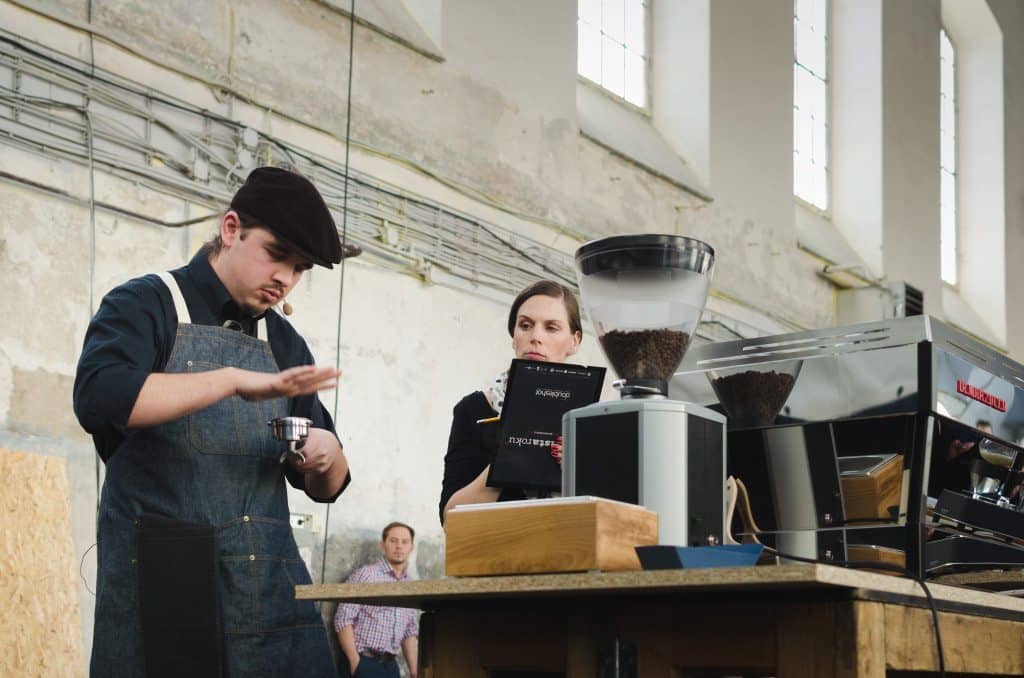 For a signature drink, Jakub wanted to take the judges to the coffee farm in Burundi. If you order a coffee there, it will be most likely served in an old tea cup due to which you can experience mixed coffee and tea flavours and aromas. In order to re-create this, Jakub slowly brewed black tea from Rwanda together with crushed almonds from Florida in a Vaccum Pot and added espresso shots then. Watch Jakub's performance online.
2nd Place
Ondřej Hurtík (Alza Café, Prague, the Czech Republic)
The main theme for Ondřej's presentation was blending. Even though there is a trend of preferring single origins over blends in a speciality coffee industry, Ondrej figured out recently that if you have two nice coffees, by blending them together, you can get a taste profile that does not exist anywhere else. He used coffees from Brasil, from a farm run by Joao Hamilton, roasted by Doubleshot Roasters in Prague, the Czech Republic. Both coffees are naturally processed and two varieties used are yellow catuai and obata.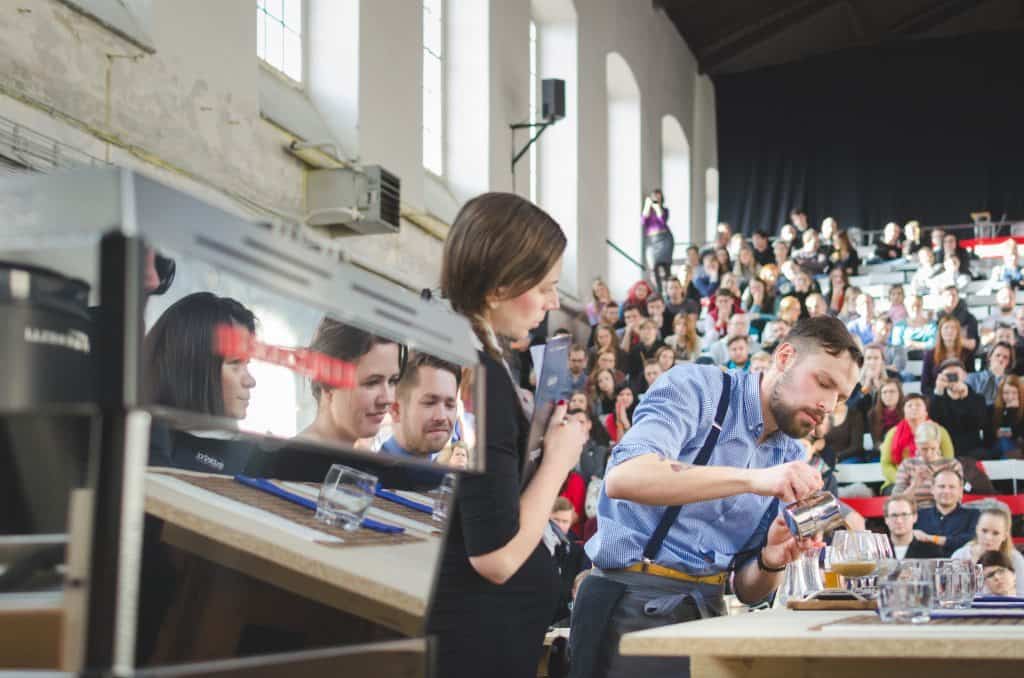 Ondrej was experimenting with blending ratios and ended up using 60% of yellow catuai and 40% obata. Blending has its importance also in cappuccinos as the blend of Czech and English milk was used. The Czech one for its sweetness, and the English one for its creaminess. Signature drink consisted of cooled espressos mixed with homemade nuts milk to emphasise sweetness and thickness of yellow catuai and canned apricot to support lightness and apricot notes of obata. Watch Ondřej's performance online.
1st Place
Adam Neubauer (EMA Espresso Bar, Prague, the Czech Republic)
Adam chose to compete with two coffees from Ethiopia roasted by Square Mile Coffee Roasters, London. First was Ethiopia Sidamo (washed) that makes a well balanced espresso. Second was Ethiopia Yirgacheffe (natural) that is more aromatic with heavy body to work well with milk in a cappuccino.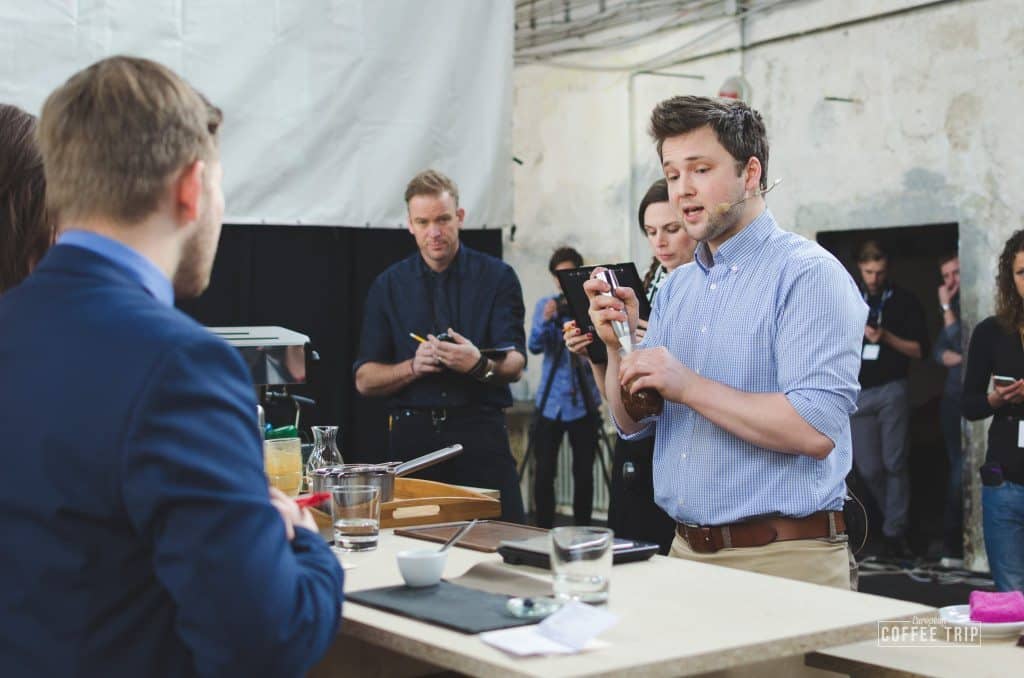 The signature drink has its base in four espressos from washed Ethiopian coffee with three additional ingredients. First ingredient is the middle part of the espresso extraction of the naturally processed Ethiopian coffee that contains mainly high sweetness as Adam got rid of the initial acidic part of the extraction as well as of the bitter notes that come towards the end of the extraction. Second ingredient is chocolate oil made out of sunflower oil and 60% chocolate. Last ingredient is a fresh blueberry to emphasise the fruitiness of the signature drink. Judges were instructed to take a sip of the drink, eat the blueberry and take another sip then. Watch Adam's performance online.