Thanks to the well-reported involvement of Finnish F1 driver Valtteri Bottas with Kahiwa Coffee Roasters in Lahti, we knew there were some specialty coffee geeks within the racing car community. It was only when we saw photos from the F1 Dutch Grand Prix in October 2023, with the world-class coffee bar setup and 5 Dutch Barista Champions serving coffee at Founders Lounge, that we thought this was getting pretty interesting!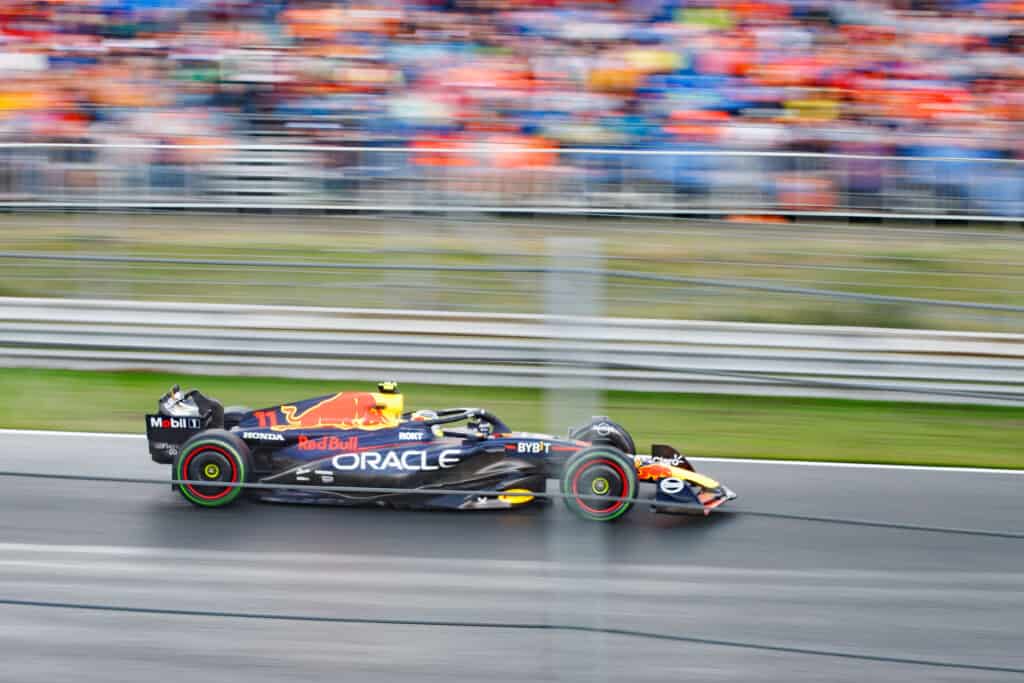 The idea of sipping an award-winning coffee sourced from top farms around the globe while watching racing cars passing by at over 300km/h speed was intriguing. We contacted Thomas Verheij of Coffee Crafters to learn more details about their involvement with the Dutch Grand Prix that brought Formula 1 back to The Netherlands after the 35-year pause.
We learned that Coffee Crafters is a company founded by Yakup Aydin that is setting up specialty coffee bars in big office environments with 300+ people. However, their passion lies in bringing high-end coffee bars to special events. "We do it out of our love for the product and hospitality. How wonderful it is when something magical happens with a product where you least expect it," explains Thomas Verheij who is involved with Coffee Crafters from the very beginning.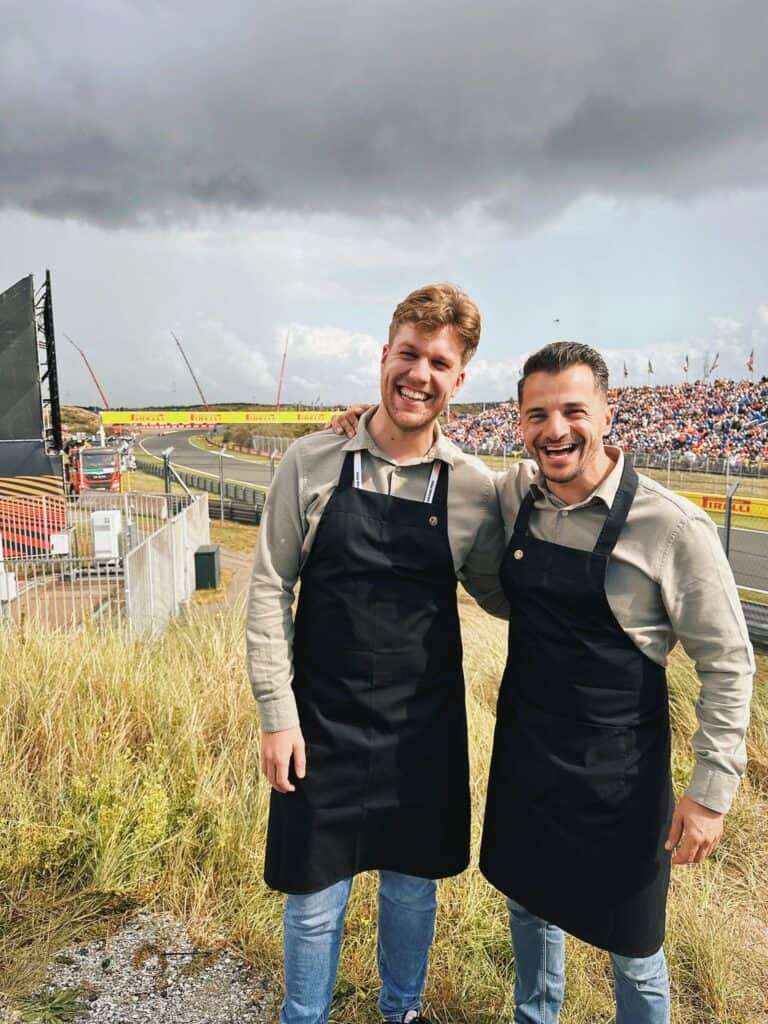 Thomas shared they run through over 40 kilos during the 3 days event, serving 500 to 600 people every day. Let's get into more details about their coffee operation at 2023 Dutch Grand Prix.
Thomas, tell me about a coffee bar you created for the F1 Dutch Grand Prix?
We used almost all the equipment we have, just to make it as awesome as possible but also to streamline the workflow and avoid surprises. We've had unique bars custom-made by a good friend. They allow us to work seamlessly, and they look fantastic too.
Literally, every detail has been thought of, from cable channels to the right connections in each bar, the best-integrated refrigerators, and even our own nitro bar. Trash cans are placed in the right spots, so you don't have to reach far, and so on.
Let's start with the front bar:
First, the "cash register system", people don't have to pay, but so we can work with tickets, and we have the place to introduce the menu to people and explain.
Right beside that, we put glasses prepared with high-quality loose leaf tea.
2x Mahlkonig E65 grinders, equipped with an Acaia scale.
Marco tea tap with 3 settings (2 temperatures for the tea, and 1 button for the Americano).
A built-in Mod Bar with 2 groups, scales and 1 steaming unit.
A "latte art bar" with all the ceramic cups and saucers to finish the drinks in front of people.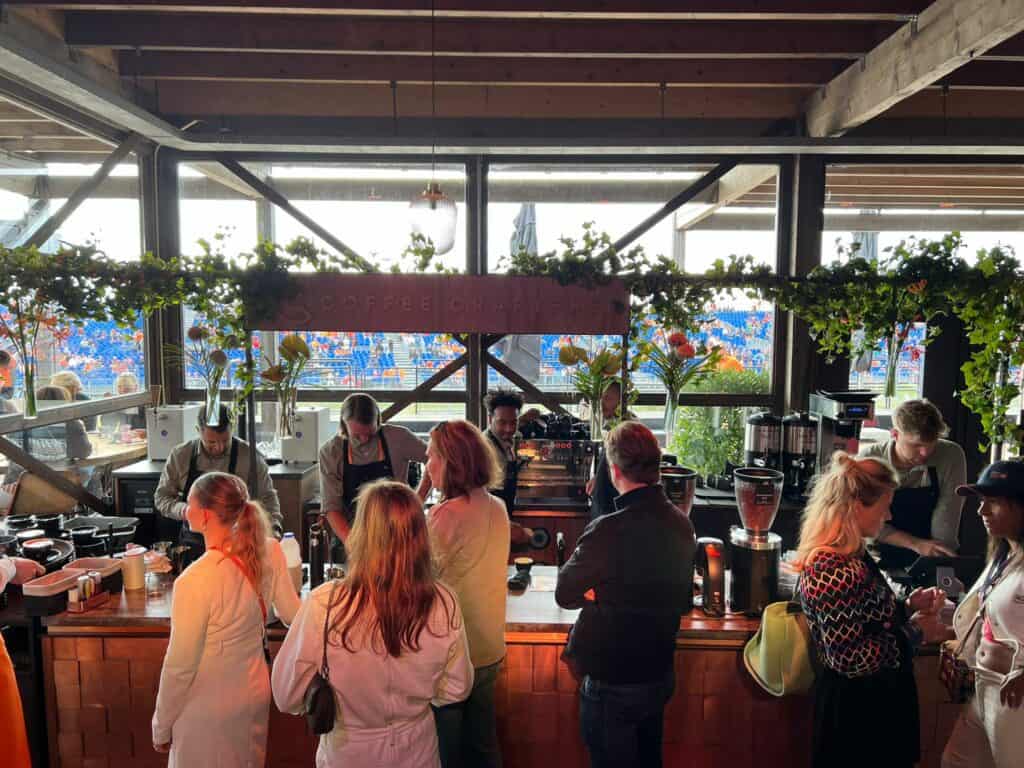 Now, let's move to the back bar:
Bunn Batch brewer, which continuously offers 2 different batches for customers to choose from.
EK43 grinder with filter SSP burrs aligned by Titus.
Niche Zero grinder for the decaf coffee, with pre-weighed jars ready to go.
2-group La Marzocco Linea PB with scales as a backup espresso machine and for private collection espresso menu.
Weber Workshop EG-1 grinder for the private collection offer.
Pour-over kits for the private collection menu (Fellow Stagg kettle, servers, Orea, V60, Kalita, and more).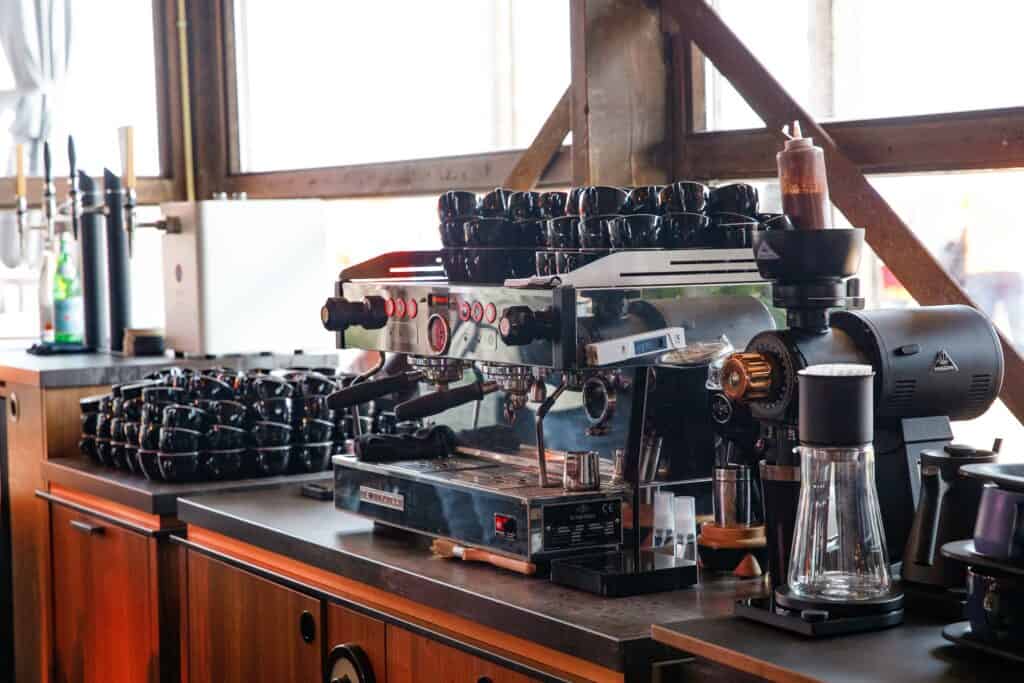 Finally, we have our Nitro bar, which includes 2 built-in nitro taps and 2 Tone Swiss nitro taps. So, four cool drinks are available.
Given the elaborate coffee bar setup, what coffee drinks were on the menu?
For the standard coffee drink menu, guests could choose between our "Comfort" coffee of the day or the "Exotic" coffee of the day, both for espresso-based and batch brew.
Comfort was always a people-pleaser, often featuring notes of chocolate, nuts, and more. If guests opt for the Exotic, they could expect something more exciting, ranging from a washed Kenya with hints of bergamot, rhubarb, and lime to a Colombian coffee that tastes like peach, milky oolong, and mango.
Example of exotic coffee served by Coffee Crafters:
Tiki Punch, Colombia, SL28, Natural, roasted by Friedhats
Kabira, Ethiopia, Heirloom, Natural, roasted by Sprout Coffee Roasters
Intego, Rwanda, Red Bourbon, Natural, roasted by Ripsnorter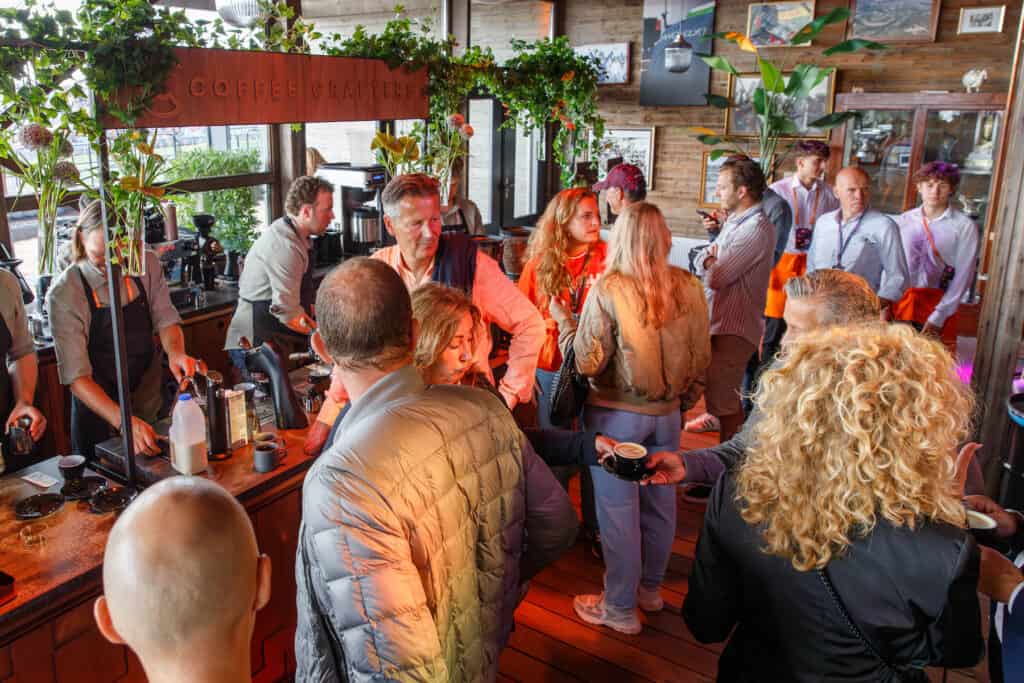 In addition to all regular coffee beverages and tea, we had 4 different cold beverages on tap:
Espresso Martini (Nitro),
Passion Punch (0% Alcohol Pornstar Martini),
Smoky Guava Iced Nitro Tea.
You mentioned the private collection menu – what was it about?
This menu is for people who have some knowledge of speciality coffee already. We want to allow these people to taste the most incredible coffees from all over the world. Only once a year, during this special event. Think of it as the wine cellar in a restaurant.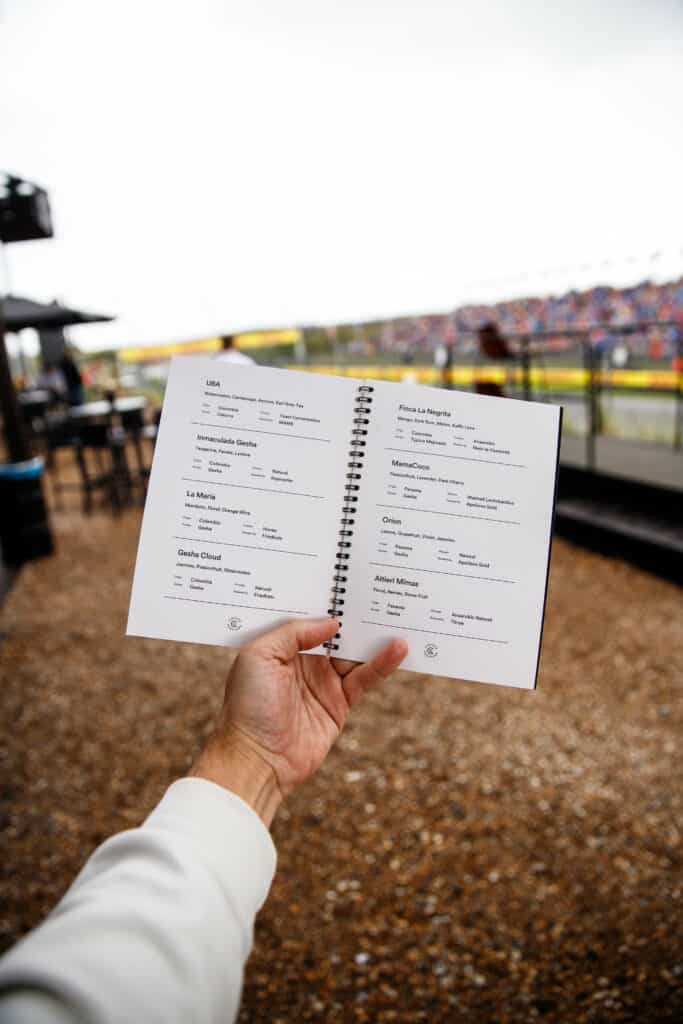 We selected these coffees ourselves, and this menu featured 16 amazing coffees roasted by the best worldwide. For instance, this menu included coffee that Daniele Ricci used to become second at the World Barista Championship 2023, coffee from a Japanese roastery Apollon's Gold whose filter coffees we consider among the best roasted, or a selection from Substance Coffee in Paris and amazing Gesha Village auction lots roasted by Friedhats in Amsterdam.
What you can choose from this menu is exceptional, and you won't easily find it anywhere else, let alone at the event!
How did you feel brewing & serving coffee at the Formula 1 event?
It feels like performing a World Barista Championship for 8 hours straight with a team of 5 behind the bar, offering everything. Everyone is so in sync, and the hospitality we provide to the guests, continuously informing them about the product, feels amazing. No guest leaves without a smile on their face. Everyone working here feels the same way – we just want to make people happy, and this is our way of doing it.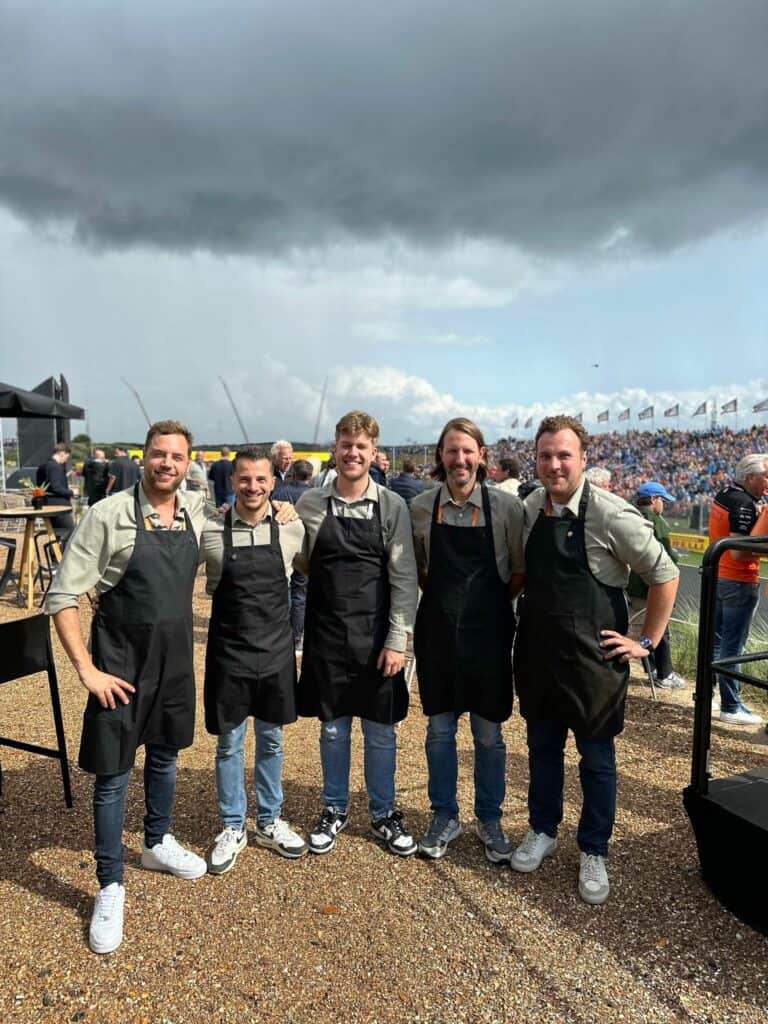 As baristas, we're working in heaven with all the equipment we need, so it doesn't even feel like work. In the team, there are 5 Dutch Barista Champions, but those who work around them in the Coffee Crafters team are just as exceptional. As mentioned before, everyone works with the same passion and hospitality in their blood.
Did you have a chance to serve coffee to any F1 driver?
In addition to serving coffee in the Founders' Lounge during the F1 in Zandvoort, we also do so in the Dutch Grand Prix trailer. There, two of our baristas serve coffee with a slightly less elaborate setup but still according to the same standards.
This trailer is located near the motorhomes of all the Formula 1 teams, so drivers, mechanics, and other team members can get coffee there. The word has it that most teams have an "espresso corner" in their motorhomes, but in Zandvoort, they prefer to get coffee from the Dutch Grand Prix Trailer because we serve such delicious cups of coffee there.
/ This interview has been edited for length and clarity