When we don't drink our morning cappuccino or a filter coffee brewed at our offices, we like to treat ourselves and sometimes enjoy one or two coffee cocktails. Preparation of some of them might require some special skills or equipment, and some are also fun to watch. This time, we explored the mixology of Espresso Martini and Coffee Negroni with two baristas in Brno, the Czech Republic: Klara Pospisilova and Monika Cenkova.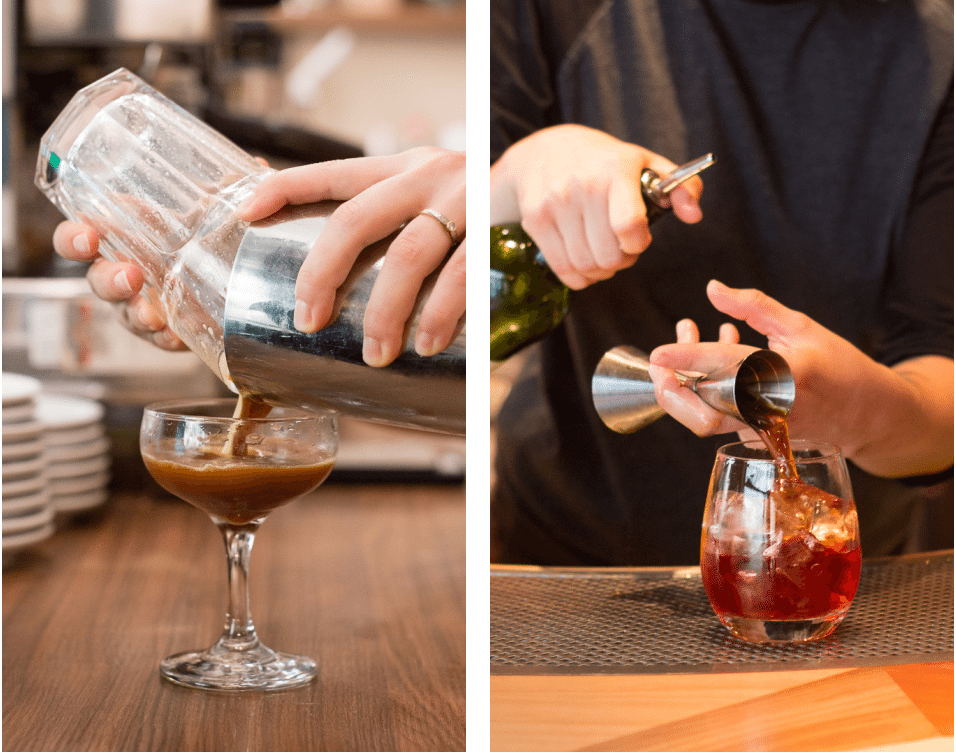 Klara works at Coffee Fusion and was our hands in the experiment with a new ingredient that we were offered to try, Belsazar Vermouth. Monika, a barista and bartender at 4pokoje, used the same ingredient then to twist her cocktail Coffee Negroni. She is definitely the person to ask for a piece of advice since she placed second at the Czech Coffee in Good Spirits Championship 2017.
How to prepare Espresso Martini
Originally, Martinis are based on gin or vermouth, the Espresso Martinis then evolved into vodka-based cocktails, with espresso, coffee liqueur and sugar as other ingredients. The variations are numerous, but instead of comparing them, we tried a different one! You can prepare this Espresso Martini with the Belsazar Vermouth.
Espresso Martini recipe:
6 cl Belsazar Vermouth Red
4 cl Espresso (Ethiopian Duromina, Doubleshot)
1 cl Agave Syrup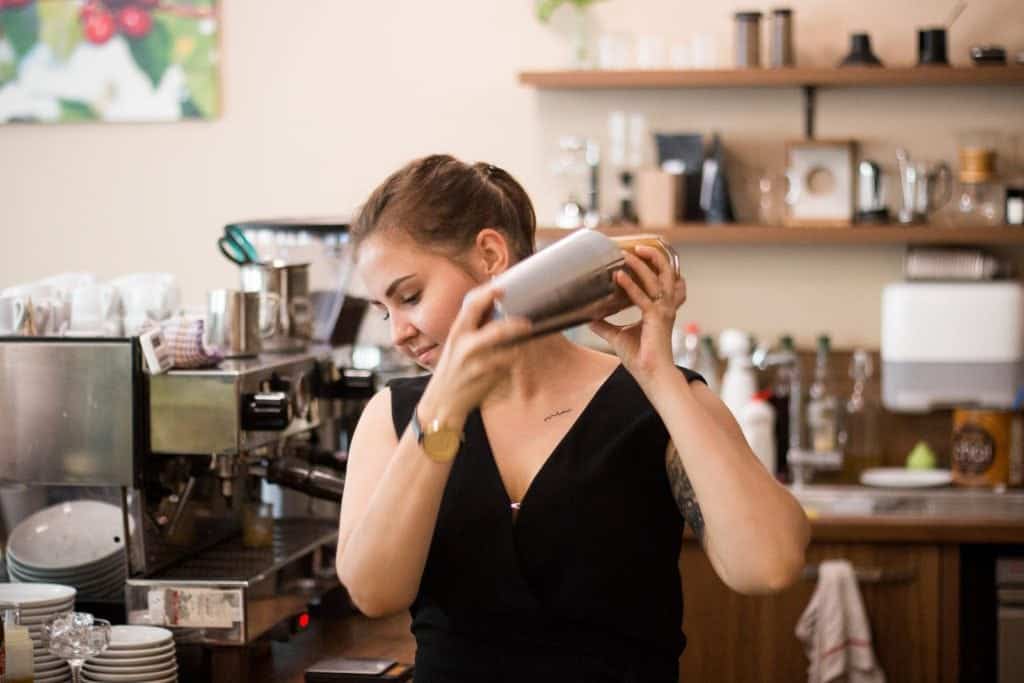 Combine all ingredients in a shaker, top off with ice cubes and shake vigorously. Pour into a chilled glass and serve with a coffee bean on top.
We tried it at Coffee Fusion. Klara mixed it like a pro and we can confirm it was the strongest breakfast we have been served by her. Refreshing, yet sweet kick for the day. We walked it to the office then!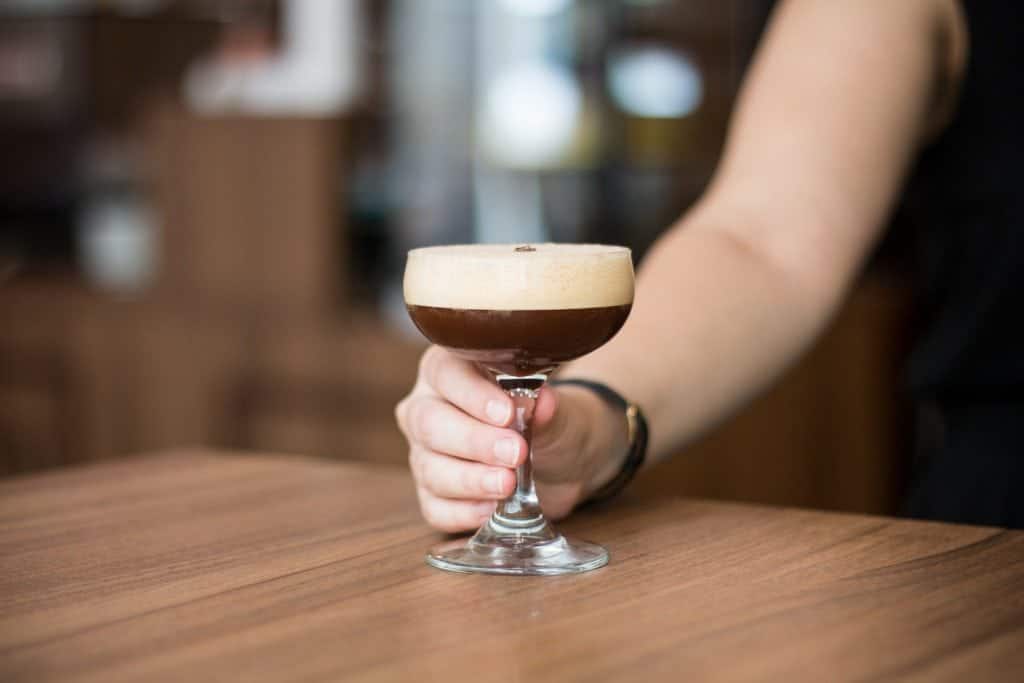 How to prepare Coffee Negroni
On our way, we stopped by at 4pokoje, where Monika Cenkova prepared a Coffee Negroni for us, this time altering it with the use of Belsazar Vermouth that we brought for her to try, to experiment with new flavours. At 4pokoje, they are quite bold with their coffee cocktails and prepare their own Espresso Martini recipe as well.
Coffee Negroni recipe:
30 ml Belsazar Vermouth Red
30 ml Campari
40 ml Cold brew (Ein Berliner blend, Rebelbean)
And how did it turn out? Radek, our main man behind the camera, described it as a sweet Negroni, with the vermouth giving it quite a sweet taste, slightly covering the usual bitterness of a Coffee Negroni, with a mellow fruity twist. "It was certainly an interesting twist on a Coffee Negroni for me," he said. We bet that breakfast like this is worth the experiment!
It is up to you now, to try this alternation at home! You can definitely prepare it yourself. Everything for this coffee cocktail can be bought or done at home and you don't even need a coffee machine!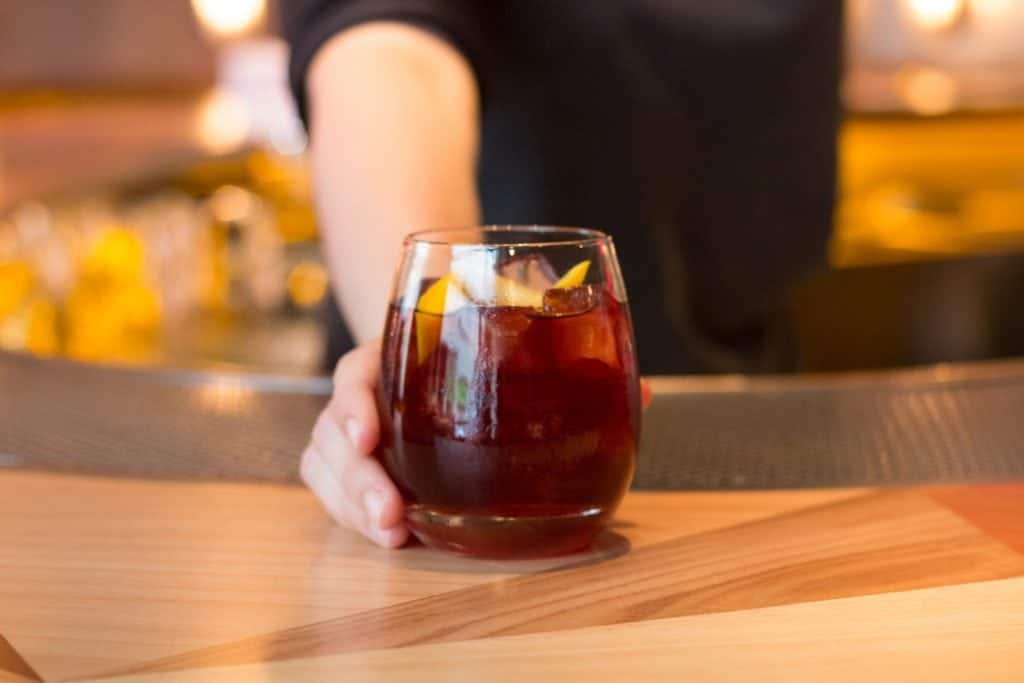 Happy experimenting. This post was supported by Belsazar Vermouth, thank you!