Coffee in Good Spirits is a coffee-brewing championship category that requires a lot of skills from both the world of coffee and alcohol. We always enjoy watching the baristas-bartenders present their drinks and learn about the flavours that they were able to bring out brewing their coffees and using the art of mixology.
Deconstructed, the Coffee in Good Spirits cocktails are a list of delicious alcohols and speciality coffees, as well as other ingredients and varnish, but put together, they are something else, beautiful creations.
Dan Fellows, the 2018 World Coffee in Good Spirits Champion, brought a wonderful presentation to the competition stage. Having watched it multiple times we wished we could taste his cocktails. Dan was so kind as to share his recipes and the story that is connected to his two drinks; an original recipe, and a modern adaptation on the classic Irish Coffee.
Get inspired for your own cocktail preparation!
Dan, can you tell us about your 2018 winning presentation in Coffee in Good Spirits championship? What was the inspiration for your drinks?
The overarching inspiration behind all of my drinks was to focus on the outstanding producers, ingredients and flavours that I am fortunate to work closely with, from around the world. In the finals, I served a warm designer beverage called 'A Message from El Salvador' and a 'Caribbean Irish Coffee'.
A Message from El Salvador
For 'A Message from El Salvador', I celebrated the amazing producers in El Salvador who I am fortunate enough to work with. The coffee came from Carlos and Patricia Pola and the team at Finca San Antonio. I selected the semi-washed Red Pacamara and paired this with an El Salvadorian rum called Ron Cihuatan. The sugarcane for this rum is grown by the Pacas family and Alfredo Pacas also kindly supplied me with molasses from the same sugarcane as a perfect source of rich sweetness. I added complementary ingredients such as an El Salvadorian cascara-infused Gouveia cachaca, Pedro Ximenez and a spiced butter mix to create a warming winter cocktail with comforting flavours of Christmas pudding, brandy butter and dark chocolate orange. The drink was served with personal, handwritten postcards with messages from the Pola family and Alfredo Pacas for the judges.
A Message from El Salvador
*Makes two serves
Finca San Antonio, Red Pacamara (semi-washed), El Salvador
Double espresso: Dose: 21g | Yield: 50g | Time: 30-32 seconds
30ml Ron de El Salvador Cihuatán, aged 12 years
10ml Salted molasses syrup
20ml Bodegas Hidalgo Pedro Ximenez
60ml Spiced butter mix
1g vanilla, 2 cloves, 1 cinnamon stick, 3g orange zest, 15g butter, 50ml 94°C water
Method
Combine all ingredients except spiced butter mix and warm to 55°C using a sous-vide or pan and thermometer.
Combine spiced butter mix in a jar, shake well, and immediately strain into other ingredients once emulsified.
Stir to mix ingredients and serve in warmed coupe glasses.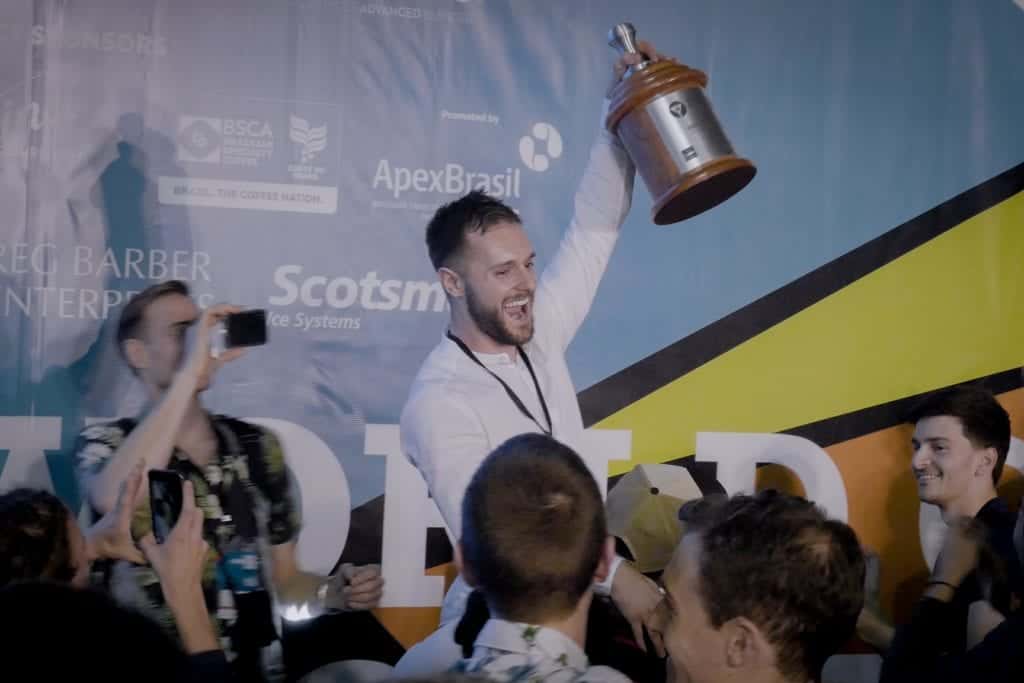 'Caribbean Irish Coffee'
My 'Caribbean Irish Coffee' celebrated the amazing tropical flavours of the Caribbean, using some world-class ingredients. I brewed the amazing naturally-processed Yellow Pacamara from The Mierisch Family at Finca La Huella in Nicaragua through a Clever Dripper, to build a tropical flavour base of passionfruit and pineapple.
Method
I then created a blend of three Speyside whiskies which contributed to the tropical flavour profile. I blended Glenfiddich 21yo Reserva Rum Finish, The Balvenie 14yo Caribbean Cask and Chivas Regal 12yo blended Scotch and complemented these with both Caribbean light muscovado sugar syrup and coconut palm sugar syrup. The drink was finished with double cream from The Estate Dairy which I transported across the world due to its amazing quality and texture. The drink had flavours of vanilla cream and butterscotch in the first sip, followed by tropical notes of caramelised mango and pineapple, dried banana and spiced dark rum.
Thank you, Dan, for sharing your innovative recipes with our readers!