In order to successfully navigate social-distancing and lockdown measures, the events, bartending and speciality coffee industries have all had to get a little bit creative. In case you haven't heard already, 2020 has been a year completely dominated by a global pandemic.
But, we've proven to be a resilient bunch – things may be different, but we can still celebrate creativity, artistry and, most importantly, absolutely sensational drinks.
The team at Licor43 successfully transformed the running of their hugely popular global competition, so that this year, the Bartenders & Baristas challenge was back, virtual and as popular as ever.
Even though the competition was held online via social media and the Licor43 website, It was clear that the speciality drinks community still stood in solidarity.
Why the pairing of Licor43 and coffee?
Licor43 is a premium Spanish liquor, made using a blend of 43 natural ingredients, in strict accordance with a closely guarded 70-year-old family recipe. This decadent drink (which boasts the title of the world's fastest-growing premium liquor) and quality coffee share a number of complementary tasting notes.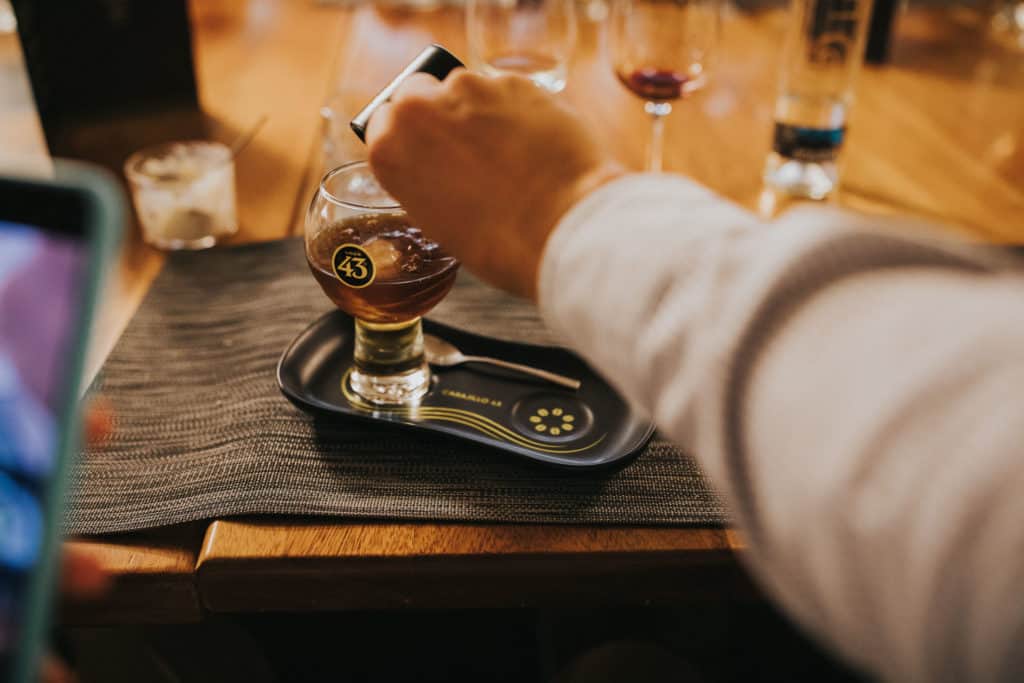 In this fourth edition of the competition – which celebrates the sensational array of combinations that can be made with Licor43 and coffee – over 300 entries were submitted from across the globe.
This dedicated coffee cocktail competition sought out the world's most creative cocktail conjurers, testing entrants on their flair, coffee knowledge, spirit mixing and the thought process that they put into their creations.
There are exceptional baristas and there are magnificent bartenders, but few can boast the claim of both.
How was the competition made lockdown-friendly?
This year, the challenge went virtual. So, things had to be done a little differently. To enter, contestants had to submit a cocktail recipe (that contained both coffee and Licor43) with a video of themselves making the drink and explaining the story behind it.
After the national competitions (which narrowed down the entrants to one representative from each country), eight finalists were chosen from eight different countries, with an additional finalist coming from the European Bartending School.
This year's panel of judges were Simon Difford (known for his namesake Difford's Guide website), Merijn Gijsbers (International Barista Champion, trainer and consultant, and Alpro's own in-house barista), and Timon Kaufmann (Germany's "Coffee In Good Spirits" Champion). 
The job of the judges was to watch all of the entrants' videos, recreate the drinks and taste them from their own homes – as you can see, this year was a pretty unusual year to be a judge.
The winning coffee cocktail: Deja Brew
After narrowing down these decadent coffee cocktails (doesn't sound like the worst job in the world), the judges declared that the Barista & Bartender Challenge 2020 winner was Annarose Krone.
Annarose entered from Nic's on Beverly bar in Los Angeles, America. Her winning cocktail, named 'Deja Brew', was a clean combination of Licor43 and dark roast espresso, with blended scotch, chocolate bitters and raspberries, served in an elegant coupe glass.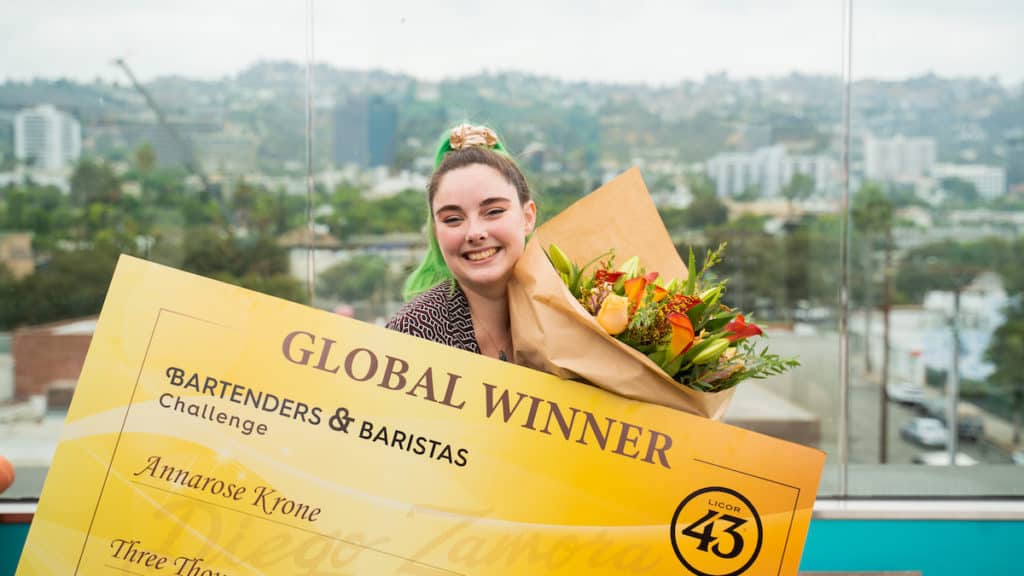 Timon praised the cocktail as a "nice combination of aromas. Really nice presentation and clean drink garnish". The judges also said that they liked the way in which this recipe used easy-to-source ingredients, allowed the coffee to shine, and that it came with a clear origin story.
So why 'Deja Brew'? Annarose came up with the name for her cocktail from her position as a brunch shift worker. Although it's probably the least popular shift for a bartender, she grew to love the brunch period. Naturally, espresso plays a key role in morning cocktails and, as Annarose put it: 'on some of those more mundane days, where things are getting a little too repetitive and déjà vu starts kicking in, I like to throw a few other things into my espresso.'
The winner of the public vote: Fusion 43
Second and third place were taken by Aidan Jordan Tibbins (from Kore Bar in the UK, representing the European Bartending School) with "Bean There Licor That", and Berenice Morales (from Hotel St Regis in Mexico City). Although her cocktail "Fusion 43" took third spot, this super creamy, tropical blend of espresso and Licor43 with yogurt, coconut liquor and nutmeg earned Berenice the online public vote.
This year, 5 out of the 9 finalists, and the winners of both the premier and the public vote titles, were women. This represented a fantastic development from the typically male-dominated bar and coffee industries.
Deja Brew coffee cocktail recipe
Below, you'll find the recipe for Annarose's winning coffee cocktail, Deja Brew.
Ingredients:
Licor43, 20 ml
Blended scotch, 45 ml
Chocolate bitters, 2 dashes
Dark-roast espresso, 30 ml (Annarose used Groundwork Bitches Brew)
Raspberries, 3
Method:
Add all the ingredients to the cocktail shaker. Make sure that your espresso is freshly brewed.
Dry shake the cocktail (do not add any ice).
Then add ice into the shaker, and shake again – this time long and hard.
Double/fine strain the cocktail into a chilled coupe glass.
Add the raspberries onto a skewer. Gently rest the skewer on top of the cocktail's pillow-like crema. Serve immediately.
Coffee preparation details:
Groundwork Coffee's organic roast: 17g
Liquid produced: 30 ml
Water temperature: 90-96°C
Extraction time: 25 seconds
Amount of pours: 2
Just because things aren't what they normally would be right now, that doesn't mean that we have to put a stop to the events that we've been looking forward to. We just need to think on our feet a bit.
A few months ago, we would have assumed that a cocktail making competition would have been made impossible, given the current circumstances. But, the team at Licor43 really managed to pull this one out of the bag, and provide coffee cocktail lovers across the globe with a much-needed reminder of the support, enthusiasm and vibrancy of the speciality community.
Disclaimer: Licor43 is an advertising partner of European Coffee Trip