The whole ECT team have seen the CoLab events travel to many diverse destinations. Bucharest, which hosted this biannual event by the Barista Guild of Europe, was a perfect example of a growing, enthusiastic scene and a proud coffee community to us.
The event, which took place 29th–31st May, could not be better timed as Bucharest in May is a holiday vacation. Located in the South, the city was blessed with the warmest of days, welcoming the attendees for many a stroll around the city.
CoLab is characteristic of its location
The goal of the CoLab events is to provide the local coffee community with an opportunity to present itself to an international audience, and in return, for the international visitors to discover as much as they can about the coffee shops and roasters of the hosting city. CoLab also gathers all the participants for a day of education touching on coffee-related topics, finding inspiration also in other food and beverage industries. Each event, therefore, becomes a hub for international coffee education and community gathering and is very much characterised by the city in which it takes place.
Although our team spent one full day of CoLab indoors, recording all three talks of the programme at ARCUB, an arts & events space in the city centre, we managed to pay a visit to some of the cafes and caught up with a few of the coffee professionals all around Bucharest. Karo, our editor, took it as an opportunity to collect the impressions that the coffee community of Bucharest had made on her.
The expectations of Bucharest's coffee scene
What had been my expectations of the Bucharest coffee scene prior to this visit? I had never been to Romania before and I could only imagine what the city and its cafes would look like. I did know of all the great coffee professionals who have represented the country in competitions such as Coffee in Good Spirits or Roasting Championships. I was expecting a fast-developing, competitive coffee scene.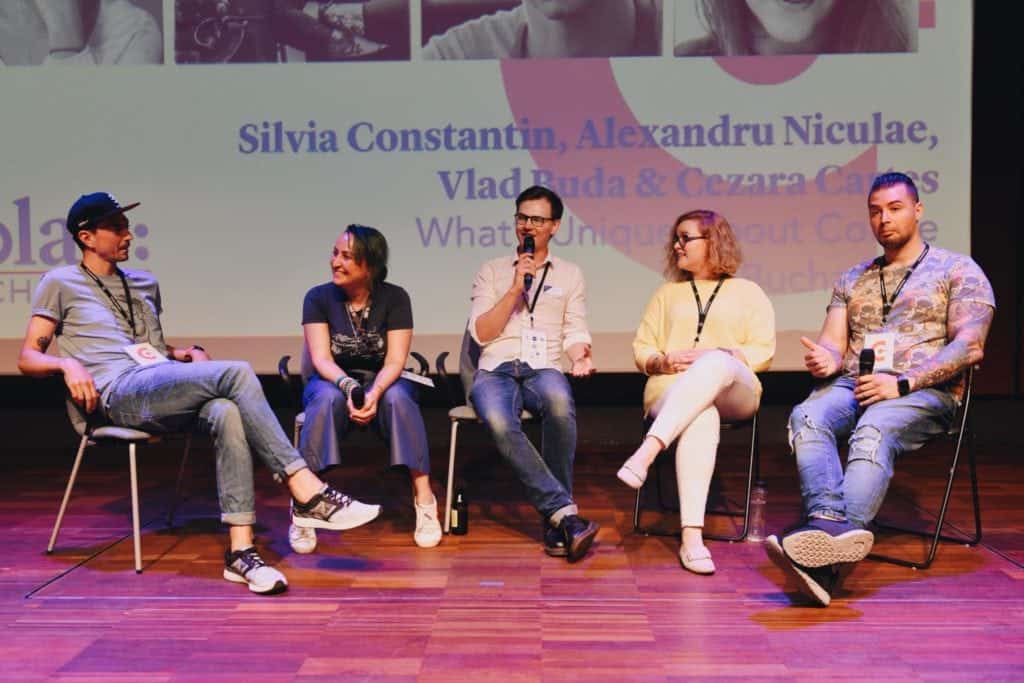 I was excited to meet Alexandru Niculae, the World Roasting Champion 2016, and taste his coffees in his shop. Also on my agenda were Cosmin Mihailov's latest projects: Bandit cafe, and his just-opened roastery shop Kira Coffee Roasters. Mostly, I wanted to taste locally and internationally roasted coffees from the hands of Bucharest baristas and learn about the progress of the scene from its most enthusiastic founding member, Silvia Constantin.
Bucharest's warm hospitality
The cafes I managed to visit were Bandit, Trofic, Bob Coffee Lab, Steam Coffee Shop, First Coffee, Moony, Beans & Dots and Origo. My immediate impression of the cafes was wonderful. Each and every cafe had a beautifully done interior, a unique style that made each shop a memorable experience on its own. Anyone who works on a bar would also appreciate the excitement of the baristas to present the range of drinks they serve and the interest the baristas seemed to have in their craft.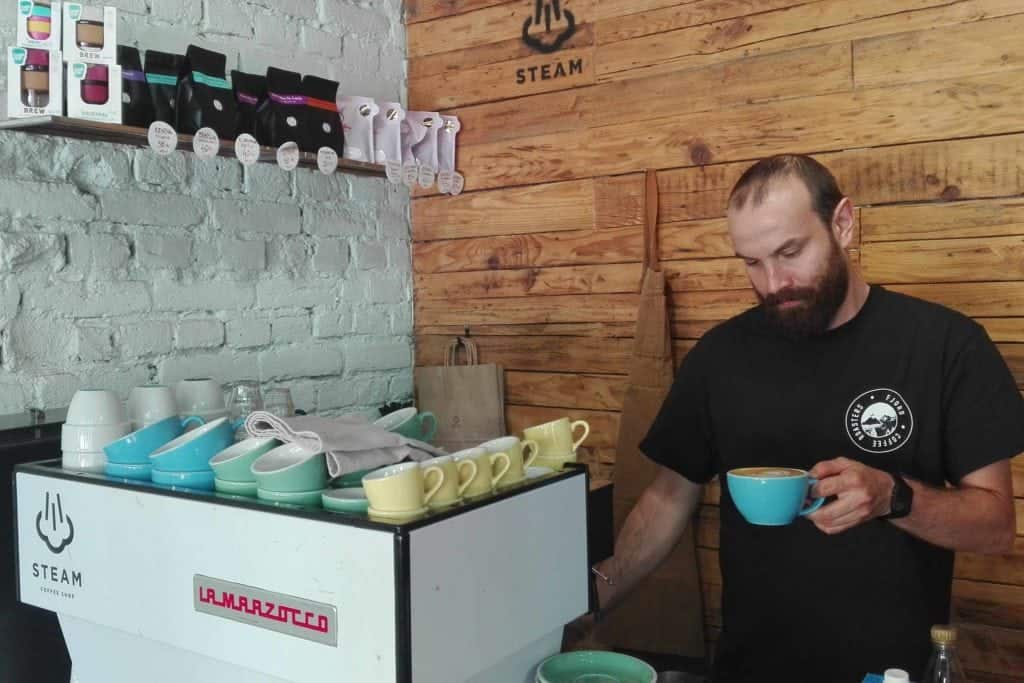 Silvia Constantin was very proud and touched to welcome CoLab in her city, as she has seen it grow since its beginnings some ten years ago, as well as Vlad Buda, the founder of Steam Coffee Shops, was. They had seen the scene develop and establish its international presence, Vlad as a competitor, winning the World Brewers Cup in 2012, or by, in the recent years, judging in coffee competitions internationally, and Silvia as the founder of the Romanian SCA chapter.
Coffee highlights of CoLab: Bucharest
Some of the highlights must have been Bob Coffee Lab's presentation of drinks inspired by the world of Coffee in Good Spirits. Paul Ungureanu, The CiGS champion of Romania 2014, 2015 & 2016, presented a line-up of caffeinated, non-alcoholic, as well as alcoholic cocktails made with cascara cold brew and home-made ingredients, making us all tipsy right from the late morning. Moony coffee showed us a great Romanian hospitality over the course of the BGE breakfast and made us wishfully thinking we could stay longer.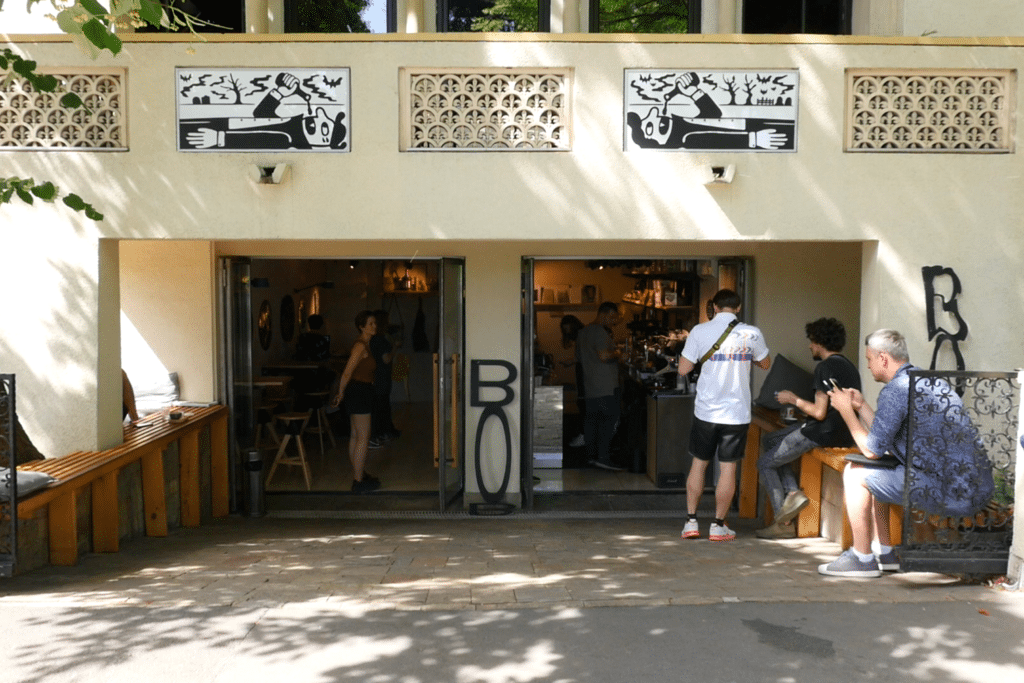 On the first day of CoLab, I joined an espresso-tasting session at Bandit, served with an explanation of their brew profiles, and later on that night, the cafe welcomed everyone for a latte art throwdown and beers. First Coffee was everyone's first stop in Bucharest and the first hello with the whole team running the Bucharest base, as well as the BGE group.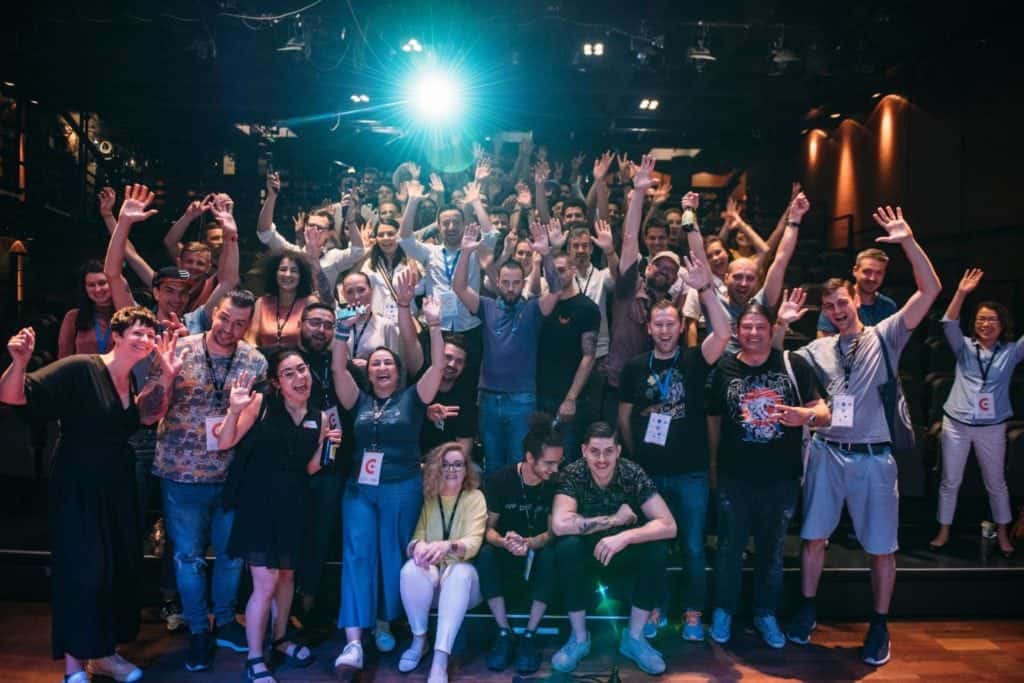 But do not take just my word for it. I asked some of the professionals who participated at this year's CoLab for their own sum up.
One of the CoLab organizers, Hannah Davies, was pleased with the result of the (seventh!) CoLab: "As always CoLab delivered on its goal to integrate a local coffee community with an international audience of baristas. The Bucharest community came out to showcase to attendees their ambitious and diverse scene whilst they welcomed attendees with open arms and lots of coffee! Another top community event!"
But I also spoke to a local community member, well, sort of. Tom Balerin had just moved to Bucharest about a month ago, after 8 months in Sydney, Australia, and is now an active member, working with Origo team as a barista and roaster. "I'm really proud and impressed to be in a city like this now! The coffee scene here is very strong in diversity, knowledge and enthusiasm. I'm not afraid to say, Bucharest is becoming one of the world-class speciality coffee cities!"
Is the coffee scene built for its own community?
The discussion was opened by John Darcy of Five Elephant. He worried that customers new to the speciality product and its scene could be scared off by the set-up of Bucharest cafes: shiny coffee machines, international coffee roasters with, mostly, English-written descriptions, Five Elephant included. John said there was a "lack of approachability for the general public". As many of us, he'd like to "get the product into everyone's hands and normalise it", but he found it to be a little more difficult in Bucharest, apparently.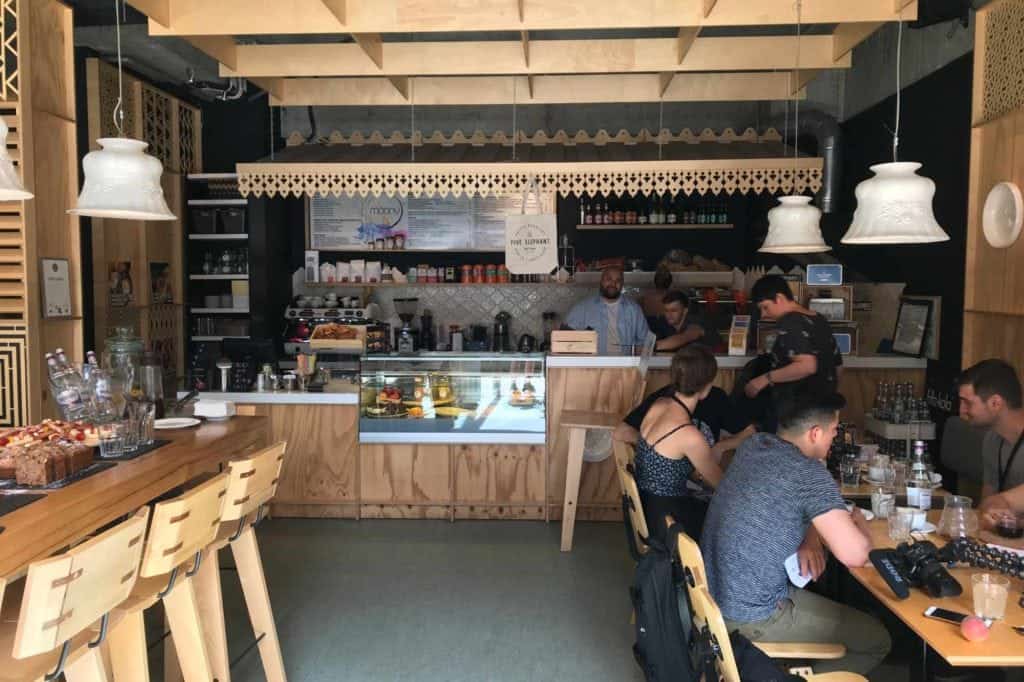 Although I must agree, the cafes are all quite meticulous in their set-ups, with professional equipment and an interior that clearly sets these cafes apart, I also wonder: "Isn't it one of the triggers that can open the discussion with the customers?" Speciality cafes have already established that they 'look different', and no other area of the food and beverage industry shies away from the best equipment. On top of that, these areas (and their customers) favour the businesses that use their own ingredients, rather than the widely spread products of big companies. We celebrate great cocktail bars and natural-wine producers for their own individual approach and honesty to the product. In my opinion, it is the customer service that should be the prime tool to bridge the gaps between the community and new customers.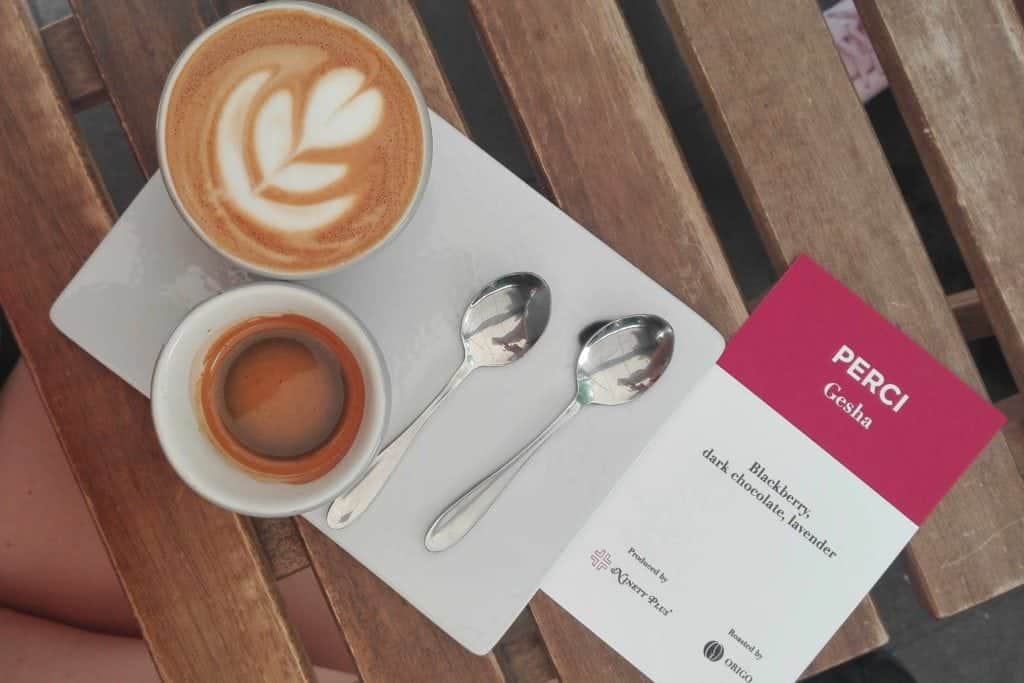 The cafe scene of Bucharest was, if nothing else, a great example of an enthusiastic coffee community. The highlight for me was the great use of space all around the city, with the history of the old buildings blending in with the modern build-outs of the cafes.
I loved each cafe for something else, and I would recommend you to absolutely visit Bucharest for yourself and make your own opinion of this great, coffee and holiday destination.