The highest form of the World Coffee Events competitions started in Seoul today. From 9th to the 12th November, the city is hosting the World Barista Championships, bringing 58 competitors to battle for the title of the World Barista Champion 2017.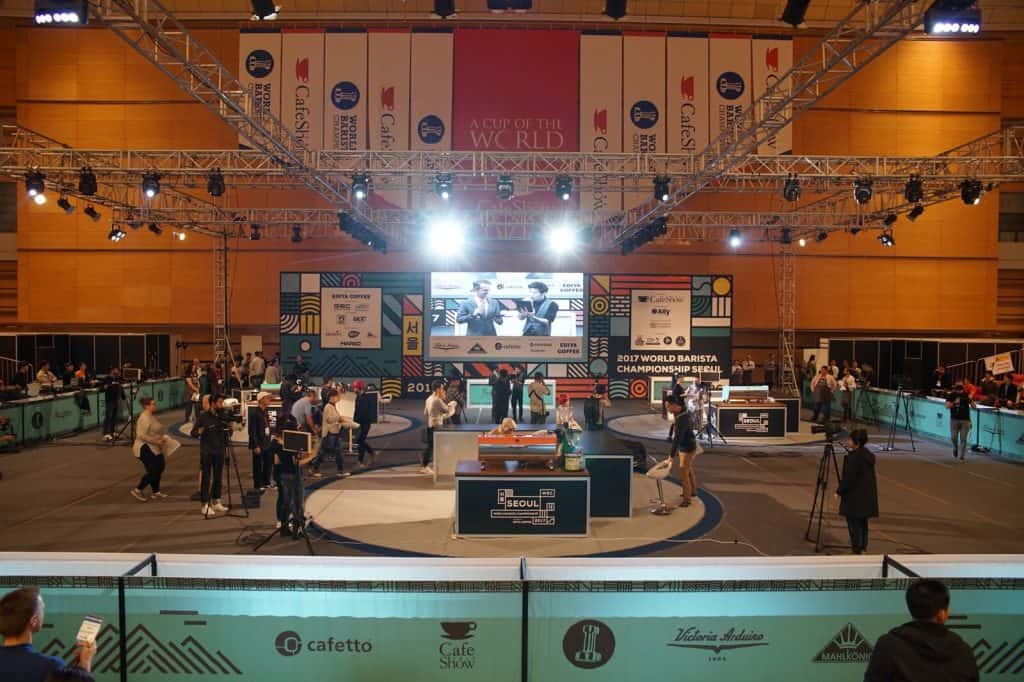 Thanks to our dear partners Victoria Arduino and Volcafe Select, we have our eyes and ears in Seoul and are delivering updates directly from the competition, where the first two days will decide about the sixteen (fifteen + one wildcard spot) competitors going through to the semifinal rounds on Saturday.
Today, the first round of the competition saw 12 European competitors who we introduce in a short recap of the first day.
Konstantinos Iatridis – Greece
The first representative of the European competitors was Konstantinos Iatridis, the Barista Champion of Greece. Konstantinos, who works at Taf Coffee in Athens, and sometimes also at Coffee Profilers in Berlin, came to the world stage already for the second time. In 2015, it was with his Brewers Cup routine.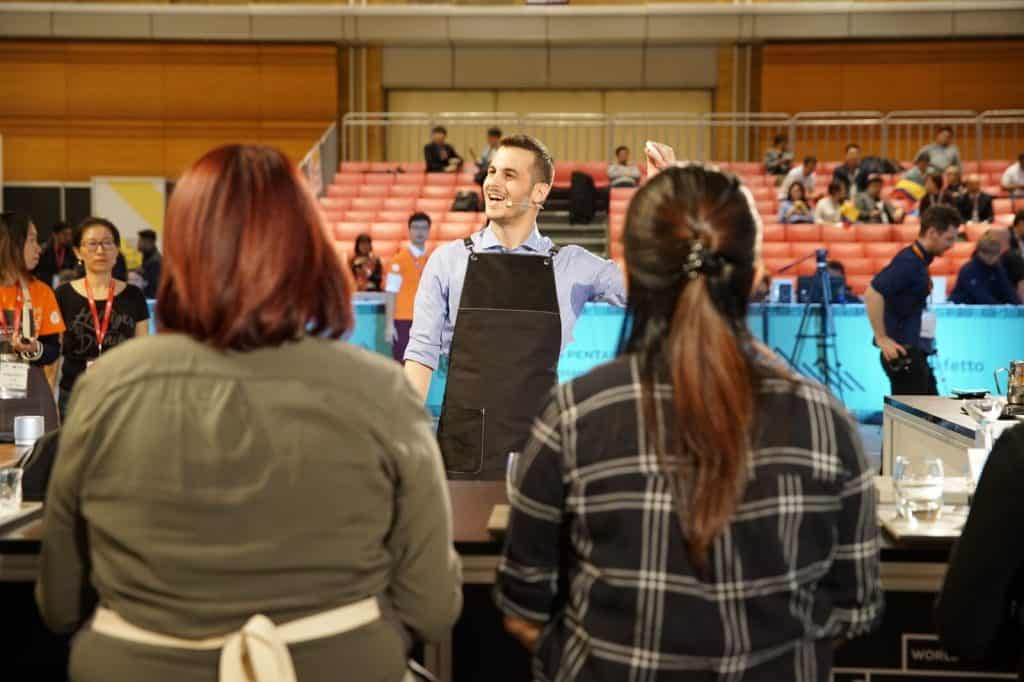 Konstantinos used an Ethiopian Heirloom variety from Ninety Plus, processed by the Simon Abey processing method. Grown at more than 2000 m.a.s.l., this coffee is special for its tropical sweetness and complex acidity. Konstantinos experimented in his presentation, using three innovations: pre-grinding his coffee doses with a hand grinder, to remove the silver skin, hence the dryness that would otherwise appear in the cup; keeping the beans in a fridge, to unsure the particles will be more uniform and smaller, achieving a larger yield with the same dose; and pulling the shots for a longer time, with a finer grind size.
Aroma: Citrus blossom, roasted cocoa beans
Flavour: Papaya, mango, Cantaloupe melon, kiwi, chocolate liquor
Body: Velvet, lingering
Acidity: Bright and tingly, pineapple-like
You can watch Konstantinos smooth presentation that he completed in 14:58 min online. The first live rankings showed him as the leader of the European baristas, placing him fourth.
Raimonds Zadvornovs – Latvia
Raimonds, the second competitor on stage coming from Europe, was also representing his novel coffee roastery Kalve Coffee. Raimonds roasted his coffee for his competition routine, which he perfectly timed and finished at the time of 14:59 min!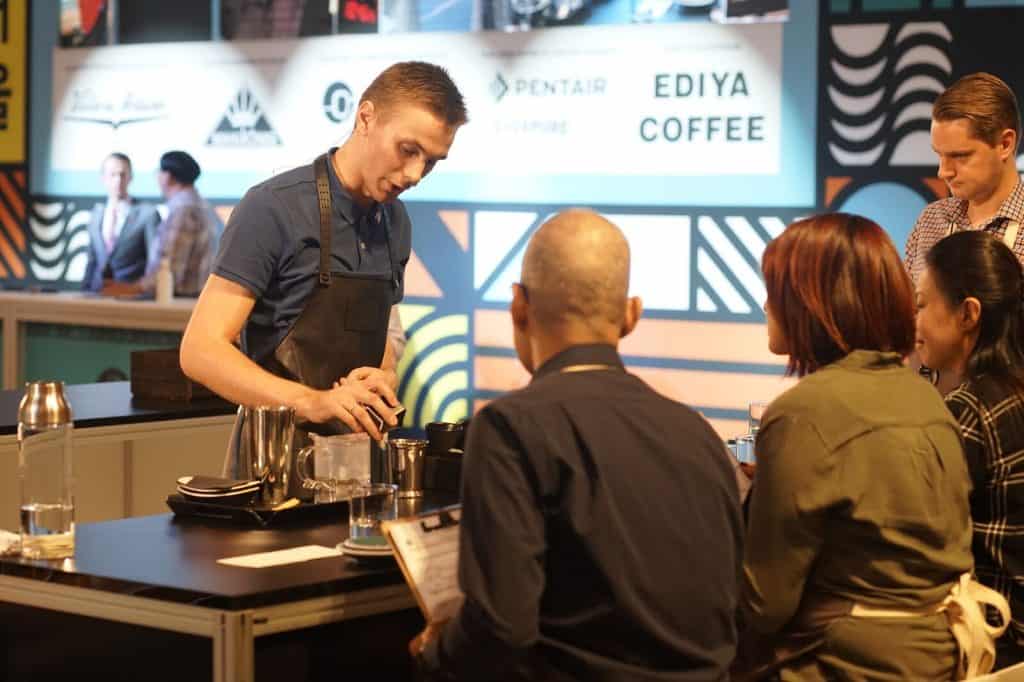 Raimonds' coffee comes from Costa Rica, the Santa Maria region. The farm Finca Mima, where Villa Sarchi varietal is grown is run by Martin Ureña. Raimonds' presentation was structured as a welcome to a speciality coffee shop with an outstanding service. First, he opened up the dialogue with his signature—welcome—beverage, building on the same recipe for espresso course, but enhancing it with ingredients that helped to pull out the flavours from the coffee. Secondly, he served the espressos and then a dessert to the conversation, a milky beverage.
Flavour: Dried pineapple, grapefruit, lychee, coconut water, dark chocolate
Acidity: Rich and clean
Taste: Balanced
Body: Full
Mouthfeel: Velvety
Finish: Long and fruity
Check out his presentation on Station #3 of the livestream.
Michael Prem – Austria
With number ten on the Day 1 schedule, Michael was the third European on stage. He also brought with him coffee roasted by himself, at his one-year-old roastery, Prim Frischkaffee in Vienna.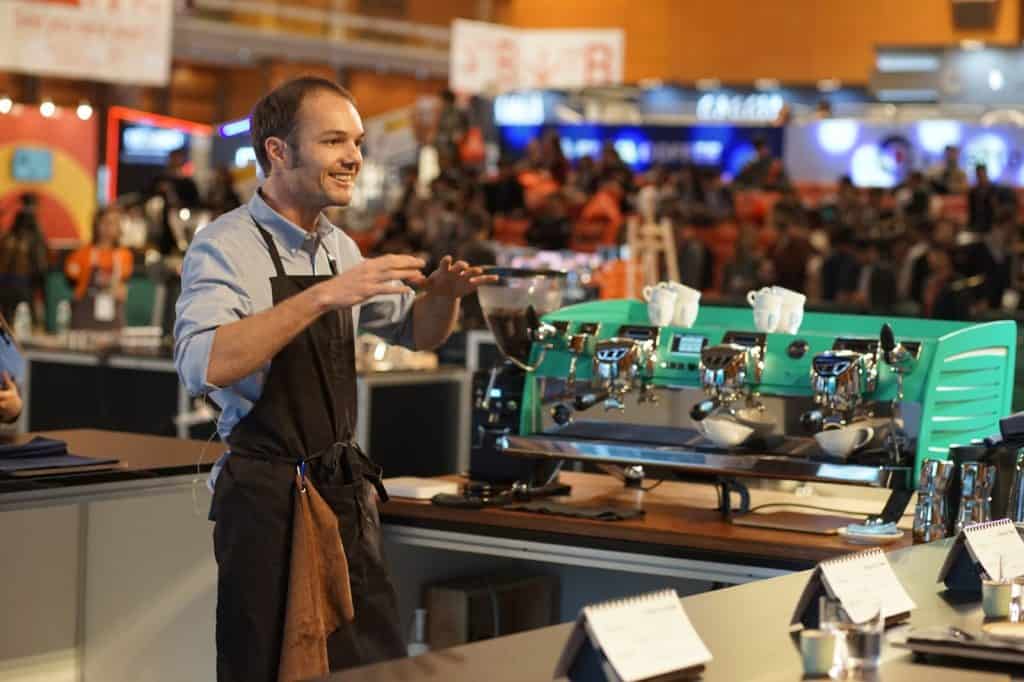 Michael's espresso was prepared with beans of a Catimor hybrid from Honduras. Michael aims to use only organically certified coffees at his roastery, and this coffee from the Intibucá Department was the case as well. It was dry fermented with the pulp on for 12 hours, and then dried on raised beds. Michael chose a simple presentation of his coffee, highlighting its naturally occurring sweetness and pleasant bitterness with the signature beverage ingredients. He also used vaporised Sichuan pepper to finish his drink. The espresso descriptors are following:
Flavour: Orange, white grape, lime
Texture: Creamy
Body: Medium
Bitterness: grapefruit-like
Acidity: Medium
Watch his presentation online, in the section Station #1.
Axel Simón – Spain
Axel, who was the eleventh competitor of the Day 1, represents Spain on the world stage. Axel is one of the competitors who work closely with the green product, in his role of Quality Control at Mare Terra Green Coffee. After years of competing and a three-year break from it, this is his fifth year of competition, yet the first time on the world stage.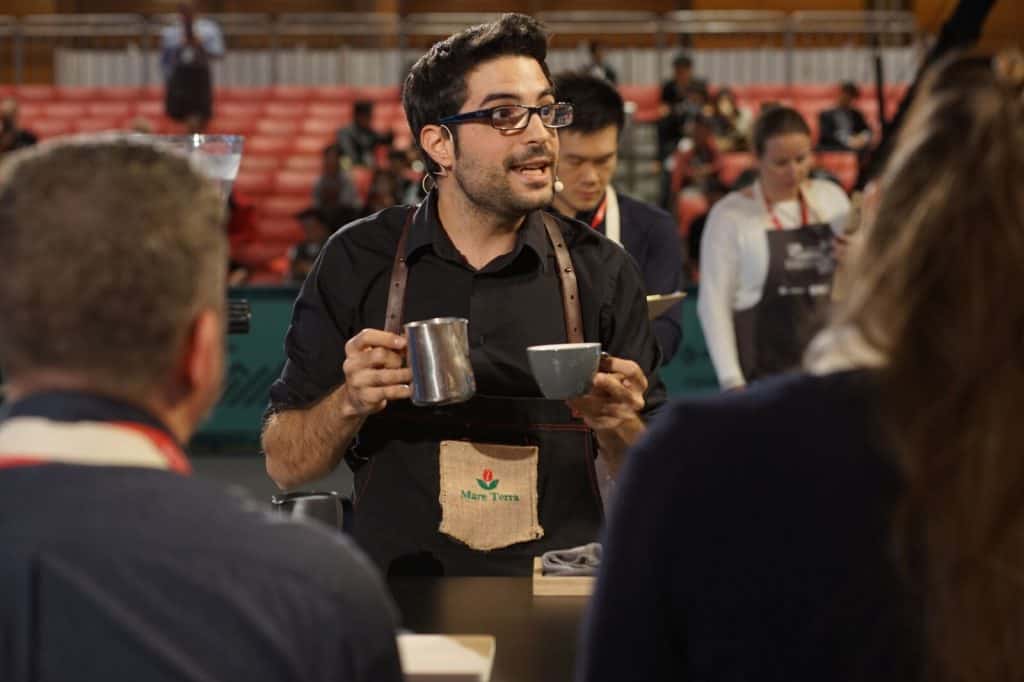 Axel used several different coffees for his presentation. For espresso, he used a 50-50 blend of two Ethiopian varieties. For his signature drink, he used an Ethiopian Heirloom, naturally processed and anaerobically and aerobically fermented. What more, his milky beverage was prepared with one of Daterra's experimental lots from Brazil. His signature drink was a highlight of five areas of the world where coffee is being grown.
Flavours of the espressos: Rose wine, flowers, milk chocolate, toffee, sweet apricot
Body: Medium
Texture: Silky
Laurynas Arlauskas – Lithuania
Although the Lithuanian competitor has been working with coffee only for three years, currently working for Coffee Hill, a growing network of espresso bars in Lithuania, he is already the second-time national champion (2016 & 2017). Let's see what success awaits Laurynas.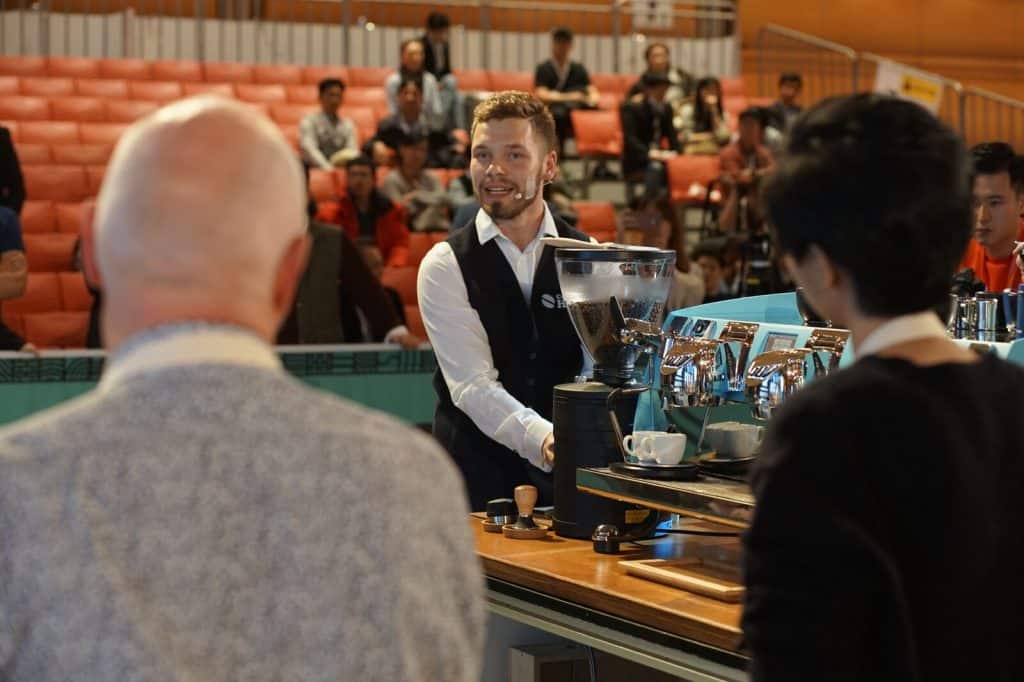 Laurynas was the second of our competitors to opt for a Costa Rican coffee, Las Nubes from Tarazzu region. White honey processed Geisha and Heirloom variety were used and espresso was described with the following characteristics.
Acidity: Complex
Flavour: Cranberry, cherry, lychee
Body: Medium, juicy
Finish: Long
Laurynas' presentation is online as well, catch it on Station #3.
Natalia Piotrowska – Poland
Natalia, competing as 13th on Day 1, was the sixth competitor from Europe. As a Polish competitor, she has a strong coffee bond with not only her home country but also Ireland.
After several years of living abroad, competing and representing Ireland at the world stage twice, she moved back to Poland and returned to the stage to reach higher than the last year's 7th place. In the meantime, she also managed to open her own roastery, Bless Coffee Roasters, back in Poland, and is another of the competitors who roasted their own coffee.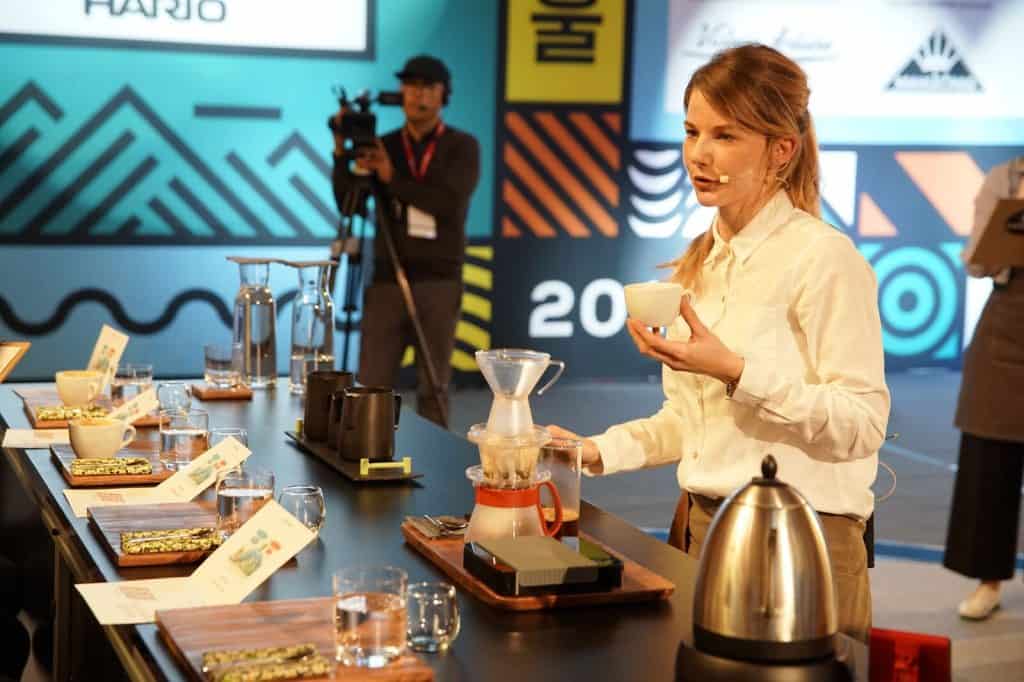 The young roaster presented two coffees from two origins that she found to be the perfect bridge into the world of speciality coffee for any coffee drinker: Honduras and Ethiopia. Her espresso and signature beverage courses were prepared with the Honduras, while for the milk course she used an Ethiopian variety. She also pulled her espresso shots quite long, at 49 g, using only 17 g dose, resulting in:
Flavour: Lime, kiwi, white floral notes
Weight: Medium
Texture: Velvety
Aftertaste: Medium
Jarno Peräkylä – Finland
Jarno has a long competition history. The Finnish representative, the seventh European competitor and 16th in the Day 1 line-up, has competed since 2014. He returned to the World stage for the second time already, having previously won the nationals in 2016. Jarno is a barista at heart. Working at Bean&Burner, apparently, no other role in the coffee industry can match the one behind the bar.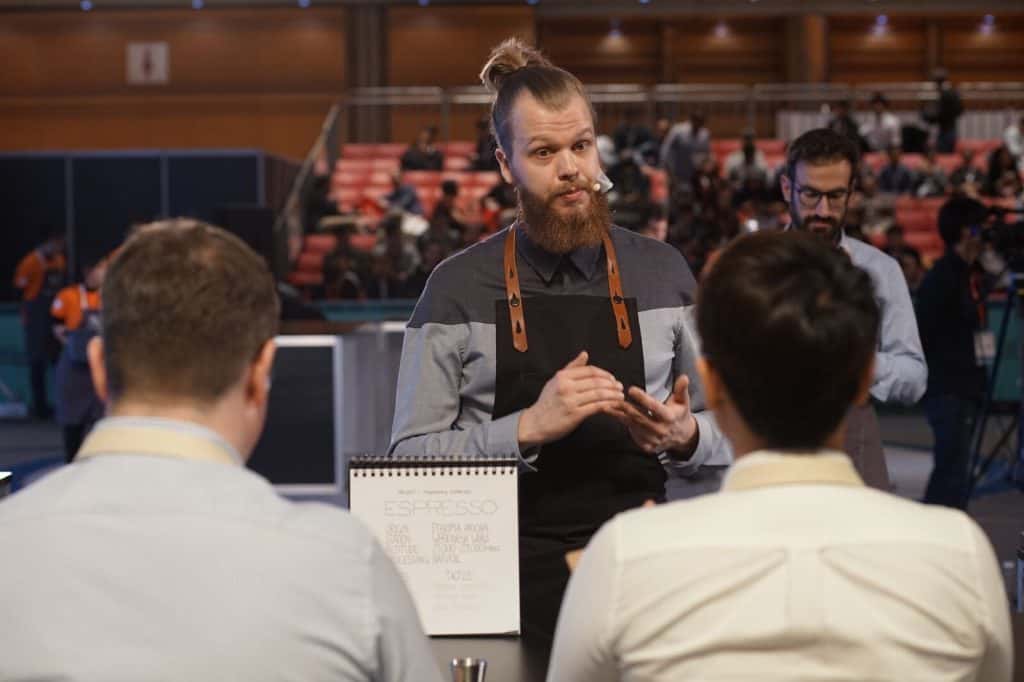 Jarno designed his presentation as a showcase of three projects that he was involved with in the months coming up to the competition: Mastering espresso, Working with scientists and Fine dining. He served the judges an espresso brewed with 20 g, weighing 55 g of the resulting yield. The espresso from Aricha, Yirgacheffe region in Ethiopia was said to be delicious no matter how you brew it.
Flavour: Watermelon, apricot, strawberry
Body: Medium
Mouthfeel: Smooth
Acidity: Sparkling, of strawberries
Finish: Long
Watch Jarno's swift presentation at Station #1.
Chloe Jess Natrass – Germany
Chloe has known competition environment since 2016 when she competed in the Barista, as well as in the German AeroPress championships. This year, she did it again and won both.
Chloe was the first independent competitor of our European baristas, but her path was influenced by many of the industry professionals and companies. The Australian barista represents Germany on the World's stage and calls Berlin her coffee home.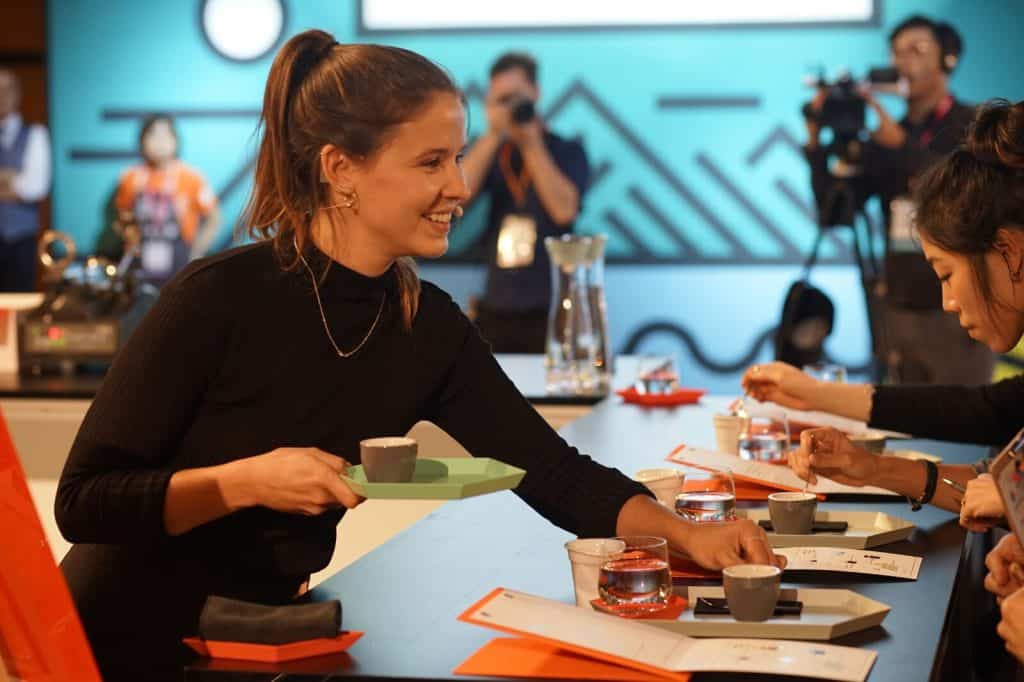 Chloe brewed her national round coffee: a Costa Rican La Punta, an Ethiopian Caturra grown at 1600 m.a.s.l. This coffee was processed in a sugar-sweet processing method, an anaerobic fermentation method that results in an increased sweetness in the cup.
Flavour: Raisin, brown sugar
Acidity: Bright
Aftertaste: Lingering and floral
You can watch the whole presentation and Chloe's special shaker for her signature drink on Station #1, in the recording of the full Day 1.
Evgeni Pinchukov – Belarus
The competitor of Belarus is the roaster and Head Barista at Kitchen Coffee Roasters, based in Minsk. Evgeni, who followed closely the other European competitors in the Day 1 schedule, competed with number 26th. He is fully dedicated to learning and progressing in roasting, his biggest interest at the moment. In his presentation, he introduced the results of his work so far.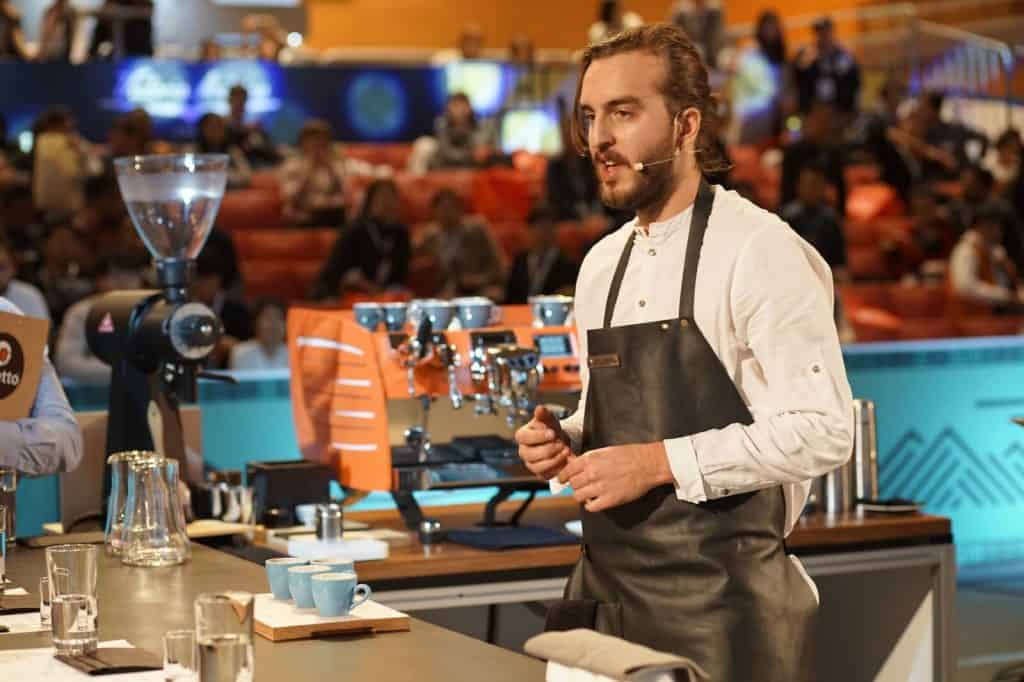 Evgeni wanted to find a way of sharing a unique and outstanding coffee with his customers, one such as the Geisha variety, one of the most demanded and expensive varieties in the world, and so he chose a Geisha grown in Brazil. It is the first successful lot of 200 kg of those trees grown at 1000 m.a.s.l. by the scientists at Daterra farm. Evgeni called his coffee a natural masterpiece, a result of a unique carbonic maceration process.
Flavour: Red orange, black tea, cherry
Aftertaste: Long like cacao
Acidity: Medium
Body: Smooth and rounded
Bitterness: Low
Sweetness: Above average
Finish: Long, pleasant
Jan Skerik – the Czech Republic
Jan is the current Czech Barista champion who took the stage as the third last European representative of the Day 1, with number 27.
Jan has grown into a coffee lover and professional from a coffee chain introduction into the coffee world. As the Head Barista at Double B Prague, he enjoys working with people and coffee, calling coffee his destiny.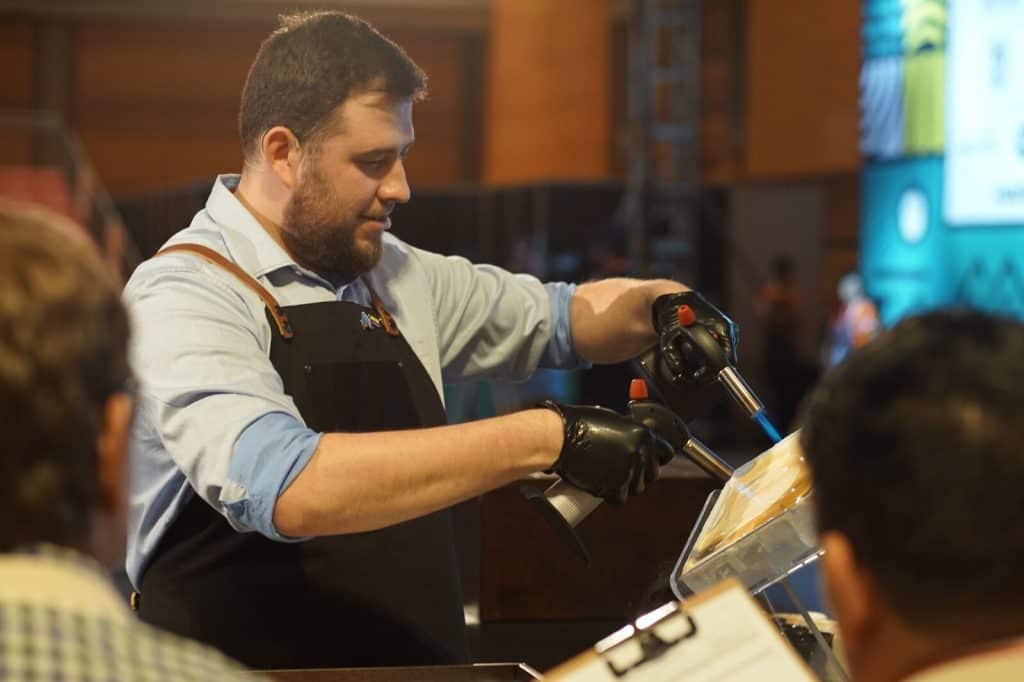 Jan used a Colombian red and yellow Caturras from the Huila region, grown by the farmer Rafael Martinez. There was only 50 kg processed of this coffee, which they roasted in 800 kg batches. The signature drink draught a lot of attention, since Jan used dry ice to cool down his beverage, and fire pistols to melt it all together, calling the process cold caramelisation. The espresso was described as follows:
Flavour: Mango, cherry, plum, dark chocolate, a hint of mandarine
Sweetness: Medium to high
Acidity: Medium
Bitterness: Low
Umami: Medium to low
Body: Rounded, syrupy
Texture: Medium to high
Tactile: Medium to high
Finish: Long lasting
Watch the signature beverage in action on Station #3.
Nisan Agca, Turkey
Nisan was the second independent competitor in our line-up and also a big part of the Turkish coffee scene. He has been involved with training, but also product development or coffee sourcing. Nisan already competed at the World's stage last year, in Dublin. He is interested in anything special and craft, especially when it involves coffee though!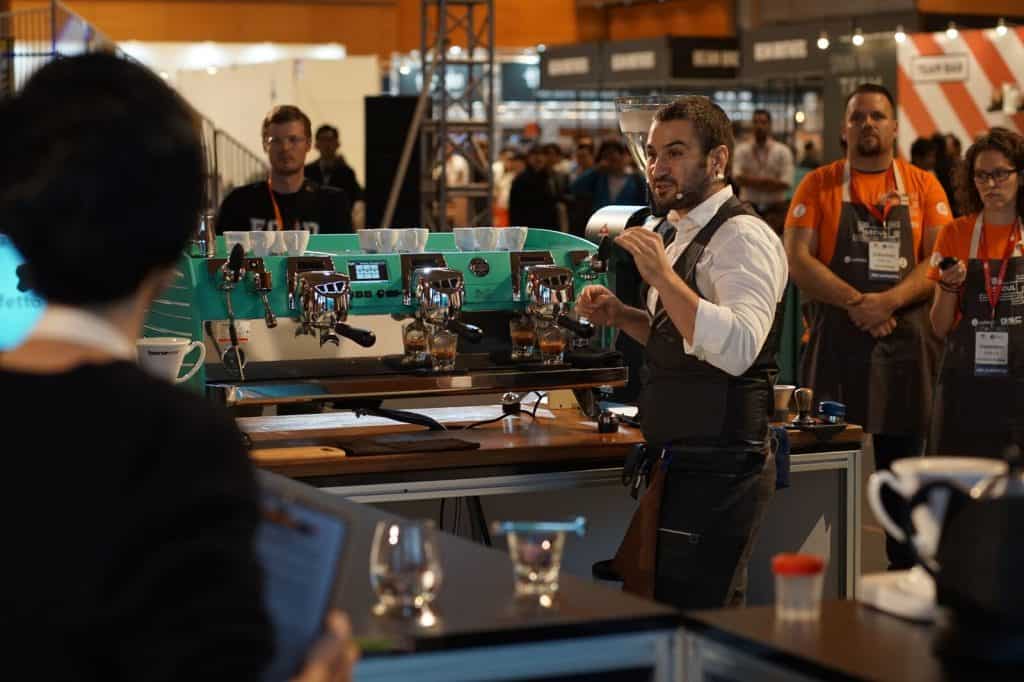 Nisan brewed an El Salvadorian coffee from Finca Limon, a Cup of Excellence winner of the Pacamara variety. It was naturally processed and dried at 1000 m.a.s.l.
Flavour: Ripe fruit, plum
Mouthfeel: Silky
Acidity & Sweetness: Medium to high
Weight: Medium
Dale Harris, the United Kingdom
Dale is a well-known face in the coffee industry in the UK. Director of wholesale at Hasbean Coffee, he was the last European competitor on the first day, taking the stage as 29th. Dale is one of the most experienced competitors. Since 2009, he did not miss one competition year and after three consecutive runner-up placements, he took the UKBC win in 2017. Check out this experienced and persevering competitor.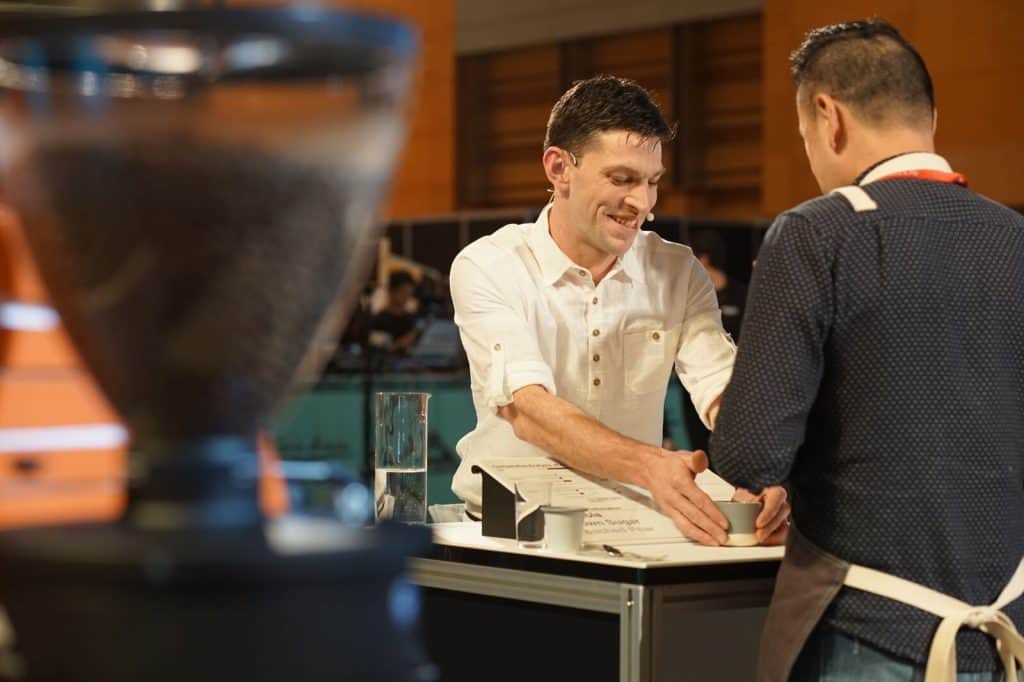 Dale talked about the risk of commodifying the speciality product by not supporting the coffee information provided to the customer with a sensory experience. He presented a developed sensory experience then, explaining the ten aromatic compounds occurring in his coffee, and how they translate into the flavour profile of his cups of El Salvadorian SL 28, a fully washed microlot in his signature drink, milk beverage as well as the espresso.
Flavour in the espresso: Pomegranate, Ethiopian honey, caramelised orange
Acidity: Medium to high
Sweetness: Medium
Body: Medium
The first day of the World Barista Championship 2017 is over, but we will be back tomorrow to watch the presentations closely and deliver an overview of the competitors of Day 2.
In the meantime, you can check out the live ranking online, which shows the current placement of competitors from the first round. This can all change though, as there are 28 more competitors to fight for their semifinal spots.
See you tomorrow with more details from the World Barista Championships 2017!