The main category of the World Coffee Events competitions has begun in Amsterdam. From 20th to the 23rd June, the city is hosting the World Barista Championships, bringing 55 competitors to battle for the title of the World Barista Champion 2018.
We are present in Amsterdam, cameras and notebooks at ready, to deliver live updates and recaps from the competition. We are grateful to our sponsors Victoria Arduino, DRWakefield, AeroPress, PuqPress and notNeutral to have our back in Amsterdam.
In our recaps, we will focus on the European baristas who will have made it to the top 15 semifinalists (+1 wild-card competitor) and will deliver further details about their presentations or other competition details as the WBC continues.
Preliminary rounds of European competitors
In the first two days of the competition, we are following the preliminary rounds. On the 20th June, we already saw some of the European competitors place in the top 15. Those were Michalis Katsiavos of Greece, Lex Wenneker from The Netherlands, Joshua Tarlo, representative of the United Kingdom, and Tore Øverleir of Norway. These scores are live though, and hence currently changing as the competition progresses.
Today, on the second day of preliminary rounds, we already saw the European competitor of Poland, Agnieszka Rojewska, as well as Russia's representative Liliya Gadelshina place in the top ranks. But those were not the finals scores either!
By 5 PM, we will have seen all of the European competitors, and are currently waiting for the final semifinalists' list. For now, Matt Winton, representative of Sweden, has also placed in the top 15, but the full list will only be announced shortly.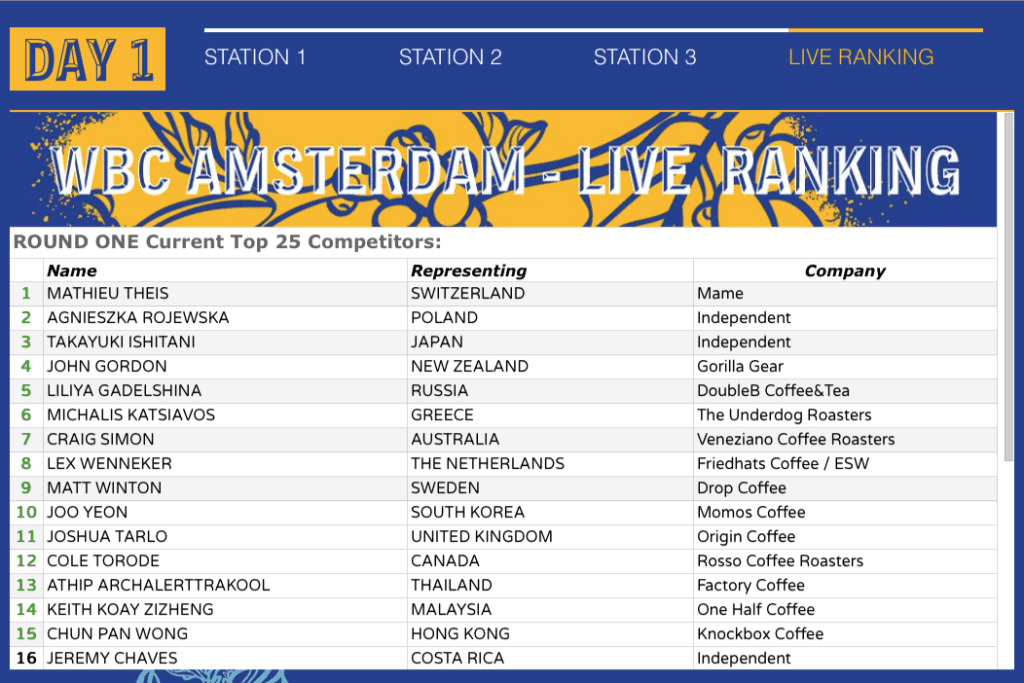 The final names of all the semifinalists, together with our overview of the European presentations that got through to the semi-final rounds, will be published soon. Keep on following our channels for live updates from Amsterdam's 2018 World of Coffee!