Bucharest's incredibly fast-growing speciality coffee scene reached a new level in August 2017, with the opening of Bob Coffee Lab, co-owned by Alexandru Niculae and Paul Ungureanu, respectively the World Coffee Roasting Champion 2016 and the 3rd place winner at the World Coffee in Good Spirits Competition 2015. This only mentions two of the awards the owners have collected during their enviable carriers in the speciality coffee industry.
Their recently opened roastery café is based in an old Romanian-style villa located at Charles de Gaulle square, near Herastrau Park, the green "lungs" of the Romanian capital. It is an attractive place to the corporate workers from surrounding offices, people basking on the park during sunny days, but now also to all the coffee lovers who have heard about Alexandru and Paul.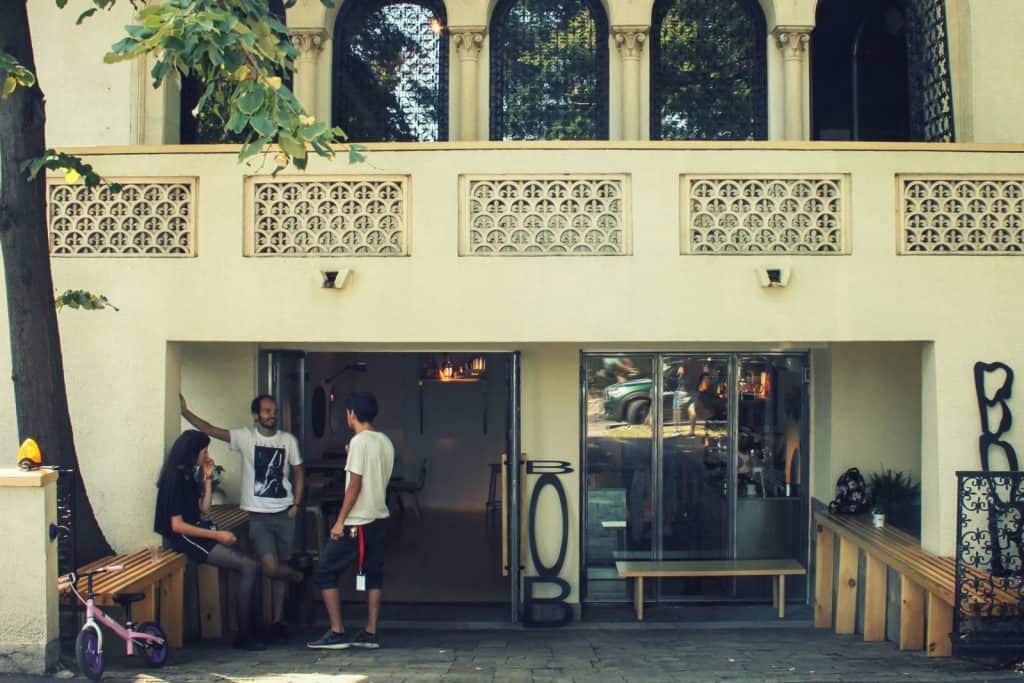 I am a coffee enthusiast, who has lived in Bucharest since a year and a half, thanks to which I have realised how quickly the speciality coffee scene is growing in the city. Therefore, I got the opportunity to explore this new spot shortly after its opening, and I am happy to share with you my first impressions of Bob Coffee Lab.
Bob Coffee Lab staples are quality, smiles and education
The co-owners, both originally from Bucharest, met five years ago. They gained experience and know-how through several years of engaging with speciality coffee industry experts abroad.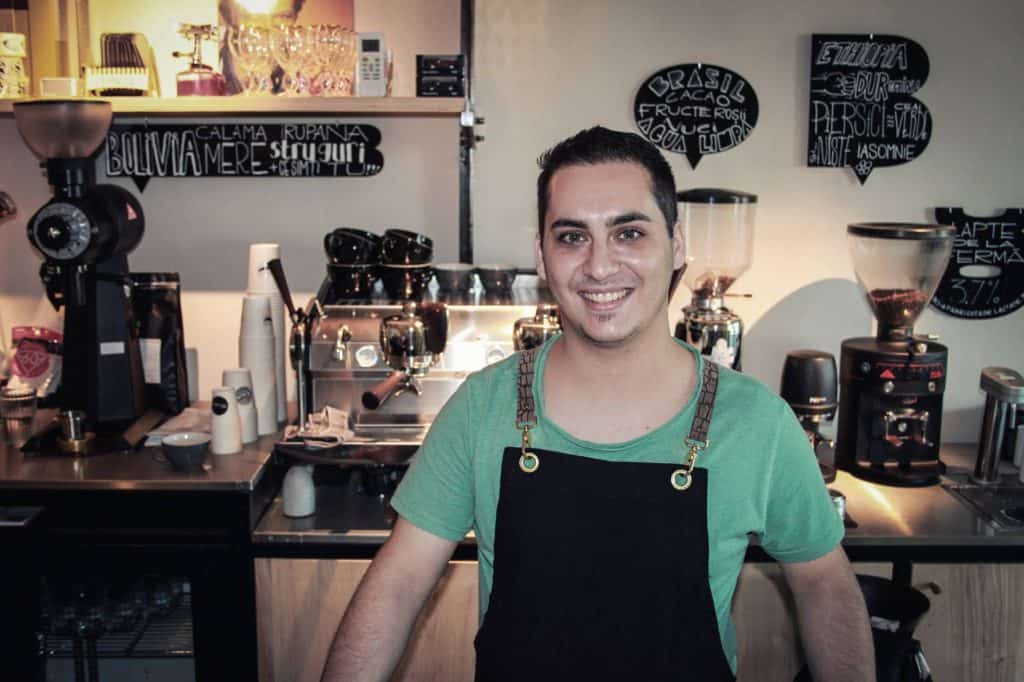 Paul also worked for many years as a barista, bar manager, and F&B manager. He is now offering hospitality consulting, as well as bar training and events planning.
Alex's journey was somehow different. He won the Romanian Brewers Cup in 2014 and therefore participated at the World Cup the same year in Rimini, where he placed 16th. He realized that he should roast his coffee himself if he wanted to reach the top 6 worldwide the following year. This is why he decided to put his focus solely on roasting.
This complementarity between Paul and Alex was the perfect match that helped them to achieve their dream of opening a roastery and café, keeping in mind their priorities: quality, hospitality, and knowledge.
Offering quality and hospitality
Quality is essential at Bob Coffee Lab, especially when it comes to coffee beans and the roasting process, which Alexandru can go on describing in details for hours, but the same attention goes into water and milk—aspects that are yet to be considered by many upcoming cafés.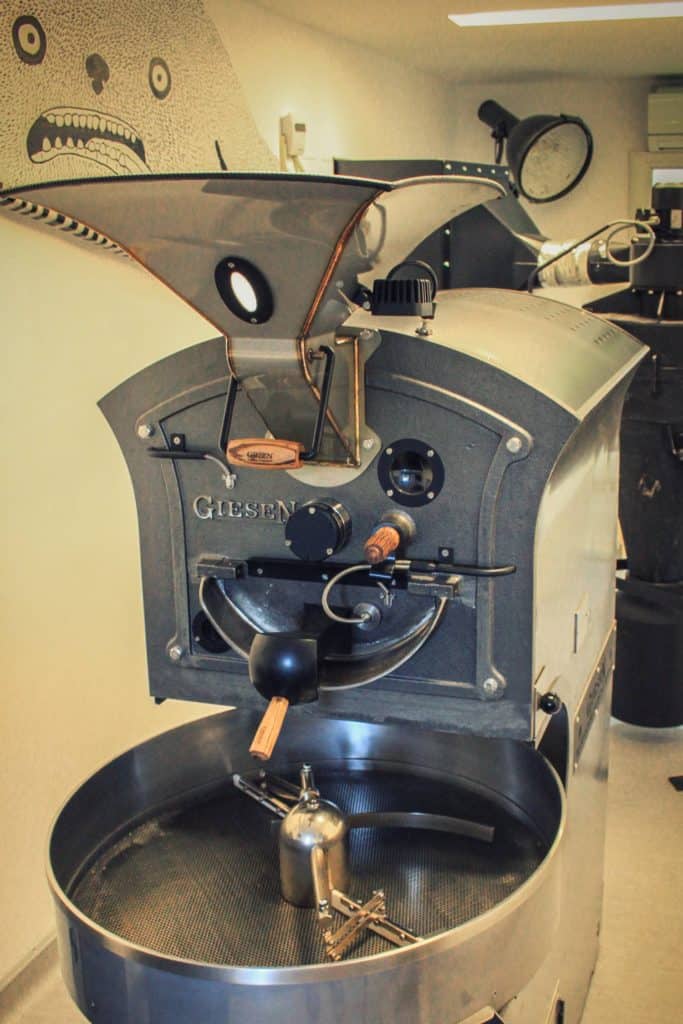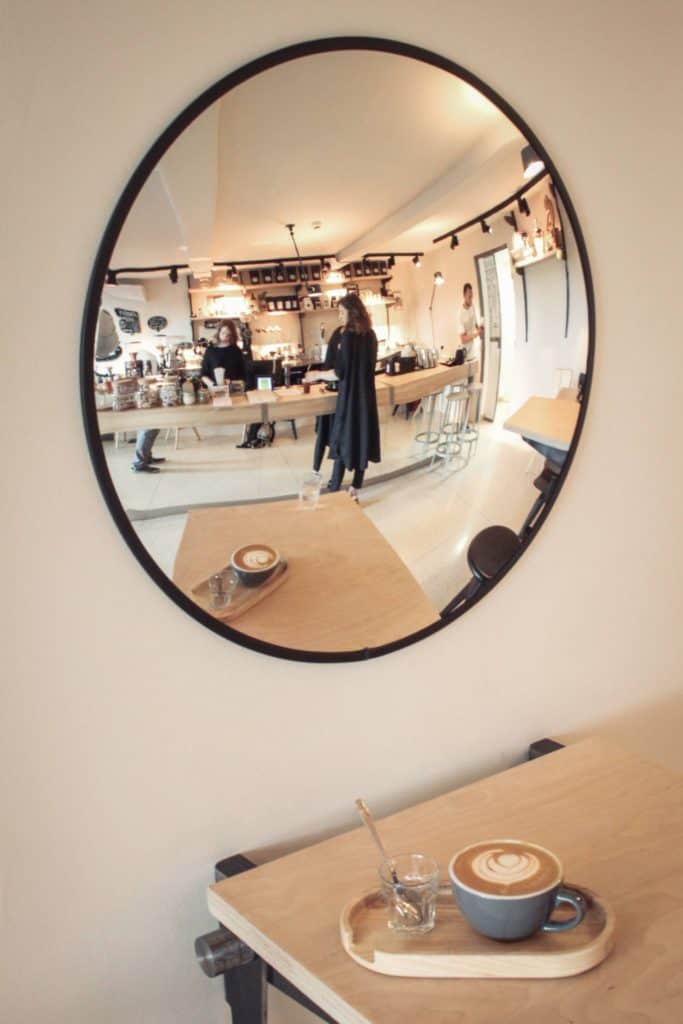 The water system is provided by GC Water, a leader in customized water solutions, while the milk for the café comes directly from a local farmer, located a couple of kilometres outside of Bucharest. However, quality is not the only ingredient to make a café work.
"I can't expect 90% of my customers to make the difference between my two Ethiopian coffees right now, that's why hospitality is important. If we are not nice to our customers, they have no reason to come back," was Paul's take on the importance of quality and hospitality.
Sharing their knowledge with people
Most baristas in Bucharest belong to the same "family" of coffee enthusiasts aiming to educate people about speciality coffee. In addition to sharing their knowledge with their customers, Paul and Alex decided not to recruit very experienced baristas, and rather hire and train a new generation of young Romanian baristas in order to ensure a brilliant future for the Romanian coffee scene.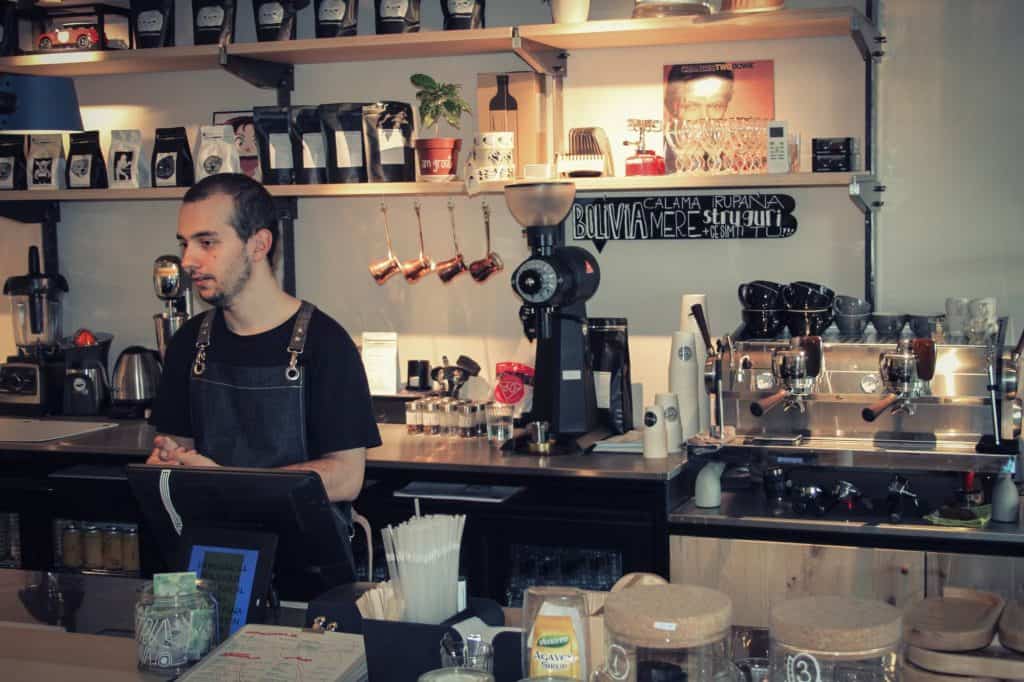 And it seems to be a very rewarding learning environment for the team as well: "I have learnt more here in a month as a barista, than in my entire life elsewhere," told us Sebi Hogea, a barista at Bob Coffee Lab.
Bob Coffee Lab is all about the smell of the coffee
Bob Coffee Lab is a café with a minimalist design, small yet spacious interior, with its walls in a harmony with the outside facade. However, you may note a couple of dogs here and there, running around and probably enjoying the smell of the coffee beans dancing in a custom-made Giesen W6A roaster, or being transformed into double espressos at the bar thanks to the admirable work of the baristas and their Slayer espresso machine.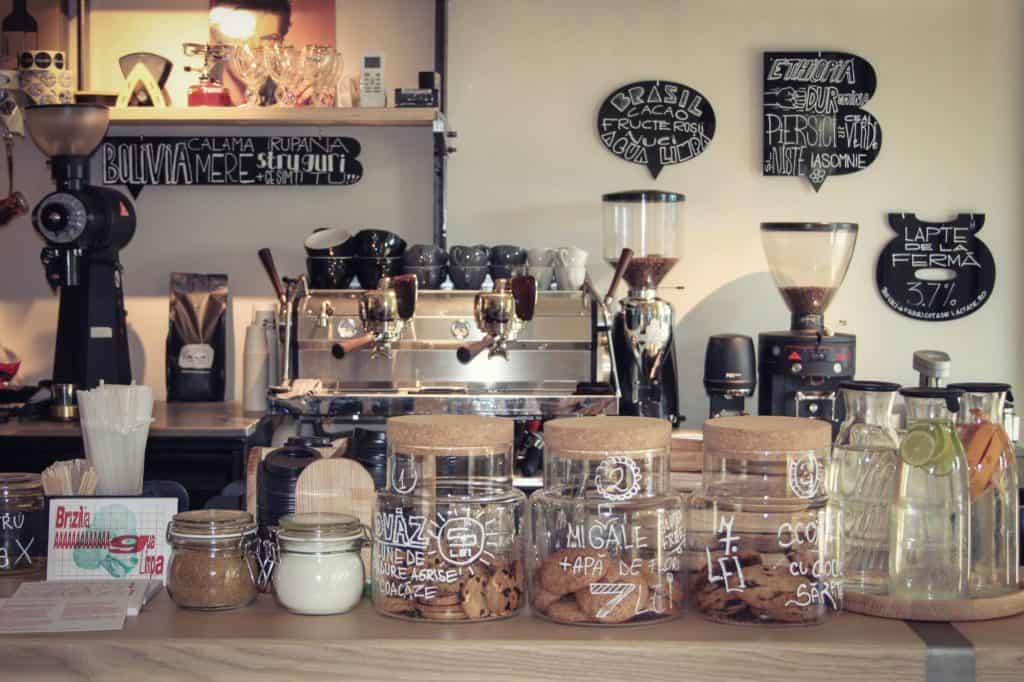 The fact that you can smell the freshly roasted and brewed coffee everywhere in the shop and around it is actually an essential part of the experience. It also connects well with the logo of Bob Coffee Lab.
Bob is the top dog, the dog that "poked his nose into the coffee business", sniffing all the beans in order to extract the best aromas out of them, to deliver the best cup of coffee possible. A comparison between Alex and the dog is a reference to one of the most known novels by Franz Kafka, The Metamorphosis. The dog is also featured on their website and is the company's logo.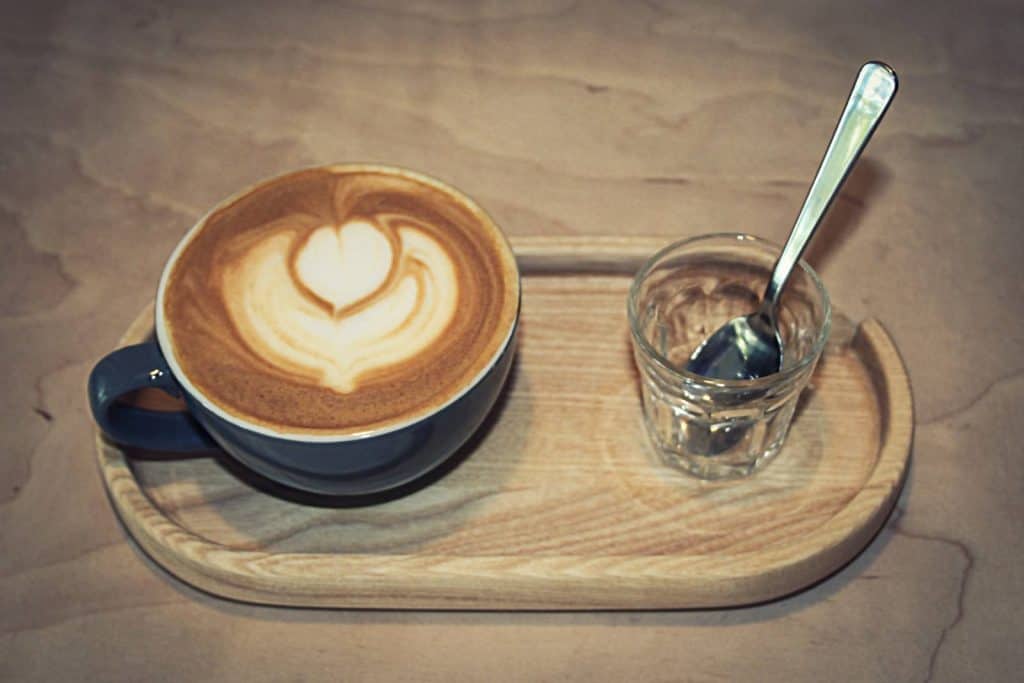 Authentic drinks from the champions at Bob Coffee Lab
As a Flat White addict, I didn't change my habits on my first visit, when Paul asked me what I would like to drink. While enjoying my cup of coffee and looking around, I wondered about two different specialities that were on the menu. V60WCRC16 and WCIGSPU03 Irish.
Both are the owners' signature drinks—one follows Alexandru's recipe for the World Coffee Roasting Championship 2016, and the other one is the recipe Paul used at the World Coffee in Good Spirits Competition 2015.
Since I was still enjoying my Flat White, and as it was too early for Irish Coffee, I didn't try any of these two specialities. However, Paul shared some insights about his recipe for the WCIGS03 with me.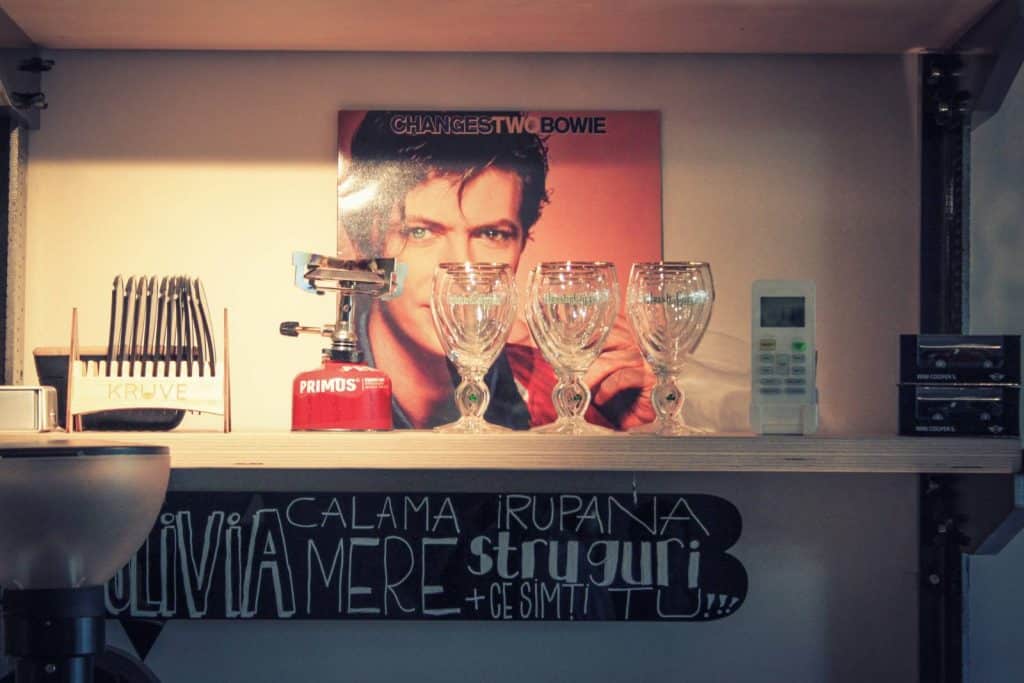 WCIGS03 Recipe
25 ml Irish Whisky
15 mg sugarcane syrup
V60 coffee brew (ratio 1:16)
Cream
Luckily, I live in Bucharest and so will have the opportunity to try both of the drinks soon. Besides for coming for a drink from the champions, I would recommend you to visit Bob Coffee Lab when their collaboration with Mikkeller becomes a reality. The beer microbrewery originally from Copenhagen will become Bob's collaborator on a few projects in the future, while also sharing the space in the same building with them. And if it is a sunny day, you can rest on their terrace, in the shadow, a welcome refuge from the heat.
Sunny or not, this place will always smell great and serve delicious cups of coffee. I hope you will enjoy your visit!
Piața Charles de Gaulle 3, Bucharest, Romania
Website, Facebook, Instagram