Our Barista Stories series has been long in the making. Since our first visits to cafes around Europe, we have met many amazing baristas who have had a number of interesting stories to share. We love the speciality coffee community exactly for the people building it and are thrilled to introduce some of those individuals to you.
Baristas truly are the ones who contribute to the atmosphere in the cafe massively and are the key reason why we'd revisit.
Read on to meet Veronika Keckesova, brewing your daily cup of coffee at MAME in Zurich.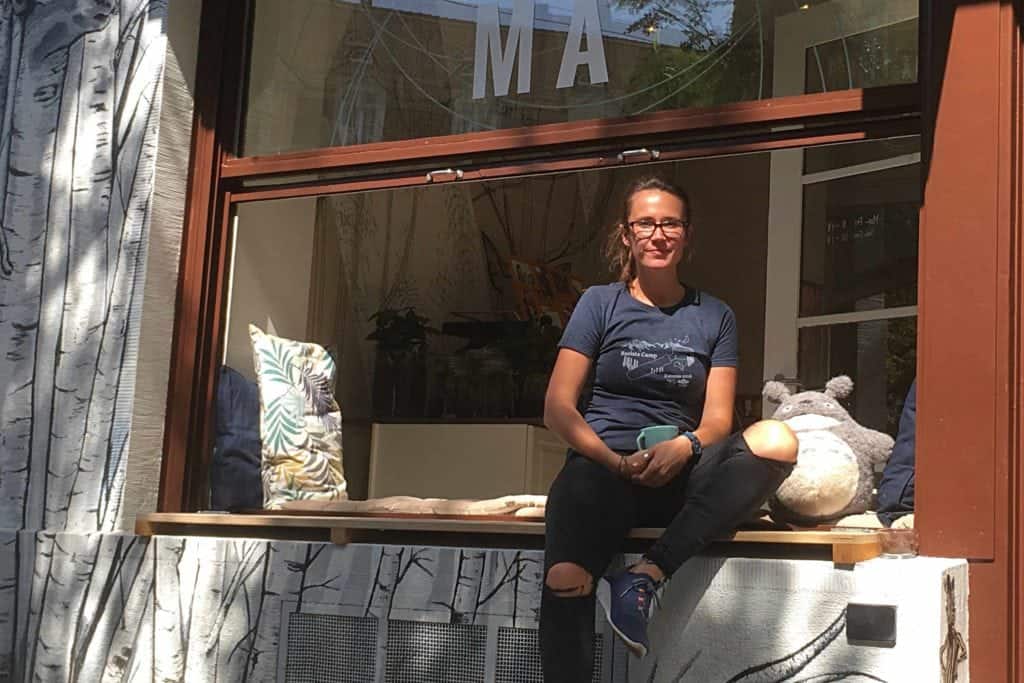 Veronika (30) is a very enthusiastic and friendly barista originally from Slovakia. Today, she lives in Switzerland, in a small village called Konolfingen, and she works as a barista at the champions' cafe, MAME, in Zurich. That is only about 50% of her time, though, as she is also the brand ambassador of Puly Caff, a fresh member of the Algrano team, and also helps out as the membership coordinator of SCA Slovakia. She has worked in coffee for about five to six years.
A few questions for Veronika
What led you to coffee? Could you describe the moment or situation that made you decide to become a barista?
Well, I can definitely recall that moment, it is called "that moment when you have no other choice but to get a job". After I finished university I moved to Norway without having any particular plan but still hoping for getting a job at least slightly related to what I had studied. Imagine a foreigner in a country the language you have no clue about…so that obviously did not happen. After some months I gave up and started working in a cafe, but I was no barista, I was just pushing buttons and murdering the milk. And I have to say this job was so not my cup of tea… or coffee. I hated it back then.
What is the funniest thing that you have experienced behind the bar? Can you recall any embarrassing moment?
I guess I could recall some, but there is one that is actually both, funny and embarrassing. It was just a usual day shortly before Christmas when a customer came by, sat on the bar and looked like he wanted to talk. I was still quite new in Switzerland, without any particular language skills and on top of it, he was speaking dialect. But I did my best to understand and to be at least a bit part of this conversation. He was sitting there for a while and talked about some really private things that you would not share with a stranger just like that—but that happens a lot at the bar, right? When the cup was empty he thanked me, stood up and left.
Next day, however, he showed up again with a bag full of presents, that included jewellery, a perfume, a chocolate and a letter of let's say gratitude. He made me unpack it on the spot in front of all other customers. Fortunately, I did not have to read the letter out loud. One can be really surprised what a cup of coffee can do.
What would you do if you were not working in coffee?
I can hardly imagine that today, but I guess I would try to go back to what I used to enjoy doing before—a kindergarten teacher.
What is an unusual habit or hobby that you love?
Hmm, I guess over years I just became a regular person who enjoys travelling, doing some sports and making coffee, but I used to do Irish dance when I was young(er).
What are some bad recommendations you hear often in your profession? What is your piece of advice for anybody starting a career as a barista?
I did call my mum once, it was when I was already working as a barista for some time. She asked me: "When do you think you will be getting a real job?". This year she came to visit me at the Slovakian Barista Championship in the High Tatras and said she is proud, that she could never think of baristas and their job this way and that she is impressed by what we do, how much we know and what kind of beautiful people we are.
I think my advice would be to stay positive, humble, patient and try not to worry too much about what people think or say. Do not make yourself small, being a barista is an honest job that no one should be ashamed for doing. We are not stealing from anyone, or murdering anyone (perhaps just a bit of milk every now an then and some coffee with an occasional channel, and if it is what fulfils you right now then go for it. If it is a right thing than the pieces would eventually fall into the right place.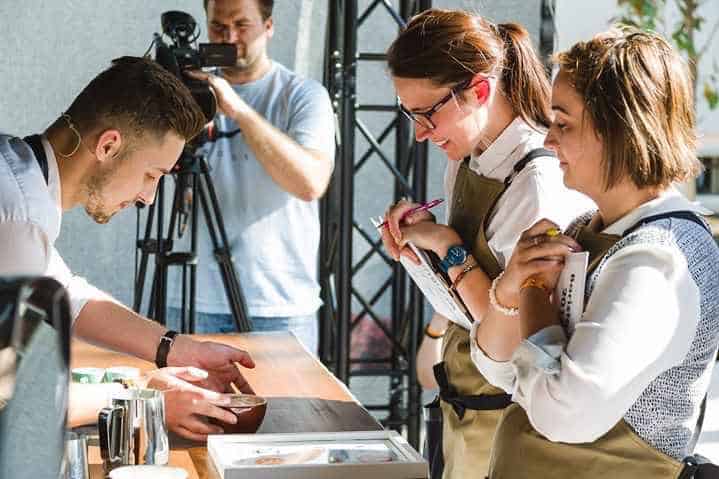 Looking back, what one thing would you wish to know when you were starting to work as a barista?
Nothing, I think everything I knew or did not know back then actually made sense in order for things to happen the way they did so that I could be where I am and who I am today.
What qualities set a good and a great barista apart?
Personality. That obviously applies to other jobs as well. Trying to do your best, learning from your mistakes, listening, being empathetic and attentive. You can always learn techniques and recipes.
If you have a bad day at the cafe, what helps you to handle it and provide good customer service?
The team, perhaps some nice regular coming by, and if no one is around just remembering that tomorrow I can do things differently and when I come home there is a bottle of wine in the fridge.
What is the one thing that you would miss the most if you could not work as a barista/in coffee anymore?
Community. A sense of being part of something great and also the fact that it is manual work. I like working with my hands.
Imagine the perfect day in your city. Perhaps you have an old friend visiting. What would be top 3 to 5 activities or places you would show them?
Well, I would obviously like them to visit us at MAME, make some nice Kieni pour over for them or so and eat Tiffin cake together. Obviously, each of us would have a piece for themselves, because they are too good to be that small. Otherwise, I would stay here in Berner Oberland, take my scooter and drive my friend around to see The Lake of Thun and all the cows and sheep around. I would also ask Michal Otte to let us visit him in Kaffischmitte which is Langnau, that is not too far from where I live and it is a cool place to see how he roasts and also to taste some great coffees if he would let me.
What do you consider some of the best experiences you have had in coffee so far?
There have been some. So far it has been the final round of Slovakian Barista Championship 2018. There was a great team of organizers, judges, competitors and friends. I think this championship made many people happy and it was a great experience to be a part of it. It was one of the most meaningful things that I have ever done. Also, an origin trip to Honduras which was like nothing that I have ever seen or felt before. And Barista Camp, that brought many great people to my life and kept me in the coffee world when I thought I could not or should not do it anymore.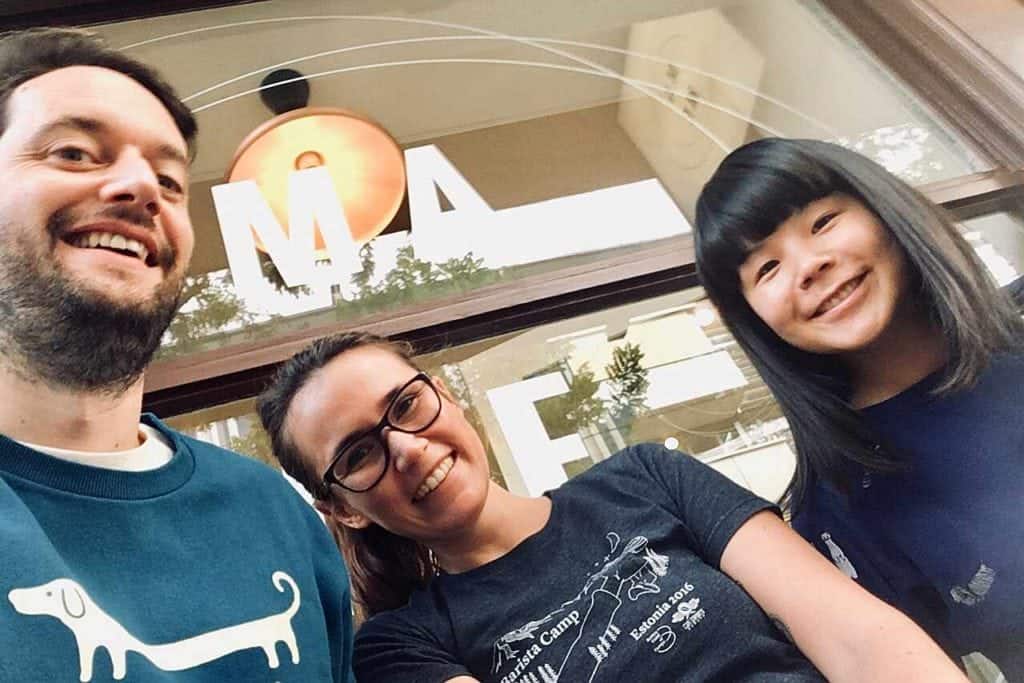 Quick Fire Question
Would you serve filter coffee with milk, if asked for it?
Yes. But I would try to offer a different milky alternative and explain why.
Do you ever take sugar with your coffee?
No.
Espresso or Filter coffee?
Filter.
Do you aim for Sweetness, Acidity, or Body?
Something else every day.
Milky or Black?
Black.
Slurp or Spit?
Slurp.
Sit in or Take Away?
Sit in.
Cake or Pastry with your coffee?
All of it.
What is your wifi password in a cafe?
welcometomame