Our Barista Stories series has been long in the making. Since our first visits to cafes around Europe, we have met many amazing baristas who have had a number of interesting stories to share. We love the speciality coffee community exactly for the people building it and are thrilled to introduce some of those individuals to you.
Baristas truly are the ones who contribute to the atmosphere in the cafe massively and are the key reason why we'd revisit.
Read on to meet Timo Marcel Hildebrandt, brewing your daily cup of coffee at Hermetic Coffee Roasters in Hamburg.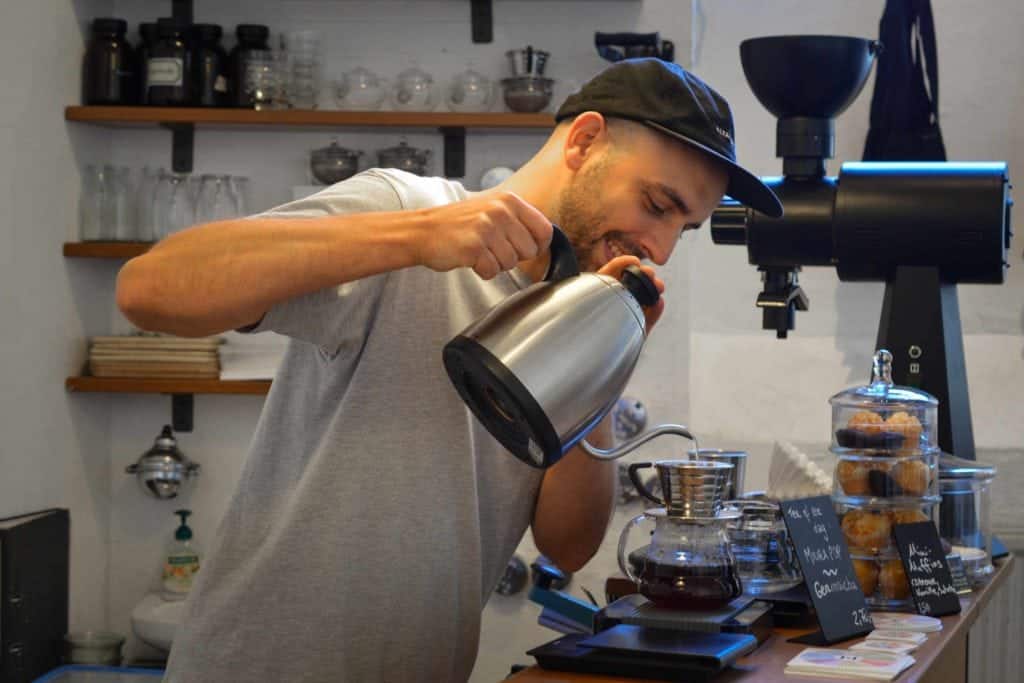 Timo is a 36-year-old barista originally from Schleswig-Holstein, Germany. Currently, he is living in Hamburg where he works full-time as a head barista and roaster at Hermetic Coffee Roasters. He considers himself to have worked as a professional barista for about three years now.
A few questions for Timo
What led you to coffee? Could you describe the moment or situation that made you decide to become a barista?
Coffee has always been an important element of my parent's and my family's life. The ritual of coffee (and cake) brought us together. So I quickly realized that coffee (but also tea) brings people together and connects them.
Perfection and respect is something I learned from the Japanese tea culture. This inspires me very much and has a huge influence on my work. From this attitude, I found the right access to the coffee itself and, beyond that, the way into the coffee world. At that time I was still living in Würzburg where I studied. I had a conversation with a good friend named Arndt, who opened the first door for me. And after that conversation, everything changed.
What would you do if you were not working in coffee?
I would be working in tea. Or I would work as a carpenter again.
What is an unusual habit or hobby that you love?
I loved skateboarding when I was younger – I still do. But right now I'm spending more time with table tennis than on a skateboard.
What are some bad recommendations you hear often in your profession? What is your piece of advice for anybody starting a career as a barista?
Some people don't believe that it's my full-time job. This can be hurtful. I studied and I have a master's degree. I guess people think I could do better than "just making some coffee". But it is what I love to do. And how lucky am I to say, I love my work every second of the day. It may sound cliché, but listen to your heart. Your feeling will tell you if it's your fervour to work as a barista. I think it's important that working as a barista feels good and right for you. And that feeling tells you the answer in its own way. Also, talk to other people who work in cafes and ask them to let them tell their stories. Be inspired by them and stay yourself. And if you have time, read about coffee. There is so much to explore.
Looking back, what one thing would you wish to know when you were starting to work as a barista?
How to handle the water properly. Water is the key to good coffee or tea.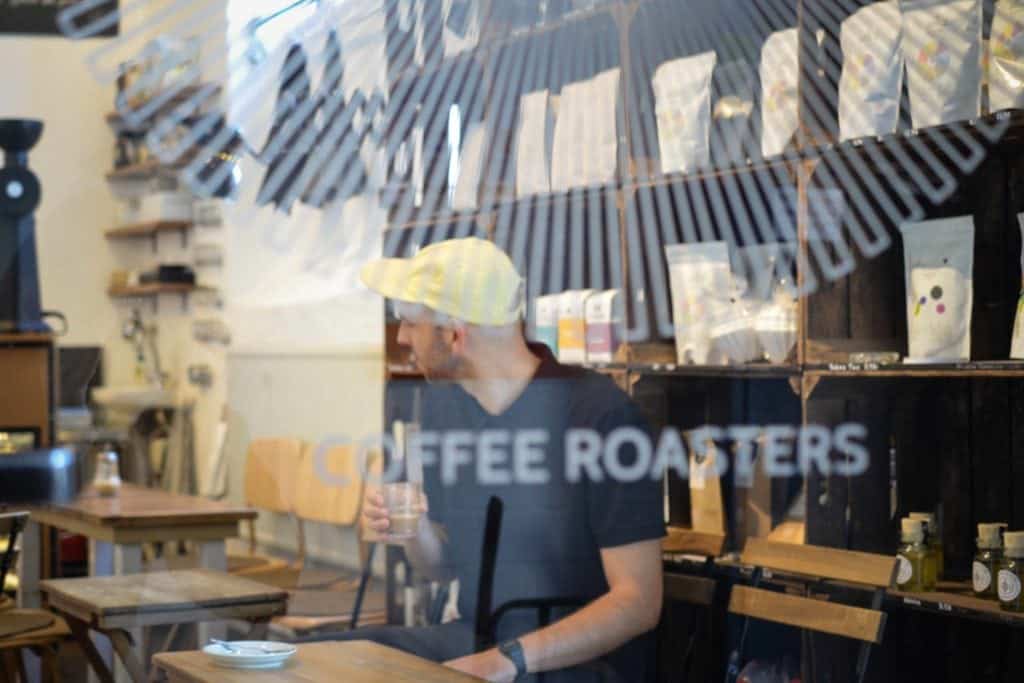 What qualities set a good and a great barista apart?
The most important part is to love what you do and to have fun. People will see your passion in your eyes and the honesty you serve.
Moreover, the accuracy, understanding and knowledge of each step of a drink, as well as in some ways the steadfastness, friendliness and unobtrusiveness may be important characteristics of a barista.
If you have a bad day at the cafe, what helps you to handle it and provide good customer service?
It is usually the customers themselves who keep me up and cheer me up even on a bad day. And that rocks each other so high that we all usually adopt the café with a smile.
What is the one thing that you would miss the most if you could not work as a barista/in coffee anymore?
The people: there is my great team, there are my customers, there are also all the other people from all over the world who work with coffee and tea. I would miss this whole culture because for me working as a barista means to get in touch with the whole world.
Imagine the perfect day in your city. Perhaps you have an old friend visiting. What would be top 3 to 5 activities or places you would show them?
After we missed the sunrise we will have one of the best breakfasts at Stockholm Espresso Club. As the sun shines on a perfect day, we make our way to the harbour, where we continue with a harbour tour and visit my friends of Surf Shop Roastery to catch another amazing coffee again and some of Hamburg's best ice creams. After that, we discover Reeperbahn, St. Pauli and/or the Schanzenviertel.
For dinner, there is either ramen of Momo Ramen (my girlfriend Susan loves this place) or the best fish at Schabis Fischimbiss. And what is missing on such a day under no circumstances, is a visit to the cocktail bar Drip Bar. These guys accomplish incredibly exciting things with a cold-brew dripper. Now, we sit back and see what the night in Hamburg still has to offer.
What do you consider some of the best experiences you have had in coffee so far?
It's the little things that matter: a 'thank you' for a coffee, an email from a guest telling me that the gifted mini muffin has saved the day for her crying child. It can even be a respectful nod, which says that everything was good. Hearing a guest say "oh" or "wow" can brighten up my day.
It's actually quite simple. I have the best feeling when I am able to inspire other people with what I do. When a little of my fire passes to others, I get the affirmation that my work and my story, which I tell with every drink I serve, are worth being there.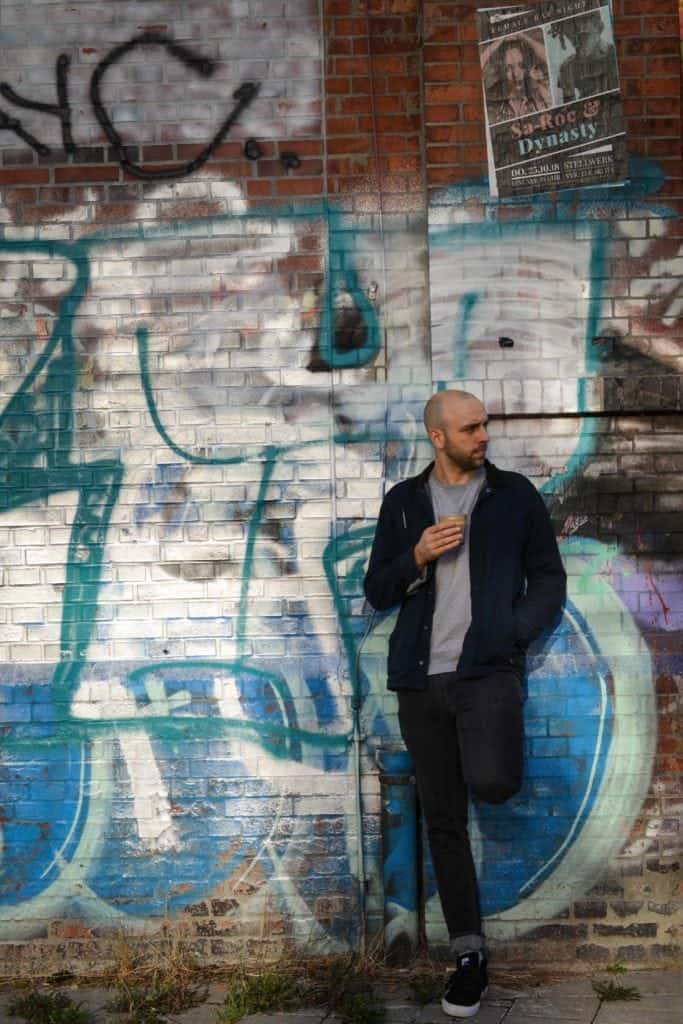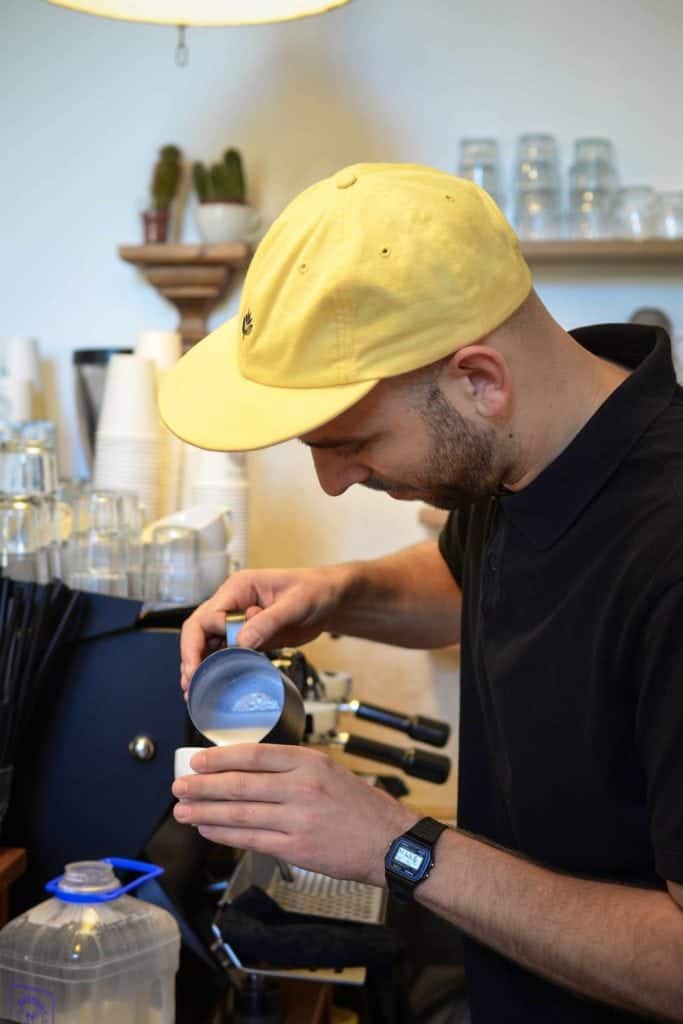 Quick Fire Question
Would you serve filter coffee with milk, if asked for it?
Yes. I would be honest with my counterpart and ask the person to recommend to try without milk, but of course, I serve milk.
Do you ever take sugar with your coffee?
No.
Espresso or Filter coffee?
Both.
Do you aim for Sweetness, Acidity, or Body?
Depends on the coffee. But I love a lively acidity in my cup.
Milky or Black?
Both.
Slurp or Spit?
Slurp.
Sit in or Take Away?
Sit in is always the best choice if possible.
Cake or Pastry with your coffee?
Cake with coffee and pastry with tea.
What is your wifi password in a cafe?
hermetic
Photos: All photos were taken by Susan Barth.