Erik Freudenberg is a name that is quickly becoming synonymous with excellence in the coffee industry. At just 21 years old, he has already made a name for himself as the German Brewers Cup champion, a title that speaks to his undeniable skill and dedication. Originally from Münster, Erik is currently based in Göttingen where he is pursuing his studies. In addition to his academic pursuits, Erik works part-time at Sundays, a cosy, neighbourhood café focusing on specialty coffee and creating pleasurable moments.
Despite his relatively short time in the industry, Erik has already amassed an impressive array of achievements. He has worked through almost the entire Barista Hustle Online Academy, a testament to his commitment to ongoing learning and professional development. Most notably, Erik has won two out of the three competitions he has participated in, a feat that sets him apart as a rising star in the world of specialty coffee.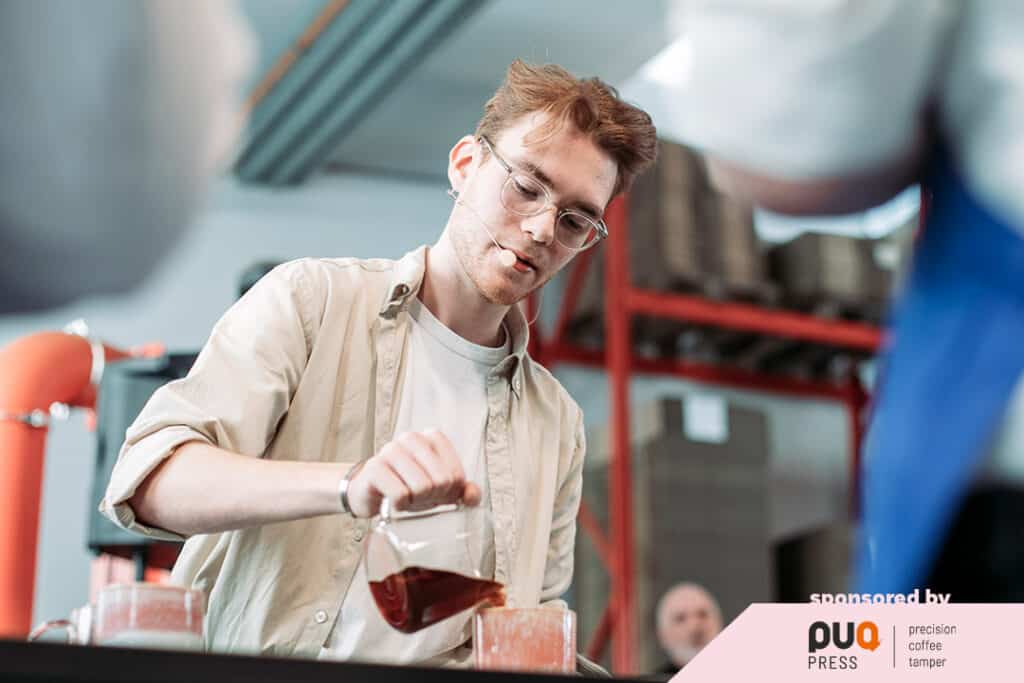 Erik, what is your first memory of coffee?
I remember watching Peter McKinnon's YouTube videos back in the day when photography was my biggest passion. He made a regular habit of featuring his coffee brewing in his videos and I thought "Hey, that looks pretty cool! I want to try photographing that as well". That's really the first time I actively sought out coffee myself. With a knockoff Chemex I started photographing coffee, tried it in the process, and liked what I tasted; Line, hook, and sinker!
​​​​What made you interested / compelled by the coffee industry?
It's such a dedicated group of people who chase a perfect cup that they know doesn't exist. But it never stops them from innovating and trying new recipes or processes. That spirit of constant innovation, to get just that little bit better with every harvest, roast and brew, is what drew me into the specialty coffee industry.
Apart from that, it never ceases to amaze me how different coffee can be. The discovery of new flavours every day is simply thrilling to me and keeps me on the lookout for new beans, brewers, and techniques all the time.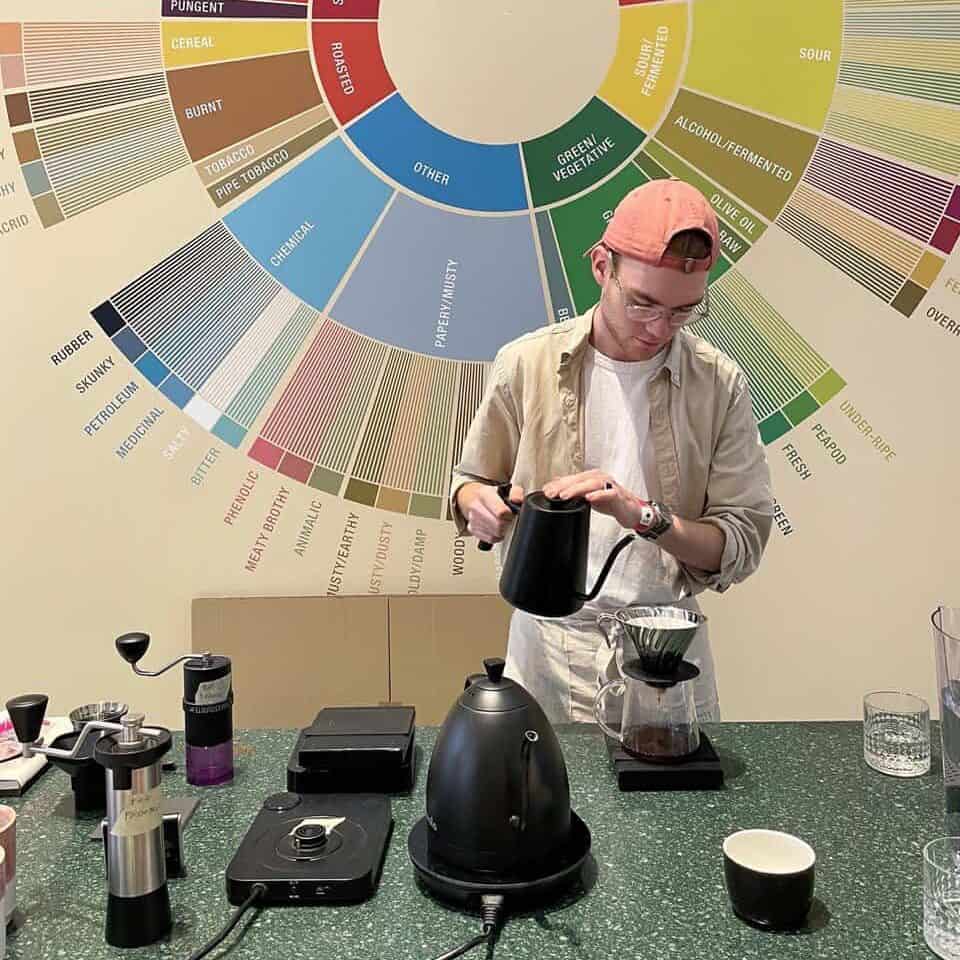 What inspired you to enter the German Brewers Cup competition, and how did you prepare for it?
The inspiration came from my first barista job in 2021. I worked with the former colleague of Erna Tosberg, a German Barista Champion in 2015 and 2016. He taught me barista skills as if on stage and we watched the various international competitions during service. It was the first time I saw people competing in coffee, and being a competitive person myself, the idea of competing myself never left me.
When I won my first filter coffee championship in June last year, I knew I wanted to take the next step, and the next logical one for me was the Brewers Cup. I prepared for it over a long time, even before I knew for sure that I could compete at all. With a lot of time, I had time to fail, make mistakes, and start over a bunch of times. But when I got some guidance from Nicole Battefeld-Montgomery and her husband Jordan, I could hone my skills very quickly. I practised compulsory service more than anything because, in the German Brewers Cup, we only had compulsory service before moving into the finale and open service.
As a newcomer to the coffee industry, what challenges did you face in learning the art of brewing coffee and competing in the Brewers Cup?
The hardest thing for me to master was workflow. To be swift and precise on stage when under adrenaline, brew three coffees and deliver a presentation or work fast under the time pressure of compulsory service. I knew I could brew up tasty filter coffees, so perfecting my coffee simply took time, effort and a great coffee to begin with for me.
But to add the element of time pressure, precision, a stage and a presentation to my brewing was the hardest to adapt to for the first time.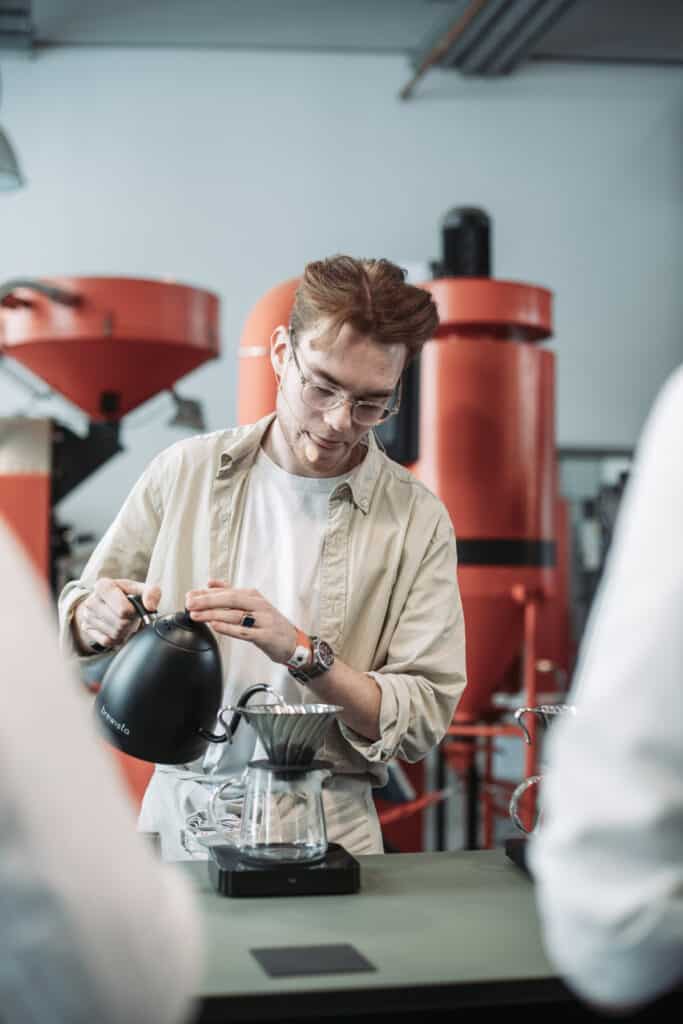 What did you learn from other coffee professionals and experts during your journey to becoming a Brewers Cup champion?
They helped me to grasp what makes a good coffee on the competition stage. I never really tasted competition-grade coffees before, let alone taste the brewed coffee by competitors. Their experience helped me wrap my head around of what are the qualities of a winning coffee.
How do you plan to use your newfound knowledge and experience to contribute to the coffee industry, and what goals do you have for your future in coffee?
I want to share my knowledge. I believe that competitions are extremely important for our industry. They are the place where we make the greatest leaps in terms of innovation and quality, and we need more people to compete. I set out on my journey with the goal to prove that you can compete in coffee without a full-time barista job or a company that backs you up. So I want to share what I learned and inspire people to compete. In the future, I want to work with coffee after my studies. In what capacity I am not sure yet, but the industry is where I see my future.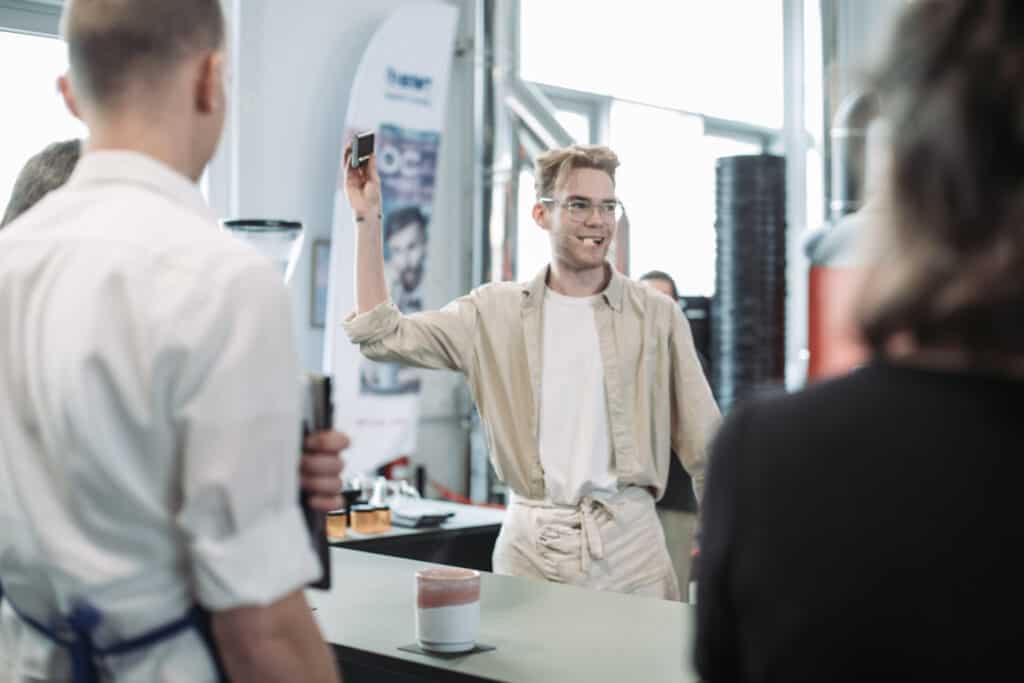 How did you feel when you won the competition, and what advice would you give to others who may be considering entering the Brewers Cup or other coffee competitions?
My honest first thoughts were "Holy sh*t, now I have to train for a world championship". I thought training for the German Brewers Cup was hard and I knew then and there that training for worlds would be on a completely new level. But I also knew that it would be an incredible opportunity for me and I was immediately looking forward to making so many new and unique experiences and getting to know coffee from a new side once again.
If you want to compete in coffee, do not be intimidated by any part of it. The most important part is you – staying calm and focused all the time. And a winning competition coffee doesn't have to be crazy expensive, fancy or limited. So if you want to compete, just do it! You cannot lose, but only gain invaluable experience in training and competing. Just being there, backstage, gave me more knowledge than any course or class ever could!
What role do you think creativity and experimentation play in the coffee industry, and how do you incorporate these elements into your brewing?
I think experimentation is the heart and soul of our industry. We're chasing innovation and perfecting our techniques and recipes, experimenting is the core of that.
If we're creative about it and think outside of the box, we often get amazing results and maybe even the solutions to problems we want to solve.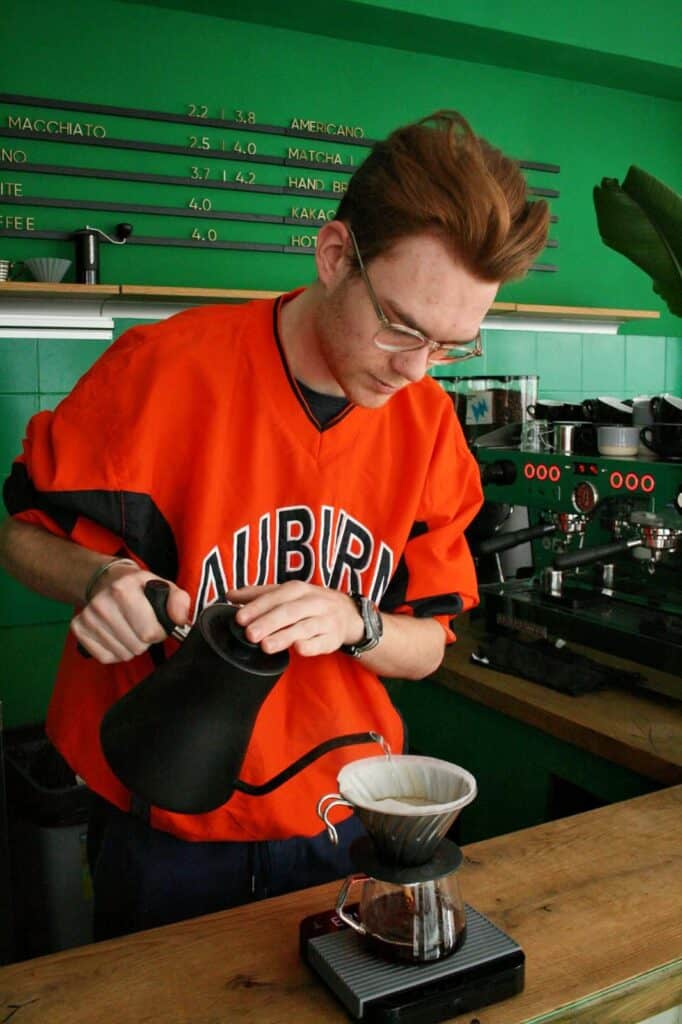 Taking into account your unique perspective, what do you believe sets the German coffee scene apart from others, and how do you see it evolving in the future?
The German coffee scene is still getting started I believe. We are now at a point where more and more small specialty coffee roasters start to populate Germany and people are slowly beginning to see the merit they have over the cheap supermarket or chain-cafe coffees. We are in a growth phase and being a part of that is so cool, to see new people come up and be successful. I really hope that development will keep going and that we will see more and more specialty coffee roasters and cafés all over Germany in the future.
What coffee challenges are you looking forward to? Any new projects or collaborations?
Well, first of all, Athens is my biggest challenge for now. After that, I want to help the cafe I am working for reach new heights in filter coffee. My goal for the future is, quite simply, to show people wherever I can what coffee can really be. To show off the variety it can produce.

Quick Fire Questions for Erik Freudenberg:
Would you serve filter coffee with milk if asked for it?
Yes, but very reluctantly.
Do you ever take sugar with your coffee?
No!
Espresso or Filter coffee?
Filter for sure.
Do you aim for Sweetness, Acidity, or Body?
Acidity, any day of the week.
Milky or Black?
Black.
Slurp or Spit?
Slurp, all the way.
Sit in or Take Away?
Sit in.
Cake or Pastry with your coffee?
Definitely pastry.
Favourite piece of barista equipment?
I love my Barista Hustle pitchers to death!