Delia Avram is 29-year-old barista from Baia Mare, Romania who works as a barista and all-about-coffee girl at Meron in Cluj Napoca. She has been working with speciality coffee on various roles for almost five years. Delia became the 2019 Romanian Barista Champion, and she successfully represented her country at World Barista Championship in Boston.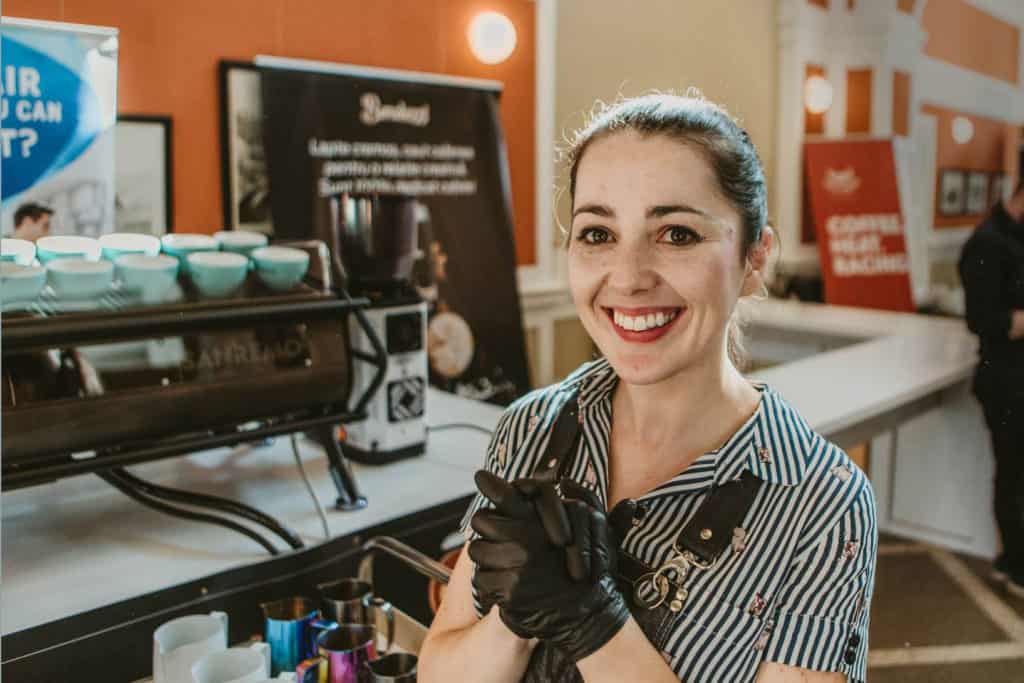 Delia, what is your first memory with coffee?
I remember when I was little, and my mom taught me how to brew coffee using a Moka pot. I still remember how she used to tell me to leave it on the stove until I get everything out. Now she brews it using a recipe I shared with her, where we stop the extraction when we consider it is enough.

What was the moment that made you decide to become a barista?
In November 2014, I went out with a friend for a cup of coffee (I was not a coffee drinker, but everybody goes out for coffee, even if they drink something else). My friend and I went (based on a recommendation) to the one place that was known to have the best coffee in the capital city of Bucharest.
And when you go to a place which is known for a certain product I always try what they are known for. And when I got their cappuccino I was amazed by two things:
It looked really good – it had a simple beautiful hearth poured in the middle.
When I tasted it, it did not taste like coffee. It was far from that bitter unpleasant taste, and for the first time in my life, I actually liked the taste of the coffee.
That particular moment, I realised that if I want to understand why this is so different, I have to work there. I went to the bar, there was a guy with glasses sitting across it with a laptop. Assuming he is the manager I asked him about a job in the coffee shop. A few days after, I had my official first day as a barista at Coftale, and since then I just love being one.
What is the funniest thing that you have experienced behind the bar? Can you recall any embarrassing moment?
One thing comes to my mind. There was one guy I was talking too, about coffee and alternative brewing methods at the bar, and I usually gesticulate when I explain, so while explaining the difference between a Kalita and a V60 I hit something on the table, that fall and hit a glass of water, that overturned and broke. And all the water in the glass was spilt on this guy trousers, on his front side.
It was very funny, I could not have done it if I had planned it, but it the same time, I just wanted to disappear. I told him I was sorry and offered him a coffee in exchange. Hope he forgave me.
Do you have an unusual habit or hobby that you love?
I like to feel the texture of the things that surround me. I am very picky with materials, and usually, when I see an object that I like, I have to touch it, to feel it. As a hobby, I like to train dogs and shoot people – with a camera (laughing).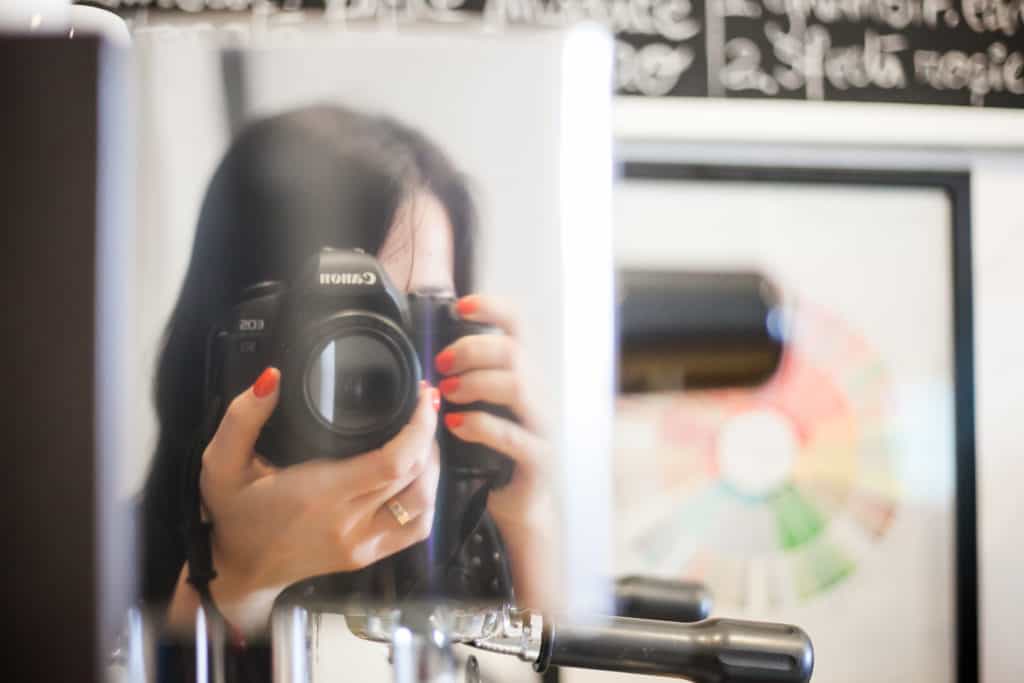 What is your piece of advice for anybody starting a career as a barista?
Being a barista is not only about making the perfect cup of coffee. It is more than that. As a barista, you have to know that you will work with lots of different people, and you can make a difference in their everyday life.
Of course, each cup of coffee that you brew has to be the best you can do it and always serve with a smile.


What helps you to handle a bad day at the cafe and to provide good customer service?
Being a barista is not about me. Everyone has moments and bad days, but how we let those affect us is our choice. I choose not to be influenced by the bad things, and I focus on all the good things around me. That is how I survive. I end every day by being thankful for what I have.

What is the one thing that you would miss the most if you could not work as a barista anymore?
People often tell me that this is the best cup of coffee they had in a while. I would definitely miss that joy when someone tastes the coffee and smiles – just because it is so good.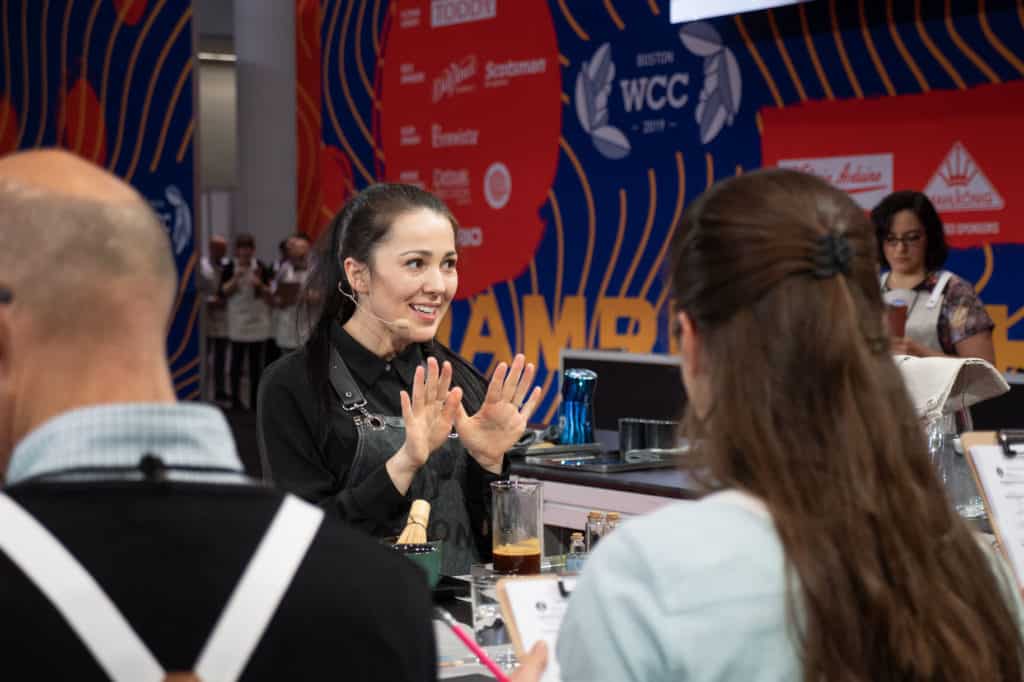 What cafes and roasters make the top list of places to visit in Cluj Napoca? Where would you take your visitors?
If you stop by in Cluj Napoca, make sure you stop at Meron Roastery. This place is by far my favourite. It is almost like a home to me. Here you can enjoy a cup of coffee, as coffee is the only option on the menu.

After you had your first cup of coffee, I would suggest visiting Let's Coffee, a small coffee shop, where the two guys working there Vasi ( the owner, full-time barista ) and his colleague Zizu are committed to delivering the best coffee they can.

For brunch, my favourite spot is Eggcetera – excellent food, awesome bread and good coffee.

For dessert, you must try the Tiramisu at Roots. Almost as good as I make it.

And for the end of the day, if you start a tour at Meron Roastery, I would end it with a visit to Yume Coffee Roasters. Here you will find a team dedicated to researching everything that is going on behind each cup of coffee.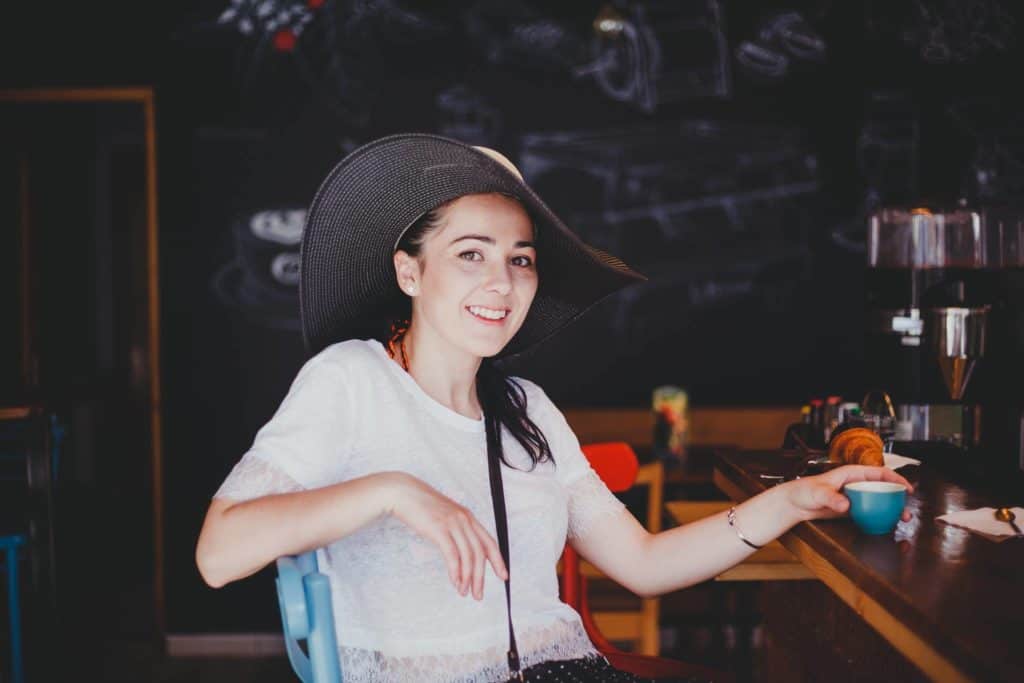 Quick Fire Question for Delia Avram

Would you serve filter coffee with milk, if asked for it?

Yes. But I would also serve the person who asked for it an espresso and milk beverage as my personal recommendation. After they tasted them both, they can choose wittingly which one they like the most.

Do you ever take sugar with your coffee?

No. Never! Why would I?

Espresso or Filter coffee?
Both. It depends on the moment.

Do you aim for Sweetness, Acidity, or Body?
I aim for balance. When the coffee has a little bit of everything, what more can you want?

Milky or Black?
Usually Black, but if I am hungry, I will take a cappuccino.

Slurp or Spit?
Depends on the coffee and on the amount of caffeine I already have in my system. Usually slurp.

Sit in or Take Away?
In – 30 % of an experience is the coffee shop itself, why skip it?

Cake or Pastry with your coffee?
Pastry – but after coffee only.

What is the wifi password at your cafe?
5C40020784