Bucharest, the capital of Romania, is known among tourists for its grandiose historical buildings, such as the Palace of the Parliament. But at the same time, it is quickly establishing itself as a hub for speciality coffee in Europe. Indeed, London is the leading city in Europe, with more than 250 cafés and roasteries, but take a closer look and see that Bucharest actually has one speciality café per 52,000 inhabitants, which is more than Berlin (1 café per 67,000 inhabitants) or Copenhagen (1 café per 72,000 inhabitants).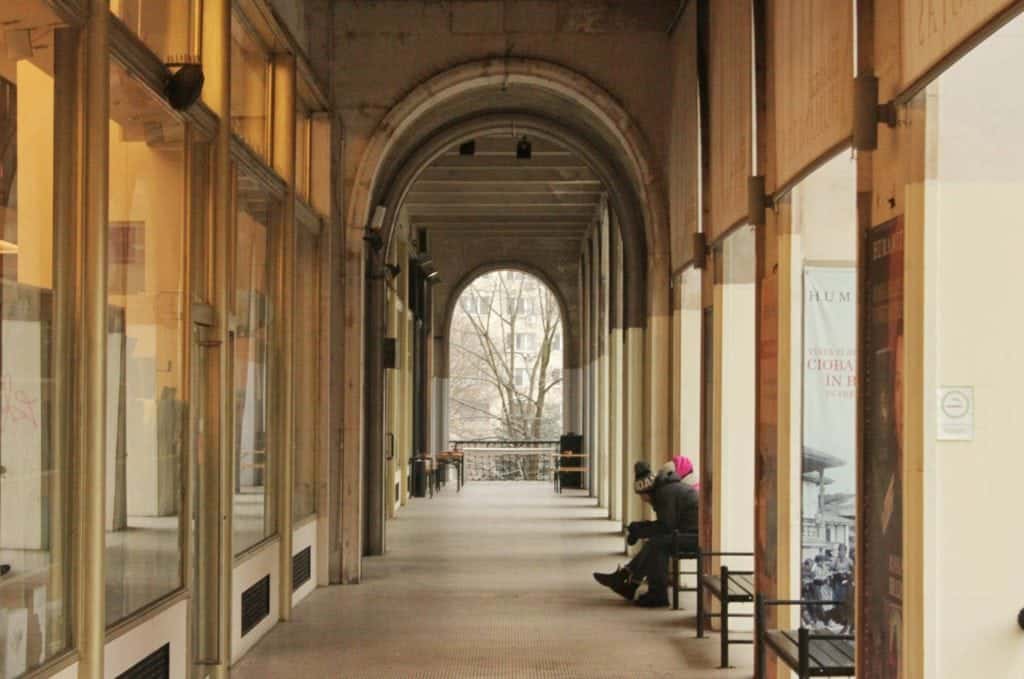 It is quite interesting to see how quickly the speciality coffee scene grew in the city in the past two years. In fact, speciality coffee is just an example among many others, showing how much the Romanian capital actually is evolving.
Coffee professionalism and the strive for excellence
The number of places offering speciality coffee jumped from 11 to more than 50 in less than two years. But quantity is not the only sign of the growth of the scene, excellence has followed suit.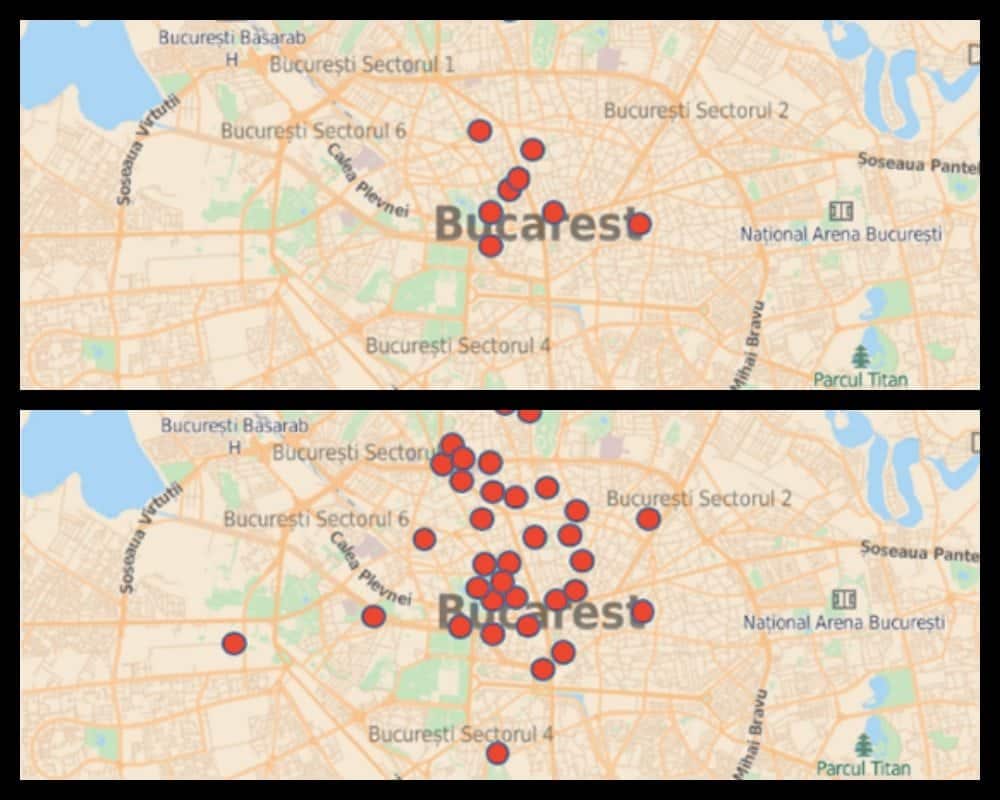 The first generation of local baristas, who were forging the scene between 2012 and 2016, learnt a lot from each other, some of them even spent some years in the UK or in Germany to fine-tune their knowledge and skills in the coffee business. This desire to become excellent at different coffee jobs, from a barista to a roaster, gave very positive aspects to the local scene. Besides competition recognition, such as the one from the World Roaster Championship 2016 won by Alexandru Niculae of Bob Coffee Lab, there are other worldwide well-ranked professionals in the capital. Having this local expertise pushes new speciality coffee entrepreneurs to the top.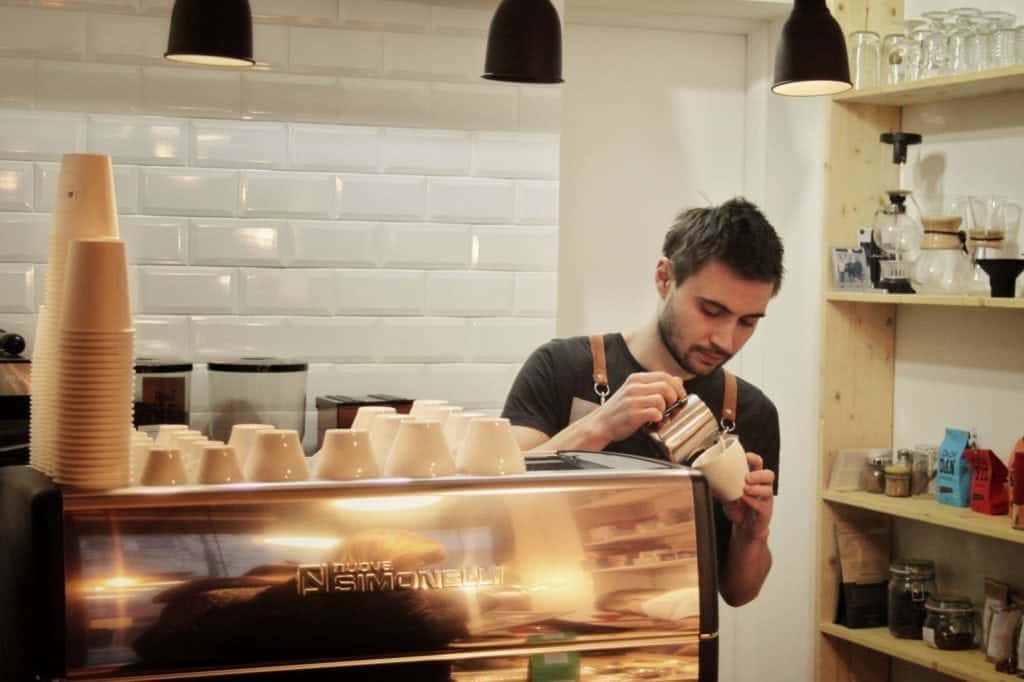 The places offering speciality coffee beans in town have to aim for a certain level if they want their business to be successful. And the customers? They also become pickier when choosing a place to have a shot of caffeine, thanks to roasters and baristas offering excellent coffees.
In the long list of new great cafés that opened in town, I have to admit that 6 particular places come to my mind, the ones that each coffee lover visiting Bucharest should not miss.
Six new cafés which define Bucharest's coffee identity
Dose Café
Dose Café is a small coffee shop founded by Alex Raduca and Alex Frosin, two former sailors who discovered the speciality coffee during their long journeys around the world. After years of exploring countries and seeing the development of the coffee industry elsewhere, they wondered: "How come Romania is not as advanced as many other countries when it comes to delivering a tasty cup of coffee to a customer?".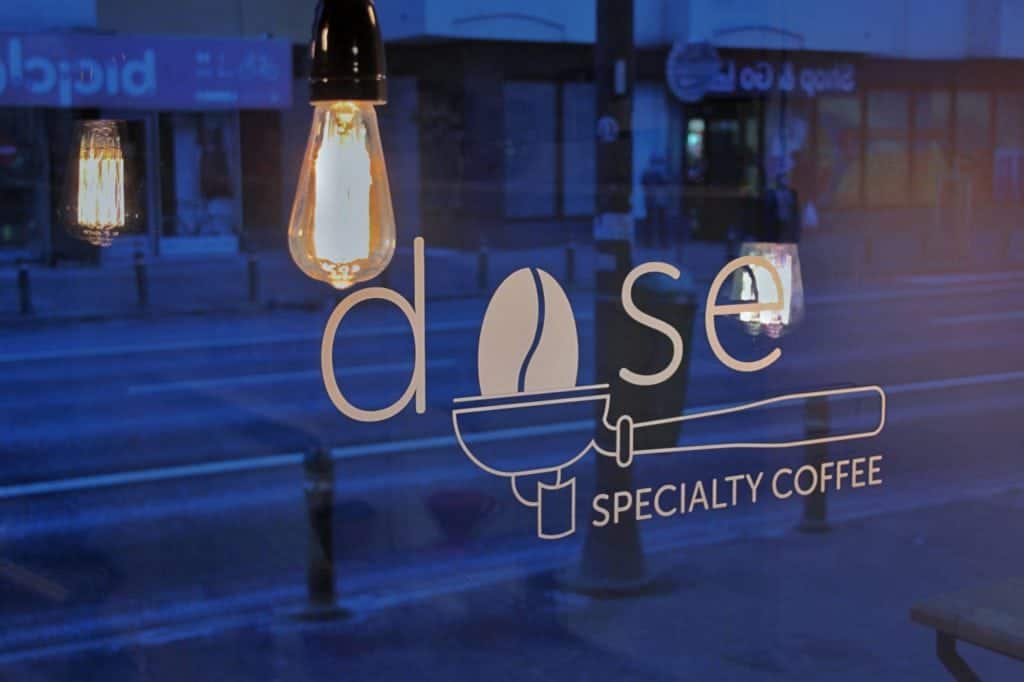 Both owners originally from Galati, they decided to open their first café in Bucharest, seeing an opportunity in a city that had been experiencing a growth in the number of great cafés. Alex and Alex partnered with Caffenation roastery from Antwerp, one of the biggest harbours in Europe, as a reminder of their former life between containers and cargoes.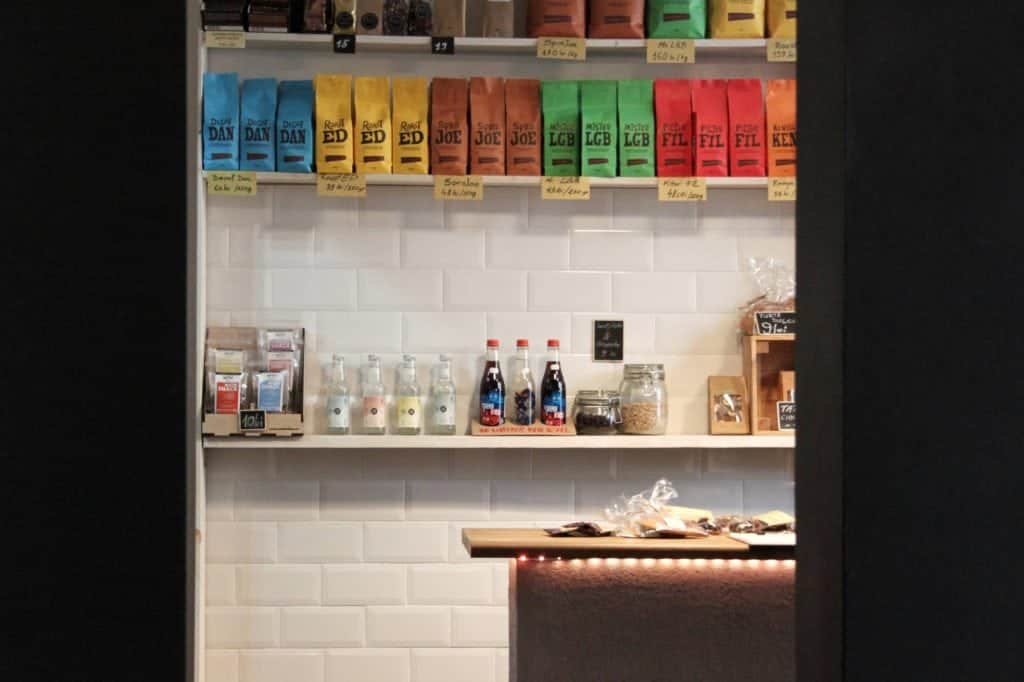 Dose is not only a café, they can also be spotted at various events as a coffee catering service. It is a great way to come in touch with the people who have not heard about speciality coffee yet. Besides coffee, one of the greatest things you can find at Dose is their diverse clientele. Students, elderly people, couples, freelancers, expats, they all find their way to Dose. Alex Raduca considers this a victory for their business. Their secret? They enjoy spending time with their customers, answering their questions and thus helping them choose the drink of their preference.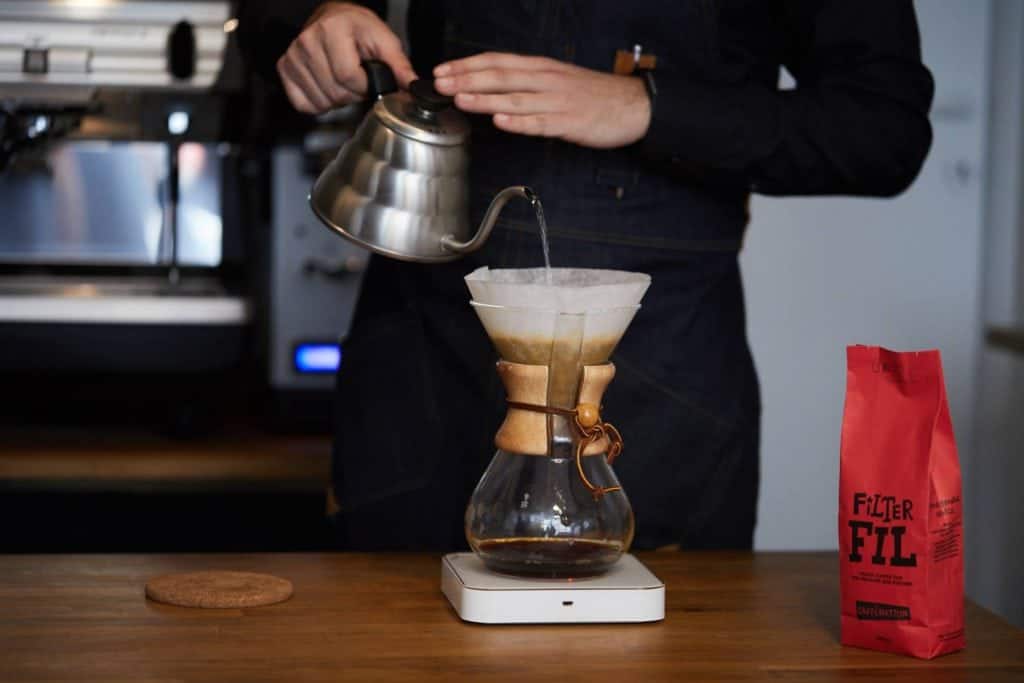 In summer, Dose's cold brew will exceed your expectations. Not widely popular in Romanian culture yet, Dose manages to sell a lot of the cold drink during hot days. If you ask some of the people in the local coffee world, they may even agree that Dose's cold brew is the best in the whole country. You can take it to go, or enjoy it in their backyard terrace, open from May until October.
Calea Dorobanți 56, Bucharest , Romania
Website, Facebook, Instagram
French Revolution
French Revolution—now with a second location in the city—was opened in 2014 with the goal to serve the best eclairs (a type of French pastry) in the city. They became so popular that they receive requests from all over the world to open franchises. Many French living in the city say that they have not had eclairs as tasty in their homeland. What a success for George Panaitescu, one of the founders of French Revolution, who has not decided for the move to an international level, yet. However, he did make an important move recently: he started offering speciality coffee to his clients.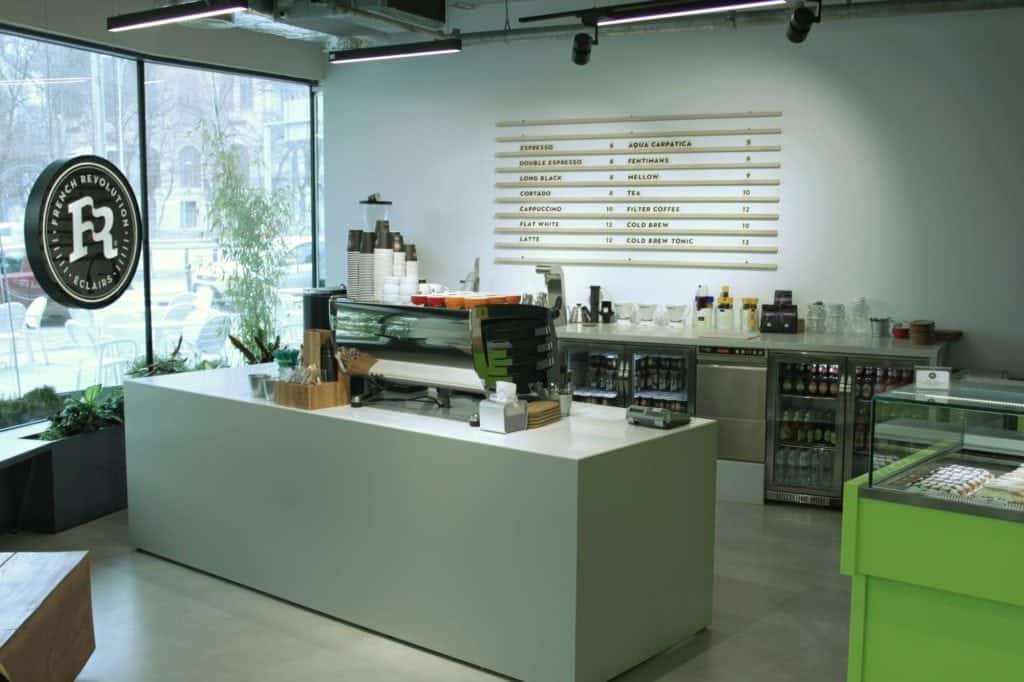 French Revolution partnered with the Origo team who set up the espresso machine and now provides French Revolution with Origo's roasts. George also hired experienced baristas who honed their skills at Röststätte (Berlin), Origo, and Steam (both in Bucharest) to make sure they bring as much consistency and high-quality in regards to coffee, as well as George's eclairs.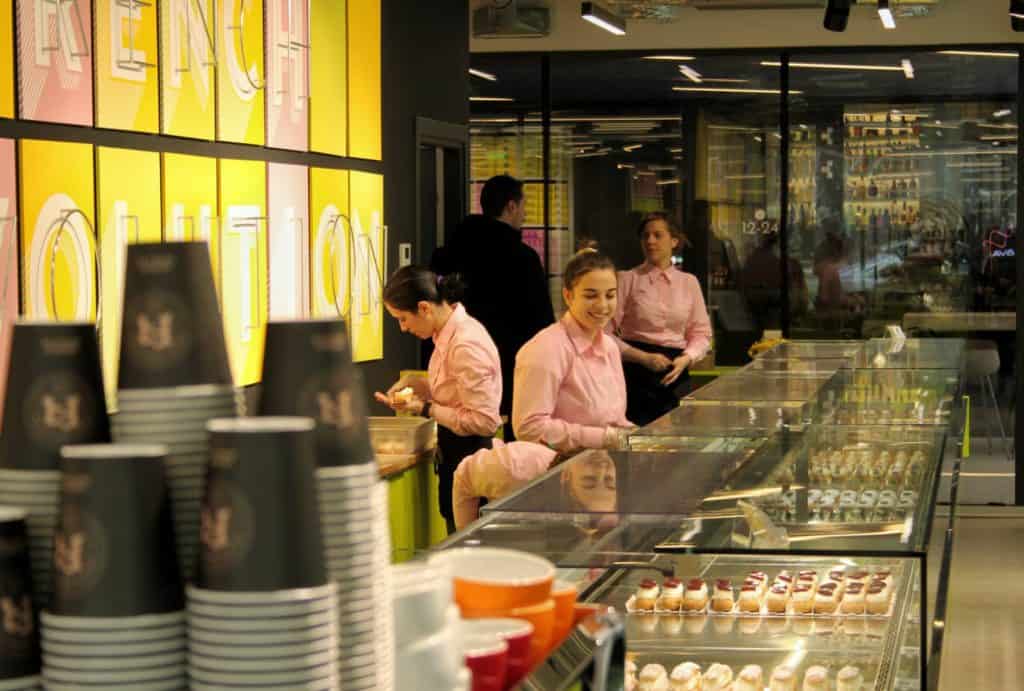 But many wonder what brought George to make this move with his eclairs boutique. George has had a passion for speciality coffee gained through travels, but he also realised the demand of his eclairs-loving customers to be able to sit down and enjoy their pastry, and a coffee, in the store.
The first time I visited French Revolution since their step-up to speciality coffee, I ordered a flat white, and then wondered which eclair would fit best with it. Remembering my childhood as a native from Brittany I ordered a "Caramel au beurre salé" [salted-butter caramel], and looking around the café I realized that most of the customers had a cup of coffee in their hands.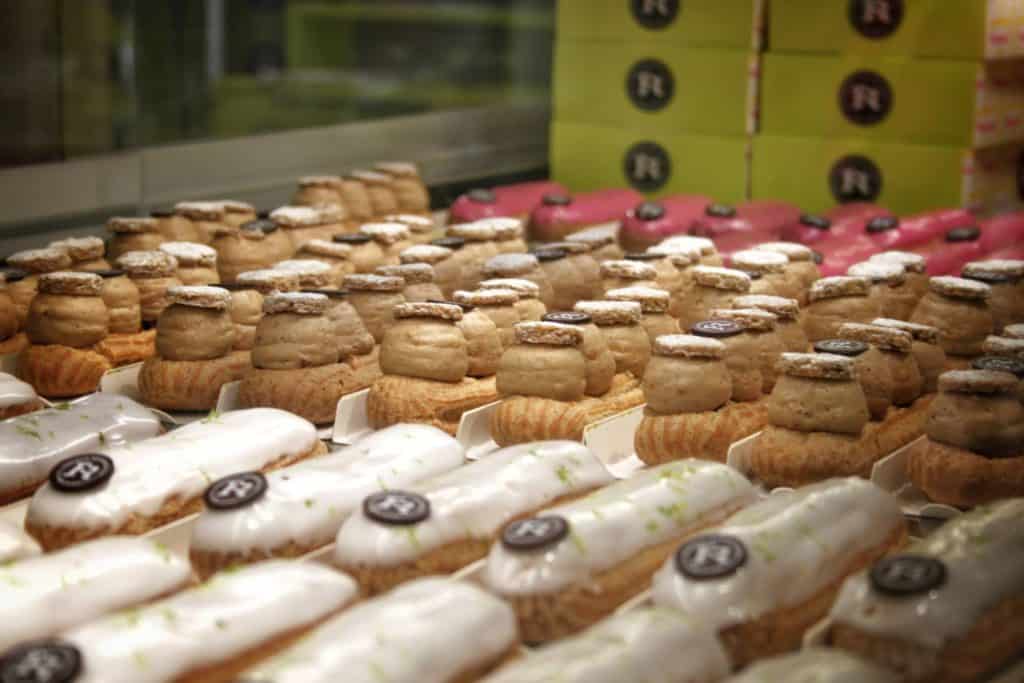 French Revolution brings a lot of added value to the local coffee scene. By serving a delicious cup of coffee to primarily pastry-shop customers, they open the doors to good coffee for them. It is encouraging to see not only new cafés but also other hospitality venues embrace speciality coffee.
Bulevardul Aviatorilor 8A, Bucharest 011852, Romania
Website, Facebook, Instagram, Twitter
Artichoke Coffee Shop
A surprising name for a café, right? Diana Anghel and Alex Ciomartan, the founders of Artichoke, were looking for a funny name for their café and ended up with Artichoke. It is quite fitting though, as both owners agree not to take things very seriously when it comes to interacting with their customers. They just want to have an easy-going and friendly approach to service, without pushing their customers to drink a cup of coffee any specific way.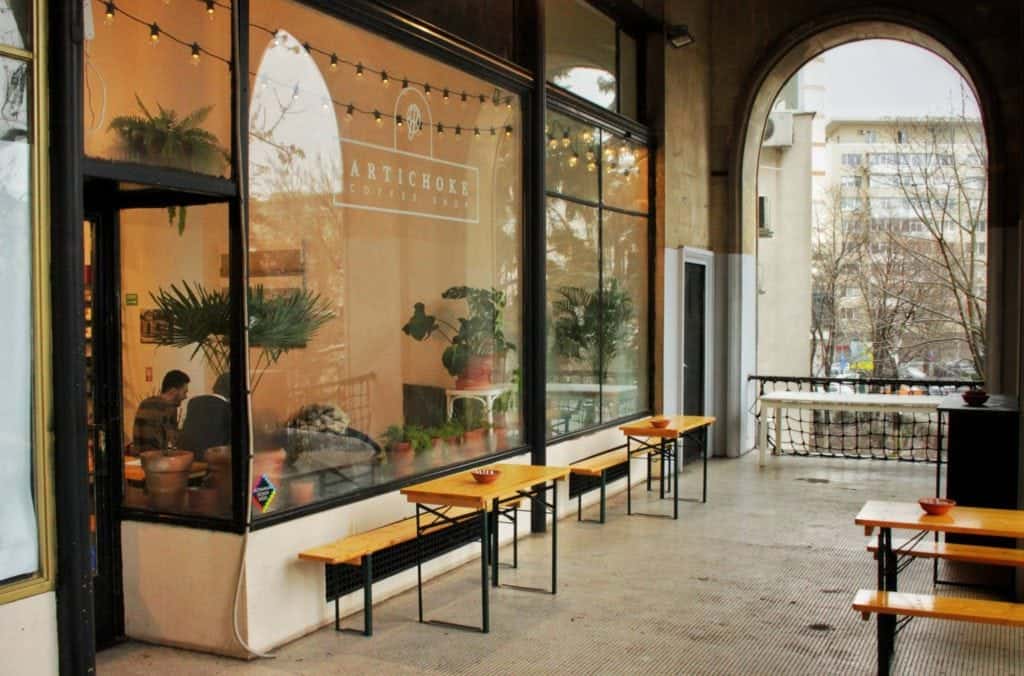 On top of that, they also offer all day—delicious—breakfasts and pastries, to keep the bellies happy.
Thanks to Diana who is a photographer, passionate about brutalist and modernist architecture, art is equally important at Artichoke. Diana then takes the opportunity to use Artichoke as a small art gallery promoting local artists. Some of the exhibited pieces are by Artichoke's baristas illustrators. It is quite a great combination to enjoy an art exhibition while drinking a great cup of coffee.
As people say, Artichoke has become a favourite place of Instagrammers and bloggers in the last months. "Artichoke is proud to be a place where you can be inspired to get creative, find a new interest or a hobby among the art that surrounds you", said Diana. One of Artichoke's challenges for the coming months will be hosting more and more photography exhibitions which promise to offer their customers a boost to their creativity. They hope to inspire their visitors to do things that can have a positive influence in Bucharest.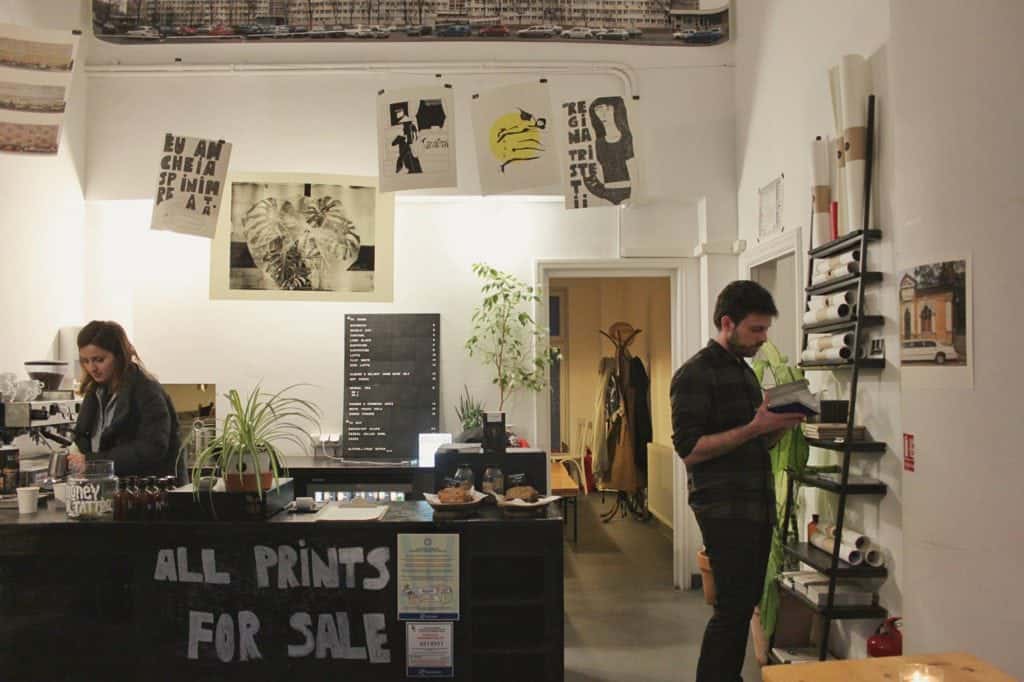 The coffee at Artichoke is supplied by Dark Arts from London, a reminder of the time Diana and Alex spent in the capital. During the time of my visit, they served El Salvador, Los Pirineos Red Bourbon, which fitted very well with a cappuccino, with its chocolate milk and nougat notes. Beside Dark Arts, Artichoke may welcome other guest coffees every couple of months.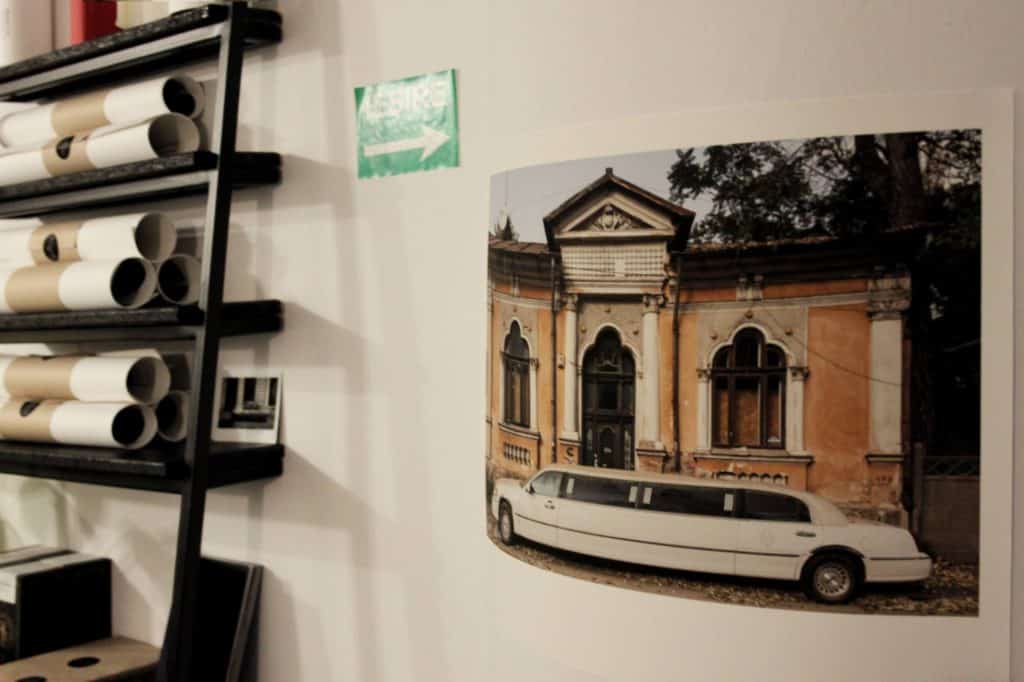 While you take in the art, you can enjoy a flavoursome drink from their menu. I love their homemade turmeric and orange juice on sunny days!
Calea Victoriei 45, Bucharest 010062, Romania
Website, Facebook, Instagram, Twitter
Trofic
If you visit Bucharest, Trofic is the perfect place to start the day with. Located in the heart of the "Creative District" with various design shops, bars, cafés, concept stores and restaurants, it was opened by Origo team in June 2017. The Origo team have had a strong focus on taste over the last years in the coffee industry and naturally wanted to expand their universe from coffee to food as well, following taste as the main principle. After all, their slogan says: 'Trofic – Naturally evolved food', pointing at the link and relationship between producers, chefs, and customers.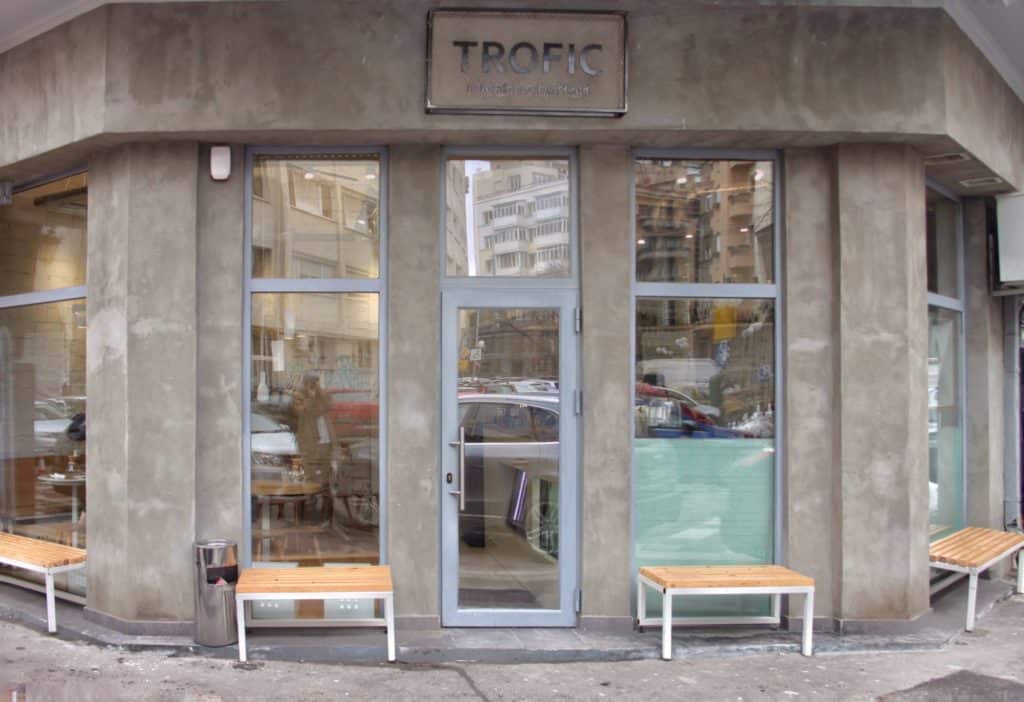 Non-locals may not understand why that matters, but the reason is quite simple. It is the only place in central Bucharest which provides both delicious food and excellent coffee. Obviously, quality goes with an amazing customer service. Bianca Ganea, the Head Barista at Trofic and the Romanian Brewers Cup champion 2016 may be the one in charge of preparing your favourite coffee drink with the help of a Synesso espresso machine. Sat on the bar, in front of your eyes, it seduces you with its beauty and will deliver clean coffee with transparent aromas.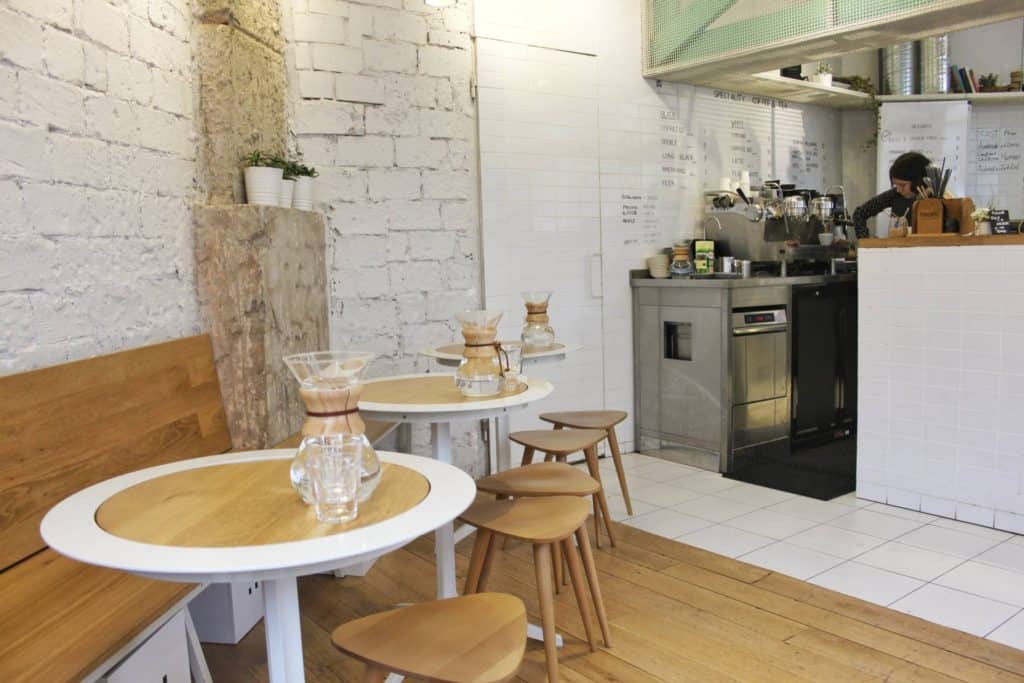 In less than four months, Trofic managed to build its reputation in the whole city. The word of high-quality ingredients and the great customer service spread fast and the café is almost always busy.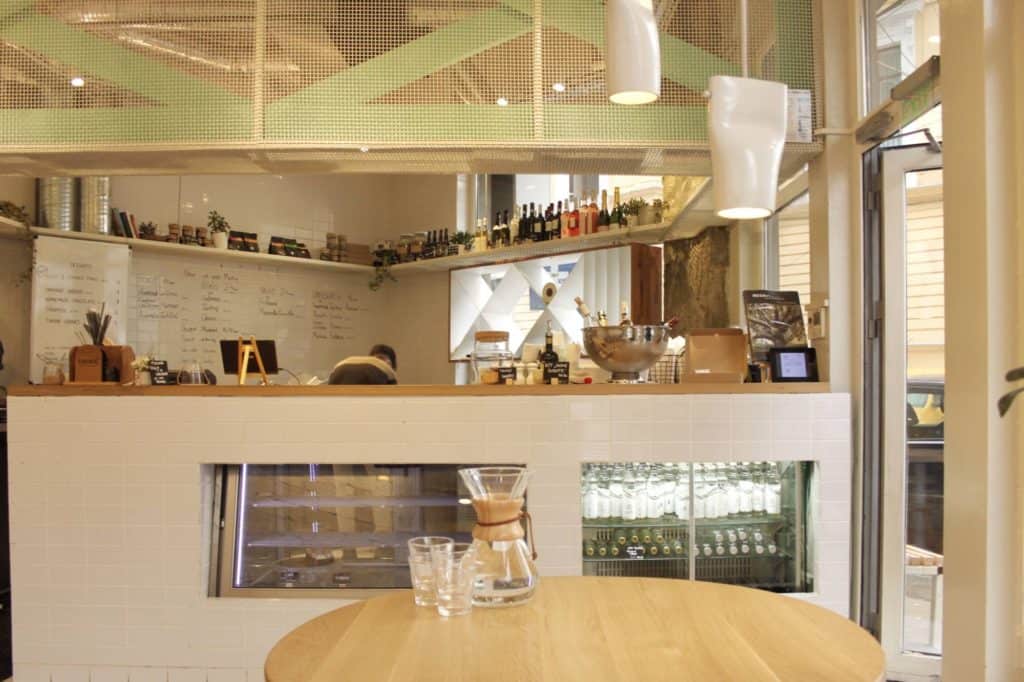 Strada Actor Ion Brezoianu 29, Bucharest 010131, Romania
Facebook, Instagram
Beans & Dots
Beans & Dots is one of the trendiest cafés in town and distinguishes itself from many other places by its premium location. The café is located in Palatul Universul (Palace of the Universe), a restored venue that hosts a creative hub for the local community. Beans & Dots provides coffee on the first floor shared with a coworking and event space. Other commodities, such as bars, a theatre, and a yoga space allow you to easily spend a full day at the premises.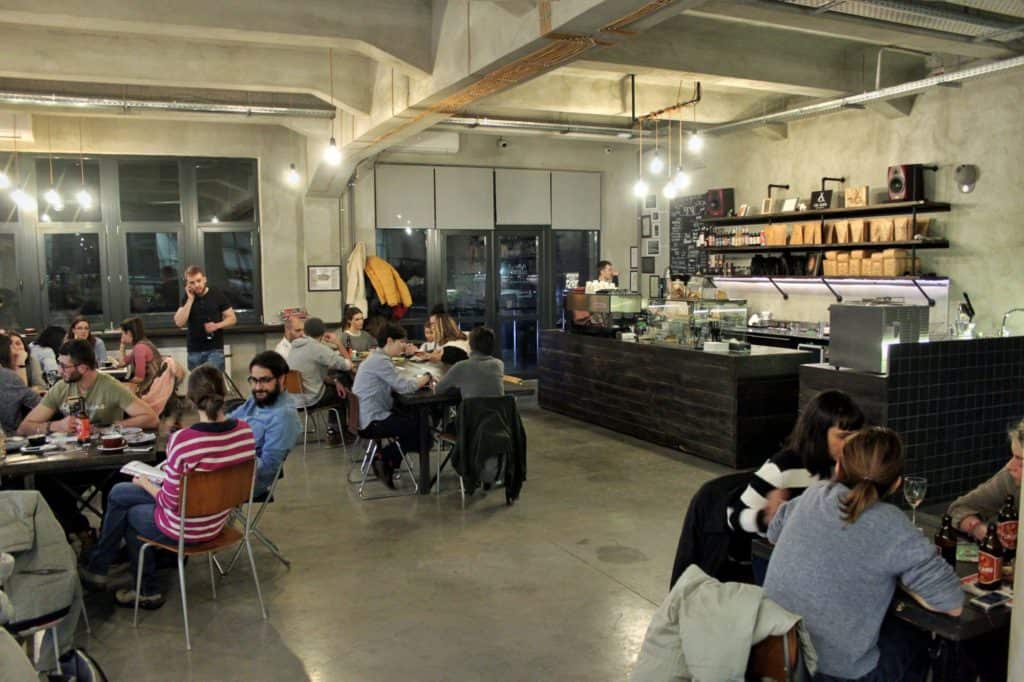 The café has become the heart of the coffee community in Bucharest not only thanks to its unique location. Beans & Dots hosted the national Aeropress championship in 2017 and organise private events for baristas. Anca Ungureanu, co-founder of Beans & Dots, says: "We want to invest even more in our people in making them the best on the market".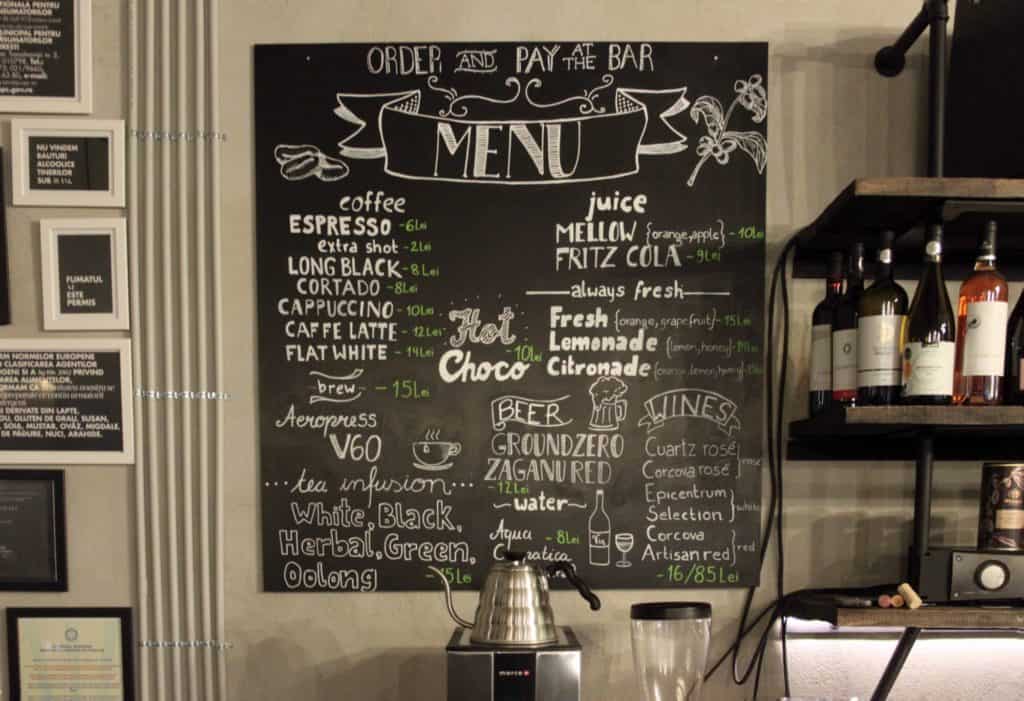 Proudly collaborating with The Barn for their coffee and Companion Tea for the … tea, they use a La Marzocco Linea 2 espresso machine as well as different brewing methods to prepare their coffee drinks and offer the possibility for their customers to read cool books and magazines mentioning local artists. Coffee and art fit well together said Anca who opened the café with Adelina Ivan, fashion designer and contemporary artist. Best match ever to attract and meet this community in town, right?
But no worries, no need to be an artist to be welcomed, the staff are super friendly and you'll love spending some time with books and hot drinks.
23-25, Strada Actor Ion Brezoianu, Bucharest 010131, Romania
Website, Facebook, Instagram
Two Minutes
"Wait 2 minutes" is a saying that many of us often hear, and Ionut Bindila and Andrei Ropcian realized it was the perfect time to prepare a proper espresso. They opened their first café in May 2016 in the Floreasca district, in the north of Bucharest, in order to satisfy an audience outside the city centre. Their second café caters to those who find themselves around Cotroceni district, on the western side of the city.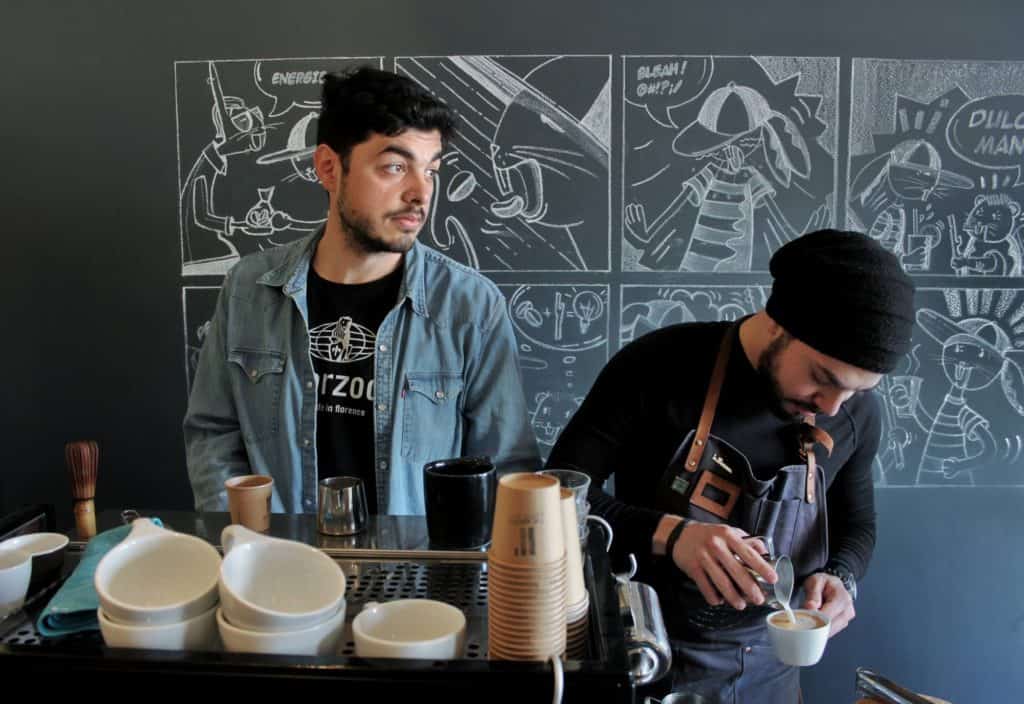 Ionut got to know about speciality coffee when he first moved to Toronto in 2012. He realized that the taste of the coffee was better than back home. His dream of opening a café became more realistic. On his way back to Europe, Ionut spent some time in Berlin, Iceland and Barcelona to master his skills in understanding the complexity of the coffee industry.
Since the opening of Two Minutes, Ionut and Andrei decided to work closely with Right Side Coffee from Barcelona, as Ionut considers them among the best in Europe also for their direct-trade relationships with coffee farmers. The two owners also realized a certain lack of variety in the city's cafés' offering and, therefore, were the first to serve Matcha Latte and Prana Chai. This was received with a great success and pushed other cafés in town to put it on their menus as well.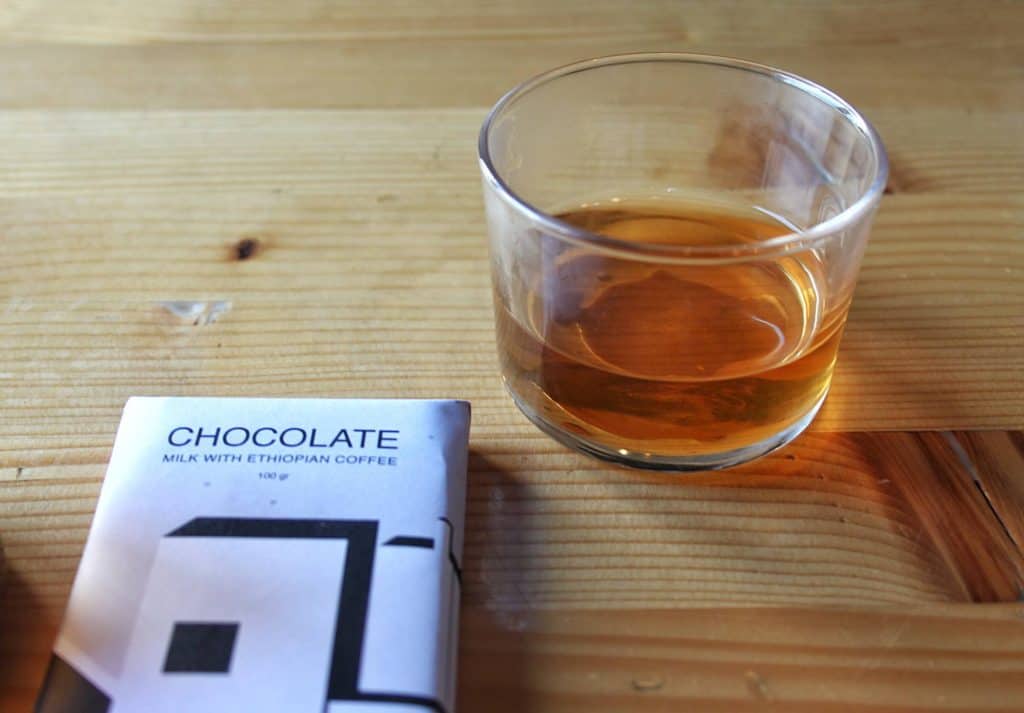 On my most recent visit, I was offered some Flor de Café (coffee flowers) that they infuse the same way we infuse tea. As a regular coffee drinker, it was an awesome experience to try a tea made of coffee flowers, especially as its taste reminded me of maté and its aroma was more like apricots and tobacco.
Ionut made a point wondering why most of the cafés offer speciality coffee but don't invest more in organic products across the whole menu. From organic milk and almond milk to Muscovado sugar from the Philippines, they use high quality products for each step of the preparation of their coffee beverages. They also recycle as much as they can, from consumable materials to coffee scrubs and compost. Ionut and Andrei really want to educate people on this, as the basics of recycling are not often respected in Romania even up to this day.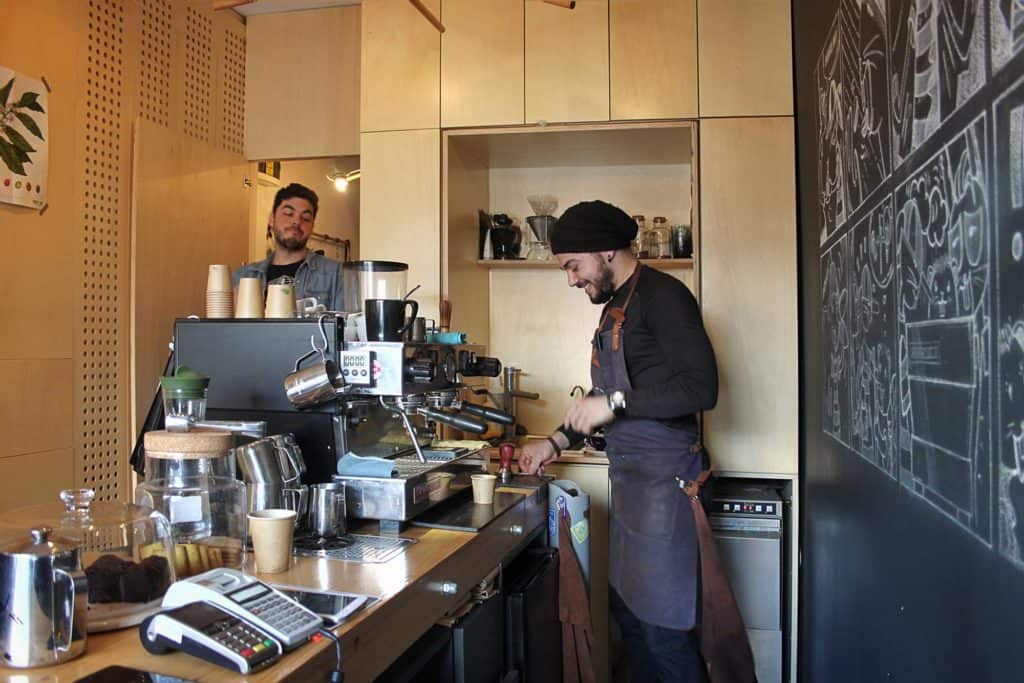 I applaud businesses that are not scared off by the challenging tasks, and I can only wish Two Minutes the best of luck for the future in delivering good coffee and educating people with sustainable development activities.
Strada Constantin Aricescu 50A, Bucharest 014192, Romania
Strada Joseph Lister 1, Bucharest 050541, Romania
Website, Facebook, Instagram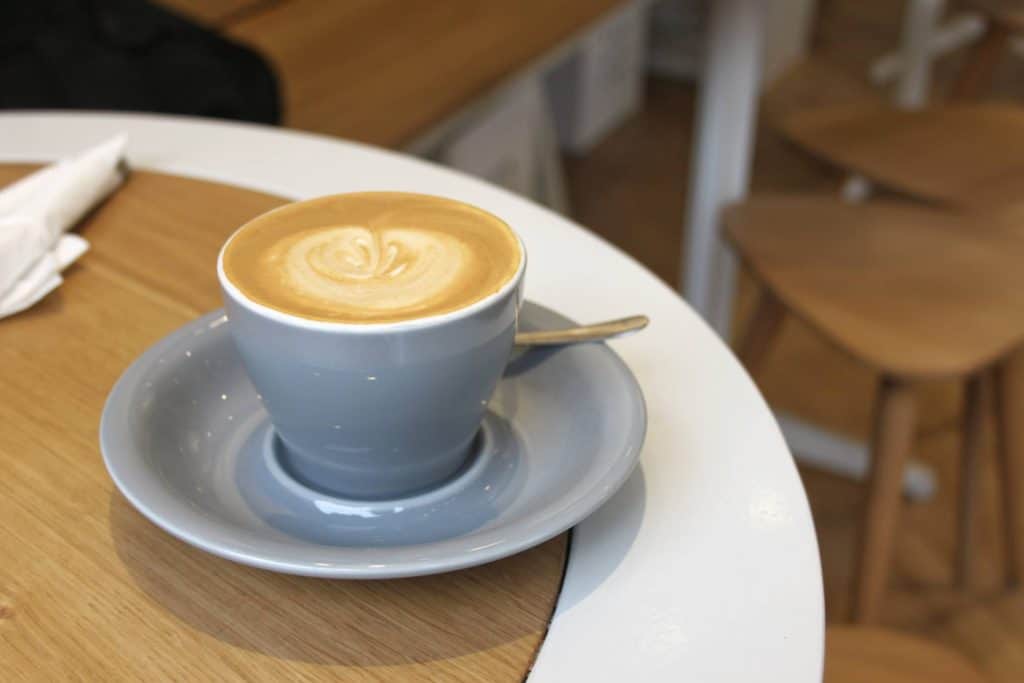 The selected six are a fraction of what Bucharest can offer. If you visit the city, I encourage you to have the Bucharest guide and this list on hand for your coffee explorations.