Our Barista Stories series has been long in the making. Since our first visits to cafes around Europe, we have met many amazing baristas who have had a number of interesting stories to share. We love the speciality coffee community exactly for the people building it and are thrilled to introduce some of those individuals to you.
Baristas truly are the ones who contribute to the atmosphere in the cafe massively and are the key reason why we'd revisit.
Read on to meet Amanda Paiva, brewing your daily cup of coffee at Bocca Coffee Roasters, Amsterdam.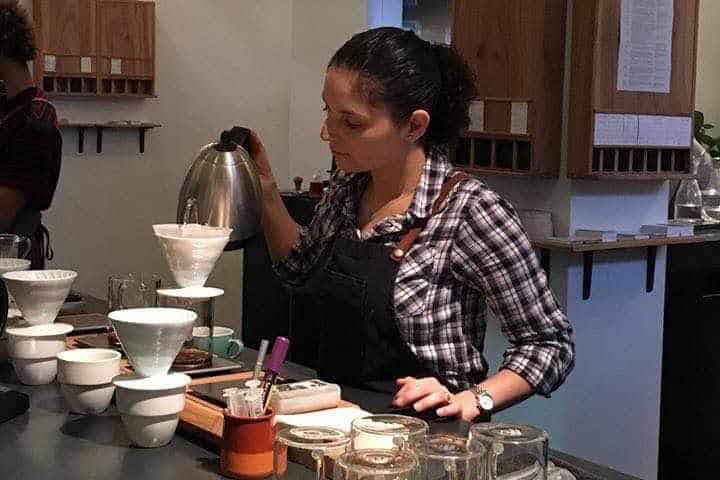 Amanda Paiva is a barista based in the Netherlands, where she works as a Head of the Bar at Bocca Coffee. Originally from Brazil, the 32-year-old Amanda has worked in the coffee industry since 2010.
A few questions for Amanda
What led you to coffee? Could you describe the moment or situation that made you decide to become a barista?
I went to live in London in 2009. I have a Brazilian friend named Fabio Ferreira who had a coffee cart in London. I went to visit him and he made me a delicious coffee with a beautiful drawing. I was delighted! I asked him to teach me how to make coffee and he promptly offered me a V60, a coffee bag from Square Mile and paper filters.
As soon as he opened his first shop, Notes Coffee Roasters, with his partners, he called me to work with him.
What is the funniest thing that you have experienced behind the bar? Can you recall any embarrassing moment?
Working behind the bar, there are always funny moments. The customers keeping surprising me. Once a customer ordered an Iced latte without milk and no ice.
I don't know if you can put this situation in your article, but it was very funny. A few months ago, there was a coffee from Panama, and the name of the region (Boquete) in Portuguese means a 'blow job'! We have some Brazilian customers, so, everytime that I served this coffee to a Brazilian, the reaction was always the same: "OMG!!!! Hahahaha." It was funny and embarrassing at the same time.
What would you do if you were not working in coffee?
I studied Theater, and Radio and TV at University, so I would probably work with something related to Arts. Or, I would become a cook, because I have always liked to cook.
What is an unusual habit or hobby that you love?
I don't know if it is unusual… but, I love games! Board games, video games, escape rooms, billiards, etc… And I'm not competitive, what I like is to have fun. I also love rollercoasters!
What are some bad recommendations you hear often in your profession? What is your piece of advice for anybody starting a career as a barista?
I think that the only negative thing is that this occupation is not much recognized. For some people, we are baristas because we had no choice. I think this mentality has been changing, but there are still many people who do not understand the complexity of making good coffee.
There are only two pieces of advice that I can give to those who are willing to start this career: Read and drink coffee.
It's impossible to know everything. There is always something new to learn. New technologies, new coffee brewing methods, new discoveries about coffee, processing, roasting… It is important to be always up to date.
Drink coffee to train the palate. I recommend drinking all kinds of coffee, and in different places, at home, restaurants, bars and coffee shops. This makes it easier to identify the difference between speciality coffee and commodity coffee.
For everything I eat, I smell and I eat slowly, to memorize the reactions of my mouth. For example, when I eat something citric, I feel my eyes close a little and the taste going to the top of my mouth.
Ok… three pieces of advice.
Looking back, what one thing would you wish to know when you were starting to work as a barista?
Nothing. I was pretty lucky to start working in the coffee industry with very good baristas, good coffee and I had my friend Fabio to teach me a lot of things. He is my Obi-Wan Kenobi, I'm always learning with him.
Later on, I went to a roasting course with Five Elephant in Berlin, so, I've always been close to great professionals. I can't complain.
What qualities set a good and a great barista apart?
A good barista should know how to make a good coffee recipe, good milk and a nice presentation.
An excellent barista should know about coffee processing, roasting, history, botanic, technology…and of course, make a delicious coffee!
If you have a bad day at the cafe, what helps you to handle it and provide good customer service?
Breathe. Counting up to 10 is an excellent exercise.
What is the one thing that you would miss the most if you could not work as a barista/in coffee anymore?
Easy, I would miss making coffee! Every time I go to a coffee shop I feel a huge urge to ask the barista: Can I make my coffee?
Imagine the perfect day in your city. Perhaps you have an old friend visiting. What would be top 3 to 5 activities or places you would show them?
First of all, have a delicious coffee in one of my favourites coffee shops.
Then walk and enjoy the city. Stop to see some stores with fun things, eat a cake and enjoy the view. I also like to take my friends to my favourite restaurants.
What do you consider some of the best experiences you have had in coffee so far?
The best experiences that I had were: learning to roast coffee in Berlin, at Five Elephant, teach about coffee in Paris at Lomi, roast coffee for 1 year and a half for KB coffee shop, also in Paris. Join the Coffee Carnaval hosted by Coffee Collaborative, where I learned so many things and met many amazing people, including Flávio Borém, writer of the book 'Handbook of Coffee Post-Harvest Technology', which I had a wonderful conversation with. Well, coffee is always bringing me great experiences.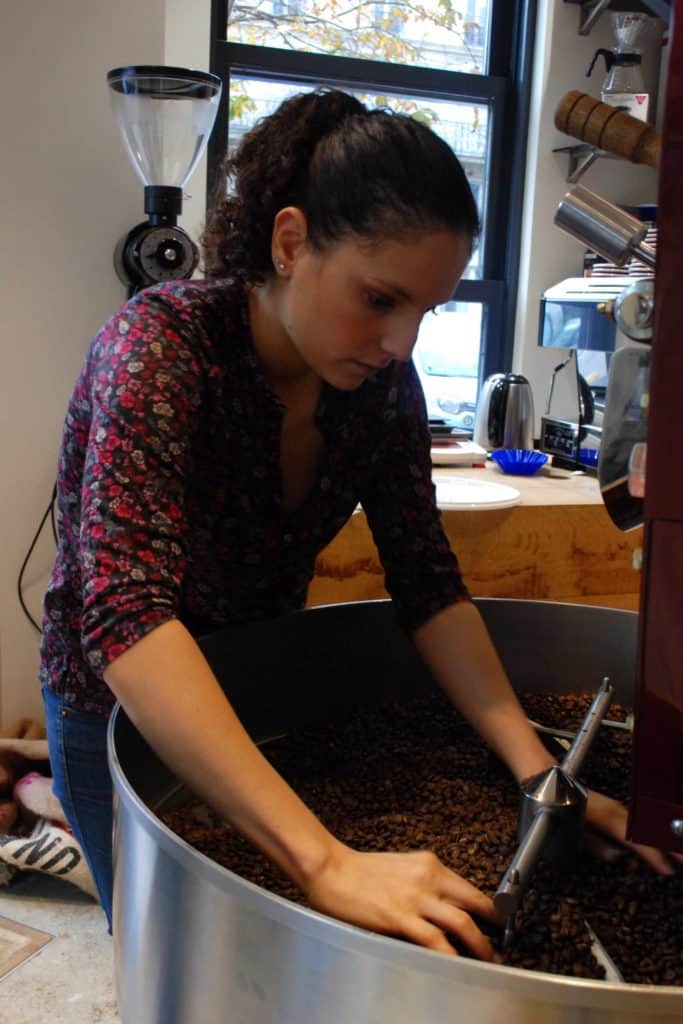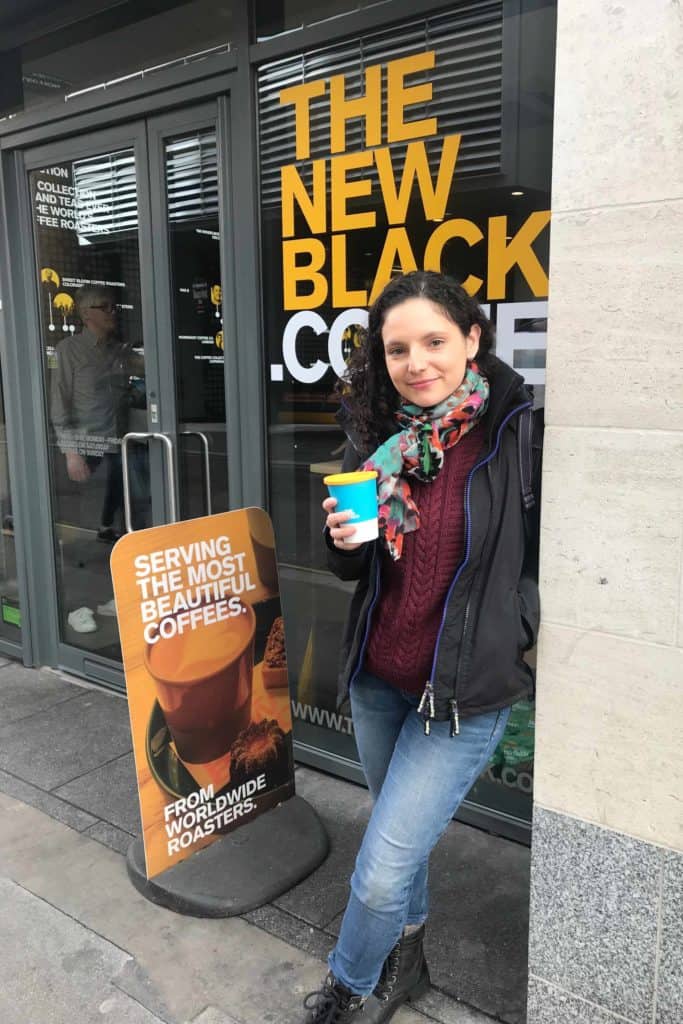 Quick Fire Questions
Would you serve filter coffee with milk, if asked for it?
No
Do you ever take sugar with your coffee?
No
Espresso or Filter coffee?
Filter… We only drink filter coffee in Brazil.
Do you aim for Sweetness, Acidity, or Body?
A bit of everything. I can't choose.
Milky or Black?
Black
Slurp or Spit?
Slurp
Sit in or Take Away?
Both, but TA in a KeepCup.
Cake or Pastry with your coffee?
Just coffee, please.
What is your wifi password in a cafe?
Espresso