Magdalena Głowacka is a 29 years old coffee professional with already 8 years of experience born and raised in Warsaw, Poland. Magda co-owns Serio. coffee spot where she trains on barista skills and also organises various types of coffee events and services.
Magda is one of the veterans of coffee competitions and championships. Just to mention a few titles: 3rd place at Polish Latte Art Championship 2020, 1st place at Latte Art Cup in Przemyśl 2018, 1st place at La Marzocco Mini Meets Art in Białystok 2018 and The Caffe Nero Barista of The Year 2016! Magda also participated in the Polish Latte Art Championship 5 years in a row and doesn't plan to stop anytime soon!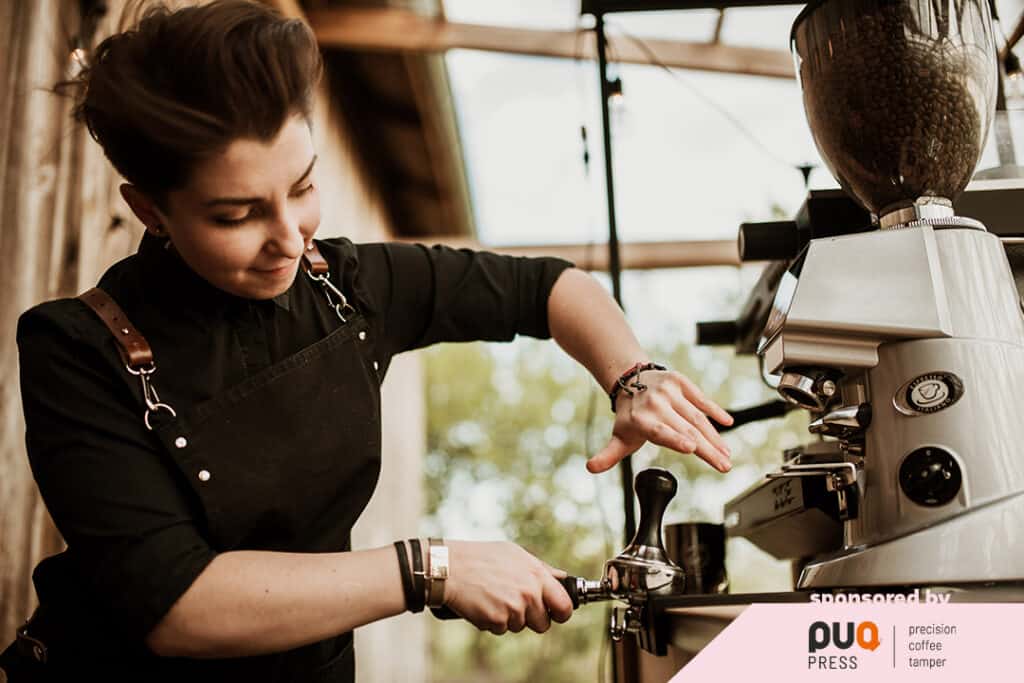 Magda, what is your first memory with coffee?
The first memory was probably the instant coffee I drank at home. I remember drinking homemade frappe with my sister while studying for exams at university. And that's about it. Obviously, I had no idea about good coffee or specialty coffee until I started working in a cafe when I was 20.
Could you describe the moment or situation that made you decide to become a barista?
I worked in an ecological cosmetics store in a shopping mall in 2014. Next to this shop there was a cafe, that was supposed to be open soon. I remember walking past this cafe on my way out of the gallery, wondering what it's like to be a barista. I submitted my CV, I got a job. That's how it started.
What's the most common question you get asked during barista training? How do you answer it?
People often people ask me how long it took me to learn basic latte art. And I remember that during the training to work in a cafe, I was the only one from the group who failed to make a beautiful heart on caffè latte. I think it took me about a month to make it.

My answer is always that I think it's an individual case because everyone has different predispositions. Some are more skilled than others. I am very proud when my students make a heart, tulip or event rosetta after only a few hours of practice. Either they are very talented or they have a good teacher (wink, wink).
What is the funniest thing that you have experienced during a coffee event? Can you recall any embarrassing moments?
My first Polish Latte Art Championships in 2016. My debut. We were sitting in front of the training room waiting for our turn when my colleague Mateusz asked me what I had prepared for the Art Bar. And my reaction was "Art bar? What art bar?!" I didn't read the rules and regulations carefully and I had no idea about Art Bar. I came up with something quickly, I had to. On the Art Bar stage – I don't think I've ever been so stressed before. I had 10 minutes to present one coffee and honestly – I barely made it. Surprisingly, I did quite well, I think I took 8th place! It was embarrassing then but it's funny now.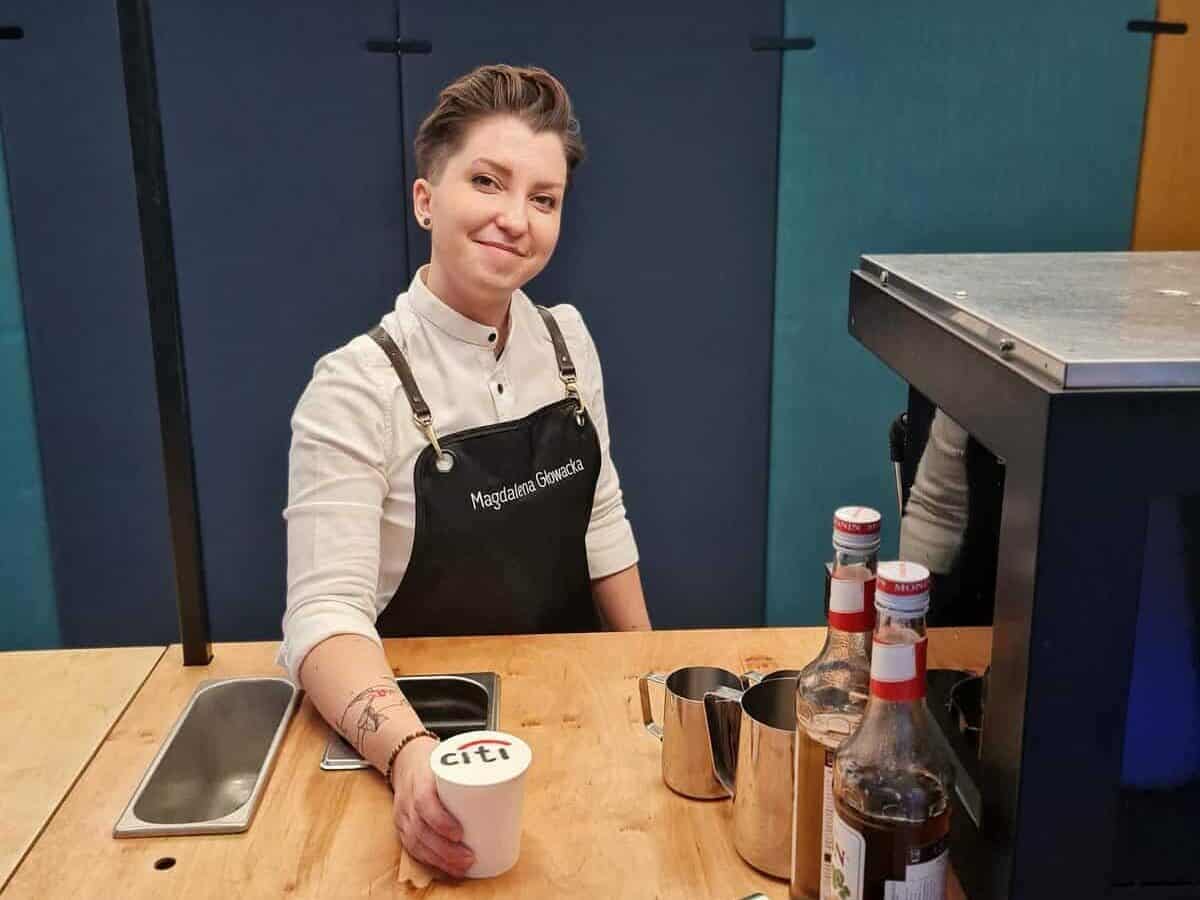 What's the most satisfying: training baristas or working behind an event coffee bar?
Definitely, barista training because it's way more challenging for me – physically and mentally. We have trained over 1000 people so far. Everyone is different. Different characters, different abilities, and different needs. We're in the group but I have to treat everyone individually. There are different situations to which I have to adapt. I have to give everyone specific feedback and teach them something. All with a big smile and passion, forgetting about fatigue.
Are there any bad recommendations you hear often in your profession? What is your piece of advice for anybody starting a career as a barista?
The barista profession is not as easy as it might seem. I guess a lot of people don't realize this until they start working in a coffee shop or opening their own. Then it might be too late!
Having a good reputation is hard if you don't do your job well. My advice for anybody starting a career as a barista would be – to take a barista course, learn more about coffee and customer service, and then open your coffee business and enjoy it.
You compete a lot in coffee competitions. What makes you compete and what do you like the most about them?
For me, it's the adrenaline. I like to raise the bar for myself. I like how every year I look at my last year's patterns and think "God that's so ugly". Latte art is the only thing I know I'm really good at, and I know I'm getting better each year. In 2016 I promised myself that I would win the Polish championship before I was 30. That's what makes me compete. So next year will be my last chance and I can't wait.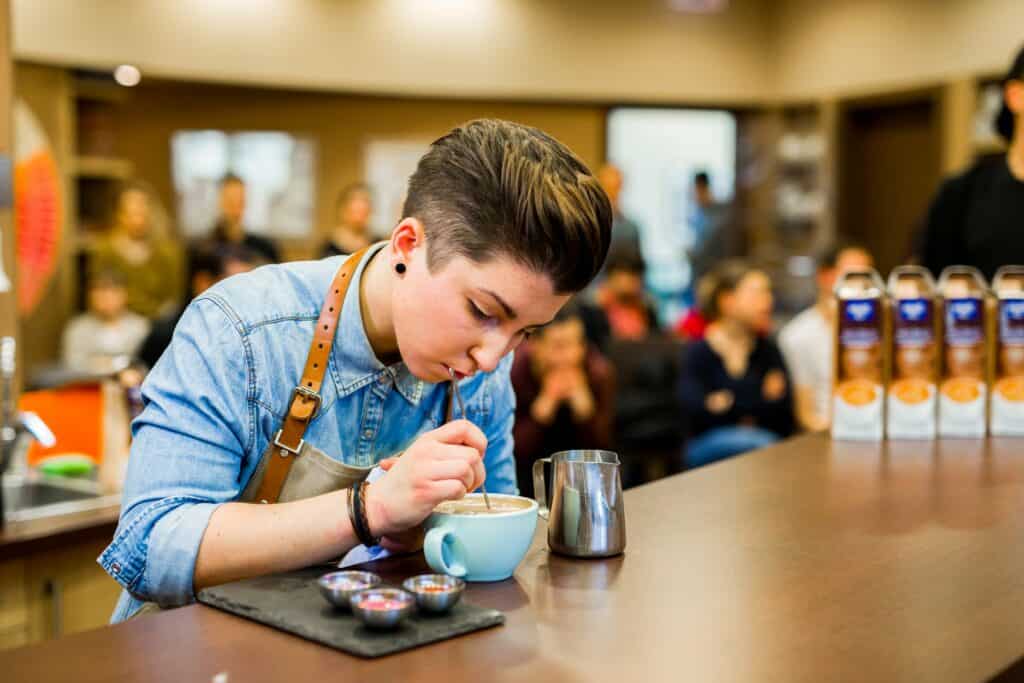 If a career in coffee was not an option, what job would you be doing?
II always liked to play football so maybe I would become a professional football player.
What coffee challenges are you looking forward to? Any new projects or collaborations?
Personally, my main goal for next year is to win Polish Latte Art Championship. And as Serio.coffee spot, despite many obstacles, we try to constantly develop and gain the trust of new clients. Recently we have started cooperation with one of the producers of home coffee machines, which we are very excited about.
Overall, we have a lot of work to do, which makes us happy (and really really tired). We love what we do, sharing our passion for coffee and we hope to open our own café and training centre soon!

Quick Fire Questions for Magdalena Głowacka:
Would you serve filter coffee with milk if asked for it?
Why not, but only after I recommend trying it without milk first 🙂
Do you ever take sugar with your coffee?
Sure, sometimes.
Espresso or Filter coffee?
Filter coffee.
Do you aim for Sweetness, Acidity, or Body?
All of the above, can't pick only one.
Milky or Black?
Black.
Slurp or Spit?
Slurp.
Sit in or Take Away?
Sit in.
Cake or Pastry with your coffee?
Can't say no to cake and filter coffee.
Favourite piece of barista equipment?
Milk pitcher, duuh.