Dominika Piotrowska is a 32 years old coffee professional, an Authorized SCA Trainer, Head of Training at Röstraum and a Tea Barista of European Specialty Tea Association.
She was born in Poland, started her coffee career in Poznań, then managed a few places in Berlin and currently lives in Vienna, Austria.
Dominika is a true coffee geek, always digging into research papers and dismantling and cleaning grinders, coffee machines and other equipment in her free time. She could probably rock a role of a technician pretty well! At the same time she not only delivers coffee training but is also certified to officially judge coffee championships.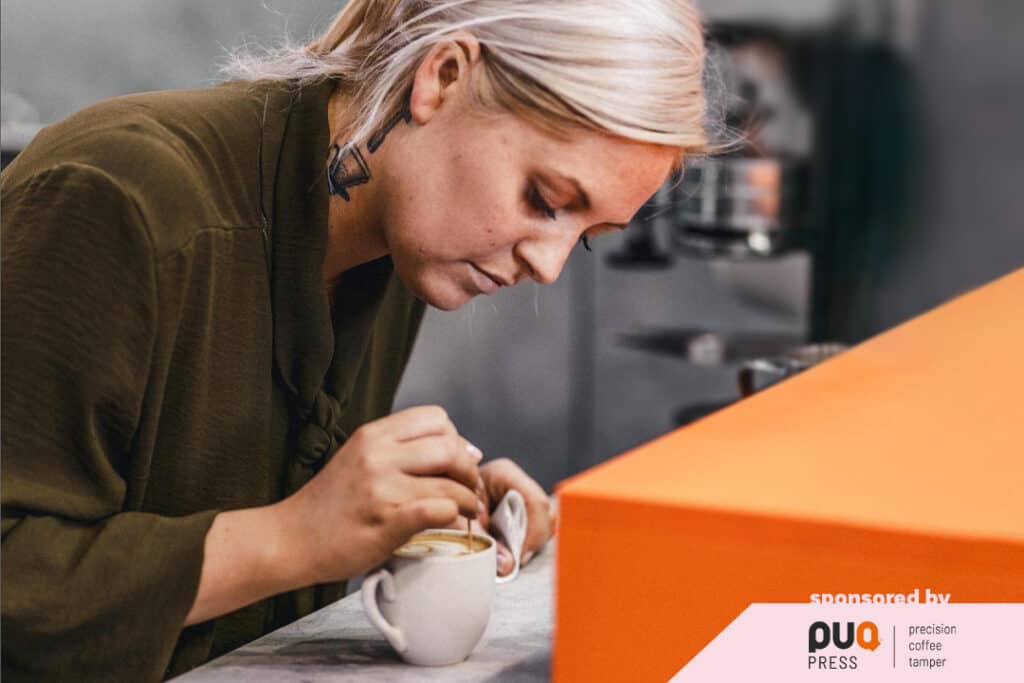 Dominika, what is your first memory with coffee?
My very first "meeting" with coffee was in high school while preparing for our final maturity exams. It was instant coffee with milk and sugar! Ahaha. After a while I switched to polish classic "parzona" coffee – hot water poured into the grounded coffee. Similar to cupping but not really. Great time!
Could you describe the moment or situation that made you decide to become a barista?
Well, it was kind of a coincidence. I was studying law and well… it didn't work out. And I took my very first job in hospitality in a restaurant. But you know how it is in the restaurant – not much to do with proper coffee preparation. After a while I was looking for a new job, somewhere a bit closer home. Then I found my new job in the coffee shop, which at that time was definitely not a speciality cafe.I had training with a girl who had an amazing coffee knowledge and that was exactly the moment when I knew – oh yes, I want to make coffee for a living.
What is the funniest thing that you have experienced behind the bar? Can you recall any embarrassing moments?
Stories behind the bar? Let's face it – there were way too many to collect them all! Especially when you work in different countries.
Of course I had some "classic ones" with guests. For example when you make THE perfect espresso: every gram, every second of extraction, every milliliter of yield and you hear from your guest: "That was the worst espresso in his entire life!"
Then we need to go through every latte art training with baby baristas. Wow! That's always a lot of fun!
With the embarrassing stories section I might find something too. There is one story I will never forget – I was working on a coffee bar at an event. I came in the morning and I noticed that a pressure meter on the espresso machine shows over 3 bars. I had a beautiful panic attack drama scene where I shouted that our espresso machine was going to explode… And yeah, it simply turned out that the pressure meter was broken!
If a career in coffee was not an option, what job would you be doing?
If not in coffee then… I would like to be a plane pilot or a winemaker. Oh! I could also bake great cheesecakes and feed people in a small baker. But it's still all about interaction with people.
I like to see smiles on peoples' faces and share good energy.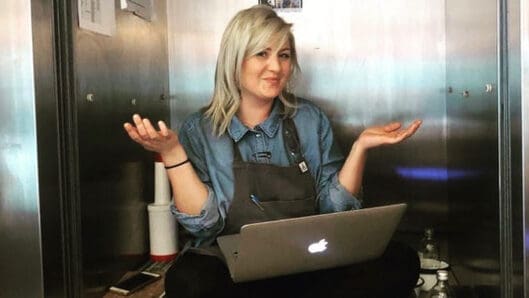 Do you have an unusual habit or hobby that you love?
Unusual habit? I am unusual! But what I like to do in my free time – definitely read books! I am taking my Kindle everywhere. My recent coffee book discovery is "The Physics of Filter Coffee" by Jonathan Gagné. Non-coffee related – I love the classic authors Dostoevsky, King, Orwell and more recent ones Läckberg, Berry-Lee and Katarzyna Miller.
What else? For two years I have been practicing yoga. I am still a baby yogi but I can see the progress during my sessions and also with myself – such an mazing feeling. And of course I like to travel – it doesn't matter where or how long. I just love the moment when I catch a train or a plane and after a while I am in a different place.
Are there any bad recommendations you hear often in your profession?
Well, any profession has good and bad sides. From my perspective it really depends on how you approach it. I was raised in a "hard hospitality business" so I have quite thick skin. Luckily for us times have changed. And through these whole years we as baristas and our guests have learned a lot. I am grateful for that. And to our young barista community I have only one lesson – do not skip steps, listen to your mentor, read, train and ask questions especially if you want to become good at what you're doing.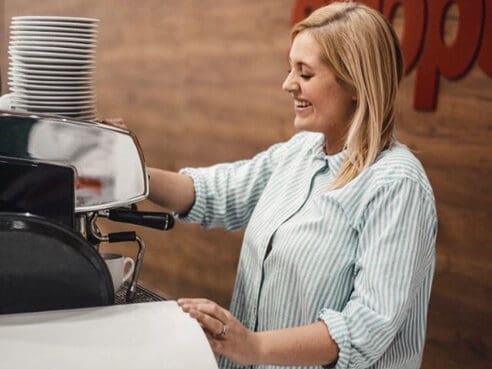 What's the most common question you get asked behind the bar or during training? How do you answer it?
I think the most common question is always about espresso. I frequently show our team how important it is to prepare a good shot. I give them to try a nicely made espresso and for comparison " a channeled one" or I am taking out the crema. You can use all your knowhow to explain something but the experience makes your trainees remember it.
What's the one coffee recipe that everybody should try? Why?
We have summer time! Enjoy cold brew or espresso… with mango tonic! And to be honest, I don't like to share recipes. I can give you some advice on "how to navigate while brewing". But the best coffee is always the one that tastes you the most so explore and enjoy!
What is the one thing that you would miss the most if you could not work in coffee anymore?
All those people that make you smile and push me to be the best version of myself!
What has been the best experience you have had in the speciality coffee industry so far?
Every experience is a good thing, even when you sometimes don't think you like it or even hate it. It shapes you. But I think for me it's great I had this opportunity to work in other countries with so many great and different people. That's the best!

Quick Fire Questions for Dominika Piotrowska
Would you serve filter coffee with milk if asked for it?
Sure thing!
Do you ever take sugar with your coffee?
No.
Espresso or Filter coffee?
Always Filter.
Do you aim for Sweetness, Acidity, or Body?
Vibrant acidity.
Milky or Black?
Black.
Slurp or Spit?
Slurp!
Sit in or Take Away?
Sit in.
Cake or Pastry with your coffee?
Rarely.
Favourite piece of barista equipment?
Smile! 😉 and scale 😉