Hamburg has more bridges than Venice. Water isn't scarce, neither from the sky or from the ground. If the sky stays dry you can use a stand-up paddleboard to stroll down the posh Eppendorf's town canals, pretend to vacation on the beach at the Elbe or jog around the river Alster. Rain or shine, you should check out the harbour next to the architecturally stunning Speicherstadt. That's a UNESCO world heritage site, where coffee sacks were already apparent in 1980, what later lead to the Speicherstadt Kaffeerösterei.
Today, our dainty and cosy city, full of chic locals but also rugged streets and urban art has evolved its coffee roasting to the individual third wave standard. So if 'water mingled with speciality coffee beans' is your thing, then I recommend putting together your city guide from my eleven suggestions below.
Hamburg's modern coffee scene picked up steam around 2012. In the end, all places I mention below are awesome third-wavers, so you might want to choose by district, food options or just roll the dice. Nord Coast has beautiful and delicious breakfasts. Less Political is unassumingly the hippest hotspot. Black Delight in Eimsbüttel is a bohemian gem. Milch Feinkost is special and goes by unnoticed, whilst Balz and Balz is a new favourite for morning and afternoon chats.
Stockholm Espresso Club and Tørnqvist represent the Scandinavian coffee culture. Public Coffee Roasters has three locations, all studies in contrast and worth visiting for their own reasons. But don't forget CODOS, a cute and friendly espresso bar with amazing pastries, or Playground Coffee, the stylish show-space with humorous baristas in St. Pauli. However many owners thank Elbgold, the pioneers, for leading the way to Hamburg's new coffee culture.
Elbgold
Elbgold is the largest and most well-known third-waver of Hamburg. After having successfully pioneered Hamburg's speciality coffee scene in 2004, their beans are now spread all over Hamburg.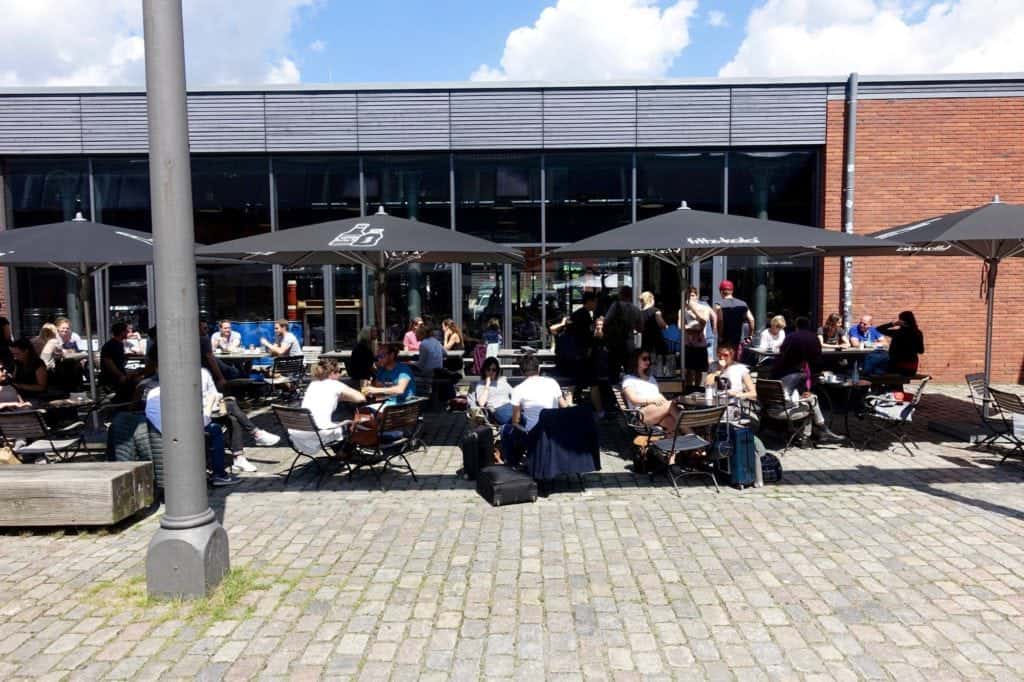 The flagship store is hidden in a former meat-packing house, just off the buzzing main streets of hip Sternschanze. It doubles as the roastery and is located amidst other restaurants, breweries, studios, design shops and a kindergarten, between cobblestones and parking lots. Elbgold crafts twelve coffee variants, six espresso and six filter roasts. If you opt for the latter, there is either French Press, Hario V60, or Aeropress. However, you might want to think twice because Elbgold has one of Germany's best latte artists. #TheBaristaYuri will turn your flat whites into butterflies, kissing swans, sea horses and more.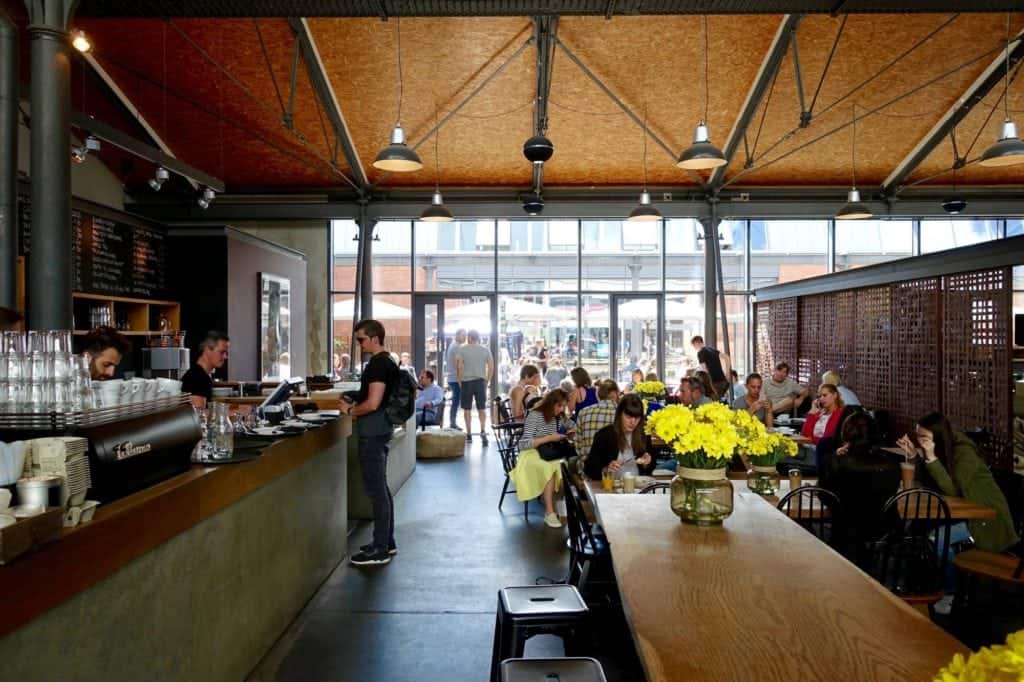 However, Elbgold's long menu makes them popular for more than their beans. You will be served at any spot, from common tables, lounge chairs to the sunny outside seating, and can choose between breakfast bagels, home-baked pastries, or local cold pressed juices. Surrounded by a mix of Hamburgers, tourists, café chatters, older couples and families, it will make for a classy visit whenever time allows.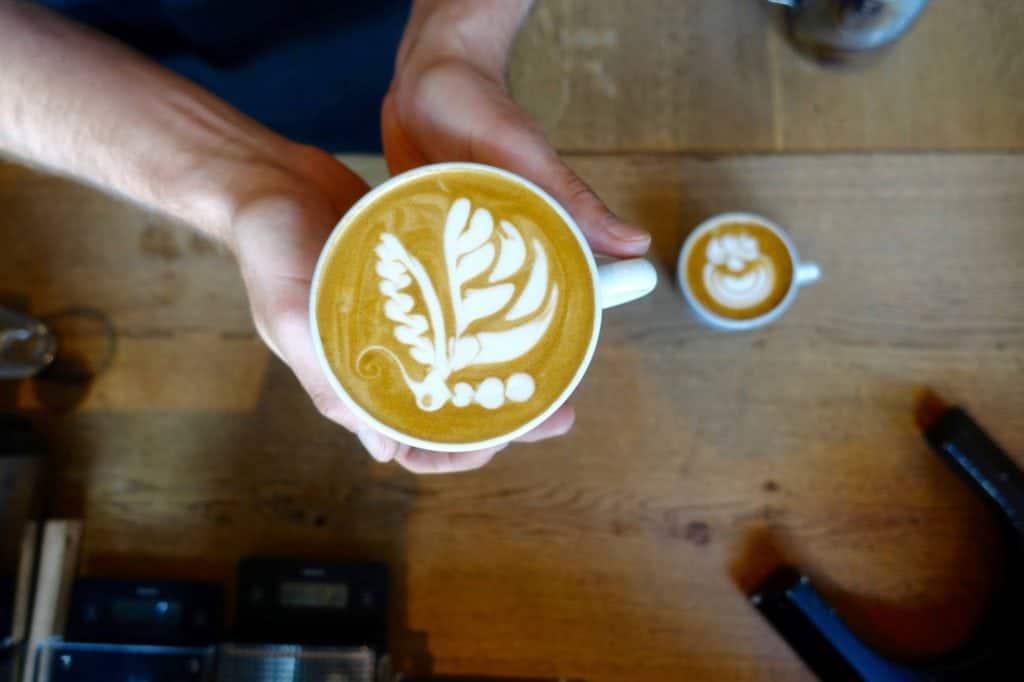 Lagerstrasse 34c (Sternschanze), Mühlenkamp 6a (Winterhude), Eppendorfer Baum 26 (Eppendorf), 20249 Hamburg, Germany
Website, Facebook, Instagram, Twitter
Less Political
This coffee shop, owned by two friends, Mika and Philine, has a history. It first was an art exhibit, where they sold sustainable clothing. Since 2012 it is its own piece of art – around coffee. They are eager to experiment with the newest trends alongside their exotic signature drinks and homemade pastries. Less political feels like one of the hippest coffee shops – in Hamburg's political hotbed, the Schanze – but the owners are un-dogmatic in the politics of coffee. At Less Political they go along roasting coffee and mixing signature drinks in their own artistic way.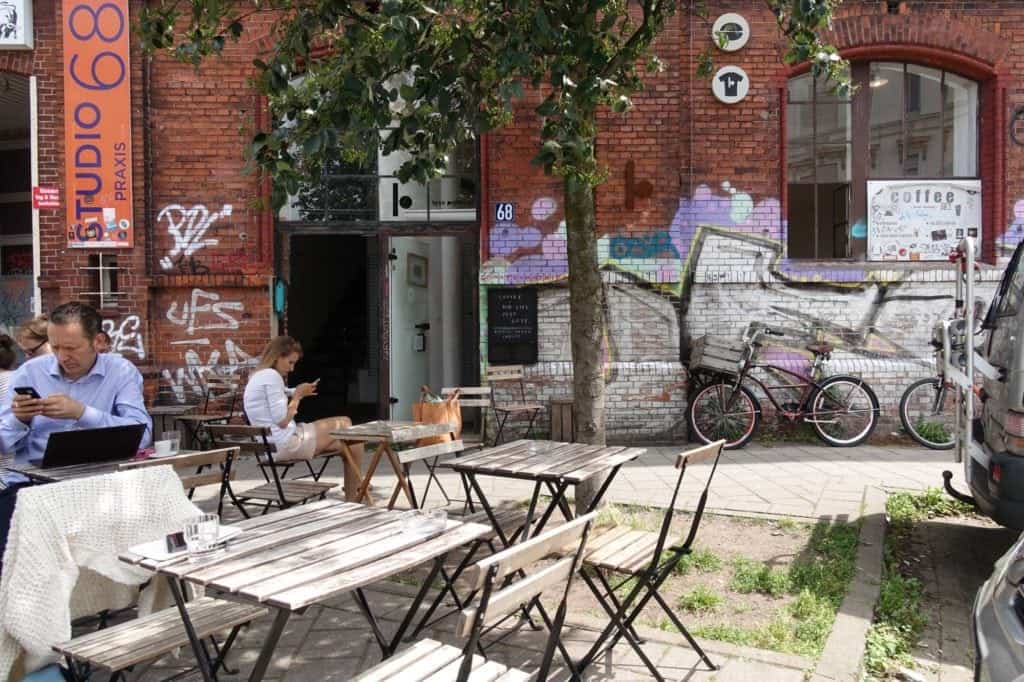 Half of the visiting crowd speaks English, many of them being coffee specialists. The weekdays here are chatty but peaceful, and it's not a bad spot to work. On the weekend I wouldn't recommend taking your laptop because Less Political turns into a lively hotspot that's better for socializing.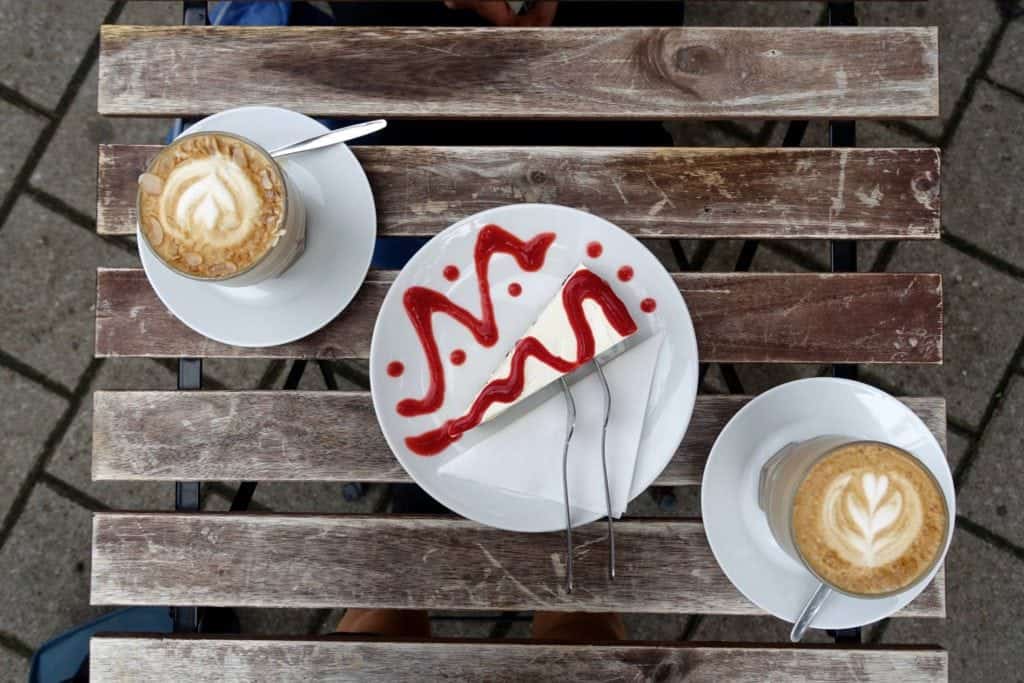 Now to their artistic signature drinks: The most quirky one might be the cappuccino brûlée, a cappuccino that is topped with brown sugar and then flambéed to perfection. Other signature cappuccinos have shaved coconut, almond butter, anise seeds or candied ginger mixed inside. Their latest innovation is the unforgettable thick vegan hot chocolate, from Mathias. He is a local producer and a perfectionist, just like Mika and Philine. They serve coffee from their favourite roasters, like Bonanza or Five Elephant from Berlin, as well as their own roastery, from upstairs. Here the two act as modern hermetics, their "mysterious alchemy" being the roasting process of the coffee beans. This gave the name to their brand: Hermetic Coffee Roasters.
Sternstraße 68 (Sternschanze/Karo-Viertel), 20357 Hamburg, Germany
Website, Facebook, Instagram, Twitter
Milch Feinkost
Milch, which means milk in German in case you didn't know, is located where a milk factory used to be. Nico Ueckermann crafted his speciality coffee shop here later on. The blue milk factory tiles remain and provide contrast to the surrounding Portuguese cafés. Milch is near the harbour and the famous St. Michael's Church, but also below the hilly alleys of Neustadt, a wonderful area to stroll through too.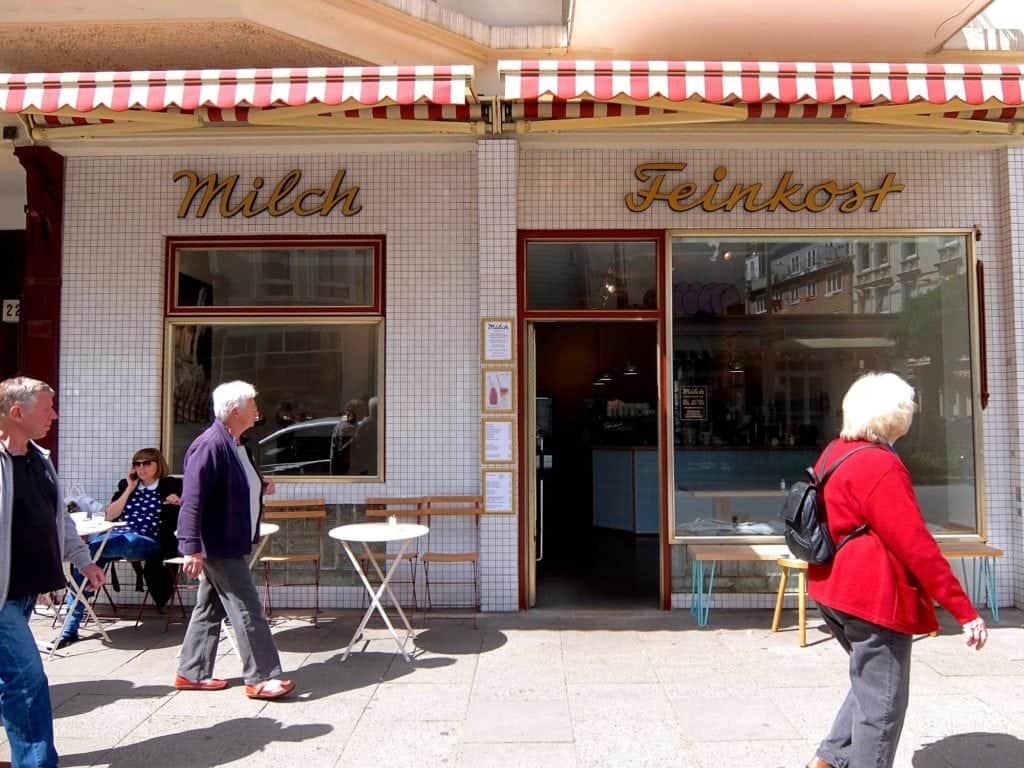 Many visitors seem to stumble upon Milch and are surprised by their coffee, even though it is well known by Hamburg's other speciality coffee shop owners. Most coffee hipsters miss this spot, which gives it a different feel than the usual trending third waves. Nico combines an interest in the origin of Italian coffee with modern speciality standards. With Milch's own and guest roasts, they brew filter coffee but specialize on the espresso drinks: from the tonic to Italian or "modern" cappuccino, and a flat white that meets every Australian standard. If you've reached your coffee quota today, try the unforgettable Italian hot chocolate – thick, creamy and almost spoonable.
As the only speciality coffee shop near the harbour, Milch offers you a relaxed and unpretentious atmosphere in which to enjoy a perfect flat white.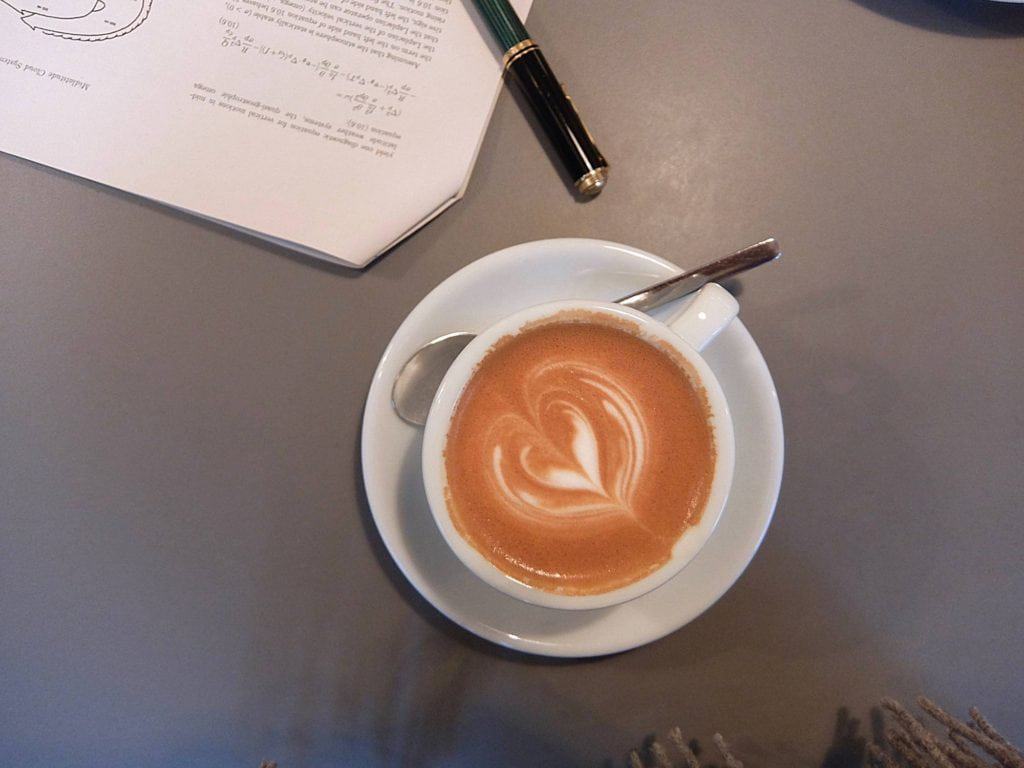 Ditmar-Koel-Straße 22, 20459 (Portugiesenviertel), Hamburg, Germany
Website, Facebook, Instagram
Public Coffee Roasters
Another Hamburg based roastery that will soon open their third, then fourth coffee shop. The original café is in Neustadt, a really lively but not too touristy neighbourhood, between downtown and the harbour. It has a small, dark interior but also wall-sized windows and neon stools on the sidewalk that absorb you into the friendly outside atmosphere. There's no wifi, but plenty of coffee table magazines and some snacks, including my favourite cheesecake.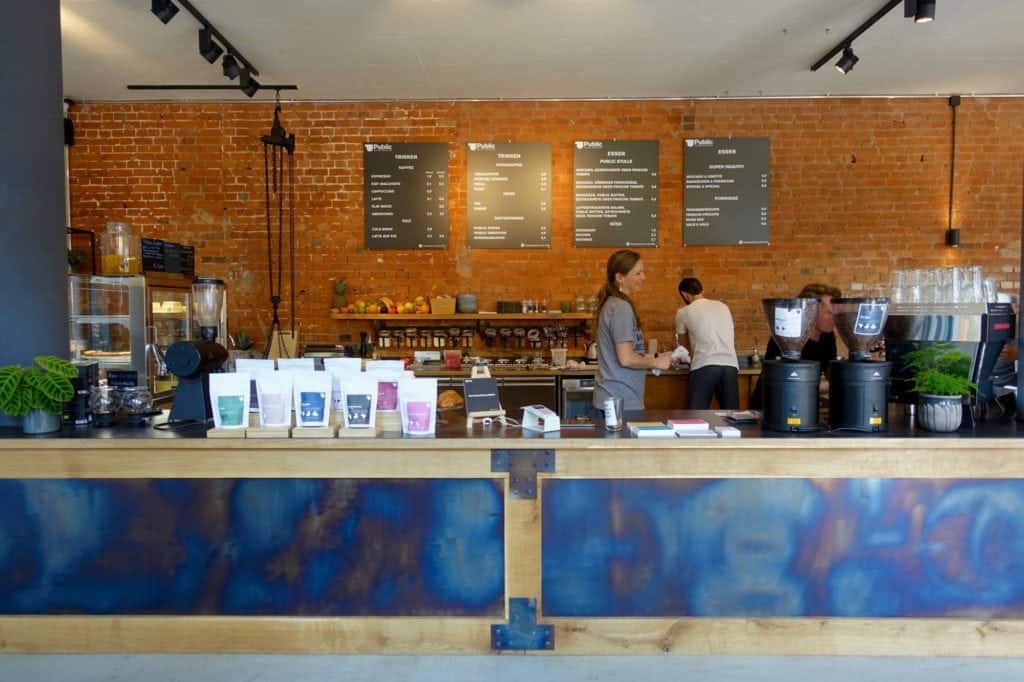 The newer location is in upscale Winterhude. But being in a spacious old foundry, this industrial-chic interior feels relaxed and hip, it could be in Melbourne or Berlin. The fast wifi and large common tables happily greet laptop-workers, while the smaller seats along the wall-sized windows are perfect for chatting couples. Here they have extended their food menu from breakfast to fanciful platters like watermelon with feta and coconut foam. But be prepared, you can only pay with card, no cash.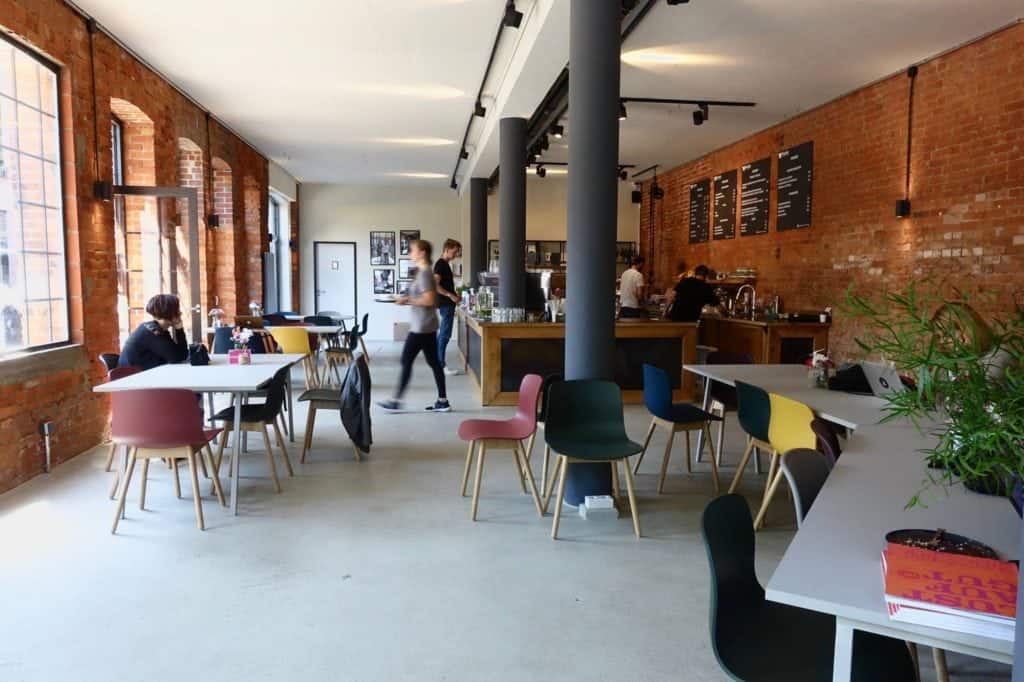 The atmosphere of the two are a study in contrast, but their coffee roasts identical. All made from 100% Arabica, they cover the whole spectrum from round espresso roasts, to fruity filter coffees, of which the natural Elida Estate has won two championships.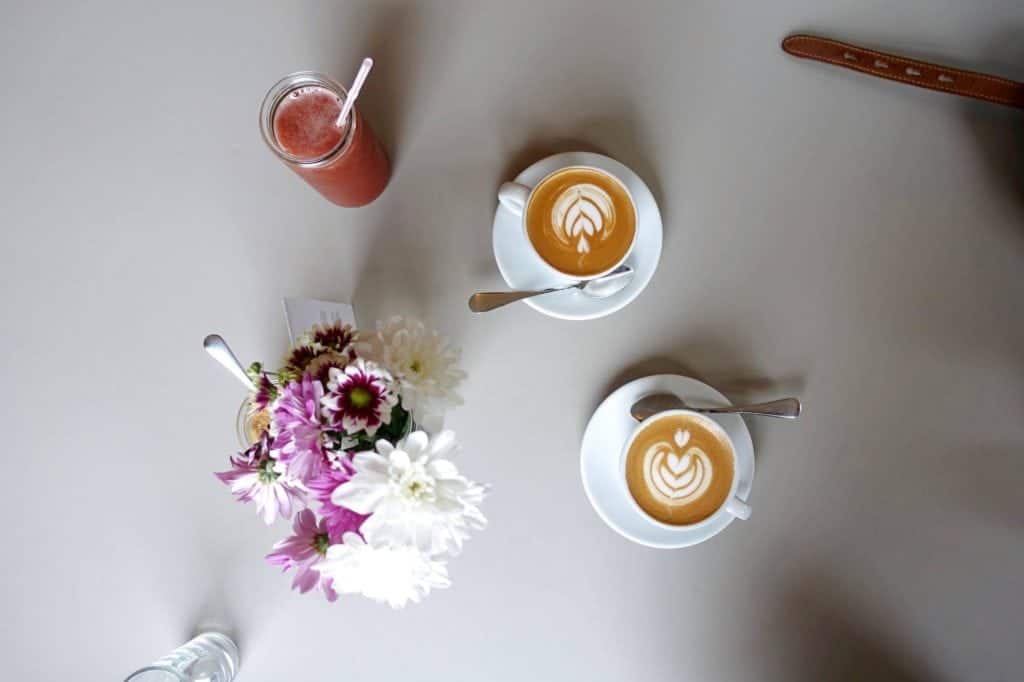 And if you feel like escaping any of their city spots, you can visit the Public Coffee Roasters' roasting premises located along the Elbe in the area of Entenwerder Pontoons.
Wexstraße 28, 20355 (Neustadt) and Goldbekplatz 1, 22303 (Winterhude), Hamburg, Germany
Website, Facebook, Instagram, Twitter
CODOS
CODOS, a company named after the initials of the four owners plus their bulldog Snatch now has two cute and welcoming espresso bars – one on a side street of lively Sternschanze, the other in peaceful Ottensen. Both are popular but less hyped than other local spots. Especially in the district of Sternschanze, you'll find regulars chatting with baristas, or meeting their work colleagues for a drink. Daniela and Katharina, CODOS' managers since it opened in 2014, are sisters and two of my favourite baristas: always friendly, happy and great to be around.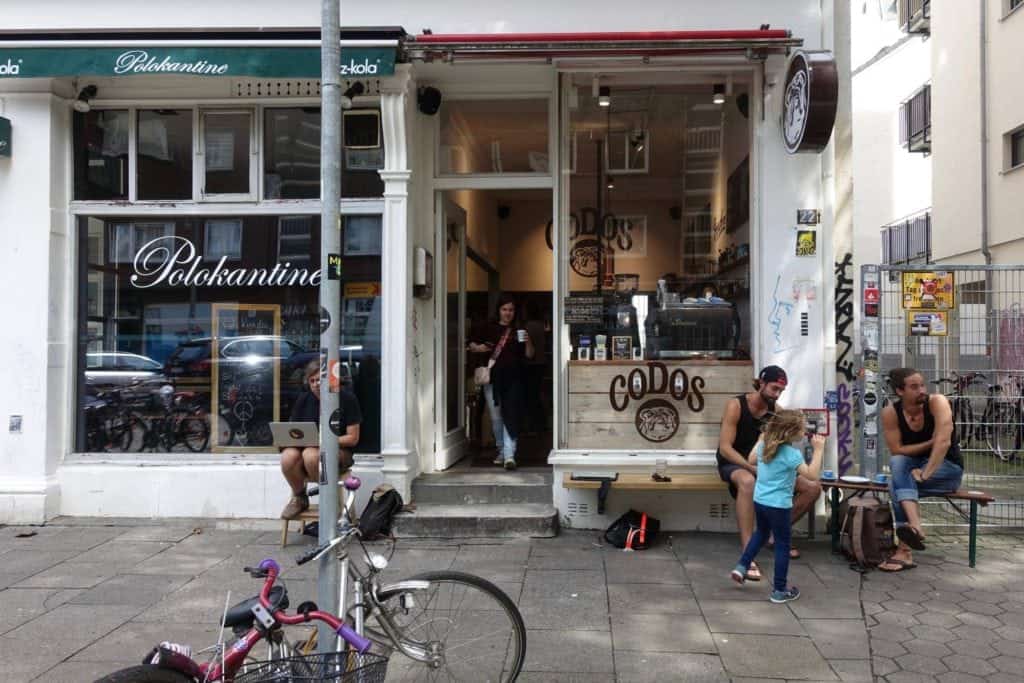 CODOS offers five, more chocolatey, own roasts (four filter, one espresso), and two fruity guest roasts, one filter, one espresso. The filter roasts can blossom in either the Hario V60, Phoenix 70, Aeropress or the more affordable batch-brew.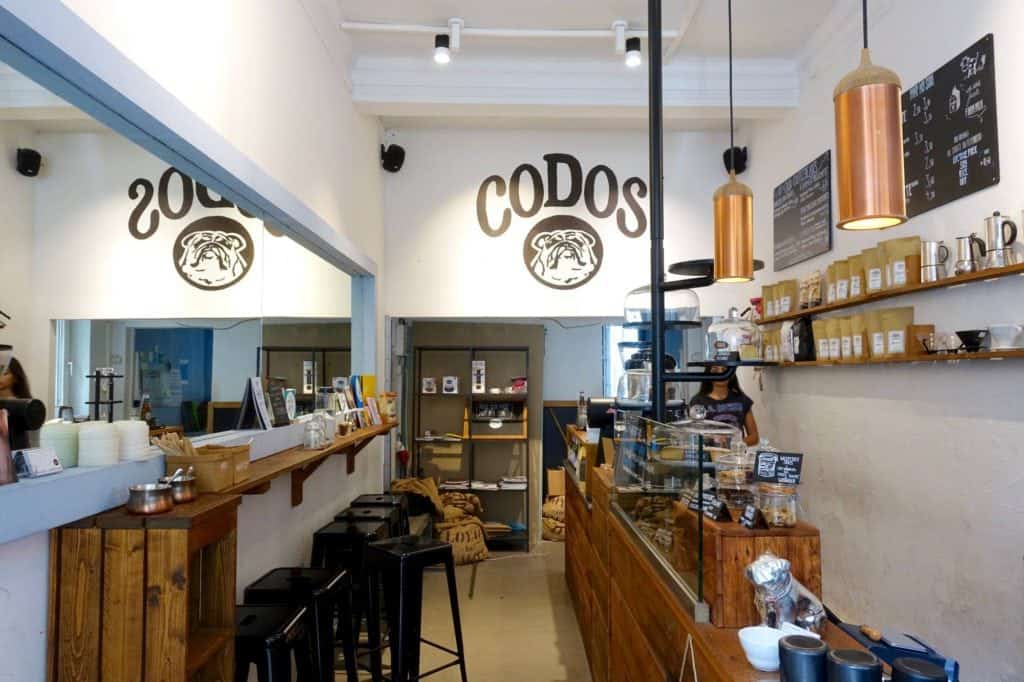 We chose a flat white, which was an immediate hit: smoothly dark, with no acidity. They also serve great turmeric tea and latte, as well as matcha and the "High Fly", a mix of espresso, matcha and hot chocolate – awesome. It's also the perfect brew bar for sweet-tooths: from the condensed-milk cortado (leche y leche), to amazing home-baked (also vegan and GF) pastries.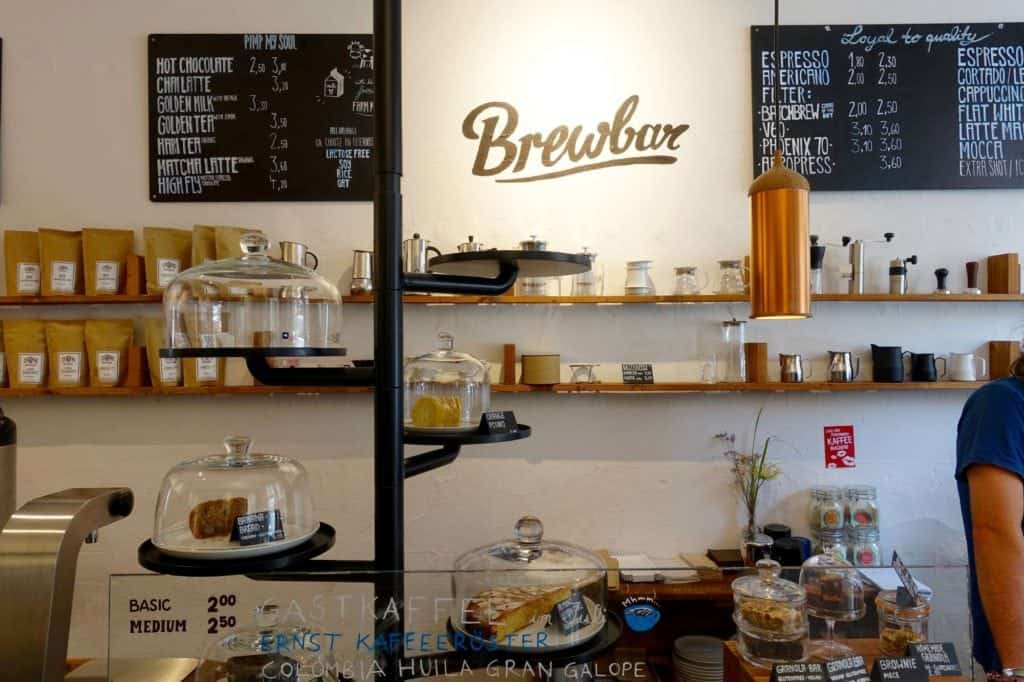 CODOS is always an inviting spot, just a step off the beaten track.
Bartelsstraße 26, 20357 (Sternschanze) and Bahrenfelderstr. 156, 22765 (Ottensen), Hamburg, Germany
Facebook, Instagram
Tørnqvist
Linus founded Tørnqvist in 2013 – a minimalistic cafe in a beige VW van named after his grandmother. You'll find it at organic farmers markets, events and festivals. Rumors have it that Tørnqvist will settle down in the Schanze, in August 2017, and St. Pauli soon too.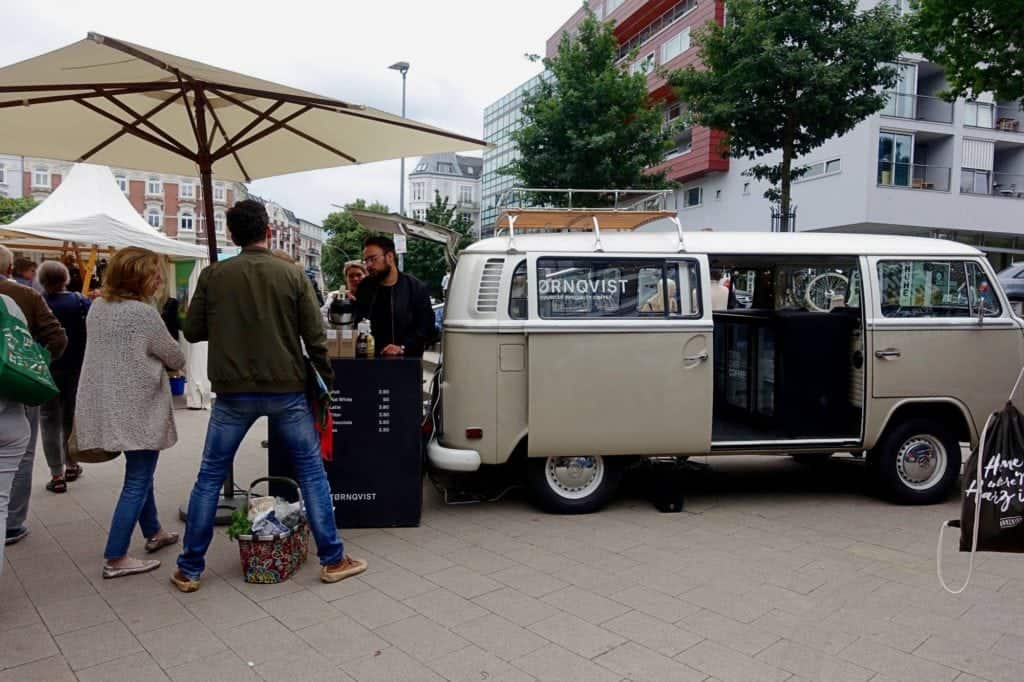 If the red coffee cherry wouldn't exist, Tørnqvist wouldn't either. In Hamburg, nobody takes their coffee more seriously than Tørnqvist's owners, Linus and Dominik. The two have generously broadened their menu to supply the local needs and will serve you hot chocolate, tea and even a latte. However they would probably rather have a two-item menu: flat whites and hand brews (measured to the gram and temperature, timed to the second) – both from the best light filter roasts of Scandinavia. Yes, filter roasts, also for the espresso drinks.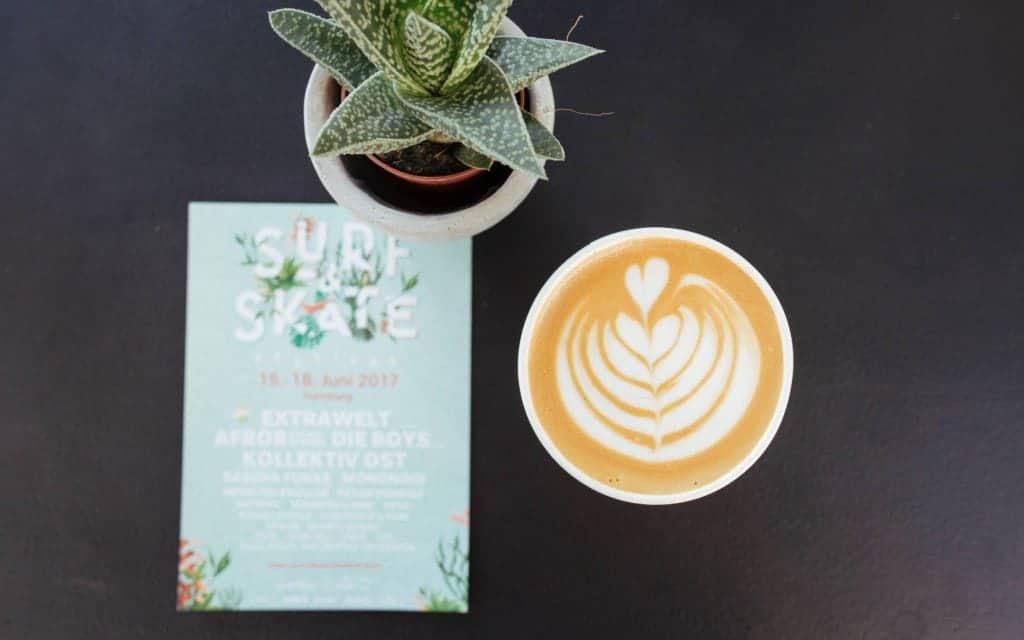 As I learned from Dominik: "Espresso roasts only exist to make use of lower-quality beans". So the best flat whites are made from light, almost orange, filter coffee roasts. "Dark roasts, still common in many third waves", would, according to Dominik, be like the "burnt crust of a pizza".
Tørnqvist's vibe is minimalist, laid-back but serious. Don't expect sugar or extra milk without a good-natured lecture. Take time and enjoy artisan brews served at not too hot, flavor-optimized, temperatures.
Varying locations at markets/spots:
Tuesday: HafenCity Überseeboulevard (11:30-14:00)
Wednesday: Jung Von Matt Karolinenviertel (11.00-15.00)
Thursday: Schulterblatt (10:00-18:30)
Saturday: Eppendorf Marie-Jonas-Platz (9:00-15:00)
Website, Facebook, Instagram
Black Delight
This speciality coffee shop is more like Vicky's home. The narrow and dim interior has glass walls on the street front, that open like windows onto the sidewalk. Outside, there is more spacious seating, in a mix and match of different tables. It is cosy and homey, but also incorporates the street life of Eimsbüttel. The low counter and a nonexistent menu let the non-regular guests try new drinks by getting into a conversation with Vicky – no straight ordering without social interaction. Don't wonder where the "real boss" is, she's in front of you, behind the counter.
Vicky always has three espresso roasts on hand, ranging from chocolaty to fruity, and four to six different filter coffees for the V60 or Aeropress. Most come from local roasters, such as Hunt Brothers, the Black Delight Roastery (that used to co-own this café) or Onetake.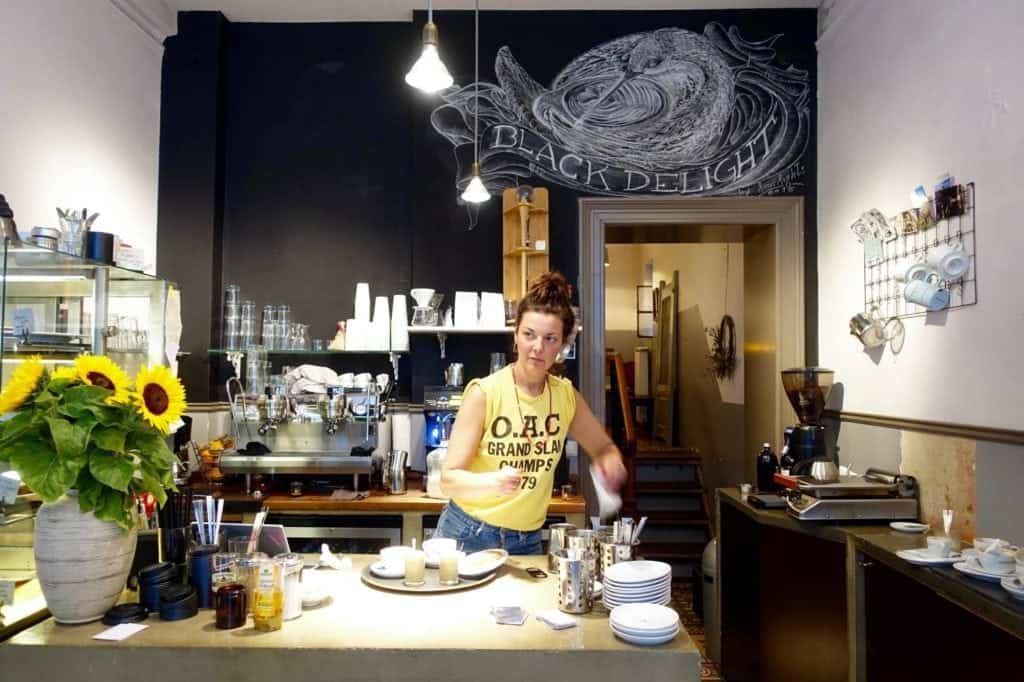 However, she will always surprise you with whatever her friends gave her, which recently was a roast from Japan. Besides for drinking beautiful flat whites and meeting new and old friends, you can enjoy superb pastries here – all home-baked by her and her pastry-chefs in the back.
Black Delight is a friendly and bohemian speciality coffee shop that could not be copy-pasted anywhere else – Vicky only exists here.
Eppendorfer Weg 67, 20251 (Eimsbüttel), 20259 Hamburg, Germany
Website, Facebook
Nord Coast Coffee Roastery
For Paula, from Brazil, the smell of roasted coffee is a childhood memory of her grandparents' farm. She and Jörn met in the Speicherstadt coffee roastery which led to them opening their own Nord Coast Coffee Roastery, in Altstadt.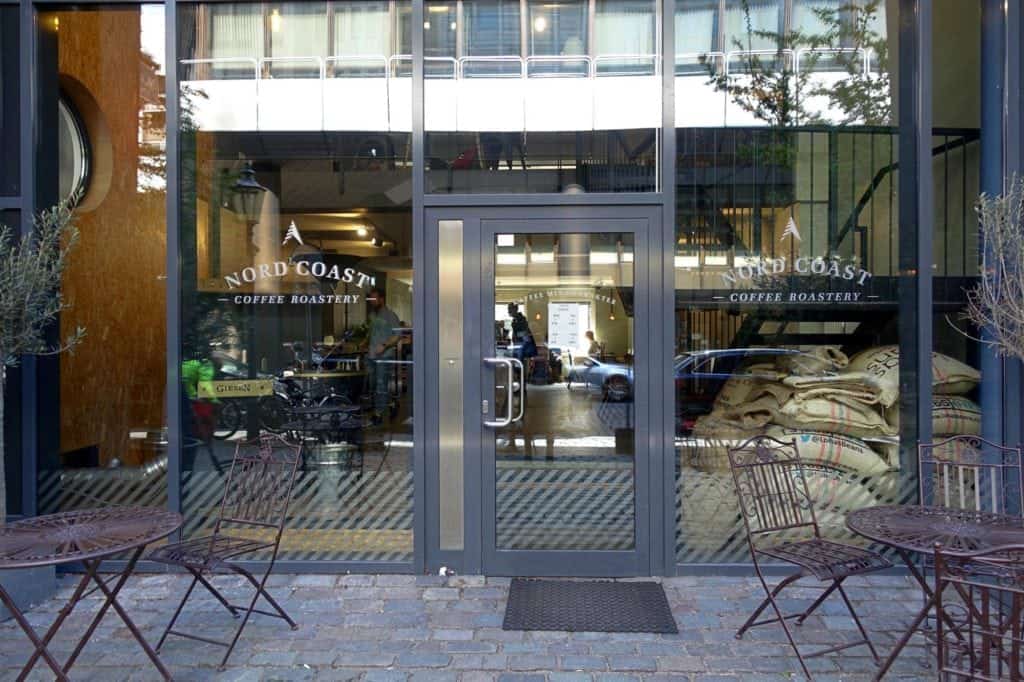 Nord Coast covers the spectrum of what makes a coffee shop third wave. Varieties of beans from around the world are roasted light and dark on site. They brew with a Hario V60, Chemex, Aeropress, Syphon or Karlsbader Kanne. This old German technique is Paula's favourite, not only because she has won the respective championships, but because when using it the coffee "stays pure, without any side taste of metal or paper".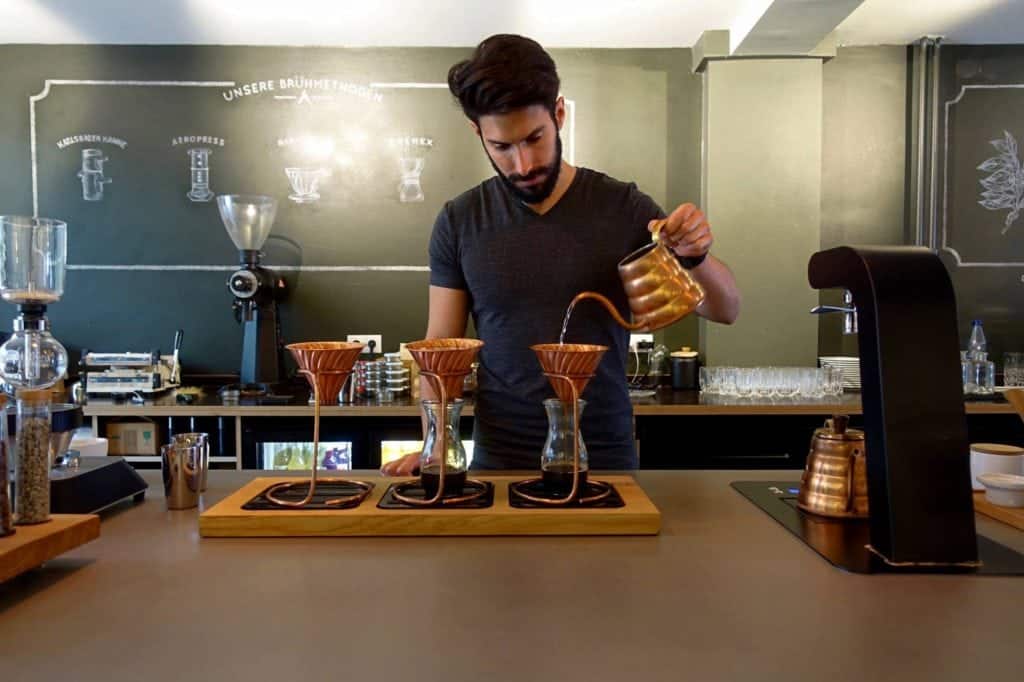 But Nord Coast is more than a third wave shop. It is one of the prettiest, most popular and delicious cafés in Hamburg – Instagram-worthy, without the food suffering, and serving all diets. From their banana-bread waffle, to a red beet-lox toast and much more, everything is served for "breakfast" throughout the most of the day.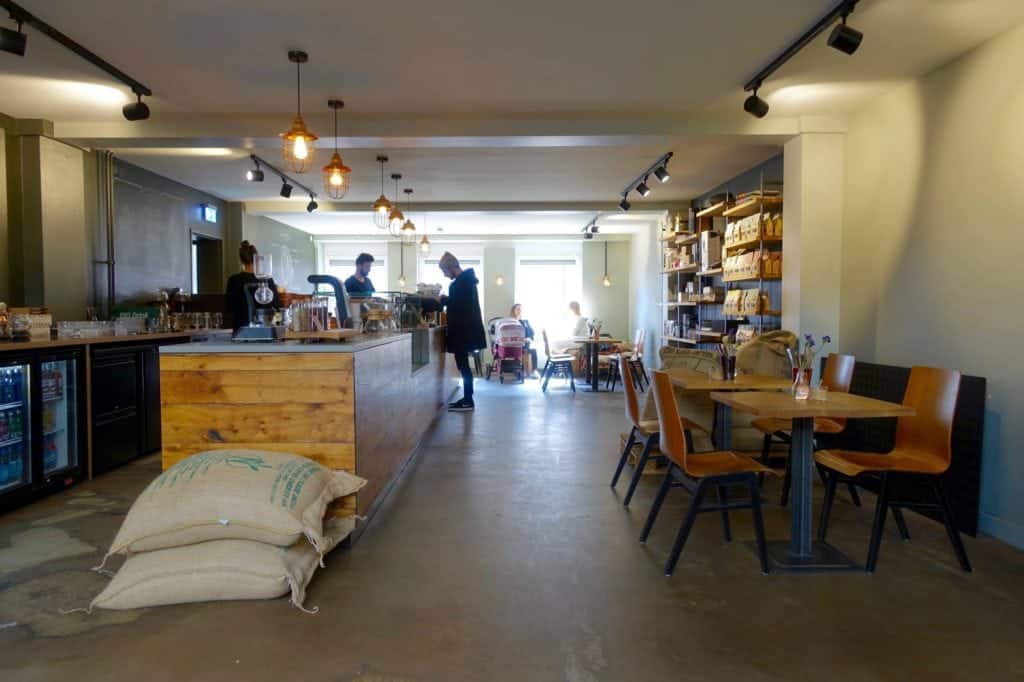 Though Nord Coast has its share of foodie and fashionista bloggers and lunchtime business people, Paula and Jörn are eager to share their science with locals, seniors and pros. You'll be served at your table over two spacious stories that feel like vintage British reading rooms with common tables and lounge chairs. However, only the couple spots by the window offer views over the town canal, just a corner away from the glittering Elbphilharmonie.
Deichstraße 9, Germany, 20459 (Altstadt) Hamburg, Germany
Website, Facebook, Instagram
Playground Coffee
Playground Coffee is true to its name. It's a playground for third wave coffee, created by Veljko, Matze and their barista buddies. From snap chat face distortions, artistic Instagram stories, to just being 100% ironic baristas, Playground will fully entertain you.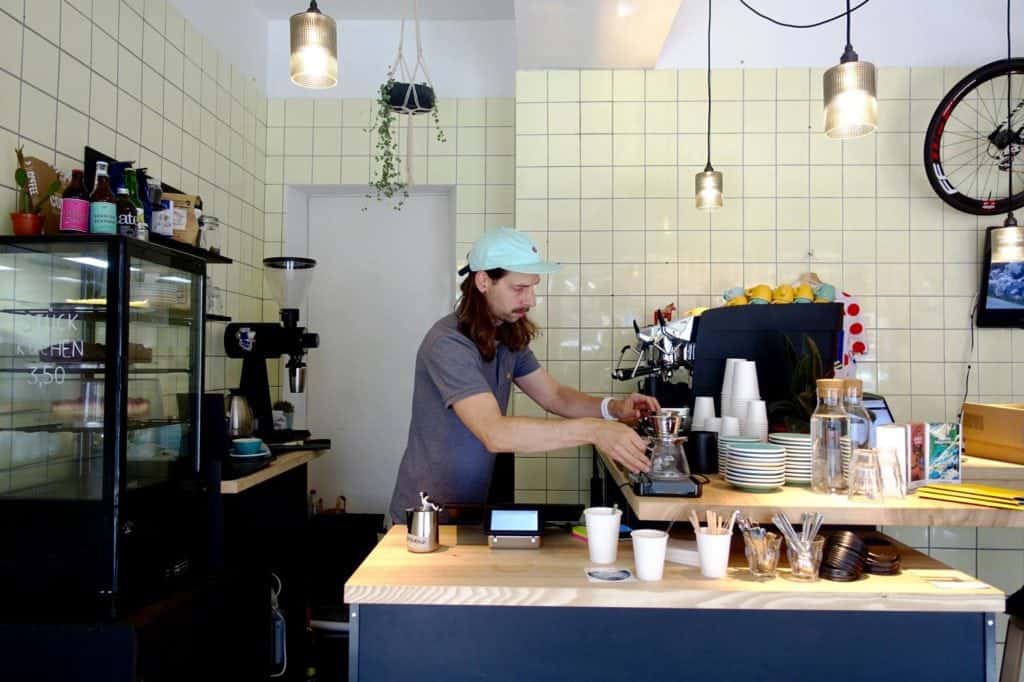 Their roastery was founded in 2014. First, they got to entertain guests and serve their coffee in a niche in Otto's Burger, later at a kiosk downtown. Since March 2017, Playground Coffee also has its own stylish show-space in St. Pauli, just around the corner from the Reeperbahn. This is a place to chat, meet new friends and to have some fun. The interior is a small common room dominated by living greens and openness. There isn't much of a separation between the coffee bar and the comfortable Viva Mexico chairs or window sill bench. That means you might just call your order "over the counter", from the comfort of your seat.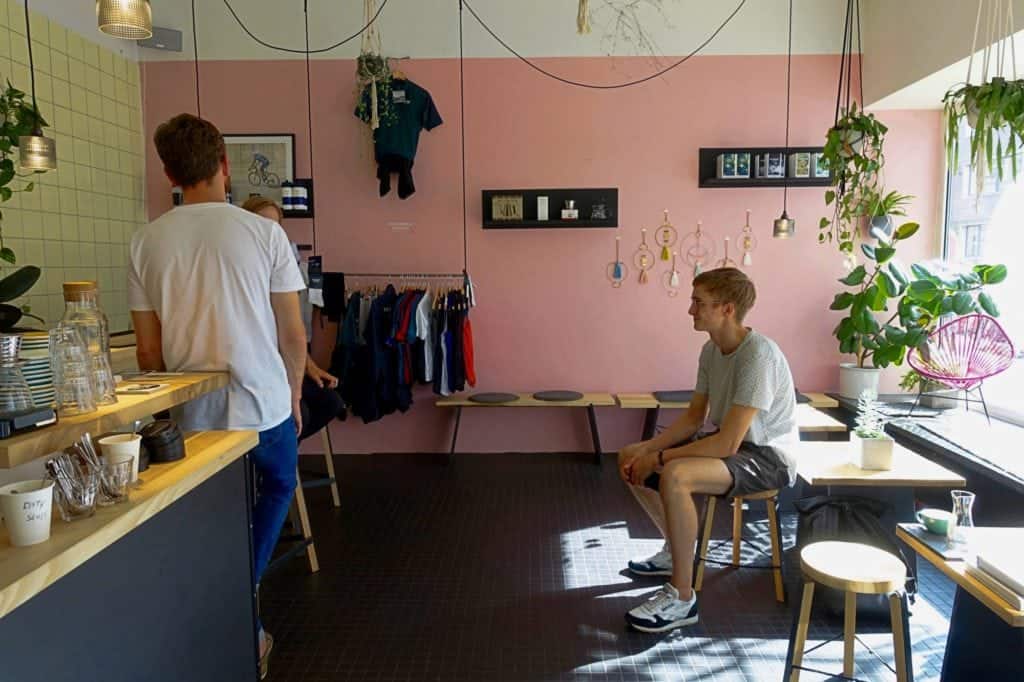 Playground only serves their own roasts. They have two espresso blends: the signature, Skywalker, and the fruity Playground Love. Their filter roasts (three to five) vary seasonally, but all cover the fruitier spectrum of the wheel. And though it's easier to play with cow milk, they also offer the oat one. "Soy is a pain in the ass", Friedrich said with a big smirk.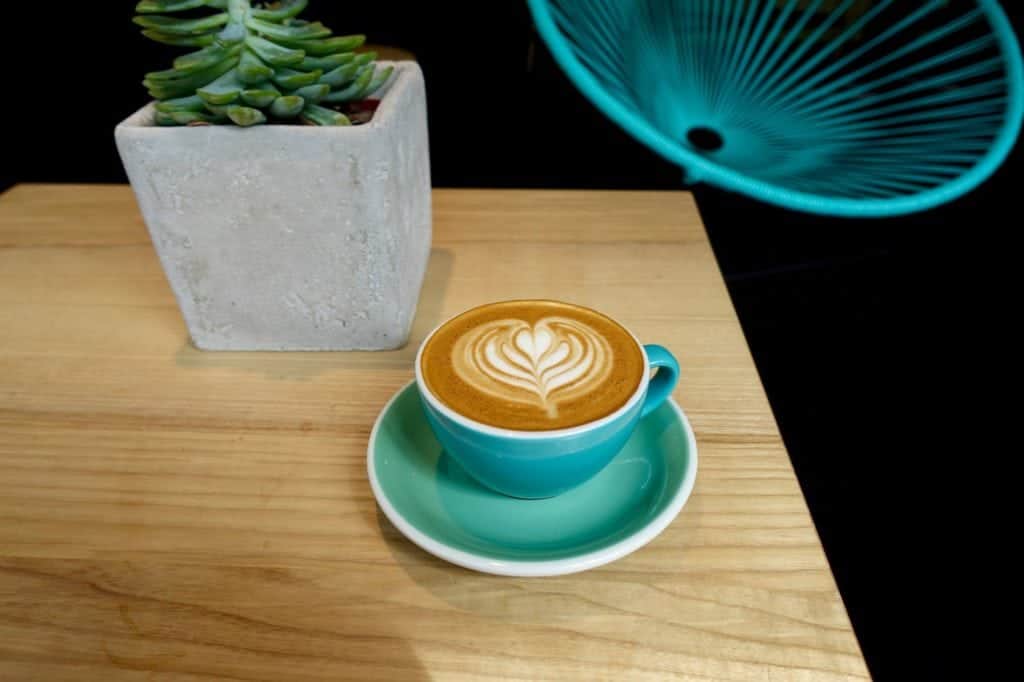 Playground is a stylish spot to drink great coffee while enjoying the playful moments of life.
Detlev-Bremer-Straße 21, 20357 (St. Pauli)
Grindelhof 33, 20146
Rathaus-Passage, Unter dem Rathausmarkt, 20095 Hamburg (Innenstadt), Germany
Website, Facebook, Instagram, Twitter
Balz und Balz
Growing up in the Balz family guest house, the siblings Chris and Kathrin grew up learning to be hosts. After years of thought and then decisive and successful conceptualizing, Balz und Balz finally found its own little apartment. Just off busy Hoheluftchaussee, across from the flourishing Isebek Canal, between posh Eppendorf and down-to-earth Eimsbüttel – this popular café attracts the whole span of Hamburg. You'll find seniors having the daily lunch bowl, chic girls after yoga or international laptop-workers here. The mix of all types makes for an unpretentious and friendly atmosphere.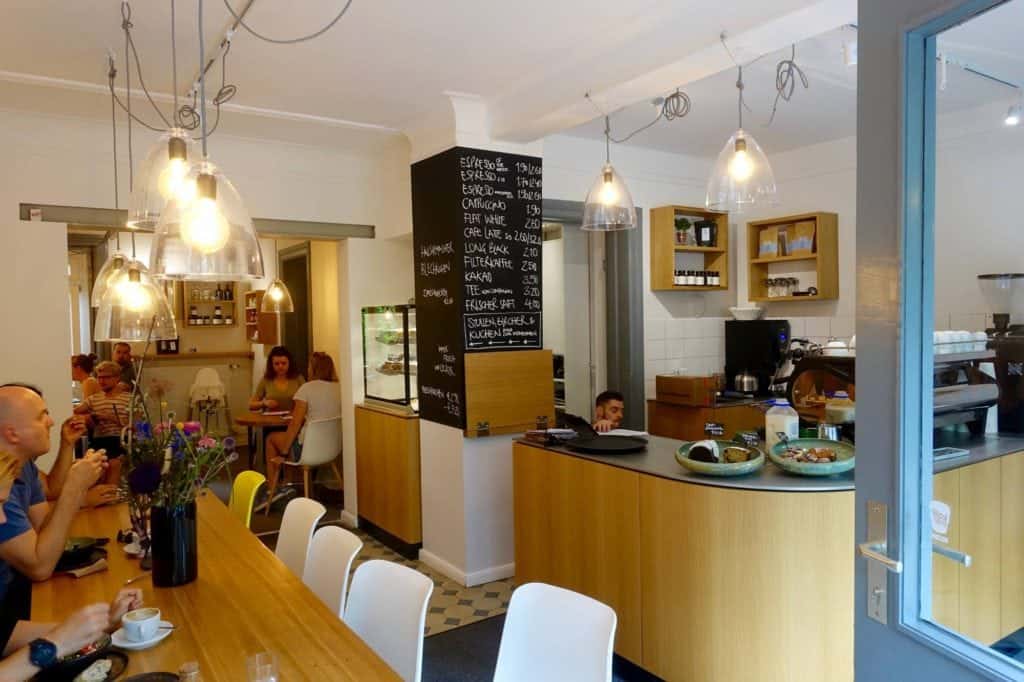 One of Chris' buddies once said: "Coffee is a fruit" – a simple sentence, but it hits the spot. The fruit's complex flavours can best be valued in light roasts, so Chris exclusively works with these. He permanently offers his house espresso blend, that he, together with Johannes Bayer (JB Munich), developed solely for Balz und Balz. Accompanied by carefully chosen roasts from all around Europe, Chris will prepare your coffee to perfection, whilst greeting guests and friends.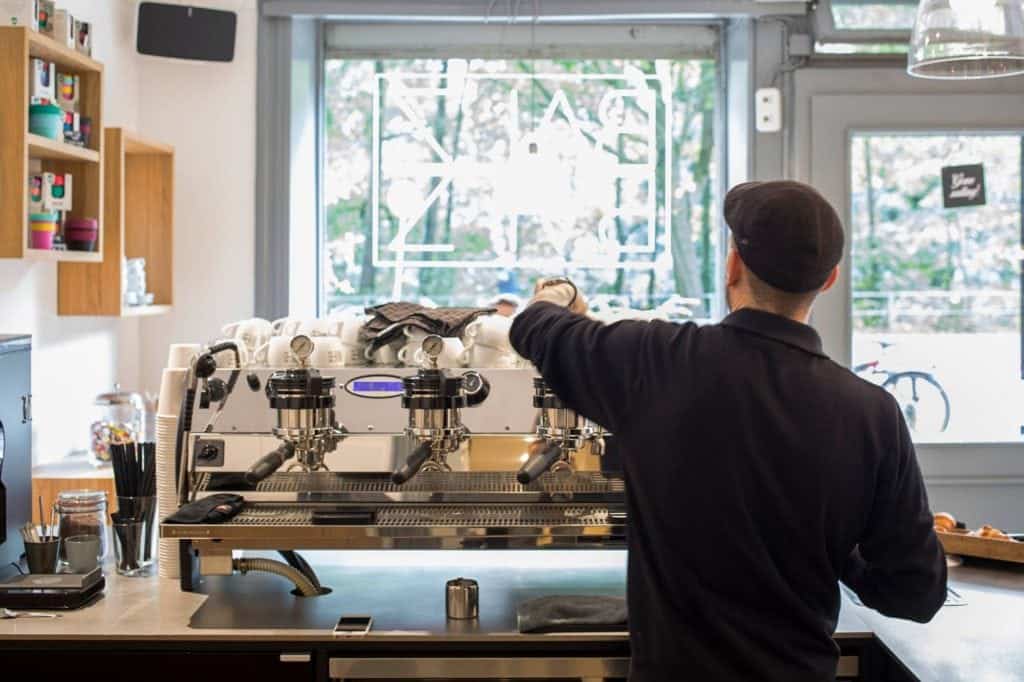 Everything else they serve has to convince the siblings to 150% as well. The meat is sourced from the Balz butcher, the dairy from local farms, and the rest is homemade (from grandma's cakes to date mustard for the German sandwiches).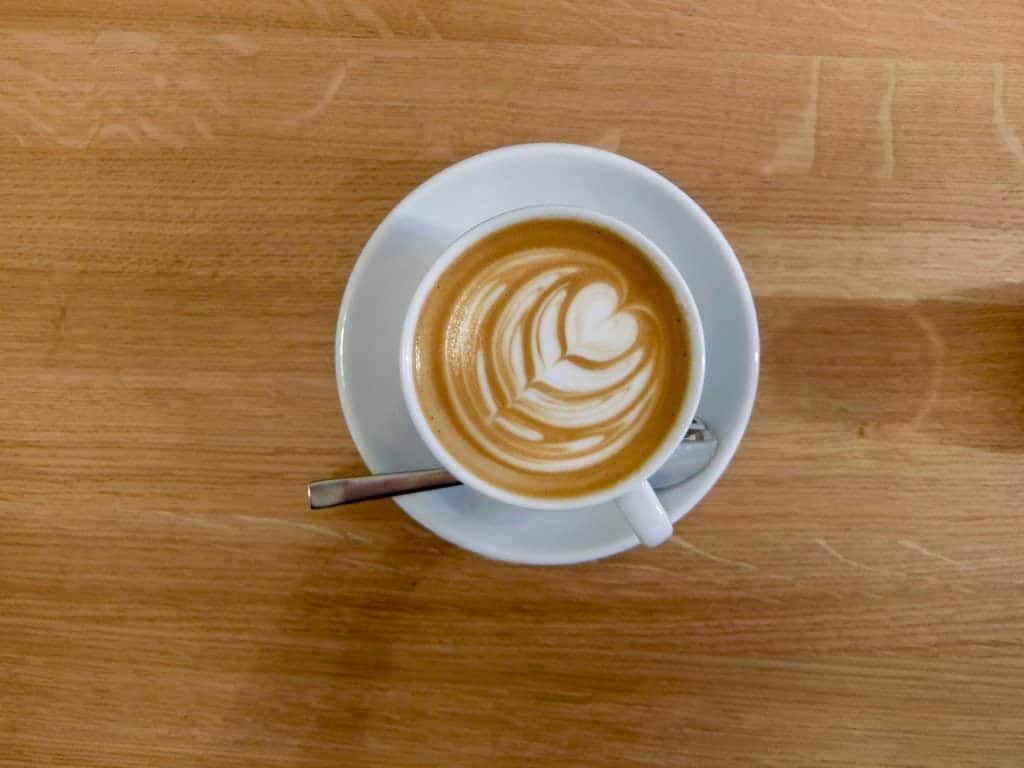 Chris and Kathrin's priority is to please their guests along with themselves in the third wave coffee and café scene. They definitely succeed in the guest part, without losing individuality or quality.
Lehmweg 6, 20251 (Hoheluft), Hamburg, Germany
Website, Facebook, Instagram
Stockholm Espresso Club
It's hard to differentiate third waves from one another, as most have a lot in common. Anyhow, Stockholm Espresso Club manages to stand out. David Vahabi from Helsingborg, Sweden, opened this clean bright spot in 2013. From day one he has served a wide selection of fruity-sweet Scandinavian coffee roasts, which is still relatively scarce in Hamburg.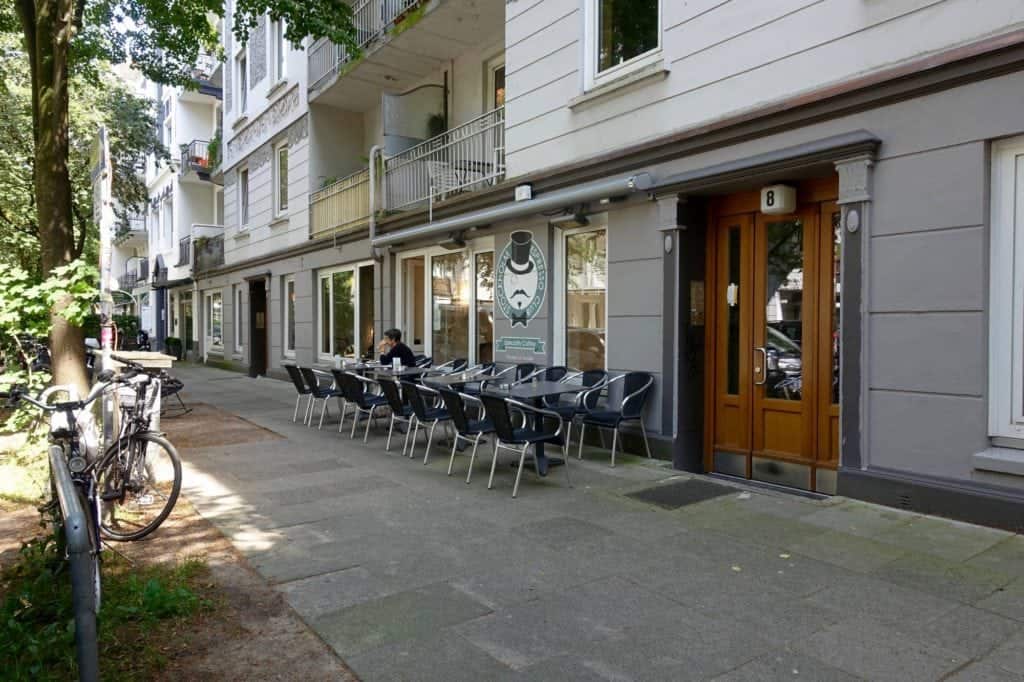 His Koppi coffee can either be brewed cold overnight, fresh with a Syphon and Hario V60, or prepared to any espresso drink in the Bosco lever machine. This old school espresso machine has no buttons or programming, only levers to extract the coffee for a more complex texture and sweetness.
David chose it because it is much more fun to work with, like "a Vinyl vs. MP3, or an old timer car in contrast to an automatic Volvo". From his speciality bar, he also offers a cascara-orange- or espresso tonic. The now trending latter actually was the signature drink that Charles Nystrand, from Koppi Roasters, had invented for his barista championships.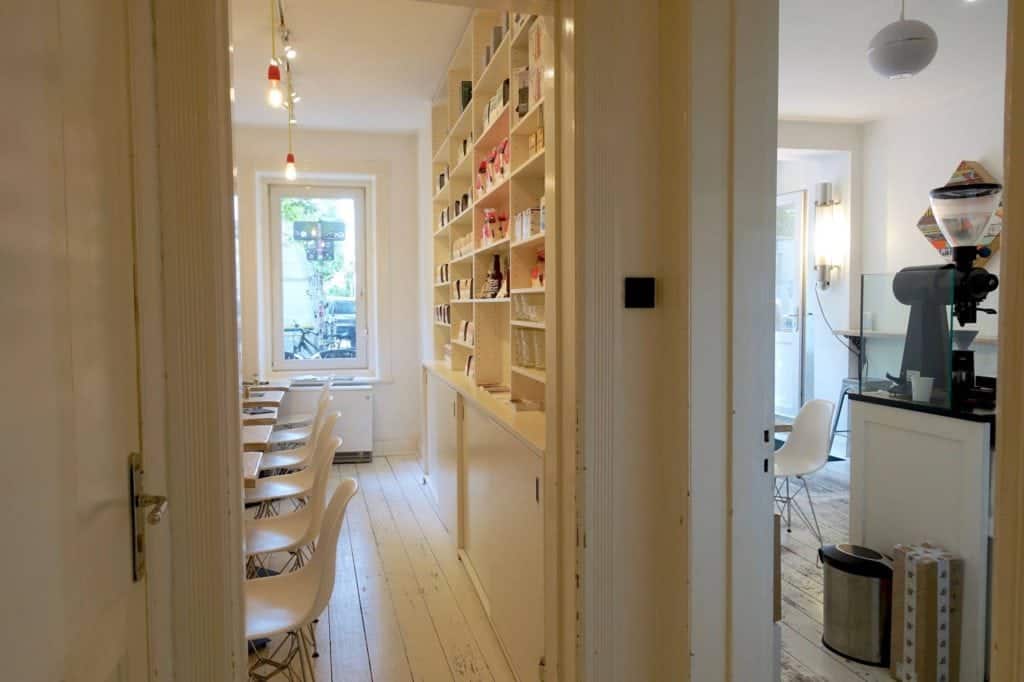 Stockholm Espresso Club is on a quiet street in Winterhude. You'll find neighbourhood locals along with international coffee specialists, that make the detour to get here. Rebuilt from an old apartment, there are two separate seating rooms and – if you're lucky with the weather – sunny sidewalk seating. It is a relaxing space to chat, work or read, whilst enjoying authentic Scandinavian coffee.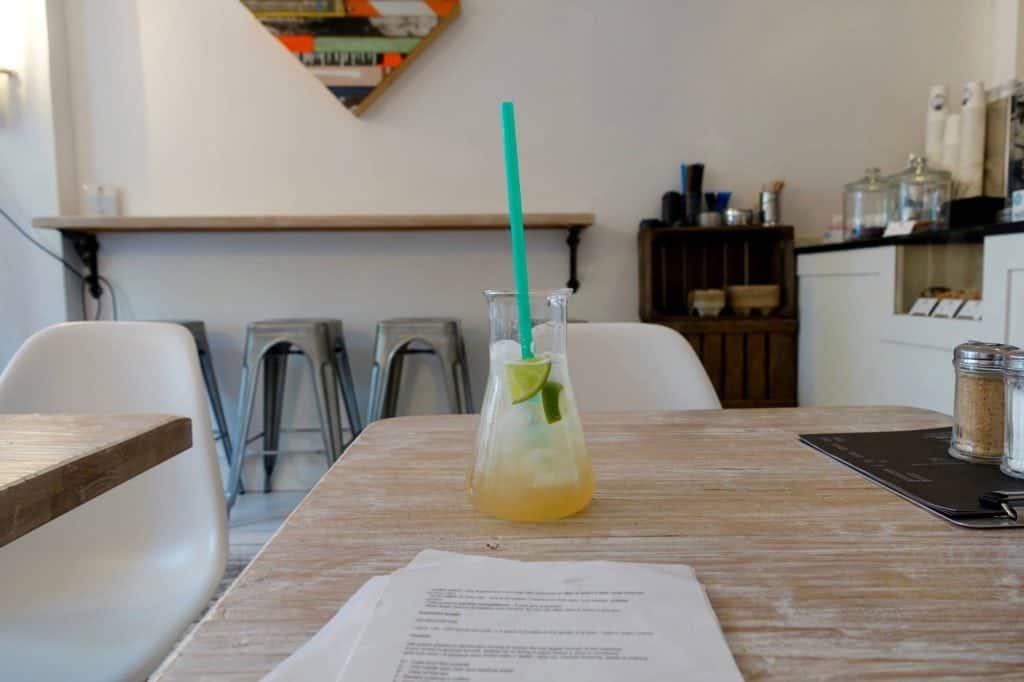 Peter-Marquard-Straße 8, 22303 (Winterhude), Hamburg, Germany
Website, Facebook, Instagram
Now you have got a good idea of how to spend your time in Hamburg. When exploring these local gems, I don't feel like going to "any other coffee shop". Each one is worth its own experience, with new surprises all the time!