From the 1970s onwards, Frankfurt, the bank district of Germany, has been pejoratively called "Bankfurt" by some. One could still think of it as of a faceless city when as far as the eye could see, the central business district rises with its skyscrapers. However, Frankfurt has certainly gotten more faces than it seems!
In comparison to other German cities, Frankfurt is a rather small one, yet it offers a metropolitan, international flair and a diversity in culture, architecture and society. The core of the city centre, from the main station on the west side to the east side harbour, is just three kilometres wide. This corresponds to a 40-minute walk, meaning, you can easily explore Frankfurt on foot.
So why not start with a good coffee and make your way through the town from one café to another!?
Kaffeewerk Espressionist
Natalia Konstantinova and Yulia Yanyuk were passionate no-sugar-espresso drinkers before developing the idea of opening a small third wave coffee shop to fulfil their dream. The dream was to combine arts and crafts at their future café called Kaffeewerk Espressionist.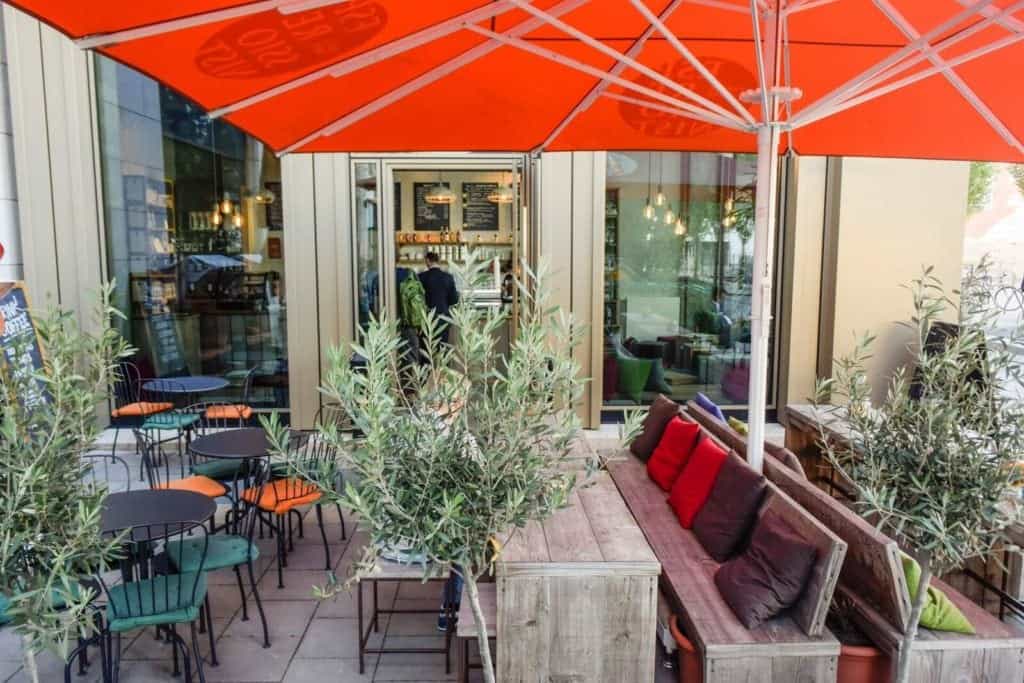 With the first shop located in the Europa Allee since 2011, Kaffeewerk Espressionist opened a second shop in April 2015, moving just a few blocks away, staying in the same, newly constructed neighbourhood. There they gave more of the room it deserved to a filter coffee station as they observed the uprising interest in filter coffee among people coming to their shops over the past six years.
The term 'Kaffeewerk' (Coffee Factory) stands for the craft of manual brewing, in the shop expressed with the use of a manual La Marzocco Strada machine. 'Espressionist' stands for the artistic approach then, as the café offers an open space to creative people, music, literature and art.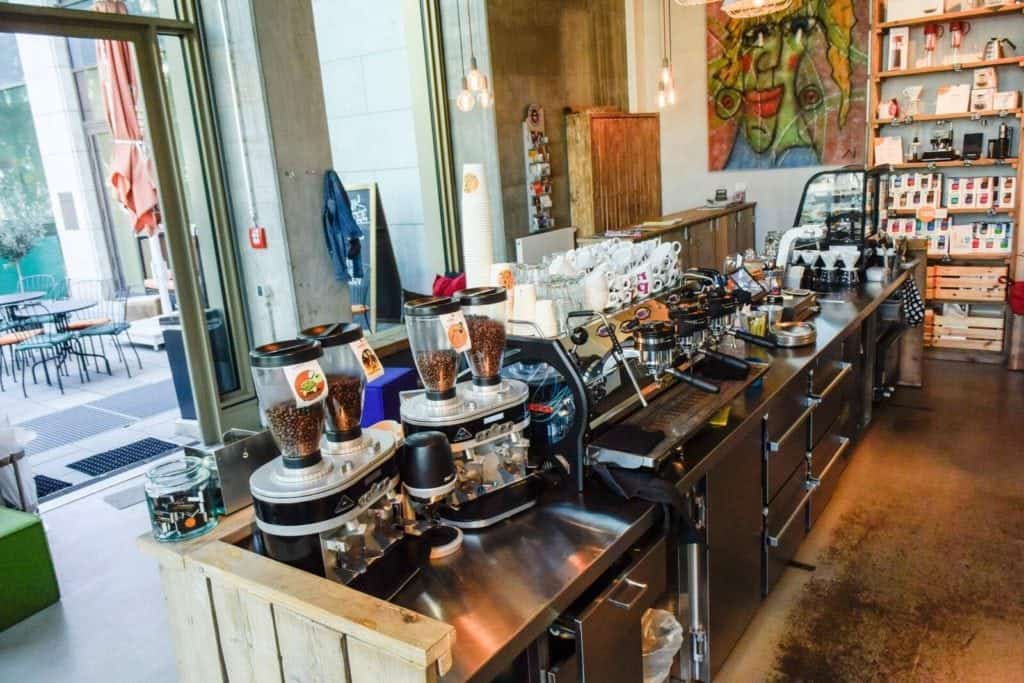 Kaffeewerk Espressionst functions as a typical coffee-to-go concept, serving their customers four options of different espresso beans using two Mahlkönig K30 twin grinders for their drink every day.
Business people are the main guests at this café located on the ground floor of an 185-meter tall building. With roughly 70% to-go orders, prone to creating a lot of waste, the awareness of saving the planet grows and many customers use a Keep Cup as an alternative to a disposable cup. The shop encourages it by offering a 10% discount on the drink.
Yulia and Natalia went from being home baristas to offering consultation for customers who have more in-depth questions when it comes to setting up their coffee station at home. Come flick through Crema magazine or buy a filter coffee from the roasters such as JB Kaffee or Quijote Kaffee. The coffee shop works as a sales point for them.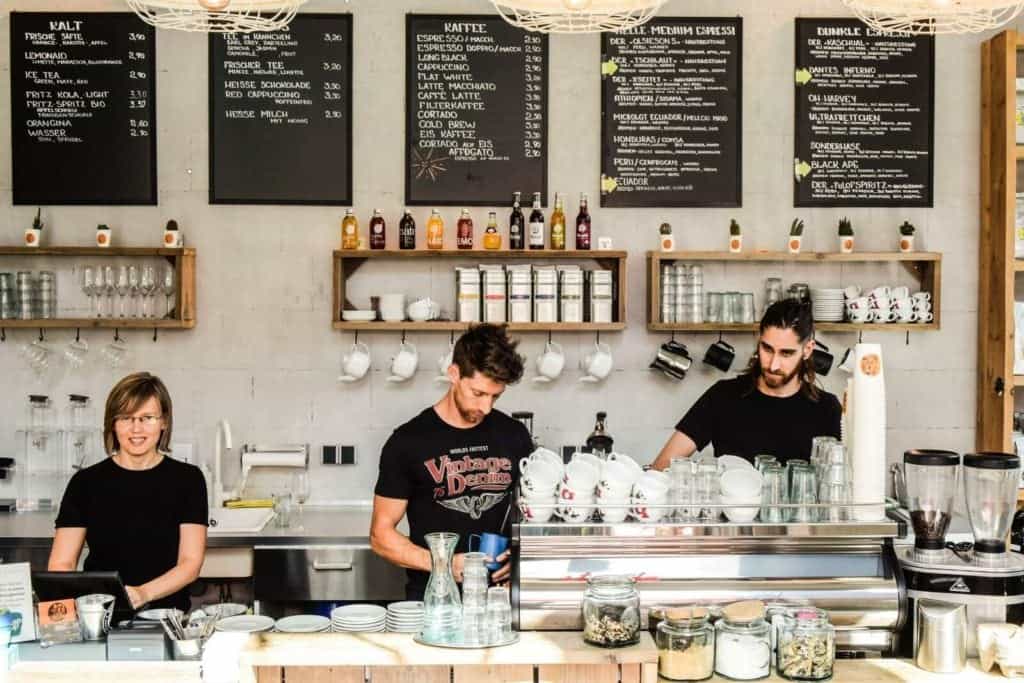 Friedrich-Ebert-Anlage 35-37, Südseite Tower 185, 60327 Frankfurt am Main, Germany
Website, Facebook, Instagram
Brühmarkt
The name suggests it already. This is the right place for a filter coffee! 'Brew market' would be the translation of the café's name. Located in the heart of Bockenheim, a historically grown, typically German area of Frankfurt, this district invites a great diversity of people.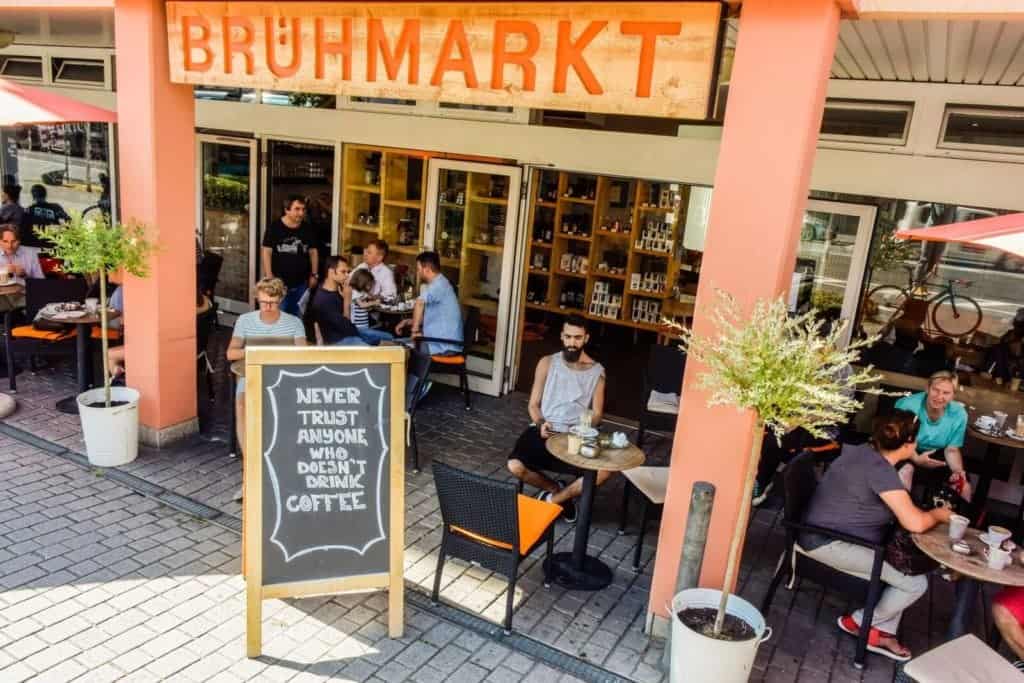 Across the street from a regular farmers' market, nearby a university and its students, neighbours and customers of all ages come and go, or spend many hours working, chatting and reading the newspaper.
Yulia and Natalia bought an existing café business and turned it into Brühmarkt by bringing in a fresh concept. They predicted a rise in demand for the filter coffee and together with Esther Gossmann, Natalia Konstantinova and Yulia Yanyuk opened this typical sit-in café and a retail store in October 2015. A year later, after having run three cafés in Frankfurt for a year, they sold their first Kaffeewerk Espressionist and focused their forces at bringing new coffee experience to Frankfurt.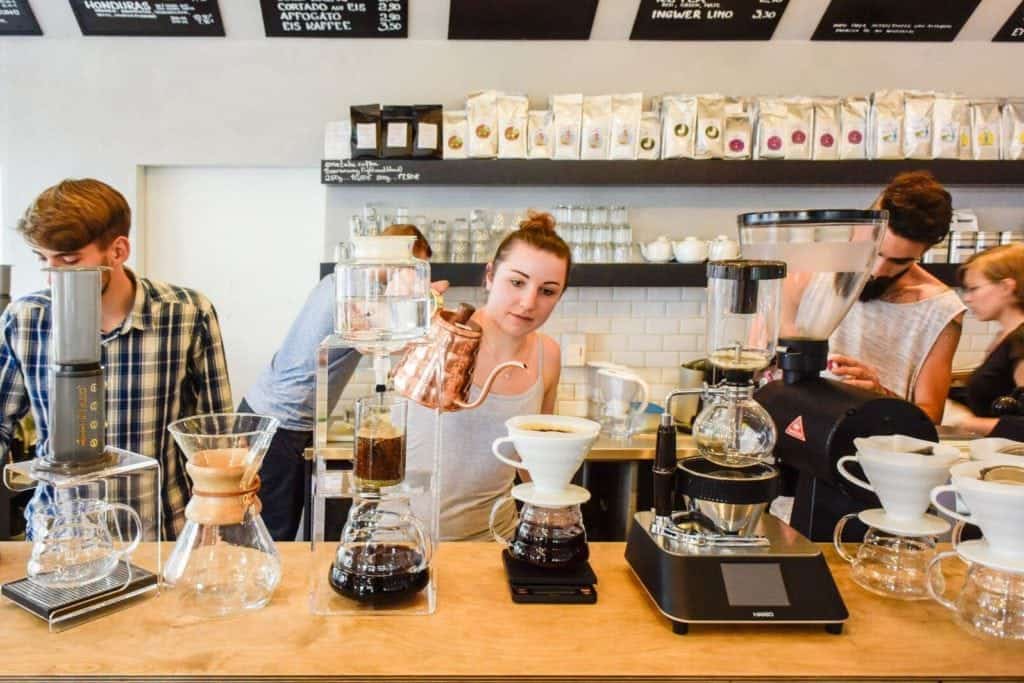 Horizons of the owners have been widened through a Coffeevine subscription, allowing them to choose a collection of different coffees to be served at their cafes. Today they even socialise with roasters and visit each other, to get the best out of the product range they offer. Customers will find excellent coffee here, prepared on a La Marzocco Strada and using two Macap M7D grinders. A well put-together choice of breakfast, homemade cakes and patisserie is a plus!
The café serves all brew methods possible. Usually, roasters on offer are Quijote Kaffee, JB Kaffee, Tim Wendelboe, Hoppenworth & Ploch, Mokxa, and One Take. The café also runs consultations that include testing of the equipment for home-brewing that is right for you. You can find products of many famous manufacturers in the shop: Hario, Commandante, Rhinoware, Cafflano, Brewista, Kalita and others. Soon, an online shop shall be available as well, offering coffee sets and the whole range from the store via a new website.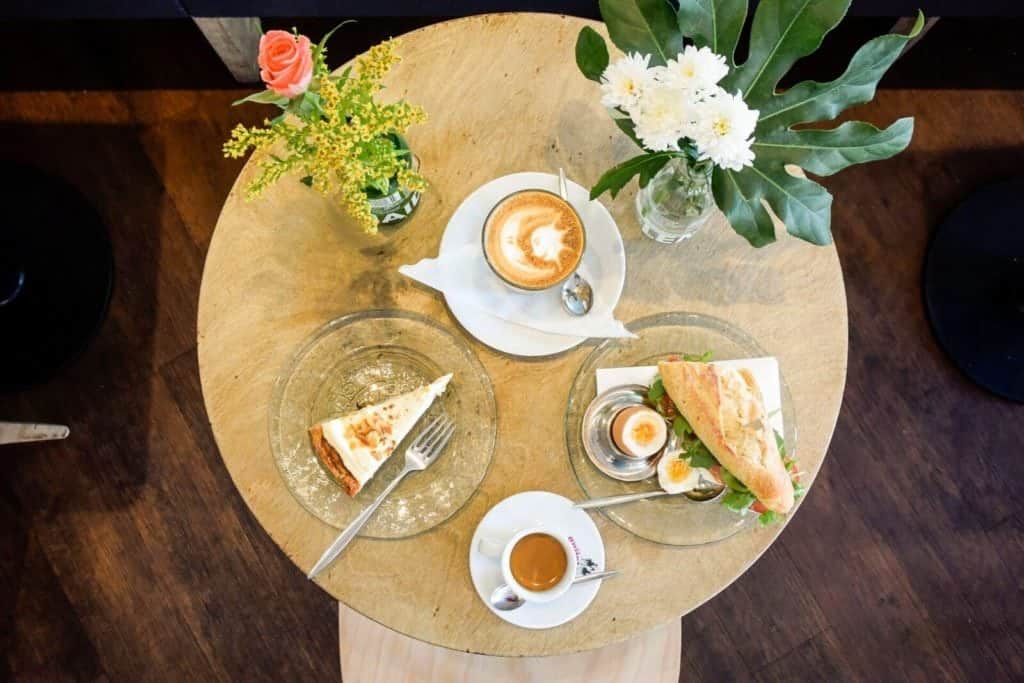 Leipziger Str. 1, 60487 Frankfurt am Main, Germany
Website, Facebook, Instagram
Roastery by Brühmarkt
Together with their long-term coffee supplier Quijote Kaffee, Yulia and Natalia started buying green coffee from them, currently sourcing from three countries of origin: Ecuador, Honduras and Peru. The ladies are roasting the coffees on their newly installed Giesen roaster, they have created various omni roast coffees with fancy names, and are offering them already at Kaffeewerk Espressionist to get customers' feedback. Currently, they are in the phase of development and plan to be running the roastery stable before Christmas 2017.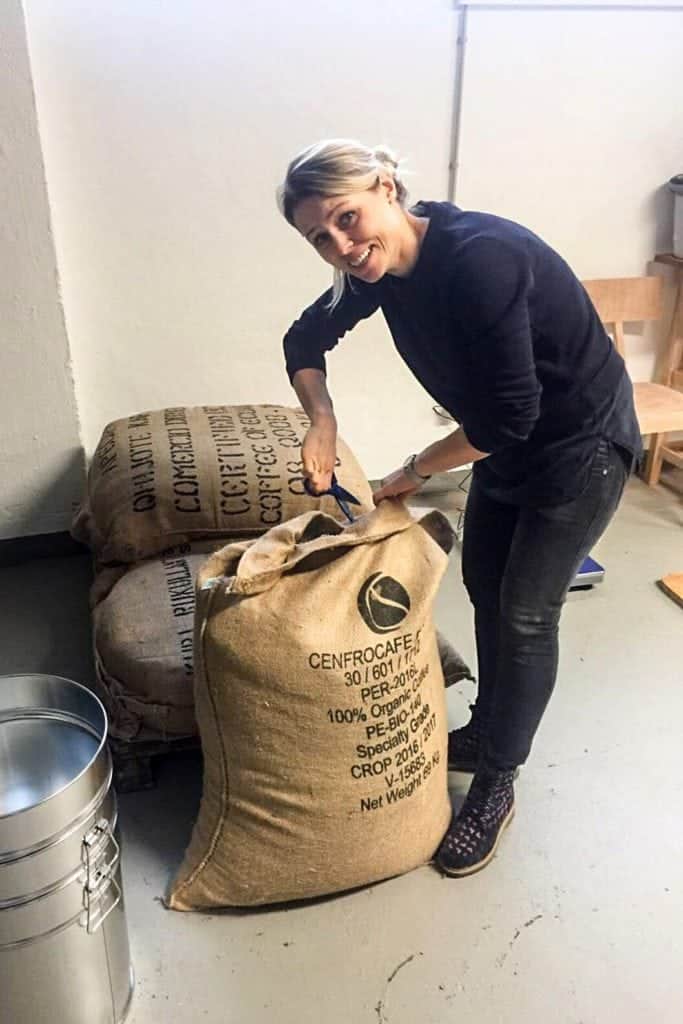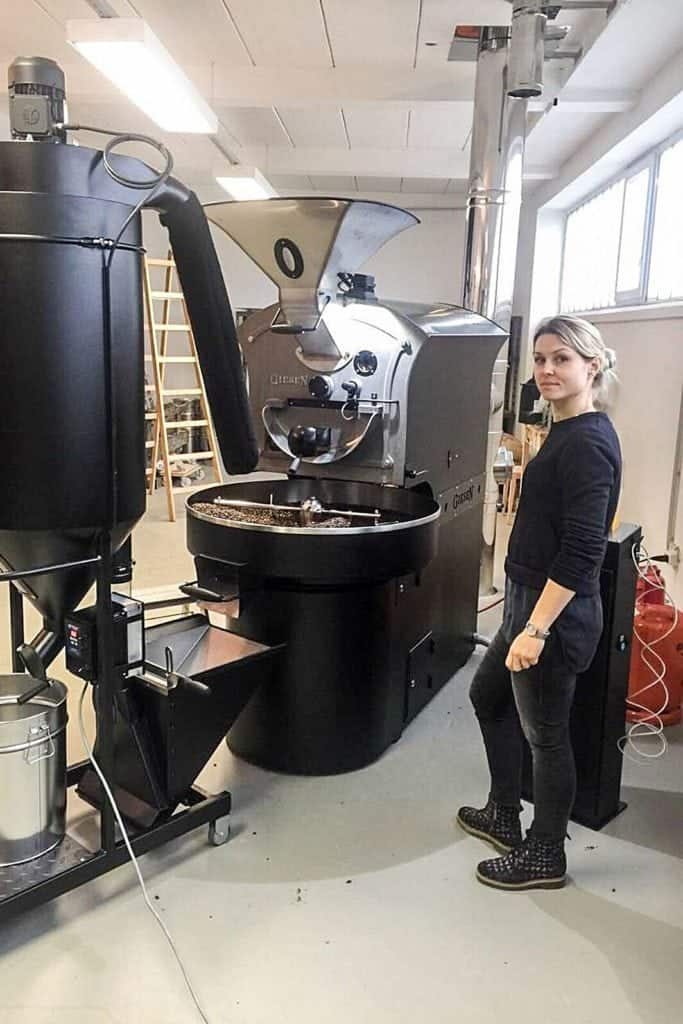 Although in general, customers tend to favour the darker roasts – and even like some robusta in it – Kaffeewerk Espressionist and Brühmarkt will definitely continue offering lighter roasts as well. The three origins are blended in five different blends, depending on the preferences of their customers.
Three examples could be:
Käschual (casual): 10% Ecuador Robusta, 45% Honduras natural, 45% Peru washed
Tschillaut (chill-out): 100% Honduras natural
Ikseitet (excited): 20% Peru washed, 40% Ecuador washed, 40% Honduras natural
The Holy Cross Brewing Society
"Huh, sorry, what? What is it again?" is the typical reaction to the name of this outstanding centre of excellence in the art-gallery district, next to the historic old town. The shop opened in December 2015. And there was, in fact, no religious reference in the name. The name, totally different from any other café in Frankfurt, was inspired by English pub names with long titles. Even the team struggled with the name, but finally, they all love it and it fits perfectly!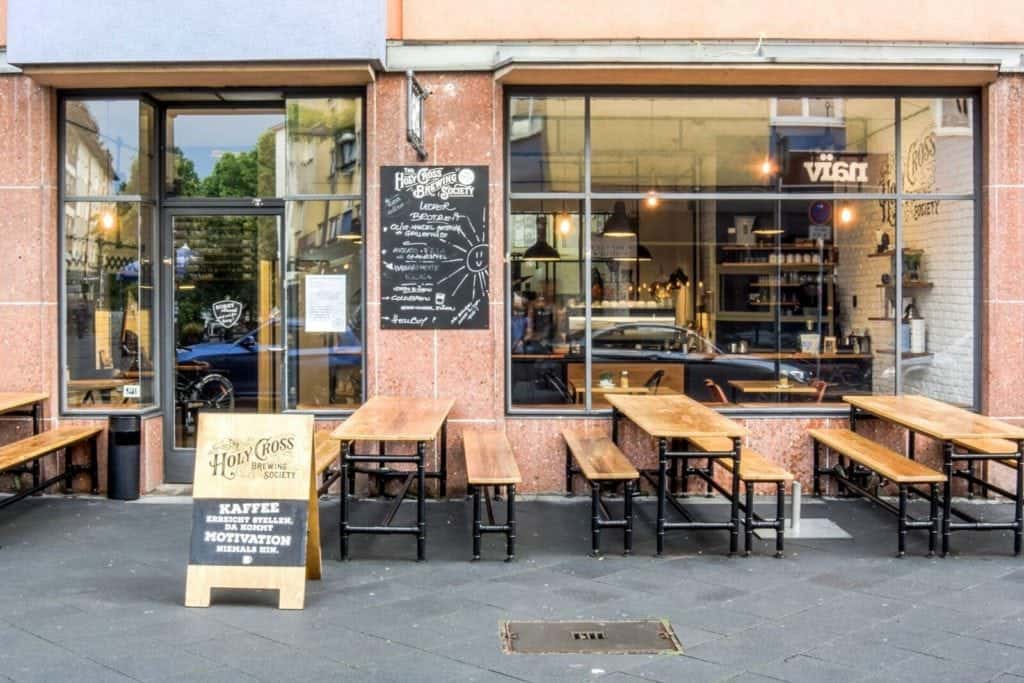 Mathias Stalter used to work as a professional photographer for many years and was known as the guy with the best coffee in his atelier. After years working in the business, he decided for a change of career, opening Kaffeemacherei in 2010 with his wife Carla, to see if it would work. And it did!
It worked so well that their guests were soon not able to fit in the small 20 m² shop. After four and a half years they sold their first café in order to pursue their project of opening a larger space where they could realise their visions. They spent a year researching along the West coast of the US, travelling from Seattle down to L.A., discovering solutions to a workflow, learning about the differences in cultures in various regions and developing their ideas. They had come to a concrete plan then. Finally, despite their wishes for a soft opening, the doors got slammed on the first day and like that, the shop was full!
The customers are diverse, from young students to elderly people, from tourists to coffee experts from anywhere in the world. Depending on the weather, people tend to grab their drink to go and reach out to the Main river or sit in the café which is furnished in an industrial style, with a very neat and detailed interior.
Mathias emphasises that there is still enough space for good coffee in Frankfurt and that people approach the team saying: "I don't know what you do, but it tastes better!" The truth is that the customers do not have to be specialised professionals to taste good coffee. The baristas' aim at work is to rather treat every guest in a welcoming manner than to proclaim the scientific approach towards the product.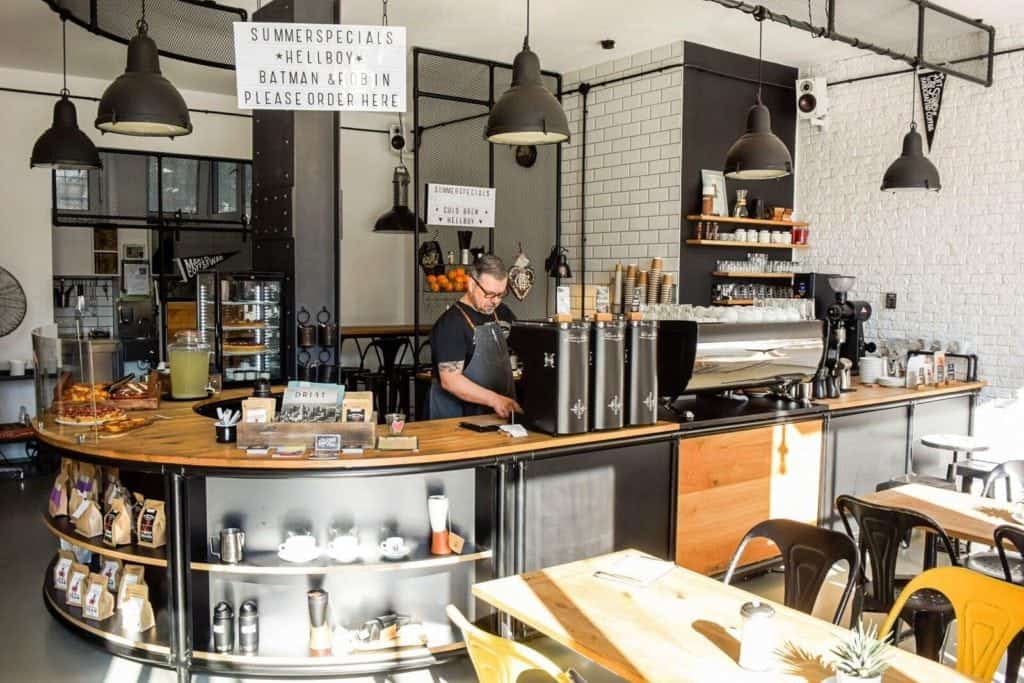 For the standard customer the details are not that important, but for those who are interested in water temperature, recipes, brewing time, roasting, etc., for the coffee tourists who travel to this spot, for the hipsters who are crazy about speciality coffee, readers of Drift, Standart and Caffeine Magazine, The Holy Cross Brewing Society is the right place.
You will find three different espressos in three Victoria Arduino Mythos 1 grinders, prepared on a Victoria Arduino Black Eagle machine. Two of the espresso beans are permanently on a rotation, depending on their availability and their amiability. Guest roasts usually stay the same for two or three weeks, which also counts for the filter options.
Most of the time, you will find coffees from well-known roasters such as Man versus Machine, Machhörndl, Square Mile, Workshop Coffee, The Barn and April Coffee.
The standard espresso and house label called "The Holy Bean" is roasted by Wolfram Sorg's Backyard Coffee, and it comprises of Columbia and Brasil. It has got the typically chocolatey flavours and spicy notes, with a tender note of fruit.
On the filter side, the house label "The Tattooed Tear" is roasted by Maren Ernst from Cologne. It currently presents a Rwandan Simbi, kind of classic, elegant, easy to drink, chocolatey-flavoured coffee with a hint of orange flavour. Usually, their filter coffee is prepared with a V60 for a clear cup, using 18 grams of coffee and 250 ml of water, or opting for a recipe from the roaster.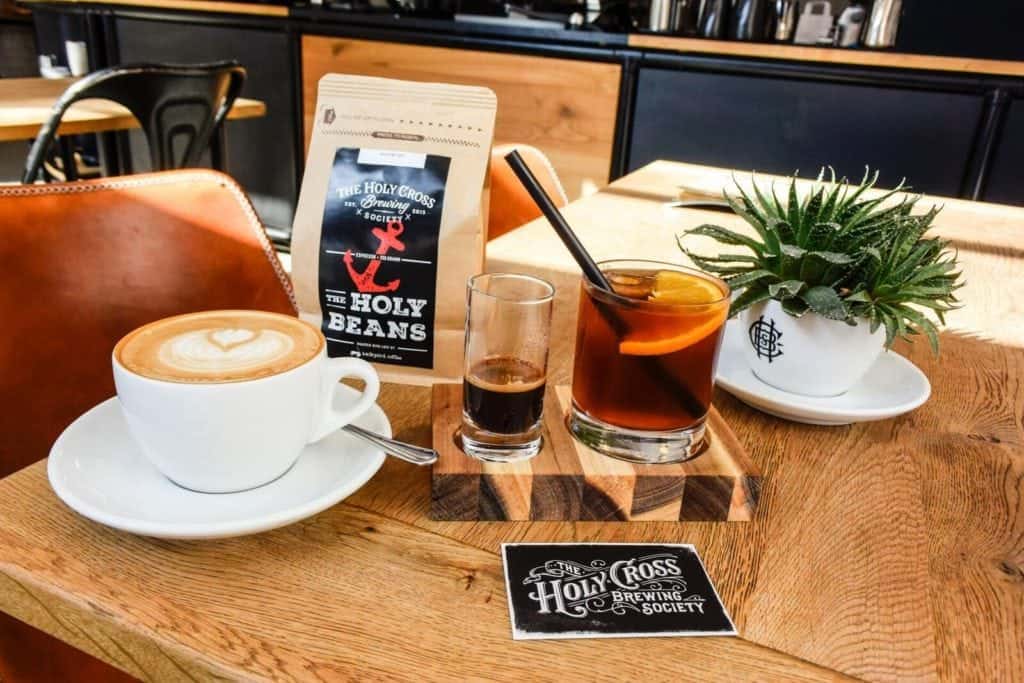 Another cool addition to the coffee and delicious food menu are the seasonal drinks: coffee-based lemonades, syrups and juices created in a trial and error manner until something new is born. One of the great summer examples is Batman Coldbrew and Robin Espresso, both brewed with the same roast, currently using a natural Ethiopian Yirgacheffe, roasted by Neues Schwarz from Dortmund.
Fahrgasse 7, 60311 Frankfurt am Main, Germany
Website, Facebook, Instagram
Bunca
The only ice you will find in this coffee shop is in their cold brew. The atmosphere and the team are really warm-hearted here. In general, every guest is approached with their first name and many customers even shake hands with the team, as well as with the owner Samson Habtom.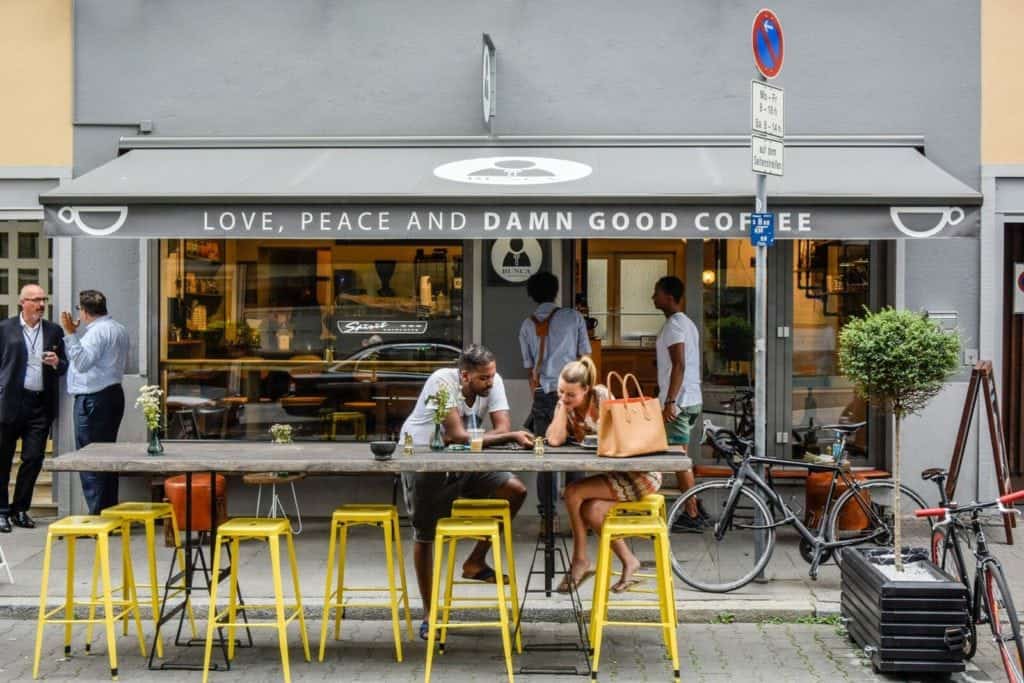 Samson Habtom used to work at Hoppenworth & Ploch, where he was able to realise some of his own ideas, experiment and where he got the vision of opening his own shop. He visited the Barista Championship in Vienna in 2012, read many books and travelled across the world, making notes of every coffee he tasted. He became a coffee consultant and a caterer, supplying events with his mobile coffee bar, brewing with a La Marzocco Linea and a Mahlkönig K30. Working together with the Amsterdam coffee roaster Lot Sixty One, they are roasting together to supply Bunca.
Opened in November 2015 in the heart of the central business district, face-to-face with the tallest skyscraper yet in one of the quieter streets is where you will find Bunca. The name 'Bun-ca' has its origins in the Tiringia language, spoken in Eritrea and Ethiopia. 'Bun' signifies the word coffee and 'ca' is a way of kindly serving the drink. The logo of the café also puts the human in the centre as the most important part of the chain when it comes to coffee.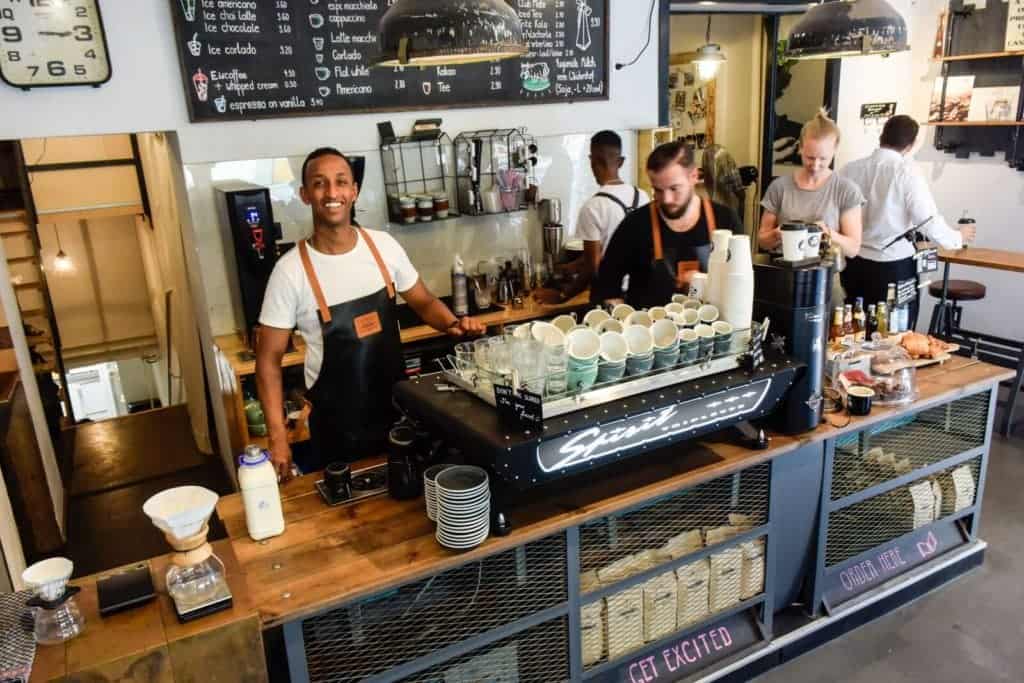 A single origin Brasil, Hacienda Uruguay, a full bodied, spicy coffee with flavours of chocolate, a little bit of fruitiness and a melon finish is served in all espresso-based drinks. Filter coffees are brewed with beans from Peru, Kenya or Ethiopia. Usually, two South-American coffees with classic earthy notes and two African ones with fruity notes are available to taste. You will also find a decaf coffee made with the chemical-free Swiss Water process.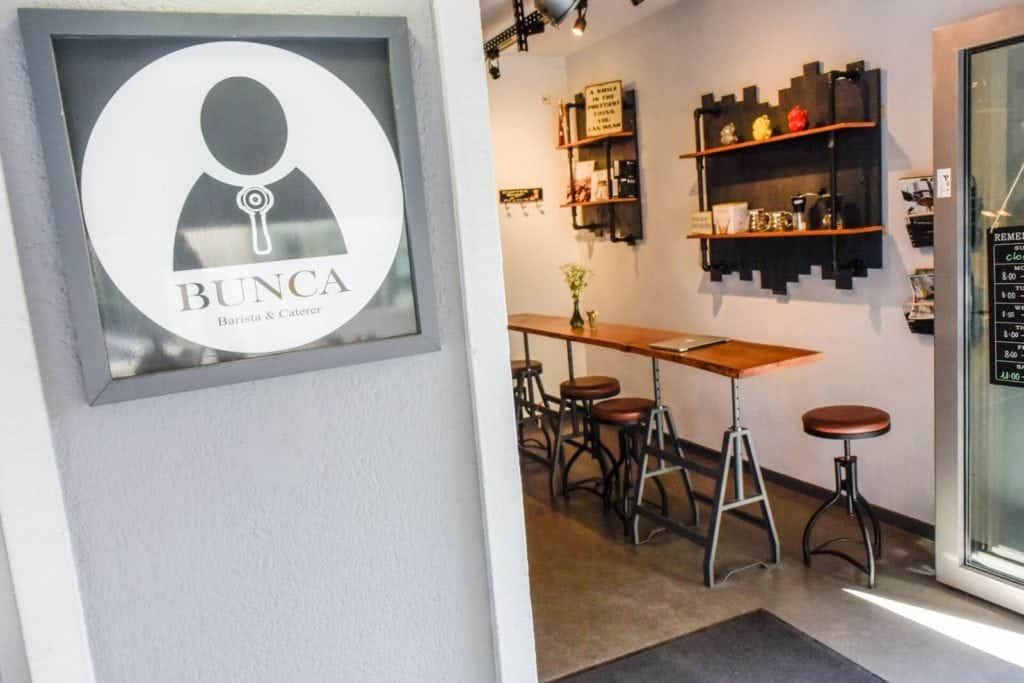 The café's unique interior, made by the owner himself, is underlined with the use of the stylish Kees van der Westen Spirit Triplette coffee machine.
Kirchnerstraße 4, 60311 Frankfurt am Main
Website, Facebook, Instagram
As you can see, Frankfurt combines many different approaches to coffee with each café having its own character and profile. So head over to meet interesting people and experience a warm-hearted welcome in a city reachable by all means of transportation, being extraordinary entertaining and diverse. There is a lot to discover in Frankfurt!