On the 4th weekend of October Thorsten and I, two of the three founders of Third Wave Wichteln, were invited by European Coffee Trip to explore the Czech coffee scene. Perfect timing – the Prague Coffee Festival was held on the same weekend.
We were really excited. The coffees we have received from Eastern Europe were all great, but we didn't know much about the coffee world of the Czech Republic.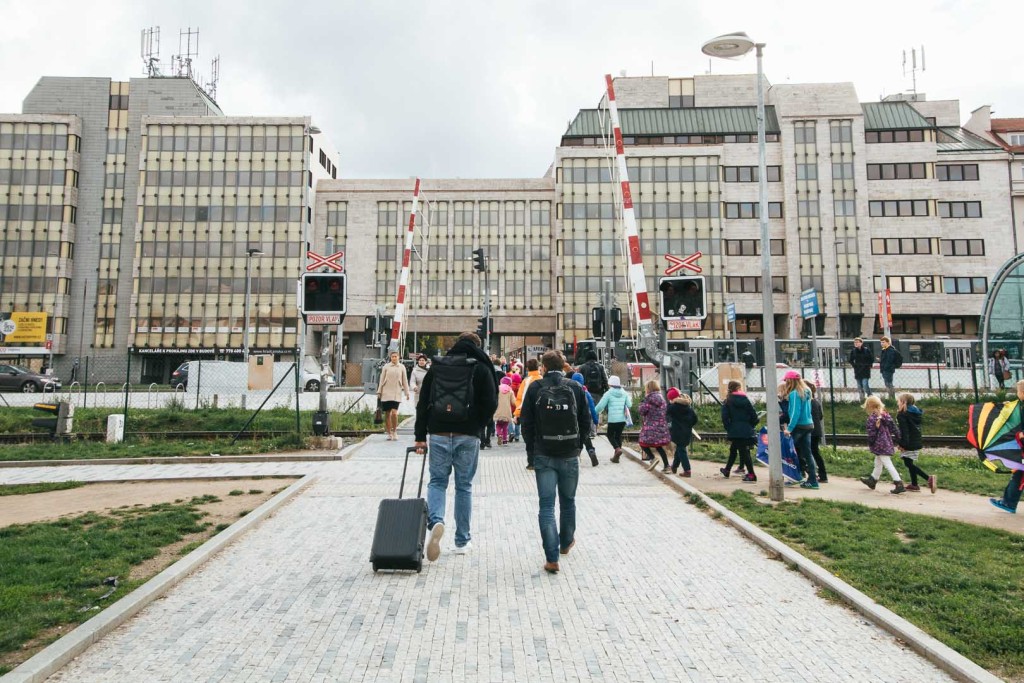 Our trip started on the Friday morning. We travelled from Düsseldorf and Hamburg to Prague. Unfortunately, Thorsten's flight was delayed, so we had to start the coffee tour without him. Ales and Radek picked me up from the airport and we headed to the first coffee shop.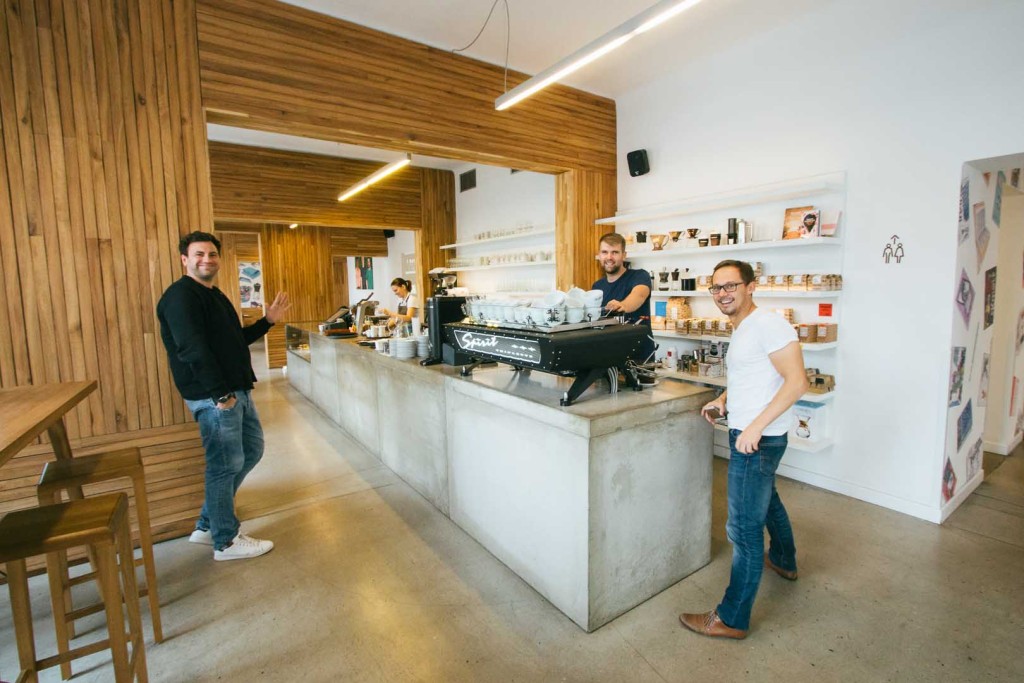 This one already set the bar pretty high – Kavárna Místo. The warm wooden interior and the smell of some awesome meals welcomed us and we felt home right away. Kavárna Místo serves coffees from Doubleshot – one of the best roasters from the Czech Republic. Besides great coffee – mine was a delicious Pacamara from El Salvador – they also serve amazing food. We came too late for breakfast, so we ordered some lunch sandwiches. I had the Cheese Sandwich with pulled pork while Radek had the most amazing dish – a Pork Belly Sandwich with red cabbage. To die for.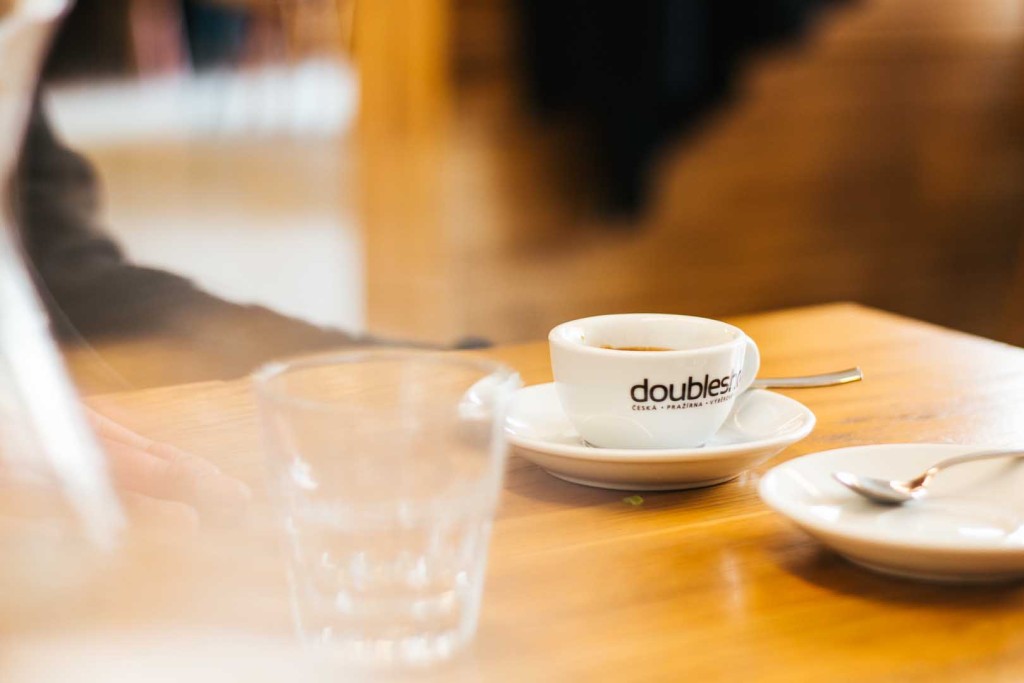 The combination of coffee and great food is something that appears more often and I love the movement. Places like Scandinavian Embassy in Amsterdam, Nord Coast in Hamburg or the new The Visit in Berlin are great examples in Europe. But I'd put Kavárna Místo immediately among my five favourite coffee spots. Great food, great service, great location, great design and most importantly great coffee.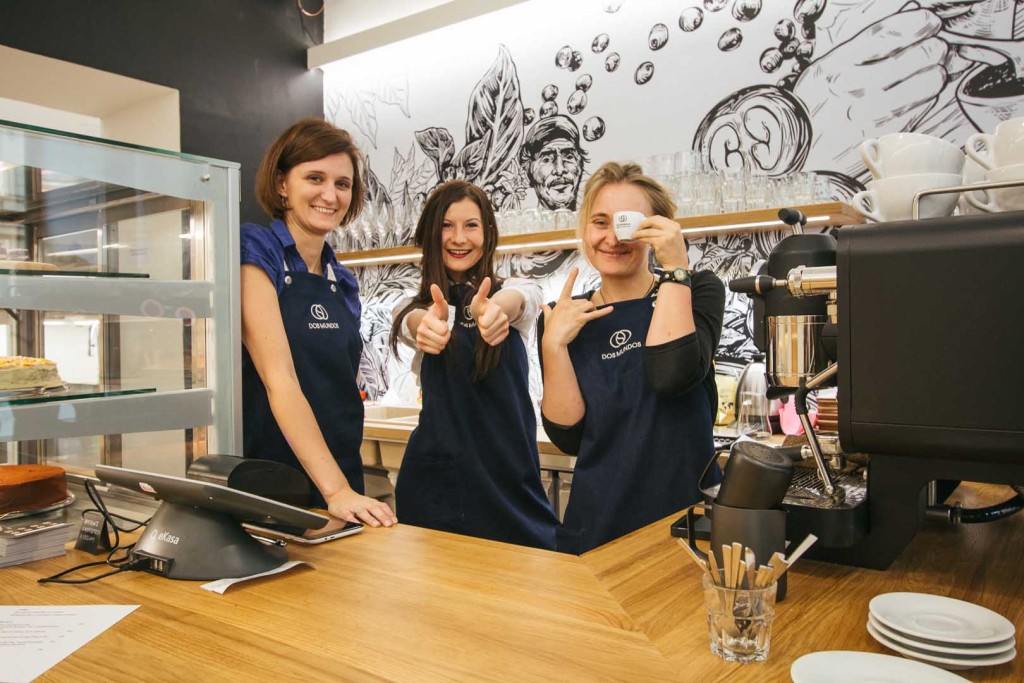 While at the café, we met a friend of Ales and Radek, Anička from Dos Mundos. She told us that they just opened a new spot that day. A good place to continue the coffee tour. The new place of Dos Mundos is really nice. The swings in the window are a great eye catcher, for kids and adults. And here as well, the service was overwhelming. I tried an Ecuadorian Caturra – on V60 and batch brewed in a Moccamaster – a very chocolaty, velvety coffee.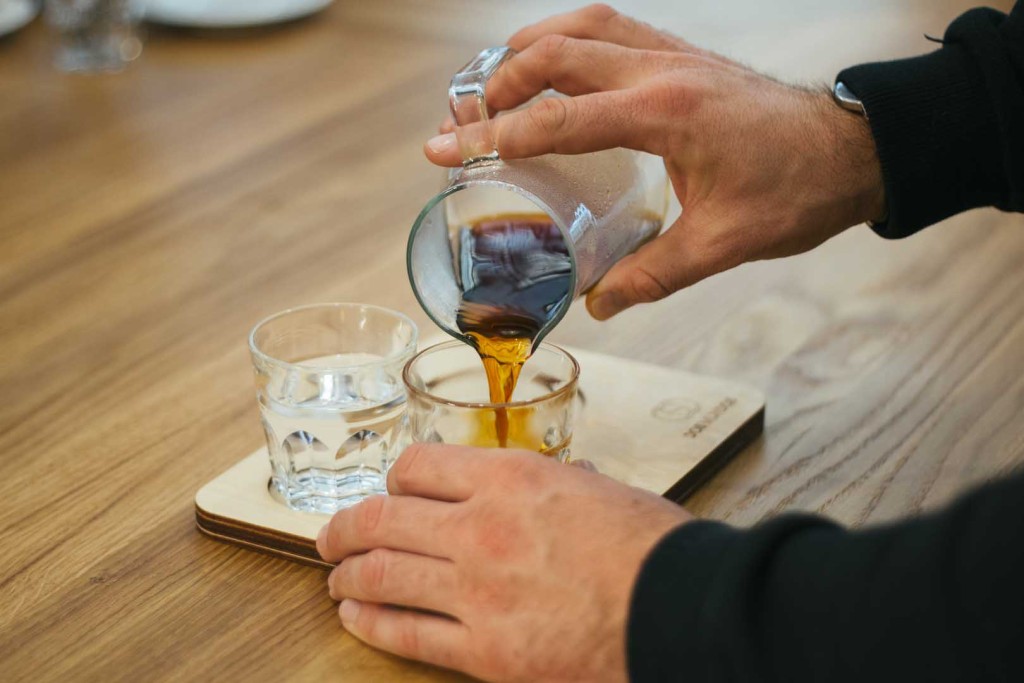 Then it was time to meet up with Thorsten and we chose Kavarna Co Hleda Jmeno to be the right place for it. Ales explained it to be the most hipster coffee spot in Prague, and it was. The café/bar was hidden in a backyard, in an old garage. A fireplace, a bar made of one piece of wood (more like a whole tree trunk), candles, open stone walls and cool people. It was cozy but at the same time had a pretentious vibe about it, that we were not sure if we liked it or not. The coffee was good though. I had a flat white made with Nordbeans coffee, a roastery in Liberec, in the north of the country.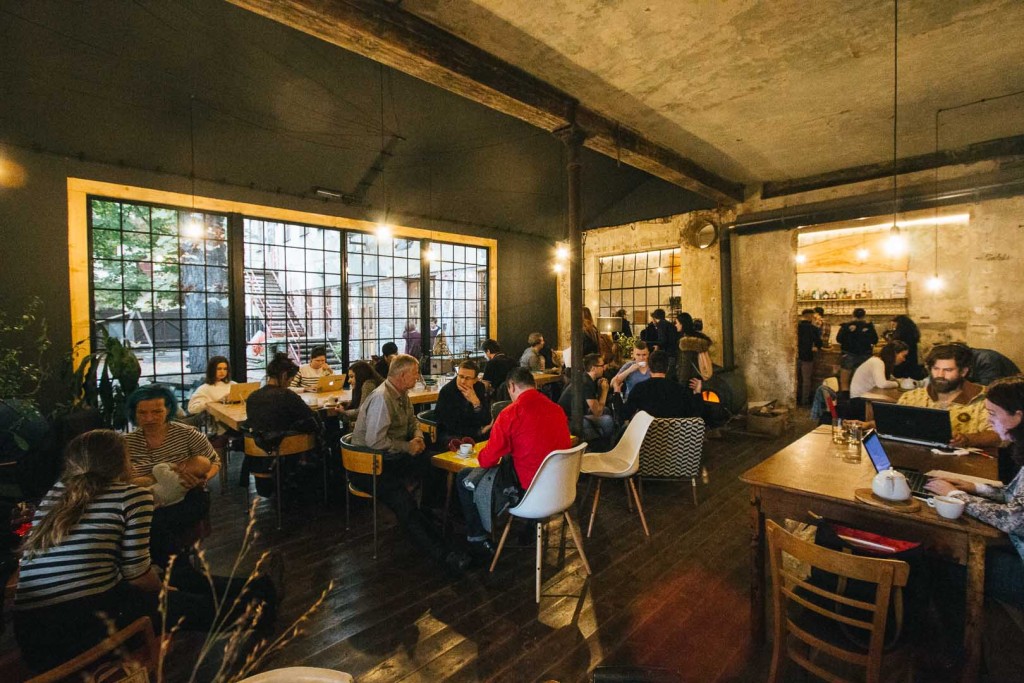 A short stop at the hotel and then it was time for our cupping at Paralelní Polis. Thorsten and I brought coffees from Germany (Hamburg and Düsseldorf) and we invited some Prague coffee lovers for a little cupping and to talk a little about our international coffee exchange – Third Wave Wichteln. It was great. More than 15 people joined us, even some coffee enthusiasts from Moscow, Russia, who were in town for the Prague Coffee Festival.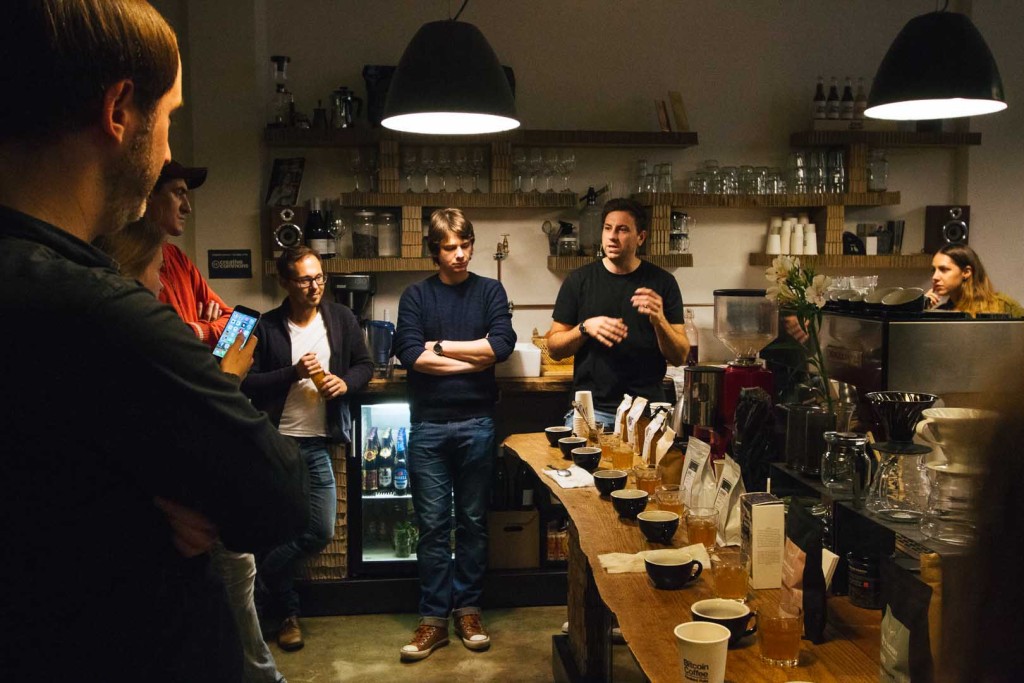 After a delicious dinner and some tasty Czech beer, it was time to get some rest for the second day.
Day two started the same way as day 1 ended. With great coffee and interesting discussions. It is always great when Third Wave Wichteln and European Coffee Trip come together. None of us are coffee professionals but we do love the beverage, the scene and everything that goes along with it.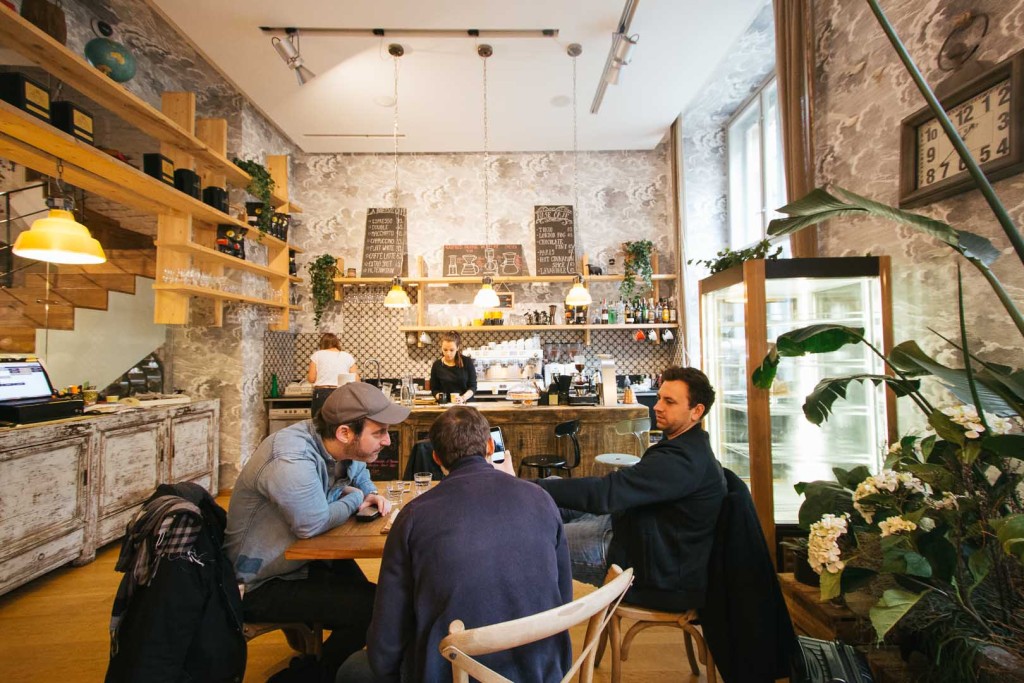 So our conversations went on at La Boheme Cafe – the oldest specialty coffee roaster in the Czech Republic, doing direct trade since 2003. Impressive. Boheme stands for the name and also the interior design completed with big red sofas, a lot of books and besides coffee also a huge selection of great teas. While talking about good photography subject when it comes to coffee, Thorsten and Radek were experimenting with Instagram photos.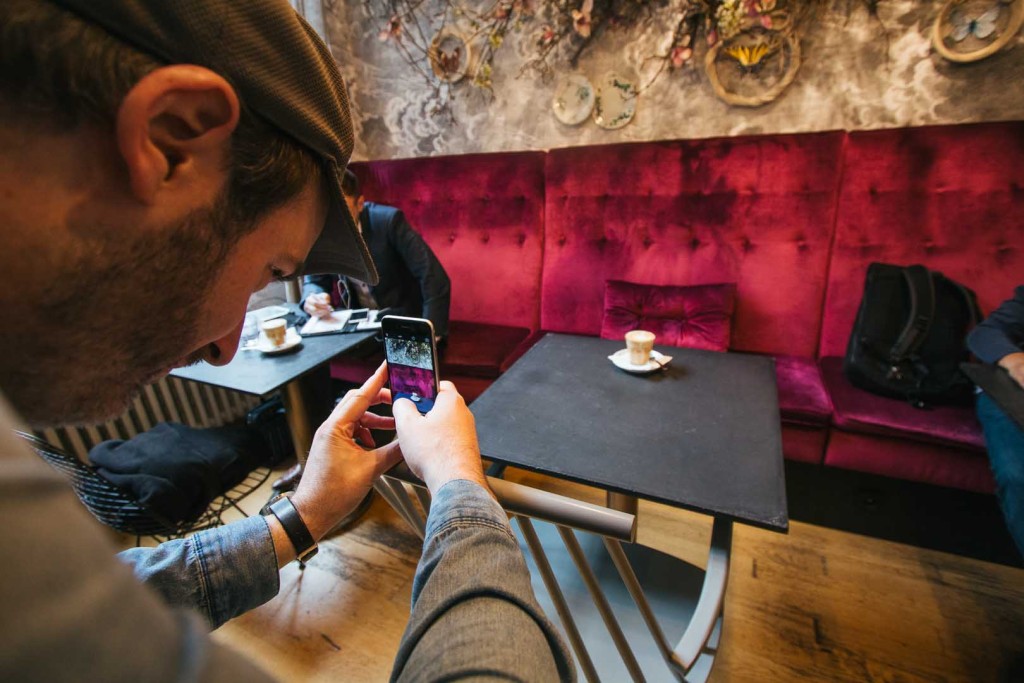 Saturday – clear sky, sunny – the perfect timing for a food market. And as every Saturday, Naplavka Farmers Market takes place along the Vltava river. We have already heard about one coffee spot that pops up every Saturday at the market: Brewbar. A pour over bar that serves great filter coffee only on Kalita Wave.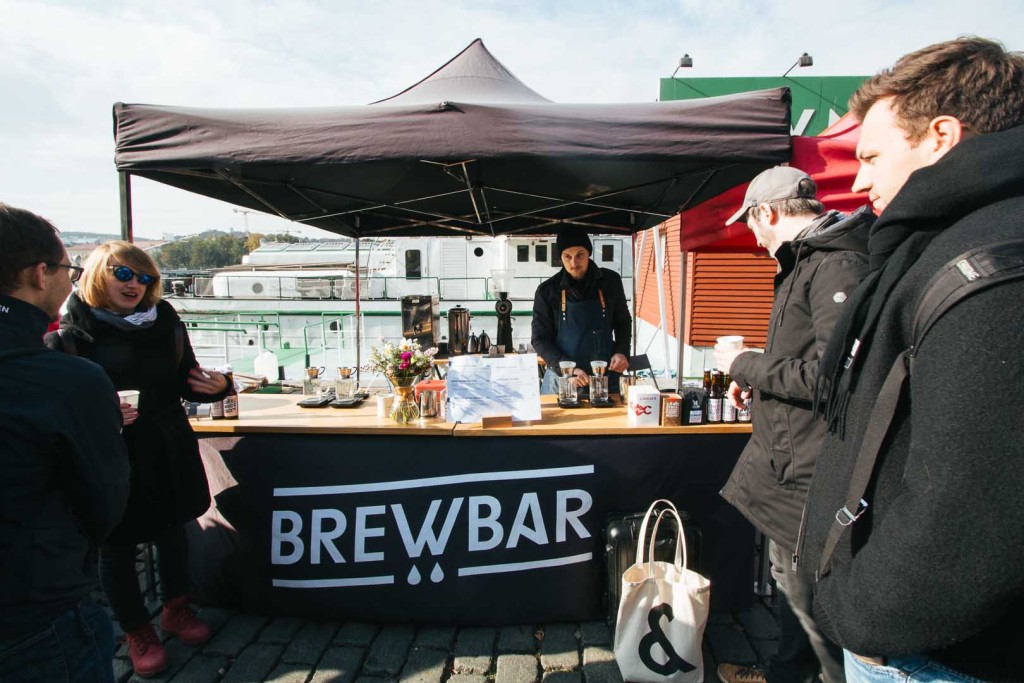 This time Radek Skopal [editorial comment: Radek is Czech Aeropress Champion 2016] offered us a natural Geisha from Panama by Doubleshot, a natural Colombian "Sudan Rume" by Coffee Source and a natural El Salvador "Kilimanjaro" by Coffee Source. Yes, that is right, three naturals and people were standing in line to get their coffees. But not only for coffee. Cascara and another offering really amazed us: Brewbar's Cascara hot tea mixed with booze, called "Hardcore Cascara". It was delicious.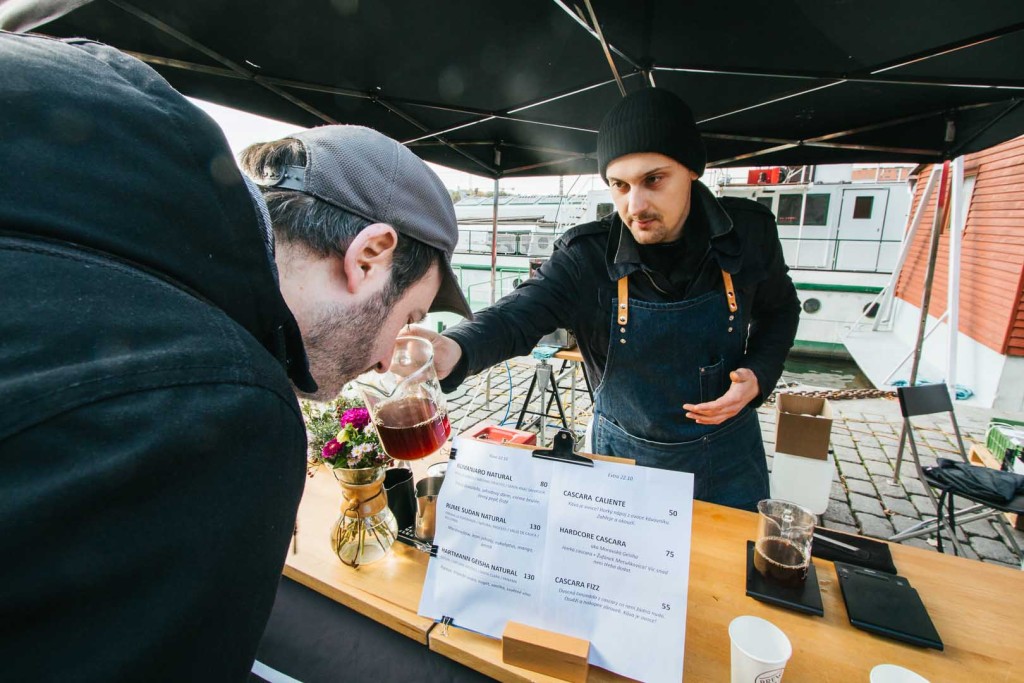 After some snacks at the Farmer's market it was time for the Prague Coffee Festival – but not before making a short stop at the EMA espresso bar. It felt like the Prague Coffee Festival already took place here. The café was super crowded and we also ran into the guys of Black Delight who were making a stop on their way to Vienna.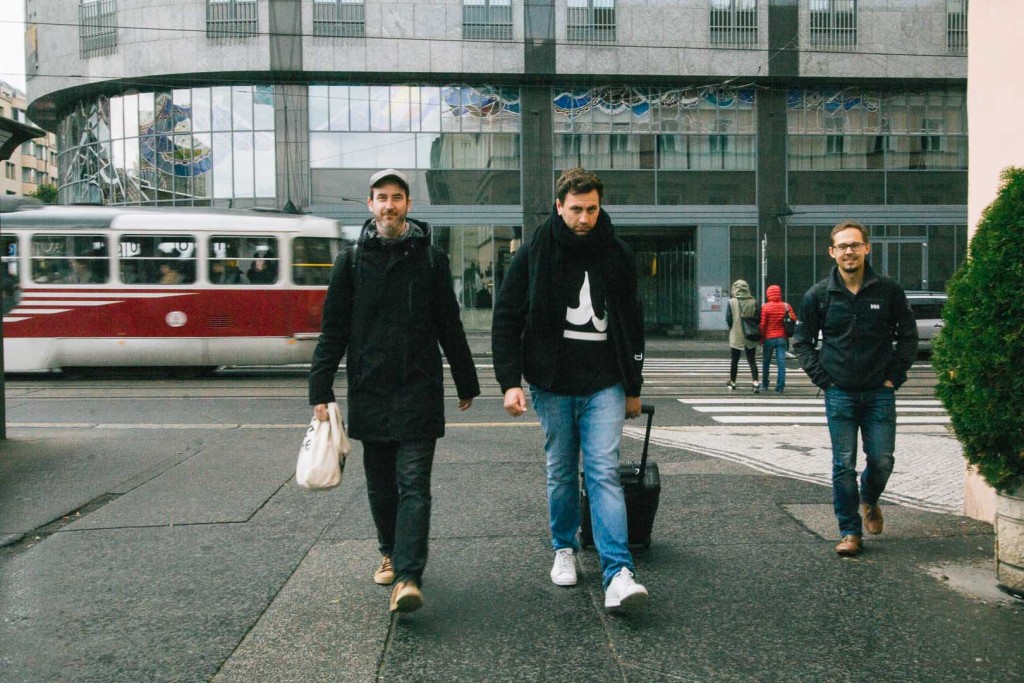 A short run through the rain and we made it to the Prague Coffee Festival. It was already the fifth time the coffee festival took place in Prague – a much longer history than Amsterdam or Berlin. And people from all over Europe came to the festival. People we knew from Germany, like Karolina from Tres Cabezas and Patrik (former Five Elephant, now newly opened April Coffee in Copenhagen) who gave a talk about roasting. But also interesting people and coffee brands we never met in person, e.g. Double B from Moscow, Climpson and Sons from London, Casino Mocca from Budapest or Per Nordby from Gothenburg. You can see here that the Prague Coffee Festival was relevant to some of the best roasters from all over Europe.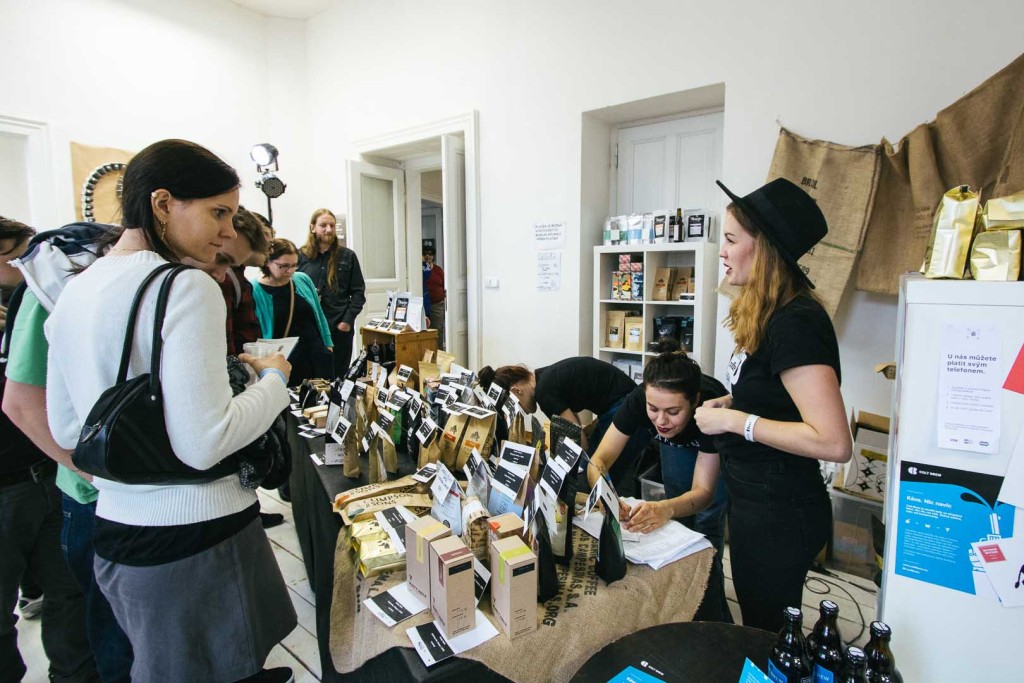 And the atmosphere was great. The old building in the middle of the city center was filled with brew bars, espresso stands, food and drink stands, merchandising, stages for competitions or talks – divided on several floors and each room presented something new and interesting. It was not the last time for us to visit this event!
Afterwards, we headed towards Brno for the second part of our coffee trip. After a two hour train ride through the countryside of the Czech Republic, we arrived in the second largest city of the country. We stayed at Hostel Mitte and it was no wonder that the ECT's favorite cafe was situated in the lobby of the hostel. Cafe Mitte, was serving Specialty coffee as well. Doubleshot. But that night, we preferred local nut schnaps rather than coffee and went for a dinner and drinks at SKØG Urban Hub and Super Panda Circus.
The third day started with a coffee at Cafe Mitte, also because it was conveniently just down the stairs. Then we headed to the office of European Coffee Trip, at the Impact Hub Brno. Ales and Radek showed us where they work and gave us an insight into their daily work life. We were amazed by the coffee setup in their office.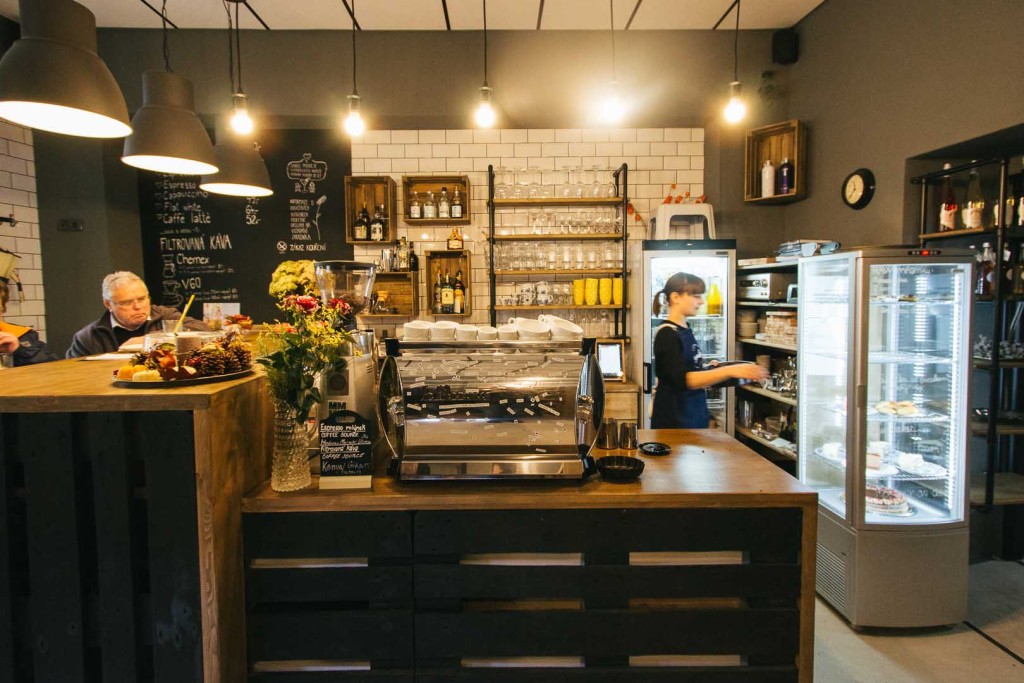 The second coffee place we visited was the Coffee Bar Mymika. This coffee place had just opened a few weeks before our visit, and not even our local guides had visited that place. We especially liked the design of Mymika.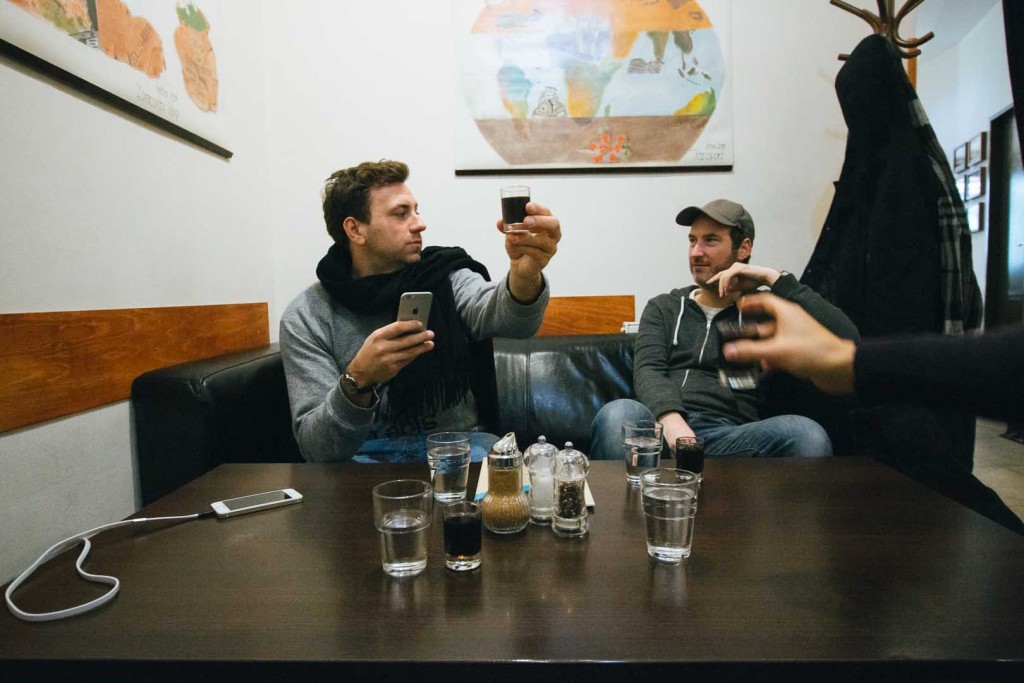 The last spot we saw was Kafec, one of the cafes with the longest tradition for Specialty coffee in Brno, where they serve different roasters from Europe. They brewed us a huge Chemex of Rwandan coffee. It was the culmination of a great trip to Prague and Brno and to an amazing coffee scene in the Czech Republic.
DISCLAIMER: This trip was supported by Czech Tourism. We would like to thank them for making it possible. We had a blast spending a night at Miss Sophie´s in Prague and Hostel Mitte in Brno.