Paris is a city with endless possibilities, certainly when speaking about drinks and food culture. There are many diverse ways of pleasing the huge number of visitors and especially connoisseurs.
What might at first seem to be an ocean of cafes is arranged into groups in the following article, based on our recommendations. We got to meet many cafe owners and baristas over the course of three days in November and thanks to CoLab:Paris we explored the cafe scene with the help of a handy print map, designed by Jessie May Peters based on the tips from Frog Fight, Réseau des Baristas de France and Nicolas Clerk, owner of Télescope Cafe.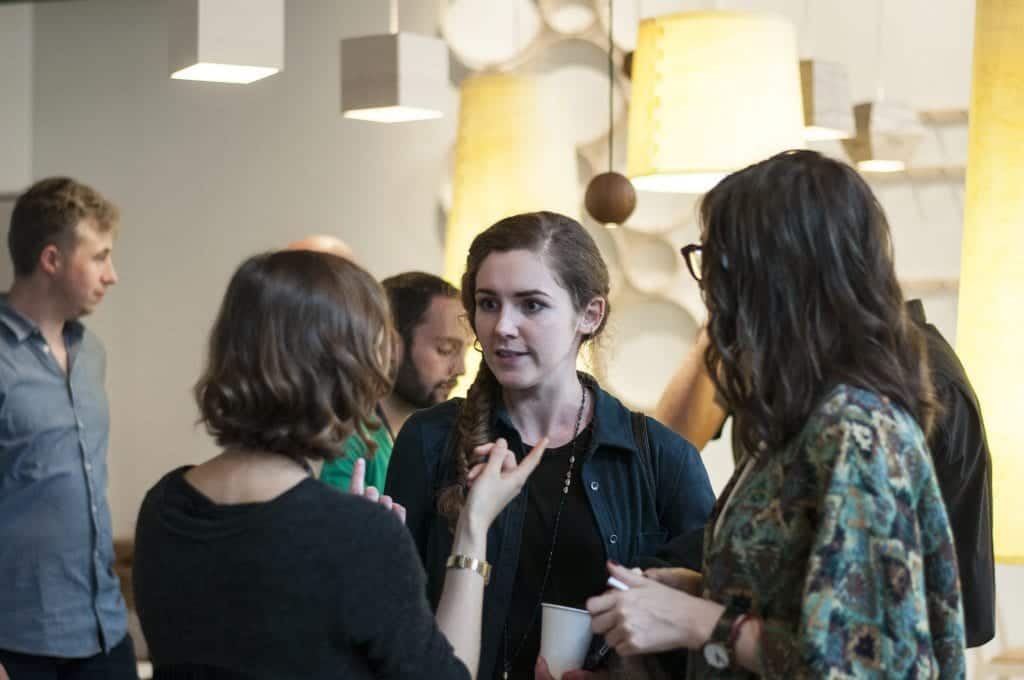 The number of cafes on our list was high, but we managed to sit down and chat over a one too many cups of black coffee and, finally, bring a little summary of places to visit if you find yourself in Paris and crave the following!
1) Where to go for the right combination of history, culture and coffee?
A coffee overdose is easier than you think when you have got a list of cafes to tick off and a city of wonders laid in front of you. Do not stress yourself too much and enjoy exploring the coffee scene together with the natural charm of Paris. Here is a recipe for a delicious combo!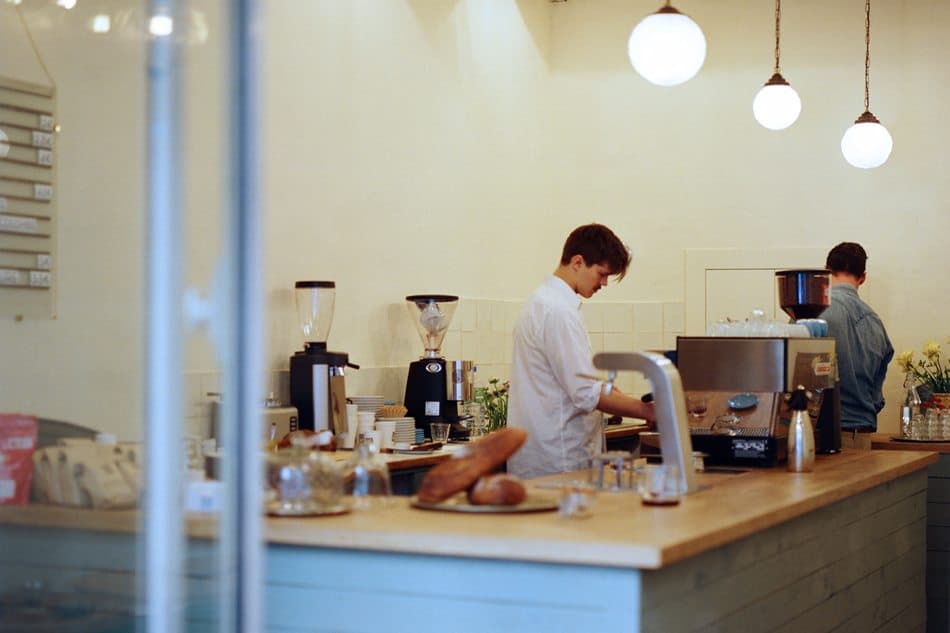 Start your day at the beautiful Télescope cafe where Belleville brews are tasty and a morning granola will help you kick the day off. Head down South to Louvre, walk across the Pont des Arts towards the South bank or follow the bank and discover Ile de la Cité with its Notre-Dame cathedral.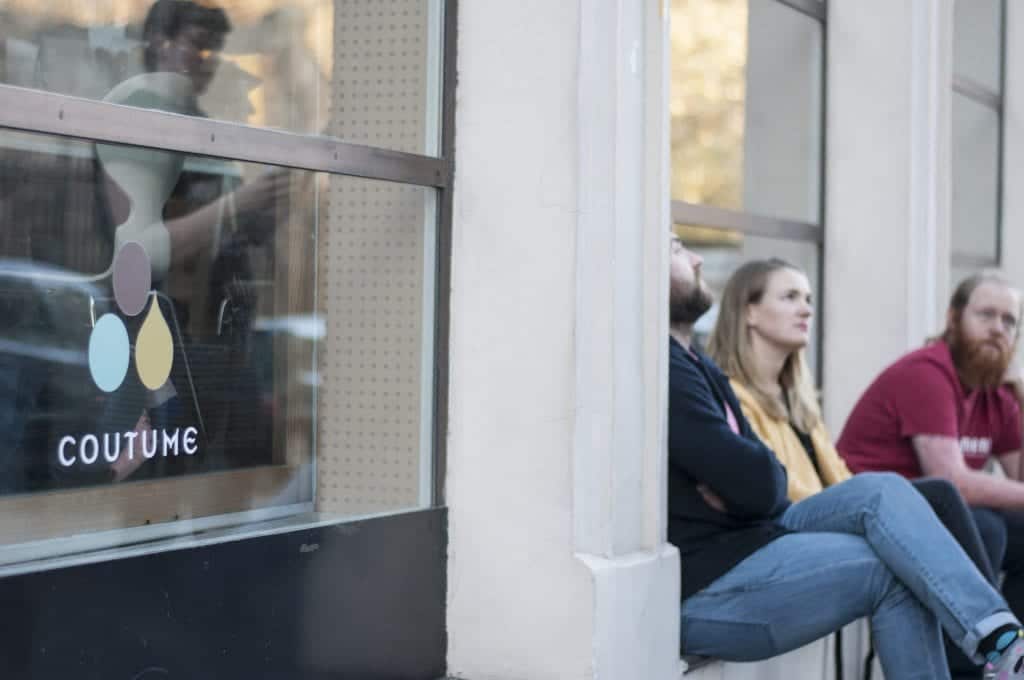 This recipe started our day in the best way possible. You can stay longer, chat to Nicolas about his trip to origin and than pop in one of the many ramen places that the area is renowned for! In case you need more coffee, this area does not suffer lack of choice. A coffee follow-up for the coffee geeks is recommended at Coutume Instituutti. An impressive space in scandinavian design will serve you a cup in their sunlit spacious room.
Télescope cafe
5 Rue Villedo, 75001 Paris
facebook.com/telescopecafe

Coutume Instituutti
60 Rue des Écoles, 75005 Paris
facebook.com/coutumeinstituutti
2) Where do you stuff your belly and drink tasty coffee when in Paris?
There are certain must-dos when you explore Paris. Vegan rules aside, croissant in Paris is a 100% conscious choice, together with a glass of quality wine and the art of entrées. We did enjoy the wine, but focused more on the tasty range of meals and snacks at cafes. Our recommendations were tested on ourselves. Please enjoy!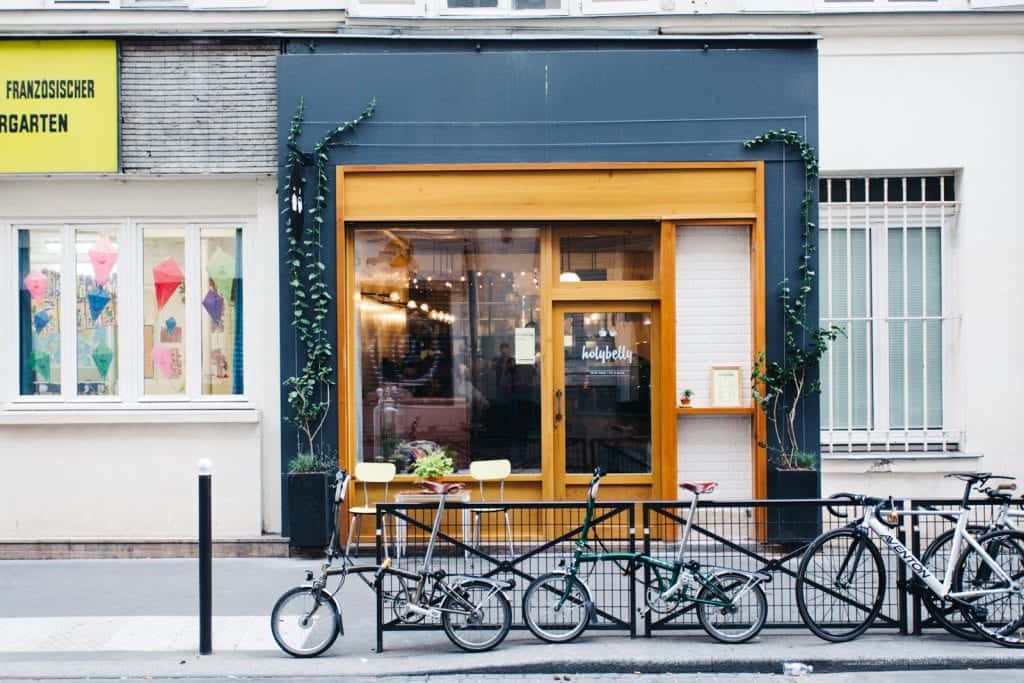 Hollybelly is a necessity for a breakfast. Australian style brunch is served alongside coffees from Belleville and it brings great vibes with good music choice! We were happy to see the Australian food culture strive in Paris and had a tasty brunch that kept us going for several hours, although it was on our last day in Paris.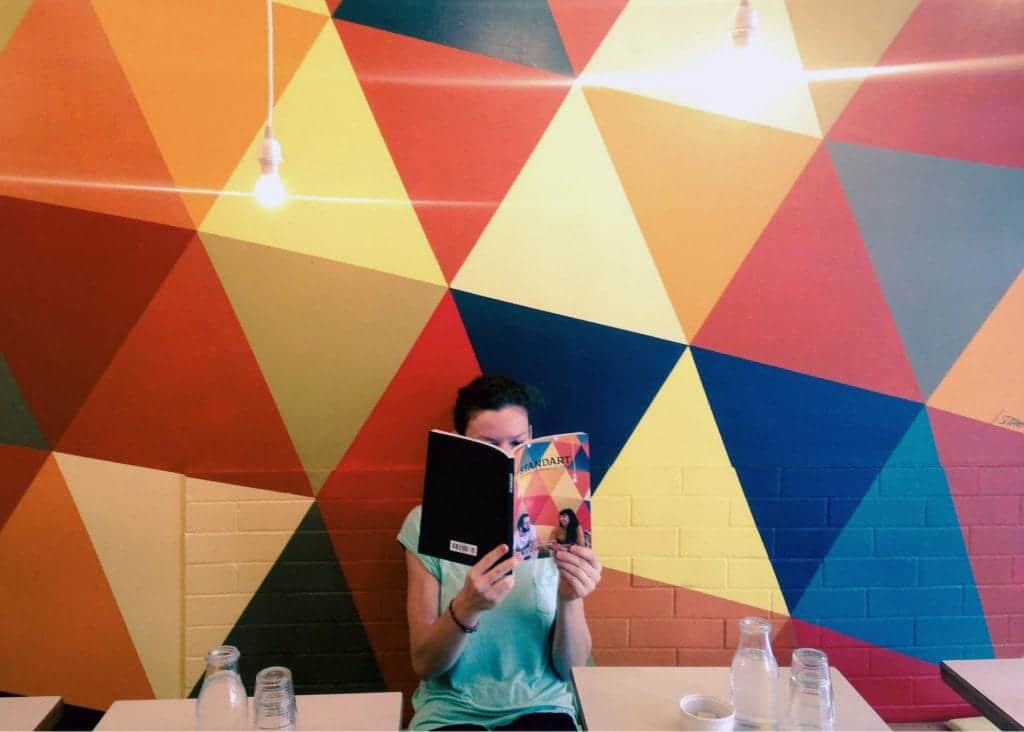 Admitting we put a healthy diet aside the option was there anyway. The tiniest shop of all, Thank you, my deer, serves vegan range of cakes, healthy treats and a coffee menu supplied by Coutume Cafe. It could possibly be the brightest cafe we saw that cloudy day.
Hollybelly
19 Rue Lucien Sampaix, 75010 Paris
www.holybel.ly

Thank you, my deer
112 Rue Saint-Maur, 75011 Paris
www.thankyoumydeer.com
3) Drink a good coffee at a great looking cafe
The grandiosity of the city and the average size of a cafe come as opposite ends of the scale. Nevertheless the cafes can work well with their spaces and the favourite fit-outs are on the list to visit again when we are back in town.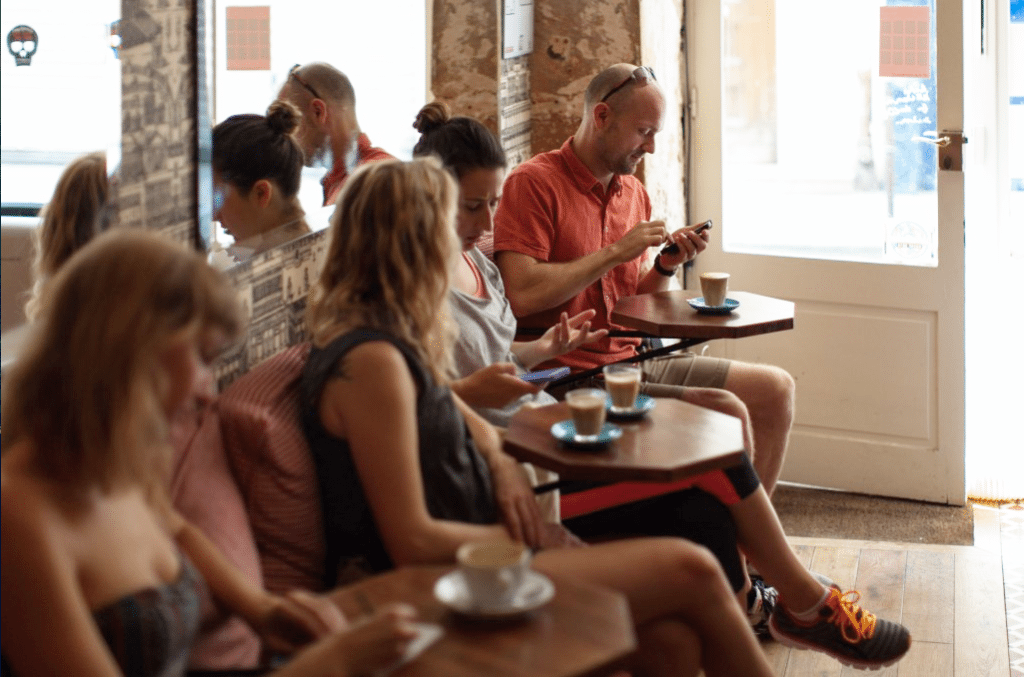 Cafe Loustic has got the nicest collection of little wooden tables, pillowed banches and tiles. Back seating area is the perfect hide-out to read a book and their cups are bright yellow. Yes to that!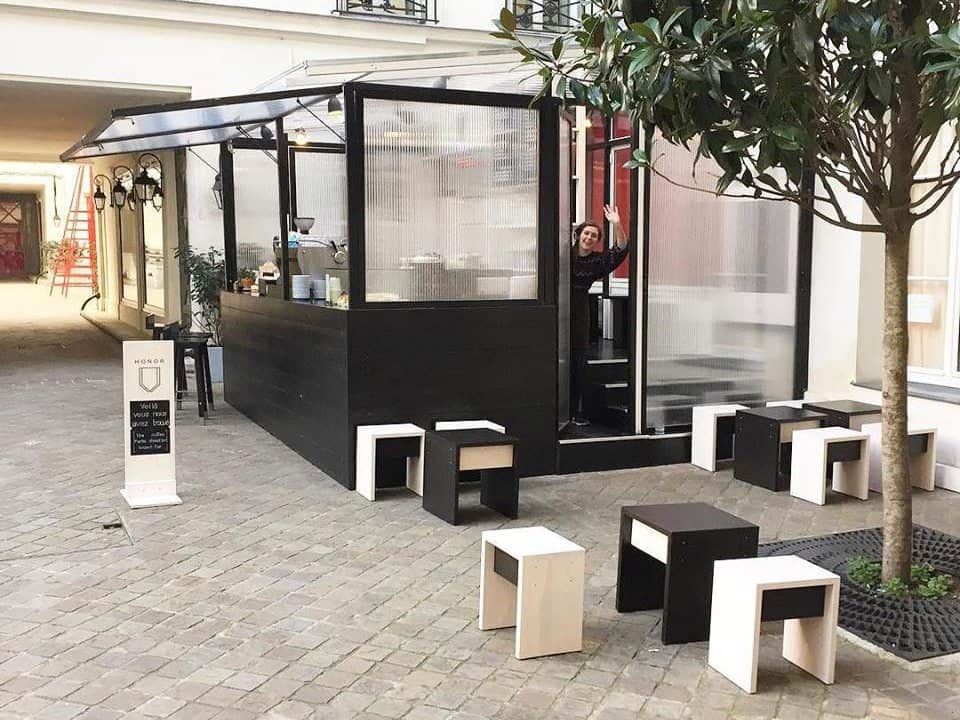 Honor, located in a courteyard just of Rue Du Faubourg St Honoré is a coffee kiosk. It is not an ordinary one though, crafted in a colaboration with Studio Dessuant Bone, Honor is a kiosk that looks as an indoors stylish cafe that is just, well, outdoors.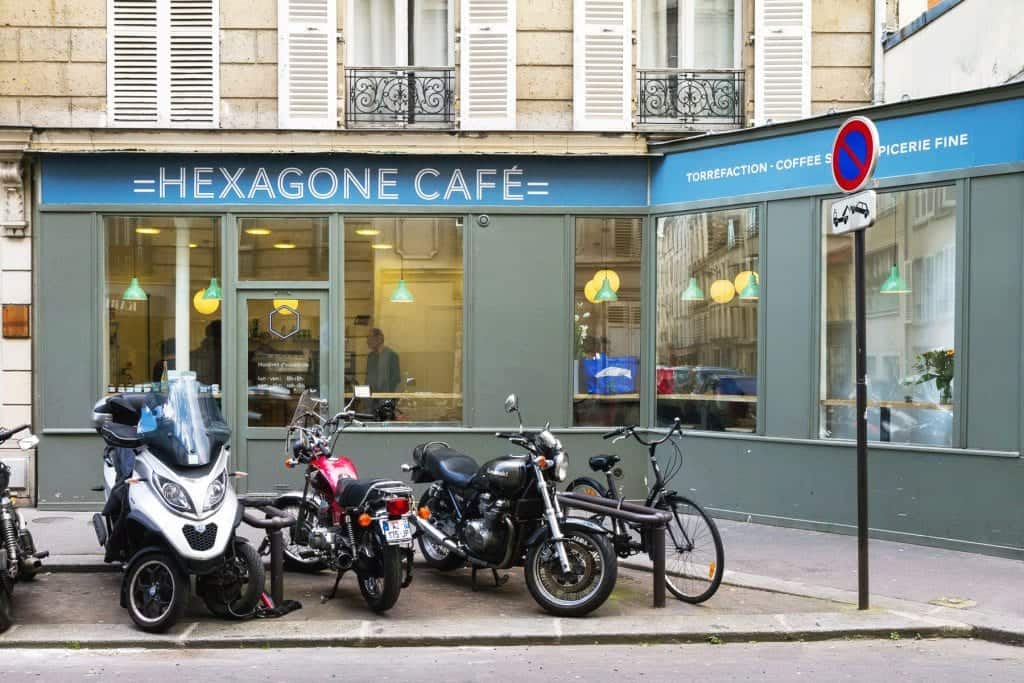 Hexagone Cafe is a narrow shop fitted out in wood and soft grey. If there is a favourite seat in any cafe, it must be a window seat. At Hexagone this makes it 50% of their seats. A fair number of favourite seats I'd say! Their main focus is on coffee which means the conversations about the beans and the brew methods are welcome and nothing will distract your senses.
Cafe Loustic
40 Rue Chapon, 75003 Paris
www.cafeloustic.com

Honor
54 Rue Du Faubourg St Honoré, 75008 Paris
www.honor-cafe.com

Hexagone Cafe
121 Rue du Château, 75014 Paris
facebook.com/hexagonecafe
4) Keeping up-to-date with the growth of the local coffee scene
There are many options that would suit different needs on different days. If we were to choose one thing that the Réseau des Baristas de France and FrogFight do well, it must be cooperation with each other. During our time in Paris there were at least three cuppings held across the city, featuring either the roasters served during the event or the best beans on offer from French roasters.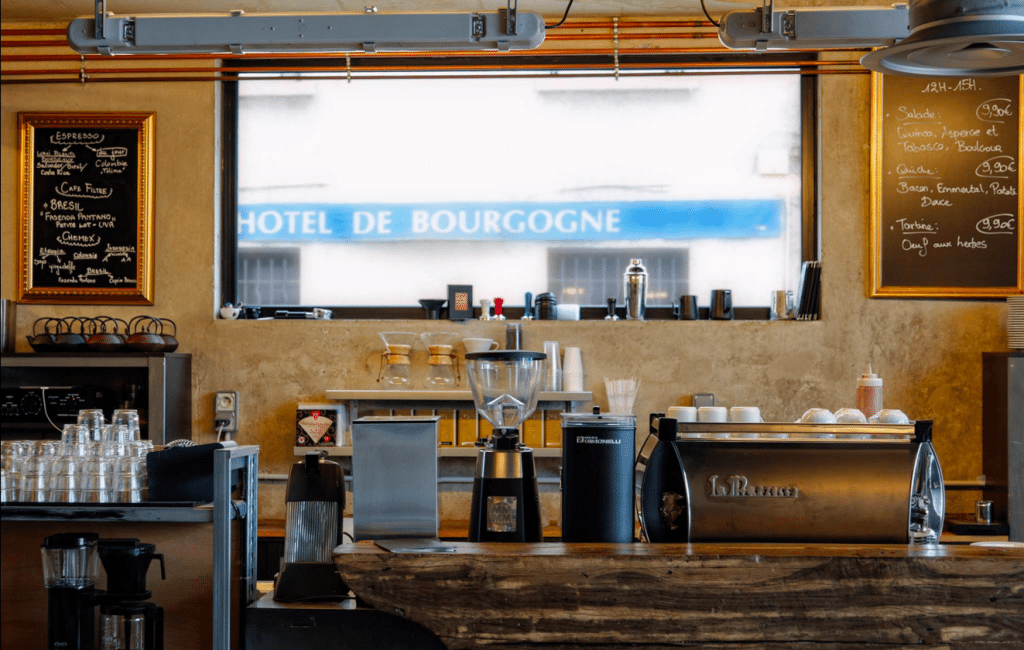 Coming to Paris curious? Direct your steps towards the neighborhood of Montmartre nearby which is located Cafe Lomi's roastery and lab. Connected to their cafe the roastery is an open plan space with international staff that is happy to introduce you to their latest selection of beans.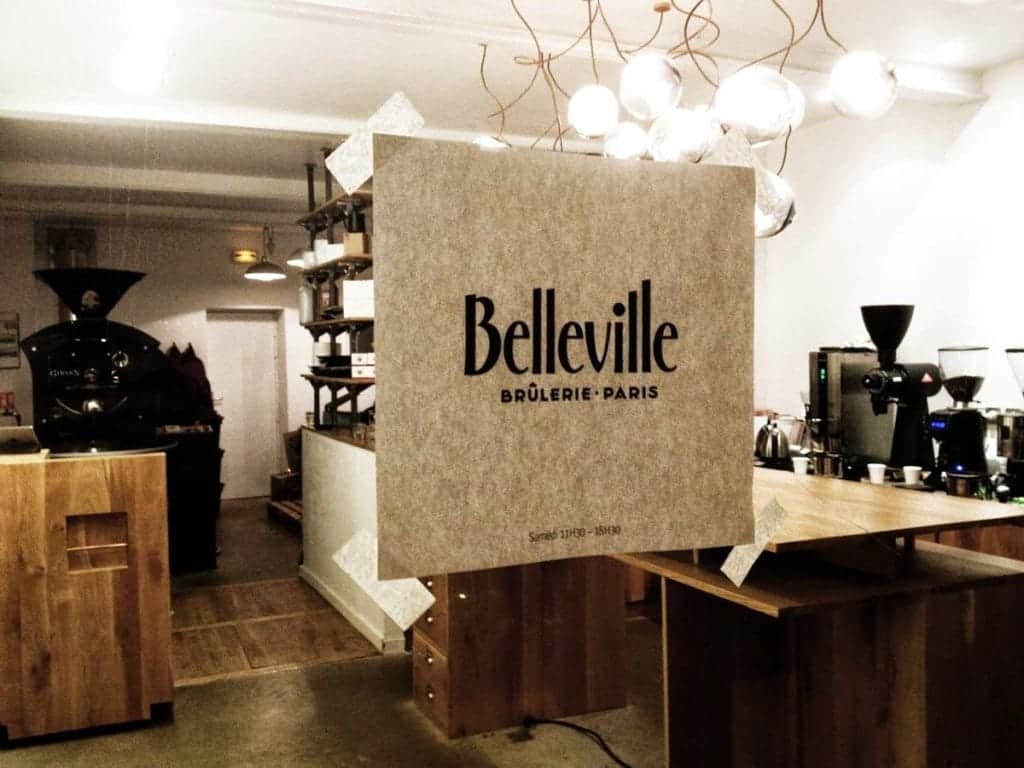 In parisian terms a short-walk away is Belleville Brûlerie, a micro-roastery that supplies not-so-micro-list of cafes. It is a place of degustations too, the ones opened to public happen every Saturday between 11:30 and 17:30. Belleville is now supplying several cafes across Europe too and so it is a great opportunity to discover coffees your neighborhood cafe might serve you soon. In the meantime, you are likely to drink their coffees while in Paris. There are plenty of cafes serving their beans.
Cafe Lomi
3 ter Rue Marcadet, 75018 Paris
www.cafelomi.com

Belleville Brûlerie
10 Rue Pradier, 75019 Paris
www.cafesbelleville.com