What happens if you take a specialty coffee roasted by one of the most famous small-batch coffee roasters in the world and put it on a pizza created by one of the best pizzerias in Italy? Well, don't expect anything less than a love story.
Jacopo Mercuro, a renowned pizza maker at 180g in Rome, and I [known as CoffeeAndLucas online] came up with The Roman Breakfast – the first gourmet pizza with specialty coffee as an ingredient. We used Colombian coffee from Finca La Colombia roasted by the Florence based Ditta Artigianale.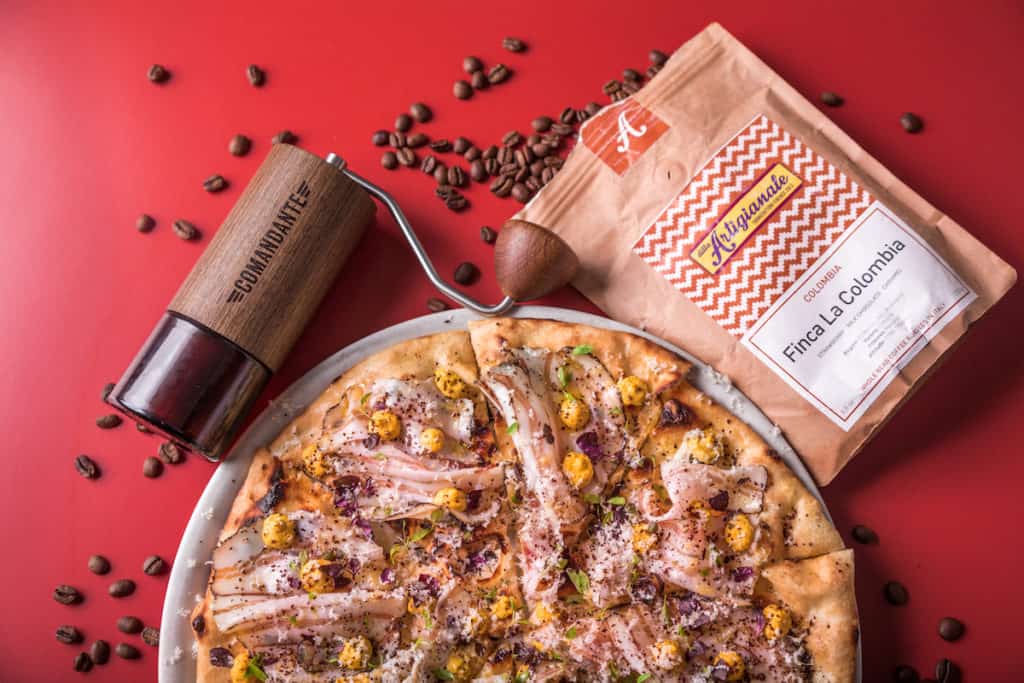 The inspiration behind the pizza was the English and American style breakfasts. We decided to give it a Roman spin by adding typical ingredients such as flavored and spiced lardo, Conciato di San Vittore (cheese), coffee-flavoured creamed egg, fiordilatte and specialty coffee grains.
Launched on the 1st of February as a special pizza on the menu, The Roman Breakfast quickly gained popularity among the customers, described as balanced, tasty, and fun. Let me tell you more about it.
Pizza and Coffee in Italy
You cannot talk about Italy without talking about food. Our gastronomic culture is known worldwide and when it comes to food, pizza and coffee are always part of the conversation.
In recent years, these two sectors have gone through a revolution: the study of dough and toppings for pizza and the arrival of the third wave coffee in Italy. So what is the best way to introduce specialty coffee to a public that goes beyond a coffee-lover niche?
Adding coffee to an already ingenious and delicious pizza! To carry out this ambitious project, I teamed up with one of the leading figures of the new wave of Italian pizza, Jacopo Mercuro, who works at 180g Pizzeria Romana which was awarded as the best Roman pizzeria in 2019.
Why putting specialty coffee on pizza?
I believe that influencing other food sectors with specialty coffee is one of the most effective ways of introducing it to the general public. Let's take Italy as an example. There is a great curiosity surrounding both traditional and gourmet pizza while coffee is far more anchored to tradition.
Most Italians still prefer drinking full-body espressos with a good amount of Robusta (unfortunately too often low-quality Robusta) in the coffee blend. They keep thinking it's the best way to enjoy what they call "a good coffee".
I value traditions but I think there's enough room for a culinary exploration also with coffee. By bringing specialty coffee to areas where consumers already love exploring different flavours, one can win them over.
It's also convenient to work with one of the top pizzerias in Italy. Customers trust 180g's Pizza Master Jacopo Mercuro when he adds special pizzas on the menu. Ingredients of his latest special pizza were raw ham, stewed radicchio, apple and ginger chutney, raw radicchio tips and almonds. Just like in The Roman Breakfast, the unique combination of all these ingredients was simply delicious.
How we used coffee as an ingredient?
For The Roman Breakfast, we decided to use a single-origin coffee from Colombia called Finca la Colombia, roasted by Ditta Artigianale. We chose it after tasting three different options provided by the former Italian Barista Champion Francesco Sanapo.
We used the Comandante grinder to turn coffee into two different grind sizes. A very fine grind was used in the creamed egg and a coarse grind (like brown sugar) for the granules that added an extra crunch to the pizza. As coffee geeks, we love to use the Comandante grinder because of its consistency. For pizza making, a too coarse grind size could have been difficult to chew while a too fine granulometry wouldn't have given the "crunchiness" we were aiming for!
It took us a month to refine the final recipe.
What do people say about the specialty coffee pizza?
What did 180g customers think of this strange coffee pizza? That is the most beautiful part. The reactions to The Roman Breakfast have exceeded our wildest expectations!
The pizza was defined as balanced, tasty and fun. When it arrives at the table, you can smell the distinct aroma of the coffee but the combination of all ingredients still gives the coffee a justice without overpowering the pizza itself. The specialty coffee pizza was launched on the 1st of February and it was sold out during the first and second evening.
At the moment, The Roman Breakfast is available on the menu for a limited time and sometimes offered as a "secret pizza" on a request. We are also working on some other pop-up projects to allow more people to taste it in the future.
Jacopo Mercuro had fun working on the project and told me with a smile: "I can finally have pizza for breakfast." You know what, he is right. Don't let the name fool you, as you can enjoy The Roman Breakfast at any time of the day!