Having travelled to numerous countries in Europe, my approach to living in a city would always evolve around finding speciality coffee shops to enjoy an amazing cup of coffee and an enlightening chat with a knowledgeable barista. In Lisbon, I had to break a sweat not only finding such cafes but also, quite literally, making my way to those.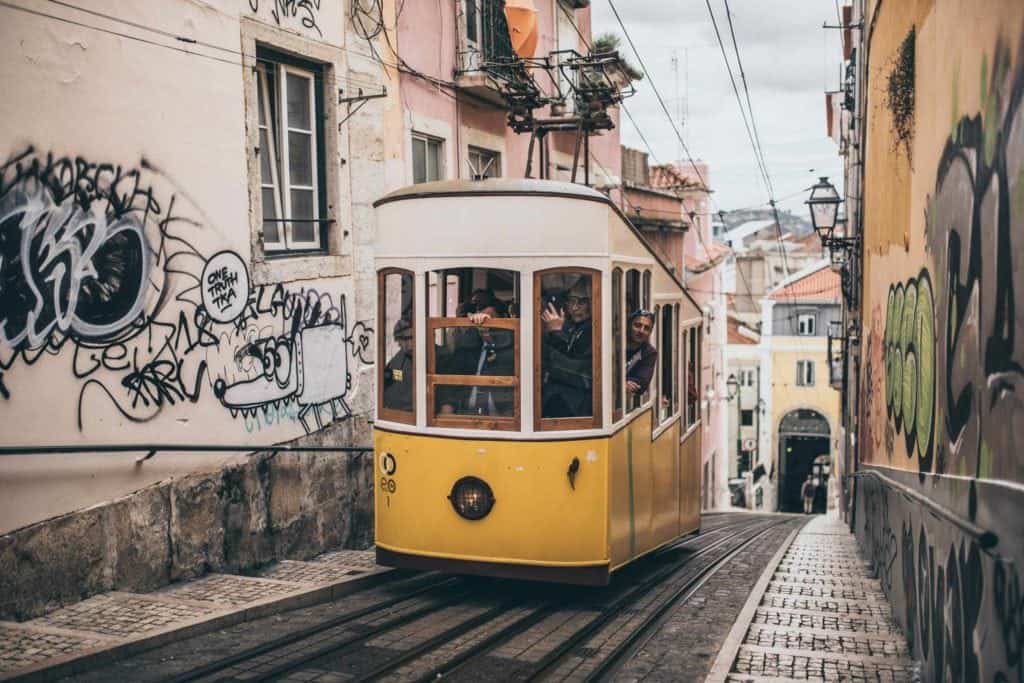 Within a year of me living in this city, I have seen Lisbon go through some very satisfying changes, including the opening of fresh cafes. Those have popped up around the city, placed along the sides of the hills that make Lisbon quite a unique city to explore on foot. Let's take a walk to some of the freshest establishments in Lisbon!
Benjamin Coffee House
All the myths about 7 hills of Lisbon prove true when you look for Benjamin Coffee House. Although the cafe is not situated directly on top of a hill, you will have a good workout getting there from either side of the city. Wandering around the narrow and cobblestone-paved streets will be accentuated by spectacular cityscape views. And at the end, there will be a charming coffee house full of energetic and positive vibes!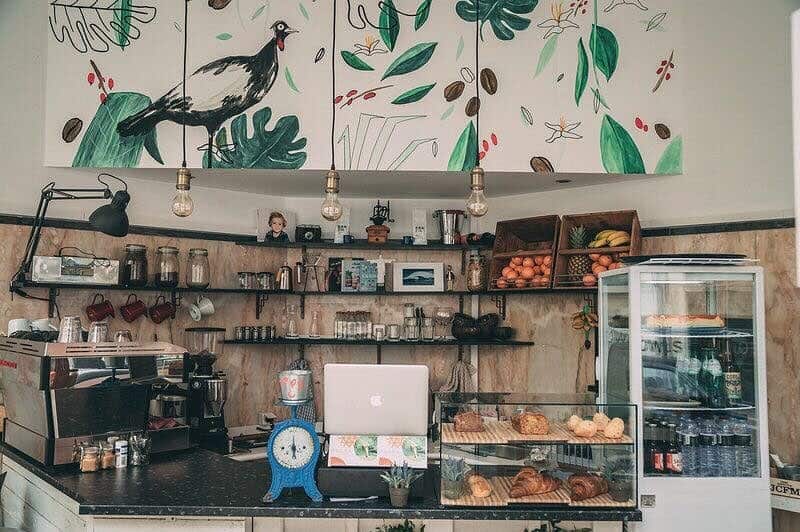 You will know it when you see it. From the outside, it is pretty much one big window rounding up the corner of the ground floor of a residential building. Once inside, there is a lot of natural light entering it which gives the space a natural feeling. Also, look for a big and cheerful smile of a bearded guy and a sweet and fashionable lady—they are the people who greet everyone entering the cafe.
Henrique Fay De Morais and his wife Joana Figueiredo are the owners of the coffee shop. Henrique had spent many years working in coffee. He had worn the hat of a barista, a manager, as well as a green coffee importer until he developed into opening his own shop, which Henrique and Joana named after their son. The cafe was born out of a motivation to provide an outstanding product for the very down-to-earth locals as well as adventurous visitors.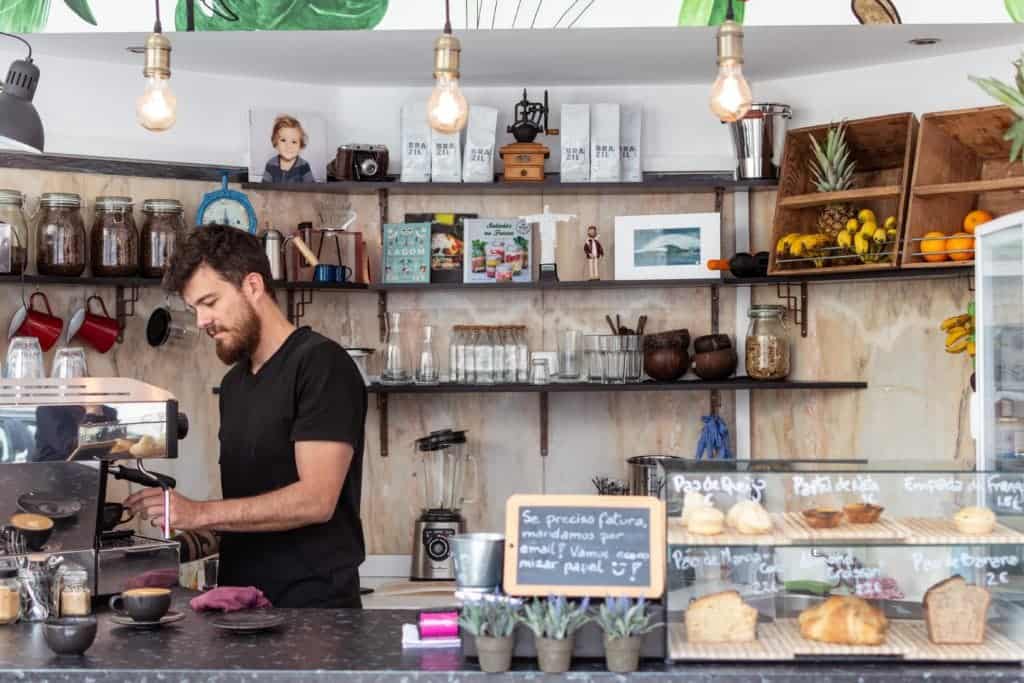 Ricky and Joana's vision is simple: serve natural and homemade plates and delicacies complemented with great coffee. On the menu, you can find a selection of toasts, bowls, pancakes and freshly squeezed juices. While most of the options can be vegan too, so can the coffee drinks with plant-based milk. A simple menu that creates "a full experience of food and coffee", as Henrique described it. The cafe is fairly small which gives it a great advantage as Ricky can spend just as much time with every customer as it takes for them to understand what his idea of the coffee shop is.
Henrique was born and raised in Minas Gerais (Brazil) among endless coffee plantations. It is where he learned all the essential lessons of coffee farming and so it is worth pointing out that he participates in the entire coffee chain. He selects what coffee to import from Brazil, roasts it and eventually presents the final brew to the table. While he is busy doing most of the hands-on work, Joana is outperforming many marketing agencies with her communication and public relations skills. Together, they go the extra mile to make everyone feel welcome at Benjamin Coffee House. If you're lucky enough you can even meet Benjamin himself and even though coffee isn't his speciality yet, the liveliness of this boy surpasses everyone around him!
Regardless whether you are a coffee professional or trying it out for the first time in your life, you will be well taken care of at Benjamin Coffee House.
Rua do Possolo 52, 1350-250 Lisbon, Portugal
Website, Facebook, Instagram
COMOBA
COMOBA is quickly building its followers base and there is a good reason why! It was started by three business partners of different professions, yet of the same goal: to encourage a healthy lifestyle through organic produce. Speciality coffee accompanied with matcha lattes, organic and healthy food prepared in the cafe's kitchen and professional and enthusiastic staff draw a lot of attention and new customers to this gem.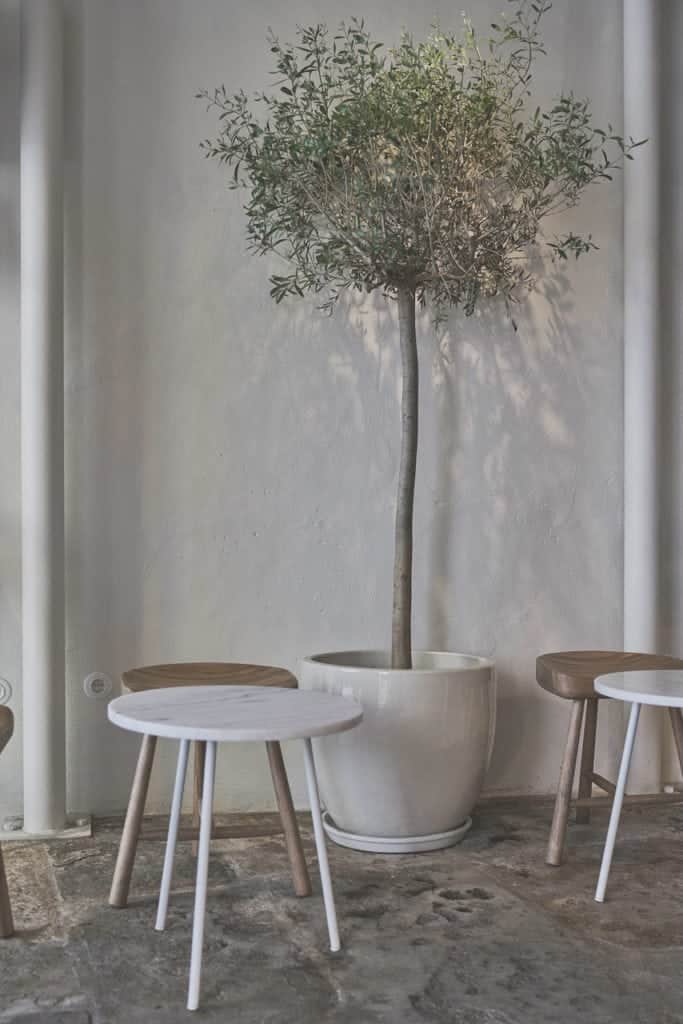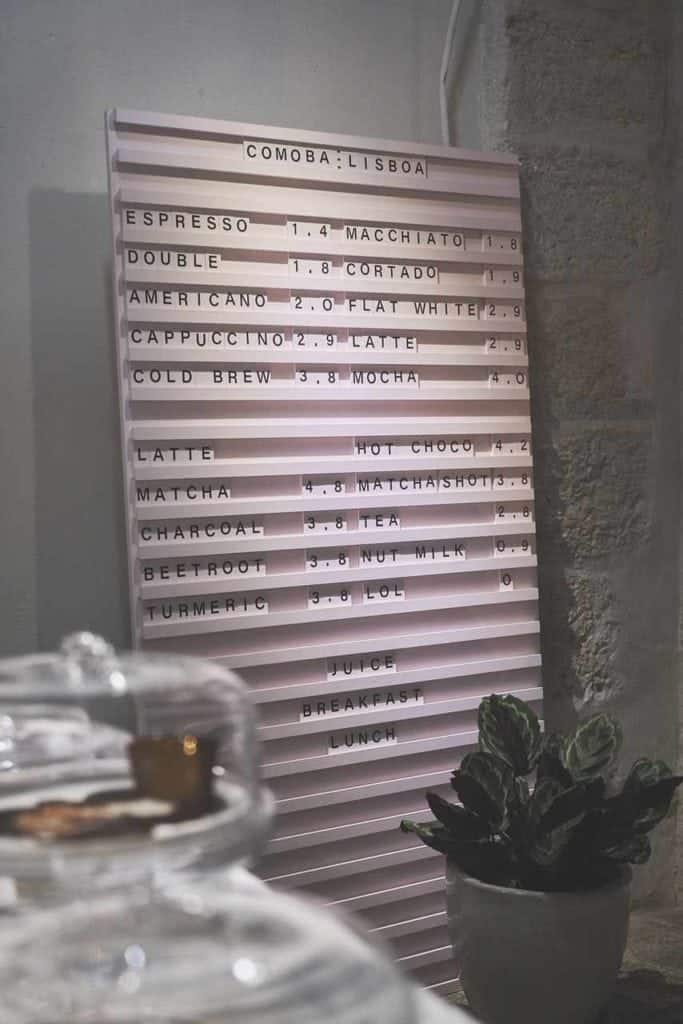 In order to bring it all to life, the owners turned an old, abandoned pharmacy into an exquisite, fresh and fun cafe.
It is easy to get intrigued by the subtle and minimalistic design of COMOBA. Contrasts and dominant dark colours create a very social yet intimate environment while the overall atmosphere is relaxed and laid back. The architectural heritage is reflected in the arches that run along the walls of the cafe. Other interior elements such as plants, trees, hanging lights, stone-paved floor and the combination of traditional and modern elements make this place stand out.
Regardless if it is breakfast or lunch, you are assured to find something that is going to make you come back. Products for all of the menu items are sourced from local organic farms, and seafood comes from Lisbon fishermen as well. Food is served throughout the day, starting with breakfast bowls and a rich and filling pancakes selection. On top of that, the coffee experience is on a pedestal here with a La Marzocco Strada espresso machine serviced by skilled baristas who craft amazing espresso. During my visit, they had two origins, Ethiopia and Rwanda, on offer.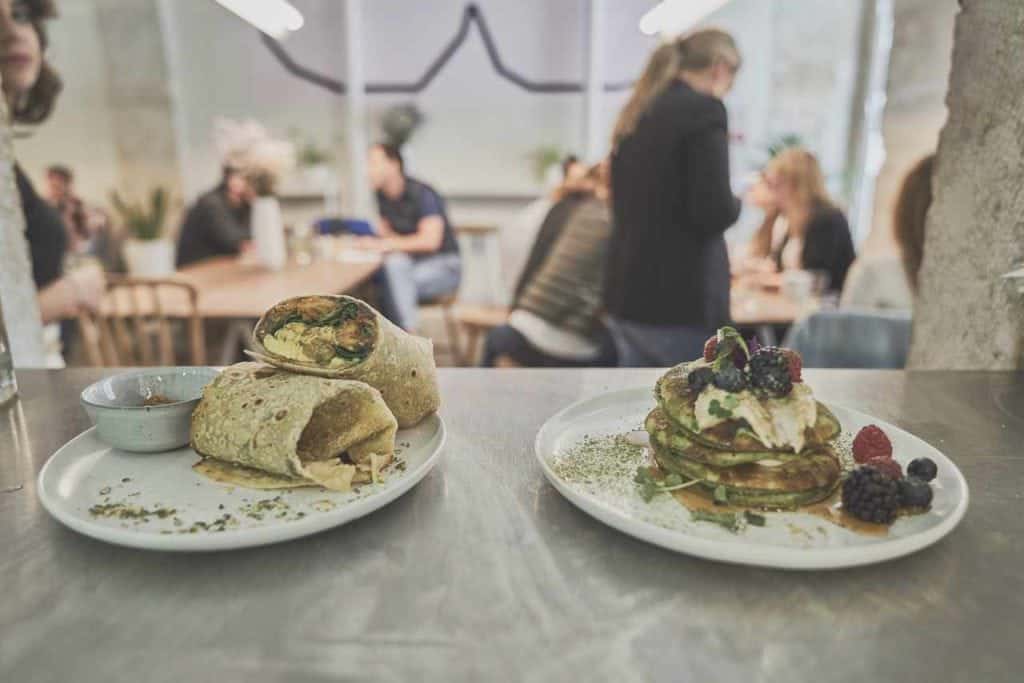 COMOBA is very easy to find since it is located along one of the main tourist paths through Lisbon, and the pleasant experience you receive here makes it be remembered. One of the historic tram lines runs just outside of the cafe, so hop on one of those and continue exploring the city.
Rua de S. Paulo 99, 1200-109 Lisbon, Portugal
Facebook, Instagram
Cafe de Finca
Cafe de Finca is a Spanish roaster that had been served at Montana Lisboa Café for a couple of years now. The high quality of coffee attracted many of the pickiest coffee connoisseurs. The good news is, Cafe de Finca finally opened their own coffee shop in Lisbon in the late spring, and since then, it surprises every time with its coffee assortment and prime quality. They started their business in 2009 and ever since kept on expanding nationally, and later on, internationally. With headquarters in Barcelona, their coffee is now served all over Spain.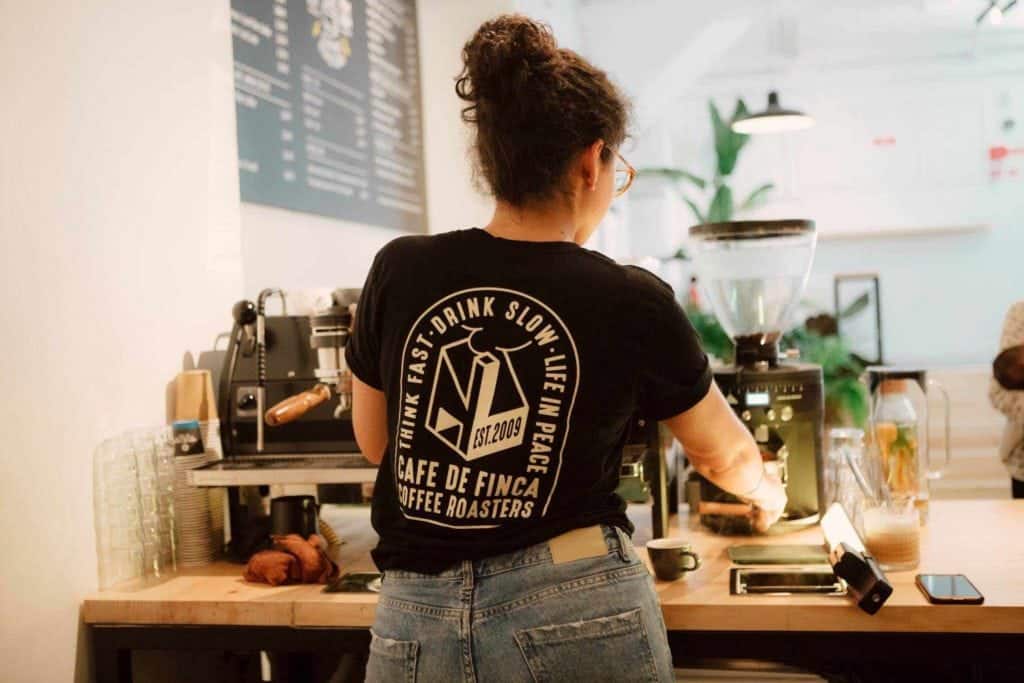 It takes a little effort getting to the cafe as it is located to the west of the city, in Alcântara, a very peaceful neighbourhood of Lisbon. It is perhaps for it being off the beaten track, but the area, as well as the cafe, feel very genuine. This part used to be a port, and while the waterfront markets and venues have turned into restaurants and clubs, the surrounding area has been transformed into new apartment buildings rising up. Locals and expats seeking a family-friendly district are settling in here.
The cafe itself is tucked into a lower ground floor of a building on an old street that breathes the very easy and relaxed way of life. Walking by, look for the cafe's sign in a big window, the stairs leading down will take you to an uplifting experience.
The cafe is set-up in an unpretentious way, with lots of plants here and there creating a relaxed atmosphere. It is a wonderful little spot for those looking for a cafe with a superb product. Spanning over two floors, it is a coffee break place as well as a venue for bigger gatherings.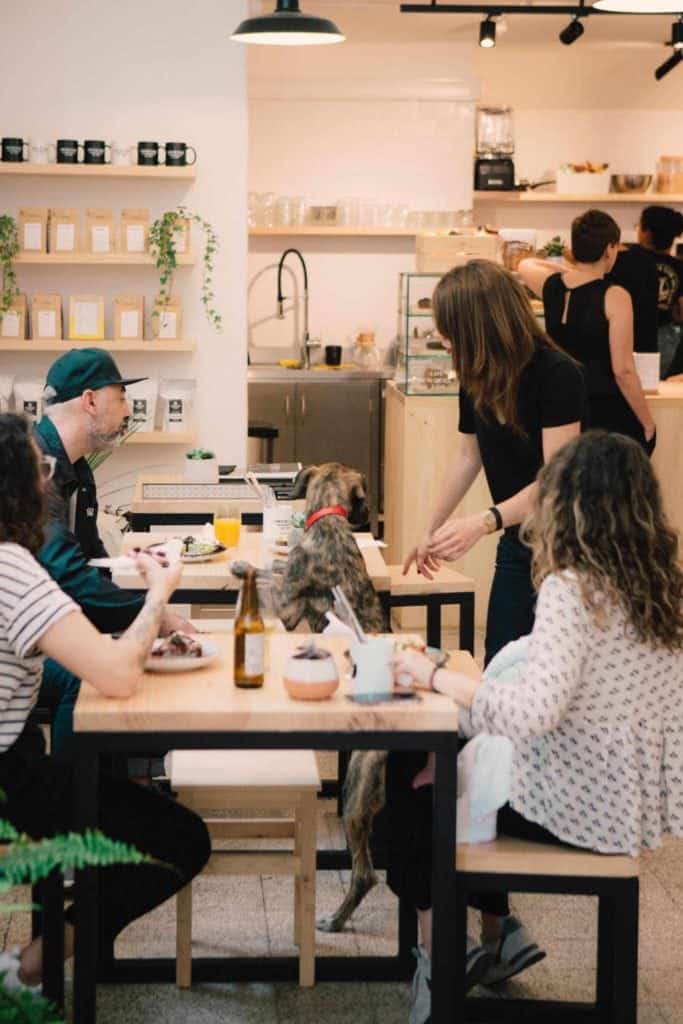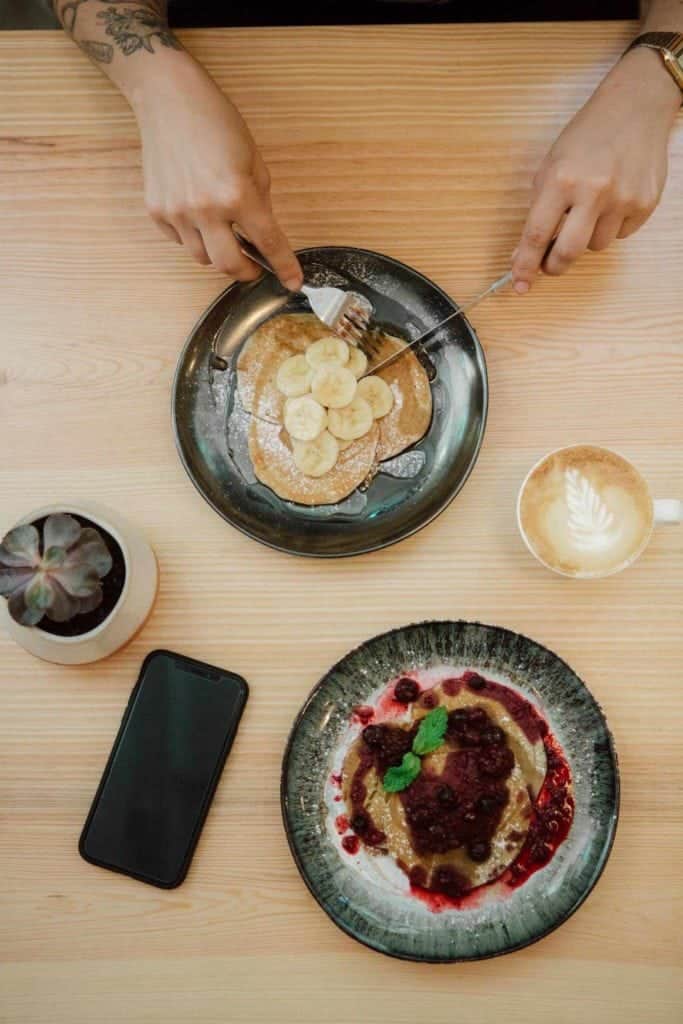 Cafe de Finca has promptly built up its regular customer base. It is no secret that Lisbon is a very trendy destination among digital nomads, and cafes like Cafe de Finca are often their temporary offices.
As a big supporter of the Spanish roaster, I am now comforted knowing there are two places in town to get my caffeinated treat. The coffee selection on offer surprises and intrigues me every time. They rotate coffee beans more often than other cafes, which leaves me longing for the next visit. However, it is the washed organic Honduras on V60 that has conquered my heart.
R. Luís de Camões 112 A, 1300-361 Lisbon, Portugal
Website, Facebook, Instagram
Copenhagen Coffee Lab (& Bakery)
The Danish Coffee Vikings made their first voyage to sunny Portugal in 2014 opening a speciality coffee shop in the city's trendy neighbourhood of Principe Real. With a growing demand and a great number of loyal customers, the company decided on a business expansion and opened three new cafes in Lisbon in just half a year.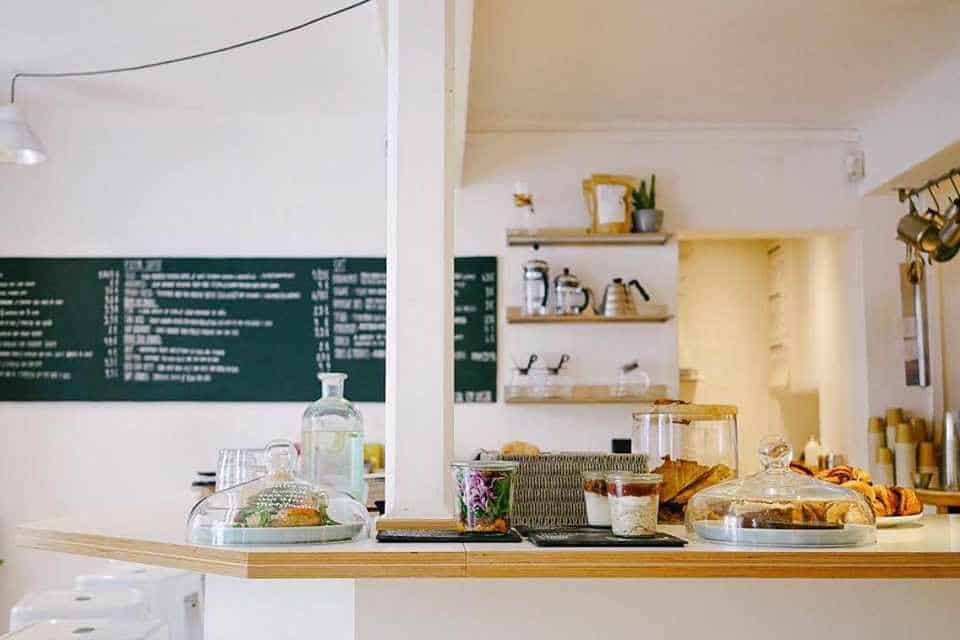 The vision of Copenhagen Coffee Lab remains the same: to offer locals as well as the visitors Danish bakery goods and speciality coffee. Nordic coffees are known for lighter roasting profiles and typically having a refined acidity, sweetness and light body. While people in Portugal are eagerly holding up to the traditional 'bica' (a longer espresso), they seem to be open to discussing the differences between commercial and speciality coffees.
Initially, the cafes stood up for its name and focused more on coffee than the complementary products, but now, they proudly spotlight the bakery, too. Among the variety of sweet and flavourful deserts, the Danes brought in the culture of rye bread, which is now included in the majority of meals at Copenhagen Coffee Labs.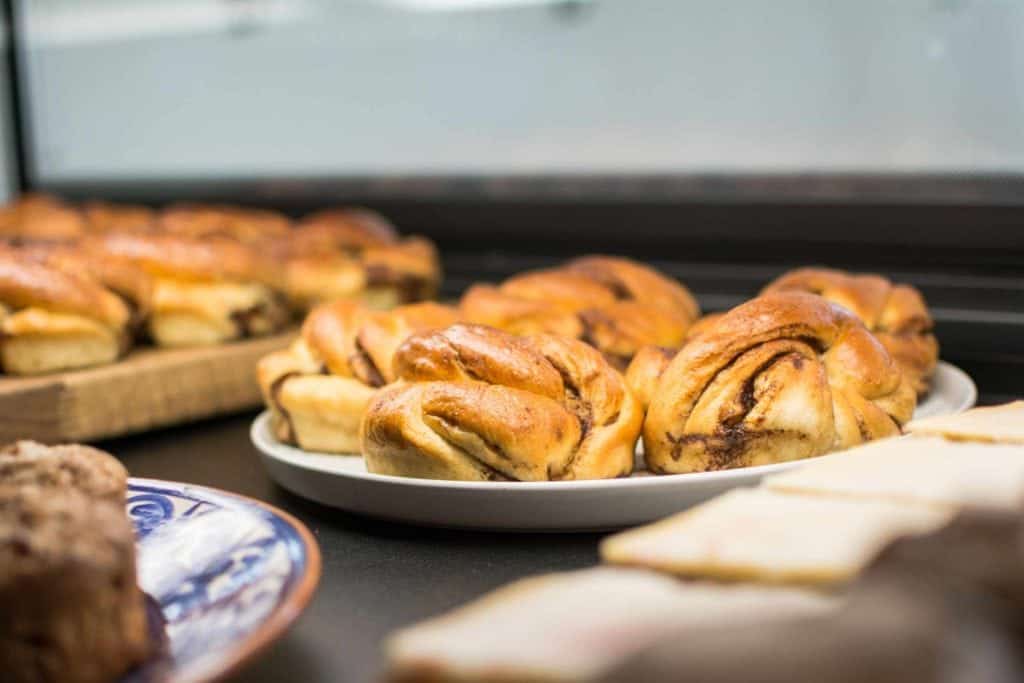 Now with a cafe family of four, there is an address for any customer.
Hit up Praça das Flores if you wish to see what initial Copenhagen Coffee Lab was. Take one of the cosy couples' window seats, chat with ambitious baristas, and enjoy delicious snacks in a peaceful atmosphere.
Head over to Campo Santa Clara on Tuesday or Saturday morning as the coffee shop is in the midst of a vibrant flea market (Feira da Ladra), brightened up with lights and colours reflected of all the market trinkets. After a decent walk up-the-hill, once you reach the cafe, it is the time for a lunch break. This cafe gets fairly busy, especially on market days, but a trip is definitely worth it.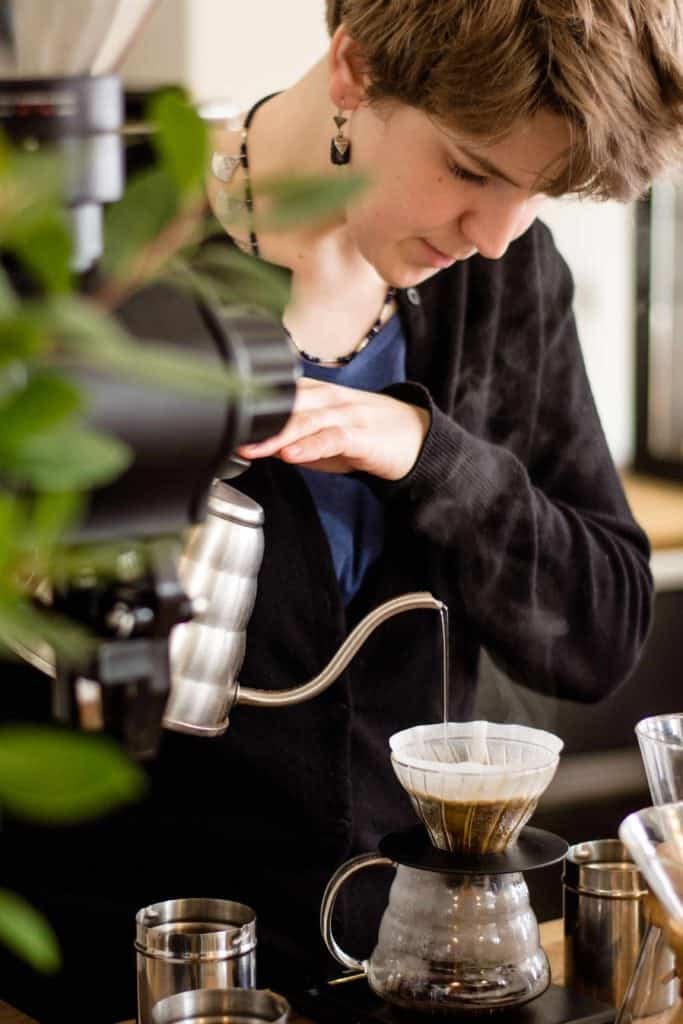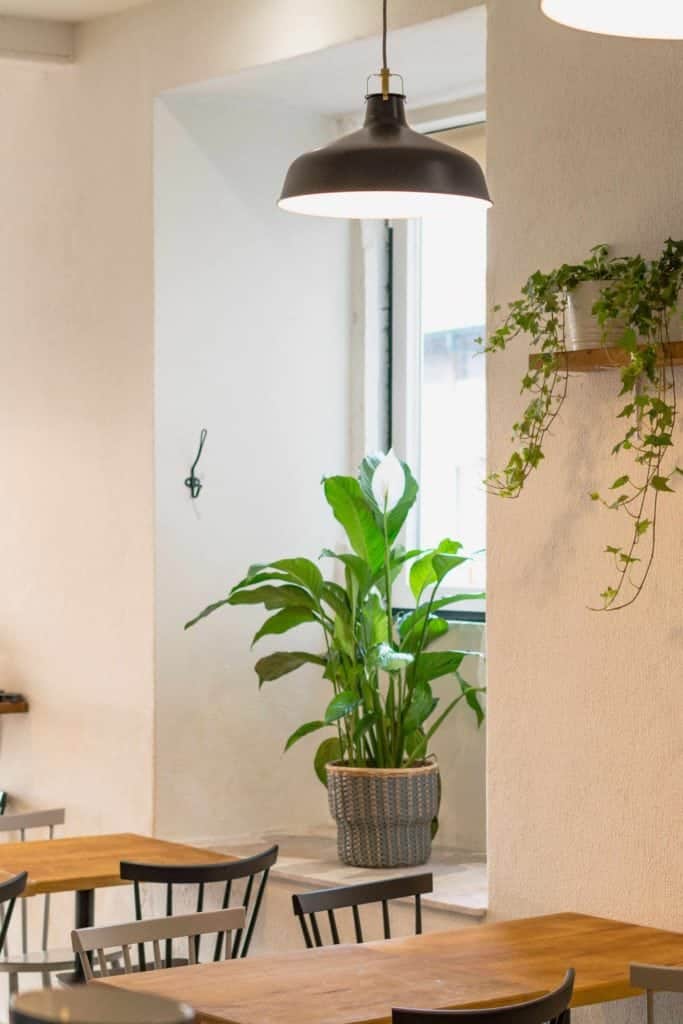 Unlike the first two and rather small venues, the Alfama cafe has a lot of room spread across the level below the ground one. The interior here is really different from the other shops with purposefully brushed stone walls and floors. A small garden outside, just at the end of the shop, is nothing but a hidden gem! If you are on the way to São Jorge Castle (Castelo de São Jorge) this could be your next stop of the historic tram 28 and a power-up for the trip.
The last but not least is the suburban Alcântara. Probably the most laid-back cafe profits of its location in a residential area. There are no long waiting times, nor street noise disturbing your stay. It feels the most suitable for having a read of a morning newspaper or getting work done accompanied, of course, by delicious bread, pastries, and coffee.
Praça das Flores | 10, R. Nova da Piedade, 1200-298 Lisbo, Portugal
Campo Santa Clara | Campo de Santa Clara 136, 1100-474 Lisbon, Portugal
Alfama | Escolas Gerais 34, 1100-213 Lisbon, Portugal
Alcântara | Rua Prior do Crato 1A, 1350-352 Lisbon, Portugal
Website, Facebook, Instagram
It is exciting times in Lisbon, as the coffee scene is very eagerly catching the wave, the third wave of coffee. The community is bonding well and the news and updates spread around fast. We constantly hear about new establishments that are about to open, so as long as the existing and the new ones keep on bringing joy to everyone's day, the speciality coffee scene will grow and prove its importance.