Now considered a prominent part of the capital used to be an independent city not even a hundred years ago. Vinohrady is the place that produced wine back in the day, gaining wealth, as well as its name thanks to the wine production. The name Vinohrady translates as vineyards.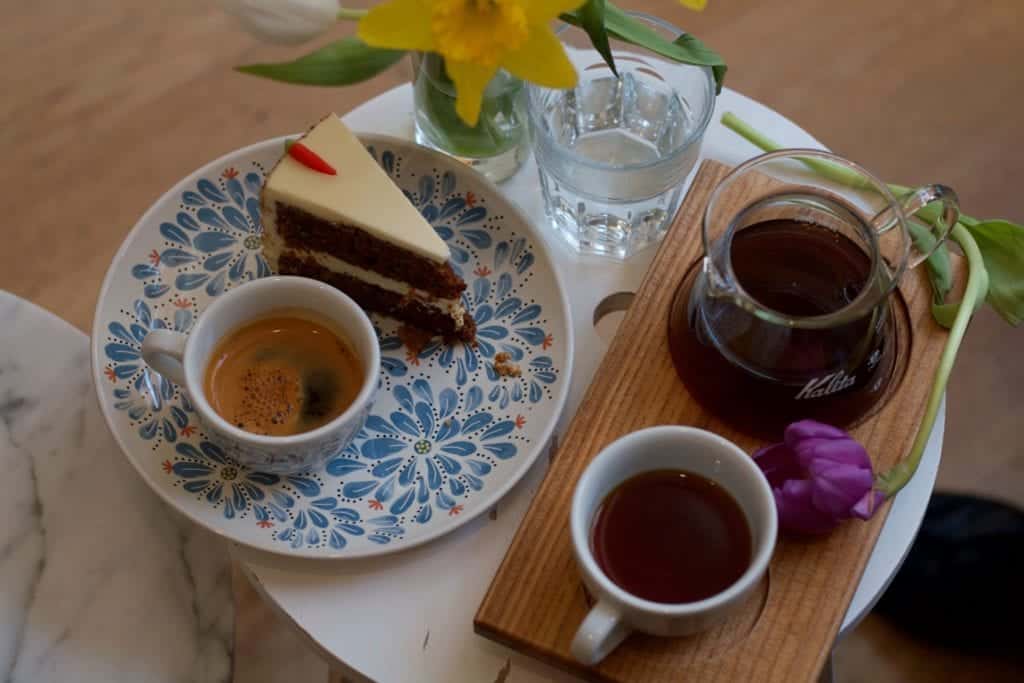 In addition to the beautiful Neo-Renaissance, Art Noveau and Neo-Gothic architecture, this area is also rich in wonderful cafes that will supply you with a tasty cup for your stroll along the tree-lined streets.
Coffee room.
As the name suggests, Coffee room. really is just one room café with great speciality coffee and probably the best banana bread in the city. The rather simple interior with a lot of plants reminds of Berlin cafés. It is dominated by a wooden counter, white tiles, and the beautiful plants include the famous Marimo algae (moss ball). Sit at one of the few tables and let the friendly staff make you feel like home, every time you come to have a cup of coffee.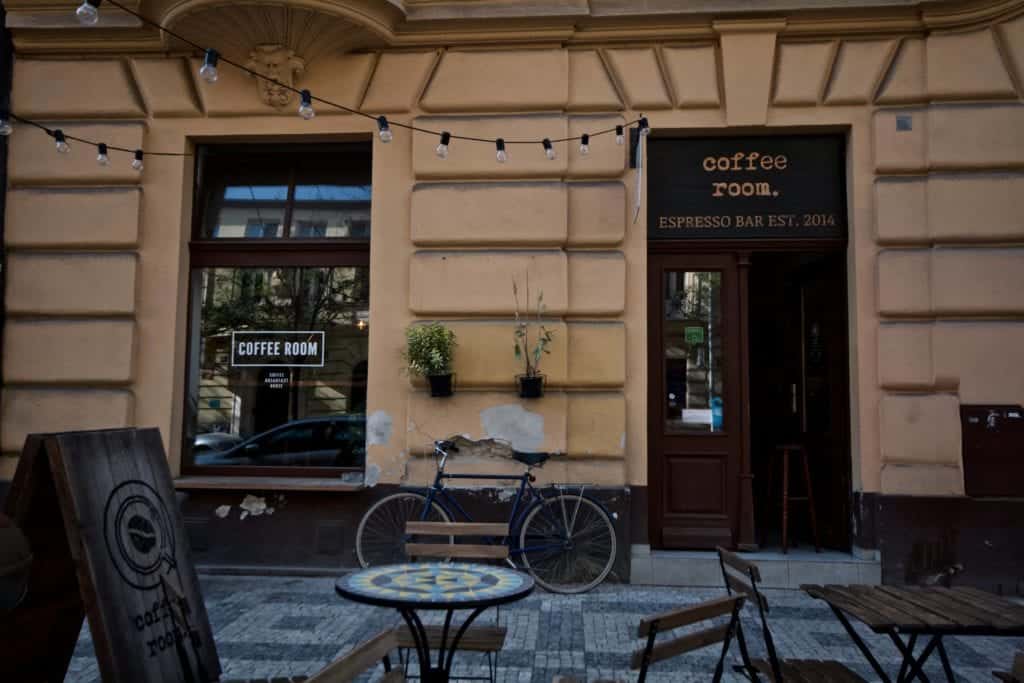 Coffee room. has featured coffee from roasters they consider to be the most reliable ones out there such as White Label Coffee from Amsterdam or Bonanza from Berlin. The coffee here is always of very high quality. They offer both espresso-based as well as filter coffee. You can choose between either a hand brew (V60) or a batch brew. We tried their V60 prepared with a washed Rwandan Gitega from White Label and it amazed us with its fruitiness and honey sweetness. Tones of blackberries and mandarin gradually came out as the coffee further cooled down. On double espresso, we had a natural Ethiopia Dimtu from White Label as well. It was very compact and dense, with clear nougat notes and a sweet aftertaste. Balanced, with a full body, it also worked with milk in flat white.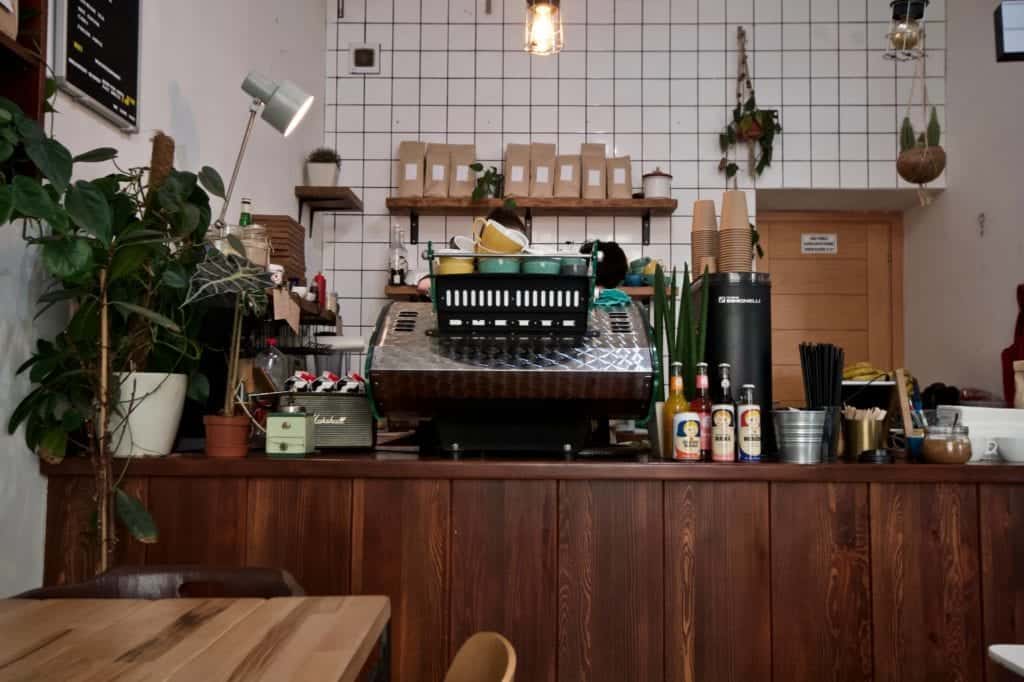 Coffee room.'s speciality that is hard to resist is made with slices of toasted banana bread, served with fruit, nuts, home-made peanut butter and maple syrup. A truly indulgent way to start a day, but if you prefer a savoury breakfast, try the kimchi salad or avocado toast with fresh herbs.
Korunní 1208/74, 101 00, Prague, the Czech Republic
Website, Facebook, Instagram, Twitter
Mezi Srnky
Walking into Mezi Srnky, you almost feel like you are stepping behind the counter with the baristas. The bar is on your left so you can watch your drinks being prepared every step of the way. A friendly, cosy and homely atmosphere adds to this quite unusual setup, creating a nice and comfortable space. The perfect combination is finished off with many plants on the shelves, and massive wooden tables. And the best view onto the street is probably from their window table seat.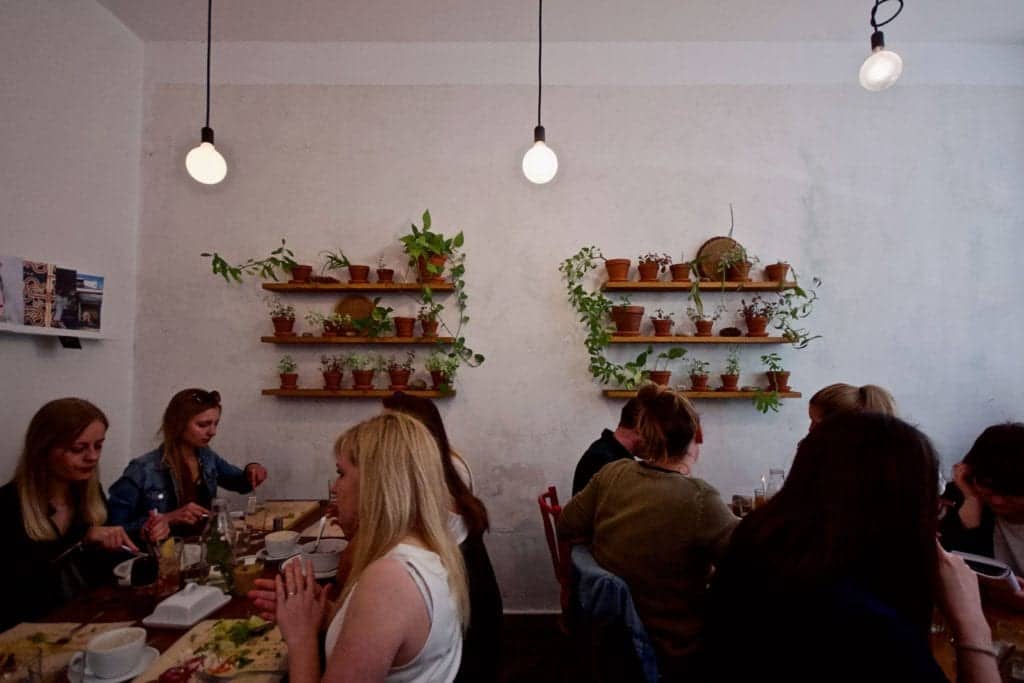 Mezi Srnky is probably the only cafe in Prague using coffee from KB Coffee Roasters in Paris. Apart from espresso-based drinks, you can also try an AeroPress brew here. Our Brazilian double espresso was very fruity, with a touch of jasmine and lemon, which added just the right amount of acidity. It finished off with a deep aftertaste with notes of cacao. On AeroPress, we tried a Kenyan, at first fruity, with notes of cranberries, slowly developing into chocolatey notes.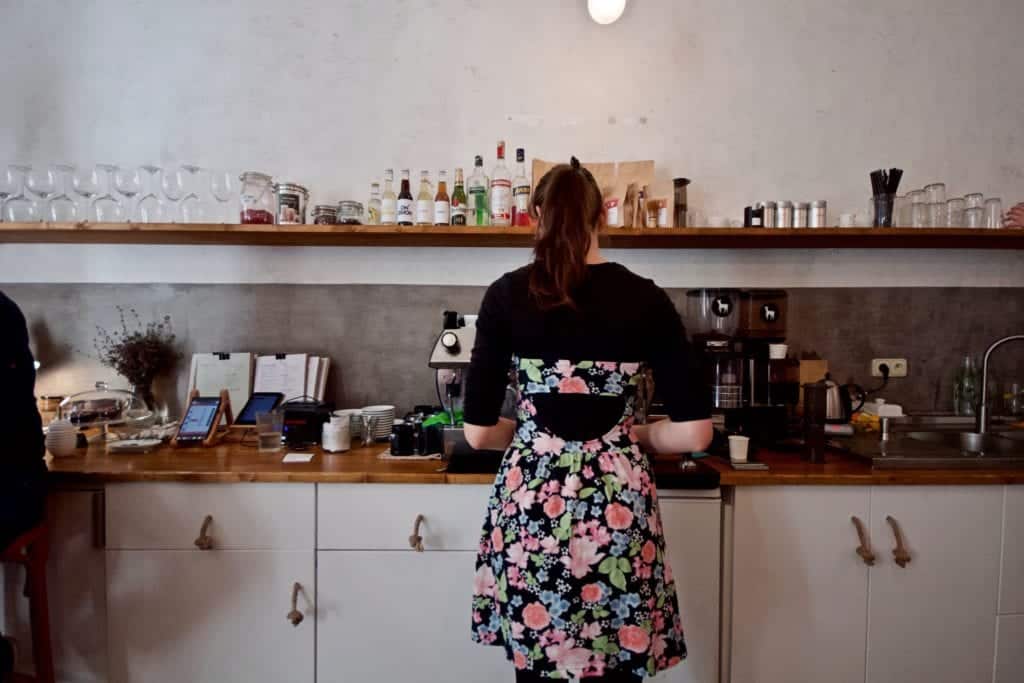 Their à la carte menu is not to be missed. Eggs, pancakes or fresh sandwiches are the right choice for breakfast as well as a small lunch, and when combined, they make up for the perfect weekend brunch. The selection of homemade desserts varies day to day.
Sázavská 19, 120 00, Prague, the Czech Republic
Website, Facebook, Instagram, Twitter
La Bohème Café
It is the outstanding interior and some of the best baristas in the country that are behind the long-term success of this café. Especially the extravagant design, in what could be described as boho style, with a number of different decorations, plants and flowers make this place unforgettable. La Bohème Café only serves their own roasts—they are also a large supplier to many Czech cafés and restaurants. You can choose from a wide selection of brew methods, as well as coffee origins.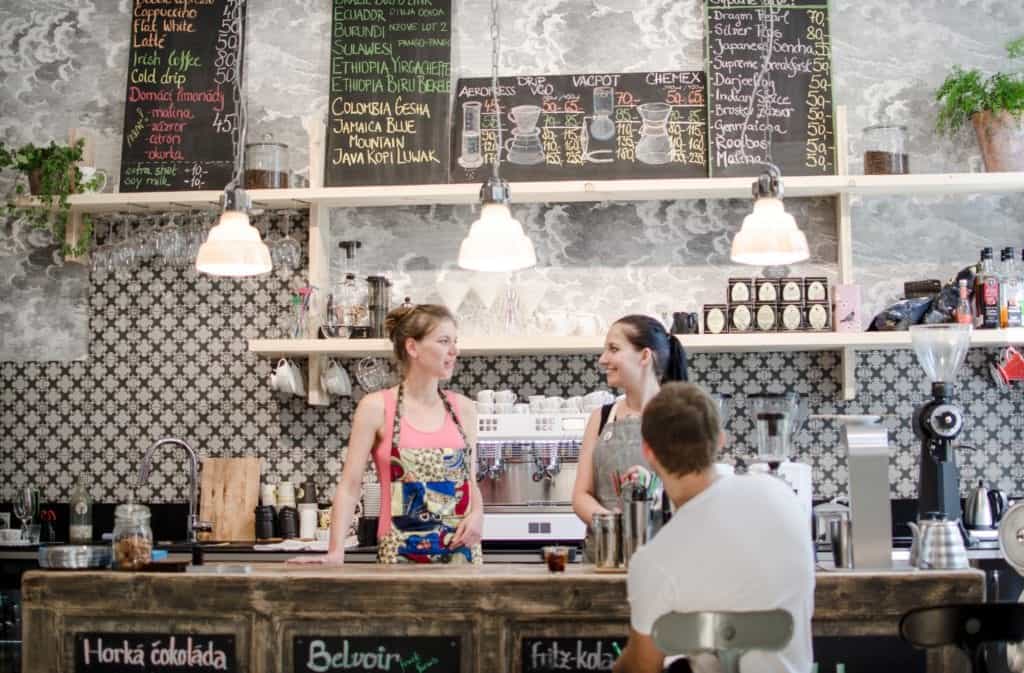 Aeropress, V60, Kalita, Chemex, Batch brew, or any of the espresso-based drinks are the first choice you need to make before the more difficult choice comes—to pick the right coffee for you! But the trained baristas are always happy to help. We tried the naturally processed Brazilian Bela Vista on V60. It had a sweet and creamy body with a nuance of chocolate and nuts. We especially enjoyed the sweet, fruity aftertaste. On double espresso, we tried El Salvador, made with honey processed coffee, and it had a nice full body with fruity notes and a slightly spicy aftertaste.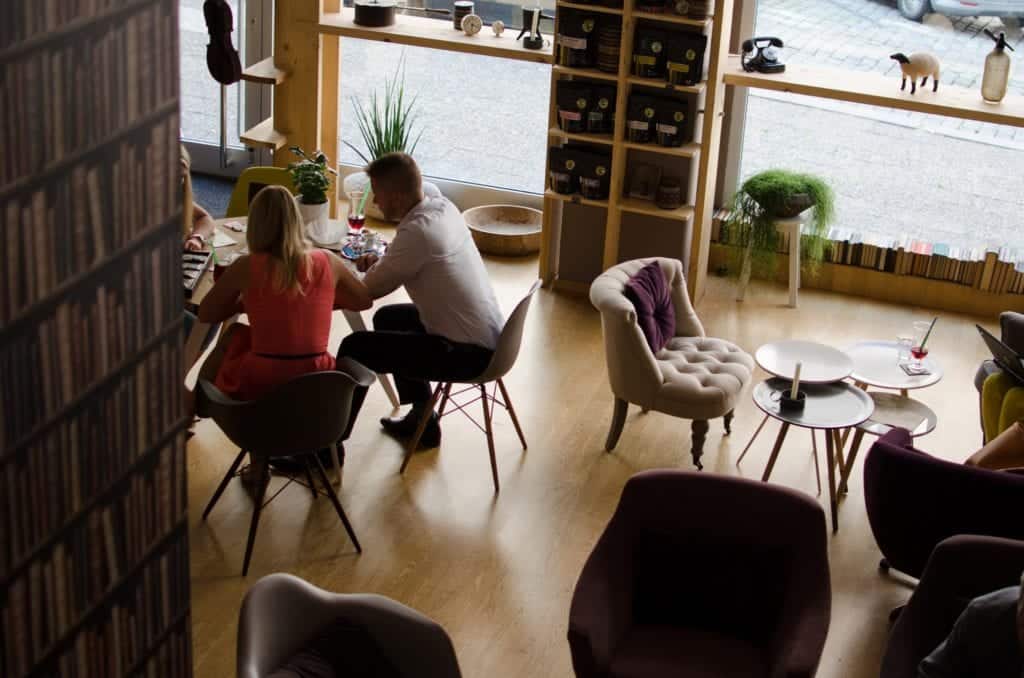 Apart from coffee, the number one drink here is hot chocolate. Give it a try and enjoy a cup of either sweet or dark one, ideal for cold winter days. Take a slice of cake with it too; La Bohème Café serves cakes from the famous Cake Shop bakery. It is said to be baking the best carrot cake in Prague.
Sázavská 2031/32, 120 00, Prague, the Czech Republic
Website, Facebook, Instagram, Twitter
Monolok
A cafe which offers more places to sit and relax, including a nice terrace and a popular window seating, is Monolok. It is what makes this place a stand-out one in our Vinohrady selection, too. The cafe is set up in a more classic and elegant way, with a few decorations. It may make you feel this establishment is rather conservative, but appearances are sometimes deceptive. Nevertheless, the food and drink offer make this cafe deal for weekend brunch. The breakfast offer includes several great dishes such as Shakshuka eggs, or the amazing waffles with fruit and sour cream.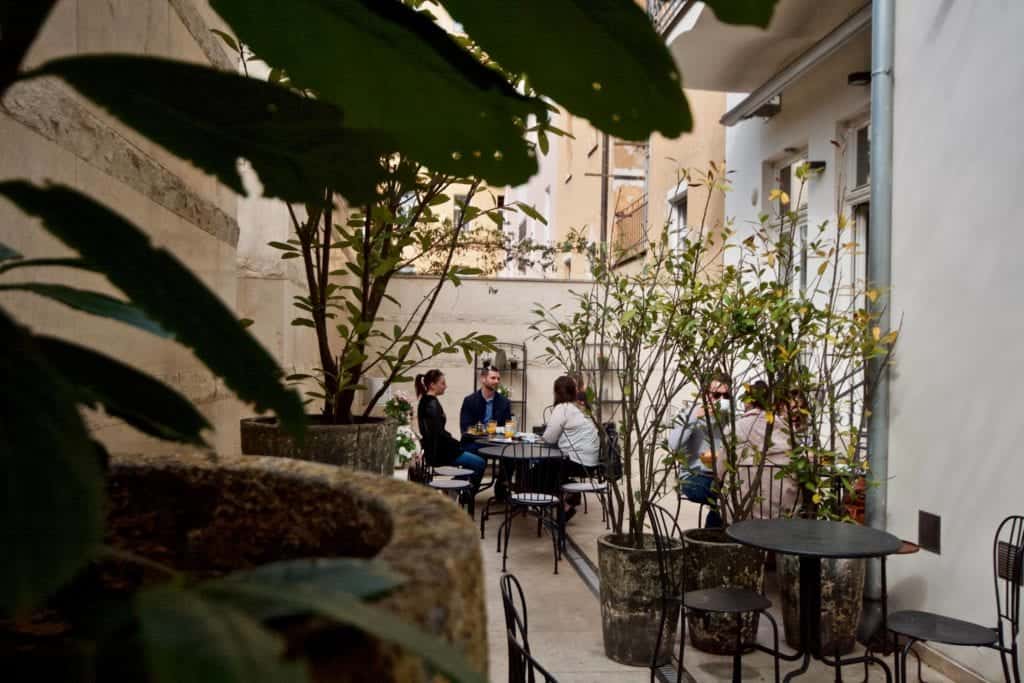 Your coffee will be brewed using one of the many options: AeroPress, V60, Vacuum pot, French press, or batch brew. During the busy times, the cafe serves, for the sake of consistency and speed of the filter coffees, only batch brew. Although the cafe used to serve coffee beans from various roasters, these days, it comes mainly from the Czech roastery Coffee Source. Their washed Guatemala surprised us with its lower but balanced acidity of green apples and a sweet aftertaste.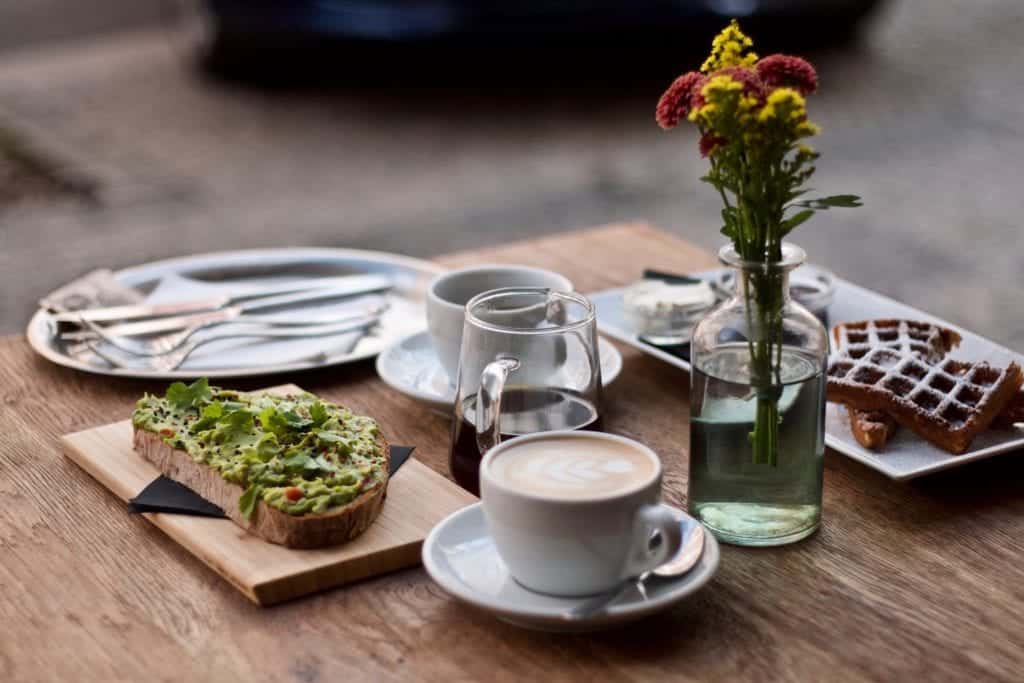 Do not skip your daily intake of cake at Monolok, either. Their red velvet cake or the rather unusual poppy-seed cake are made in-house, the latter being a not overly sweet combination of poppy seeds and plums.
Moravská 1540/18, 120 00, Prague, the Czech Republic
Website, Facebook, Instagram
Vinohrady district has got more notable places to visit, such as Momoichi and Cafefin, the cafes fusing speciality coffee and Asian food, as well as another roastery, Dos Mundos, whose cafe you will find just a few streets from Monolok.
Momoichi – Římská 1199/35, 120 00, Prague, the Czech Republic
Website, Facebook, Instagram, Twitter
Cafefin – nám. J. z Poděbrad 1407/4, 12000, Prague, the Czech Republic
Facebook, Instagram
Dos Mundos – Korunní 31, 120 00, Prague, the Czech Republic
Website, Facebook, Instagram