Pilsen is one of the biggest cities in the Czech republic, yet not so big that you get lost. It is full of students all wanting to meet up in coffee shops. Here are our top three specialty coffee shops in Pilsen.
Le Frenchie café
In the heart of Pilsen there's a little but always full Frenchlike cafe. Opened in 2015 by Jana and Patrick it draws inspiration from Patrick's homeland, France. It is surrounded by historical buildings from the time of neoclassicism, including neo-baroque and art nouveau Like the JK Tyl Theatre. The café seems perfectly fitted with a bookshelf, painted portraits, an original ceiling lighting, as well as the stone wall, all creating a very comfortable and warm atmosphere.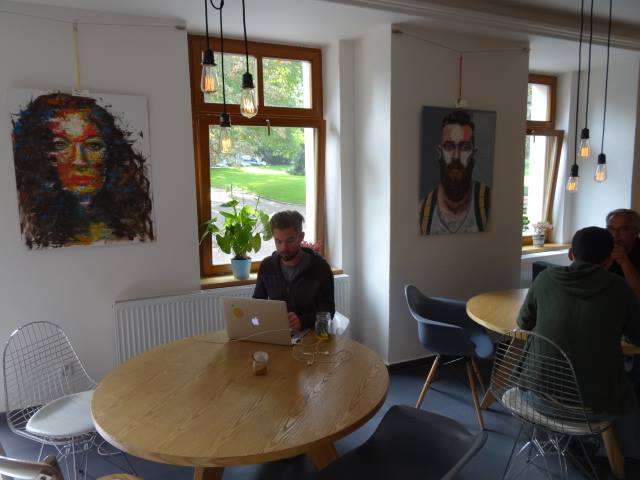 You can hear customers chatting with each other, but still have your privacy. The cacophony of voices, mixed with the sounds of the coffee machine and gentle music in the background makes for a very familiar space to any listener.
Specifically for Pilsen students Le Frenchie is the perfect place. Everybody knows where to find the best cappuccino in Pilsen. And who doesn't love French cakes and macaroons? There's also a huge concentration of tourists alongside coffee connoisseurs, because Le Frenchie offers fine espresso and V60s brewed with specialty coffee beans from Doubleshot roastery.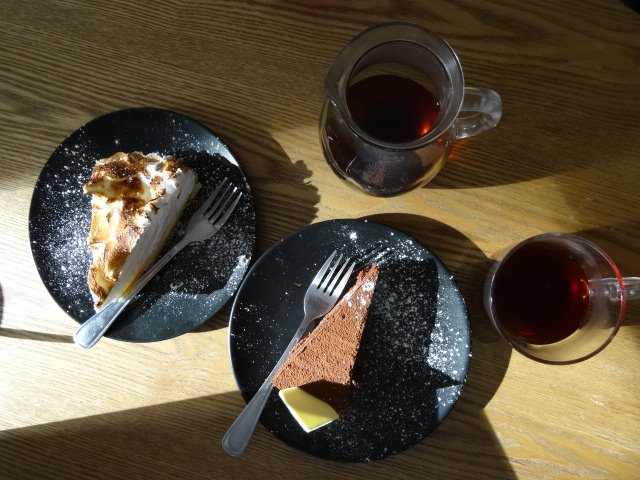 My usual order at Frenchie is their V60 brew. If I like the taste, I may buy the coffee beans for home to compare my filter brews with the one I had at the cafe. To share a moment with my friends I still prefer to come to Frenchie, though.
Le Frenchie has got something to offer even If you're tired of coffee: Belgian hot chocolate or tea. A selection of French wine goes well with a savoury quiche, salad, tartine, or a fancy open-faced sandwich. My choice would be the salmon or goat cheese option. In summer it is popular to sit outside with a lemonade or an ice drip.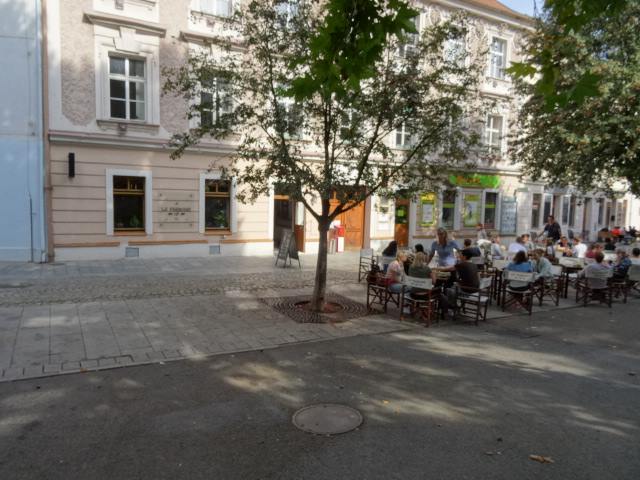 Definitely this cafeteria is on top of the list of "best cafes in Pilsen." Confirming facts clearly show that people care about quality of coffee and comfort: Le Frenchie has been well-known from the first day of existence, and now people often wait for free seats. They rarely give up.
Smetanovy Sady 332/6, Pilsen, 301 00, the Czech republic
Facebook, Instagram
Pappa coffee
Pappa coffee is located in the center of Pilsen, in a very quiet street away from the main stream of tourists. The famous Pilsen Brewery Museum lies just a minute from the main square, but the cafe is a little bit hidden away. So if you do not know where the café is, it may take you a while to find it.
Pappa coffee is characterized by friendly baristas, even though they are working in a tight space. The cafe is furnished with minimalistic furniture in order to highlight that a good cafe is not about the equipment, furnishing or the space but rather people coming together sharing coffee. To make their space even more welcoming, the cafe hosts a monthly-changing art exhibition featuring young painters.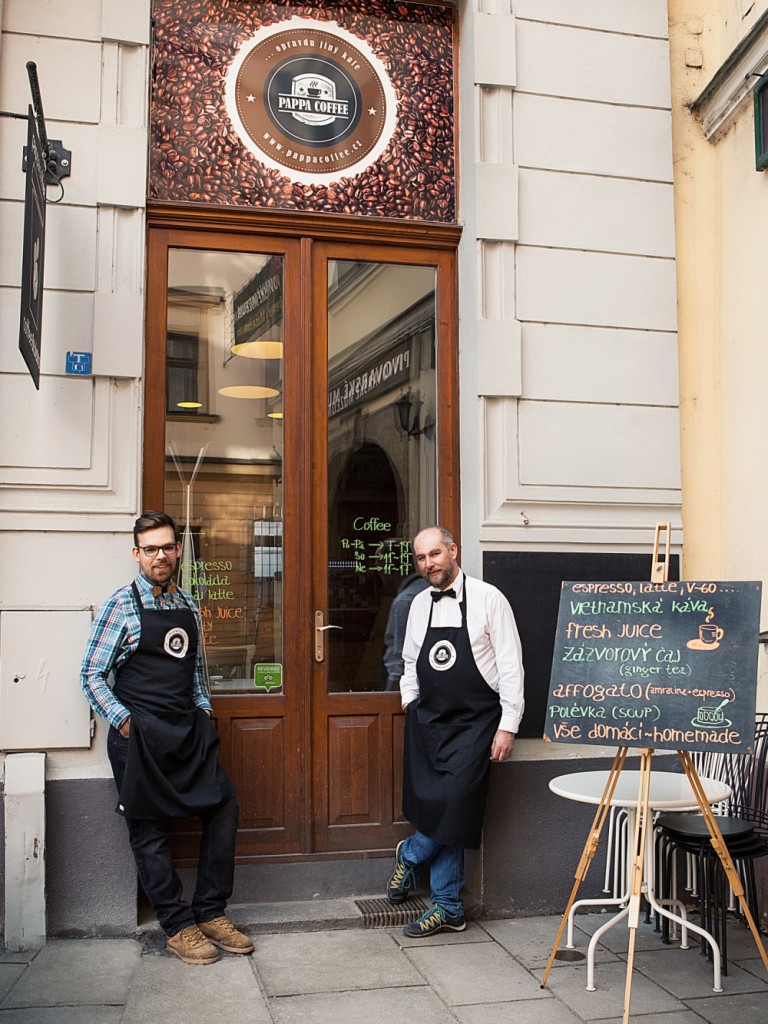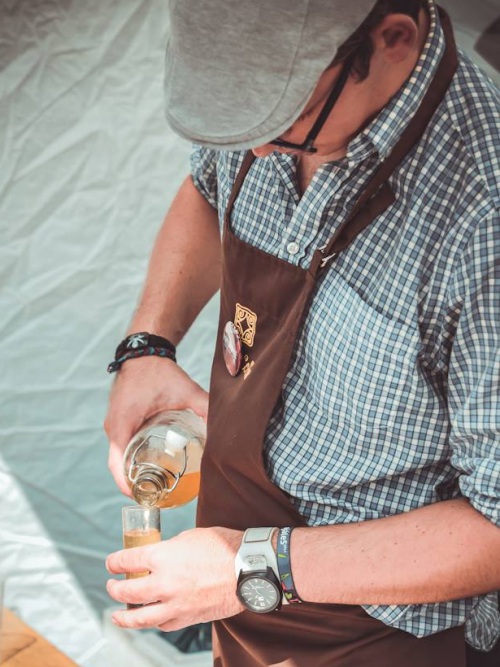 At Pappa coffee it is never too late for a breakfast! To compliment the great selection of coffees, brewed as an espresso, V60 or AeroPress, the menu offers homemade lemonades, freshly baked cakes and sandwiches. Summer months are even tastier, with cold brewed coffees and cascara infusions. Certainly a very colourful menu, don't you think?
Pappa coffee is a dream come true for the Gajdoš family. Since the opening of their café in 2014, a lot of customers have been coming back regularly. Locals take coffee back to their offices, others go there with notebooks or to read, and some meet with friends. The baristas always have a few minutes to talk to every customer, so it is an ideal location for making new friends.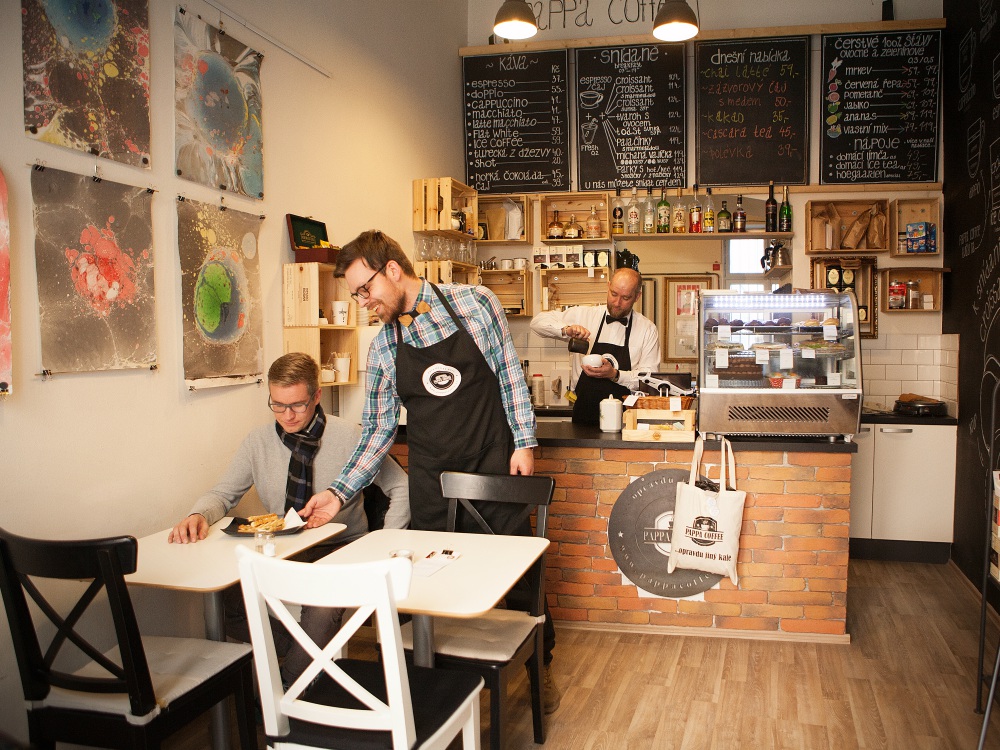 Since last year they have tested coffees from about 40 roasters from all around Europe (The Barn, Dos Mundos, Mamma coffee) and they are still looking for new ones. The owners, Adam and Zdeněk Gajdoš, say: "We prefer to change the coffee beans, as we like to try new flavors and kinds of coffees and also support smaller companies like ours." But for 2017 they are planning new projects, a launch of their own roastery, public cuppings or attending barista competitions.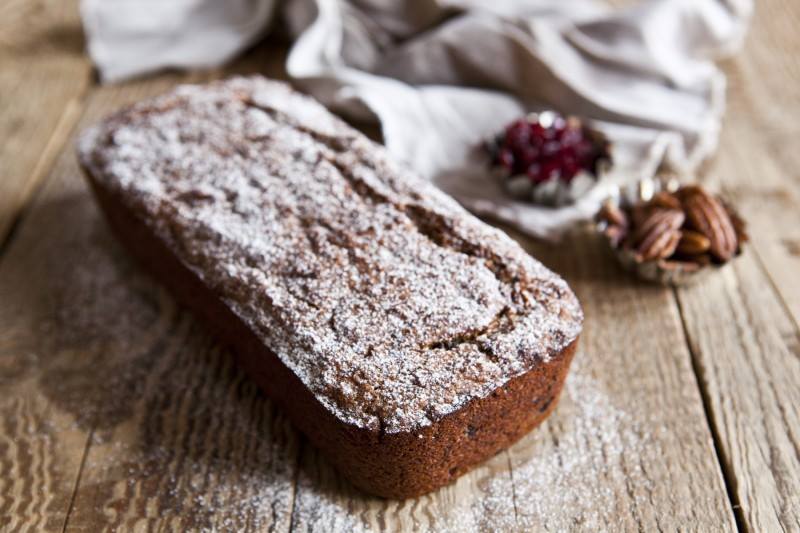 Everytime I visit Pappa coffee, I am interested in their new ideas, intrigued to try different coffee beans and delicious cookies. I either take my coffee to go, or talk a little bit with people at the cafe, not only with the baristas. Time stops for a moment and I leave in a good mood with new found energy.
Veleslavínova 8, Pilsen, 301 00, the Czech republic
Facebook, Instagram
Café Regner
If I need to calm down my mind, I know it is time to head to Café Regner. I usually take a flat white or a vacuum pot, served in a cute cup, and borrow a coffee magazine. It is a place where I rest until the dark disturbs me.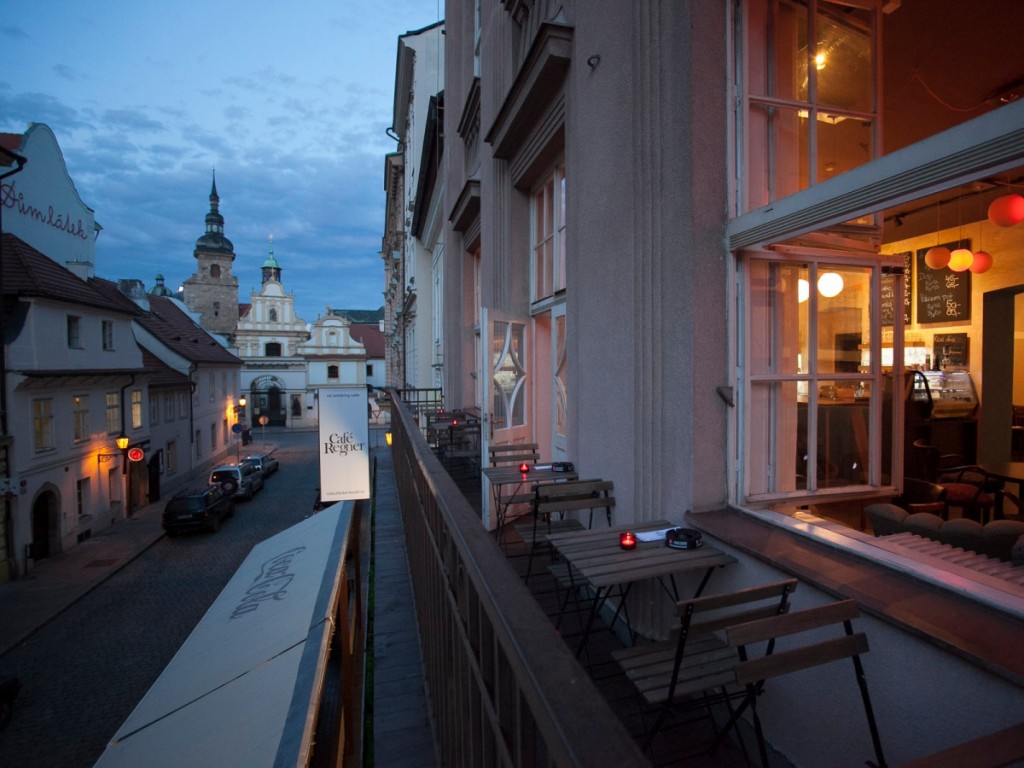 It is pleasant to sit in a vintage armchair and feel relaxed in this spacious café. The walls are decorated with photos or paintings completing the inviting atmosphere. And the smiling crew is ready to accommodate all of your wishes.
The variety of coffee brew methods–V60, aeropress and vacuum pot–are prepared with a supply of beans from mostly Czech roasters (Mamma coffee, Dos Mundos). The owners are planning to bring in coffees from abroad soon though.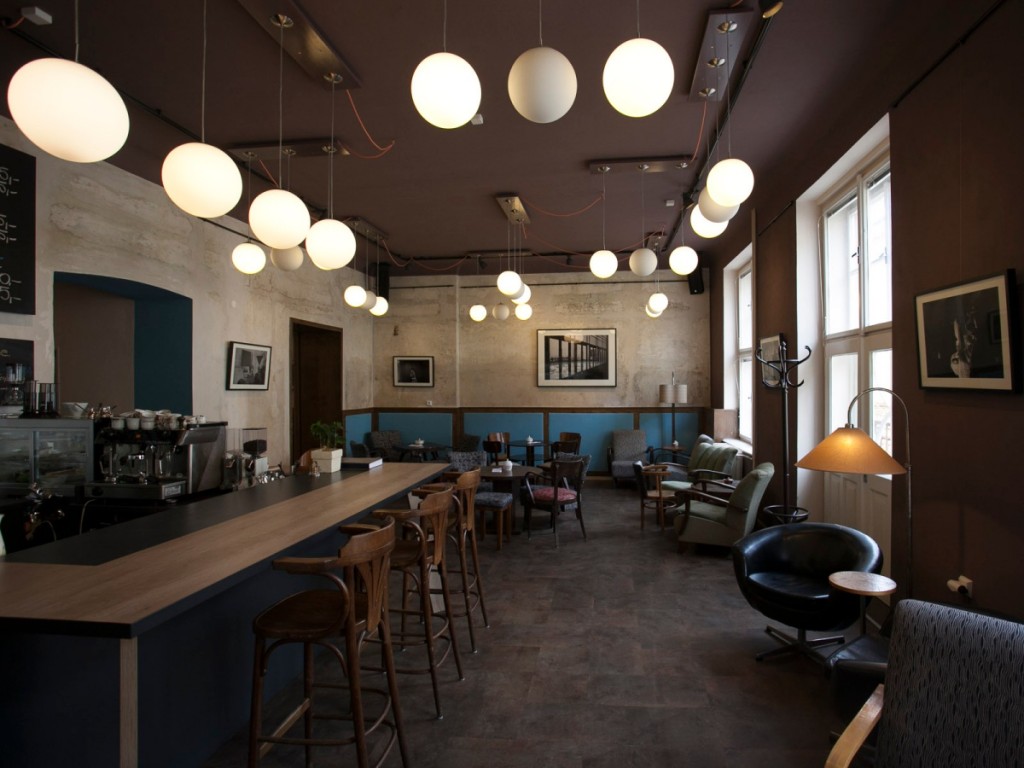 You have to love Café Regner, a cafe of many faces. With a fine seating area, it is a place where you can order a homemade lemonade or a coffee during the day and go on with the evening menu as the time progresses–Café Regner changes to a live bar-café. It is possible to have a glass of wine, or even a serving of absinthe.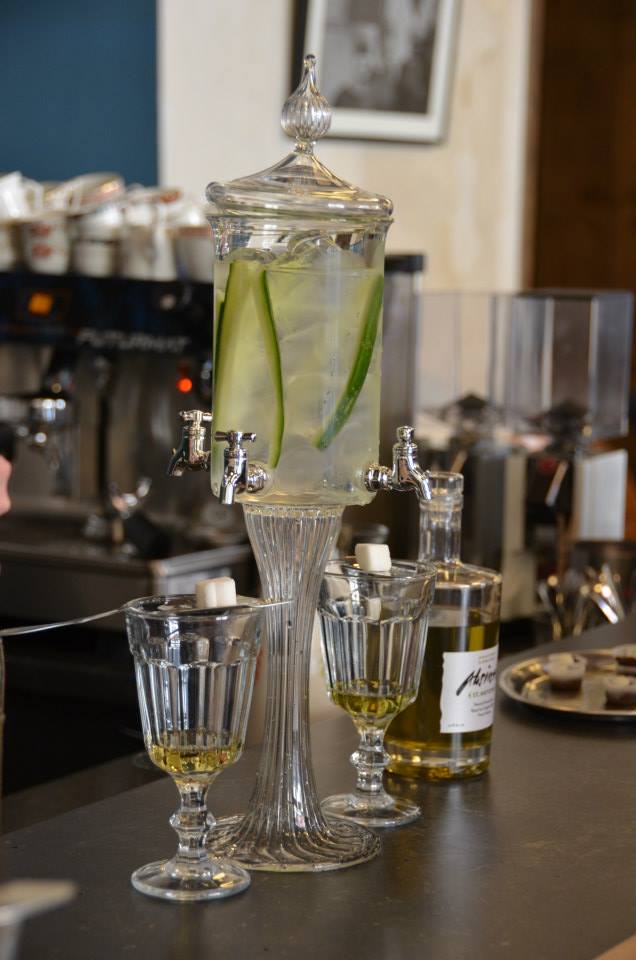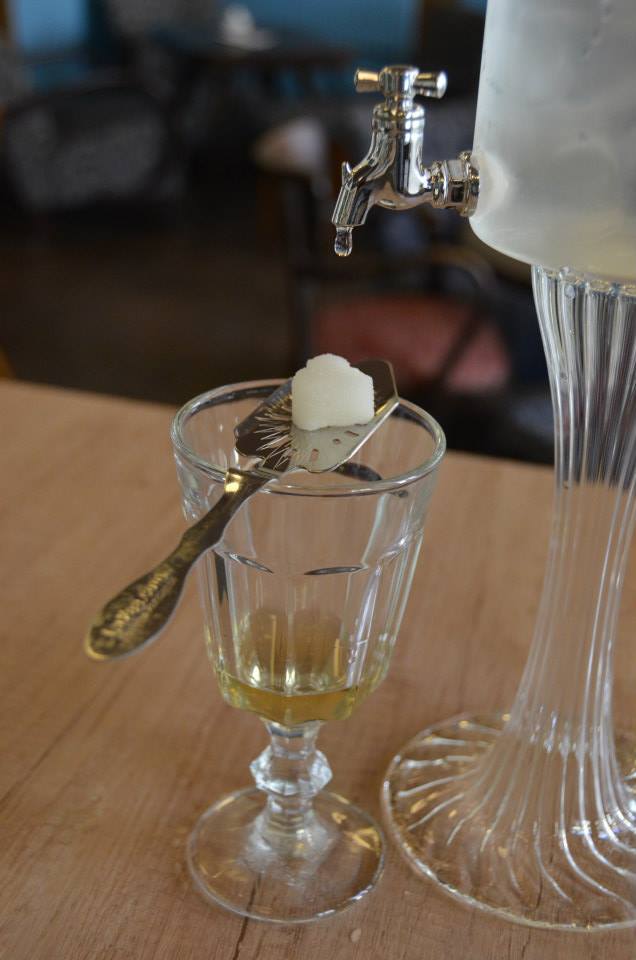 The opening hours–as much as they are unusual–are a great advantage. Every day, from 11 a.m.-11 p.m. The café is situated in the center of Pilsen, conveniently for night owls. In summer the outside terrace on the 1st floor is filled with the buzz of customers having a summer coffee drink, AeroPress coffee and fresh orange juice to name just one. It is the perfect place to watch the street, a spot hidden from the crowds on the street level.
"I like to work here, because I can experiment with the coffee," adds one of the baristas.
Bezručova 7 (1st floor), Pilsen, 301 00, the Czech republic
Facebook