As you might have read in our previous post, Budapest has got a strong coffee culture. And to no surprise, the city fifth district is not the only place you can find tasty brews and beautiful views.
In the second part of our guide we explored cafes in diverse areas of Budapest. They are worth the trip though, each of them having a special feature we enjoyed them for.
Madal Espresso & Brew Bar
We started our day in one of the most beautiful areas of Budapest, with Madal Cafe being a little oasis, announcing itself with: "Good coffee, good karma."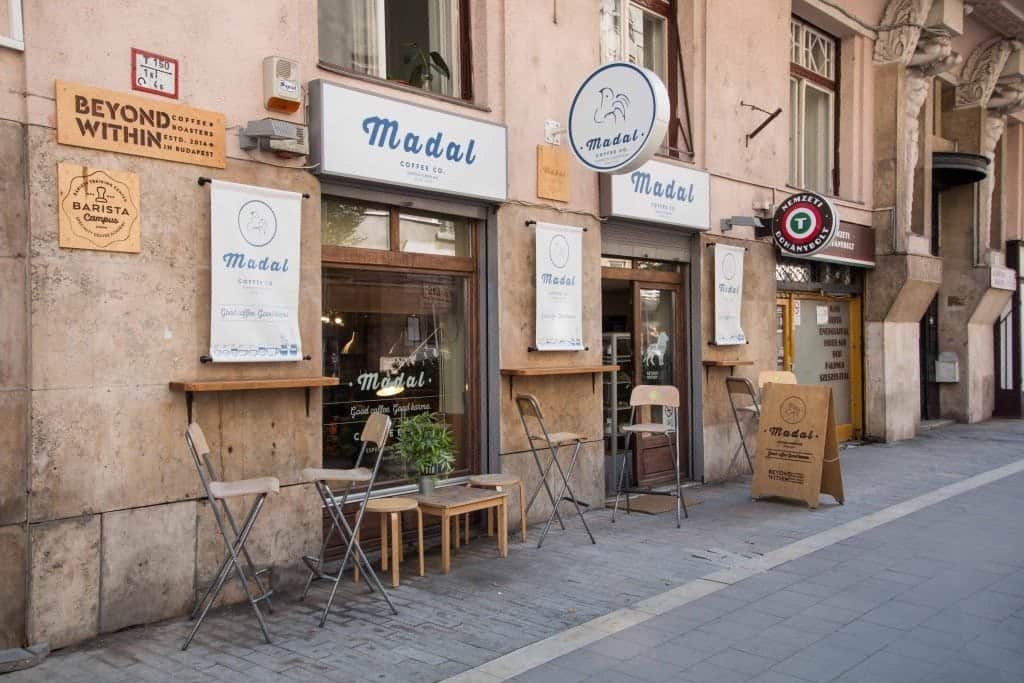 Established in 2013, the cafe's opening was a fusion of interests of the owner, Peter Repka. His love of coffee was connected with his spiritual studies. Sri Chinmoy, called Madal, was Peter's Indian spiritual teacher whose wisdom and art creations are a distinct part of the cafe's set-up.
Peter built Madal in a lower-basement space, with a big, front window that lets the sun rays in, as well as it leads onto a large outside terrace.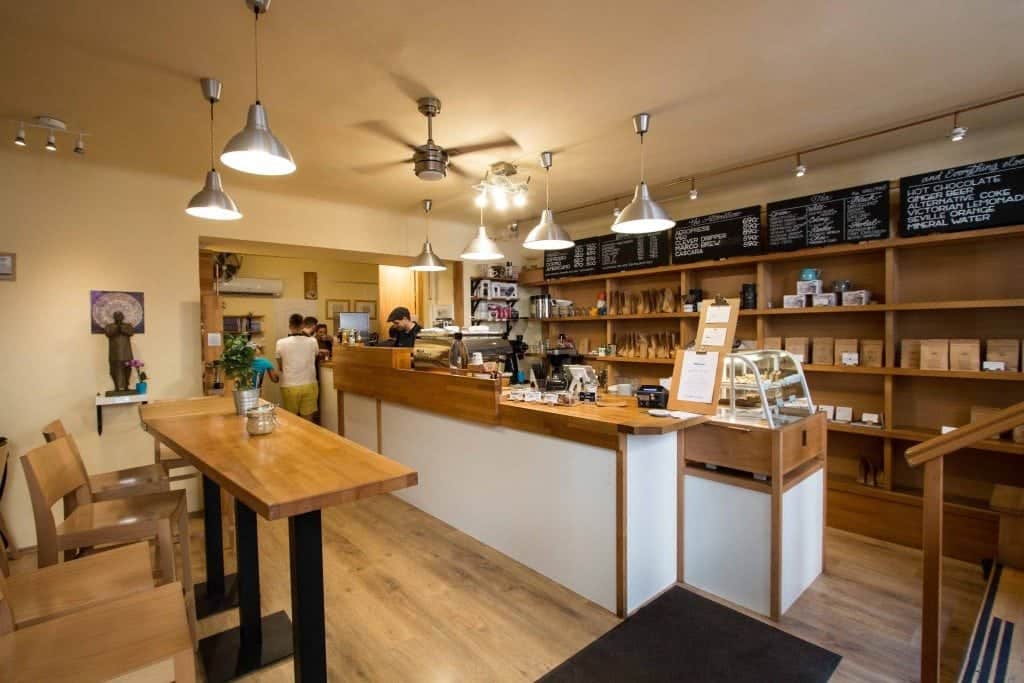 The entrance stairs show you straight to the ordering bar, which runs from the till further deeper into the cafe, connecting onto the espresso and brew bar stations. Facing the customers, the baristas see several lower tables at one end of the cafe, with a bar-table island in the middle.
We set at a table which had, like many other pieces of equipment here, one of Madal's quotations engraved on its side: "Allow failure to teach you A supreme lesson. Each Sunset is the beginning of a new, very bright and powerful Sunrise. "
While watching baristas at work we ordered a wide range of drinks – the best way to start a sunny day. The espresso station with a La Marzocco GB5, a Mythos grinder and a La Marzocco Vulcano grinder for the second coffee are set up on the long bar.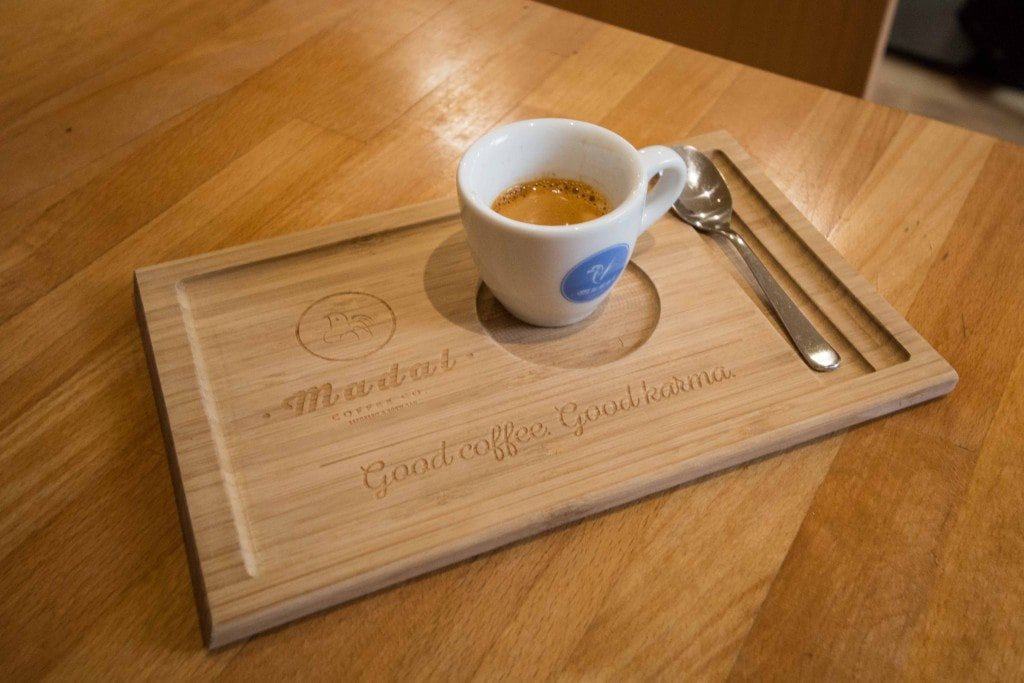 Our espresso was a single origin, Kenyan Marimira, roasted by Beyond Within Roastery ran by people behind Madal. It was very juicy, sweet and balanced. We also enjoyed their summer signature drink Blood Orange Nirvana. A chilled combination of Seville Orange on ice, supported well the Kenyan espresso on top, creating a juicy and citrusy, fresh drink.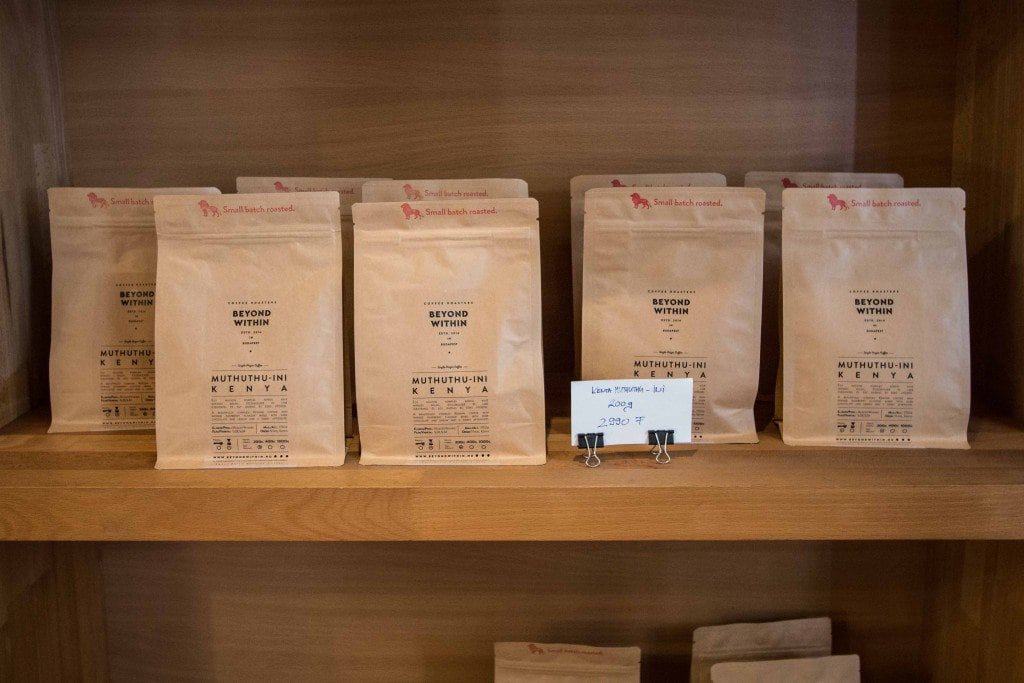 Over all, their coffee menu features all aspects of coffee brewing. From Cascara teas, filter brews on V60, Aeropress, or Marco batch brews, it had something for everyone.
Madal is also one of the places where you can get a nice sandwich and a salad with your drink, which is not always the case in Budapest's cafes.
Madal is not only a cafe thought. With its Campus – Specialty Coffee Academy for Barista Trainings, opened in May 2016, it delivers trainings of espresso and other brew methods to passionate individuals of Hungary.
Madal Espresso & Brew Bar, Budapest, Hollán Ernő u. 3, 1136 Hungary
Facebook, Instagram
Kaffeine Espresso Bar
Crossing the Danube river we were headed to Kaffeine Espresso Bar located in the old part of town. The city used to be separated in two parts, Buda and Pest. It was not until 1873 that the two were joined together. The distance between them did not stop Kaffeine's owner Attila Molnar from opening one of his most recent shops there.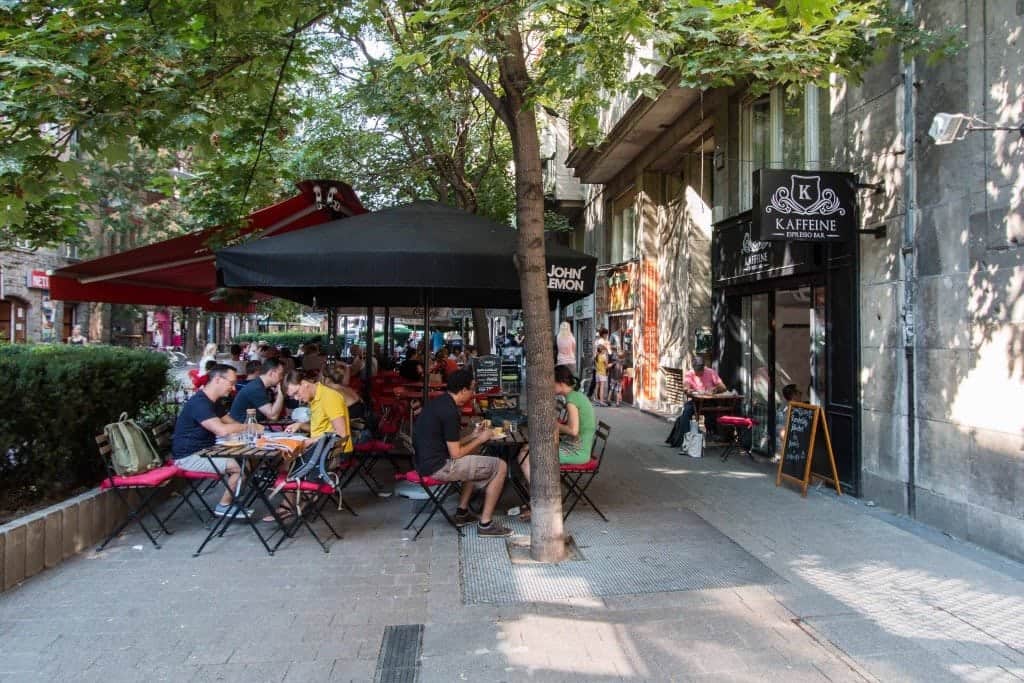 Attila had already experience with other areas of town thanks to his Tamp&Pull shops, and Kaffeine was an opportunity to open a shop outside of the original brand.
Attila is the official distributor of Has Bean coffee in Hungary. He also helps the consumers to approach the coffee with less hesitation by arranging Hungarian translation of the labels with characteristics of each coffee. In a way, you can get a Has Bean coffee here like nowhere else.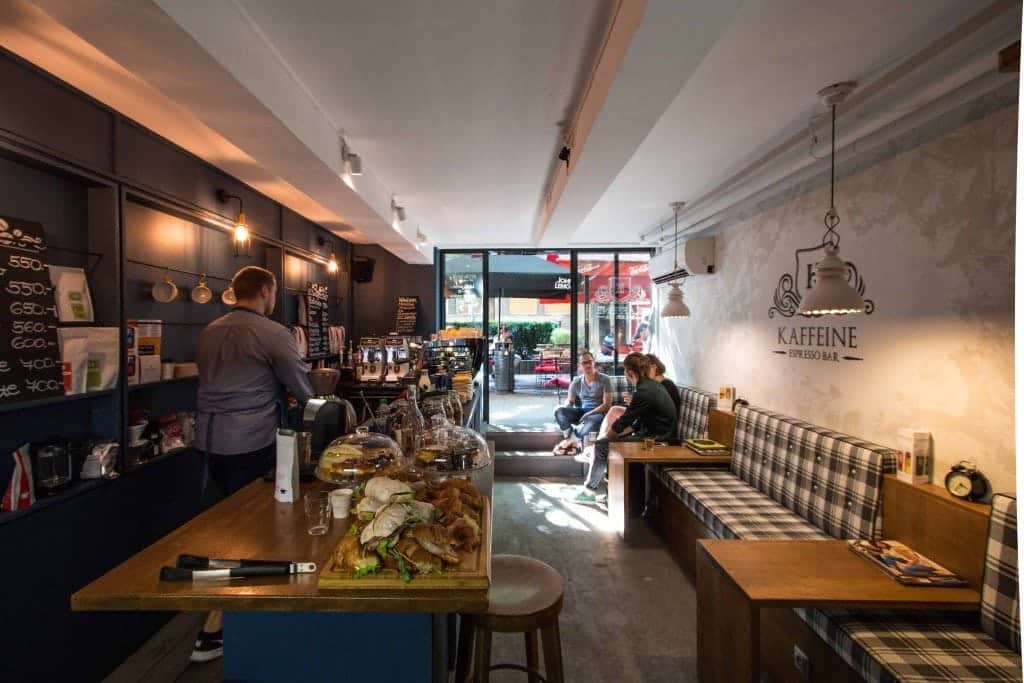 A description of Kaffeine could start with: "Once upon a time…", thanks to its elegant setting with green, checkered, cushion sofas and dark wood furniture. Looking almost like a king's lounge, nearly every customer has got a prime spot to watch the baristas. The bar spreads from the door to the back of the shop, with the sofas running along.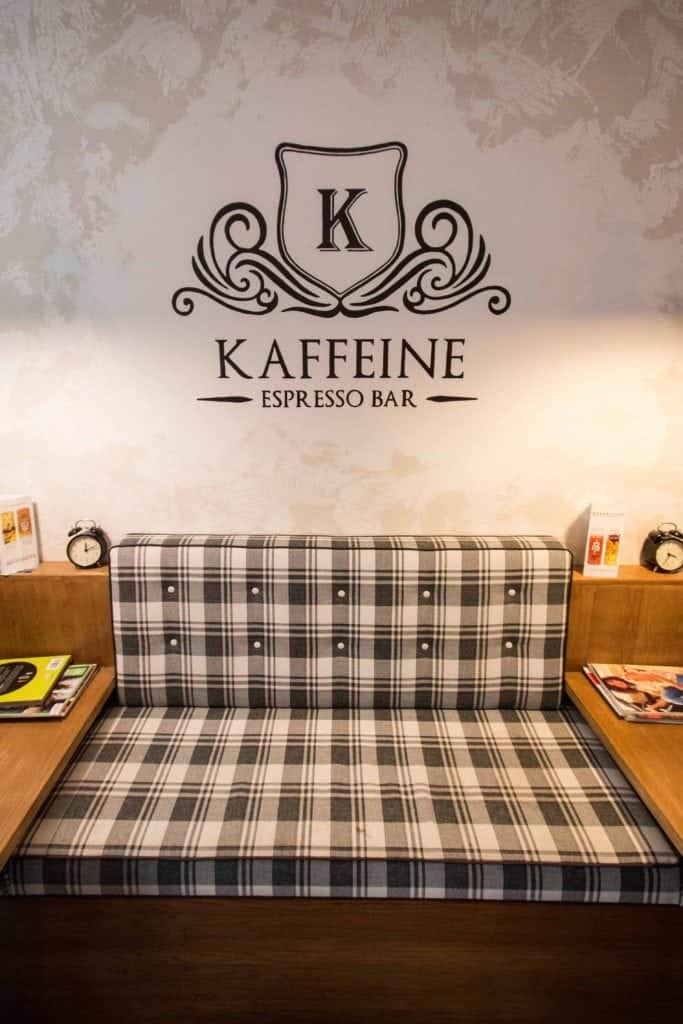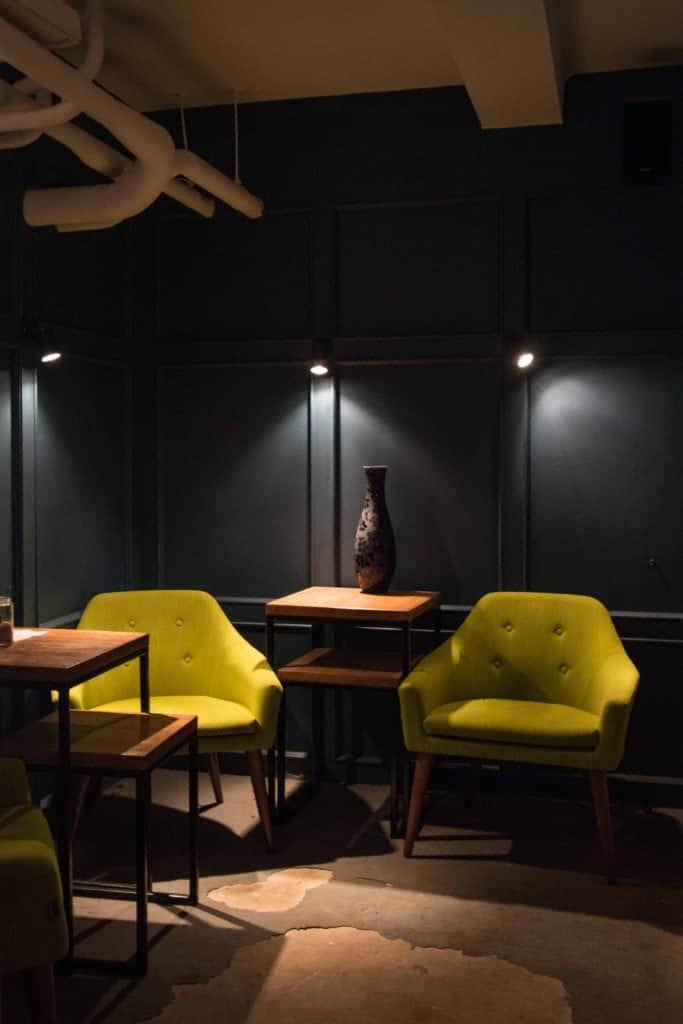 Sitting down then, you will see barista's every move, especially when watching him work behind the Black Eagle espresso machine. It sits a bit higher from the bench, lifted on its legs. What you cannot see are the Mythos grinders for a seasonal blend and a single origin espresso.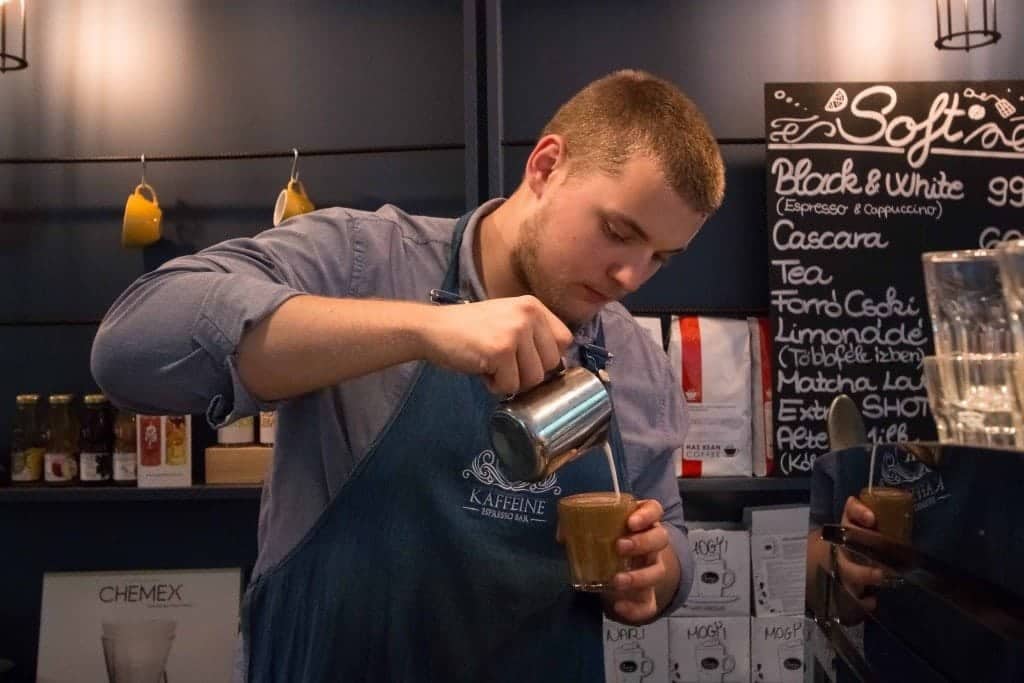 At the further end of the bar the filter coffee is brewed with an Aeropress, or using a V60. This time we tried a Kenyan Kieni AA which had a strong and lovely aroma of blackberries and red currents, although it was a little bit light in flavour. The Guatemalan espresso though was delicious. Smooth, balanced, with a long, sweet finish.
You remember I mentioned there was not much food across Budapest's cafes? The food here actually looks delicious, grab a snack on the go!
Kelet cafe
Further south along the Danube river, nearby Gellért Thermal Bath, is another stop not to be missed. Kelet is a multipurpose place, at least in our eyes.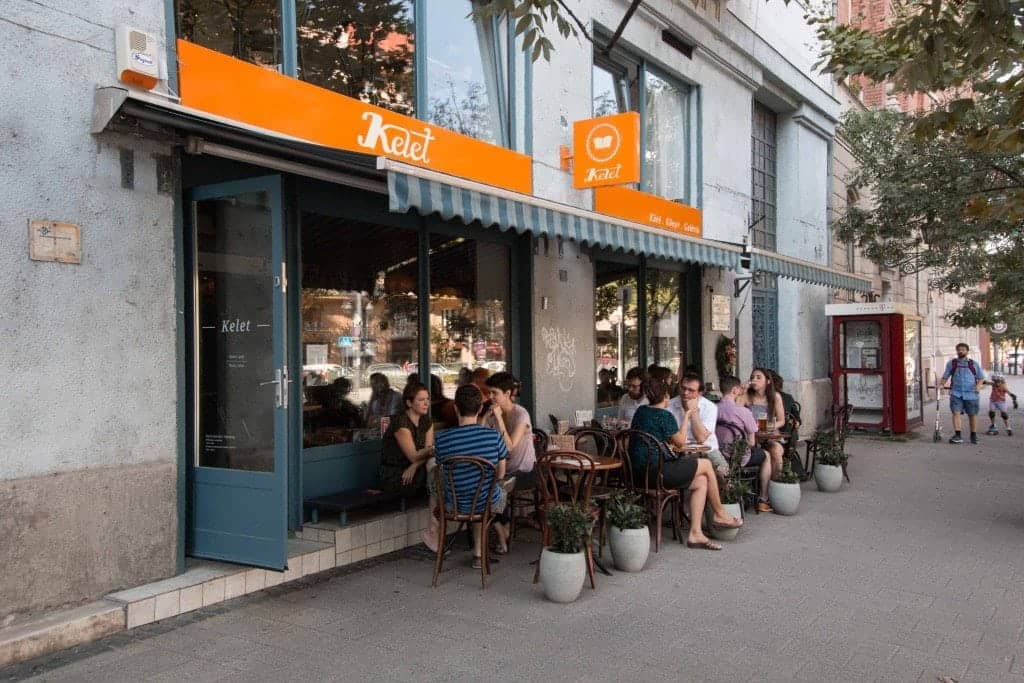 Fairly large, the cafe is situated on a busy street of Bartók Béla. It has got a comforting setting of an old-times cafe, with walls covered in shelves of books. The books are actually there for grabs, if you in return donate a book yourself.
The rather dark cafe with small tables spread across the room is lit by lamps with warm light. There is an extra seating upstairs, used as an art gallery. That part is usually quiet and lit with daylight.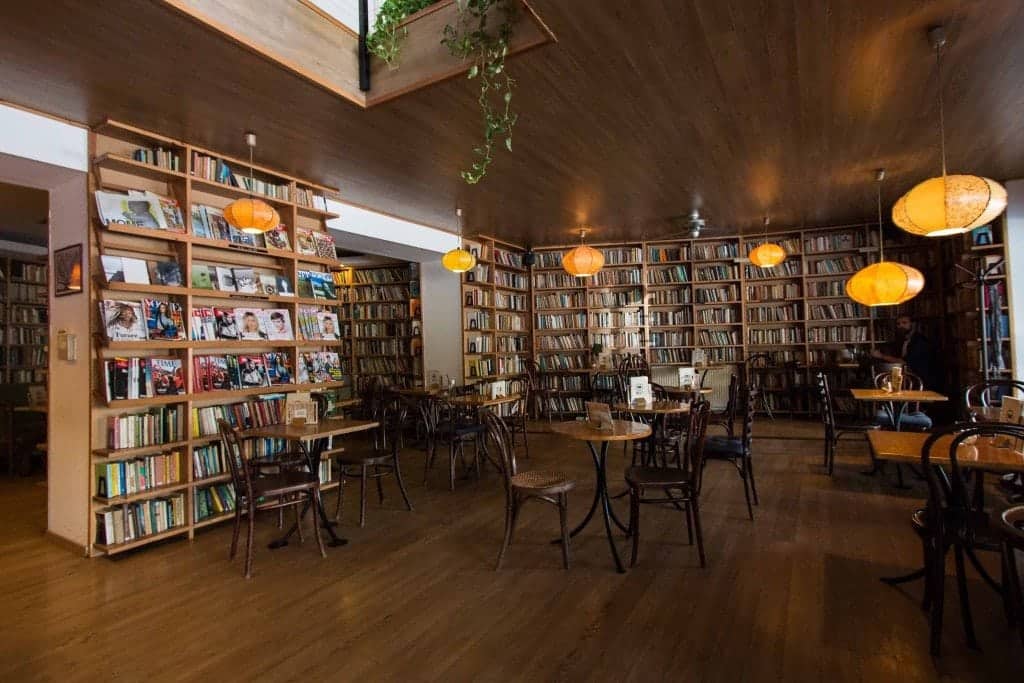 What I call a smart move is the cake and sandwich bar placed right at the entrance to the cafe. While you already know what to eat, you walk straight up to the red La Marzocco FB80 and Mythos grinder. That is the barista's stage. You can choose from a wide menu of espresso-based drinks made with Casino Mocca's beans. Filter coffees are brewed using a Mahlkoenig Guatemala together with a range of brewing methods.
Beside for the classic range of pour overs and cold drip coffees, we were later told to have missed out for not trying Lombik coffee. A "3rd wave Turkish coffee" method of brewing uses hot sand and flame-proof glassware. It seems to be very popular on Budapest's coffee scene.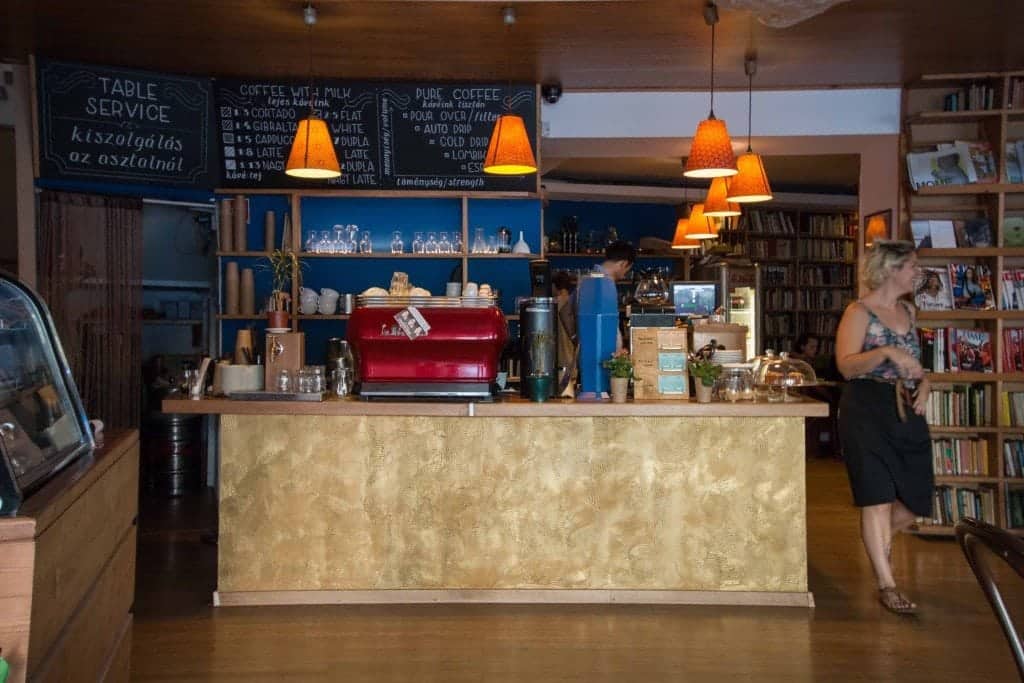 The coffee menu is draught on a blackboard above the bar, showing the strength and resulting quantity of each beverage, helping the customer to understand what is he getting when ordering an espresso, for example.
Kelet's restaurant-like menu is to be underlined. The cafe offers daily menus, featuring Vietnamese specialties, such as Green curry, and delicious soups. Come and enjoy your coffee on your lunch break, study here, or just read in a quiet corner. Kelet could be your living room!
Budapest, Bartók Béla út 29, 1115 Hungary
Facebook, Instagram
Spéci Espresso Bar
It is so easy to walk around Budapest. We walked from Kelet to Spéci in less than five minutes, not even having time to process all the caffeine we already had in us.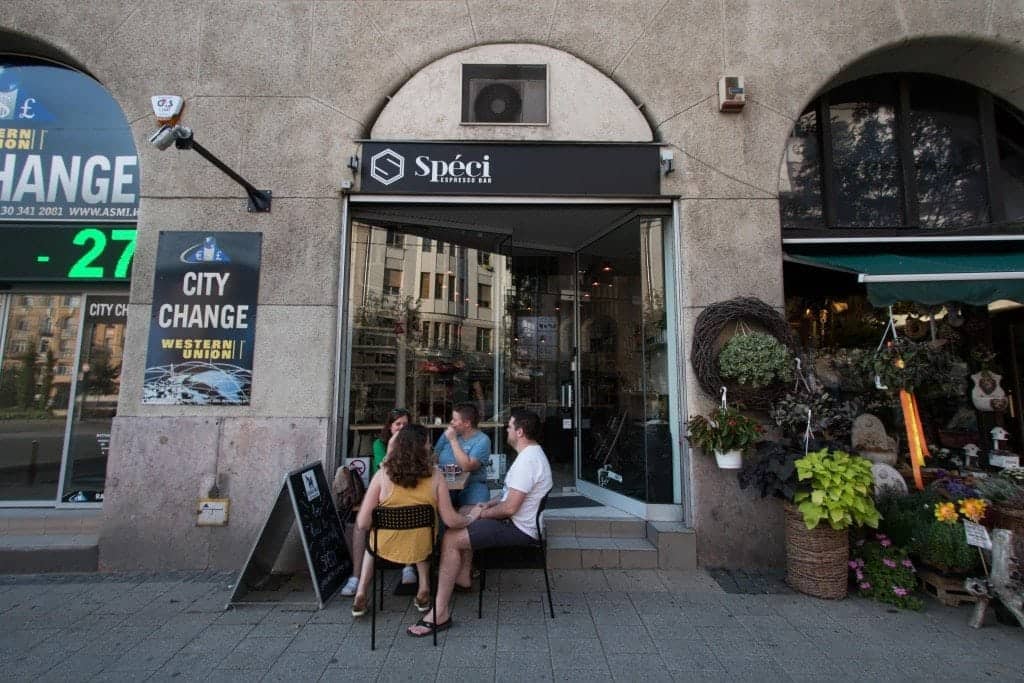 Spéci is a fairly new espresso bar, known for its tasty brews of Square Mile beans. As far as we know they are the only ones serving this London-based roaster, and they are doing a great job with it since February 2016. We tasted a very nice brew of SM's Costa Rican coffee.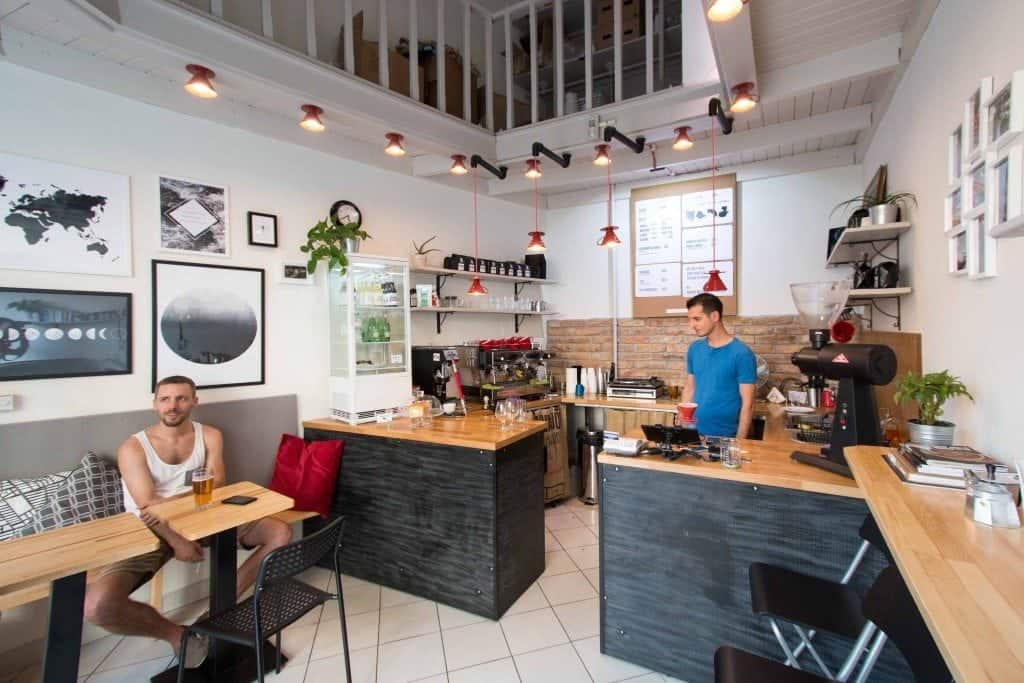 Their espresso-side-of-things is a task for the shiny Linea Classic and Mythos one grinder. They pump the shots with Sweetshop or Red Brick, keeping the menu fairly minimalistic with a simple board of espresso + different amounts of milk. The space itself has got a pattern of coffee brewing in its design as well. V60 cones used as lamp shades and bialetti brewers filled with sugar decorate this specialty coffee corner.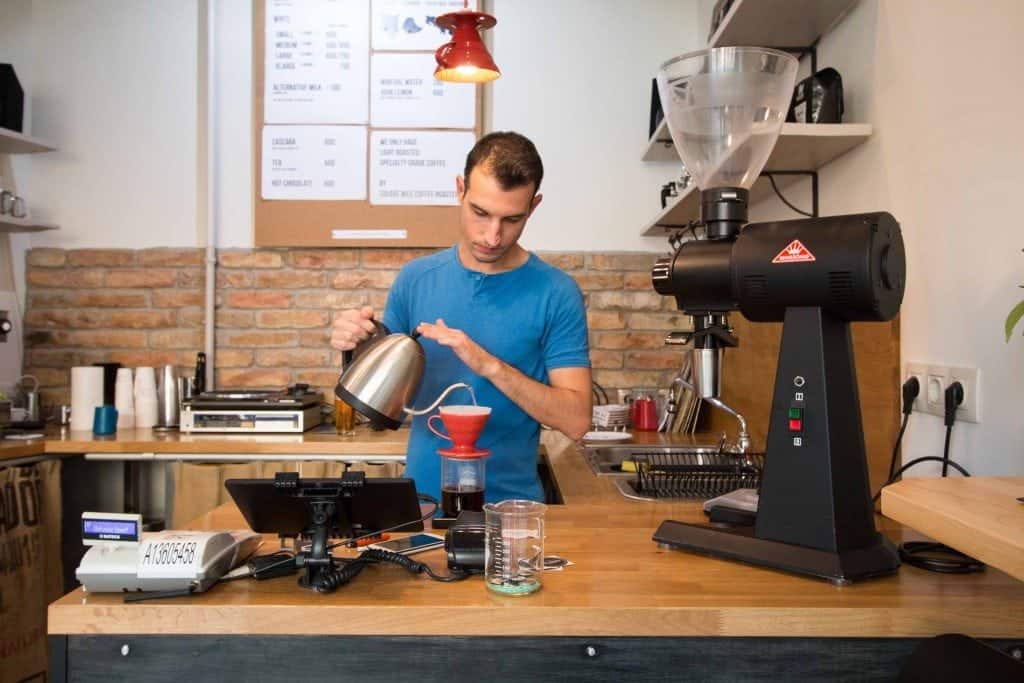 Here it is kept simple and focused on coffee. That is sometimes exactly what we need.
Budapest, Bartók Béla út 49, 1114 Hungary
Facebook, Instagram
Fekete
By now we have established a coffee stroll rule: "Keep on walking down the street – any street and you will come to yet another great cafe." And so we did.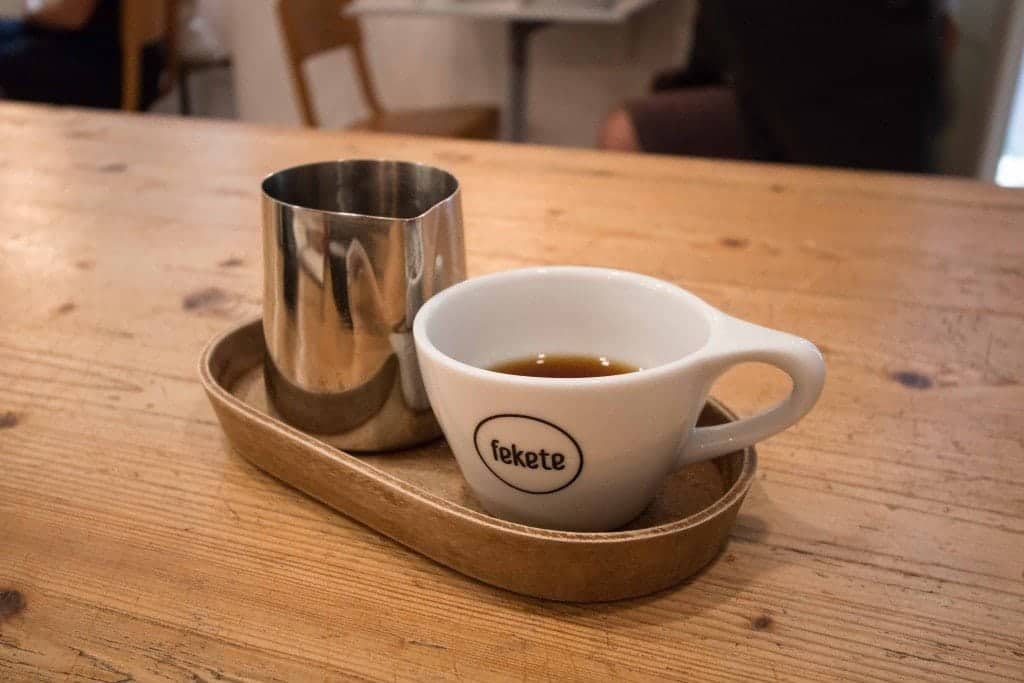 Fekete has been on the scene for a while, and it would be one of the to-go places on anyone's list when asking for recommendations. And truly, there are interesting times coming up for this well-established cafe.
Fekete was mainly an espresso bar at the beginning, looking onto the busy Múzeum krt., but as the demand grew the shop expanded into an inner yard space. Funnily enough, the cafe of today gained its outdoor seating first, to which baristas from the espresso bar would come running with your order. Then the cafe opened within a bigger space next to the inner yard. Today, you will find here both the espresso bar, as well as the cafe with its outdoor seating.
The espresso bar is getting a fresh look and a fresh concept as well. Fekete realised they are capable of providing their customers with what they are craving. A vegan chef prepares a vegan sortiment in both stores and so it was decided to turn the espresso bar into a health one. You will be able to pick up a fresh juice and plant-based snacks, without omitting the espresso drinks. The cafe in the inner yard remains the spot to indulge in their food and sweets menu, do not worry.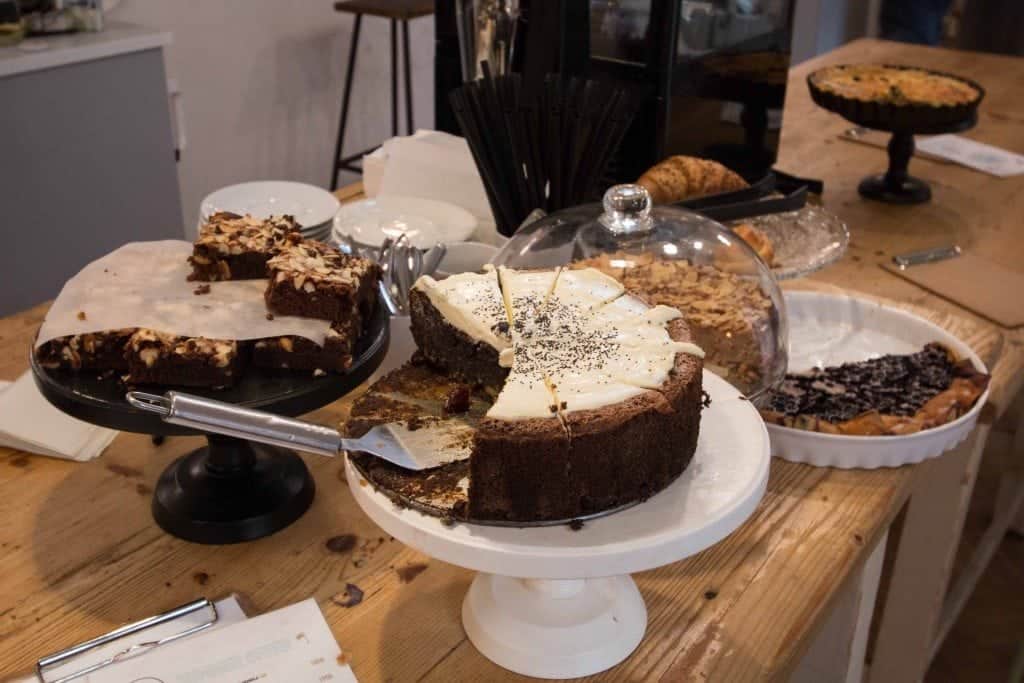 Fekete is obviously working hard on establishing a further character of their business. They have started roasting their own coffee, too. Although Alchemy still remains their main supplier, they are currently experimenting with their own roast profiles, which are done outside of Budapest.
Budapest Baristas
Our next stop was almost next door to Fekete, welcoming us with a black A-board in front of open doors. The outdoors seating had about four chairs, and looked surprisingly welcoming for such a busy street that Múzeum krt. is.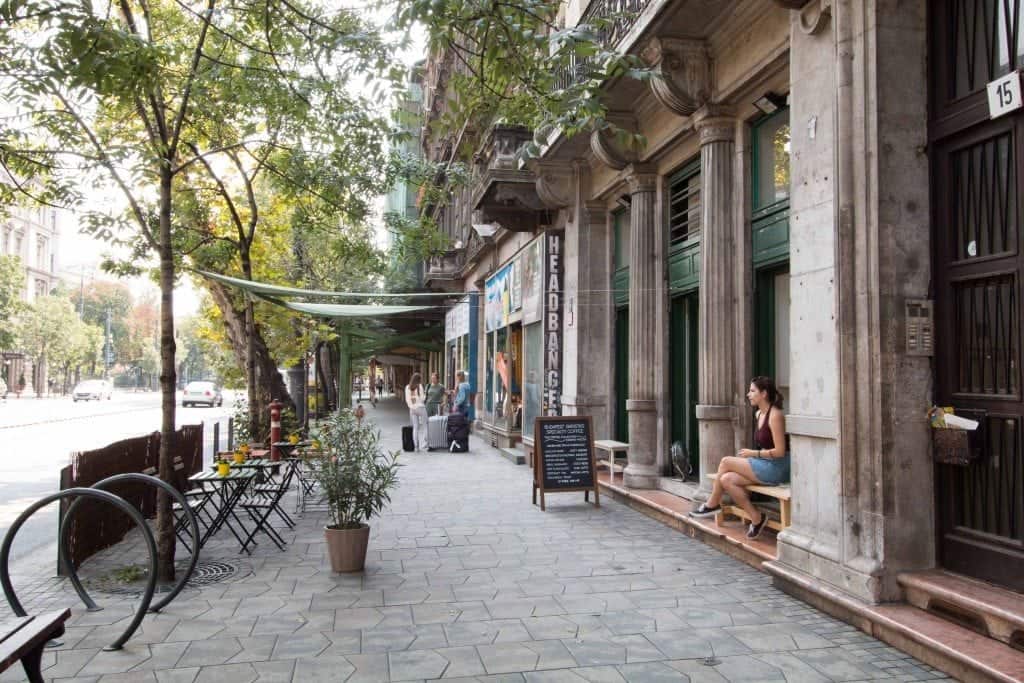 Walking in you are basically facing the baristas standing at the register. Budapest Baristas cafe is not massive, yet it feels quite spacious. With couple of tables and a window seat downstairs there is enough space for the take-away customers to float in and out. Those who are ready to stay usually order and walk upstairs, where it looks almost like a gallery above the bar, with little tables and chairs for two.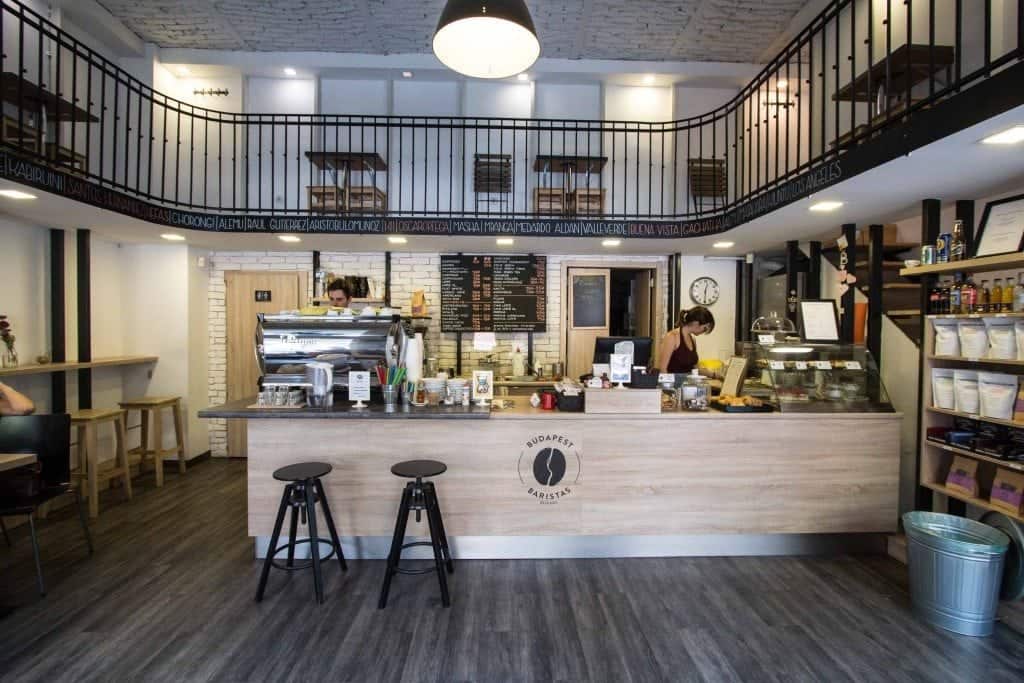 The cafe is supplied by Casino Mocca, but at the time of our visit it was also the first week they tried Coffee Collective. The whole team seemed quite excited about the range of coffees and recommended us a pour over of an Ethiopian Yirgacheffe.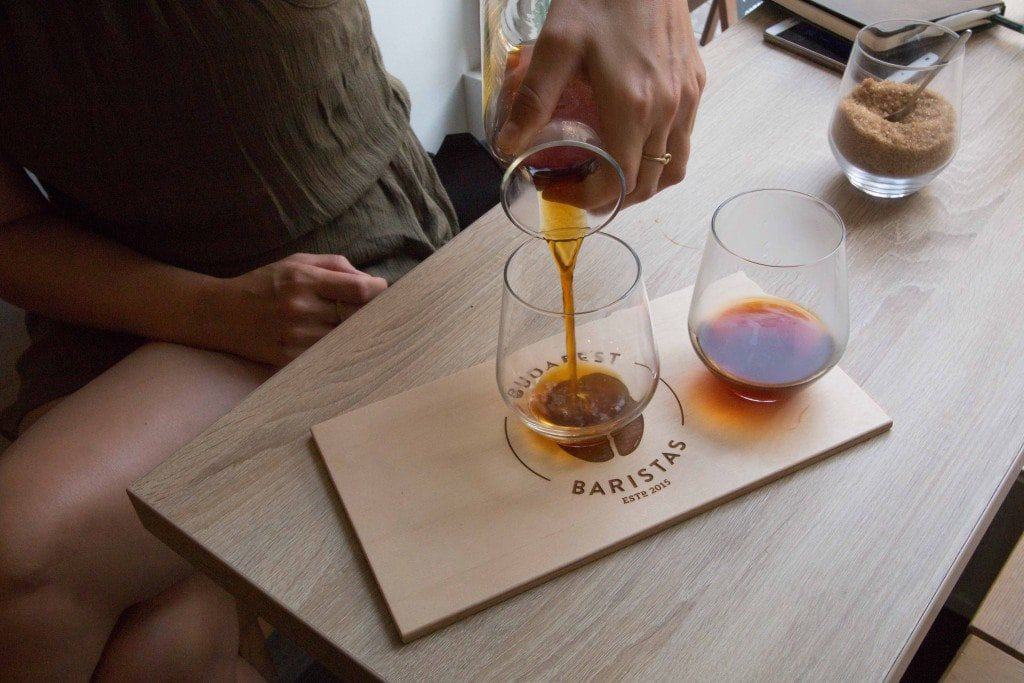 Tamp&Pull
Our last steps led us to a well-established cafe of the Tam&Pull family, Espresso Bar in Czuczor utce. As small as the shop is, their menu offers two espresso options served with Has Bean beans.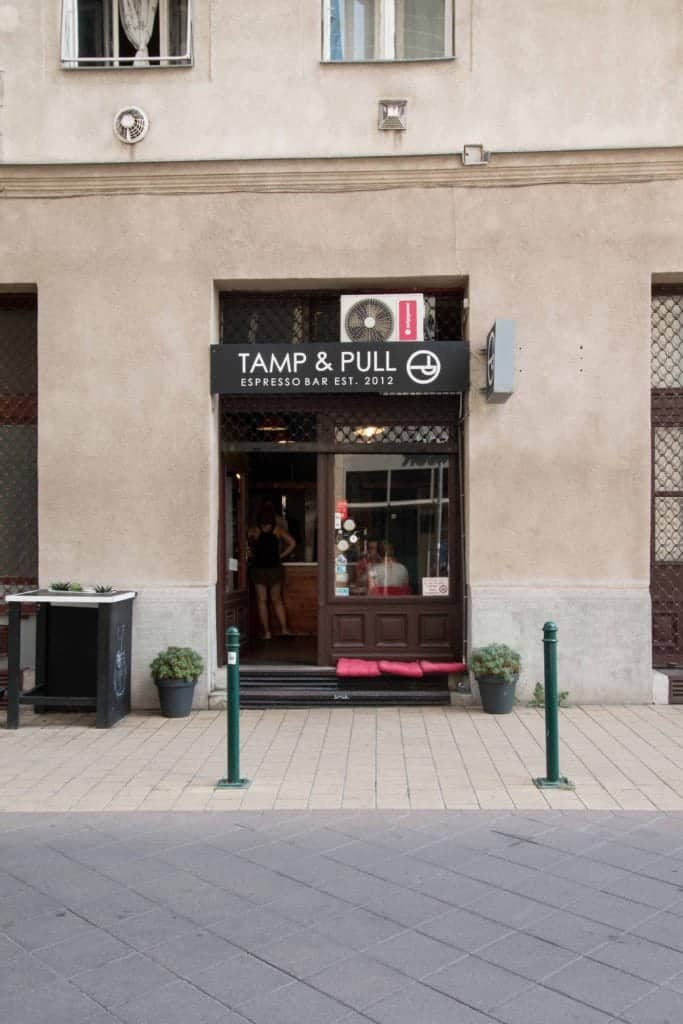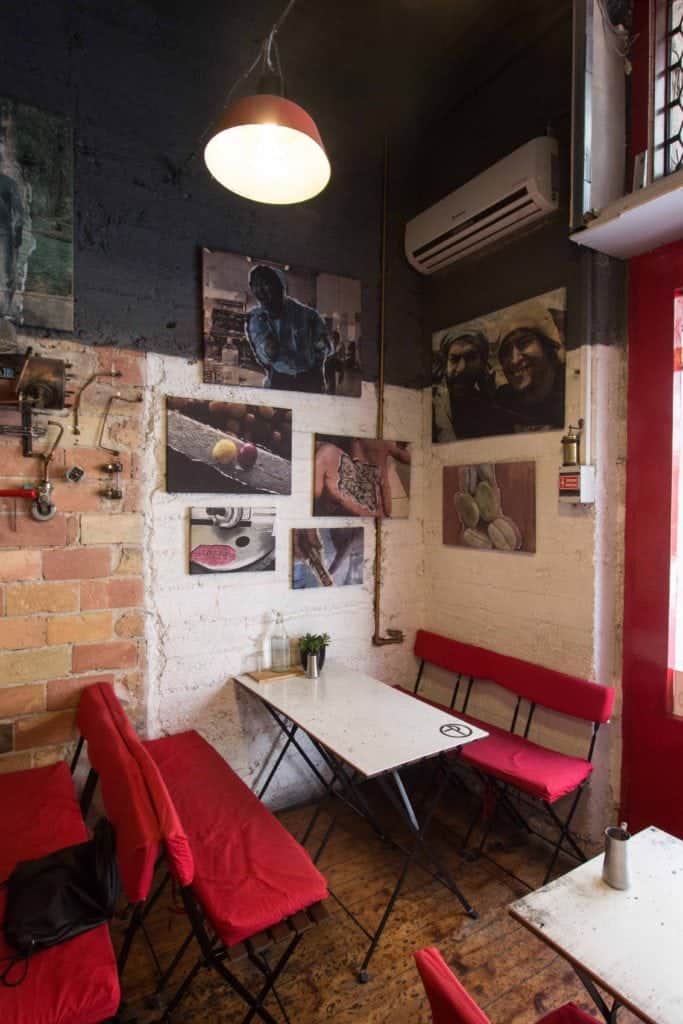 Several tables indoors seat about 15 people, while the barista prepares the drinks on a glass-walled La Scala coffee machine. White mythos and Peak grinders are a sweet set-up for an espresso bar, accompanied by Kalitas and Aeropress brew methods.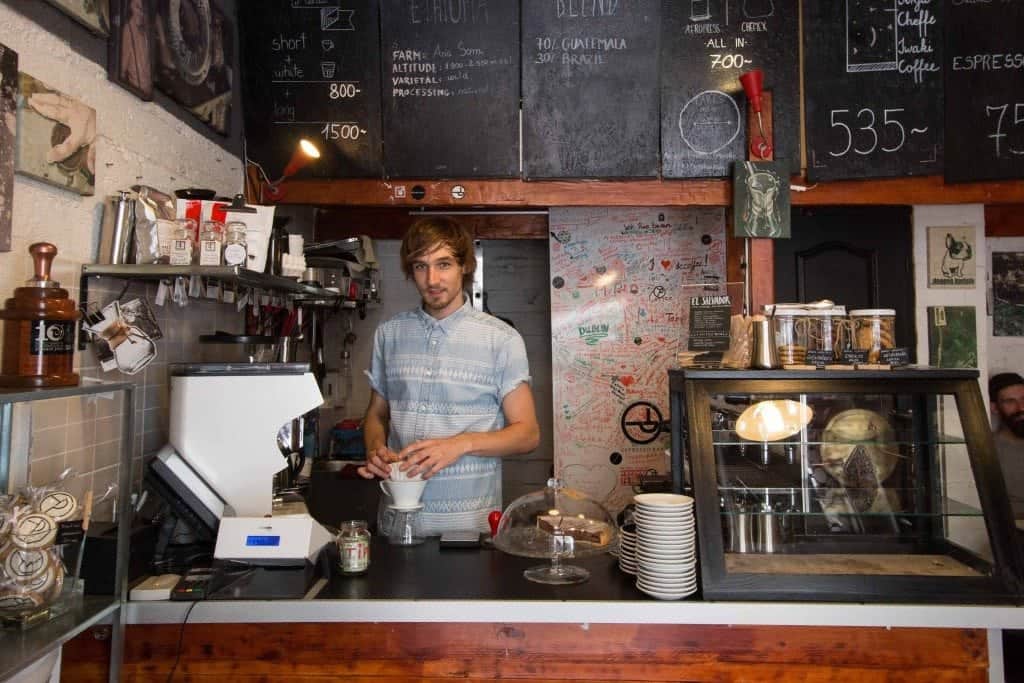 Regular coffee drinks aside though, we tasted one of the nicest signature drinks here. Called Peach, please, it featured an espresso of Ethiopian Yirgacheffe combined with CO2 foam of peach juice. Served in a skinny tall shot glass, it was the least expected, yet most delicious, tiny coffee drink.
Beside for their special drinks they serve Hungarian Revolution, a blend specifically created for Tamp&Pull and Kaffeine shops. At the time of our visit, they were also serving a limited edition espresso, an El Salvadorian from Has Bean.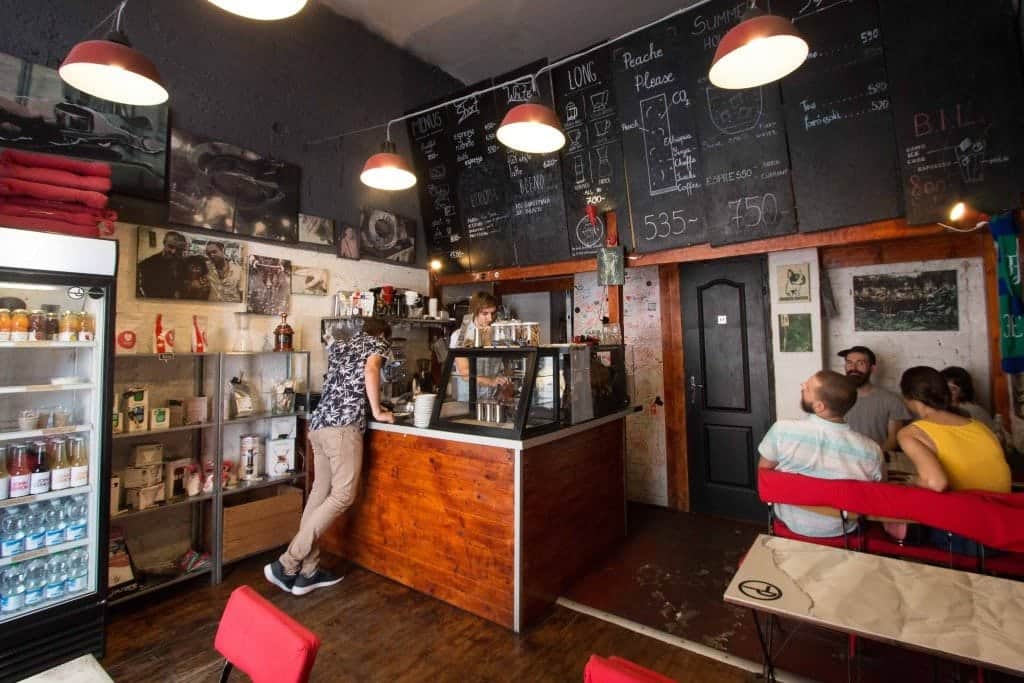 Come to say hi to their passionate baristas before heading to the Gellert Spa. It is definitely the closest caffeine kick you can get in the area, with the views of the Liberty Bridge.