As a passionate traveller and a digital nomad I have been able to combine my job and my hobbies, while sometimes discovering not only the touristy, but also the more hidden gems of beautiful countries. One of them was Lisbon, Portugal, where I spent almost a month after a big journey around Asia and Australia. I discovered their specialty coffee scene, working on my laptop while looking at the sea shore from behind a cup of filter coffee. The coast breeze is definitely great in combination with a cup of coffee!
WISH slow coffee house
Slow Coffee House – as they call themselves, is located a bit further from the city centre. You'll find it in the hip LX Factory amongst many small hand-craft shops, galleries and restaurants. Stop there if you go to Belém or to see Ponte 25 de Abril, the famous red bridge.
Opened last year and run by Portuguese, this café is part of Wish Concept Store, selling design clothes, furniture and home accessories. They can seat around 20 people, and offer both espresso and filter coffees.
As I mentioned before, they present themselves as Slow Coffee House. This is for a good reason. I tried a Chemex and a V60, also on rocks, but you can order an Aeropress, a French Press or a Vacuum Pot as well. They roast their own coffee in small batches, and during my visit they had a very nice Kenya AB Iyego Gatubu.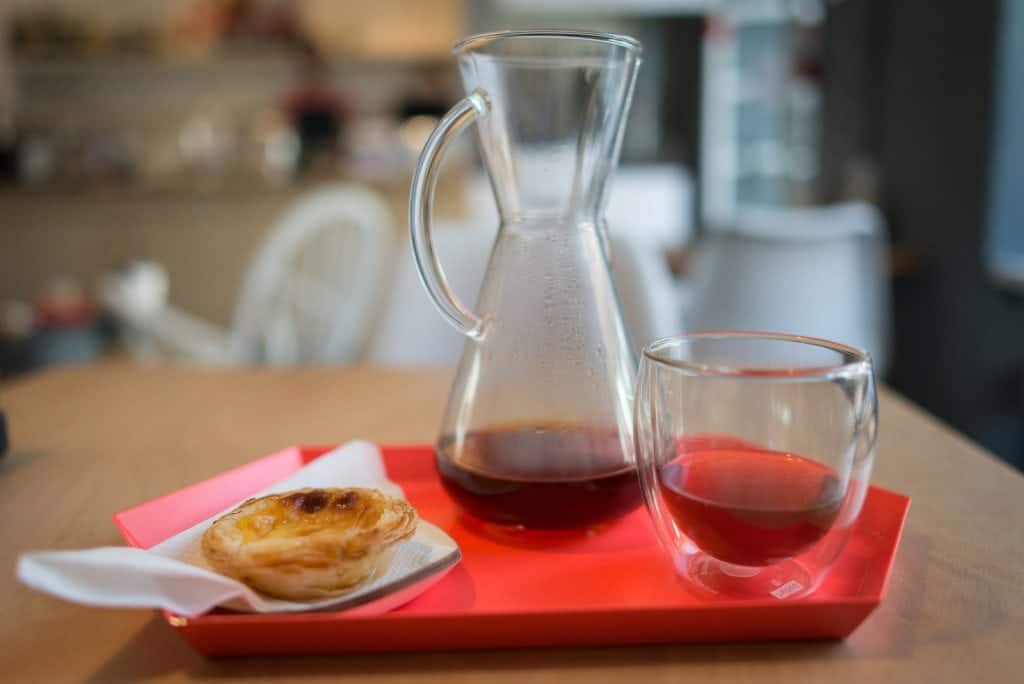 As much as I appreciated their filter coffees and their beautiful Pastel de Natas, I could not but think they needed a bit more time to find the way to serve their espressos. For me it was a tiny bit too dark in flavour, which is quite convenient to Portuguese though, who drink their coffee with loads of sugar. They will certainly come to the discovery of the naturally sweet espressos.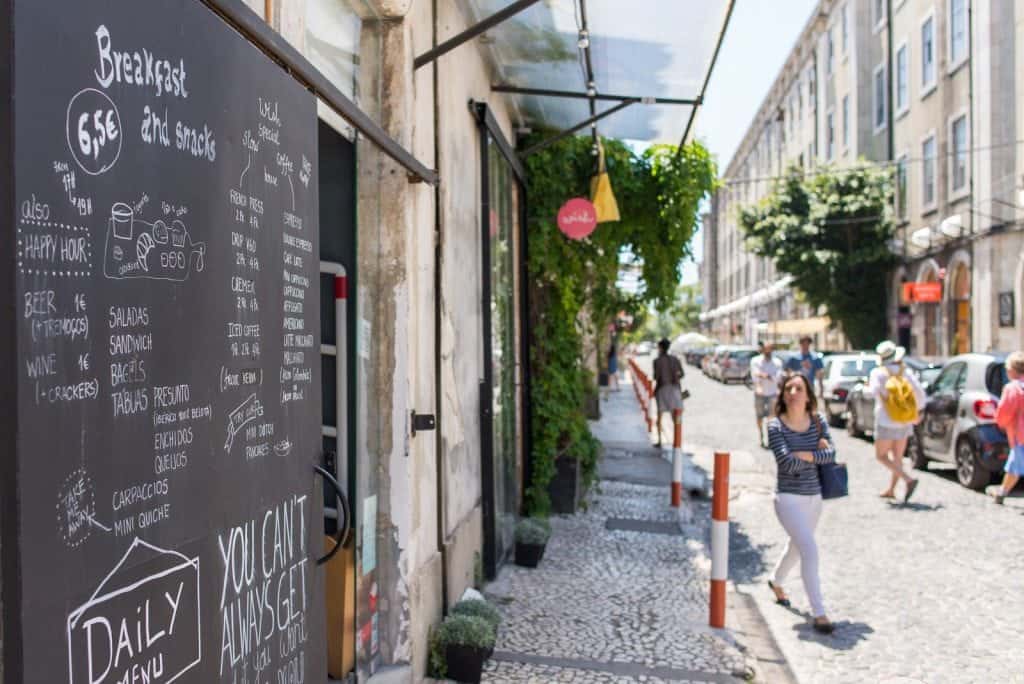 On top of the traditional sweet Portuguese pastries, you can also come for a brunch or a proper, yet light and healthy meal here. I tried a salmon bagel and an anchovy salad, both were a nice surprise, and I knew they put a lot of effort to balancing the taste and the appearance of the food. It was more expensive than a typical Portuguese food, bud opposed to touristy restaurants in the city center, I got what I paid for. And they serve lovely pancakes as a dessert, too.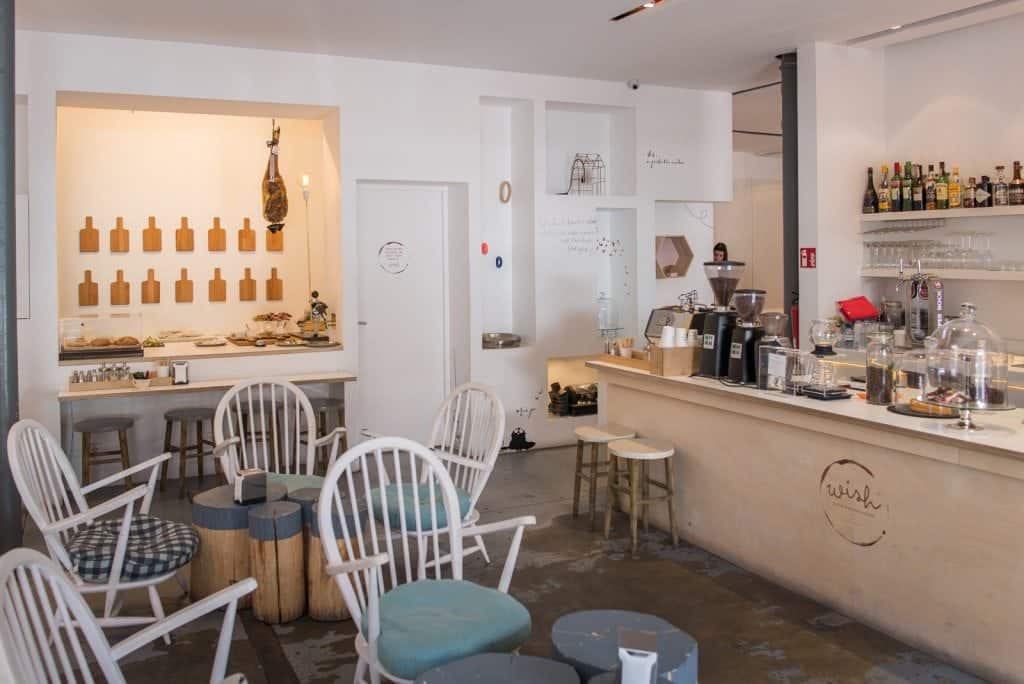 I spent almost two days working at this cafe and I realised most of their customers are tourists. They just come to visit LX Factory, and then the smell of good coffee drawns them in. It is only sometimes that people from the other shops and restaurants stop there for a fast sip of espresso or some espresso-based drinks to go.
Copenhagen Coffee Lab Lisboa
Copenhagen Coffee Lab was definitely my favourite café in Lisbon. It's a branch of the Copenhagen Coffee Lab roastery and, to no surprise, all the baristas I met there were from Denmark as well. Even the interior design is strongly influenced by the nordic style. From the first moment I could really see the big difference in approach to service. I believe Portuguese gastronomy still has a long way to go. Fortunately, Copenhagen Coffee Lab didn't bring only their coffee, but also the "customer first" approach to business.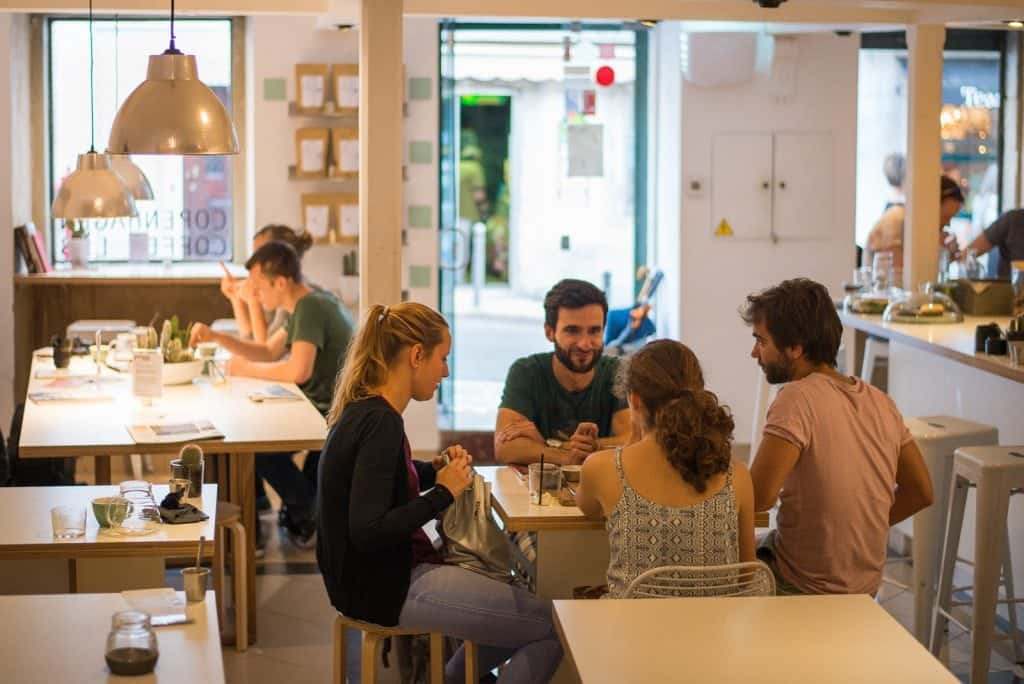 "We don't want to change the coffee culture in Portugal," one of the owners explained. "Locals are used to enjoy good coffee. We just want to add great quality and show them that dark roasted coffee with sugar is not the only way you can drink it," she added. And I think they are very successful at it. Copenhagen Coffee Lab is located very close to the touristy part of the city and the price of their espresso is almost twice as expensive as at a usual Portuguese café, yet most of their customers were locals and many of them ordered a filter coffee. Great job!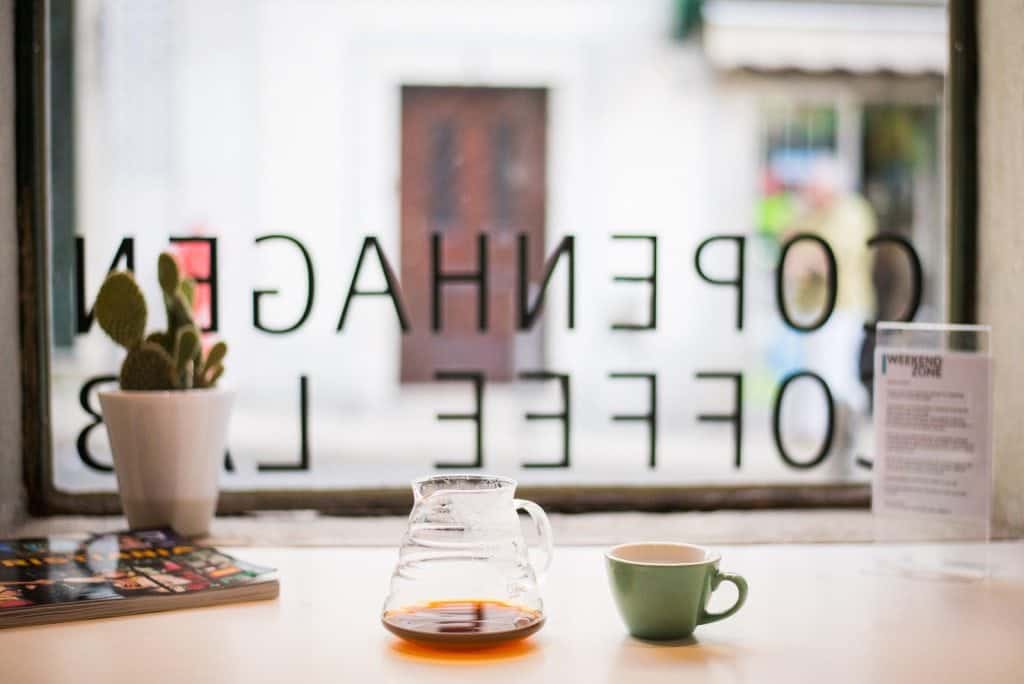 They also serve breakfasts, small snacks and lovely homemade cakes, but their main focus is on coffee. The shop runs an Astoria Gloria coffee machine for espresso, and you can choose between V60, Aeropress or French Press brews.
Montana Lisboa Café
Montana Lisboa Café, Lisbon's newest café built-in in a converted warehouse serving specialty coffee, is located literally five steps from the river Tagus, in central Cais do Sodré. Montana Lisboa Café shares the space with a street art shop and a gallery, and I was quite surprised how well this combination works. However, I still preferred a sunny table at the river promenade, in front of the building.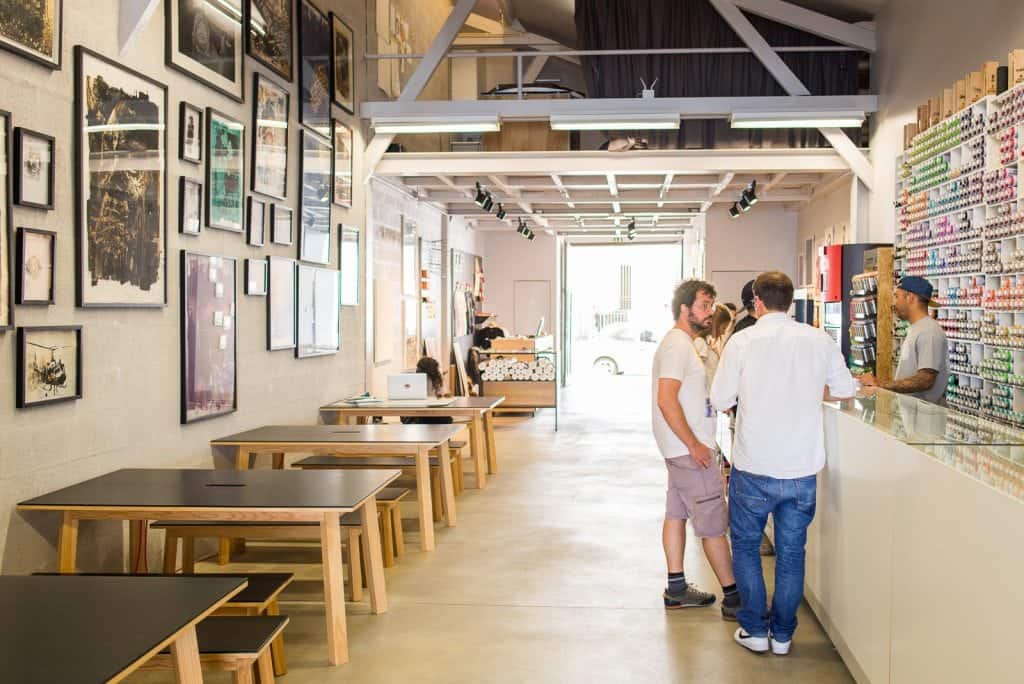 I tried a nice kenyan V60 from Barcelona-based Café de Finca coffee roasters, which was nicely paired with the pink, so called rainbow salmon bagel. I liked the view over the river and the weather was just perfect, so I ordered a glass of sangria and stayed there for more than an hour reading a book and watching people. Again, almost all the customers were tourists, often coming for food, a sangria or a locally brewed craft beer. Coffee was not the main target of the visitors. Before I left, I ordered their espresso as well, for which they use a blend from Café de Finca and brew it on a La Marzocco coffee machine. I got a very good cup with a proper crema and a balanced taste.
Unfortunately, I got the same impression from the service as in many Lisbon restaurants, where I missed the joy of work and passion for often a very nice product they sell. Hopefuly this will change soon.
Rua da Cintura do Porto de armazém A, nº20, 1200-450 Lisbon
Website, Facebook
Fábrica Coffee Roasters
When I arrived in this café on my last day in Lisbon, immediately I blamed myself for not coming earlier. The owners take the business very seriously – in the best way possible. Stanislav Benderschi opened Fábrica Coffee Roasters in June 2014 on the Avenida de Liberdade, in the heart of Lisbon. He was influenced mostly by the German coffee scene and his approach is very similar to Lisbon's Copenhagen Coffee Lab branch. He wants to help Lisbon's coffee scene to get to the next level, and I think he is doing a great job.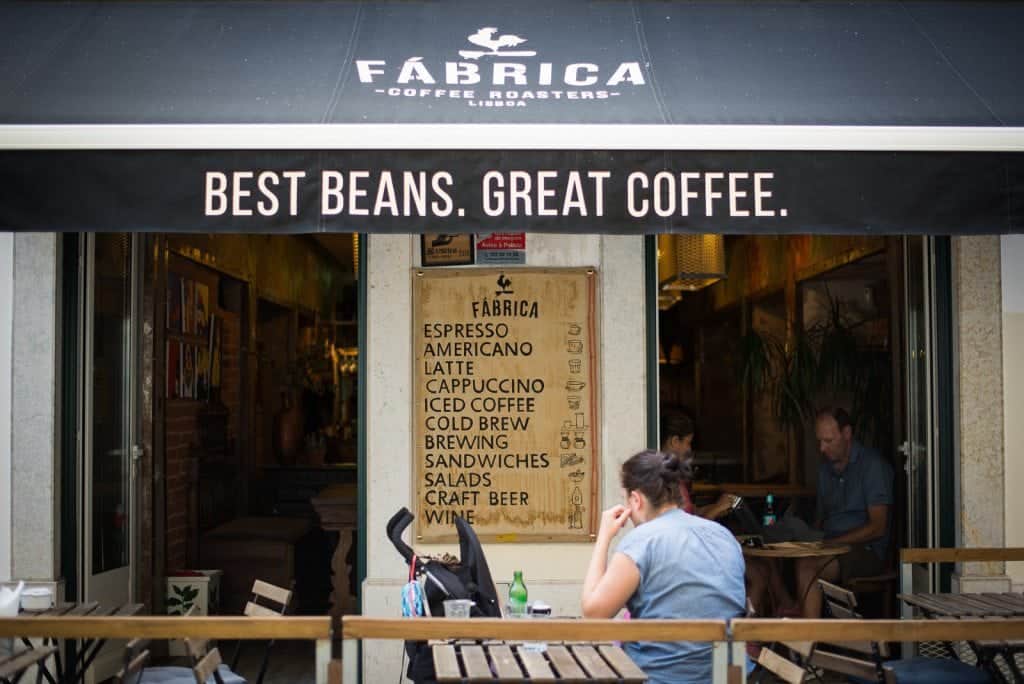 First of all, I noticed their splendid Probat roaster and a very intense smell of coffee. They also make both espresso, using La Marzocco GB5, and filter coffees. In contrast to the clean and light design of Copenhagen Coffee Lab interior, Fábrica Coffee Roasters brings a combination of red bricks and wood to make the café very cosy, despite its greater size.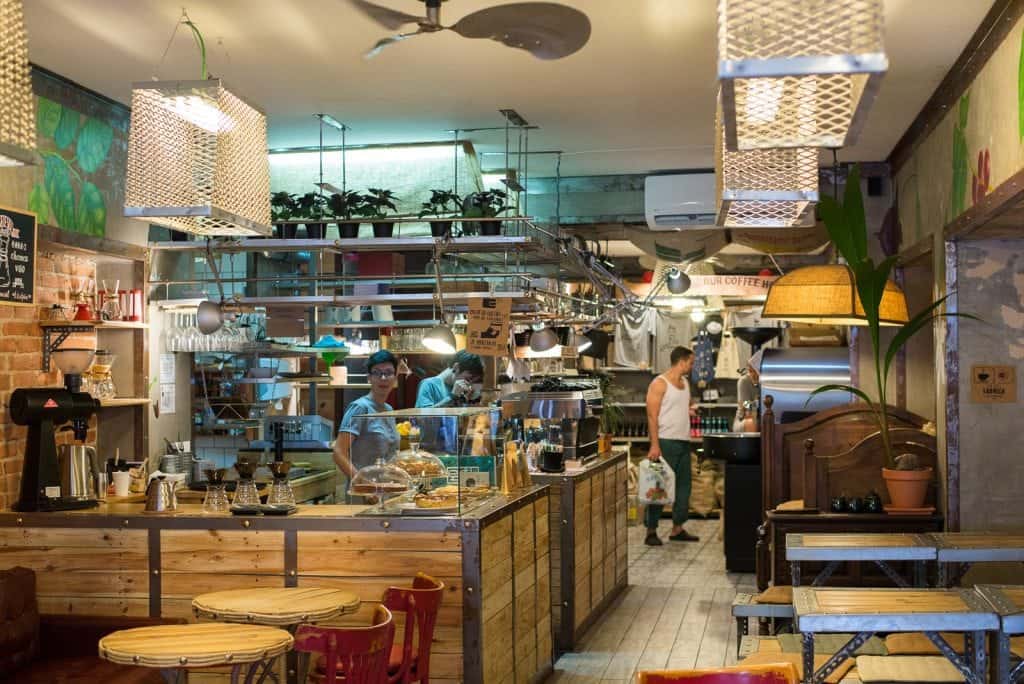 I ordered another kenyan V60 and the traditional custard-filled pastry I got to taste several times in Lisbon, Pastel de nata. The rich fruity taste of coffee and the sweet, but not too sweet pastel worked very well together. So I got one more pastel, this time with a nice balanced espresso. I should mention I usually do not like sweet stuff, especially with custard. But those Portuguese pastels are absolutely outstanding.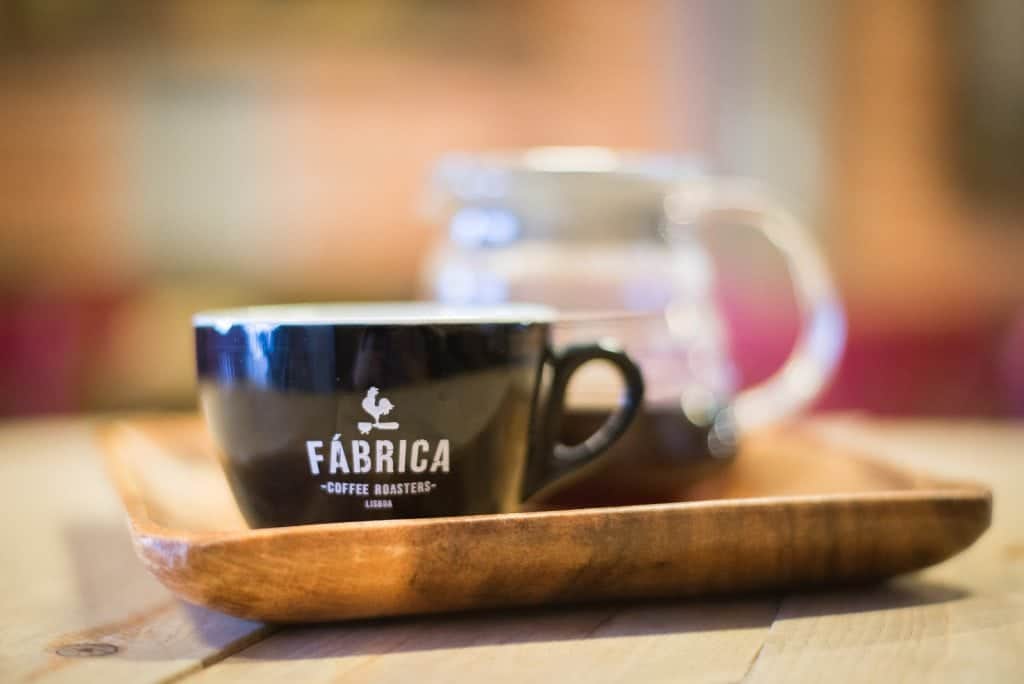 R. das Portas de Santo Antão 136, 1150-265 Lisbon
Website, Facebook
I left Portugal enticed by the growing specialty scene and the sweet treats, also hoping for further development of the service and more and more places popping up around this beautiful sunny city. Perhaps Lisbon will become as famous for its coffee as it is for its Pastels de Nata!