If you still believe tea is the main and the most important beverage in the United Kingdom you have probably never been to Brighton. And that's a pity because it has got so much to offer!
Small London. That is what Brighton is called in England and you could not think of a better name for this exciting, openminded city. During the past few years Brighton has become a centre of modern social life and an attractive short-stay touristic destination. The rapidly expanding coffee scene is one of the contributors to the growing popularity of Brighton. Let us take you on a coffee tour through Brighton's popular coffee shops.
Small Batch Coffee Roasters
Probably the most famous coffee shops all around Brighton are those of Small Batch – a company which started as a roastery over six years ago. Since than the company has largely developed and five more shops have been built. I'd recommend to visit them all since each of them has got something special to offer. If you have to pick just one go to Jubilee, the most popular branch amongst Brighton's residents. Situated in the heart of the city centre on the ground floor of My hotel it is easy to find while walking through the streets of Brighton.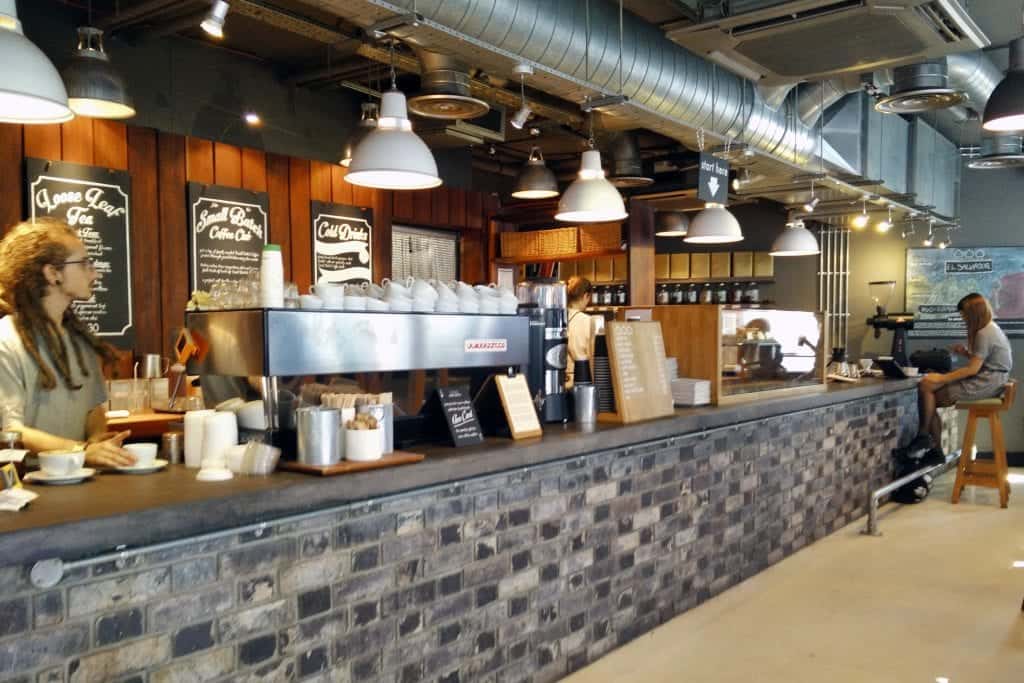 Friendly atmosphere is the first thing that hits you as you pop in. Everybody is smiling, welcoming you warmly and you instantly feel comfortable here before having a look around the shop. "Small Batch and its regular customers create something like a new little world" says one of the baristas Scott. From his point of view it is the very atmosphere what makes it unforgettable, "and the best coffee" adds always smiling Scott when pouring a V60. The interior is very simple. Wooden stools and tables, nothing posh, yet very clean and cosy with a remarkably long stone espresso and brew bar – possibly the longest counter you have ever seen.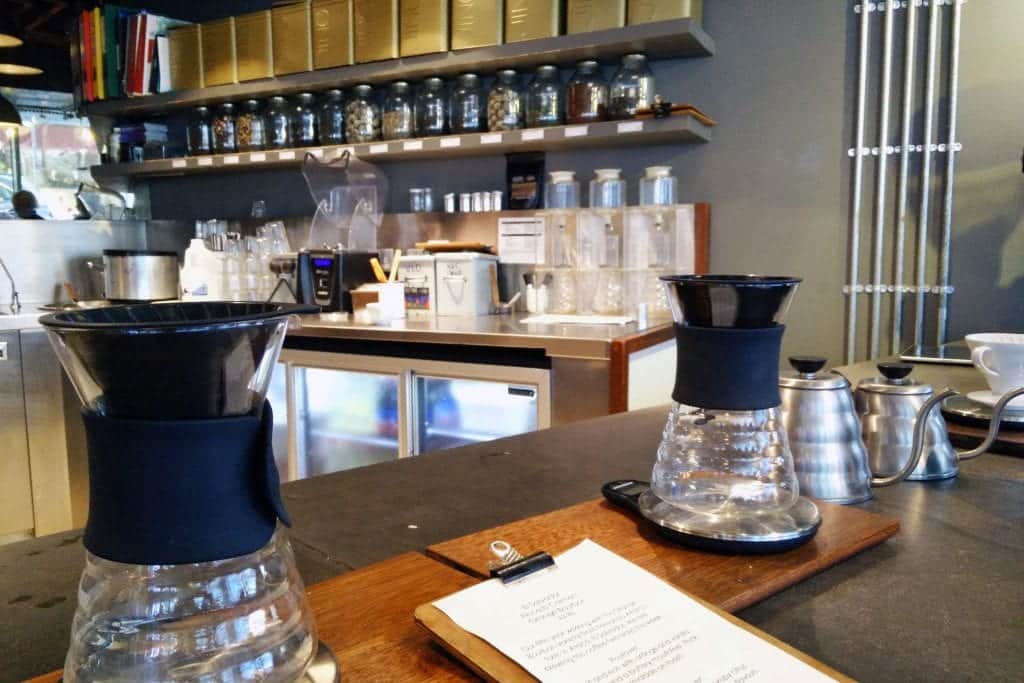 Small Batch is roasting and serving coffee of small batches, which gives the company its name. Batches are no larger than 12 kg to ensure the freshness of every roast done on a Diedrich roaster. A La Marzocco Linea 4 Group and a Nuova Simonelli Mythos I grinder are used to brew espresso based beverages with a house blend of Guatemala, Mexico and Ethiopia. This produces a fruity and tasteful espresso. But it is the intensive, fresh smell you will fall in love immediately. And that all is just what you need when the weather is typically English.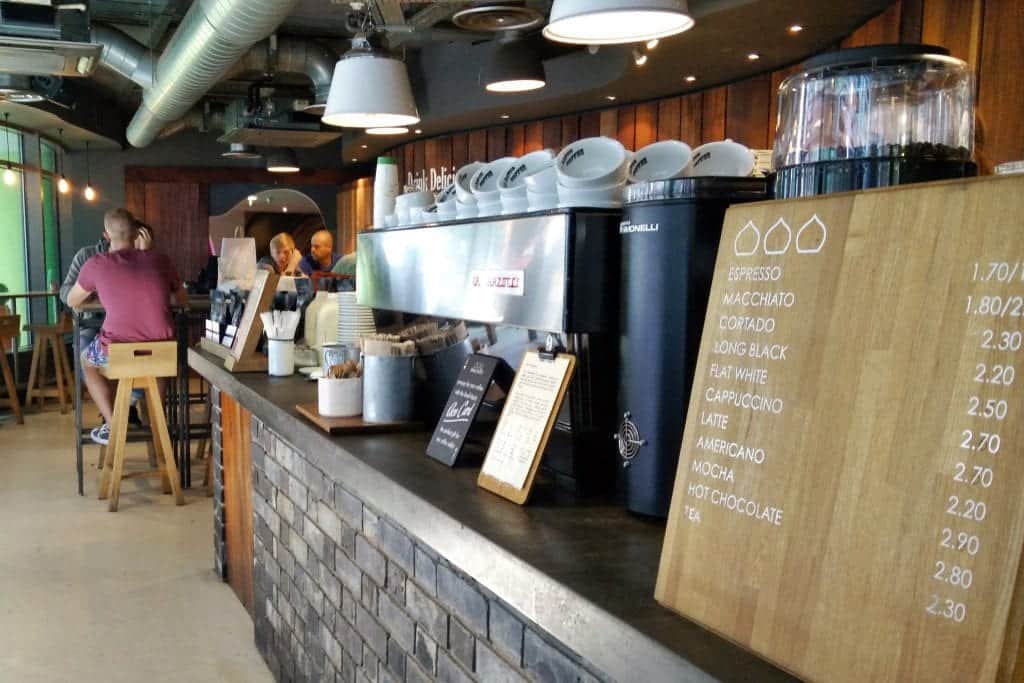 Luckily, Brighton is one of a few English places where the weather can be pretty nice especially during summer. If you are presented with a sunny day like this why not try one of their cold and refreshing drinks such as cold brew or iced flat white.If you are more like me and prefer filter coffee, sitting at the brew bar and watching skilful baristas preparing a cup of pour-over or aeropress can become the strongest memory you will have from Jubilee. El Salvador Finca El Carmen Orange Bourbon on V60 was just perfect.
17 Jubilee Street, Brighton. BN1 1GE
Official website, Facebook
Bond St. Café
Just around the corner you will find another great coffee shop called Bond St. Café. A small friendly café with interior furnished with vintage items that makes you feel at home.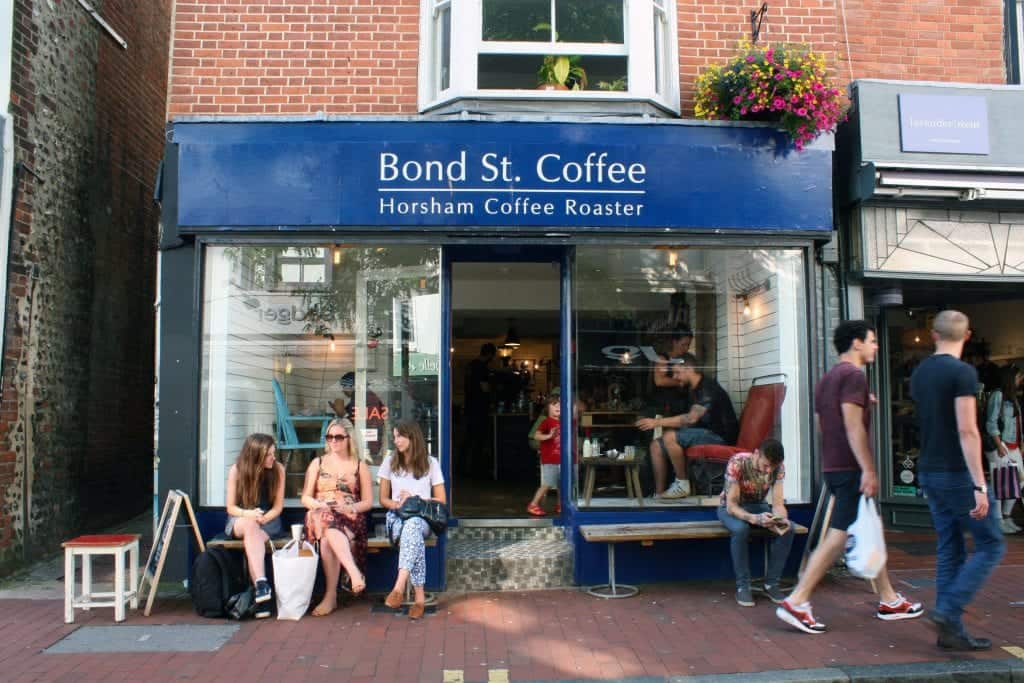 Small details are what makes the shop remarkable. A bike hanging from the ceiling in the middle of the café will not surprise you if its owner is not working that day, but the (which turned up to be one of their barista's when he just took it off and biked away) shelf with both new and old moka pots is one of many decor details to admire here anytime.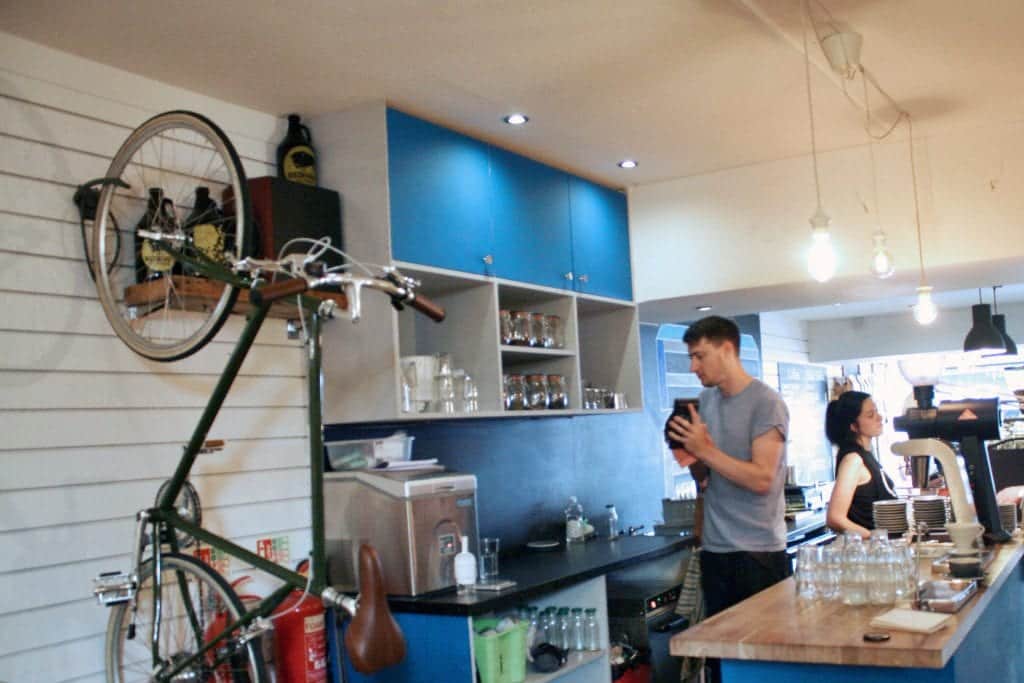 Their journey has started with opening a roastery in Horsham only two years ago. The objectives were simple – to source high quality ethically traded coffee and turn it into even higher quality roasted speciality one. You can judge whether they succeeded or not when visiting the Bond St. café yourself. A lot of regular customers, dedicated baristas and great coffee is a daily scene. And what are the goals now? "We just want to make people happy and thus become happy, too." says one of Bond's baristas.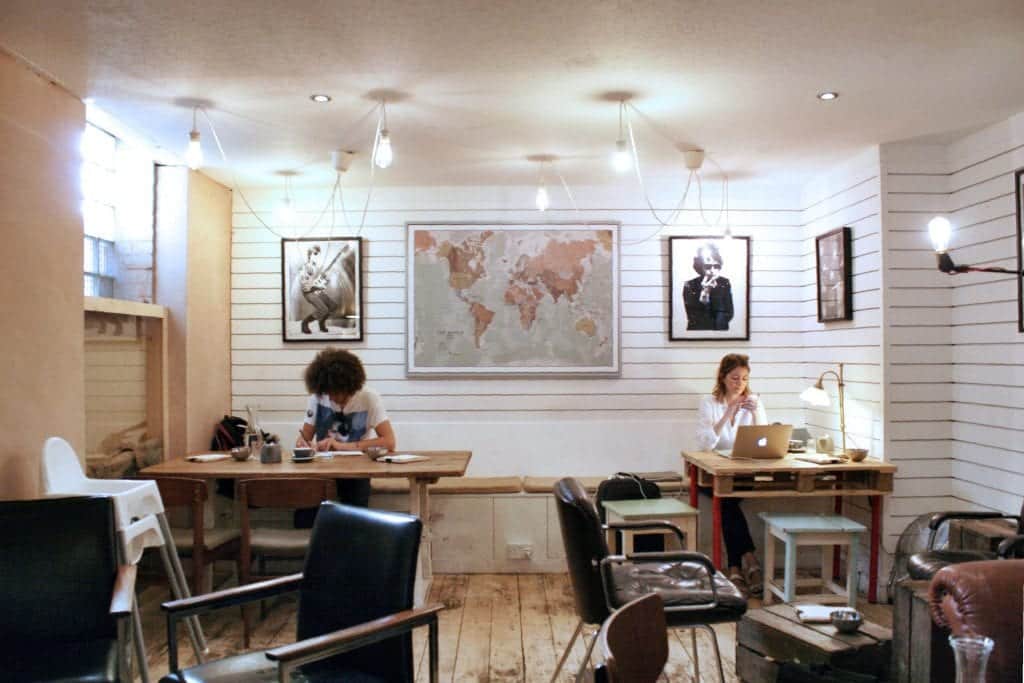 And so they do. No wonder their coffee is so good. They are lucky to have the equipment everyone would kill for – Customized Synesso Hydra Espresso Machine together with Mahlkoenig EK43 grinders. There are always two options to choose from – on espresso based drinks as well as brewed coffee (using Aeropress and/or V60).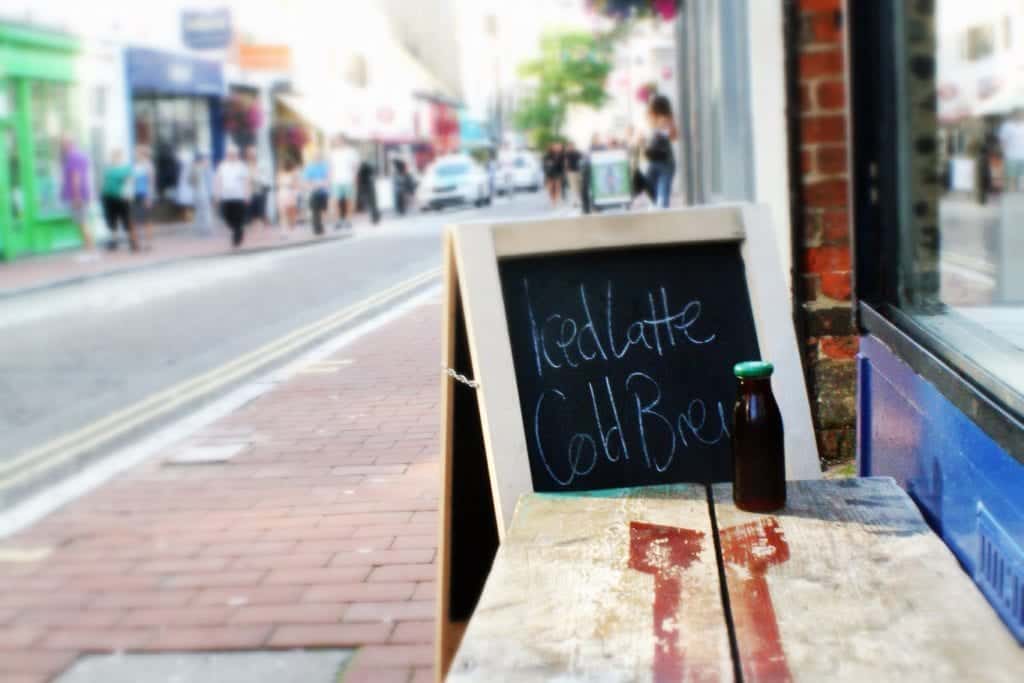 Every coffee they offer is of a single origin. We went for Costa Rica Finca Angelina espresso and Ethiopian aeropress – both really delicious. What we enjoyed the most was the smooth fruity taste of Costa Rican espresso. But the best was yet to come – Costa Rican Cold Brew! Served in small bottles which you can actually take away when in a hurry, that coffee was so refreshing and tasteful. And so was the smell – full of blueberries and blackberries as there were actually some inside. Best ending ever!
15 Bond St. Brighton, BN1 1RD
Official website, Facebook
Taylor St. Baristas
On the main road leading from the city's train station you will find a small coffee shop with a huge sign. You can't miss the white rosetta pattern on a black background resembling a tasteful cup of cappuccino. Named after a place in Australia where the owners (three siblings) come from, the first shop was opened in London more than 8 years ago. Nowadays the Taylor Street Baristas run eight shops in the Britain´s capital and since a lot of Londoners visit Brighton on a weekly basis, opening one branch near to its main station sounded like a good idea.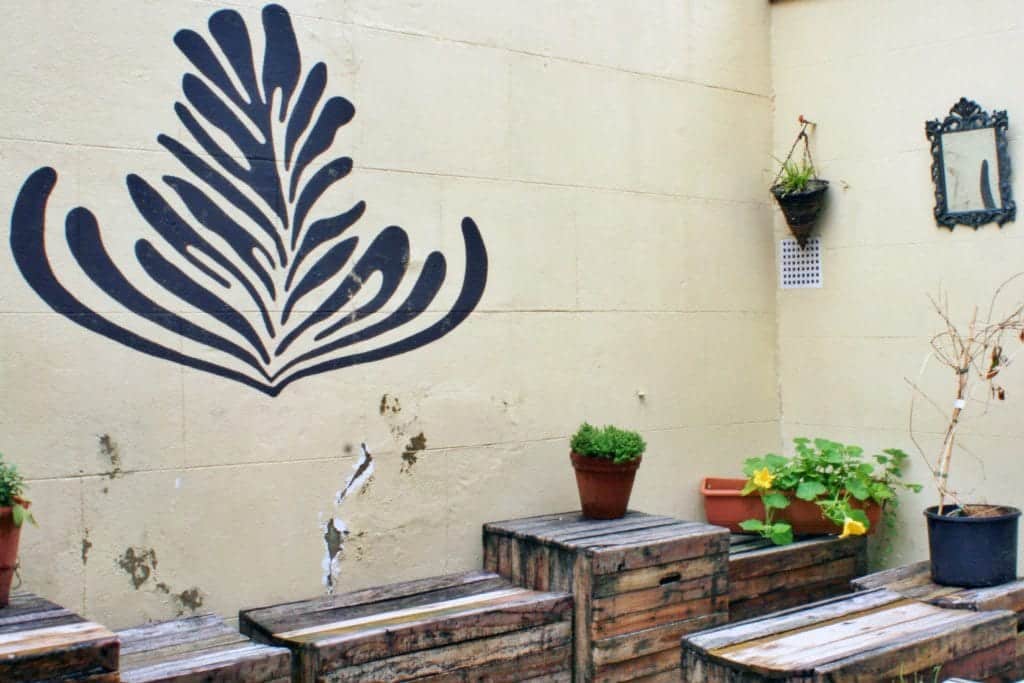 To get an espresso or a filter coffee you need to make a hard decision first. Deciding between a house blend roasted by London Union Hand-Roasted and a guest roastery, in this case Has Bean. We decided to try the house blend espresso and Has Bean Ethiopian pour over.
As the double shot of the Ethiopian and Brazilian blend was surprisingly strong but balanced, Has Bean's Ethiopian delivered the same high quality cup we are used to. Floral aroma and fruity taste remained until the coffee started to cool down when chocolate and berry-like taste came up.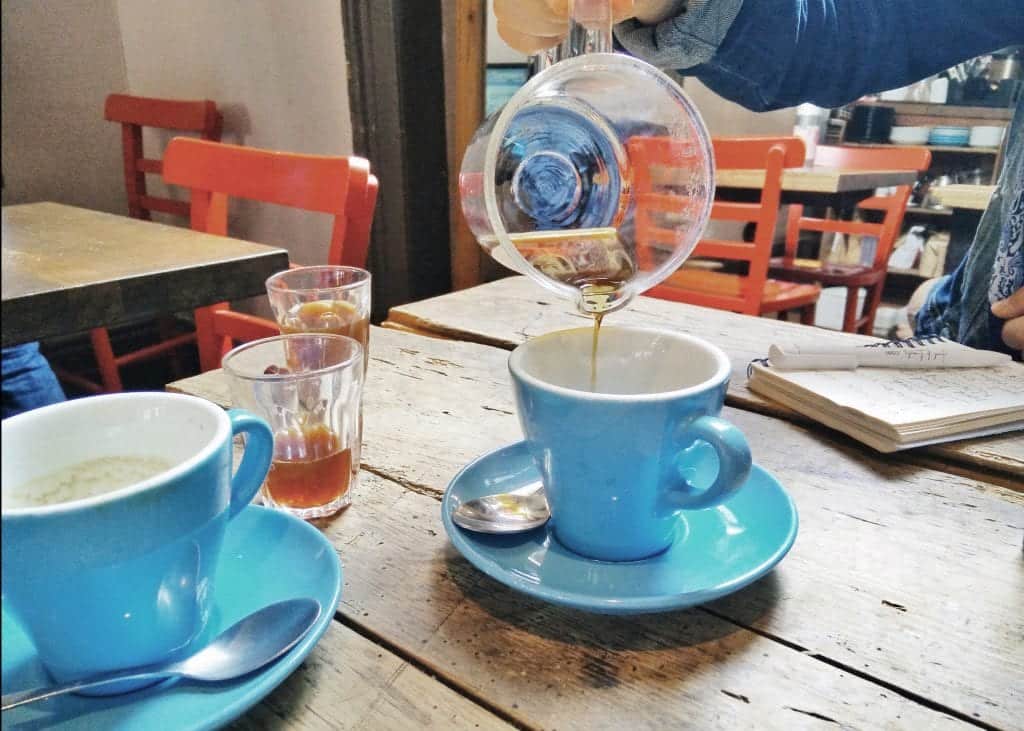 With a wonderful hidden garden and small red chairs, Taylor St. appears to be almost magical. As the Czech barista Hana, who we recognised only due to wonderful Czech music playing during our visit, told us: "People visit our coffee shop not only to get a cup of great coffee but because they feel relaxed here".
28 Queens Rd. Brighton, BN1 3XA
Official website, Facebook
Coffee @ 33
The best thing about visiting Brighton's coffee shops is that you will not spend too much time travelling between them. Since the town centre is rather small you will be able to visit all 4 cafés within no more than two hours. We closed the circle with a visit of the last cafe called Coffee @ 33.
Even though they opened already in 2007 they are always trying to come up with new things. That is why they have started roasting their own coffee about 6 months ago to gain more control of the coffee processing.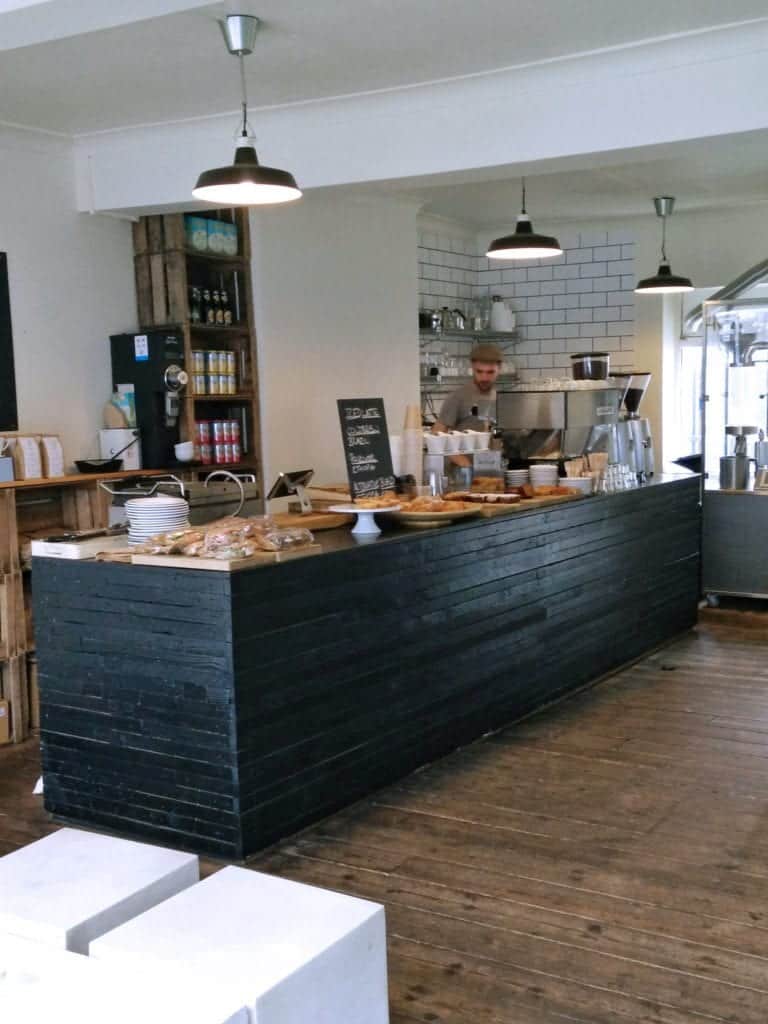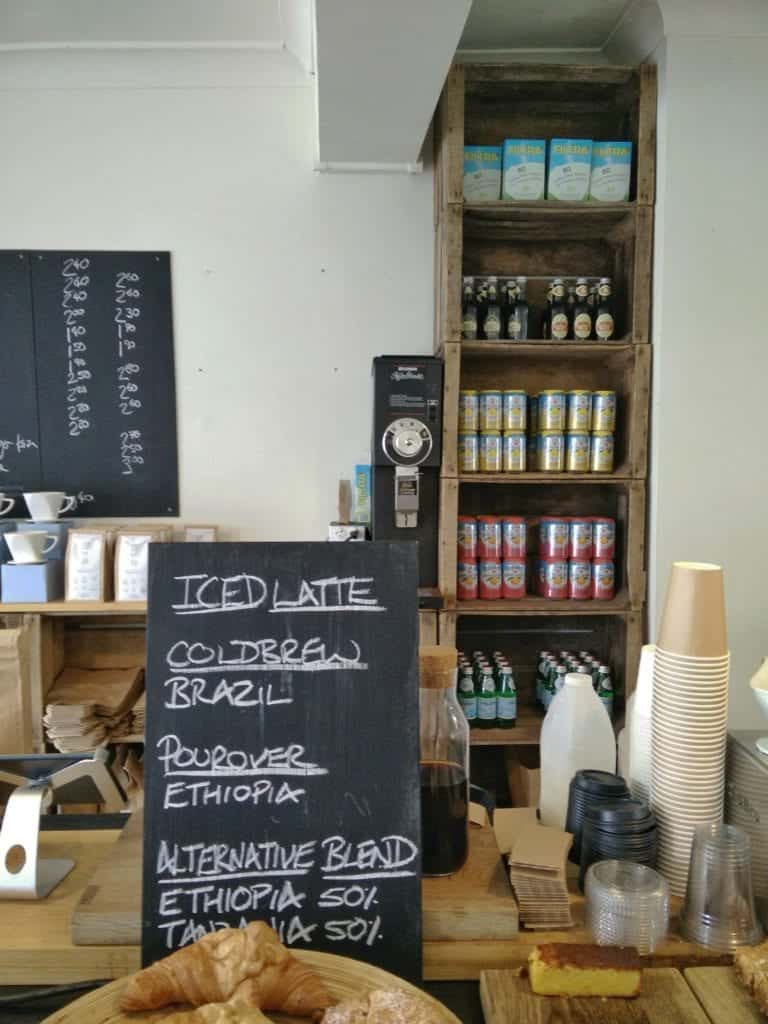 Although it offers a comfortable seating only to about 15 people sitting by the main window and enjoying the outside view sounds like a good idea. Plain interior with lots of exposed wood makes you feel closer to nature, a fact underlined by the absence of wi-fi.
When you are about to enjoy a cup of coffee I'd recommend to try the house blend made of 33% Brazil, 33% Colombian and 33% Tanzanian coffee – and no, it is not a coincidence they just love playing with numbers (the address is 33 Trafalgar Street).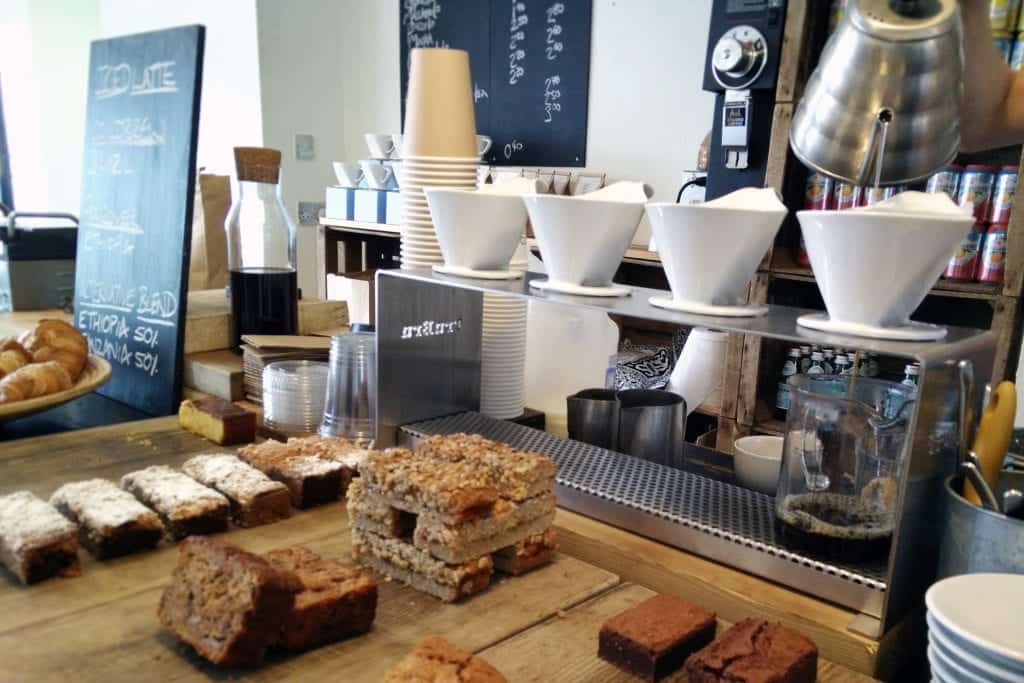 An ethiopian V60 with tea-like notes on the nose and sweet taste was served in a test-glass resembling chemical instruments. This made our day; it felt so alchymistic and magical, just as much as the friendly barista talking about other coffee shops we should visit. Well, another coffee journey is ahead!
33 Trafalgar Street, Brighton BN1 4ED
Twitter