Cork is a little gem of a city packed with culture, food and fabulous coffee, located on the south-west Irish coast. Named twice the European Capital of Culture, it teases with a vibrant mix of the harbour charm, medieval remnants and contemporary architecture. It is a great weekend getaway destination, with key landmarks such as the renowned 18th century English Market, the Cork City Gaol [Gaelic for 'jail'] and the Cork Opera House just a walking distance from each other.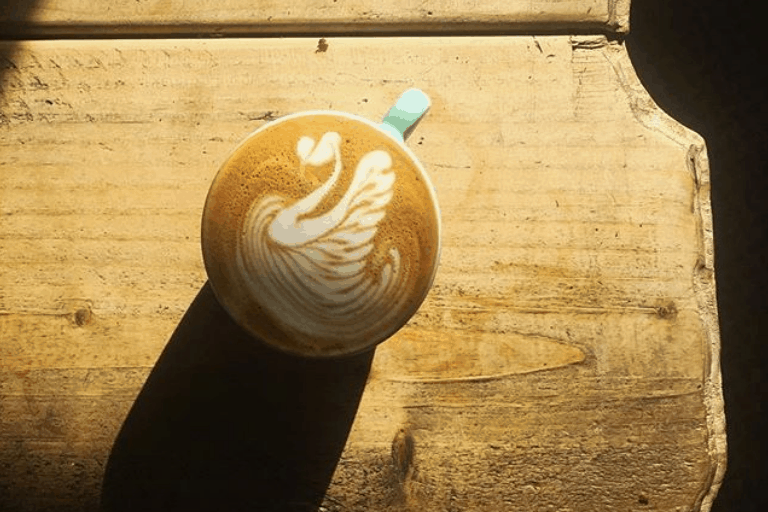 Cork also happens to be a real treasure trove for coffee lovers. The place boats a vibrant coffee scene. It is peppered with speciality coffee shops, stocking both household and international roasters—the Barn, Soma Coffee Company, The Golden Bean, Cloud Picker or Badger and Dodo are just a few of the variety of roasters you will come across in Cork. And the city also keeps busy event-wise. From regional championships, coffee cuppings at a local cafe to the annual Cork Coffee Weekend, coffee devotees will find something to enjoy a relaxed stroll across speciality coffee shops.

Follow me on my one-day visit to Cork and discover the cafes I loved.
Alchemy Coffee and Bookstore
Slightly off the beaten track, the cafe lives in Barrack Street. A lovely street-art mural greets visitors before they walk into this petite cafe. Have a quick look around; posters and trinkets decorate the walls, adding a unique twist to the cafe's decor. The tiny space is furnished with rustic furniture and bookshelves filled with books old and new; when paired with amazing coffee, it is a match made in heaven. Alchemy Coffee and Bookstore thus managed to create a laid-back, welcoming and intimate atmosphere to savour a coffee moment.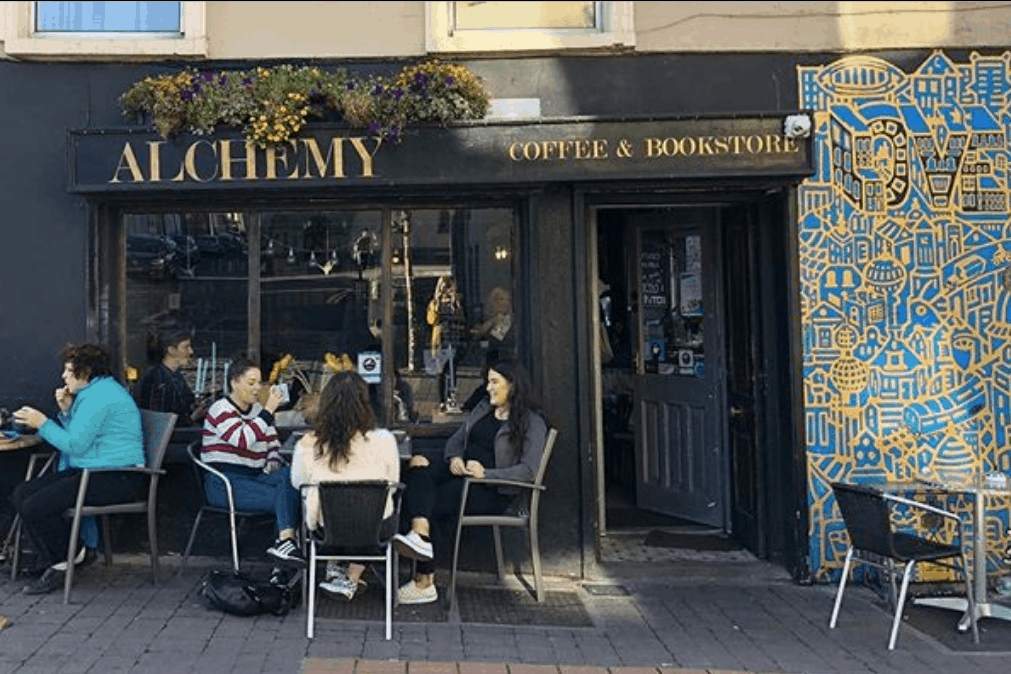 When asked how Alchemy was brought to life, owner Eoin Hurley told me: "Two friends, a common love of coffee and an idea that turned into a little bit of magic overnight. Alchemy's original partners Ronan Power and I never set out with an end goal in our dream of opening a coffee shop in 123 Barrack Street. For us, it was more about the journey. We both shared a love of fine coffees and decided one day to open our own coffee shop. Within a month from that conversation, Alchemy had been born. I can say wholeheartedly that the month in between was a whirlwind of love and creativity as Alchemy began to become a reality. So that is why we chose the name Alchemy."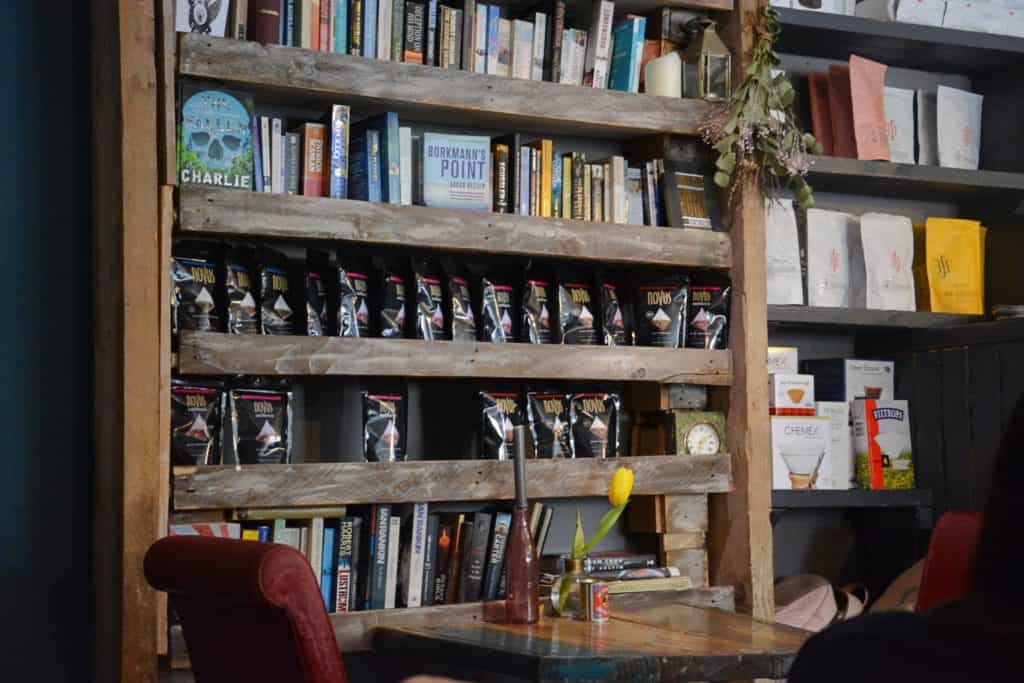 The cafe serves 3FE coffee from Dublin. For filter-coffee fans, there is an option of Chemex, V60 and AeroPress. The cafe even spoils punters with homemade bakes and savouries. My flat white, brewed with Passeio from Brazil, was creamy and quite rich. It had notes of chocolate and fudge and thus went perfectly with the home-made chocolate-and-rum brownie, served with whipped cream. No surprise Alchemy Coffee and Bookstore is continuously flooded with people.

123 Barrack St, The Lough, T12 WC93 Cork, Ireland
Soma Coffee Company
Soma Coffee Company, my next stop, is to be found in Tuckey Street, where it opened its doors in 2017. This cafe breathes minimalism with an industrial twist. The decor is simple yet classy, brightened up by strings of lights stretched under the ceiling.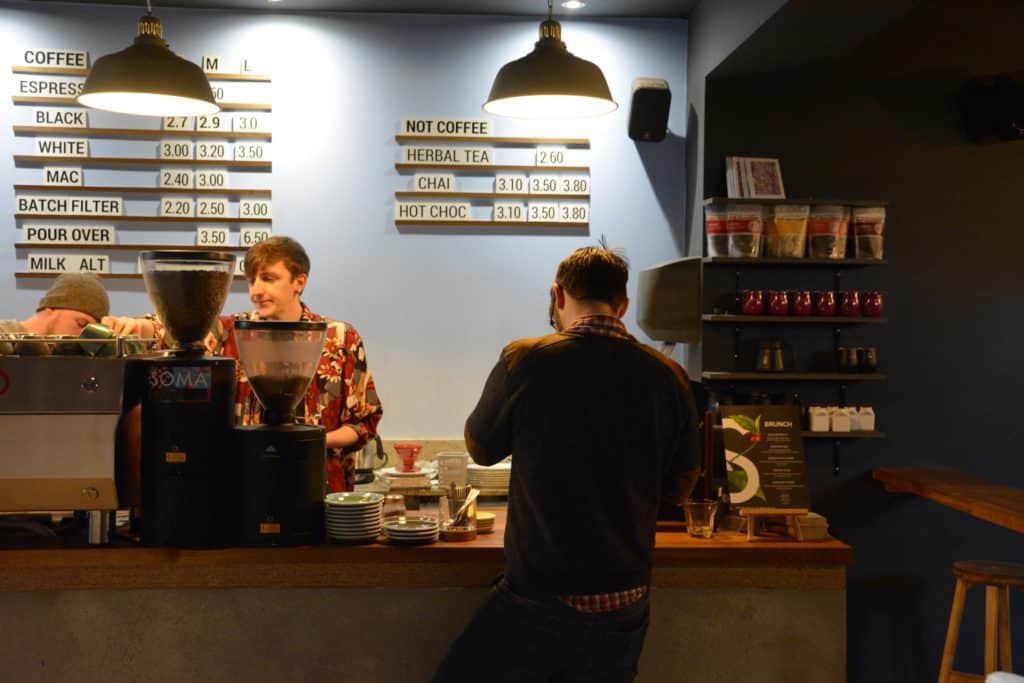 The crown jewel is the 6-kg Giesen roaster, neatly tucked away in the glassed room at the back. The layout of the cafe highlights the critical focus: coffee. As co-founder Alex Bruce said, coffee is "tireless, surprising, knowledge-evoking and delicious." To unravel its secrets, you need no distractions.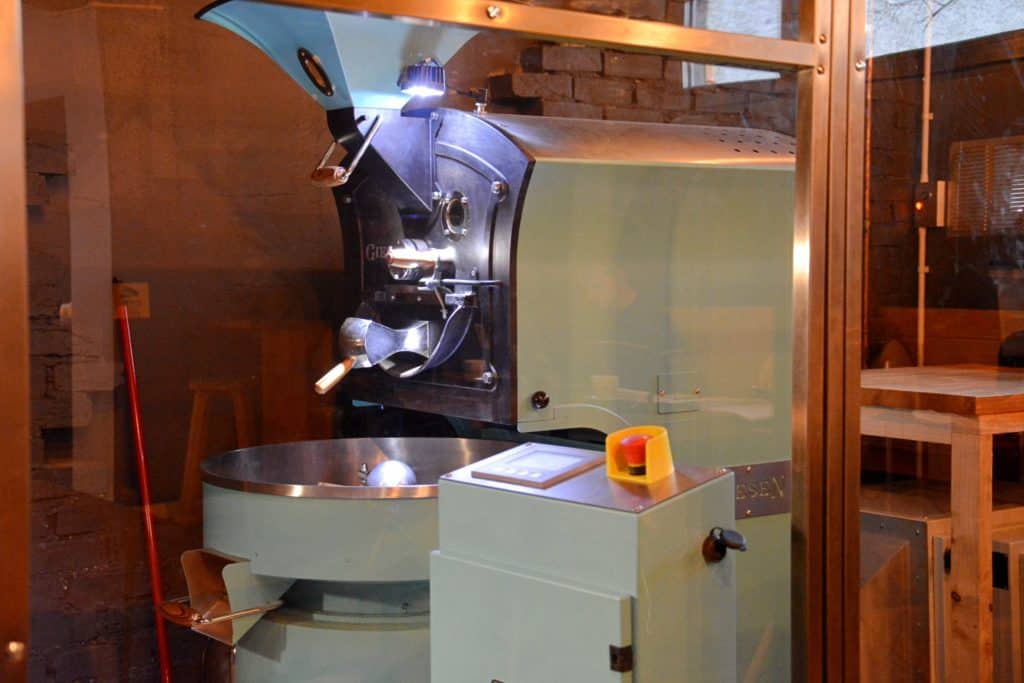 Soma serves a selection of their coffees, roasted fresh every week. From Chemex and batch brew to flat white, the guys behind the counter will make sure to keep your caffeine levels up. My flat white was brewed with La Martina, Columbia. I enjoyed its caramel notes and mango fruitiness. The menu is put together with fresh ingredients from the English Market, focusing on delivering delicious toasties and variation of egg dishes. The cafe also sells Tapio mugs, coffee travel mugs made locally in Cork.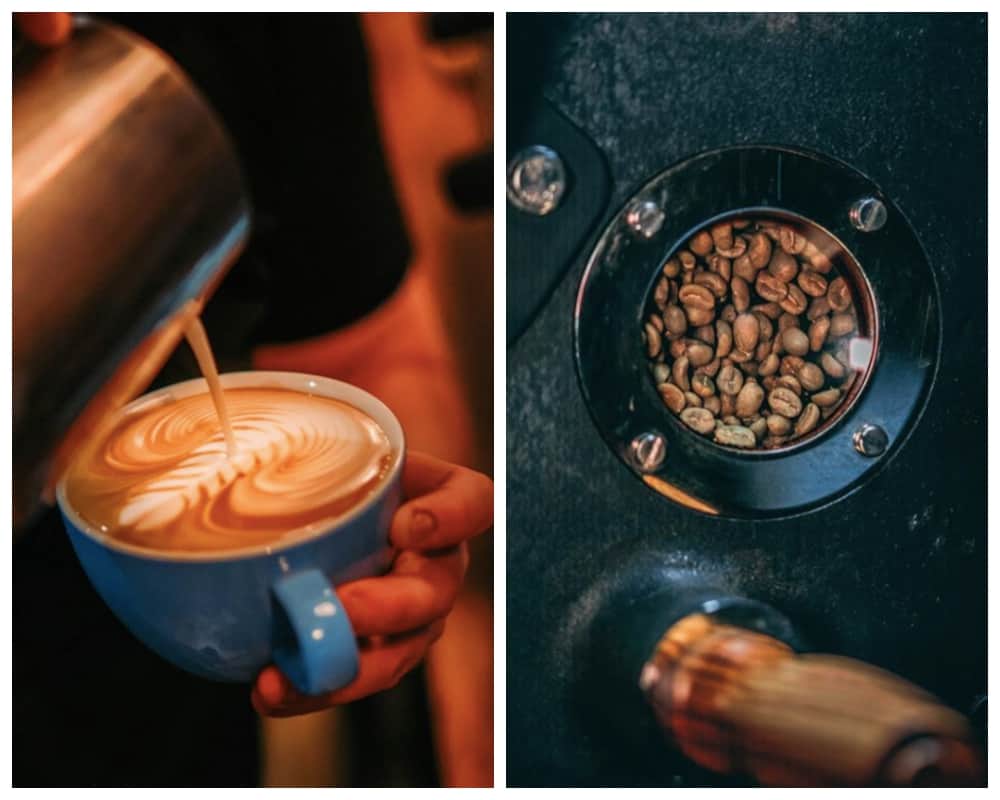 From using local produce to supporting reusable mugs, Soma really supports sustainable practices.
Tuckey St, Centre, Cork, Ireland
Three Fools Coffee
Gary McKeating and Kevin Foley had shown interest in a glass pod located on the Grand Parade, a newly refurbished area of Cork, before opening a cafe there in 2015. Three Fools Coffee became a great addition to the cafe scene as well as the area, thanks to Gary and Kevin's past experience in food marketing, the cafe/bar industry and office jobs. They were ready to dive into the coffee hospitality scene.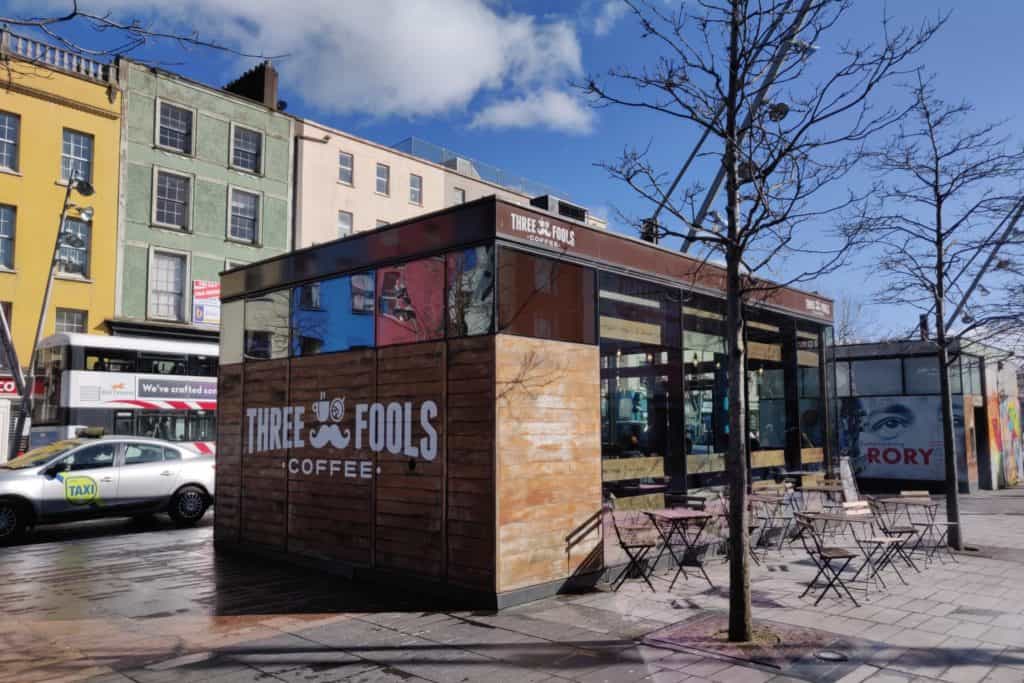 Gary explained what brought about the name of their business: "We were stuck for a name and someone told us that we were fools to be quitting jobs and opening a coffee shop. It was a completely different direction to what we were then working in. So Three Fools stuck."
To give the place a special character, they turned an old glass pod into a shop. The original material is combined with stained wood, resulting in a rustic, airy and bright cafe. The cafe basks in natural light from sunrise to sunset.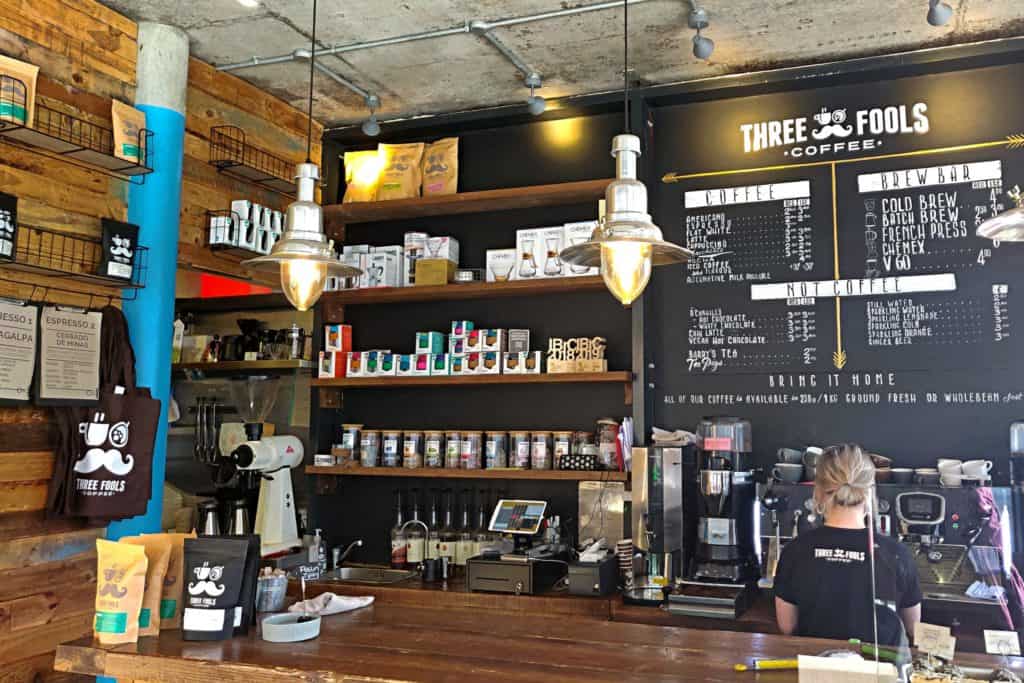 The interior is well assembled, showing some love for upcycled furniture such as school chairs or scaffolding boards. Singer sewing-machine tables pay a tribute to a shop of the brand located a few minutes away from Three Fools. Above the wooden bar, shelves are filled with coffee bags, showing the current coffee menu options.
The brew bar and espresso options are listed on the chalkboard board behind the barista, written in decorative letters.Three Fools work very closely with their roastery to select the best beans for their custom roast. At Three Fools, you are in good hands, especially when served by 2018 and 2019 Irish Brewers Cup vice-champion Alex Cregan. This time, I went for Cerrado De Minas, a Brazilian, with strong chocolate, and brown sugar notes.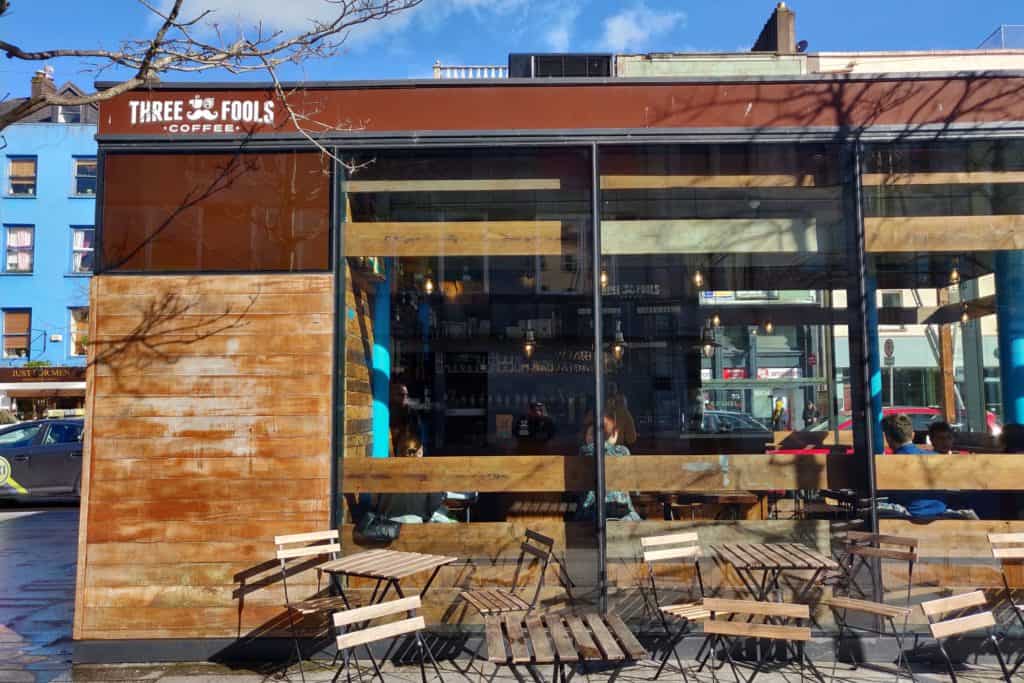 Gary told me: "Coffee makes the world go round," and added, "It is great to see Three Fools as one of the coffee shops that help the Cork coffee scene grow." At Three Fools, great coffee is made more accessible to everyone.
Kiosk 2, The Glass Pod, Grand Parade, Centre, T12 EE6N, Cork, Ireland
Filter Espresso Bar and Brew Bar
The renowned Filter Espresso Bar and Brew Bar is an institution for anyone who champions and cherish a great cup of coffee. Run by Eoin McCarthy and Alex O'Callaghan, this small coffee shop leaves a great impression with a vast collection of beans in jars on the shelves, supplied primarily by Cloud Picker and 3FE, two of Dublin's best roasters.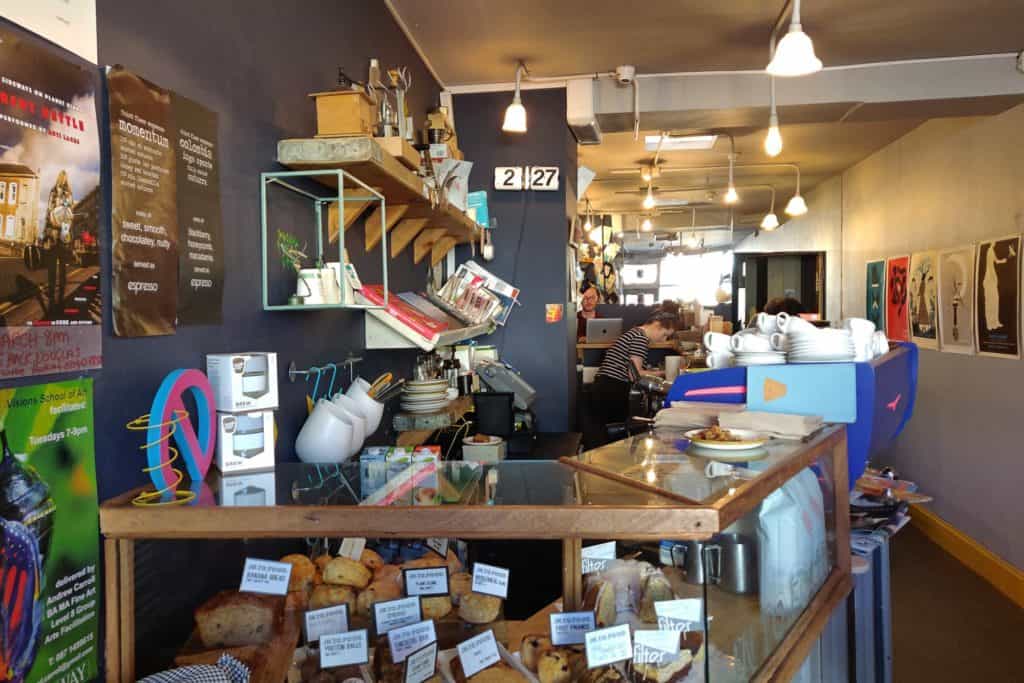 Before the opening of Filter, Eoin had set up the Gulpd Cafe at the Triskel Arts Centre, together with Jim Horgan of Plugd Records. After almost two years, he moved around different cafes, growing his passion for speciality coffee. But the name of the cafe actually came to him during a hangover stroll around Dublin city centre. "I suppose, for me, it holds a reference to music and my past as a DJ in Cork and around the country, and the obvious coffee connection to running a space that is not fully espresso-based."
Filter is a wonderful spot, full of posters and coffee gear peppered around the shop, and only upcycled furniture. From scaffolding boards to trumpets, these add to the character of the quirky space. Nevertheless, designing the set up of the cafe was tricky, as the goal was to seat fifteen people at most. As a result, there is a couple of tables by the door and a high top seating at the back of the cafe.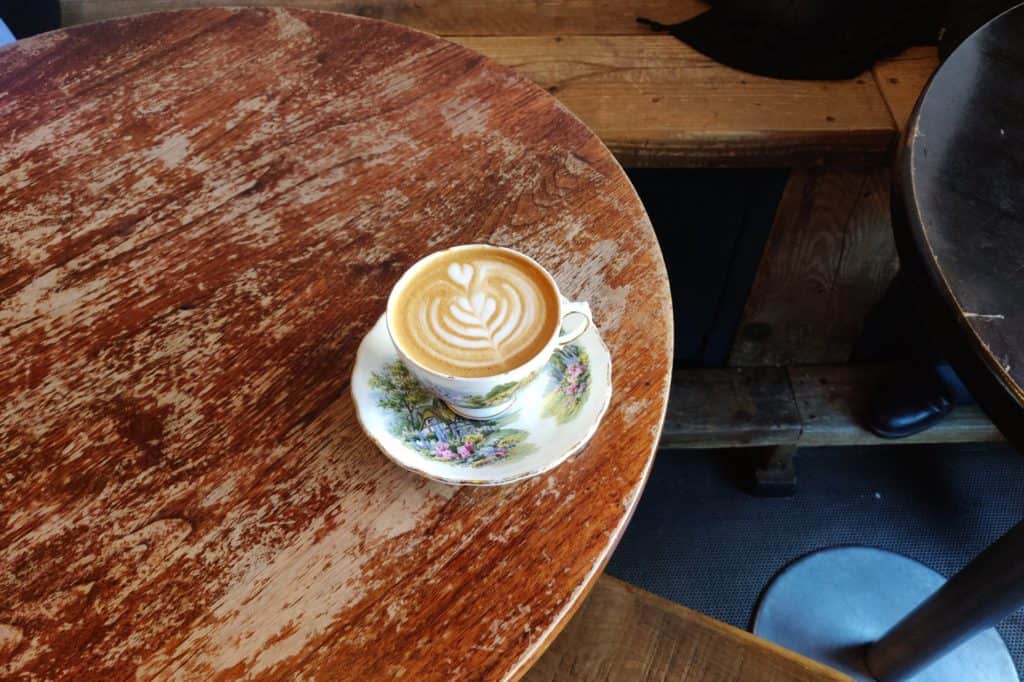 As soon as you enter, you are welcomed by a selection of baked goods from In.To.Food, a bakery also run by the owners. I sat at a table, ordered yet another flat white, and let my thoughts run wild. You can hear the delicate hum of their blue Victoria Arduino machine. Filter lovers can indulge in a variety of brews: AeroPress, Chemex, Hario V60, syphon, and Clever Dripper. Soon I could sip on 3FE's Momentum blend, suitable for both filter and espresso. It was a blend of Costa Rica, El Salvador and Brazil, and tasted like nuts and chocolate.
Filter turned out to be just the right place to finish my visit to Cork.
19 George's Quay, Ballintemple, T12 PR83, Cork, Ireland