Almaty is Kazakhstan's historical capital, with a population of almost two million inhabitants. Kazakhstan, a transcontinental country, is located between Europe and Asia, for which it is often forgotten by both Europeans and Asians when they reflect on the recent events on their continent. However, speaking about coffee and culture, a lot of European influence can be seen, especially in Almaty.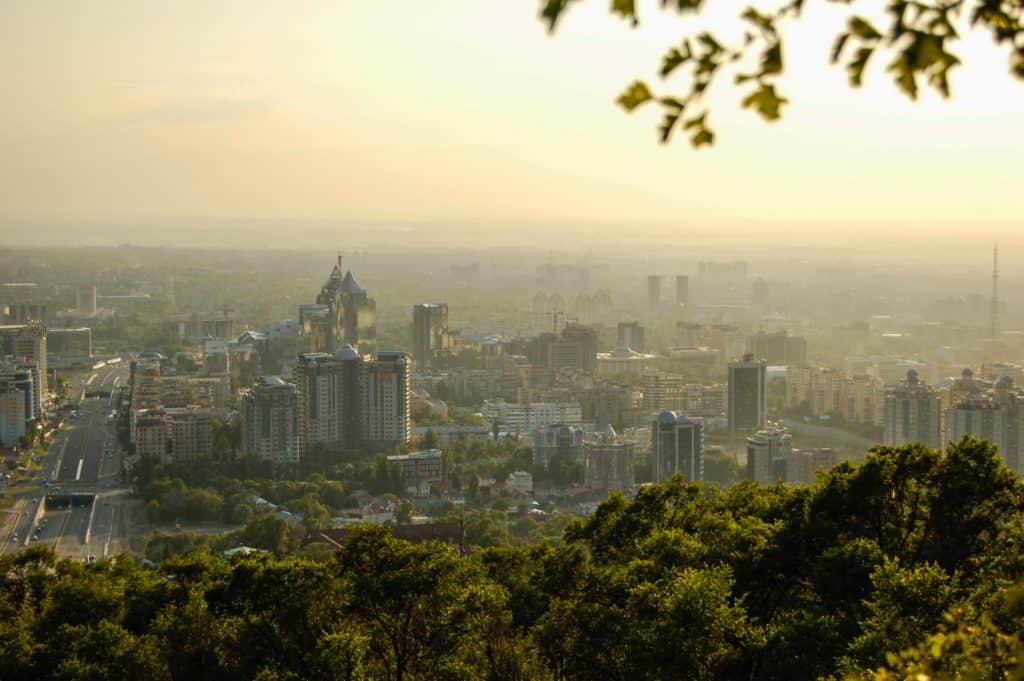 The city of Almaty can one remind a lot of Sofia, Bulgaria, with its mixture of former social modernist buildings, surrounding mountains and its emerging third-wave coffee culture—the focus of this article.
Spectre Coffee
One of Almaty's pioneers of the third wave coffee culture is Spectre Coffee, a wholesaler and supplier of speciality coffee, founded by Maria Mesheryakova and David Kim in October 2017. Originally, they wanted to open a coffee shop but found it difficult to work with different roasteries while ensuring consistency. To keep things more interesting, they chose to work on supplying coffee, as well as equipment themselves. Additionally, they started providing barista training and coffee-equipment repair services.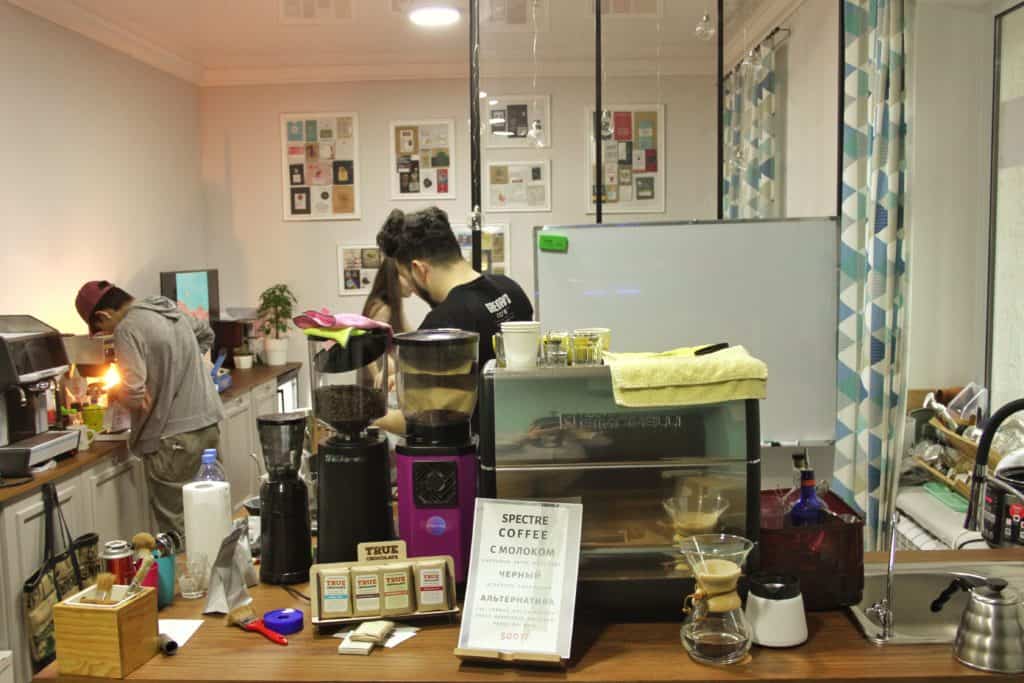 Spectre means a range in Russian, and as such, Spectre Coffee stands for a range of flavours, but also services for the companies they work with. Even though Spectre Coffee is not easy to find, the factory-looking building is, in fact, very welcoming.
The first person you will likely run into upon coming in will be barista Zhaslan Zhanatov trying different recipes on the bar, ready to offer you your favourite drink. The technician Aaron Kobenbay might be repairing an espresso machine, to the left of the bar. I spent quite a lot of time at Spectre Coffee in April talking to the team and tasting their espresso drinks. Their Colombia El Bombo especially stuck with me. Prepared on a Simonelli Appia II Compact machine—later replaced with a modified La Marzocco Linea—it had notes of lemon, dark chocolate and tangerine. I could never get bored watching Zhaslan training for the Kazakh Coffee in Good Spirits competition which was held that month.
Spectre Coffee's core value is to become a part of the community of restaurants, offices and other cafes that welcome people living in the area with transparency, friendliness and a helpful attitude.
Although Spectre Coffee is not a coffee shop per se, their door is always open to all curious about the taste of good coffee.
When David Kim started a discussion and a later collaboration with KOF roastery from Novosibirsk, it was for two reasons: Daniil Panov, one of the first Q-graders in Russia and now KOF's head roaster, and the distance that lies between KOF and Spectre. David was hoping to start a conversation that would lead to higher quality and consistency of their coffee. 1800 km that separate Novosibirsk and Almaty are a short trip in this area, which made KOF the perfect collaborator. While KOF takes care of the roasting process thanks to their expertise, they follow a roast style usually determined by Spectre. The coffee is later sold under Spectre's brand and label. This collaboration ensures the perfect experience for anyone drinking their coffee.
To further the knowledge of speciality coffee in the most developed coffee-drinking countries, David always brings various bags of coffee from European roasters, collected during his trips to Europe, for his team to try. David aims to open his staff's mind and improve their tasting skills constantly.
Spectre
Abay Avenue 30, entrance from Seyfulin Ave, entrance from the yard located behind the building at the streets' intersections.
Facebook, Instagram
FLASK Coffee / Chicken Star
Chihoon Jeong runs two businesses in Bishkek, the capital of the neighbouring country of Kyrgyzstan. Chicken Star and FLASK Coffee opened in 2015 and 2017 respectively. In 2019, Chihoon Jeong opened his newest location in Almaty. FLASK Coffee / Chicken Star is a merger of a Korean chicken restaurant, coffee shop, and art space. It opened during my visit, and I happened to stop by on day one and got to try their coffee supplied by Spectre and Sinsilyo roasteries. I also had their fantastic chicken, but let's focus on coffee.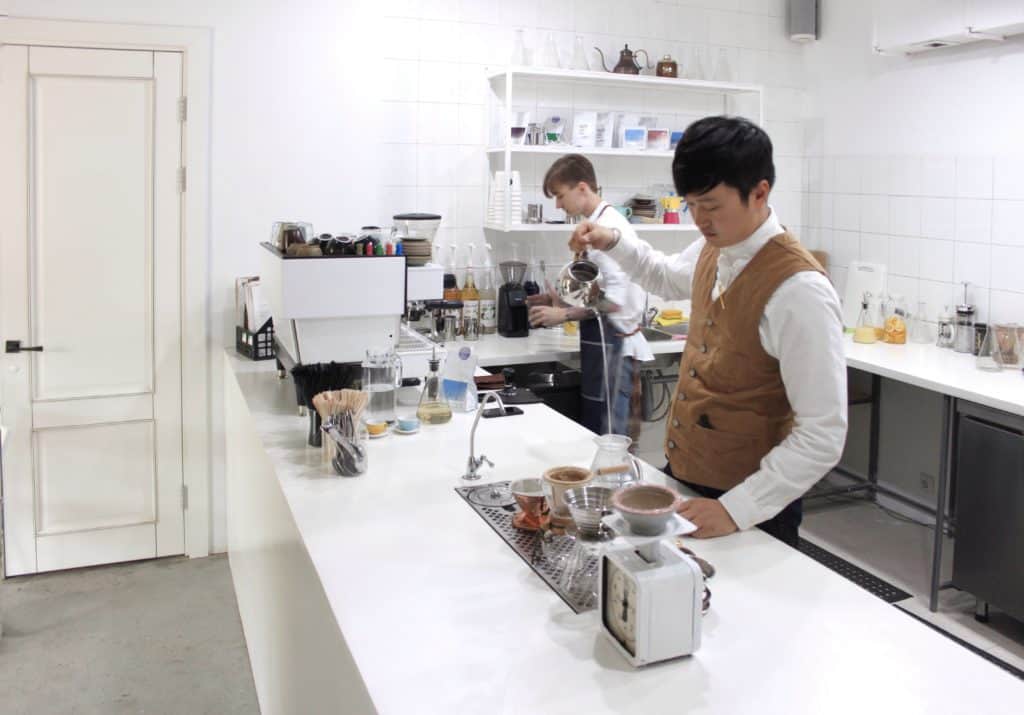 The name Flask perhaps brings back memories of chemistry class in high school, and rightly so. At Flask, you can expect high-quality, innovative and experimental beverages, as well as interactive events, all accompanied with great hospitality. Chihoon's story is related to one of his cafe. Chihoon left Korea to study Arts in the United States. He fell in love with speciality coffee instead, and as a result, his businesses are the sum of his passions and his background, and they are what make this place outstanding.
Chihoon served me a Japanese-style alternative coffee, the type of drink that brought him to drink coffee back in 2004. Since then, Chihoon has been curious about drinking a better cup of coffee every day, until he made the move to open his coffee shop in Bishkek in 2017, followed by his Almaty cafe two years later.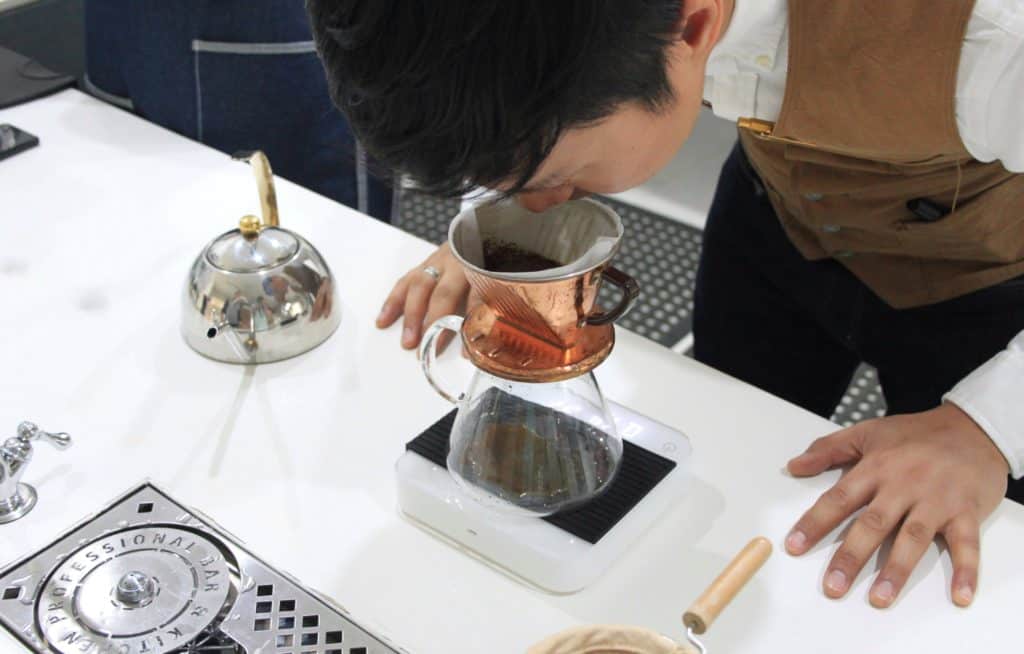 The coffee shop side has a wonderful white and spacious minimalist design, but you'll be able to walk around the whole space and drink your cup of coffee in the Chicken Star area too.
Chihoon would like to dedicate some time promoting the speciality coffee culture in the region by opening new coffee shops in both Almaty and Bishkek in the future. He is also planning to bring Cafflano brewing equipment to both countries, to promote home brewing to the local market.
Flask Coffee / Chicken Star
Abylai Khan Ave 104, Almaty
Facebook, Instagram
Bowler Coffee Roasters
Located on Kabanbai Batyr Street, Bowler Coffee Roasters is a coffee shop and roastery, founded by Mathijs Antoon Olij, a Dutchman with Indonesian roots, in 2016. Mathijs discovered the Italian way of making coffee during a trip to Italy when he was 14. Much later, he decided to follow a barista course in Portland, US, thus opening the door to the speciality coffee world.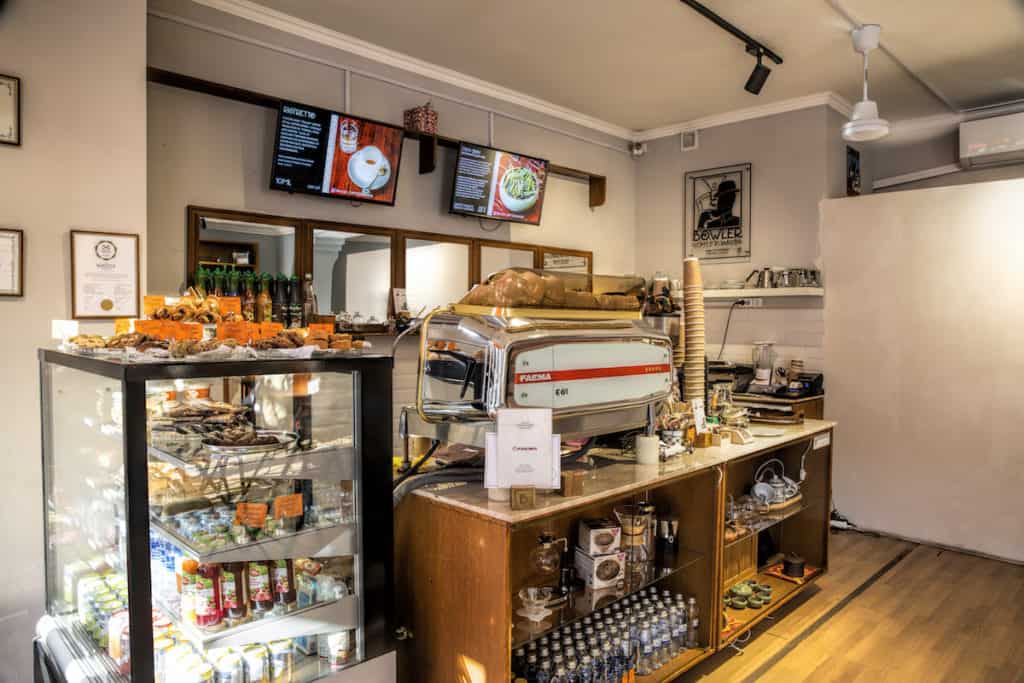 According to Mathijs, there is not a concept behind Bowler, but rather a lifestyle which seems to suit both his team and his guests. Local people consider his concept European, while for Mathijs, the classy Dutch design of the early 20th century is a reminder of his home country. Unlike some of the speciality cafes around Europe, Bowler serves locally-produced Dutch pastries, with the aim to contribute to the local economy and development as much as possible, while keeping its authenticity.
I enjoyed a Flat White prepared with a washed Colombian coffee De Los Andes, brewed on the legendary Faema E61. All coffees are roasted on an old customized 1958 Emmericher Maschinenfabrik Type-3 from Probat.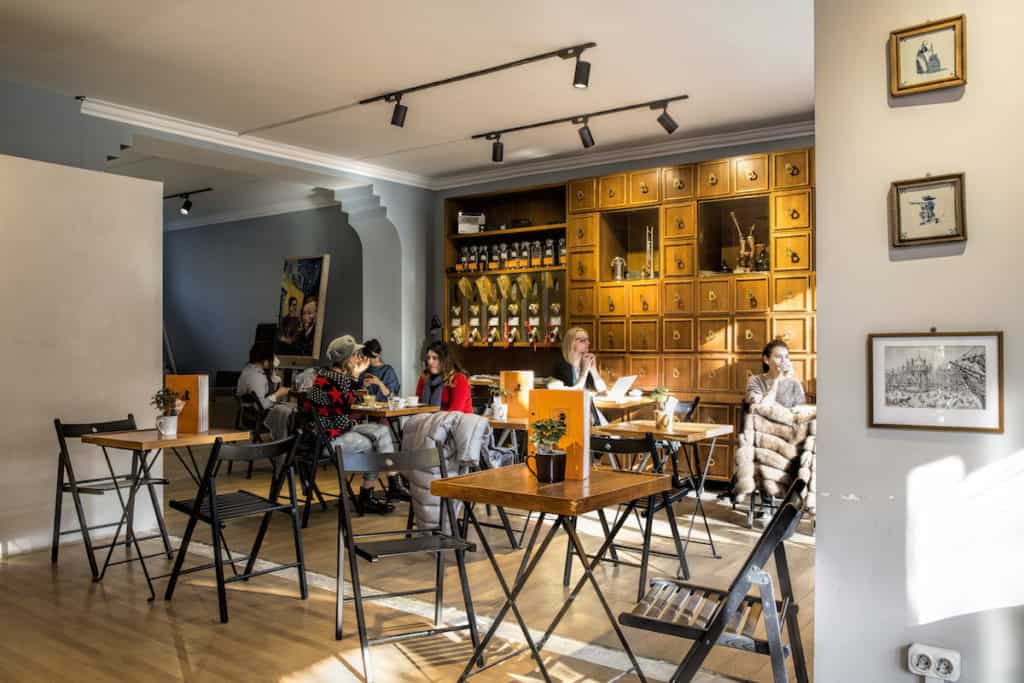 My only regrets during my visit were to not have met Mathijs personally, as well as not having discovered Bowler's second location in the popular Green Bazaar.
Bowler
Central location: Kabanbai Batyra 65 /4, Almaty
Green Bazaar location: Zenkov St, Almaty
Facebook, Instagram
Holder Coffee
Holder is a coffee shop opened in September 2018 by three friends: Nurden Bulekov, Vadim Ovechkin and Dauren Abushakhman. They discovered the world of speciality coffee thanks to their friend Stepan Golovash. Stepan, too, had gone on his coffee-enlightenment journey in Australia and later opened a cafe in Bishkek. He became a great source of inspiration for Nurden, Vadim and Dauren who followed his steps and opened Holder in Almaty, in collaboration with their "mentor".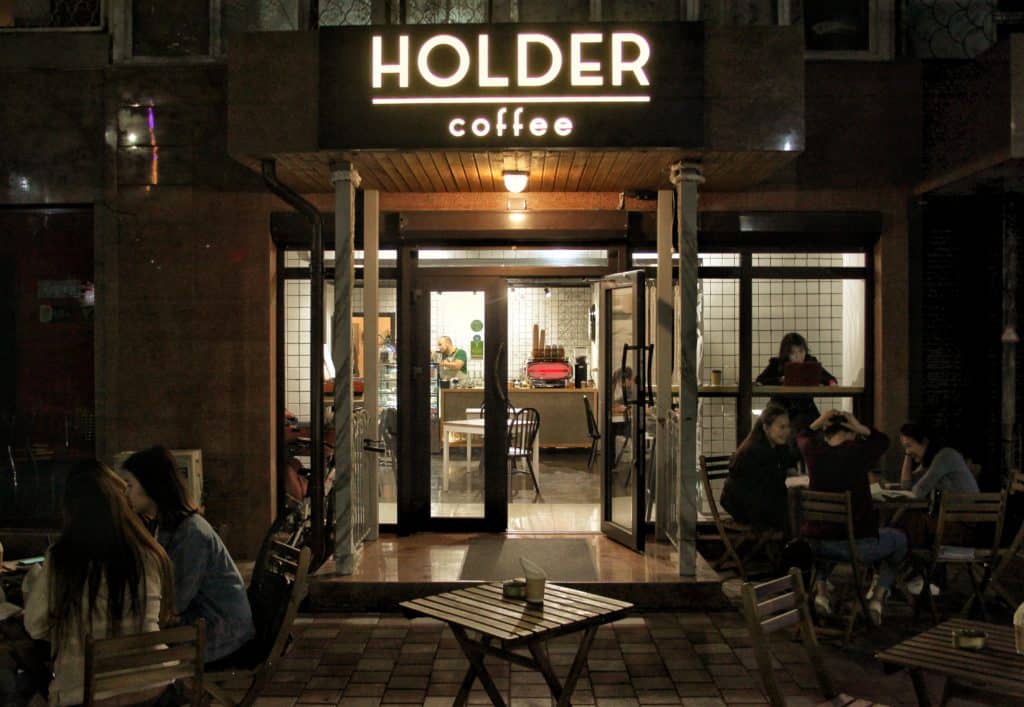 I stopped by this wonderful cafe one evening, and luckily, despite the late hour of my visit, I could still enjoy a delicious espresso brewed with Brazilian Alta Mogiana. The medium roast by Spectre Coffee is enjoyed by many for its smoothness.
What I liked the most about Holder is the fact that the three owners are also full-time baristas, ensuring that every cup of coffee is prepared in alignment with their identity, delivering wonderful customer experience. It fascinated me that the owners knew the name of the majority of their clients, offering a friendly and informal atmosphere.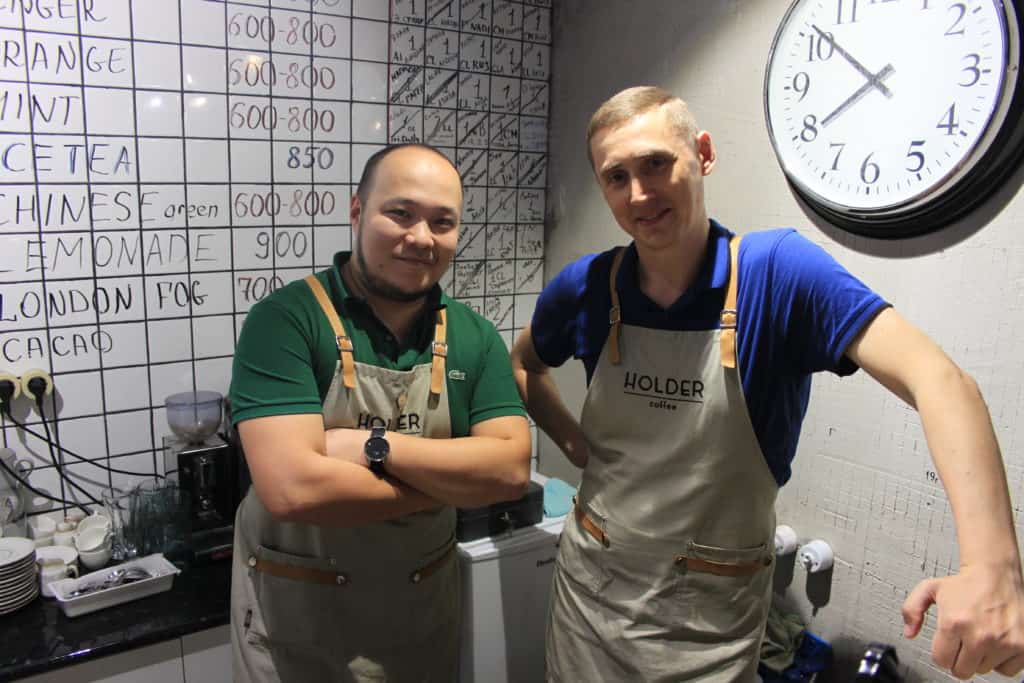 Holder is, among other things, a place valued as a quiet oasis. Although some customers were friends socializing over a cup of coffee and refreshing drinks, many clients sat alone, reading a book or working. The owners are happy to see all types of customers at their cafe—students, freelancers, office workers meeting over their laptops, and even some loyal regulars who organize private parties or birthdays at the shop.
"I am so happy that we've built such a strong community around our coffee shop in such a short time, and I hope to be able to build other communities around coffee shops in other Kazakh cities in the following years," Nurden told later. Holder's success so far suggests his wish might soon become a reality.
Holder
Abay Ave 21, Almaty
Facebook, Instagram
These four coffee places show that Almaty's speciality coffee scene is growing, presenting the best out of both Europe and Asia. If you spend more time in Almaty, you can also pay a visit to Sinsilyo coffee shop and roastery, or one of the Vanilla pastry shops and Big Apple coffee shop. Enjoy your discovery of Almaty!