The clock shows 03:30 a.m. and I am physically awake in my hotel room, yet far from being mentally focused. Fuel supply is needed for on point decisions during the next flight. The better the fuel is graded, the higher the performance, which not only counts for jet engine fuel but also for coffee that supplies us with energy each day. Alongside striving for good performance on the flight deck, before a long day of jetting across Europe, it is also a moment of indulgence in delicious coffee for happiness and well-being during my journey.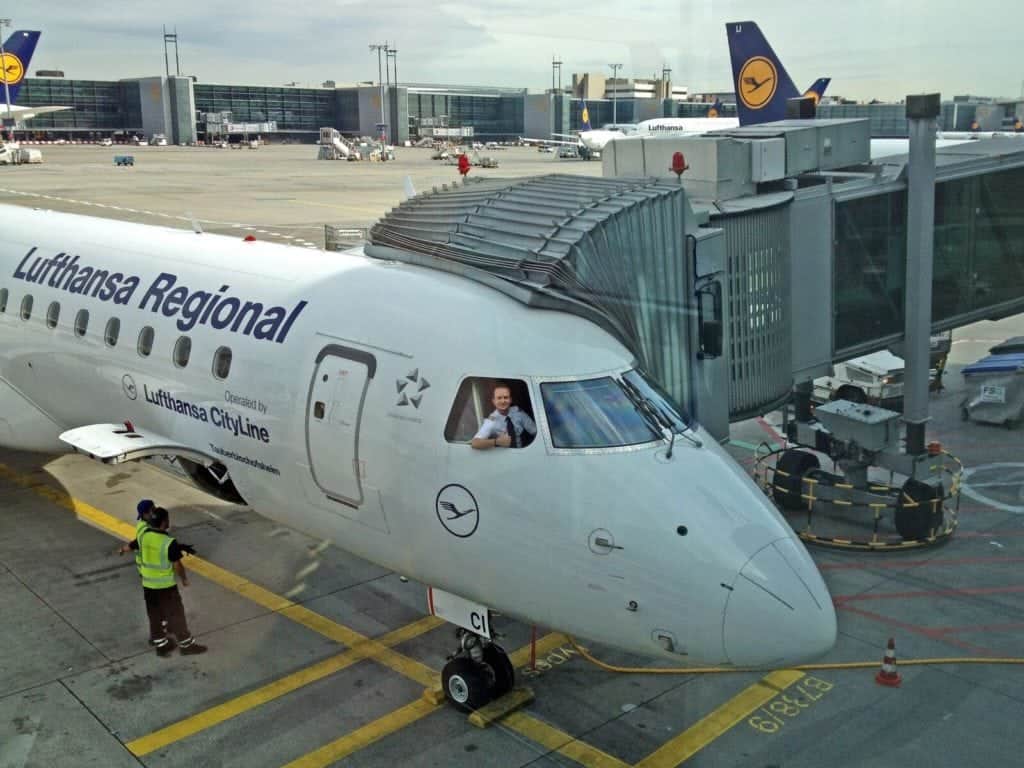 My name is Alexander and I work as a pilot for Lufthansa CityLine based in Frankfurt Main, Germany, serving destinations across Europe since five years on the Embraer 190 aircraft. Welcome onboard our aviation journey to the coffee scene across Europe!
Onboard Solution
Pilot's demand for good coffee is high in the early mornings and is satisfied with the help of my absolute favourite coffee device: Cafflano Klassic. Some of my colleagues cannot believe their eyes observing the pilot putting such an extraordinary effort into preparing the first drink of the day when everyone else just wants to sip a hot liquid and do nothing.
Not me! I grind my beans, prepare the filter, brew my morning cup and then clean the device afterwards. This is my everyday routine. Those colleagues tend to be jealous then, when they smell the floral aroma of a light roast speciality coffee, compared to the fluid dirt coming out of the onboard coffee maker. Soon, they also become interested in what the story behind good coffee is. Some of them even accompany me to the cafés to get a deeper insight into the third wave coffee world.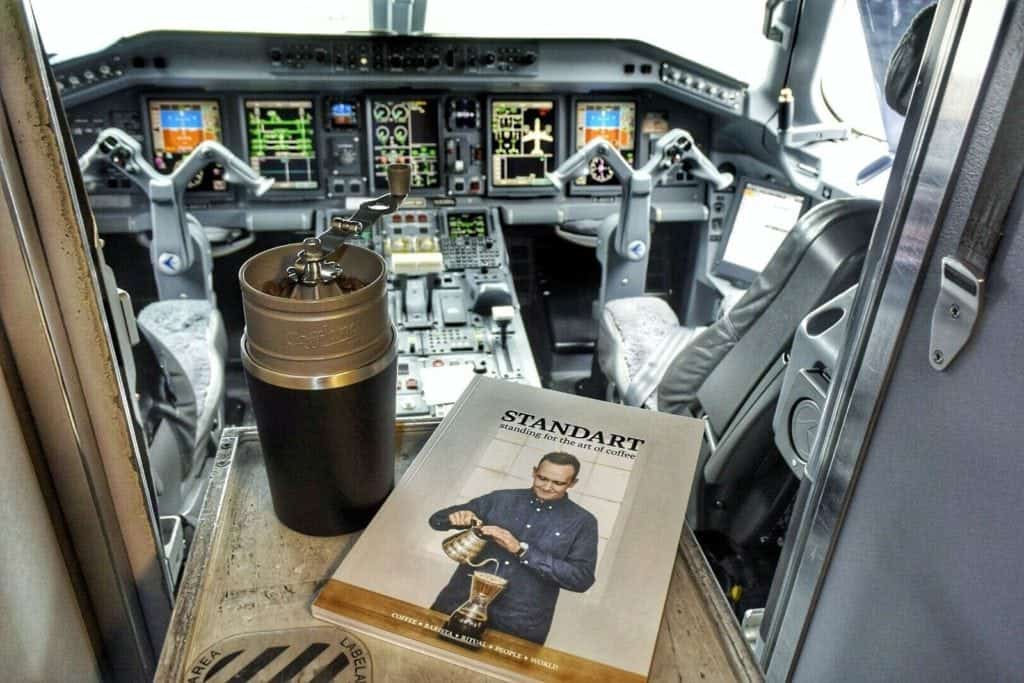 My fascination for coffee originates in its diversity when it comes to extraction, processing, and tasting. A single fruit can develop a whole lot of different flavors that are, besides for other aspects, depending on the technique and the artistic approach to creating a perfect cup of espresso, cappuccino of filter coffee.
Pilot's brew on board
As a pilot, I work in an environment which is totally dominated by accurate automation, procedures, and techniques. Staying concentrated and dependent on a strict time schedule is engraved in everything we do on board. The tolerance in timing breaks down from of a couple of minutes in punctuality when leaving the gate, to roughly ten seconds when it comes to takeoff and landing as well for certain decisions to be made.
This precision in timing and proper adhering to a certain schedule also applies to coffee preparation.
Getting a flight properly done needs a lot of preparation, as does brewing of a good cup of coffee. For every single step we do in order to conduct a successful flight, we have to apply checklists, memory items and standardised procedures. Just like in making coffee!
Coffee Preparation Checklist
Specialty Coffee…………… CHOOSE
Whole Beans…. WEIGH AND STOW
Paper Filters…………………… STOW

Before Brewing Checklist
Cafflano Klassic……. DISASSEMBLE
Paper Filter.…………………… RINSE
Whole Bean Coffee…………. .GRIND

Memory items
Hot water……… 250ml / POUROVER
Filter………. THROW AWAY / CLEAN
Coffee………………………….. DRINK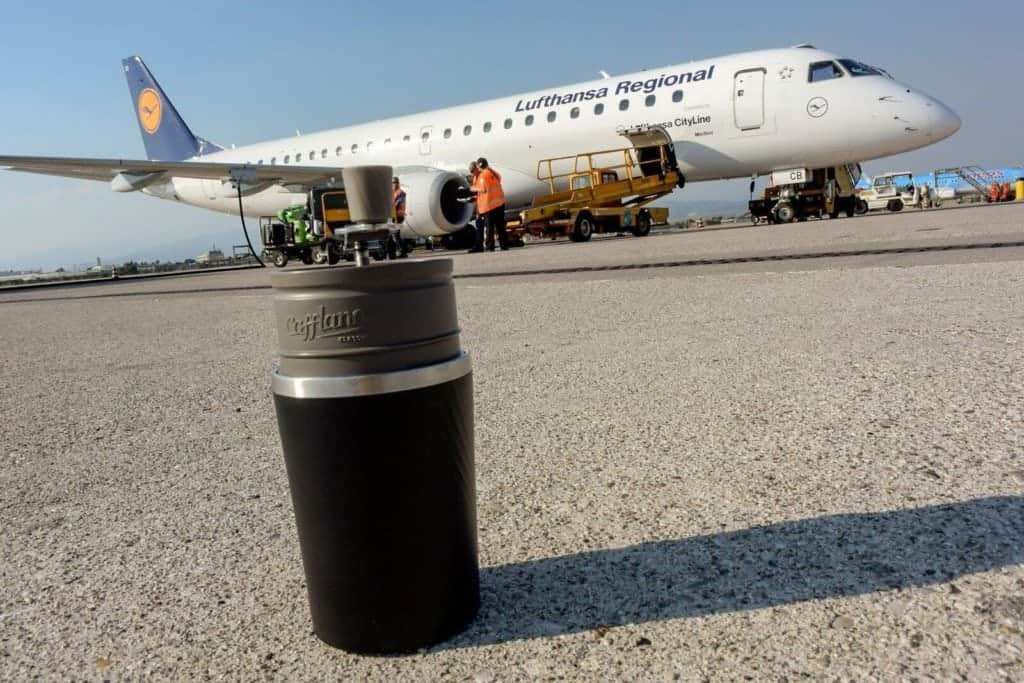 To keep it simple and in order not to waste any time while brewing my coffee onboard, I weigh 18 grams of whole beans at home, zip lock them into small blister packs and stow them alongside with Kalitta Filters in the cup of the Cafflano.
Later on, I solely brew the coffee in the galley of the aircraft, where I have enough space, hot water and a waste bin. I never do that on the flight deck, as it would be pretty dangerous to spill hot water or even coffee over the instruments, besides that there is absolutely no space in front for preparing anything but the flight. Unfortunately, I cannot control the temperature regarding the onboard water, but the results for my 18 g / 250 ml recipe are satisfactory enough to indulge in the taste and the aroma of the brew.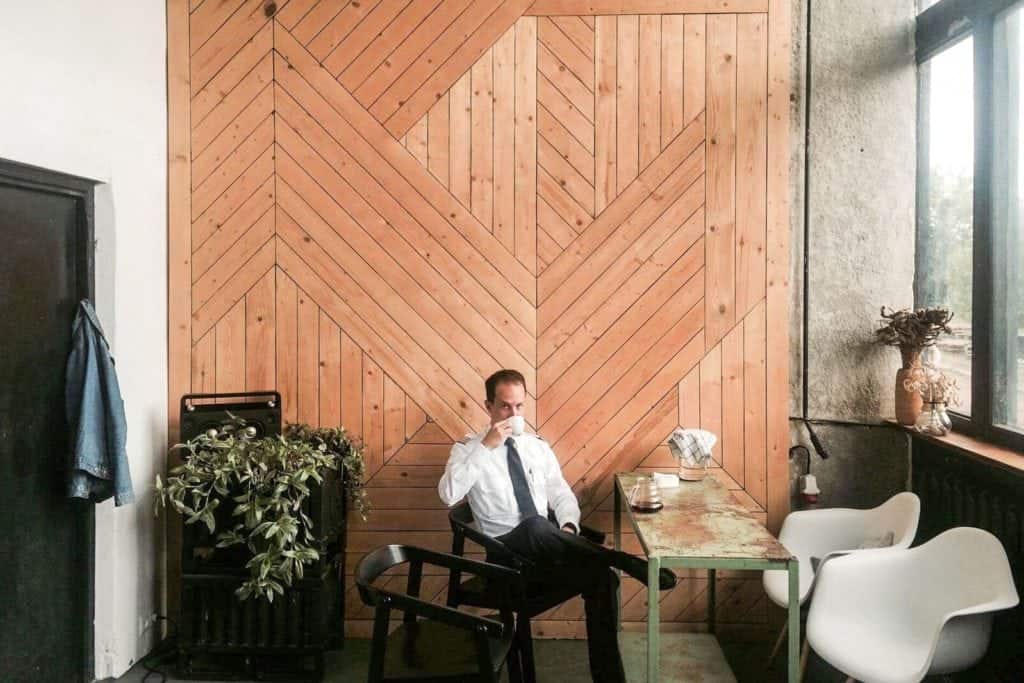 Savouring the coffee before departure is the moment I love the most! Time for me then stops for a few seconds—no rush anymore! Fuel supply is finished for both—aircraft and pilot. Ready for departure!
While being kept in a very strict environment in my job, where creatively altering any values or applying non-standard procedures might have dangerous outcomes, I like to observe baristas. Their freedom and artistry to create an individual cup of coffee makes their job more than just adherence to procedures.
There is always a story behind the cup of coffee a barista can tell, with regard to the country of harvest, the processing of the beans and the degree of roasting. And those are just some of the key factors. Altogether, an additional fine latte art that is created by pouring textured milk into the perfect espresso underlines the claim that the barista is serving more than just a drink.
Home away from home
My first encounter with speciality coffee was in fact just downstairs from my apartment in Frankfurt, where by coincidence a small Coffee-Shop named Kaffeewerk Espressionist opened up one month before I moved there. Soon this place became my extended living room and the two baristas Yulia and Natalia introduced me to the wide variety of aroma and operation of the LaMarzocco Espresso Machine which was very impressive to me. Thanks to their sympathetic approach, from then on I also dedicated myself to speciality coffee.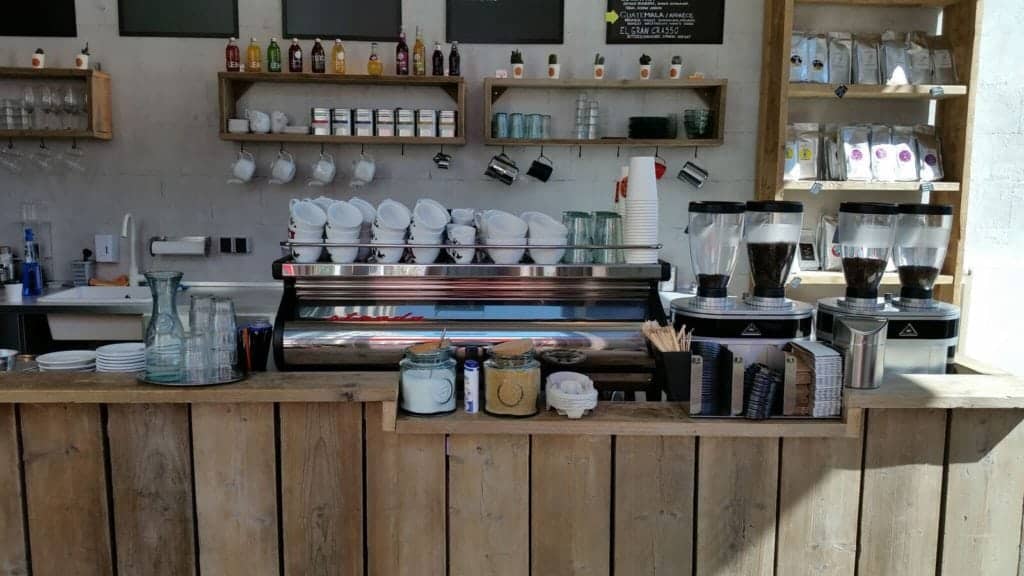 From all my visits to numerous cities across Europe, I have found several places that I can call home away from home. Heading to Florence definitely feels like returning home. The quality of the time spent in a foreign town always depends on the people around you. In this particular destination, at my favourite café, I feel the welcoming and warm-hearted atmosphere.
Over the course of five years, I have accumulated dozens of overnights in Tuscany, which gave me the opportunity to observe the beginning of speciality coffee in the city, served by "Ditta Artigianale", a speciality coffee roastery. Today, their wonderful work has spread around three places in the beautiful, historical town of Florence.
Speciality coffee common ground
With my appreciation for high-quality coffee and the understanding of precision, I was immediately captivated by the level of attention and passion that went into each cup of coffee served at Ditta Artigianale.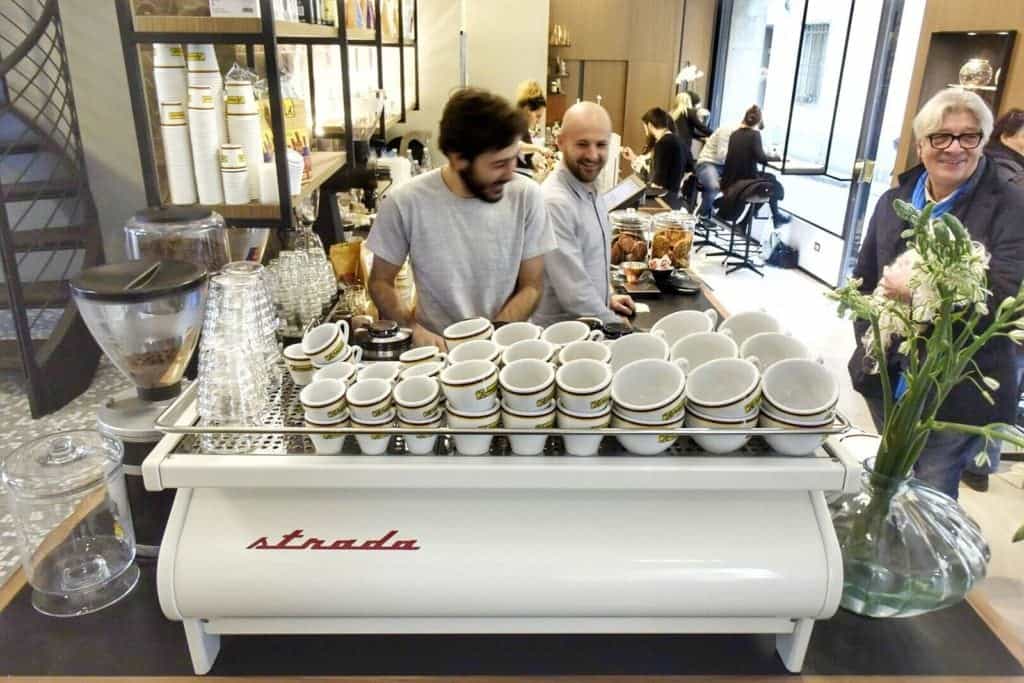 Right from the first entry into the café in Via dei Neri, the smell and the special vibe were just perfect. I started a conversation with the barista champion and trainer Francesco Sanapo, asking him about different roasts and coffee origins. I was interested in some light roasted coffees. He just replied: "Could you ask again, please…?" He was so amazed that somebody approached him with a question about light roast – in Italy – that he wanted to hear this question twice! I saw the glance in his eyes and from then on a common ground was built.
Building a relationship with a dedicated team
With time, I got to know more and more baristas at Ditta Artigianale, such as the Brewers Cup finalist Jessica Sartiani, and Barista champion Francesco Masciullo, who are both fully dedicated to developing a great cup of coffee. Starting from farming and processing to the right measures of the artistic creation of the clearest filter coffee or Italy's best cappuccino. Their dedication was definitely an inspiration for me to learn more about coffee and for my own brewing experiments.
Furthermore, their dedication to convincing Italians about speciality coffee is impressive. Once you order an espresso or "caffè", as Italians would say, every single barista, whether highly experienced or new in the scene will start a quick conversation about aroma and taste, of course with a friendly hint to try the drink without sugar, which shows their deep passion for what they are doing. I definitely got that impression and left with a great experience and a place to return to.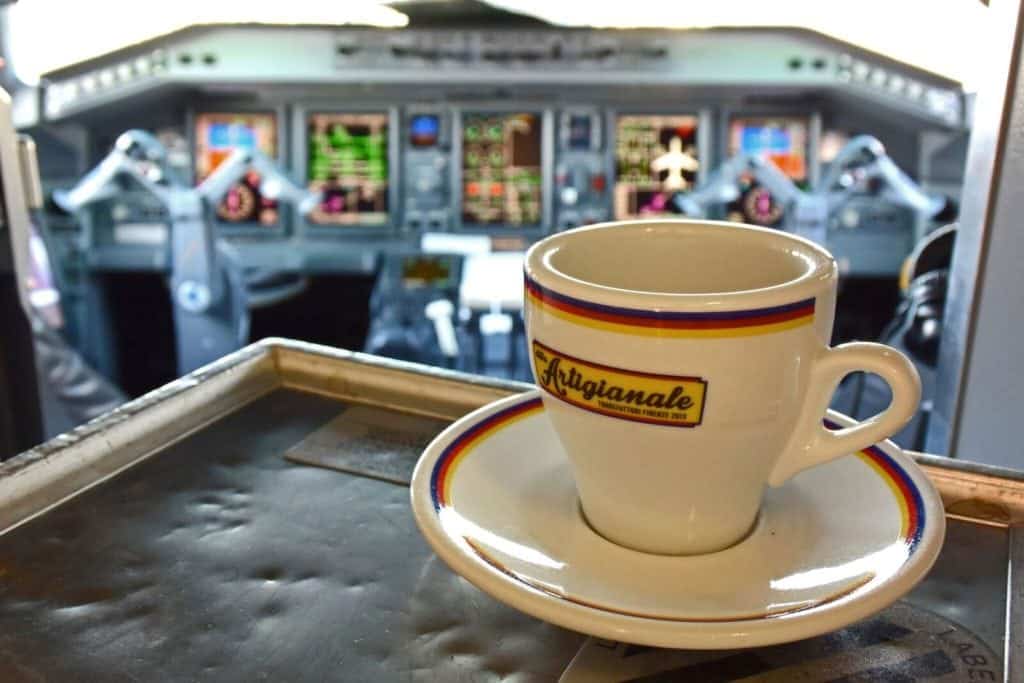 Thank you for your attention throughout our trip! I wish you a nice, caffeinated day and hope to see you again soon onboard the European Coffee Trip.