Michael Manhart is not your regular barista. You won't run into Michael Manhart at any of your favourite cafes. It is not his usual workspace. Instead, you could find him teaching or playing music. Despite the fact he does not work as a barista, he managed to score the fourth best result in the World Brewers Cup. How did he achieve to score such a great place out of 41 international competitors, the majority of them professional baristas or roasters?
He combined his passion for exquisite coffees and his experience with brewing it, which came from years of practice at home. He used coffee sourced by Rubens Gardelli and brewed it using a brewer that he designed and produced with his friend. We have seen a few innovations in the approaches of many baristas and it is a pleasure to see them in the top six brewers of the world!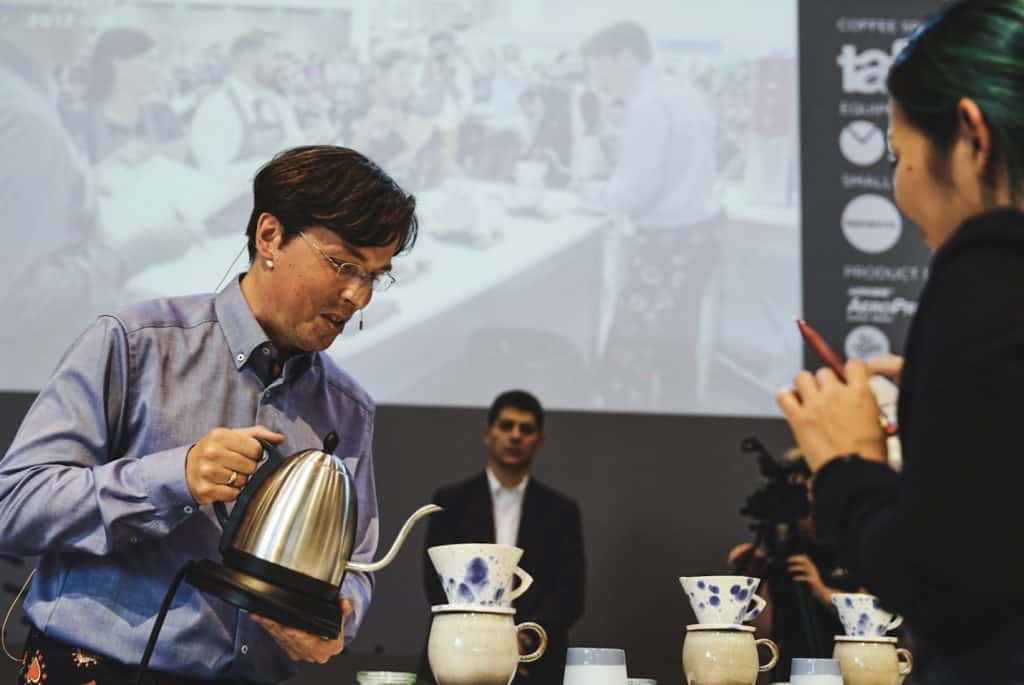 Let us tell you more details about Michael, as well as his Brewers Cup presentation.
Since Michael's first encounter with Speciality Coffee, in 2013, he has always focused on filter coffee, brewing it in many diverse brew methods. Before the World Brewers Cup, he scored second and first places in the Austrian Brewers Cup (2016 & 2017), as well as winning a national Filter Coffee Challenge in 2016. He has always strived to deliver the most delicious cup possible. We were excited to learn about his road to speciality filter coffee and his success in the World Brewers Cup competition.
Falling in love with filter coffee
Michael Manhart got into coffee thanks to his initial interest in buying a coffee machine for home. He sought advice at Kaffee-Alchemie, a coffee shop run by John Arild Stubberud, one of the most renowned judges in the world of Speciality Coffee competitions.
"As we talked, I poured him a cup of Aida Batlle's 'Finca Kilimanjaro'. And Michi was sold to filter coffee," John A. Stubberud remembers. Aida Batlle is famous for her El Salvadorian coffees, one of which also won the Cup of Excellence in its inaugural year.
"After that cup, I forgot about the espresso machine and tried to get the basic gear to get those flavours into my cups," Michael told us about his fall for filter coffee.
John was also the one who introduced Michael to coffee competitions. He encouraged him to compete in order to hone his skills of brewing, as well as challenging him that winning is for anybody. Michael took John's piece of advice to heart.
Although John could not coach Michael because of his obligations towards competitions' judging, he offered him a space of his own cafe to practice.
Michael Manhart coached by Rubens Gardelli
Michael's passion for brewing was recognized also by Rubens Gardelli, who decided to supply Michael with a special nano lot of coffee from his Ugandan Mzungu project. He agreed to coach him and roast his coffee for him because he saw his passion for the craft.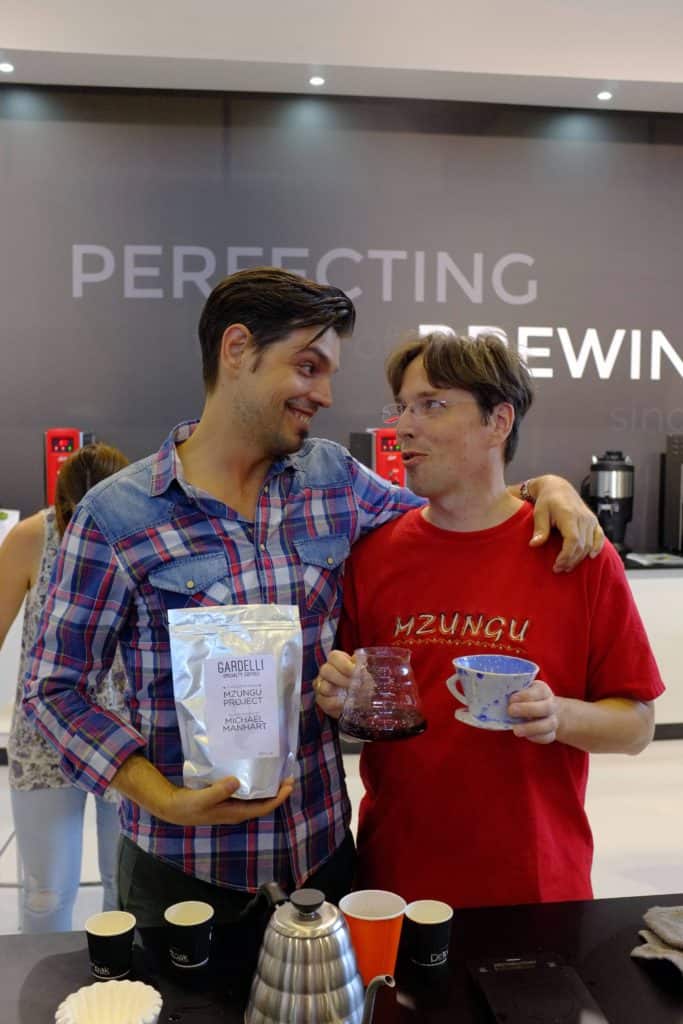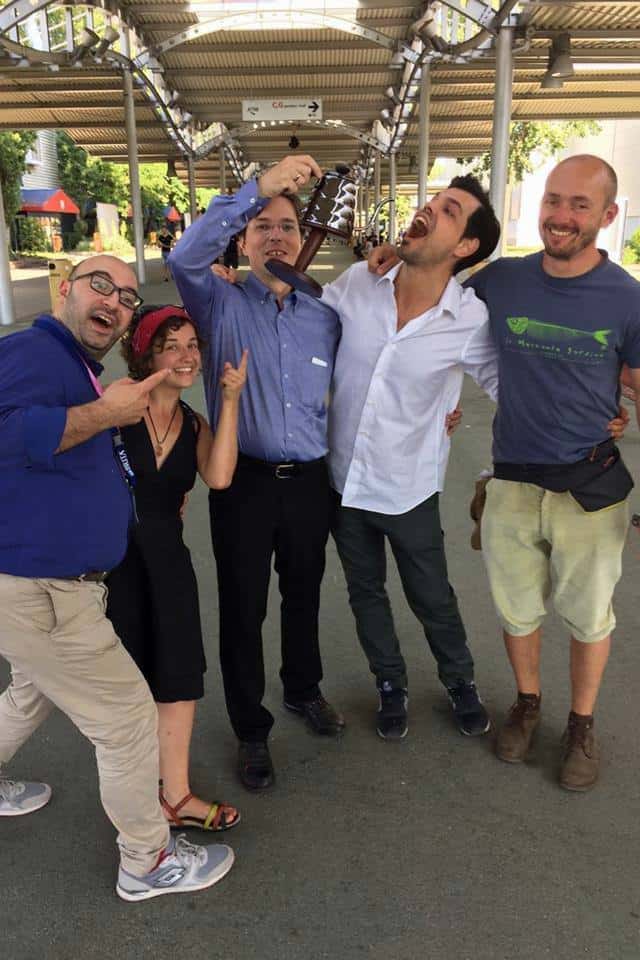 "The first time Michael asked me to be his coach, I immediately said YES because he was not working in coffee but he brewed every day for him and his family, because I felt his authentic passion without any particular business interest and I simply loved it," Rubens explained his cooperation with Michael.
The two had already known each other from earlier cooperations. Michael used Rubens' coffee for the Austrian Brewers Cup Championship in 2016 and kept in touch with him for the following year's competition. He also spent a few days with Rubens in Italy. It was then that Michael tried Rubens' Ugandan coffee for the first time and was very impressed with its intense flavours.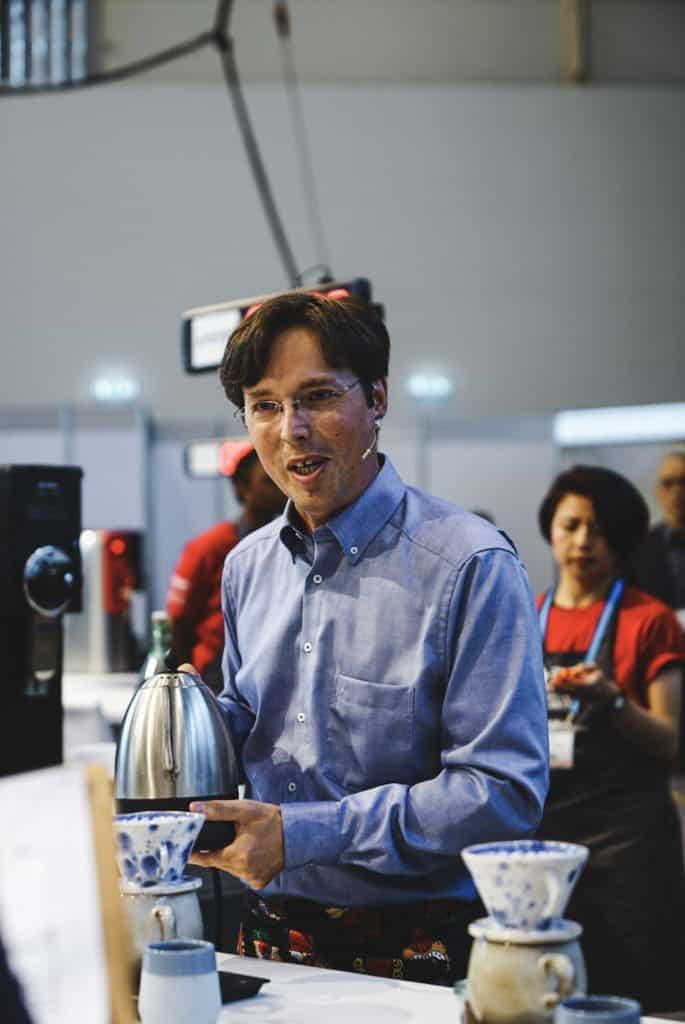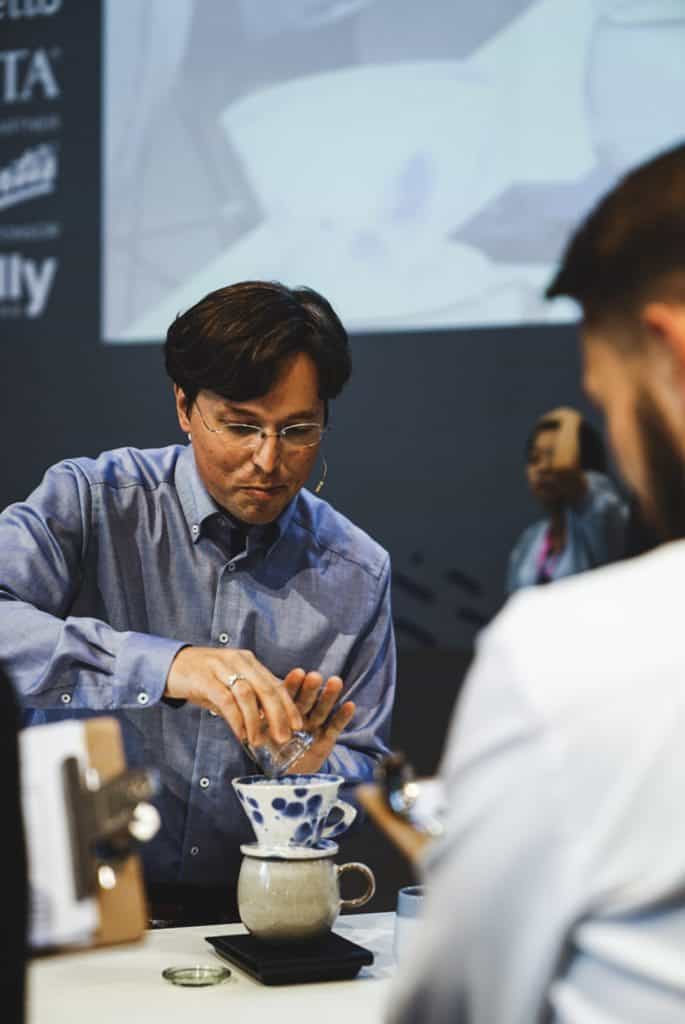 Combination of a distinctive style, passion and a great coffee wins 4th place
For the audience at the World Brewers Cup Championship, the majority of attributes that can score the competitor a winning spot are invisible: the flavour profile, the aroma, the eye contact and many other things. The judges evaluate these, while the audience can follow the presentation of the competitor, and focus more on their speech, as well as their choice of music, their brewers and perhaps their outfits. Not all of those things matter in the scores, but they are evident to the eyes of the audience.
Michael managed to captivate the judges as well as the audience, thanks to his passionate and detailed speech as well as his authentic setup.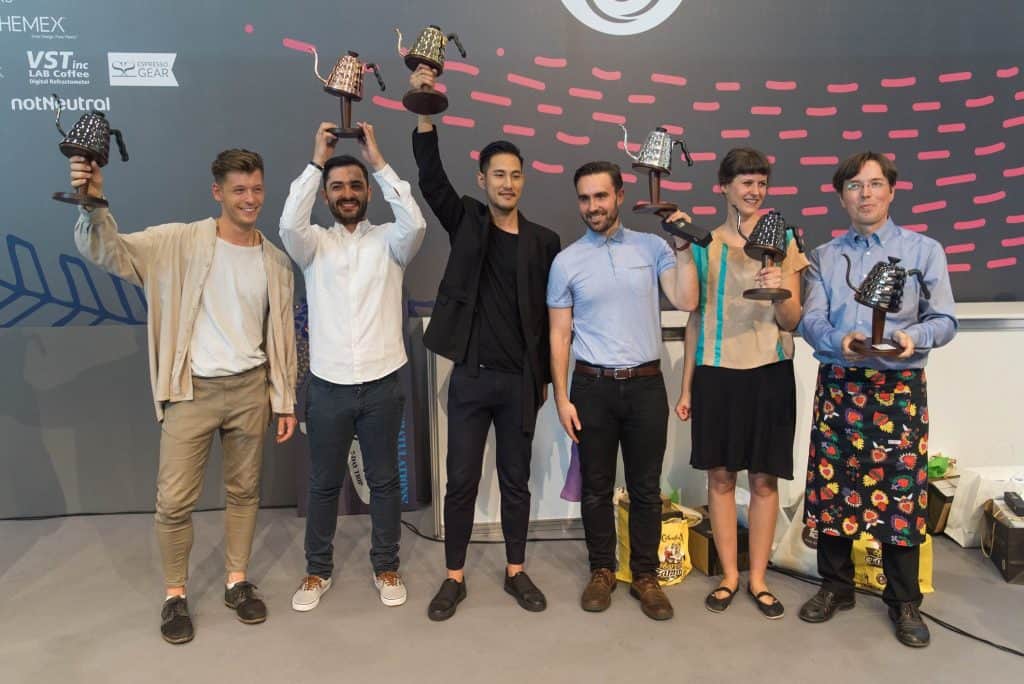 Michael brewed with ceramic filters resembling Kalita brewers. Those had thicker walls though and a larger hole in the bottom, allowing him to brew a fruity, clean cup due to the shorter brew time. The material was also temperature stable thanks to its heat capacity. To the eye of a spectator, his brewers were beautiful handmade ceramics with a blue pattern glazing.
The audience would also notice his epic apron, certainly the most colourful apron in the history of the Brewers Cup competition. Although this could potentially not gain him any better scores, it made everyone watching his presentation remember him well.
Let's talk about Michael's coffee and his recipe
Michael used a 1,2,3 method
3 pours of firstly 40g, then 80g, and lastly 130g of water
Total of 250g @ 94℃ – in the kettle, 92℃ brew temperature
Water = "Third Wave Water" made in the USA
16g coarsely ground coffee, the fines sifted out
Michael Manhart's coffee
Uganda, Mzungu project
Sourced and roasted by Rubens Gardelli
Dry/natural process of Nyanzaland variety – a traditionally grown coffee plant
Coffee descriptors
Aroma: magnolia, black cherries, molasses, red wine
Flavour: black cherries, dried prunes, strawberries
Flavour when cooled down: fresh cranberries, dried figs, raisins
Aftertaste: dark, pure chocolate
High, malic acidity of red, oxidized apples
Thick, syrupy body
Extraordinary, balanced cup
Unique scores by a home barista
Firstly, let's make it clear that the Brewers Cup is not only about brewing the coffee you have chosen. The final score that tells if you win or not is a combination of scores from two routines. The Compulsory and the Open Rounds. Where Michael Manhart must have surprised everyone was the Compulsory Round, in which the competitor brews an unknown coffee received just prior to the competition time. The home barista won this round with the score of 70.83 points. It is interesting to see how the scores work, since the 2017 World Brewers Cup winner Chad Weng scored only over 66 points, placing 24th in the Compulsory Round.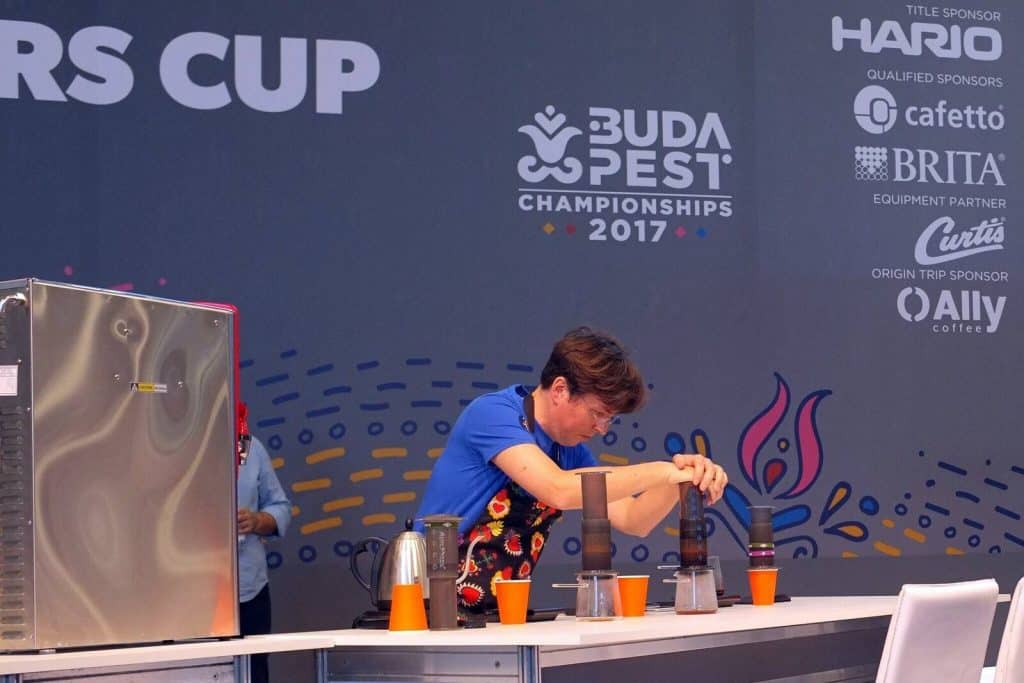 "Waking up knowing that Michael Manhart scored the highest score after the first [Open] round of World Brewers Cup 2017 with 2.29 points advantage from the final winner was something that made me feel proud and sad at the same time," Rubens Gardelli admitted his feelings.
As the final score is then a combination of both scores, from the Compulsory and the second Open round, it can never be estimated or guessed whose combination will be the best one. And even though at the World stage, the level of competitors is incredibly high and their scores close to one another, there were three competitors with a better combination of scores than Michael had.
The success of an unknown coffee
Michael Manhart and his team can be absolutely proud of the achievements though since they demonstrated beautifully how many unknown and undiscovered, amazing coffees are out there, if only we search for them.
"Any tasty coffee has the chance to perform well. It so happens it is the geishas, in particular, those meticulously groomed bean-by-bean ones, by specific producers which are being chosen by the competitors," was John A. Stubberud's honest opinion.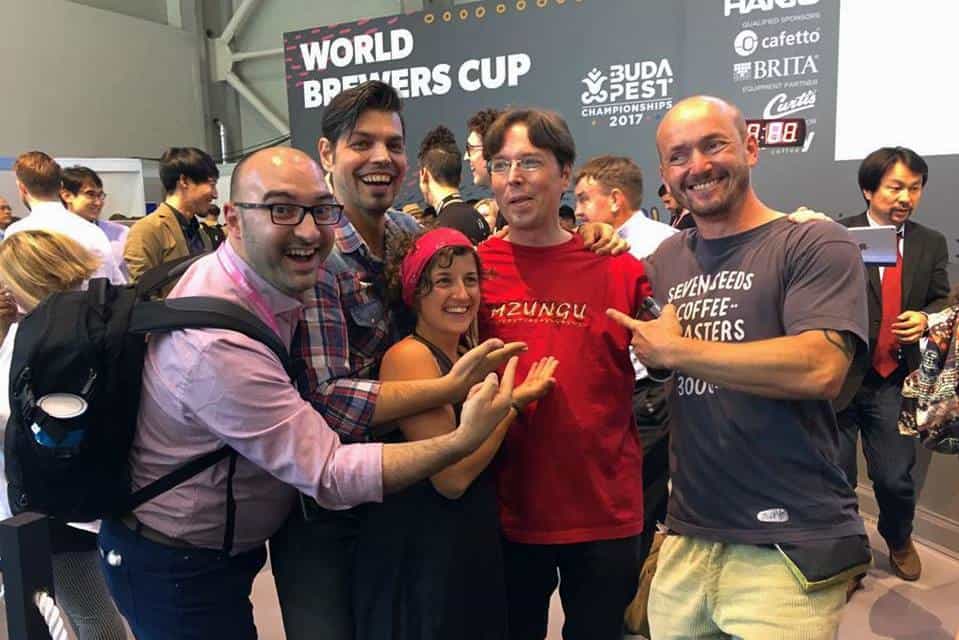 It was clear, in Michael's presentation, that the passion has driven not only him but especially the farmer and the roaster of this coffee and that thanks to the collaboration of the three of them, they were able to bring something new to the table. Something delicious, surprising, presented in an honest and authentic way.
This was one of our favourite presentations from the 2017 World Brewers Cup Championship and we are already looking forward to the next year.