"(…) The owner, Nihan Aytar, welcomed us with a huge smile and immediately we forgot the terrible weather in Ankara and all the problems and frustrations we might have had. Rispetto is designed in a very tasteful and cozy way, with great attention to detail. Nihan created a refuge in the middle of the crowded and busy district Bahçeli, where everyone can feel at home and enjoy great coffee." – this is a quote from an article I wrote more than 5 years ago, a guide that kickstarted my ECT journey!
I still remember till this day that cold and gloomy winter afternoon in Ankara when Nihan welcomed us with the brightest smile I've ever seen and the sense of hospitality I've never experienced before. Nihan is the owner, barista and host in one person and flawlessly switches between the roles.
Nihan is truly in her element when she brews coffee and interacts with guests. She never craves attention, likes and publicity. She does her thing, pushes forward and grows together with her cafe Rispetto. I hope that her story will inspire you as it inspires me everyday!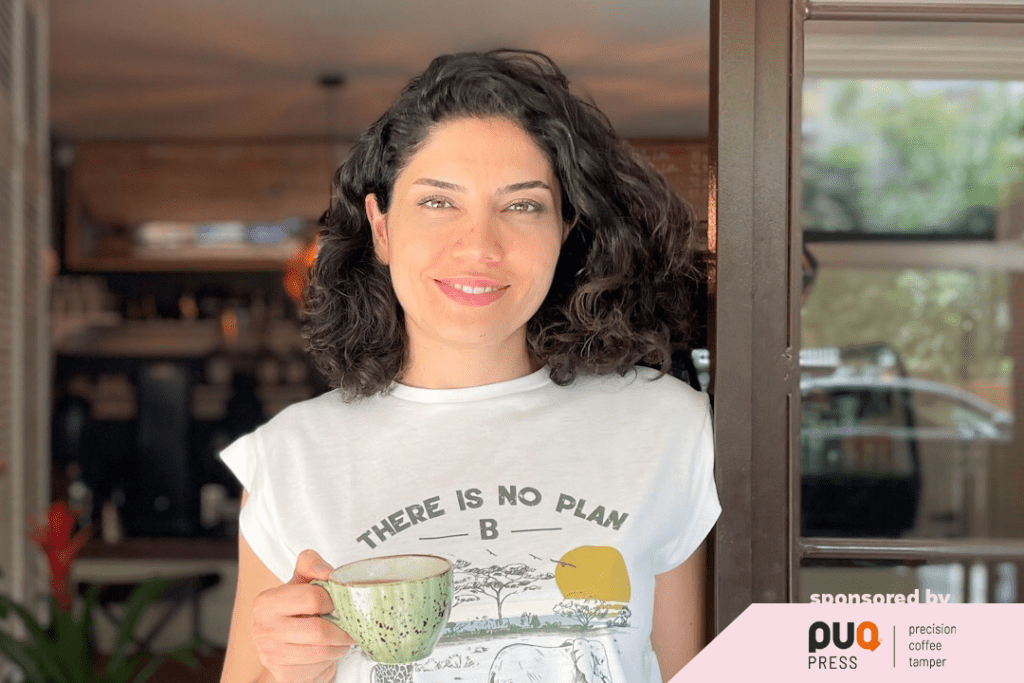 Nihan, what is your first memory with coffee?
My habit of drinking coffee comes from my family. My childhood coincides with the years when coffee culture was not widespread in Turkey yet (since I am 42 years old now we are talking about the 80's 🙂 ) Although the relationship between coffee and my country was in a level like that, when I recall my first memory with coffee there is a scene which portrays in my eyes so vividly as if it is today. My mother and my aunts are brewing their coffee with their filter coffee machine which they brought from abroad and then sipping their coffee from their beautiful porcelain cups. I would admire their ceremony everytime and drink coffee, which can be consider bitter for a child with endless joy and pleasure.
Could you describe the moment or situation that made you decide to become a barista and a cafe owner? What was the reason behind your decision to open Rispetto cafe?
I've worked in the food industry for many years as a food engineer. But eventually I got bored and tired. And I started to think that starting my own business, being a founder of my own workplace would make me feel happier.
Since the year 2014, 3rd wave coffee and more qualified cafes have started becoming more popular. During that time my love for coffee and my passion to start my own business became irresistible and made me buy some equipment and become a home-brewer. I started brewing up coffee for my family, my friends and for myself (I gotta admit that some of them weren't really nice at first, if I need to be honest). As you might guess, it takes a lot of courage to take a risk and start building your own business from the roots when you're a fixed income employee. Therefore, this was just a dream for me until 2015. A dream which could never come alive.
Tragically, I had a car accident which nearly took my life in 2015. I had plenty of time to think during my recovery process. So one day I thought "Why am I wasting my time on something I'm not happy doing. I was about to die. What is more important than this? I should do the thing I am happy doing if I'm alive right now. At least, I should give it a shot." The first thing I've done after my recovery was getting my SCA education. Then I made my dreams come true and opened my own café: Rispetto.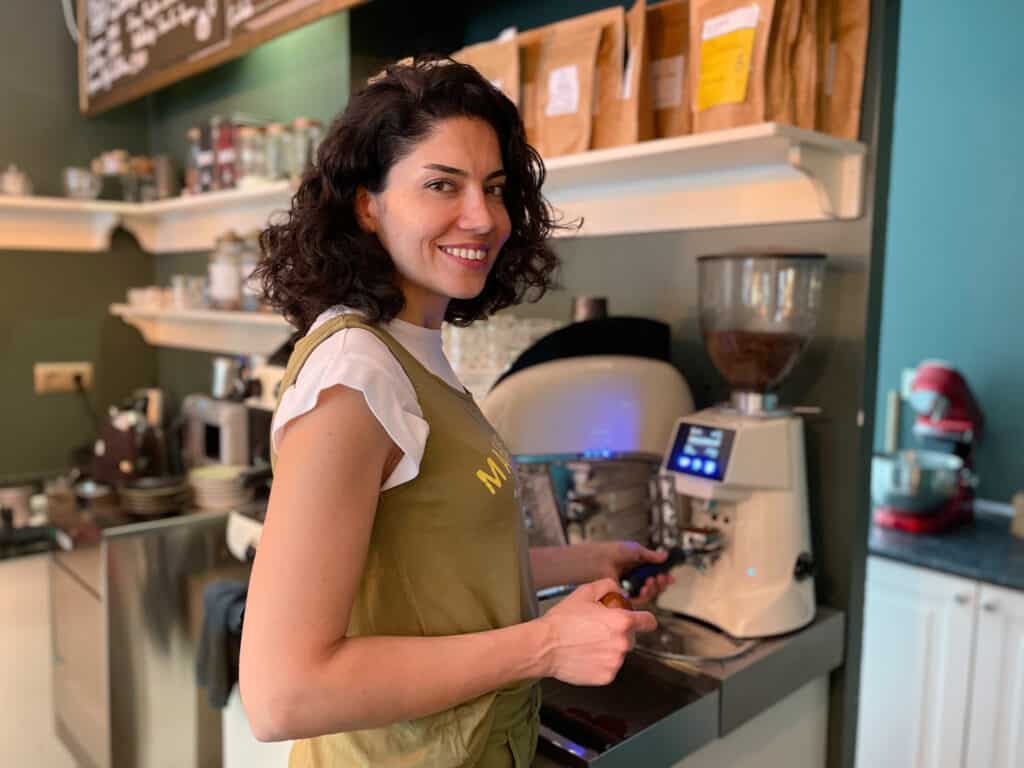 Can you recall any embarrassing moments from working behind the bar?
It was a day when I was feeling exhausted and very distracted. A customer ordered Turkish coffee. I made the coffee, prepared the service, filled a glass of water which we give with the Turkish coffee and lastly put some of our little cookies next to the cup. It was all ready. But when I took it to the table, customer laughed and politely asked "Where is my coffee?" At that moment it hit me, everything was ready but I forgot to pour the coffee to the cup… I felt so embarrassed that day.
How has your life changed since you opened your own cafe and started to work behind the bar?
If you ask people what the best period of their life is, most people would answer it as their student years, especially college ones. But for me, the best time of my life started with Rispetto. It brought color to my life. Also, brewing coffee is my meditation. I brew coffee with an exponential passion and a warm smile on my face every time.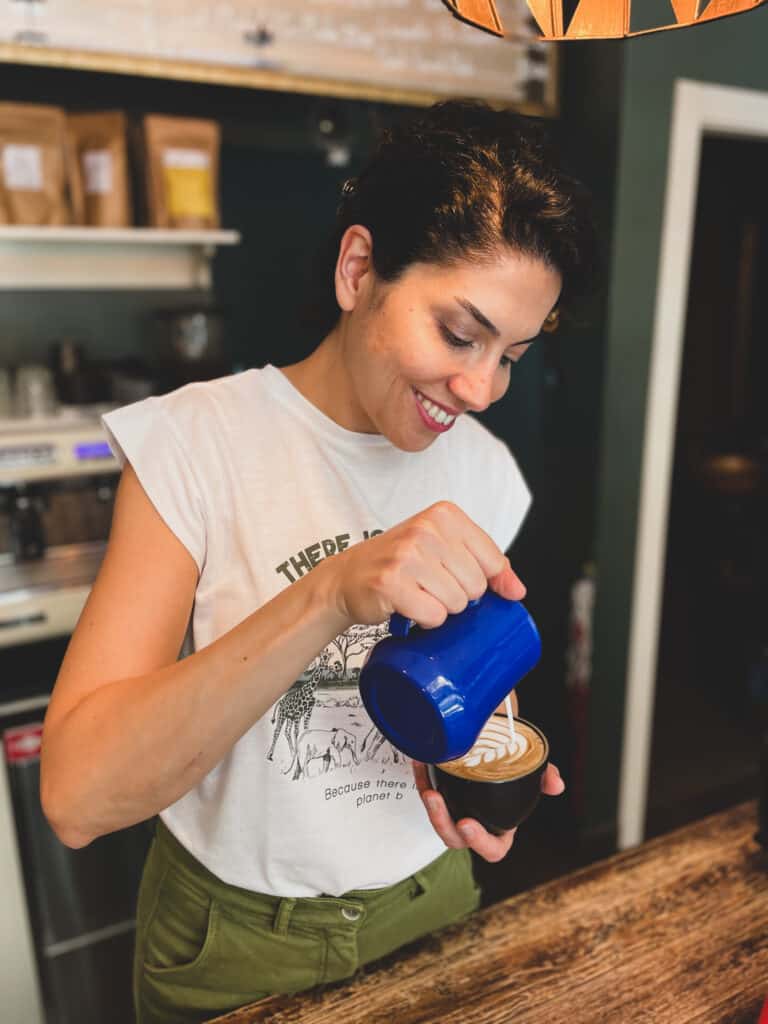 Do you have an unusual habit or hobby that you love?
I like to read magazines and blogs about decoration and design. In the early days of my Rispetto adventure, my passion for decoration became so useful. Thanks to my hobby, I easily designated my lovely and heartwarming café. By the way, besides our delicious coffee, decoration is also a thing we get lots of compliments for.
Are there any bad recommendations you hear often in your profession? What is your piece of advice for anybody starting a career in coffee?
As in any profession, being a barista also has some challenging sides. There are some days which I stand still without having even a 5 minutes break which can be physically tired. Also being a barista requires being motivated and having a warm smile on your face all day long. But of course there is a trick for me and I would like to advice you that even at the times you feel so down and tired, focus on a little glimpse of light in a customers eyes or a smile full of pleasure after they take a sip from their coffee. Those little things will make you fall in love with coffee and being a barista.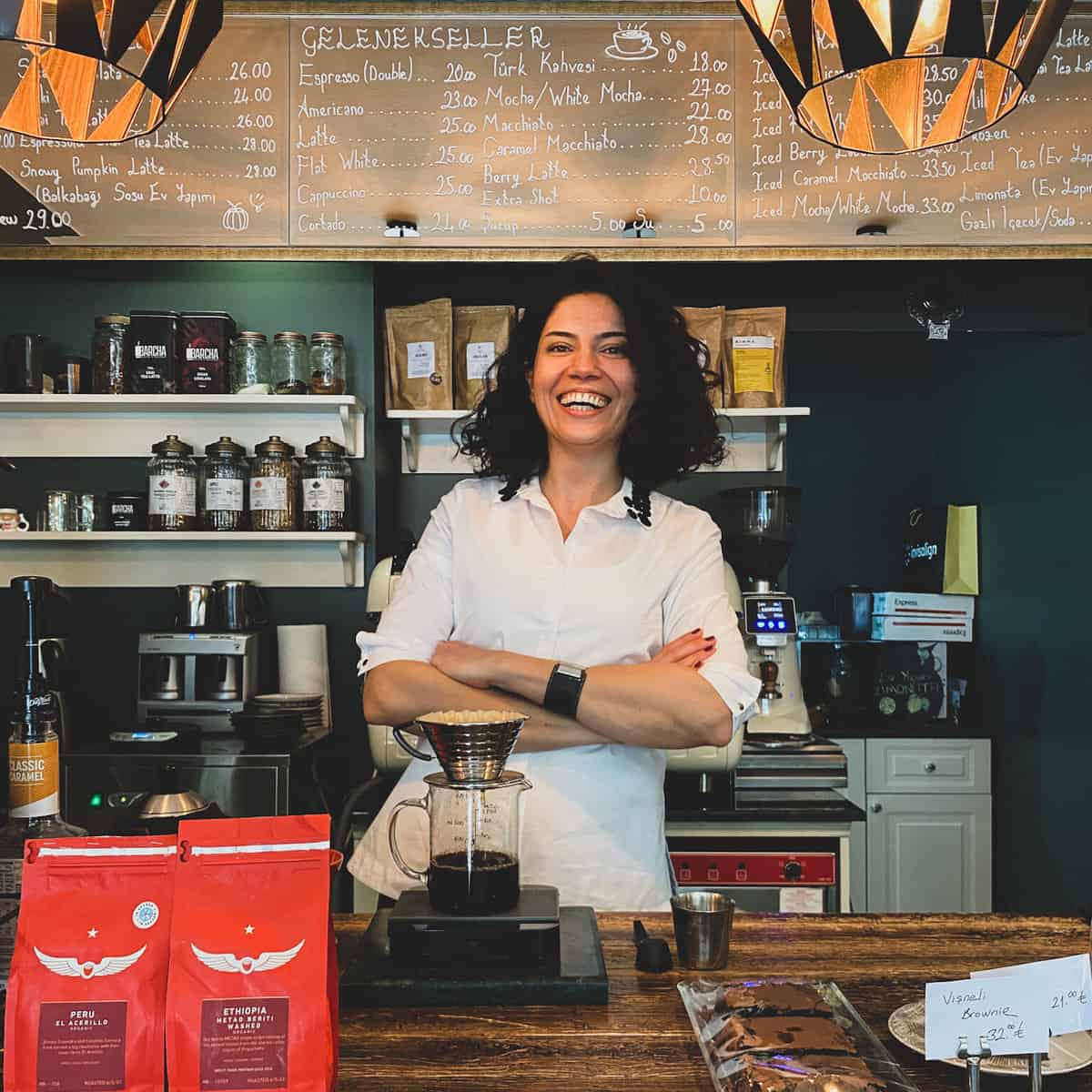 What's the most common question you get asked behind the bar? How do you answer it?
Some of our customers can't decide what to drink and our baristas try to help them. But we come across with a saying which I hear a lot more often than you would guess: Please, surprise me. After hearing this question we brew V60 with our aromatic and special coffee beans. A cup of well-brewed coffee always surprises people in such different ways. I also prefer to describe myself more as a brewer than a barista. Capturing different flavors and awakening new senses with each brew is my favorite thing about coffee. It surprises me more and more every time.
What's the one coffee recipe that everybody should try?
It's not a recipe but I have an advice for you. I think everyone should try pour over coffee at least once in their lifetime. Coffee is a miraculous plant that contains a lot of components. We can also define coffee as a playground which you can change lots of parameters and have different outcomes every time.
How has Rispetto changed since the moment you opened it?
I've always wanted Rispetto to be a place where people would feel the same way even after decades or remember their old memories by looking at the same table where they found their significant others. So it was my aim to keep that same vibe of Rispetto even though we expanded our menu or made a few changes about decoration. In the end, Rispetto will always be known for its incredibly delicious coffees and welcoming, cozy atmosphere. Also I would like to add that I define being a barista as an endless adventure. I'm still figuring out new roads and everytime I taste a coffee, I find different ways to improve myself.

Quick Fire Questions for Nihan Aytar
Would you serve filter coffee with milk if asked for it?
Yes, for sure. We should respect people's choices but if I'm being honest I should say that my hands get shaky when I give milk with coffee.
Do you ever take sugar with your coffee?
No.
Espresso or Filter coffee?
Filter coffee of course. But I wouldn't reject a tasty espresso.
Do you aim for Sweetness, Acidity, or Body?
Balance, but mostly sweetness.
Milky or Black?
Black.
Slurp or Spit?
Slurp!
Sit in or Take Away?
Sit in, coffee should be sipped with joy.
Cake or Pastry with your coffee?
Cake.
Favourite piece of barista equipment?
Brewing coffee is like making an experiment. And in all experiments you need a scale.
What is the wifi password at your cafe?
Cortado24