Our Barista Stories series has been long in the making. Since our first visits to cafes around Europe, we have met many amazing baristas who have had a number of interesting stories to share. We love the speciality coffee community exactly for the people building it and are thrilled to introduce some of those individuals to you.
Baristas truly are the ones who contribute to the atmosphere in the cafe massively and are the key reason why we'd revisit.
Read on to meet Kateřina Lukášková, brewing your daily cup of coffee at Bistro Mikyna in Liberec.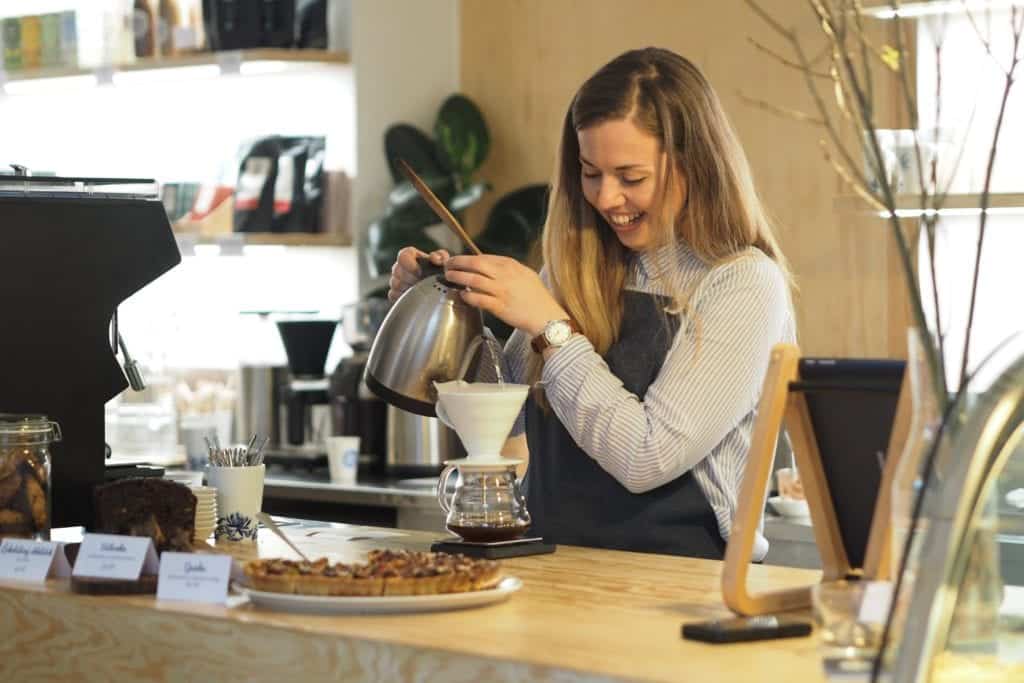 Kateřina is a 27-year-old barista from Horní Police, in the Czech Republic. She is a full-time barista at Bistro Mikyna, in the city of Liberec. Kateřina has worked in the industry for over two years.

Kateřina, do you remember your first memory with coffee?
Of course! It was when I used to prepare it for my parents. I poured hot water in a big mug over stale ground coffee and thought about how bad it smelt. If anyone told me then that I would become a barista in the future I would have never believed them. And with speciality coffee? That, I first ever drank in Liberec. Maybe [it was] a sign from above.
Could you describe the moment or situation that made you decide to become a barista?
After a few seasons of working at a small summer restaurant with my friends, I realised I really enjoyed working in the food industry. But I wanted to move a step away from just frying French fries. I also always loved the vibe and environment of cafes and was interested in the coffee-making process. I properly fell in love with the world of coffee whilst attending the Prague Coffee Festival. Not long after that, I completed my first barista course, and six months later, I found myself standing at Mikyna.
What is the funniest thing that you have experienced behind the bar? Can you recall any embarrassing moment?
There are countless funny moments—that is the joy of working with people—but none that specifically comes to mind. We should work on maybe writing them down sometimes.
If a career in coffee was not an option, what job would you be doing?
I guess I would stay in my field of study which would mainly involve working at a chemistry lab.
Do you have an unusual habit or hobby that you love?
I do not know if it is unusual but I like mornings. The empty cafe just to myself. I play calm music and slowly prepare everything for the day of service ahead. I set the espresso recipe, turn the lights on in the cake display and, finally, take down the chairs. I would never just come in and start taking them down with my backpack still on. Thankfully, my colleagues have gotten used to my slow mornings.
What is your piece of advice for anybody starting a career as a barista?
Go after what you want. Find a place where you can grow professionally and as a person. A place where you won't get bored because this job is mainly about practice, and your qualities will increase with the number of coffees you make.
Looking back, what one thing would you wish to know when you were starting to work as a barista?
Just how many espressos a barista has to drink when setting the recipe in the morning until they reach the desired taste.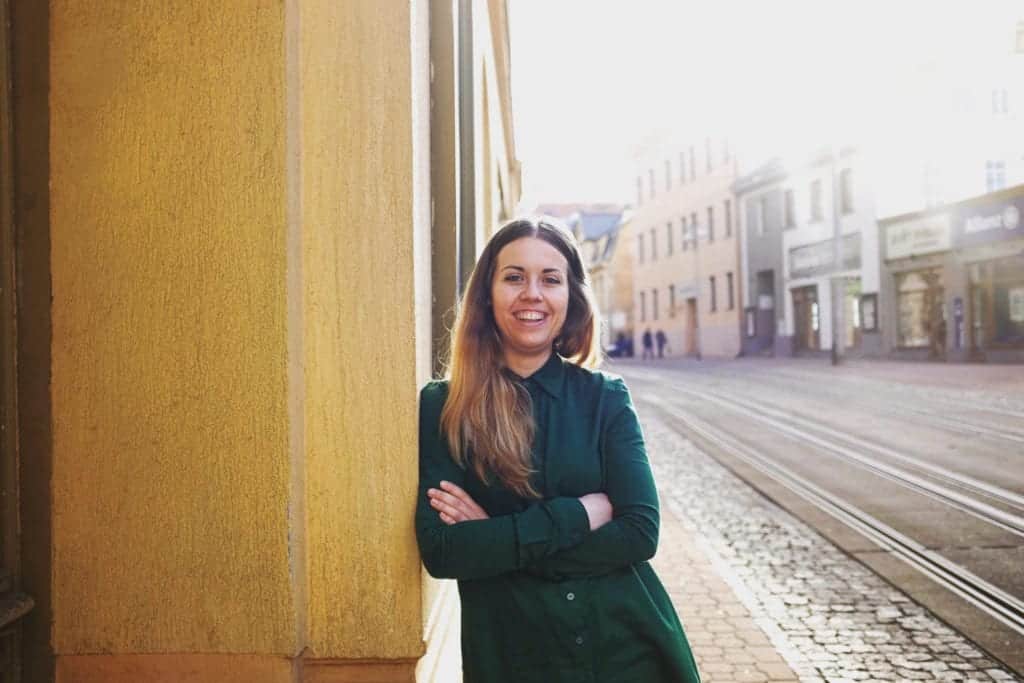 What qualities set a good and a great barista apart?
A great barista knows the regular customers well and can also guess the newcomer's order. They share what they love and know about coffee with the customers. And the best part is when they interest them enough to come back for more.
What helps you to handle a bad day at the cafe and to provide good customer service?
It's a lot about the team. When the day is bad we try to lift our spirits up with jokes and we support each other. And when the shift is over I like to escape to nature, sport or friends. Sometimes it's also nice to play some music and just be.
What is the one thing that you would miss the most if you could not work as a barista anymore?
The people of the world of coffee I had the honour to meet.
What cafes and roasters make the top-five list of places to visit in your city? Where would you take your visitors?
Sweet City is the café of Liberec-based coffee roasters Nordbeans, which we cooperate with. It is a safe hit if you want to taste their coffee, and there is a possibility of arranging a tour of their [roastery] space. Even if you don't do the tour you can still enjoy sitting down in a pleasant environment and have a coffee by their experienced baristas.
Jedno Kafe is an espresso bar which offers coffees from many different roasters around the world. You usually won't be able to get the same coffee twice, but you definitely get a new experience each time you visit. On top of that, they organise many events including cuppings or coffee courses.
Bistro Široká is not only an excellent weekend brunch spot, but it is also a great place for meeting friends over coffee or just to relax with a book and a glass of prosecco.
Kofein plac is there for you if you need your cup of coffee very early in the morning. It is an inconspicuous small street-stand in the city centre where you can always find excellent coffee and baristas that lift your mood up.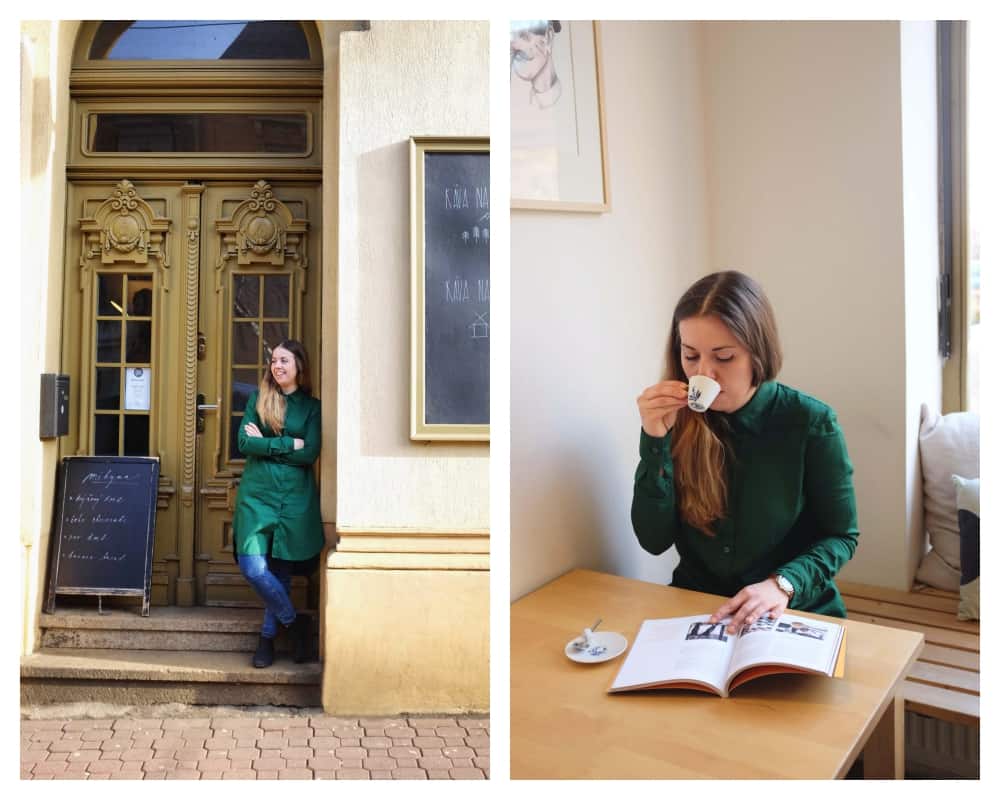 Quick Fire Question
Would you serve filter coffee with milk, if asked for it?
Yes.
Do you ever take sugar with your coffee?
No.
Espresso or Filter coffee?
Espresso.
Do you aim for Sweetness, Acidity, or Body?
Sweetness.
Milky or Black?
Black.
Slurp or Spit?
Slurp.
Sit in or Take Away?
Sit in.
Cake or Pastry with your coffee?
Pastry.
What is your wifi password in a cafe?
Espresso