Mateusz Petlinski uses all his senses when working with coffee. Colour coding helped him to become second (2015) and third (2016) best coffee taster in the world. "When I was preparing for the Cup Tasting competitions I was using colour associations. I would say this coffee is purple, this coffee is green etc. I found it a very useful technique to use," Mateusz shared one of his training practices, when we met for the first time.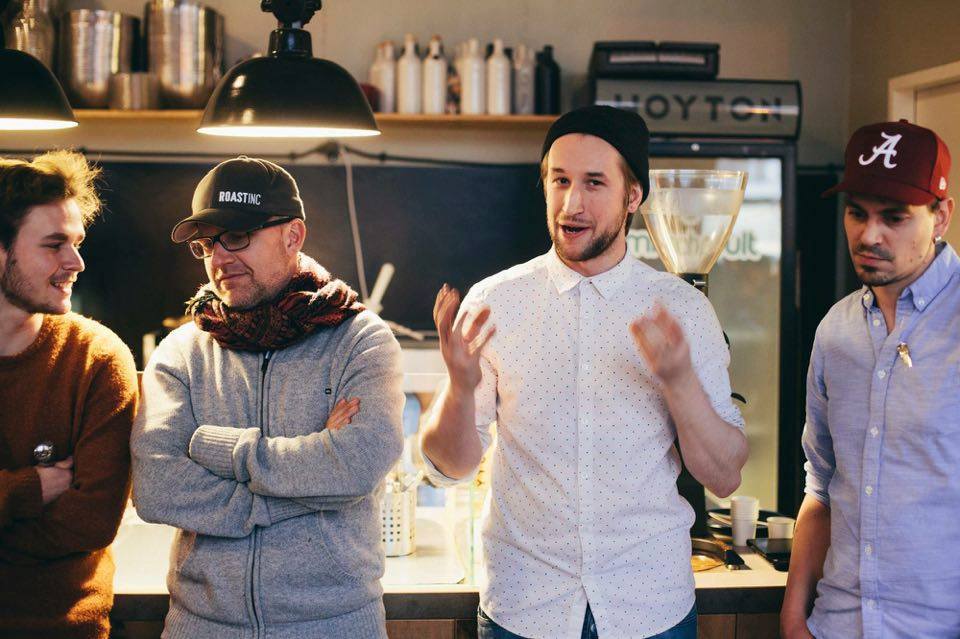 Another obsession of his is music. Mateusz puts a lot of attention to the music he plays in his cafe in Dusseldorf. In his own words: "Entering a cafe has to feel like a kick in the head." That is the reason he started Knockbox Radio, with a similar aim as this series of mixtapes, to share music that is played by baristas all around the globe. Let's see what mix he prepared for us today!
"With this mixtape I tried to build up the same tension as in our locations. Starting with break-beats, moving to good old Golden Era Hip Hop, getting fast with some soul music, and then eventually skipping to some unknown crazy Nigerian 70's Funk-Rock. Keeping the speed up with classy Deep House, some classic Funk, and then a bunch of super happy sing-along songs. Tune this babe on and you gonna have a blast."
Tracklist
1 – Undelivered Letter – Quantic and His Combo Barbaro
2 – LetMeRideSoul!!!!! – 9th Wonder
3 – Forever My Love (feat. Grand Puba) – Guts
4 – Afro Blue (9th Wonder's Blue Light Basement Remix) – Robert Glasper
5 – The Audience – Herbert
6 – Funkin' for Jamaica – Tom Browne
7 – Mimbo – The Funkees
8 – Caribbean Queen – Doug Hream Blunt
9 – 64 Ways – Detroit Swindle
10 – Raw Cuts #3 – Motor City Drum Ensemble
11 – Jungle Boogie – Kool & The Gang
12 – Interplanetary Music – Mickey Moonlight
13 – Sol Clap – Quantic
14 – Mi Swing Es Tropical (feat. Tempo) – Quantic & Nickodemus
15 – Genius At Work vol.III – Big Apple Production
16 – Forget Me Nots – Patrice Rushen
Mateusz, what came first, the music or the coffee?
A couple of years ago, when I started to work in coffee, I did some DJing in a couple of clubs around the city. I was an idiot and thought that it was a great idea, to work all day and play music all night. So you may think : "Wow, that guy definitely got to know how to make a mixtape!". That's not the case. Unfortunately, I sucked as a DJ, because I was playing the music for myself only, without "reading the crowd".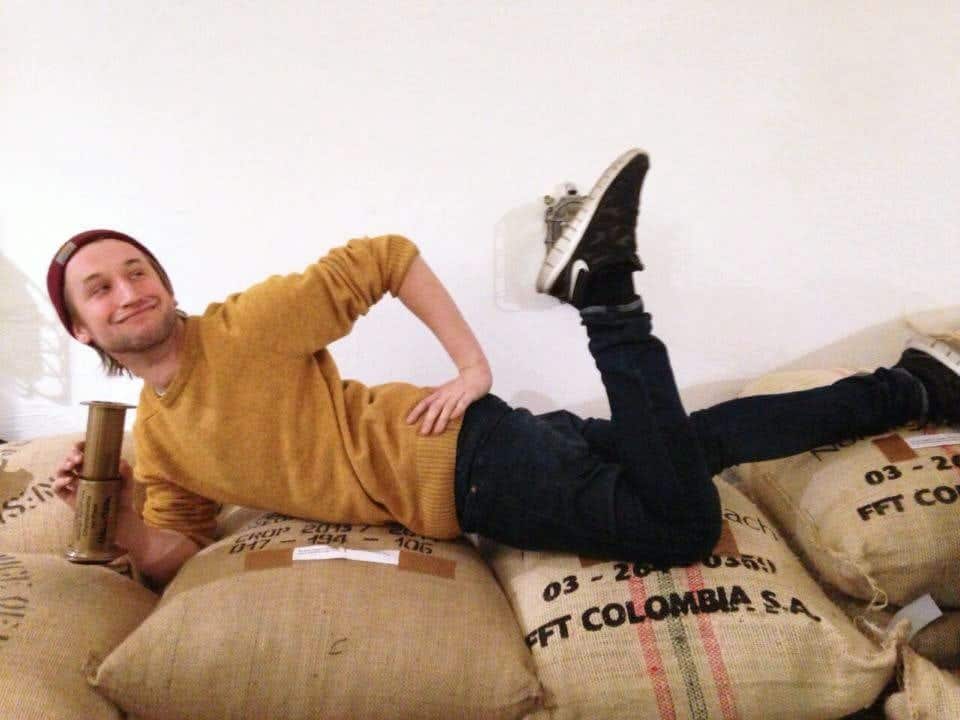 Anyway, a couple of years later I found a way to release my locked-away inner DJ by playing playlists, at our cafe, that make you wanna party. And when I say party I don't mean that I want to see people raving across the counter, I'm talking about the vibes. I honestly don't understand how a cafe anywhere in the world cannot play music, or just play some annoying background elevator-style stuff. If you ask me, entering a cafe has to feel like a kick in the head.
You are well known for your taste buds. You can taste coffee the way only few people in the world can. What role does music play during practice for the Cup Tasters Championship?
In the beginning of my practice I tried to blank out any type of sounds. I practised late in the evenings, with earplugs, so that I could focus on the taste. Actually, that felt quite awkward and was no realistic simulation of the cup tasting championships. Competitions are crowded and loud, so there is no silence at all. Just to give you an example, at the Semi-Finals of this year's World Championships in Shanghai, they started banging Carly Rae Jepsen's Call me maybe from the speakers. There is no way you can focus entirely on the coffee taste, you got to sing along. Back to the question: if you practice for Cup Tasters Championships get used to loud music and cup in the rhythm of the beat!
Do you have any secret trick on how to improve sensory skills besides loud music?
I don't know if this is a super secret trick, but the best way to sharpen your sensory skills is to feel good. I saw people suffering from hunger, because they put themselves on a diet, weeks before the championships. I don't think this works! When you feel bad, your body starts to shut off everything you don't really need, and goes to emergency mode. Say goodbye to your taste buds!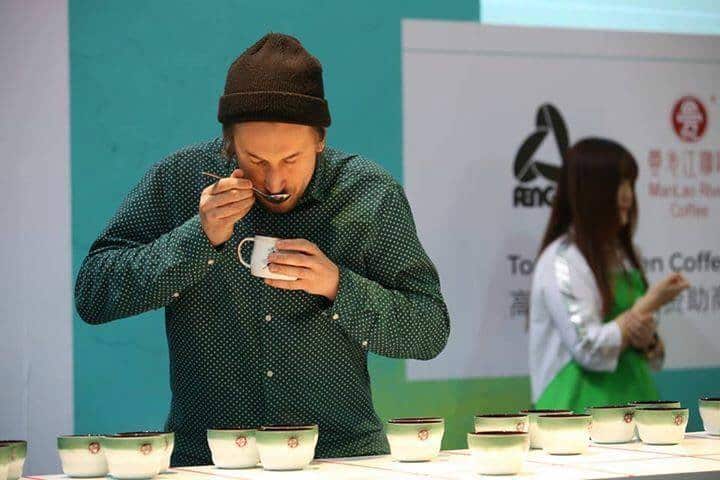 But there are a couple of things that may help, or at least helped me.
Having an appetite, without being hungry, makes you taste more intensely. But there is a fine line between being hungry and having an appetite!
I usually eat a lot of citrus fruits right before I cup, tons of it, actually. I don't know if that's true, but it helps me identify acids better.
Besides that, train yourself to taste things, like really taste. I was surprised how often I just swallowed food and drinks, without noticing what the taste even was. Extend your sensory library by just identifying the aromas in your everyday food and drinks, not only coffee!
You have just opened Rösterei Vier, a new roastery in Düsseldorf. Tell us a little bit more about the project.
I started my "coffee career" working at Woyton, Düsseldorf based speciality coffee place with 16 locations around the Rhineland-Area. In 2012 we started to roast and source our own coffee. The thing is, Woyton serves, and is known for, a couple of different things besides high quality beans, for example salads, sandwiches, granola etc. Our idea was actually to re-brand this single location and to underline our focus on coffee. But while elaborating the re-brand, it became clear that we needed a whole new and independent concept, to make our understanding of coffee more accessible to our customers, without getting too nerdy. That's how Rösterei Vier was born.
Just to give you a short German-class: Rösterei = roastery, Vier = four. Why four? Because coffee goes through four stages: harvest, process, roast, brew. Sourcing all of our beans directly from farms all over the world, and actively cooperating on all four steps, this name seemed the best way to describe the new company.
Because we all know how boring a puristic coffee menu can get, our focus right now is to present coffee and tea in the most exciting way. For example, we created a bottled sparkling cascara, that is available in supermarkets and beverage stores all over Germany. We collaborate with Good Spirits Berlin, as well as brew delicious Rare Constellation Cold Brew, we experimented and found a way to serve a super-creamy Nitro, and we do cascara based cocktails with fresh ingredients and homemade syrups. Besides that, there are coffees brewed to order. The most challenging thing is to manage all this in such a crowded place. Right now our roastery is in the very heart of the city. By October 2016 we plan to be finished with our build out and will move to a 700 m2 location outside of the city center. The fun part about that is, there is going to be a little club and a party room, so music and events are definitely our hot topics right now!
Thank you Mateusz and good luck with your next coffee and music projects!
If you liked this mixtape and interview you can find Mateusz Petlinski on Twitter and Instagram.