As third-wave coffee shops have become popular around Europe, their characteristics have become the new standard among trendy cafes. Customers who have acknowledged the existence of a flat white often mistake a mainstream, yet trendy cafe with the third-wave one. For these customers, speciality and third-wave cafes fall into the same category. However, there is more to speciality coffee shops. The experience is defined by their ability to bring together their overall concept.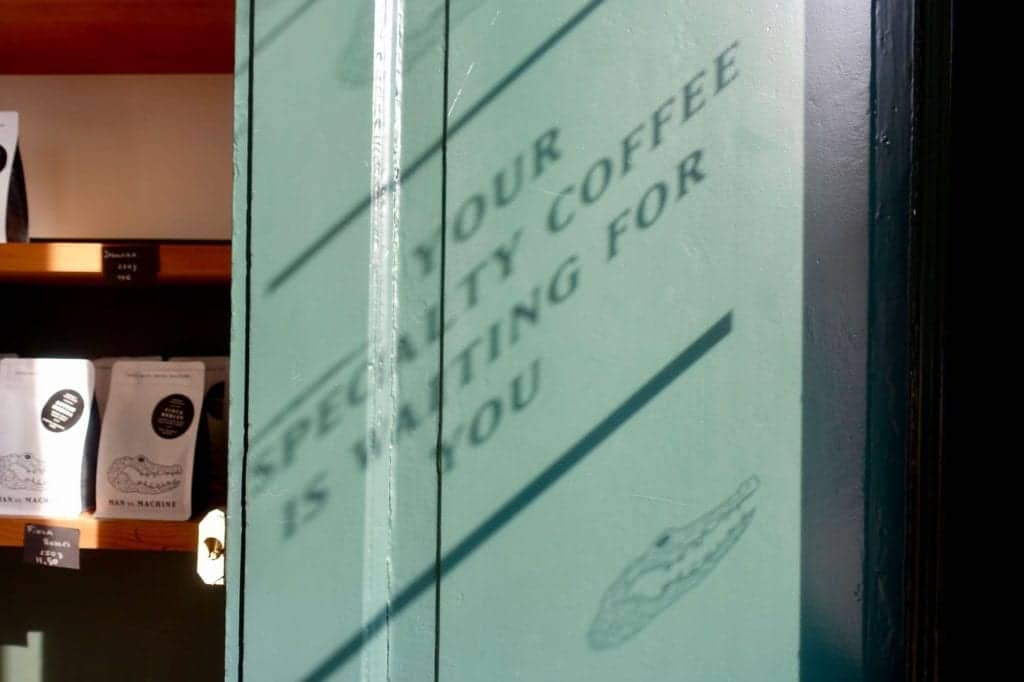 Some of these characteristics reappear in the interior design as well as the coffee and food menu of the cafes, however, it is the speciality coffee shops which brought many of these aspects into a trend in the first place. It was the passion and creativity of these cafes that convinced the crowd. Only afterwards it developed into a marketing tool. Referring to the "mainstream cafes" in the text, I am talking about the ones that simply write words like "artisan", "flat white" and "avocado toast" on their chalkboard to appeal to the crowd. Speciality coffee shops are perhaps becoming mainstream too, but in contrast to others, they are run with enthusiasm, knowledge, sustainability and creativity in mind.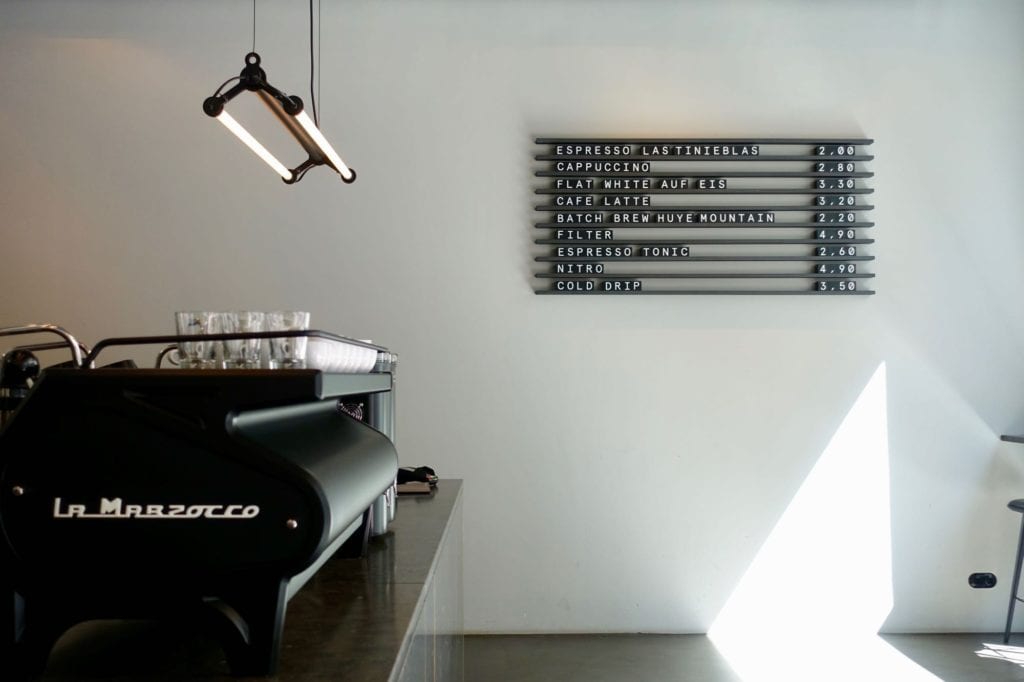 Minimalistic design
One of the most dominant features which make the two cafes appear alike is the interior design. We see numerous similarities: exposed-brick walls, black-and-white letter-board menus and neatly aligned Chemex brewers on a vintage shelf. Other popular signs are minimalistic interiors with Scandinavian furnishing, monotone colours, and Japanese tumblers for sale—are these not reminiscent of "that same type of cafe as everywhere"?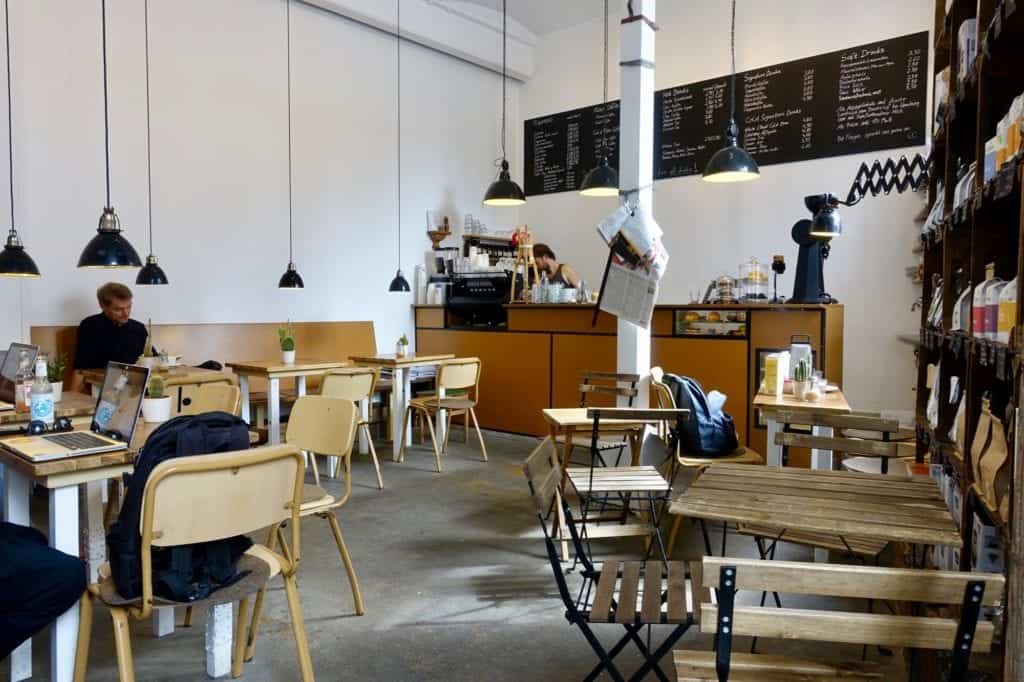 These perhaps make the cafes look to be all the same. However, what a customer doesn't see is the story behind the interior. Speciality coffee shop owners look for ways to illustrate their focus on sustainability and transparency in a unique, personalised way. Signs of these may be upcycled furniture, open-space kitchens and bars or hand-pottered cups.
Some speciality coffee shop owners actually built their own furniture and organised their bars the way that allows for better communication of what they are doing. Hermetic Coffee in Hamburg developed from a local fair-fashion boutique. They upcycled their old clothing racks and turned them into coffee tables.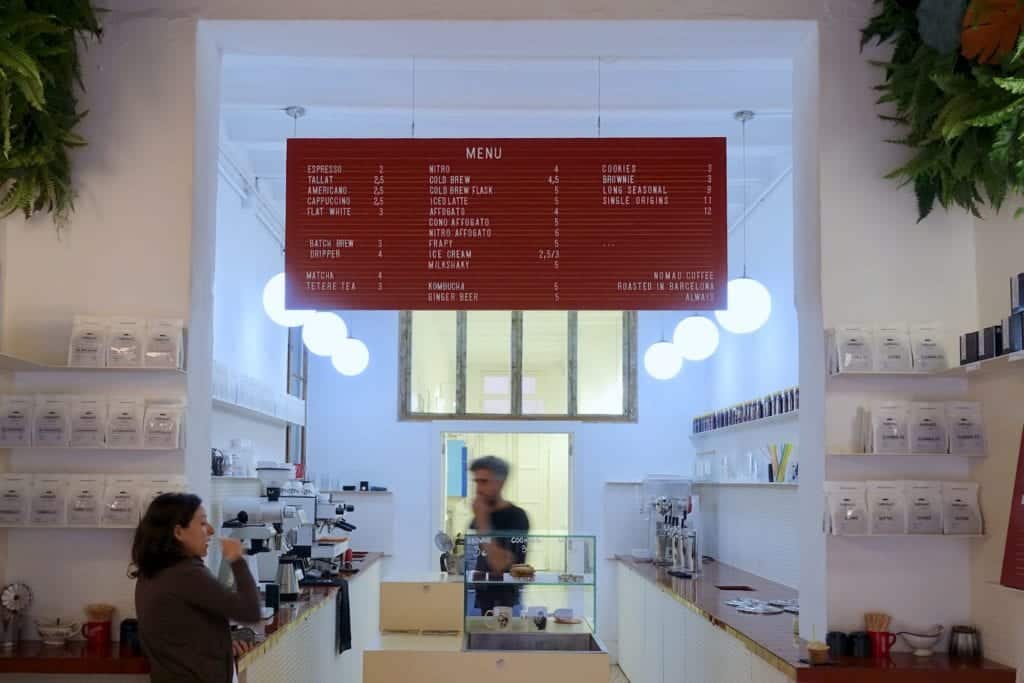 Down the street at Törnqvist, the whole space screams transparency. From the French window at the entrance, you can see past the centred bar and all the way into the kitchen in the back. What some people call minimalism, others call transparency. Observe the baristas from all sides and talk to them about "the complex fruit"—they could talk about it for hours.
It might be an individual approach of the owners that brings a personal and sustainable touch to the cafe, just like the coffee they source does. It might be undisturbing surroundings, which let the coffee become the centre of attention. Whichever way the speciality coffee shop is designed, it is not just to be "instagrammable" but, first and foremost, to comply with the same qualities as the coffee.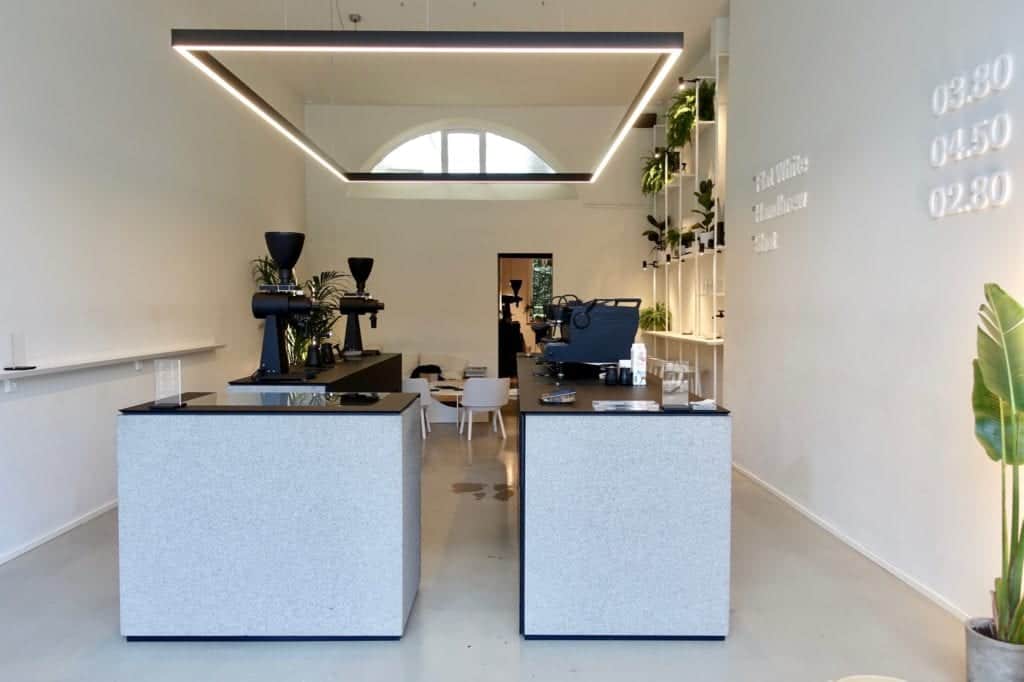 Trendy food menu
If speciality coffee shops are so centred on coffee, you might wonder why many of them distract us with other trendy menu items. However rather than to distract, their food menu showcases an additional focus on quality, delivering flavours that complete the coffee menu. Despite the great variety of food served at a speciality cafe, a few items have gained great popularity and, for that reason, have been adopted by the mainstream cafe. Some examples are homemade granola, banana bread or poached eggs on lavish avocado toasts. Taking the latter as the ultimate example, let's talk about its rise to the spotlight.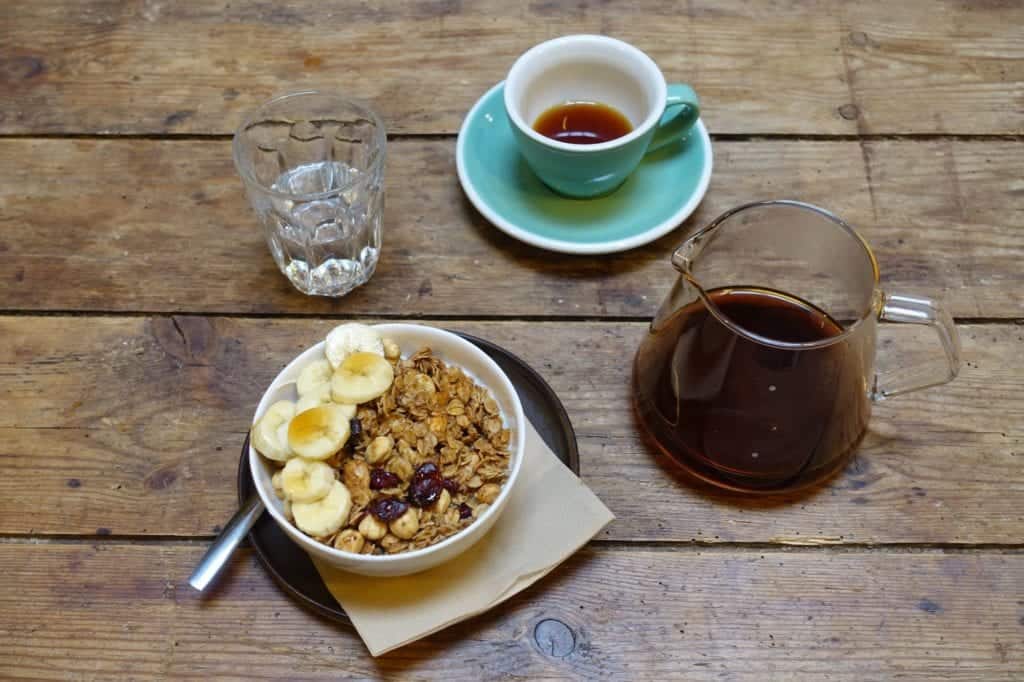 In Europe there are plenty of opposers of avocado toast, be it for sustainability or cultural reasons. After all the avocados are grown far away from where they are eventually served. However, deep-frozen croissants, which aren't much better for the environment, aren't questioned in the same way. Perhaps croissants are now widely accepted as a cafe standard because their origin has always been in a cafe environment, which makes them a "cafe standard". Now, the rise of speciality coffee has been brought about by the drinkers of flat white, therefore influenced strongly by the continent of avocado toast. So just like croissants in any cafe, avocado toast has become an inseparable part of the European third wave coffee culture too.
The important difference is how the cafes execute them. Speciality-cafe's avocado toasts aren't just a copy-paste of one original recipe. They are made with a lot of imagination, attention to detail and unusual flavour combinations. One speciality coffee shop tops the toast with passion fruit, another highlights it with Maldon salt flakes while the third adds tempura shelled onsen eggs to their creation. Even the toast allows the cafes to shine. Bread becomes much more than a base. In Berlin, eating avocado toasts means tasting your way through a few competing sourdough bakeries. In Helsinki, the smashed avocado unifies with sweet malt bread at Good Life, and in Copenhagen, at Atelier September, the outlandish fruit is finely fanned on dense rye bread.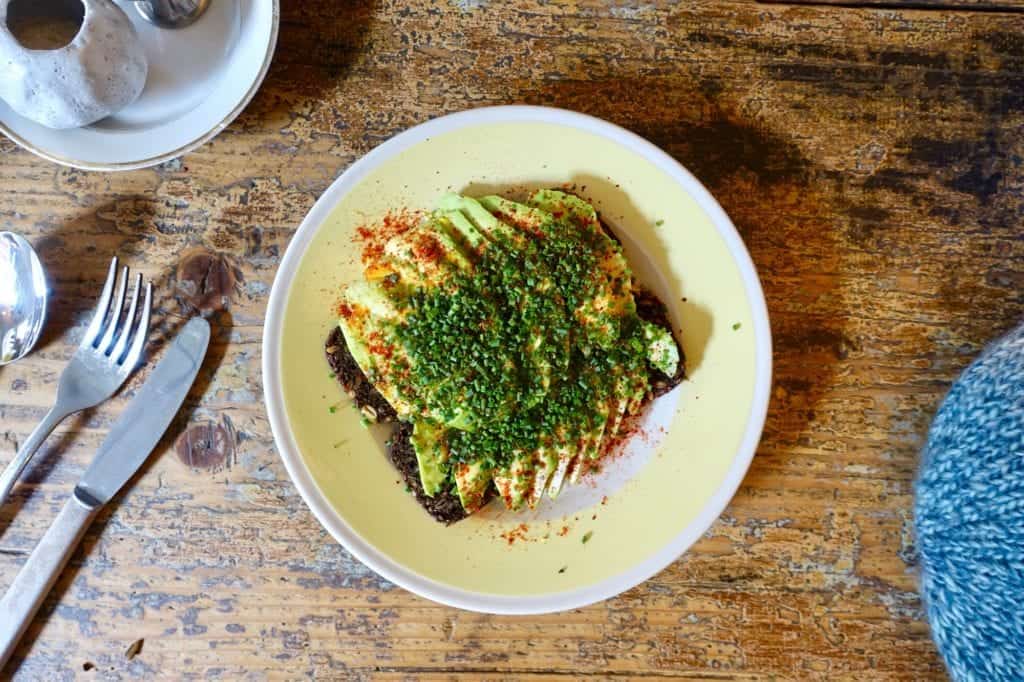 Beyond the avocado toast with creative toppings on artisan bread, presenting local products in a unique fashion is a general quality of speciality coffee shops. Whether simple or extravagant, the menu reveals a skilled palate alongside sustainable values.
Sometimes you can find local classics, executed the best way possible. Bordeaux's coffee scene flourished in this aspect. Oven Heaven rolls the city's finest croissants, SIP Coffee Bar prepares outstanding tartines and Café Laiton comforts locals with raclette, all traditional French cuisine. Madrid is a great city to tour by its speciality coffee shops as well. If you're searching for a local tostada con tomate, I advise trying one from La Colectiva or Toma Café. Lastly, the German cafe that showcases the modern quality cuisine in its best light is Balz und Balz in Hamburg.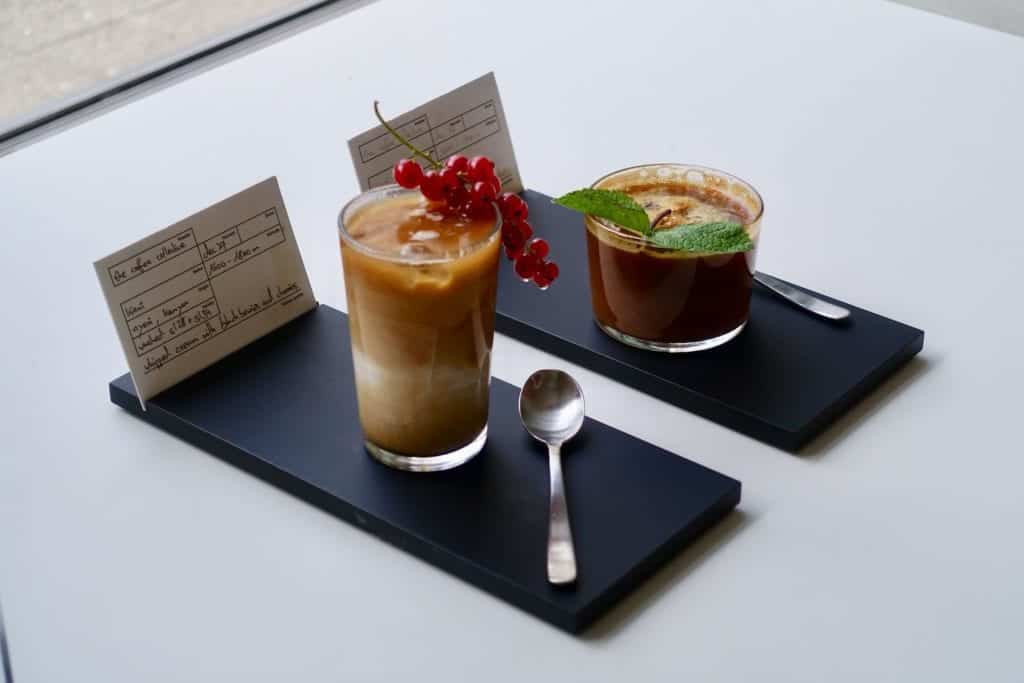 If the cafe doesn't prepare traditional dishes, you'll still notice regional produce making up a large part of the homemade menu. Coffee aficionados don't only visit coffee plantations, they also appreciate meeting their happy cows or roaming apple orchards for the pie.
Finally, if the coffee shop doesn't invest in making everything from scratch, they will know who does. Whether it's that Kouign-Amann from Albatross in Berlin or velvety ice cream at Nømad in Barcelona, going to speciality coffee shops is a sure way to taste the best delicacies in town.
Past the pure coffee drinks
The way a cafe presents coffee past its purest form will reveal what category this cafe falls into. Some speciality coffee shops focus on the purest fruity drinks, however, others aren't afraid to experiment. This will show on the menu of their signature drinks, as well as in the fusion of coffee and food in their menu.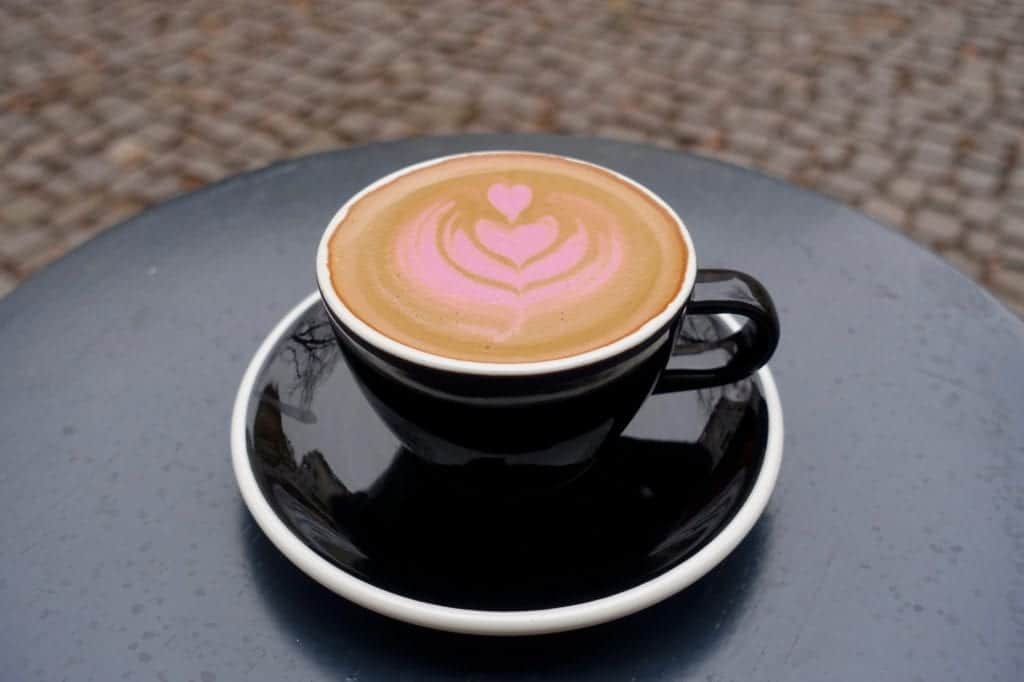 Regarding signature drinks, average customers might not see the difference between a rooibos flat white from a speciality coffee shop and the pumpkin spiced latte from any mainstream or chain cafe. However, at a third-wave cafe, the ingredients will be chosen with a lot of attention given to their provenance. Instead of flavoured syrups, the signature drinks will be mixed with selected ingredients, homemade spice mixtures and extracts. They will be carefully crafted and tasted by the skilled staff. This makes the speciality cafe's signature drink a one-of-a-kind. Different from shop to shop, and city to city.
And the cafes do not stop there. Some use the naturally sweet cascara (coffee cherry pulp) to sweeten their pastries, such as Café Piha in Bordeaux. Others focus on recommending the right roast for your selected brew method. Nowadays, you will also find cafes that serve a whole coffee-and-food pairing menu such as Isla Coffee in Berlin, which hosted the 'Flavor Mates' breakfast during the Berlin Coffee Festival.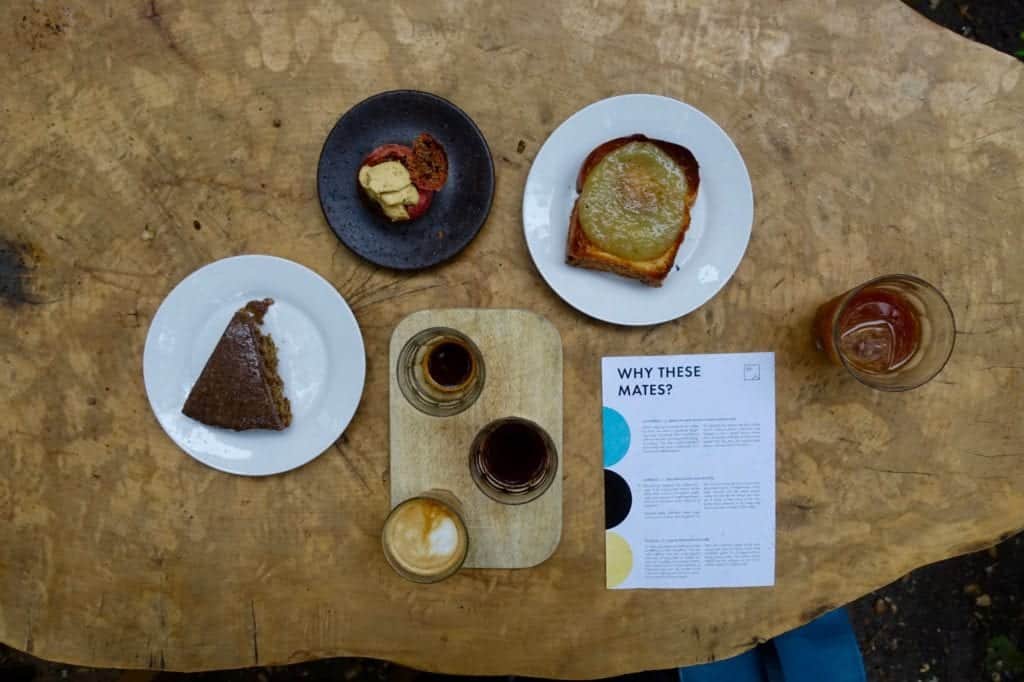 The tea-like filter brew was combined with homemade brioche and zesty lemon-thyme jam. Next, a yeasty beetroot roll with earthy miso-butter highlighted the vibrant espresso. In between, their homemade kombucha to clean the palate or, to prepare it for the most decadent part of the menu, a piccolo, accompanied by a rich oats-and-sunflower-seed cake. That is what you call a flight.
A third-wave barista makes the difference
The baristas' relationship with coffee is another aspect which will tell you if your coffee shop is a mainstream or speciality one. The quality that runs through all aspects of the cafe, as mentioned earlier, is incorporated in the way the baristas work. Their attitude and approach, their customer service and their coffee knowledge will give you some idea of how this cafe functions. A motivated barista, for instance, will search for training and constant growth of their knowledge. This will also translate into the way they serve their customers.
Think of your speciality cafe barista as a coffee aficionado who works in the cafe full-time. In contrast to this, the coffee knowledge of baristas at mainstream cafes and the effort in delivering this special product to the customers might be less present.
It's the whole concept
What makes third-wave coffee shops special is their honest concept. The interior supports the same values as the coffee and therefore helps support their message. The food menu extends this passion. Homemade dishes with local ingredients let the coffee shop shine past the perfect cup. Creativity leads to unique combinations of coffee with food and vice versa. Passion-driven baristas will make your experience at a speciality coffee shop a one-of-a-kind. So whatever the cafe looks like, or whatever menu it serves, it is the attention to every detail that will create an individual and original space we can define as a third-wave coffee shop.