Coffeedesk runs a great speciality cafe in Kołobrzeg, a town on the Baltic Sea. It has been a wonderful place to enjoy delicious brews of coffees from across Europe in a modern interior design. It was chosen the best European cafe through our own awards in 2016.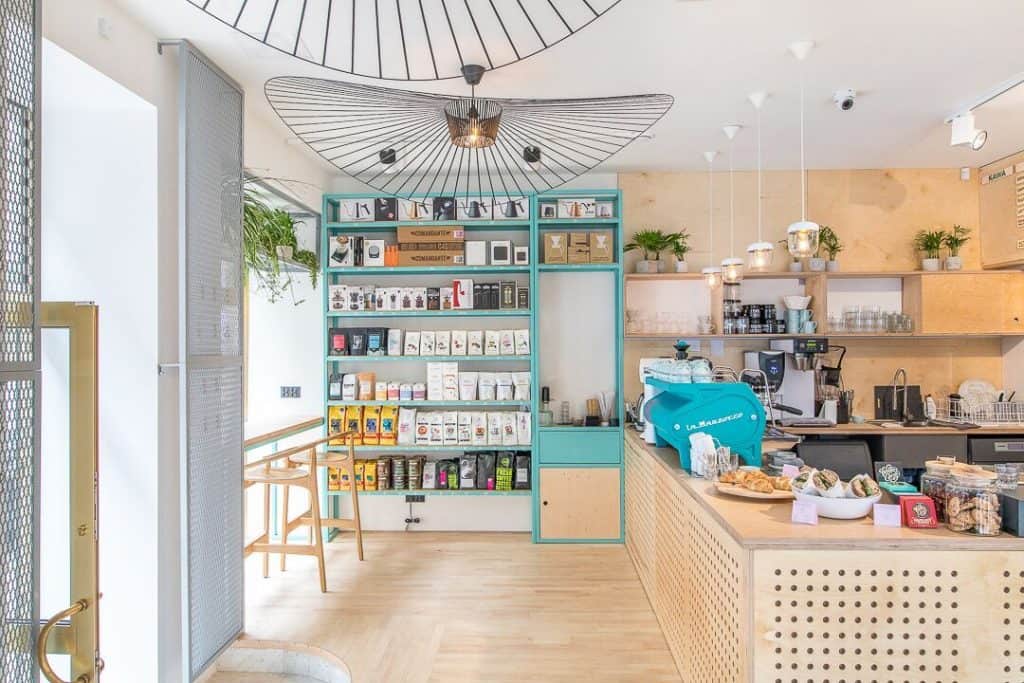 Now, one of the biggest online stores with coffee equipment in Europe opens their first Warsaw coffee shop. Their family is growing and bringing an incredible range of beans, brewed by talented baristas in a modern and stylish setting to the capital of Poland.
And where in Warsaw can you find Coffeedesk Kawiarnia? "Our location is a strict city centre. We are close to many other restaurants, bars, offices and main streets. People just come by all day long to grab a coffee, do a business meeting or just relax," told us Maciej Duszak, 2017 Polish Brewers Cup Champion, who managed and supervised the build-up and the opening process of the new cafe.
Coffeedesk Kawiarnia in bright colours
The Warsaw cafe is designed in a similar style as the original cafe in Kołobrzeg: loads of bright colours, wooden features, comfortable armchairs and a laptop station for the workaholics.
A feature that adds value to the new cafe is the space itself. The cafe gained loads of daylight—making it look very spacious— thanks to its floor-to-ceiling windows opened onto the street, overlooking outdoor tables and low garden armchairs. The feeling of relaxation breaths at you from each shot, yet, it is a space that could easily handle a high volume.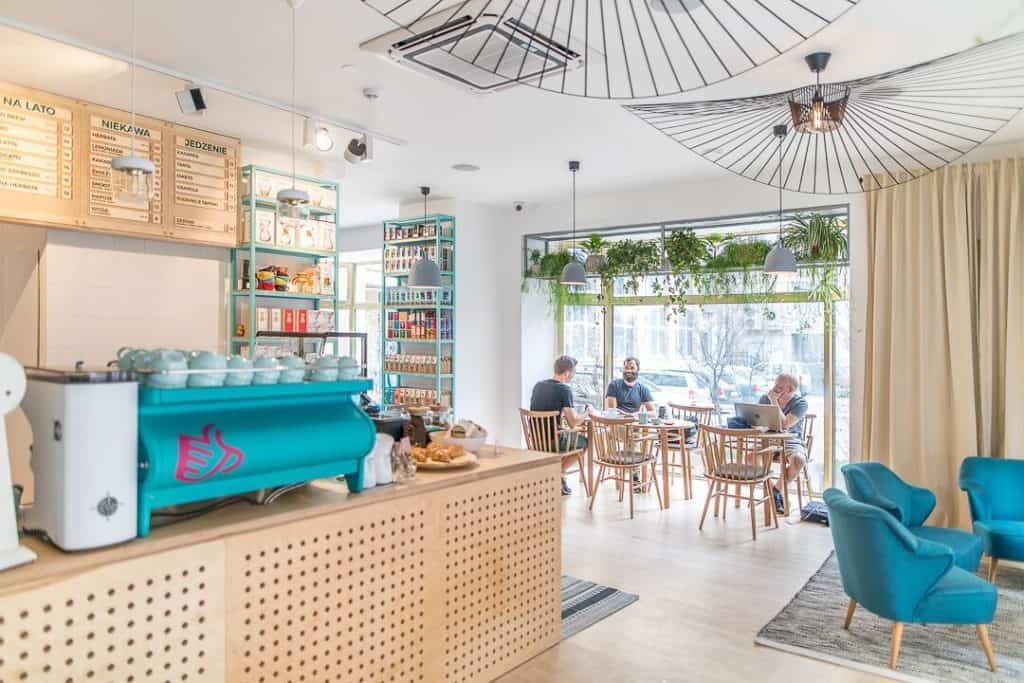 The manager Piotr Sowa, 2015 Polish Cup Taster Champion, takes care of the smooth operation of the cafe. The cafe serves a selection of international roasters, giving space to many small roasters from around Europe. To mention just a few, Five Elephant, Kofi Brand, Johan&Nystrom, Gardelli Speciality Coffees or La Cabra are just the tip of the iceberg.
The best equipment as the representation of the company
"Our cafe is also representing the whole company. That's why we only work with the best equipment on the market," told us Macijek Dusczak.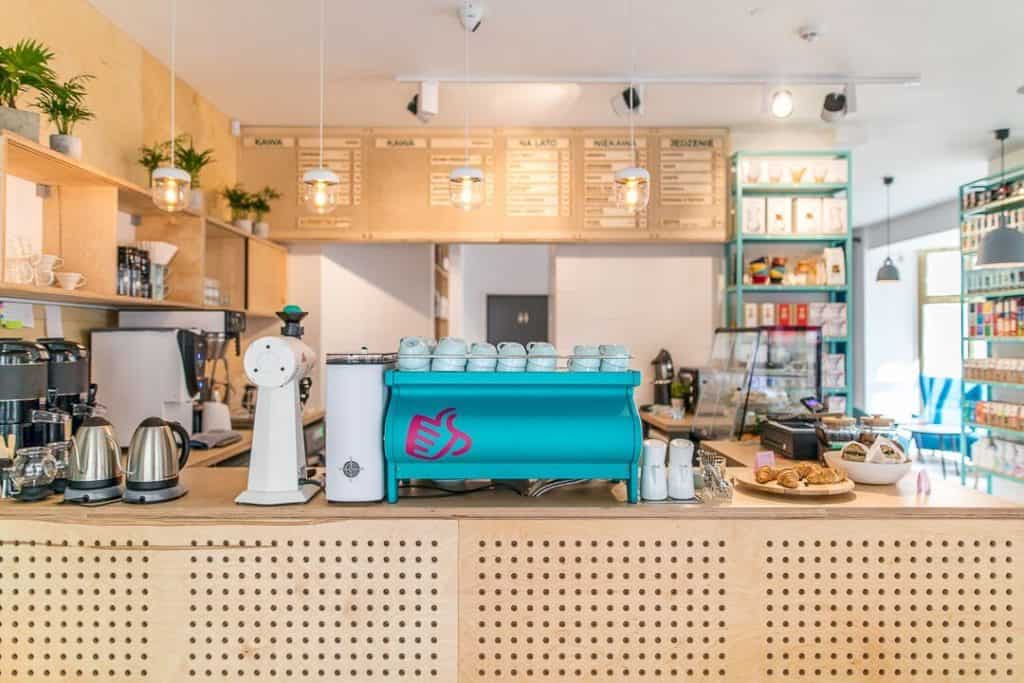 In the heart of the cafe, you will find the bar behind a natural-wood paneling. From the beautiful turquoise La Marzocco Strada machine, espressos and other drinks are served to the thirsty public. The other equipment on the bar is a Mahlkoenig EK43 grinder, a Victoria Arduino Mythos One grinder or a Bunn batch brewer. Not only does the cafe supply you with all you may need from their wide range of equipment, it is a fully functional cafe. Espresso and filter coffees are an obvious choice, but there is also a range of the usual suspects you'd expect from a brunch cafe: smoothies and morning dishes, cakes, lemonades and fresh juices. You can really get anything here.
Warsaw is the biggest coffee market in Poland
But why did the company decide to come from Kołobrzeg to Warsaw? We asked Maciej Dusczak: "We opened a cafe in Warsaw because it's the biggest market in Poland. Every month a new coffee shop is opening and the speciality coffee culture here is booming for years now. Another aspect is a shop – there is no other place in Warsaw with such wide selection of speciality coffees and all the equipment. We have over 300 products on offer, and that makes a big difference!"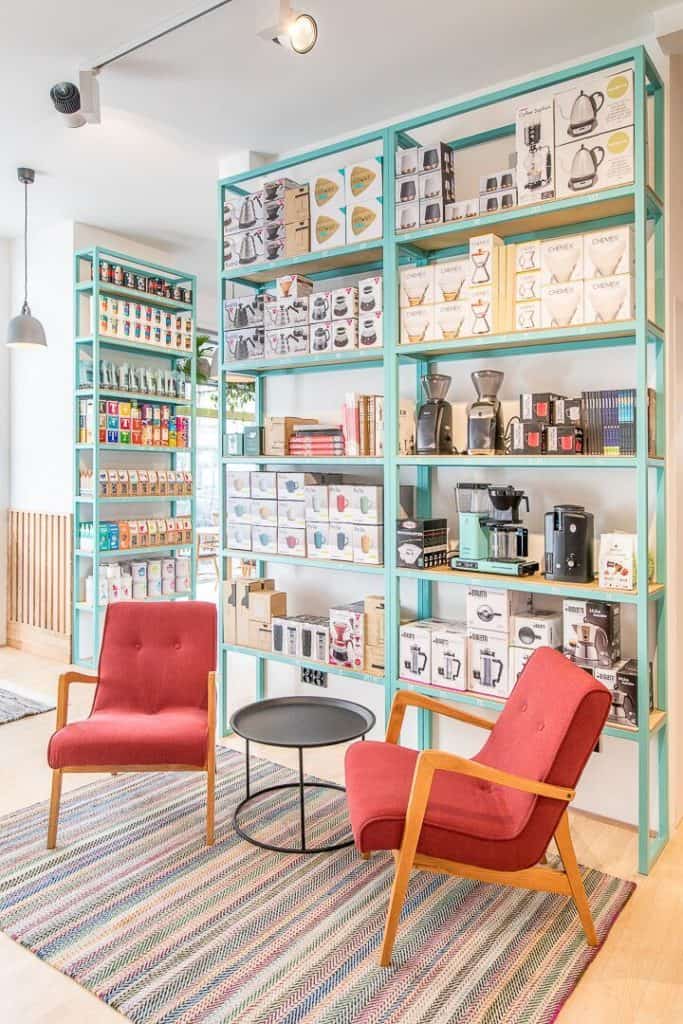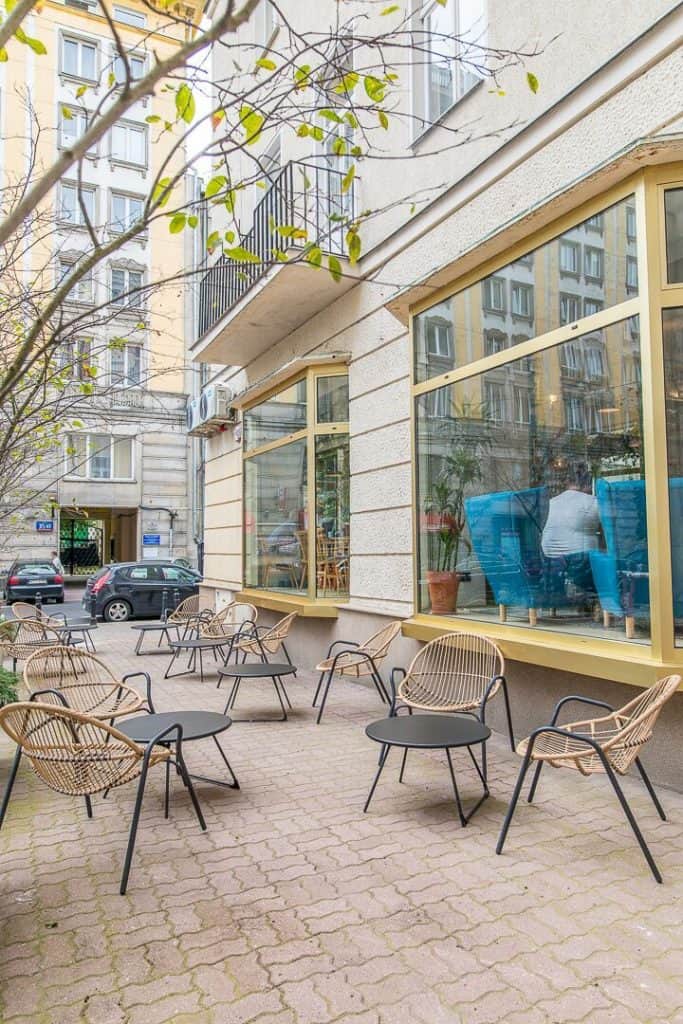 "Also, we wanted to create a place to meet our webshop customers in person. That's why they can collect orders in the coffee shop and get a cup of coffee. Doing so, we are not only 'virtual' but became 'real'," he added. Pop in for a coffee, or to meet a friend if you are visiting Warsaw.
Coffeedesk Kawiarnia
Wilcza 42, 00-679 Warsaw, Poland
Note: Coffeedesk is an advertising partner of European Coffee Trip