Bologna, the capital of the Emilia-Romagna region in the north of Italy, might not draw in as many tourists as other known Italian cities, but it surely ranks high (if not the highest) among the places to eat in the country. The city is world-famous for its cuisines, most renown is the ragu sauce (called Bolognese anywhere else), for its variety of restaurants and trattorias and its streets named after food. For coffee connoisseurs, a trip through the city's fragrant porticos should definitely end with one of Aroma's unique and delicious coffee cocktails.
Aroma received the 2017 Barawards for the best cafeteria in Italy, and it is clearly one of the most popular spots in the city. Even at closing time, it is densely packed with happy clients who are in no hurry to leave.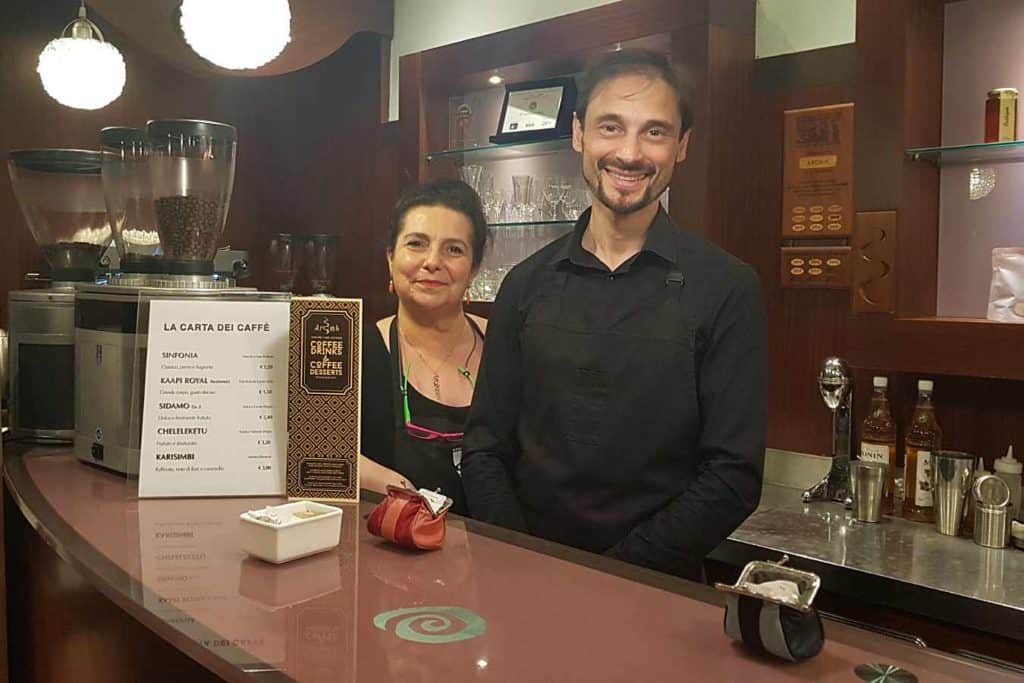 A cafe with 17 years of history
Cristina Caroli, together with her husband Alessandro Galtieri, opened this sweet little place back in 2001. Looking over the cafe, the long counter dominates the space of one lounging corner and a few small tables. The counter is the stage, covered in grinders, brewing devices and coffee bags. It is clear that this place is not just meant to serve a quick coffee, but to offer you an experience.
"We are in love with coffee as a product and as an ingredient," Cristina explains. For the Aroma owners, serving coffee is not just business but also a sort of mission. Alessandro started experimenting in coffee in 1997, at a time when speciality coffee wasn't even heard of in Italy. He quickly pulls out a menu from the cafeteria's first days which includes four blends, two single-origin Robustas and about a dozen of different single-origin Arabicas.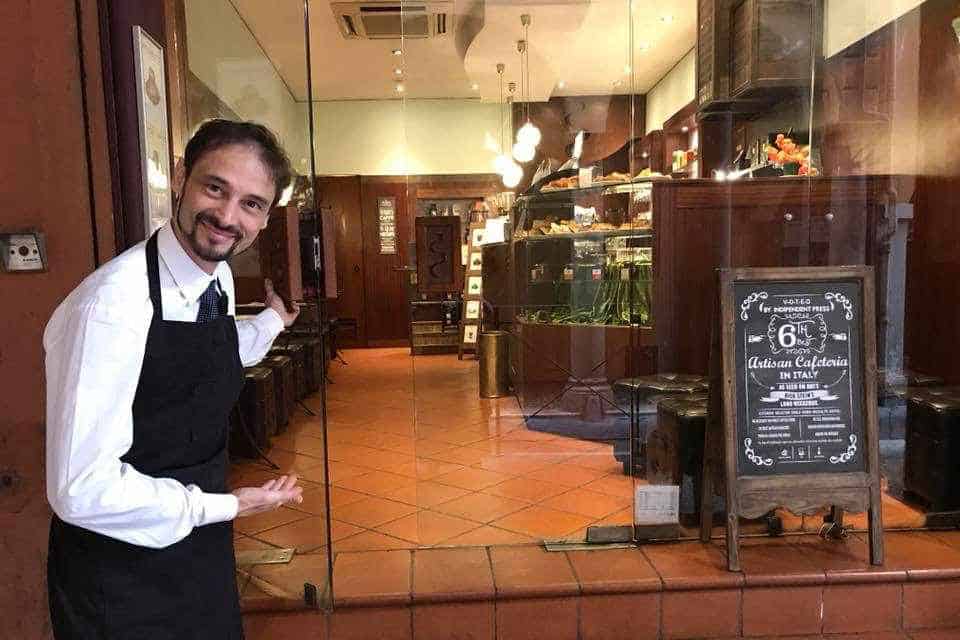 "We wanted people to choose their coffee like they choose their wine or pizza," explains Cristina. Today, and to a foreigner's ears, it would not seem unusual. In the early 2000s and on a very traditional coffee market, this was a groundbreaking idea and a great challenge.
Working on a single grinder, some equipment updates were necessary to serve this selection of beans as espresso or as a Moka brew. Napoletana, a 200-year-old brewing device made of three parts is served here as well, together with Czezve Ibrik, another of the traditional methods.
Cristina and Alessandro, the visionaries behind the bar
Cristina describes herself as a barista, although she also holds another important role as the national coordinator of the Specialty Coffee Association – Italy. Alessandro does not lag behind. He is the 2018 Italian Brewers Cup Champion. Together, they were probably the first to adopt and offer the culture of speciality coffee in Italy.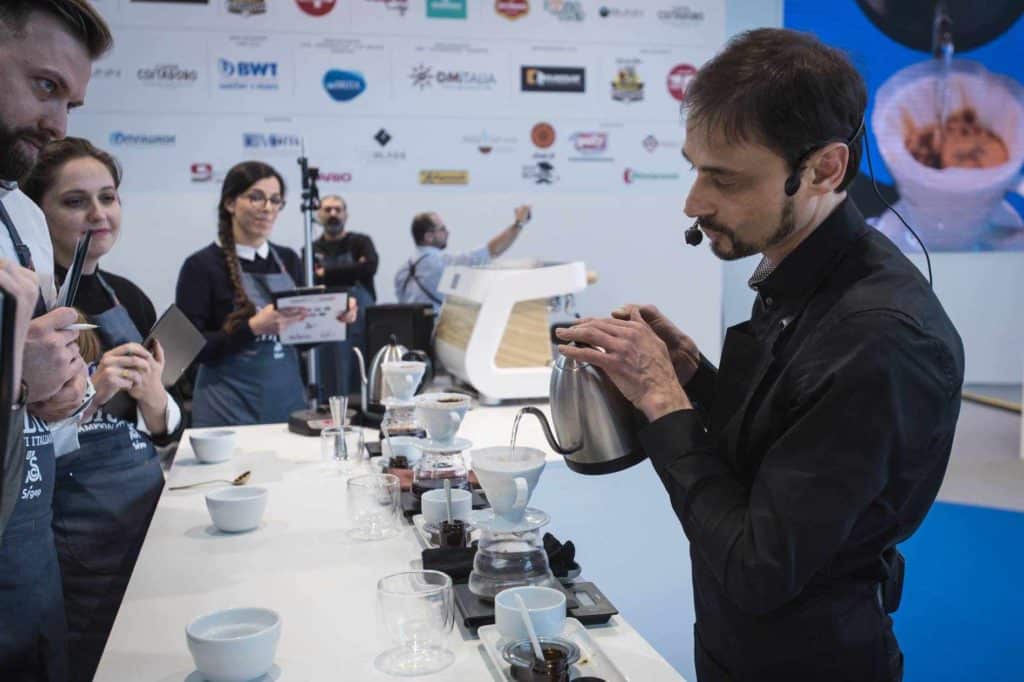 "I felt the responsibility to tell others: 'You don't know what coffee is!'" Alessandro says. Traditional Italian coffee is dense, over-roasted, over-extracted and bitter, and Aroma's job was to educate the masses on what can be achieved in coffee. The couple considers their approach as a success and to prove it, they point to the path big roasters have taken (e.g. Illy, Lavazza, Kimbo) in offering single-origins with different roasting styles. Those names picked up on the trend that Aroma realised and became a part of 17 years ago.
Home-made ingredients and over 100 recipes
While sipping a pourover of Gardelli's Mzungu, brewed by Alessandro, we have a look at their sacred iPad which holds about a hundred different non-alcoholic (or lightly-alcoholic) espresso-based cocktails. Serving sweet coffee cocktails is a long and honourable Italian tradition and most bars and restaurants serve a few common recipes. At Aroma, besides the classics, you will find some changing seasonal cocktails along with the couple's wildest inventions based on their life experience and creativity.
What makes their cocktails so memorable is not only the number of creations but especially the fact that every bit of the recipe is hand-made by Alessandro. You will not find a syrup bottle under the counter and even the little chocolate-leaf decorations are made at the cafe. They've been more than happy to share their recipes so that anyone can reproduce these drinks with store-bought creams and chocolates. The flavour, depth and rawness are all due to the fresh ingredients and Alessandro's expertise though and are unrepeatable.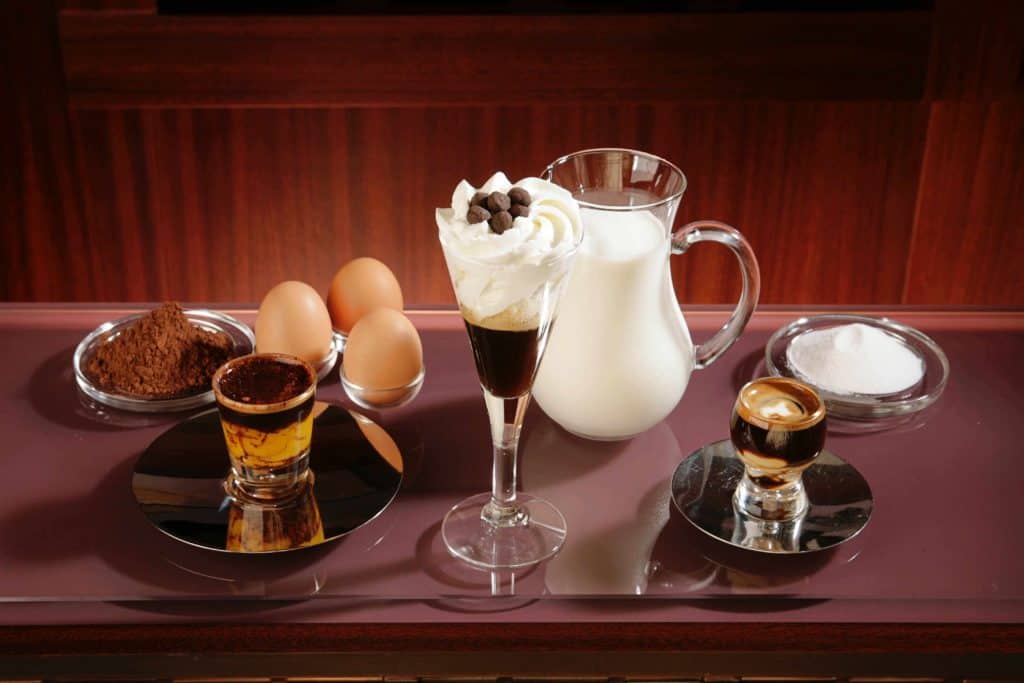 CAFFE ZABAIONE
First on the table was Caffe Zabaione. Egg yolks whipped on a low flame (at about 70℃) with sugar and Marsala wine, creating a fluffy, yellow custard which is then plopped over a traditional Italian ristretto and finished with a splash of cocoa powder. It is served in a shot glass and meant to be drunk so that first comes the spicy espresso, followed by the creamy Zabaione. Let it sit in your mouth while the wine's aroma crawls up your nose.
SIDAMO CON ANACARDI E MOSCATO
Next was Sidamo con Anacardi e Moscato. A multilayered desert of never-ending flavours served in a V-shaped shooters glass. A combination of cashew cream, an Ethiopian Sidamo espresso, nutmeg mouse, fresh whipped cream and a delicious chocolate-leaf. There's an "earth" theme to this cocktail with sweet nutty notes joining in the coffee's fruity tastes. Slowly sip it with a tea-spoon to experience all the different ingredients.
FIOR DI LATTE
We finished with a Fior di Latte. A common concept in Italy which loosely translates to "flower of milk", but comes to describe a thick cream which is nothing but sweet milk. It's the basis for most ice-creams and in a gelateria, it serves as the flavour to try in order to examine the place's quality. In Aroma's version, they simply mix an equal part of Fior di Latte with an espresso. Once mixed, it makes for an amazing "cappuccino", fat and creamy, with flavours suggesting those of pannacotta. A real delight.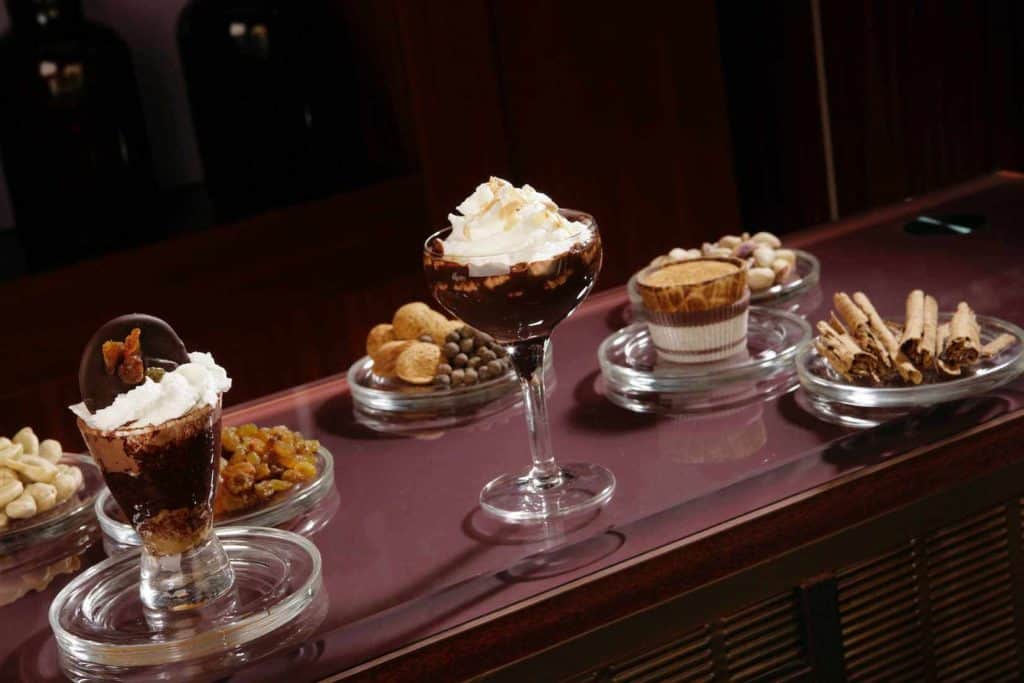 In my view, Aroma is a leader of this trend in Italy, creating the best coffee cocktails I've had the pleasure of tasting. When travelling through Italy, make sure to spend some time in Bologna, a gem of dining and eating, and visit Aroma – it will surely be an experience to cherish and share with all your friends.
Via Portanova 12/b, 40123 Bologna, Italy
Website, Facebook, Instagram