Berlin is a wonderful place to explore on a bike. It is one of the most bike-friendly places we have seen. Not as picturesque—but also jammed with bikes—as Amsterdam, with its wide streets throughout the city centre, cycling paths everywhere and the fact that the city is pretty much flat, getting around gets faster and easier on a bike.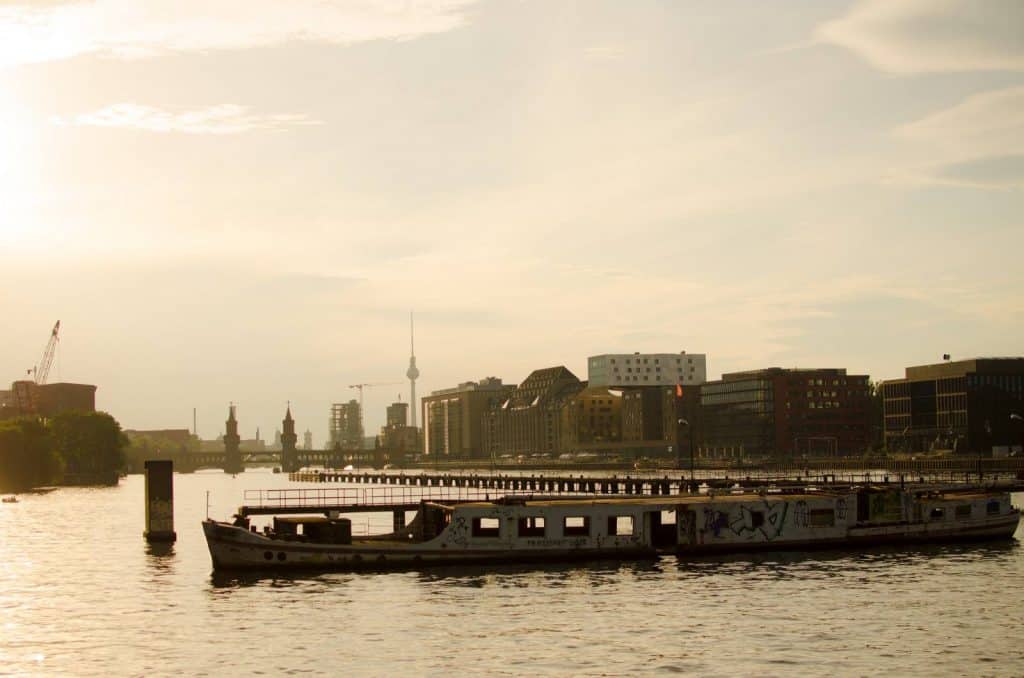 Naturally, it has become one of the 'local tips' for tourists coming to Berlin, to explore the various districts from the saddle of their bike. Bike rentals are hence to be found almost at every newsagent's or a späti (an off-licence store).
We spent one sunny autumn day exploring the cafes in Berlin that are as diverse as the city's many districts, and seemingly quite distant from one another, but a pedal away if you take the aforementioned recommendations to heart.
Saddle up and come explore Berlin with us on the orange Donkey Republic bikes! Tasty treats are awaiting you at each stop.
Fine Bagels
We have chosen to start our journey in the Friedrichshain area for a few reasons. Firstly, although Donkey Republic has got many stations scattered around the city centre, the one outside the Fine Bagels cafe promised to smell the best – of freshly made bagels. Secondly, it is notable to say that the cafe shares the space with the Shakespeare and Sons bookstore, which means you can, as we did, combine the love of great breakfast and an interesting read.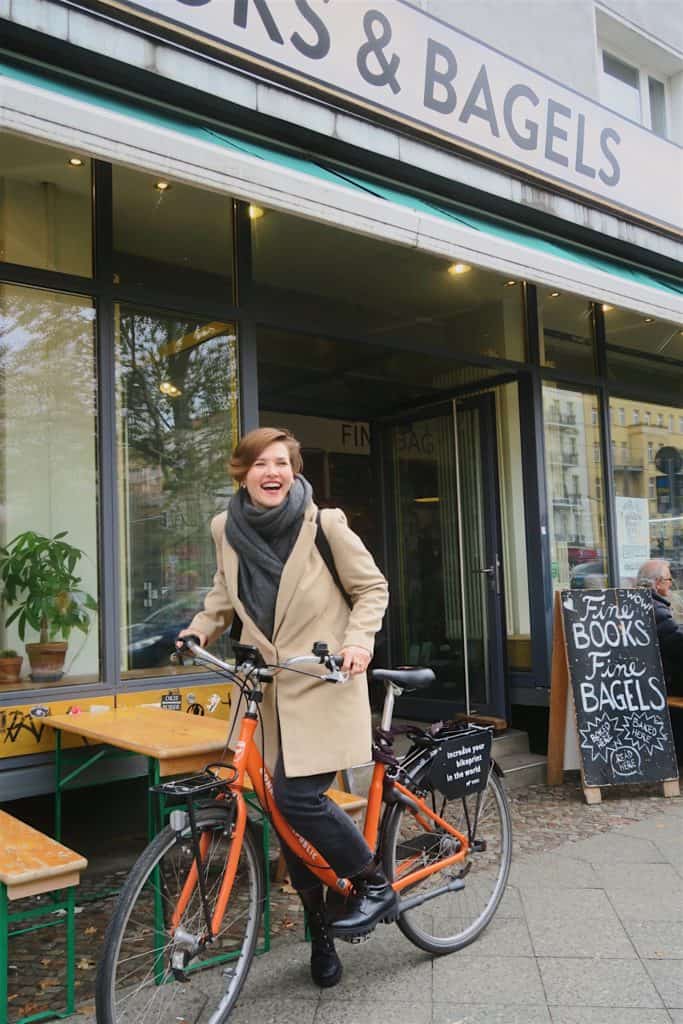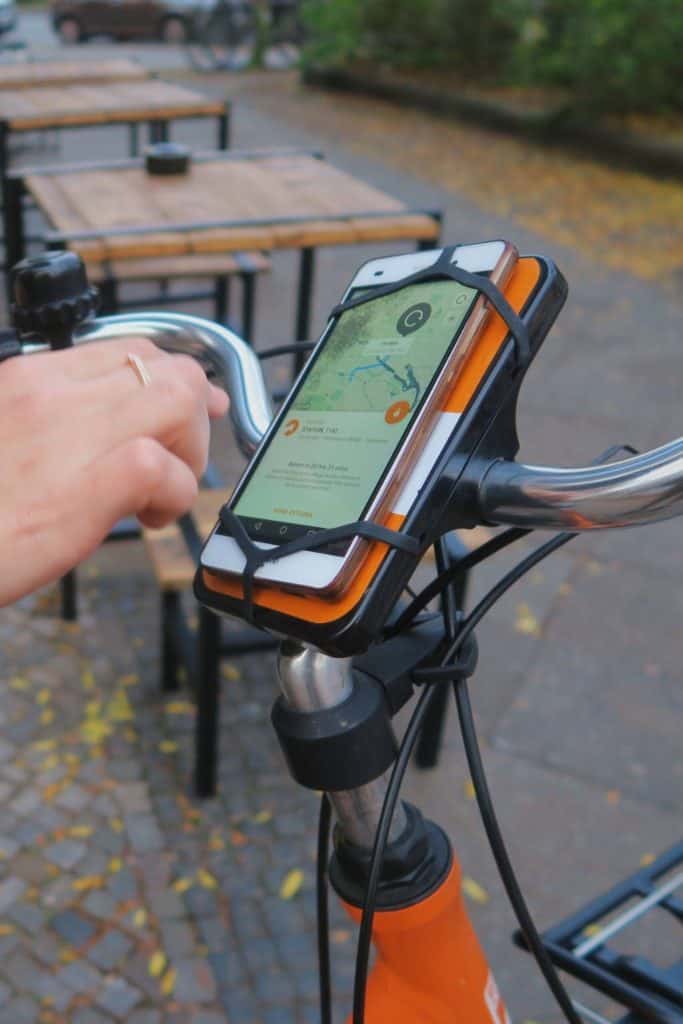 Nothing gets you ready for the day like an avocado on a multi-seeded bagel and a warm cup of Bonanza's coffee, watching the bustling Warschauerstrasse. The books are in English and, did we say thy bagel will be freshly made in-house?
After breakfast and acquainting ourselves with the mobile application we needed to rent our bikes, we were ready to head to another, a less touristy and also less stressful area for the peaceful cyclists, Alt-Treptow.
Crossing the Elsenbrücke bridge, we watched Berlin from its more distant end. You can see the Molecule Men sculptures from here, as well as the next river crossing, Oberbaumbrücke, with its castle-like towers, before heading to take some fresh air in Treptower Park.
After a round around the Soviet War Memorial in the Treptower Park, we were ready for another coffee.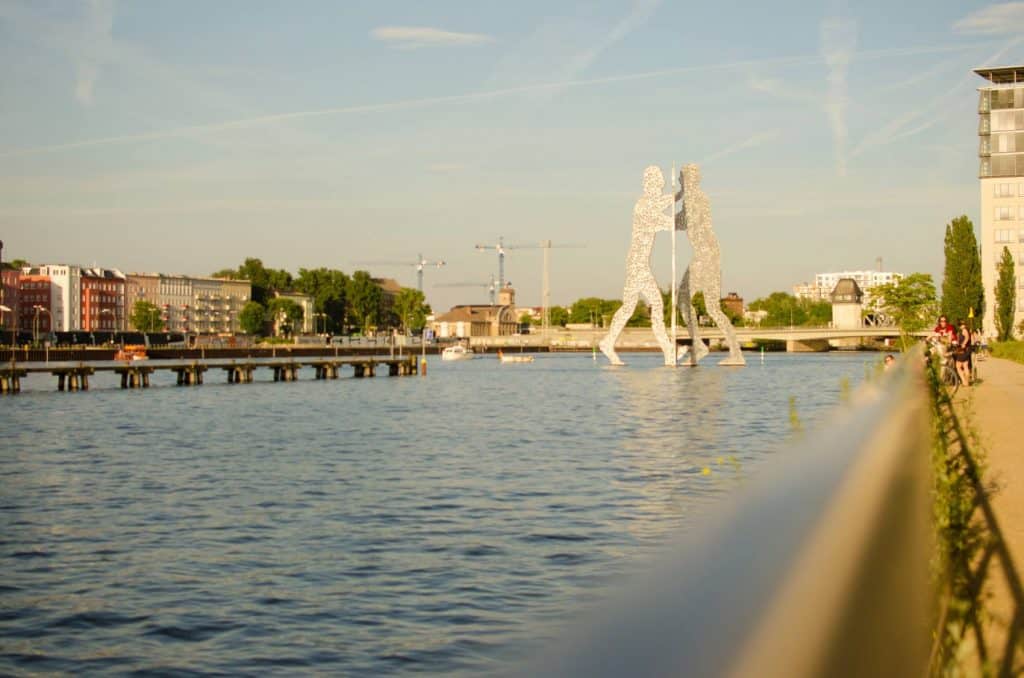 Black Sheep
This vegan cafe is the perfect spot to recover after a bit of cycling around. Warm and cosy inside, the cafe's big windows with hand-drawn illustrations are steamy and inviting you for a healthy and tasty treat.
Although a bit further from the most visited places of Berlin, the cafe is stocked with local roasters' beans, Populus', roasting just down the Landwehr Canal in Neukölln. Black Sheep are also an A-team of baristas and chefs, cooking up a vegan storm. Veggie samosas, smoothies and more awaits you at Black Sheep, also the home of the Berlin Kombucha Society, adding to the list of healthy treats in this place.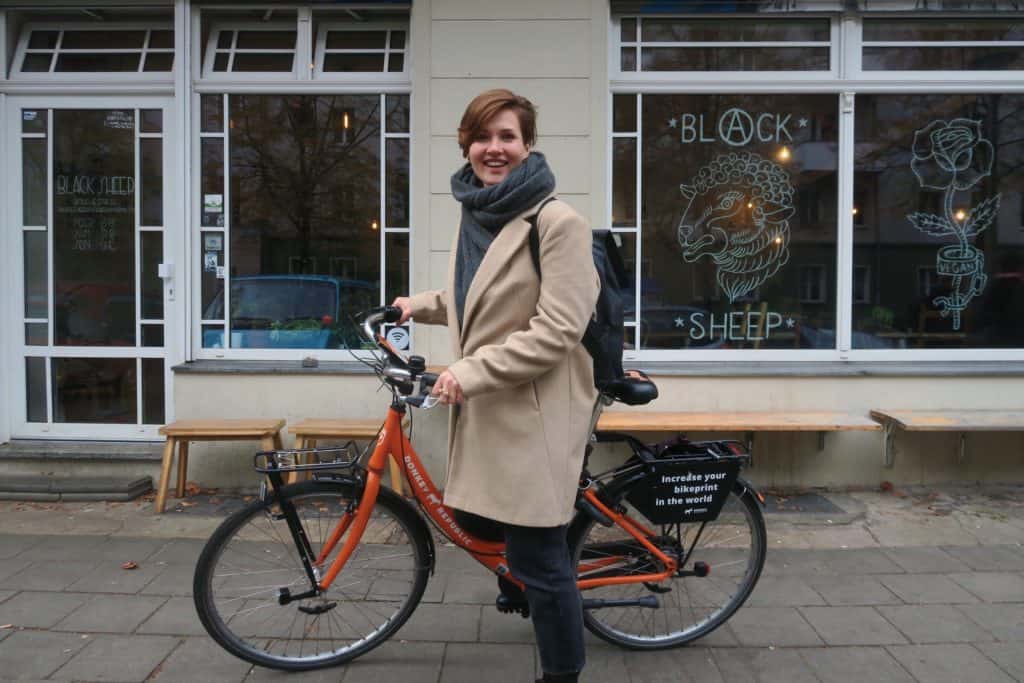 This cafe is as much a hidden gem as is the whole Alt-Treptow, for its cosiness, chilled vibes and relaxed atmosphere. Come here and never leave!
Although tempting, we decided to keep going on with our tour. Our next stop led us across the Landwehr Canal and further deeper into Neukölln. Here, the number of cafes is exponentially growing. It is hard to pick just one, but we opted for an established member of the Weichselstraße area.
O.A.K. Cafe
O.A.K. aka Our Authentic Kitchen is surrounded by a good company. We are not suggesting anything here, but either the wine bar JaJa nor the Das Gift pub are a bad option for a caffeine break. In other words, the area of Weichselstraße has got something for everybody, at any time of the day.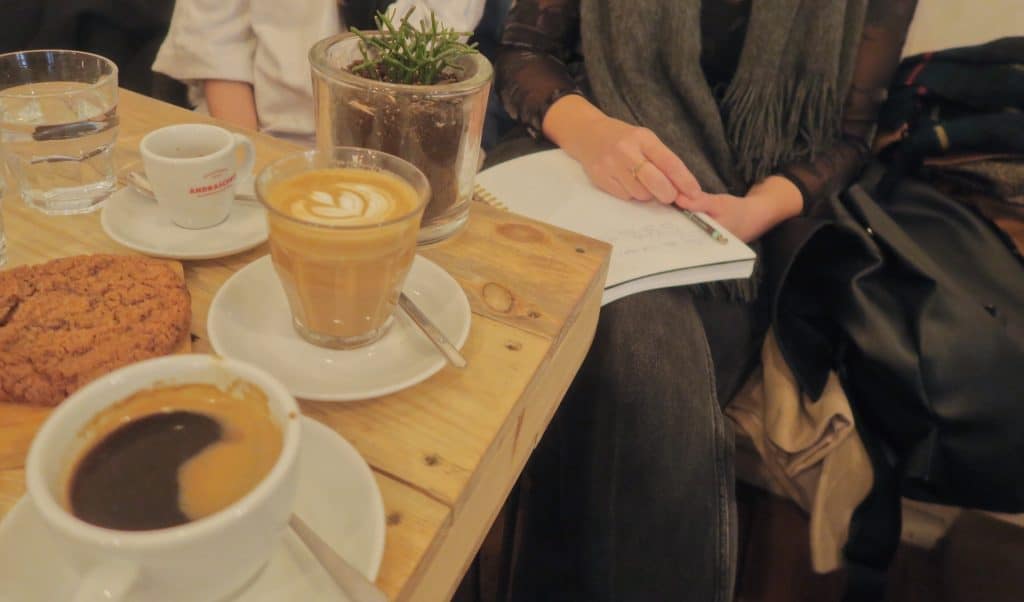 O.A.K.'s kitchen is pumping out delights all day and accompanies them with coffee from another of the wide variety of Berlin roasters, Andraschko Kaffeemanufaktur.
This is the perfect stop for an afternoon coffee-and-a-cake break. Everything made in-house, the place welcomes you to stay at one of their wooden tables and watch the staff work behind the open-plan cafe. A fairly busy, but homey coffee shop, where you will definitely feel the overseas vibe. It might even make you miss the ocean, no matter if you have ever been near one. Make it better with a slice of vegan banana bread.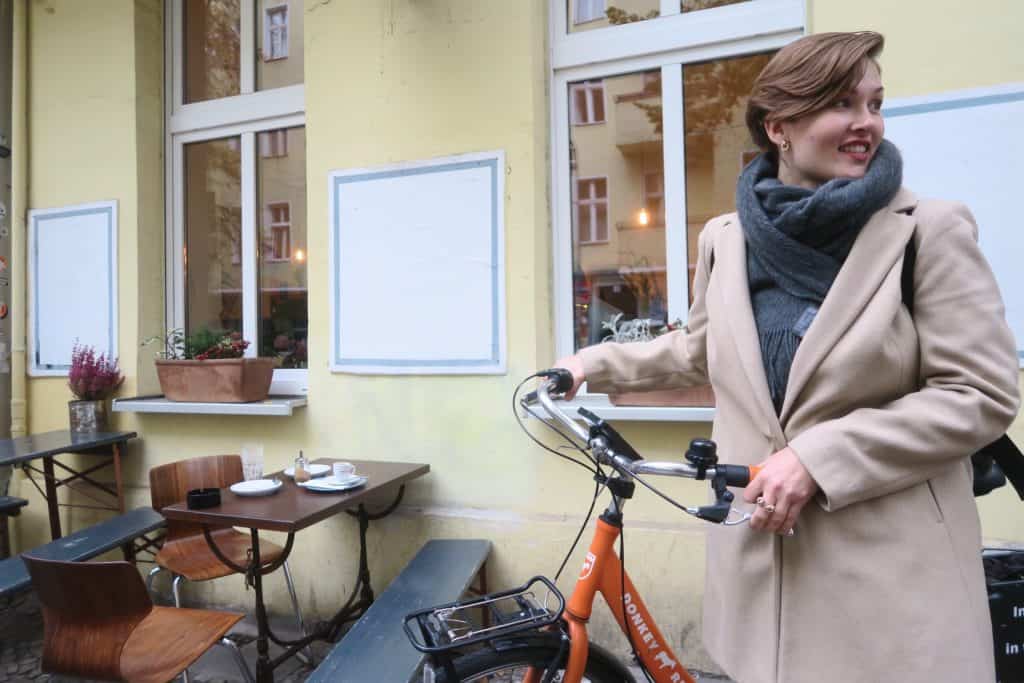 The Neukölln area is quite entertaining to cycle around on its own, with plenty of hidden streets, vintage shops and cute bars everywhere. We had to leave those for another day, unfortunately, and make our way to the only coffee roastery on our list, on one of the busiest streets of Berlin.
Kaffeekirsche Roastery
Kaffeekirsche is a great space to discover by any coffee lover coming on our little tour. Stopping by Kaffeekirsche, we managed to check out the newest spot in the district of Kreuzberg for fresh filter coffee brews and beans.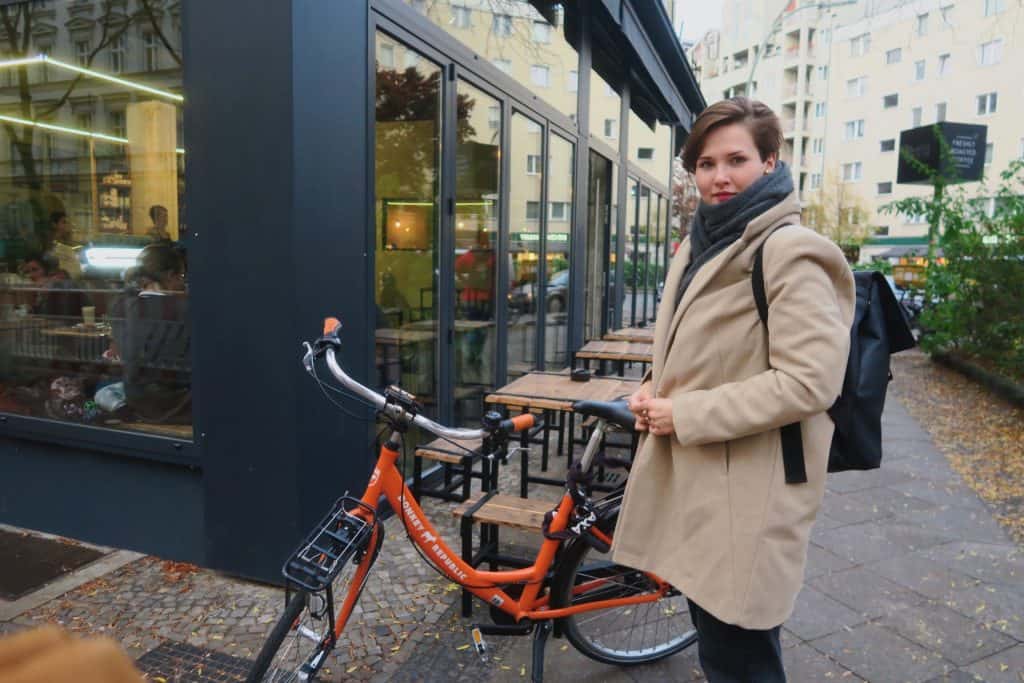 The roastery used to be located a stone's throw away, in Adalbertstrasse, until this September, when it moved into its current huge space. The modern, clean and minimalistic interior welcomes you for a long stay, be it for a chat, a bit of work, or to have a snack with your kid. It is spacious enough to take it all.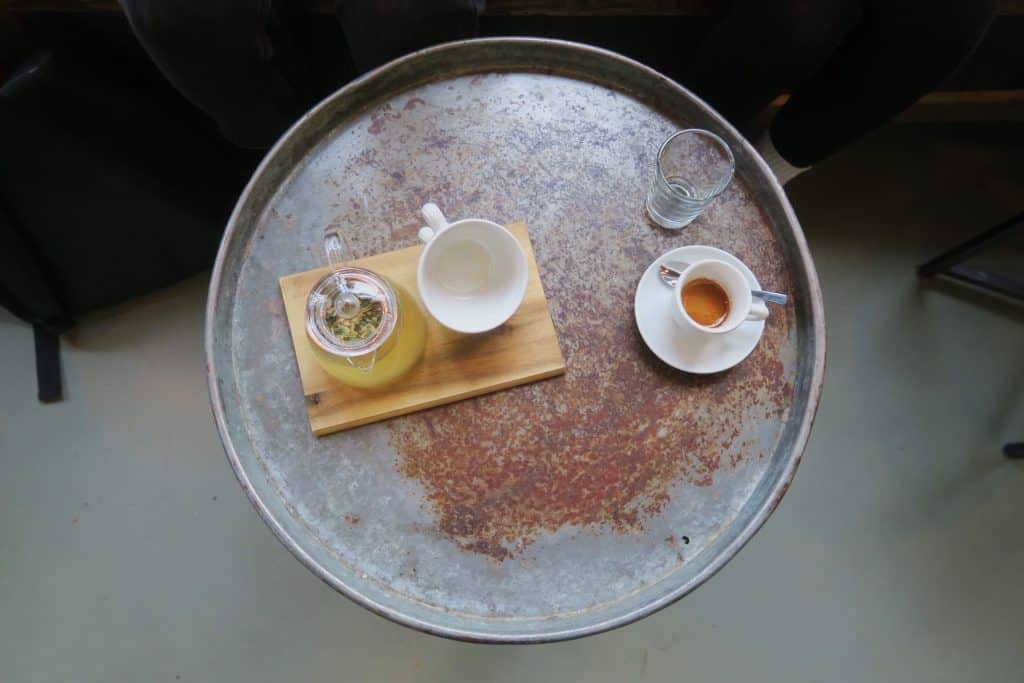 You can watch the baristas from almost every corner of the cafe, since the bar is the centrepiece of it, while the roastery is a bit on the side, behind a glassed wall. We were far past the point of enough caffeine by then, had a delicious lemongrass tea instead, but still rejoiced at the sight of a busy evening cafe service. We had our last stop ahead of us.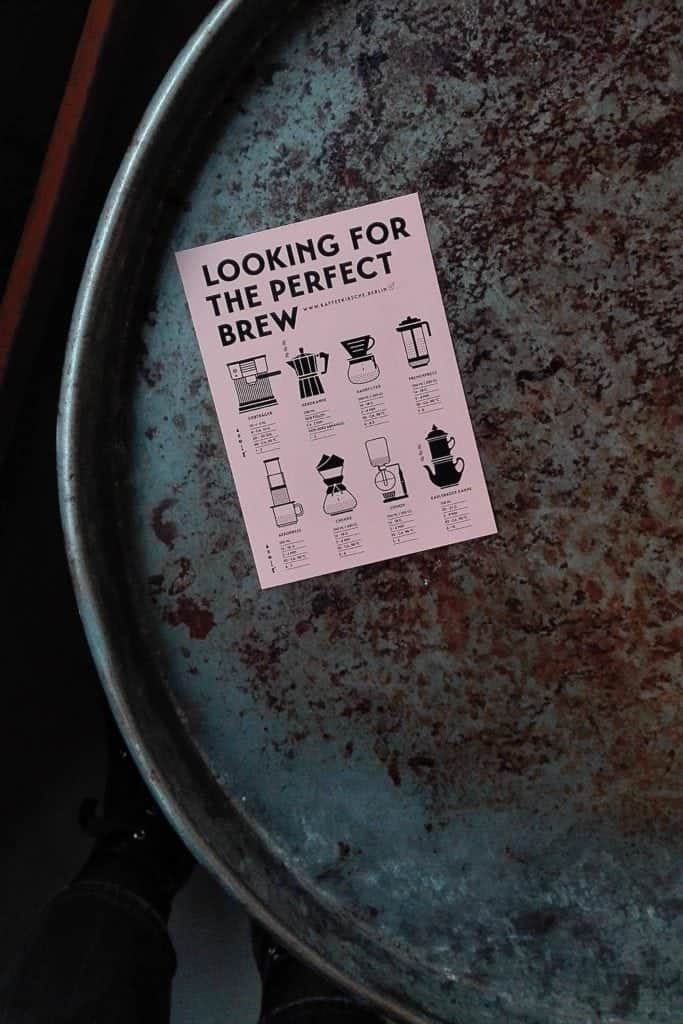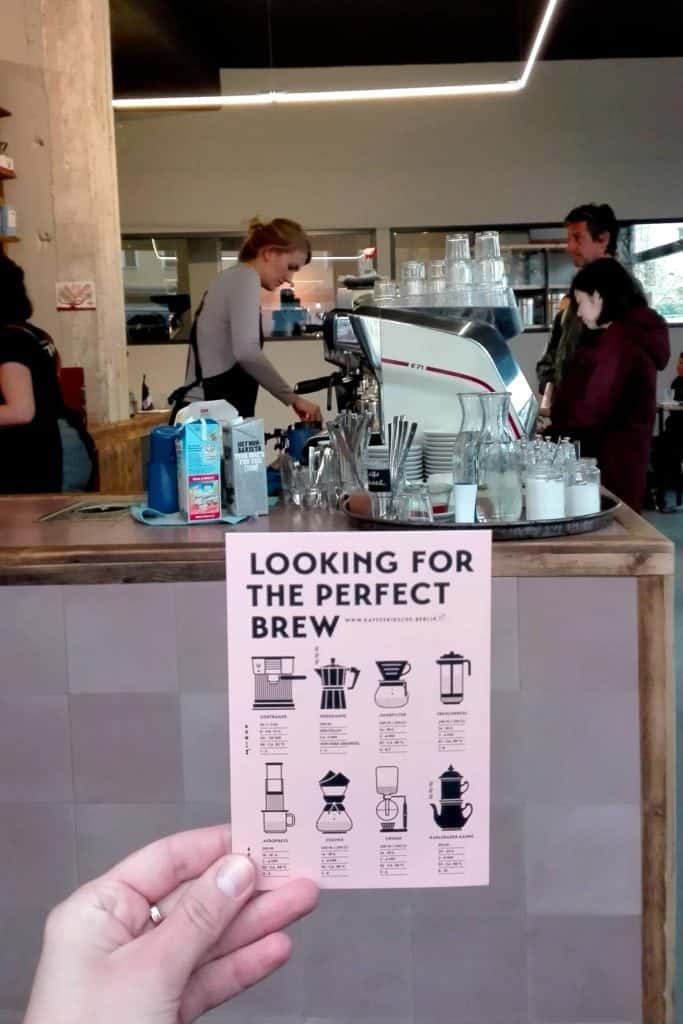 Gordon Restaurant & Records
We love how many amazing cultures and cuisines there are at the tips of your fingers in Berlin. The city is the European melting pot, and Gordon is a great example of that. Not only it is serving coffee brewed with The Barn's beans, it combines the cuisine of the Middle East with a great and attentive service, not like everywhere in Berlin, with a very Berlin selection of vinyl records though.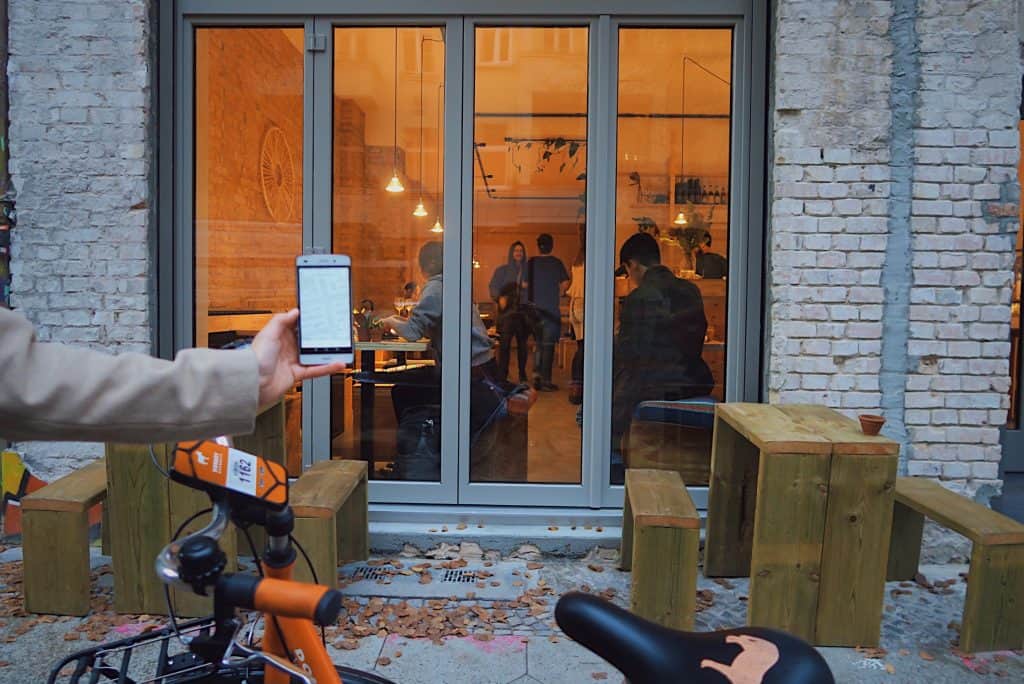 Refurbished the last summer, all in natural wood, Gordon is located just off the Tempelhof Field. Discovering this old airfield, opened to the public in 2010, you could hang around this area for a while. Gordon will be always just a few streets away, inviting you in with its warm light coming from the big front windows. Come collect new energy for further touring, or just to finish your day here, like we did.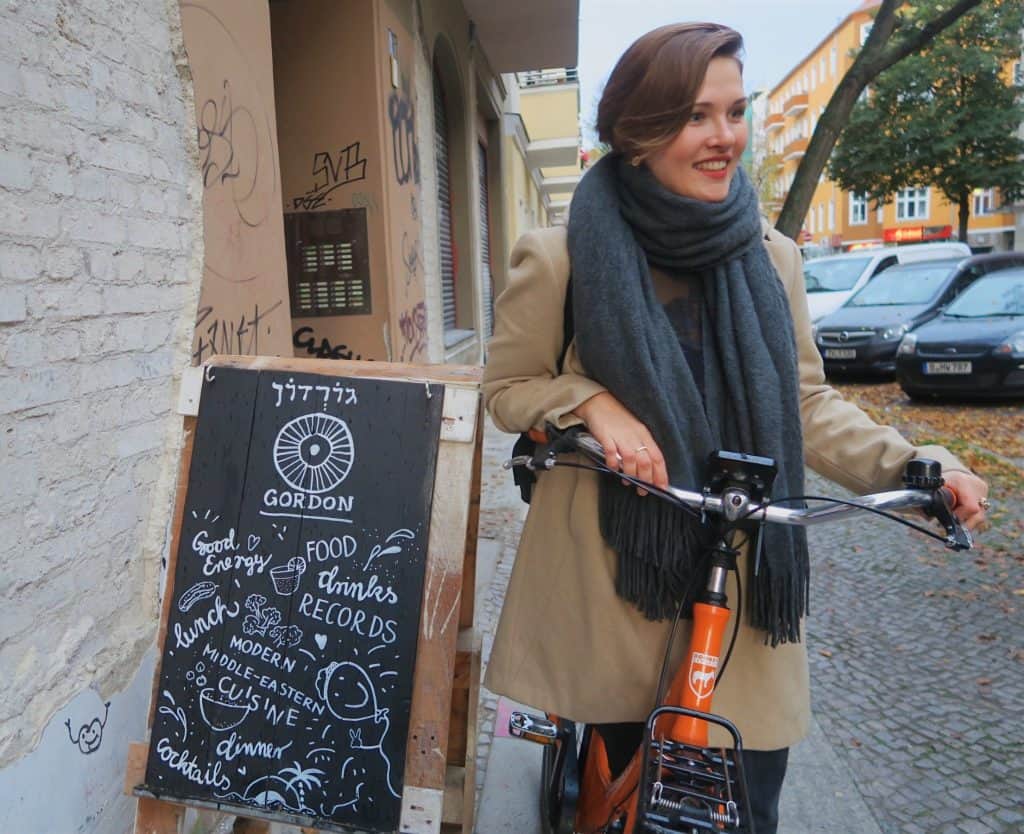 We had loads of fun cycling around on the city bikes. Within the padded saddles, we could not feel more touristy and really got into discovering the city we live in with a new perspective in our eyes. Hop on one too and enjoy Berlin with its diverse coffee culture. This guide is just a door to a very long list of wonders.
DISCLAIMER: This article was written as a sponsored post for Donkey Republic.