With the growing popularity of speciality coffee and speciality cafe establishments in Berlin, customers are becoming more interested in learning about what makes it so special. Today, we present you two institutions that we would recommend you if you are interested in improving your sensory skills!
Nano Kaffee's Sensory Skills Workshop
Nano Kaffee is one of our favourite cafes in Berlin. You will find it just off the buzzing Kotbusser Tor in Kreuzberg area. Simone König runs, together with Ramin Massah, the owner of Nano, their sensory workshops here.
Simone is a self-employed barista trainer, co-founder and coffee consultant at Good Spirits Beverages, and an experienced competitor currently working at Cafe Imports – Europe. Her skills and previous experimentation with various coffees, techniques and competition formats keep her up-to-date with the trends as well as they demand constant learning.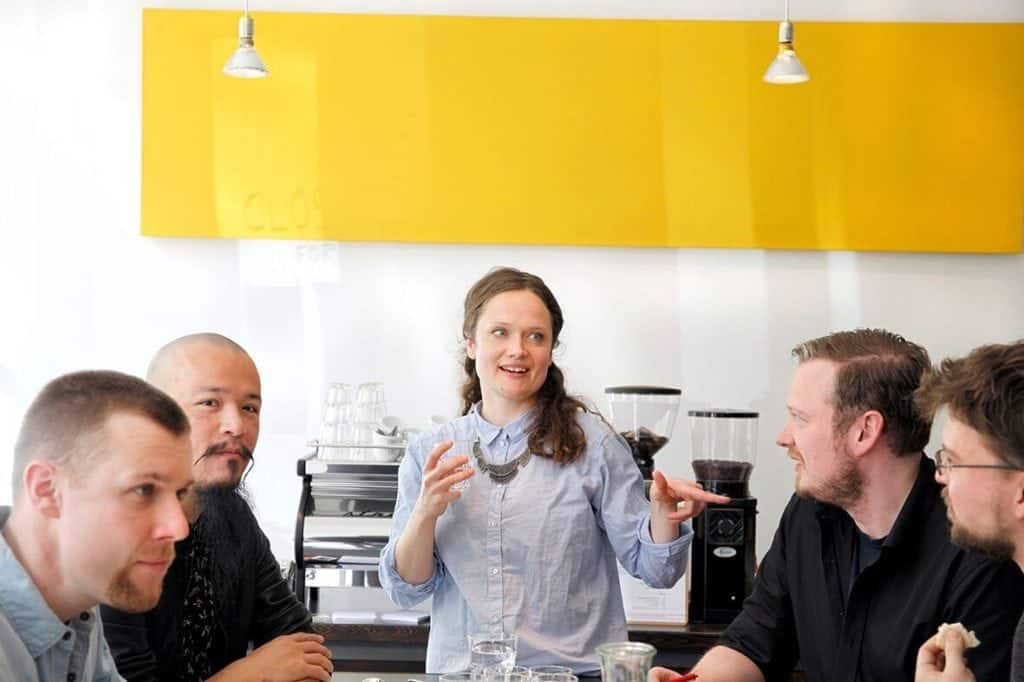 At Nano, they created a sensory workshop for all entry levels, teaching them in both English and German. We had the pleasure of taking one of their latest courses together with fellow baristas from Berlin and were really excited to learn in depth about taste. We learned about how taste works and how we perceive it. Flavour is actually aroma and taste combined. What tasting is, is going through a library of little post-it notes about everything we have ever consumed.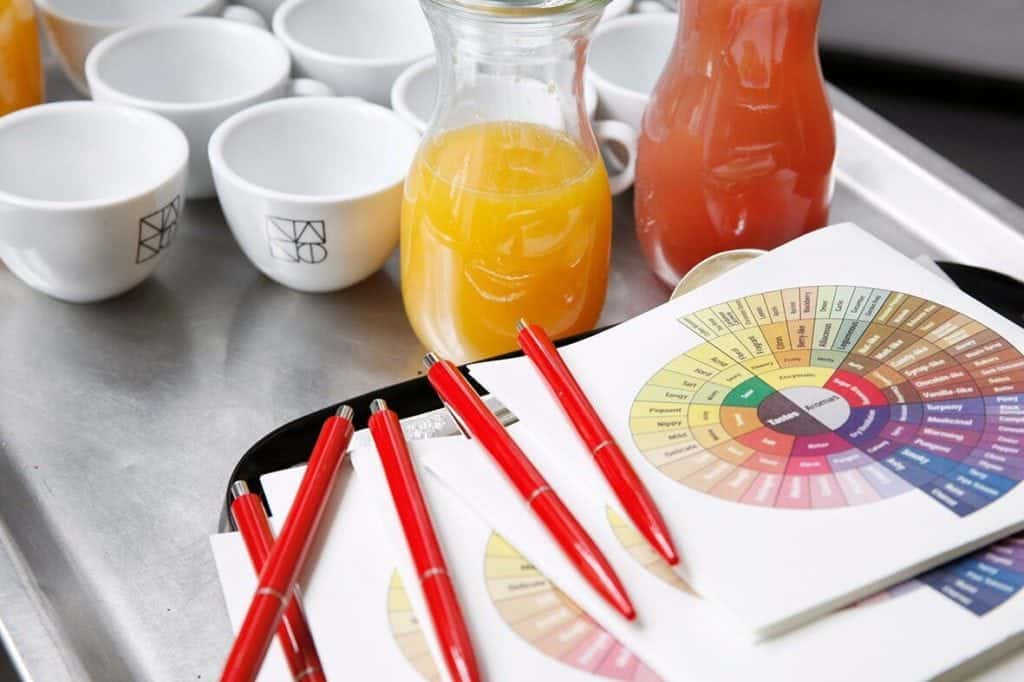 Simone told us about the percentage of information received through the tongue and the nose and how does it influence what and how we taste: "There is a short connection between the brain receiving the information from the nose – the aromas. The brain created a database of aromas throughout a lifetime and it is here where the sensory experience differs between individual people since. We connect the aromas with different, subjective, experiences."
Five-hour workshop
During the workshop we managed to go through a great load of information and tasting, followed by a discussion, all packed into almost five hours. The class started off with smelling different types of spices, herbs, fruits and other ingredients.
Another exercise demonstrated where on our tongues do we perceive sour, salty, sweet and bitter notes. Further experiments were done with colours influencing our perception of taste, and our ability to taste different levels of concentrations. Working our way through the basics, we eventually got to use all this acquired expertise when tasting espresso and filter coffees.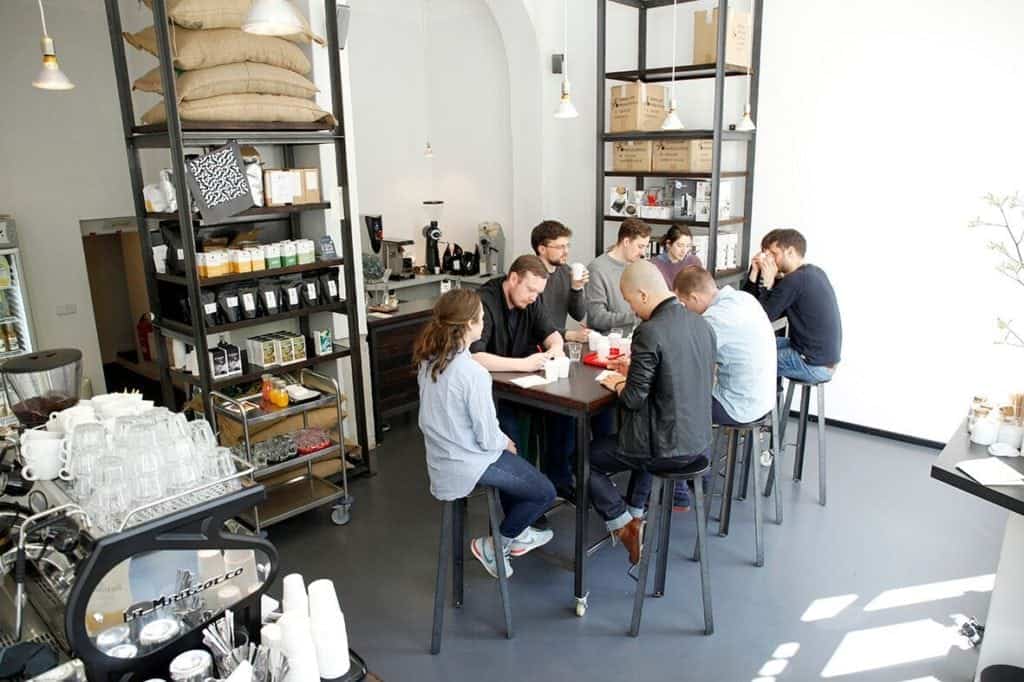 Two espressos were served, a washed from Guatemala and a natural Brazilian, and we were to figure out their acidity, aroma, sweetness and body. Those descriptors then led us to recognise if the coffees were under or over extracted, understanding better the development of taste during the extraction process.
The filter coffees we compared were Tanzanian and Colombian batch brews, which we compared the same way as the espresso samples.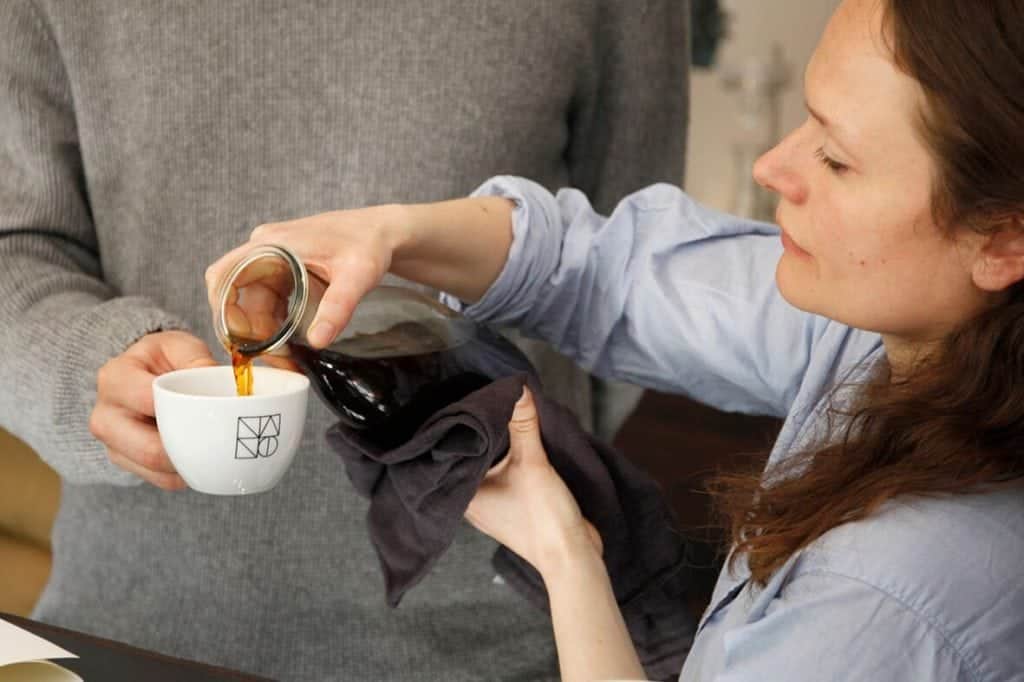 Overall, we learned heaps during this class, demolishing slightly what we knew about tasting and approaching it from a fresh point of view. Simone and Rahim run the classes on quite a regular basis, depending on the demand of the public. They offer both German and English courses, pricing them at affordable 78 euros, for groups of 6–8 people.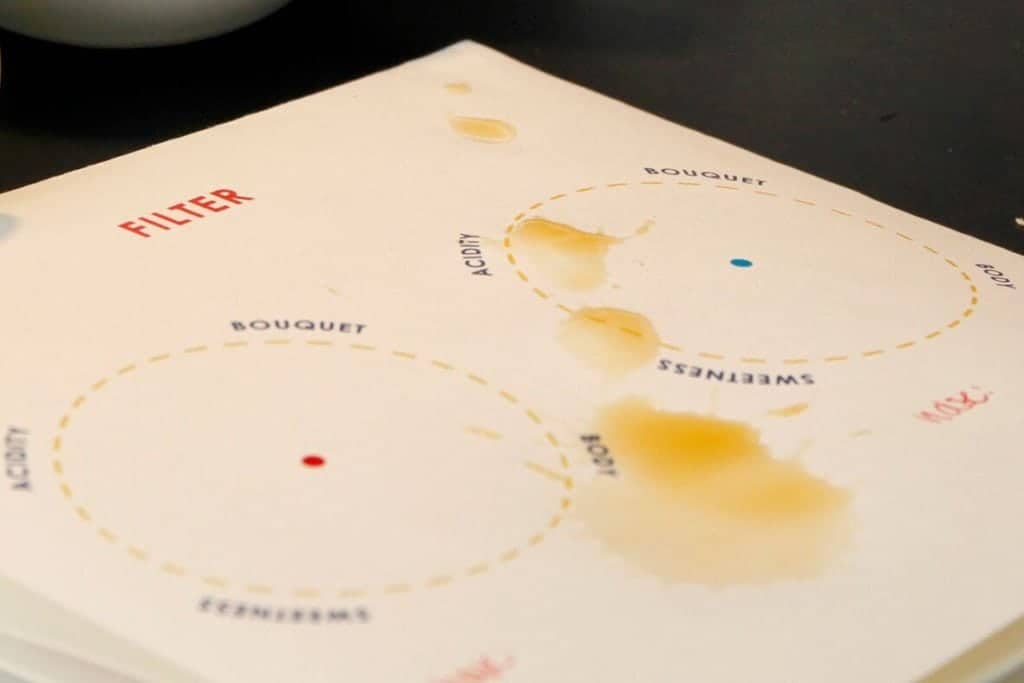 Dresdener Straße 14, Kreuzberg, Berlin, Germany
Facebook
Instagram
THE BARN's Coffee Academy
The Barn is one of the main players on the thriving speciality coffee scene in Berlin. They have been involved with the industry since 2010, the same year they opened their Coffee Academy. The Academy is run by Andrew Johnson, who is responsible for its operation, as well as the organisation of public cuppings at the roastery. Susie Kealy, one of The Barn's key baristas, is involved with the teaching of sensory courses and gave us her take on them.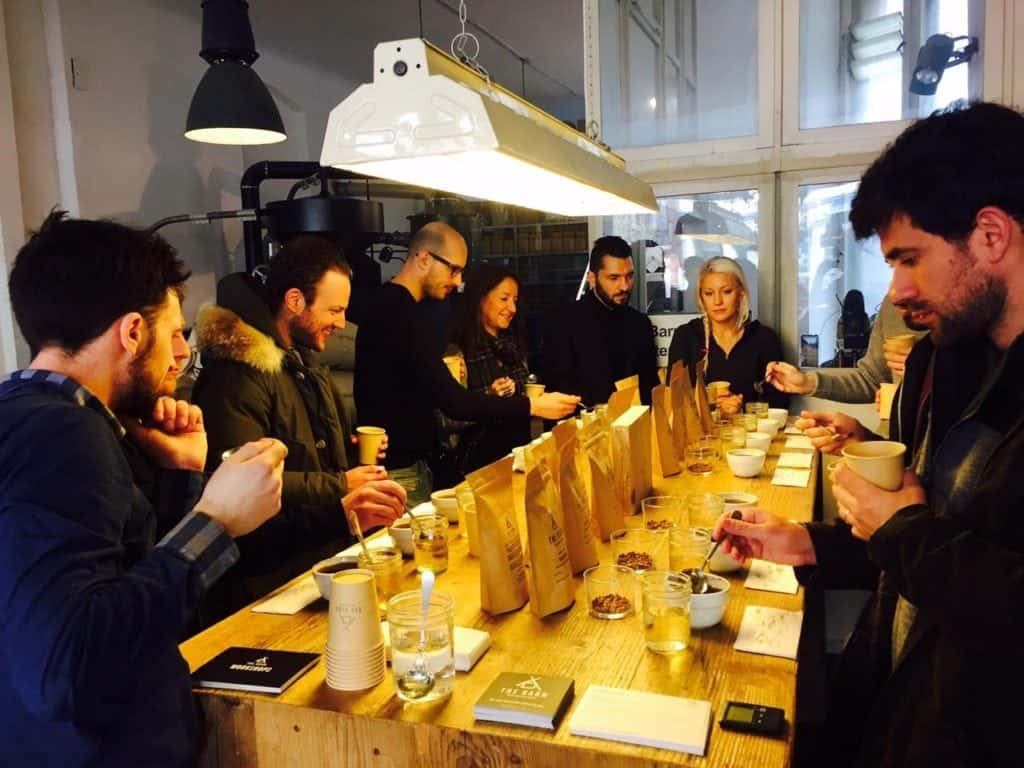 The training Lab within the roastery, located in the Mitte area of Berlin, is where the sensory training takes place.
Susie represents The Barn at international events, also as a competitor barista, and as a trainer, she has done a range of courses. Her current focus is on sensory skills lecture she runs on Fridays.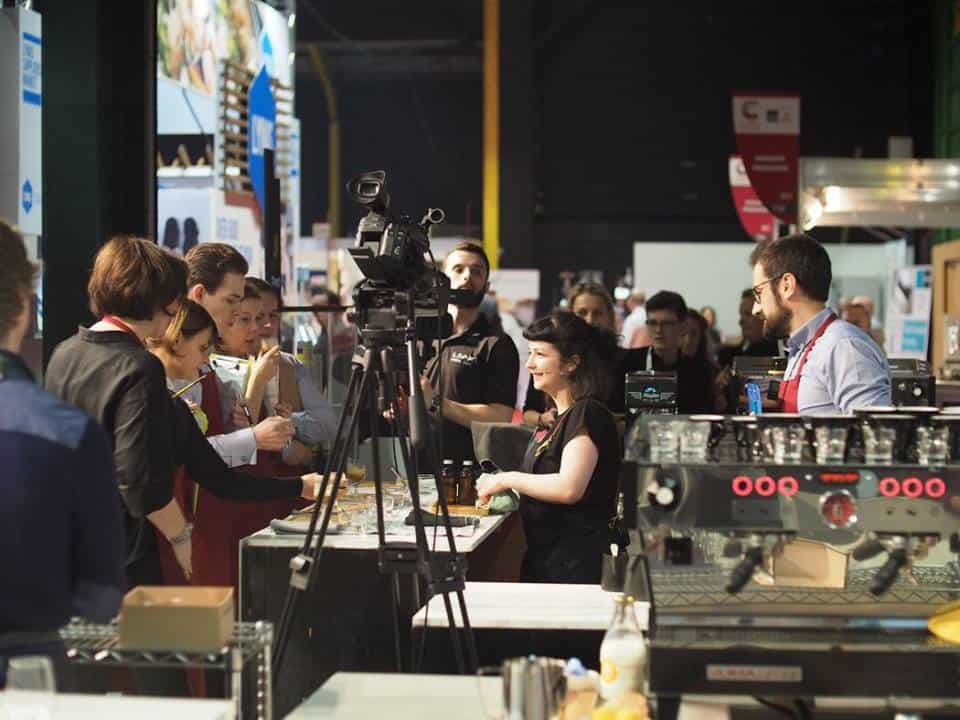 Over two hours of training
Susie told us about her experience with the classes: "I found the sensory course the most interesting as the customers really have to throw themselves into the 2.5 hours to get a full experience and it always brings a varied result on the exercises we run through depending on the people."
What about people's reaction to unusual tastes? "You would see people feeling a little overwhelmed at first when doing things like the blind tasting of basic tastes, but as we proceed they really pay attention to their sensory skills and usually do quite well in our blind cupping and triangulation tests. We play on taste and smell, but also bring it back to familiar flavours and smells."
"It is not only about taste and smell, but also about teaching them some language, history and a little science. Depending on how interested the participants are in one part of the course, we give the time to focus on it. A lot of the cases we are not even teaching them, rather than showing them what they already know and taste within the context of coffee and The Barn's approach to it," added Susie.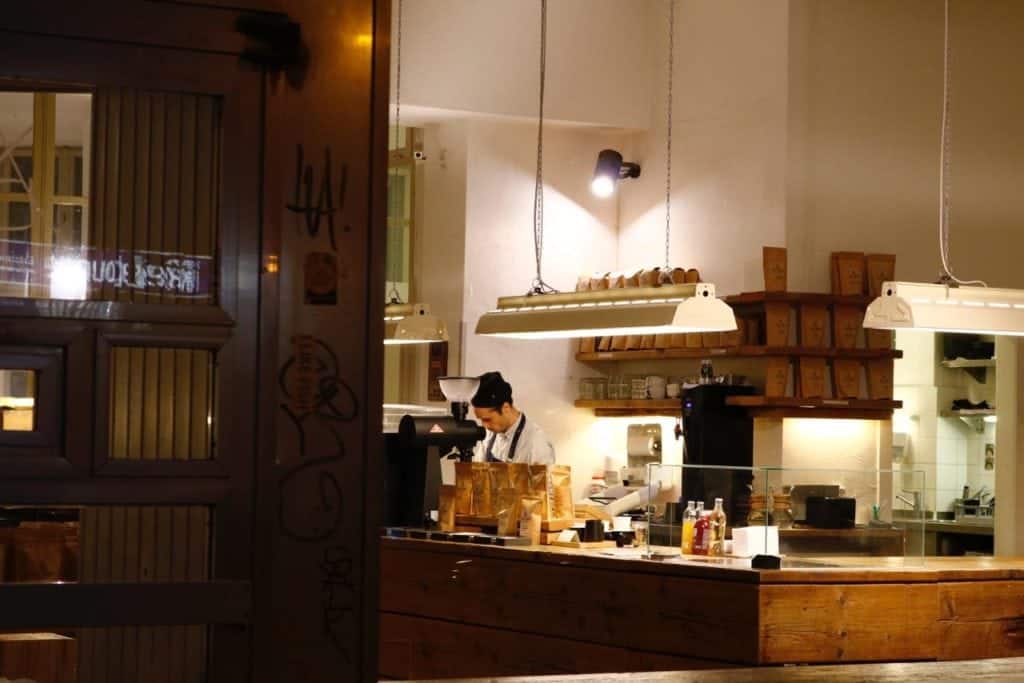 Diverse group of students
"I have had a really eclectic group of people I've taught in this short time, from mothers and kids, to couples, to good friends, and people who have travelled far at times, and it's really uplifting for both student and teacher to talk to someone so passionate about what we have on offer, but also realising their own skills and abilities they can grow on," Susie shared the most rewarding part of her job with us.
The Barn's Coffee Academy runs all year round and is a good place to start when learning about coffee.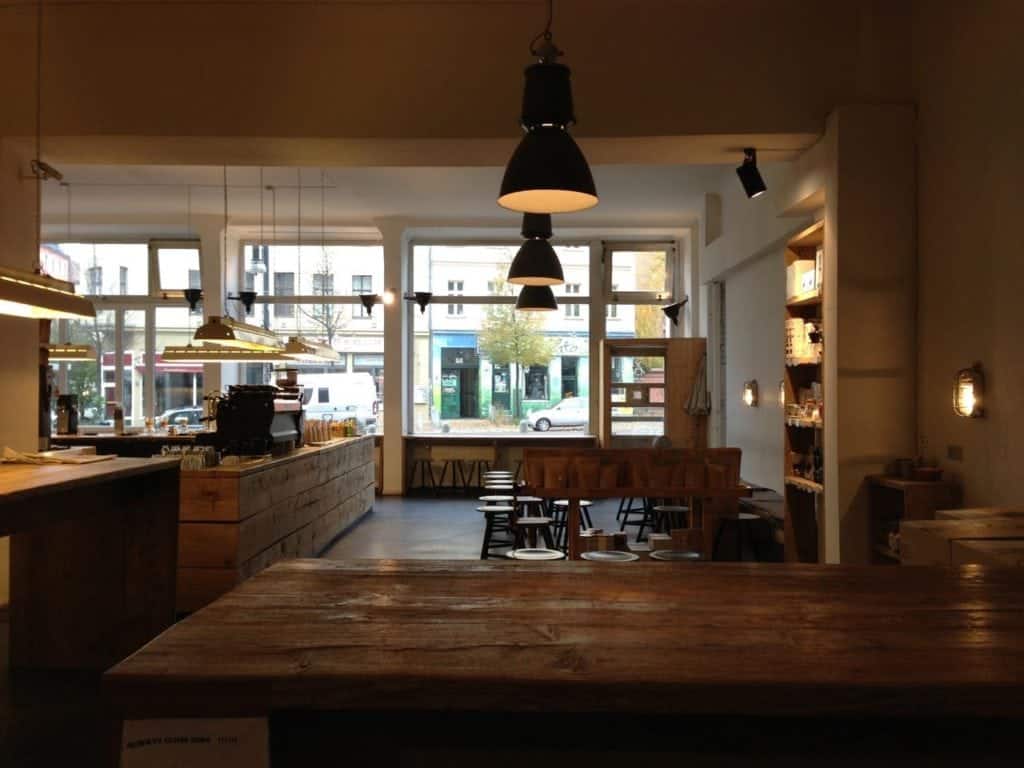 With quite a few options on the market, we understand it might be challenging to pick the right course to invest in. It is great there are diverse choices on the Berlin coffee market, and there is definitely more, for businesses as well as individuals, intermediate or beginners. We are looking forward to seeing the scene grow even more and for the professionals and customers to learn one from another.