Before we begin I have to warn you that what you are about to read may be a little biased, being that Bristol is my city where I live and go about my daily caffeine assisted activities. That being said, a city that makes you want to brag about its special qualities is clearly doing something right. Above all else the independent spirit fuels the atmosphere with a huge range of loved local businesses supported by the cities own currency, the Bristol Pound.
Gloucester Road, at one point the longest stretch of independent businesses in the UK, is stacked to the brim with various cultures resulting in a melting pot of creativity and art that spills out across the city. All cafes in Bristol share in this community feel. Their customers often become their friends, and café owners and baristas can regularly be seen enjoying each other's cafes and company.
I chose five of the most progressive and charming cafes from the growing number of specialty shops, all offering something slightly different and representing well what Bristol has to offer. Let the tour begin!
Small Street Espresso
It seems only fitting to start the tour with the café that started it all in Bristol. Owner John Drysdale opened Small Street Espresso in the centre of the city in 2012, bringing the speciality coffee awakening to Bristol. They serve a house blend from Clifton Coffee, one of the first speciality roasters in the area, with guest coffees changing weekly from the likes of Square Mile, Extract, Origin, Roundhill, Yallah and more. The interior is almost totally wood and exposed brick, creating a relaxed nature popularly enjoyed by people escaping the office for lunch. With makeshift tables and built in benches, customers squeeze in wherever they can to happily share this cosy space.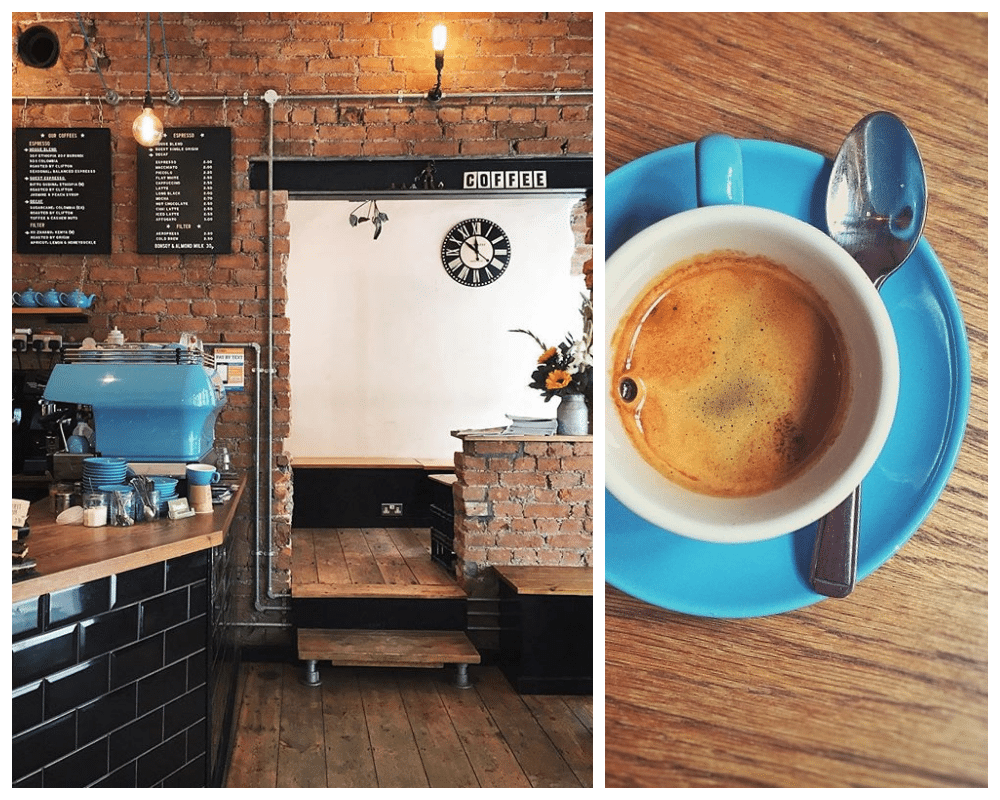 "We aim to create an approachable atmosphere, where the speciality coffee enthusiast can enquire more about guest coffees and enjoy a carefully made beverage, but they can also bring their friends" – Jack (Head barista)
Small Street fans are eagerly awaiting the opening of their second venture named Little Victories. Due to open in August, it's a much larger venue providing more opportunities, however, while doing so they want to keep the same approachable atmosphere. There are talks of expanding their filter options, and for the evening some carefully selected local ales and natural wines. As for food, they'll offer the same great cakes and sourdough toasties, but with a wider selection. The space comes with huge windows offering a natural light, which they're planning on filling with a lot of greenery, perhaps even a growing wall. But for now, head to Small Street Espresso for a damn smooth flat white.
23 Small Street, Bristol, BS1 1DW, UK
Official webiste
Facebook
Full Court Press
Next up and just around the corner we have Mat North's stomping ground! Mat's background in coffee ranges to almost everything short of farming, resulting in a wealth of knowledge of the industry and a rather impressive taste pallet reflected in the quality of coffee he provides. Make the most of his knowledge bank by booking yourself a 1 on 1 course with the man himself, or check out his recently released book called 'Coffee: A Modern Field Guide'. Anyway, that should be enough about Mat to earn me free coffees for a year.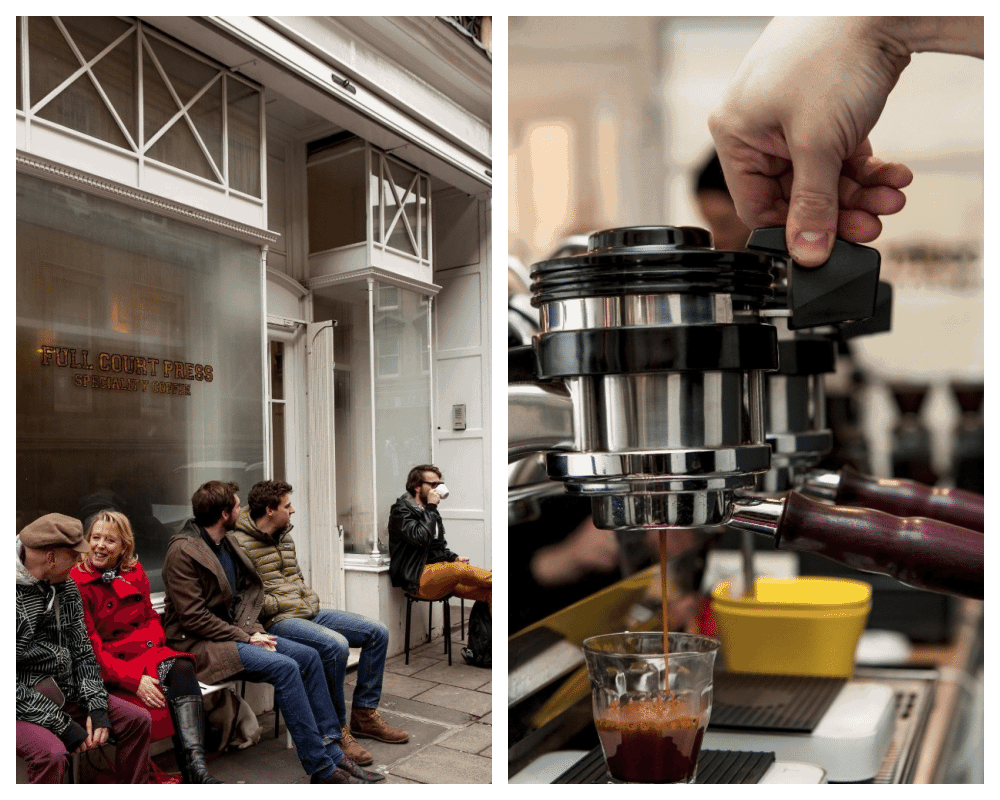 The cafe itself is stripped back, with simple furniture leaving you sat upright and ready to taste some excellent coffee; because that's what we're here for of course. Two boards on the wall inform you of the coffee on offer. Two espressos, two filters, and a cold brew, including their varieties, methods and tasting notes. Mat and other highly trained staff are great at explaining the board to new customers and advising a beverage to suit your taste. Their single origin beans rotate weekly from roasters hand picked from all around Europe. Although they have a siphon in-store, and I'm sure various other equipment tucked away, they serve filter coffees using the Aeropress or Clever Dripper.
"We used to use more filter equipment, but we found that we could achieve more consistent results using the Aeropress and Clever Dripper. With more control over the variables, we can tweak the details easily with each bean to extract it exactly the way we like and ensure that quality every time" – Mat North.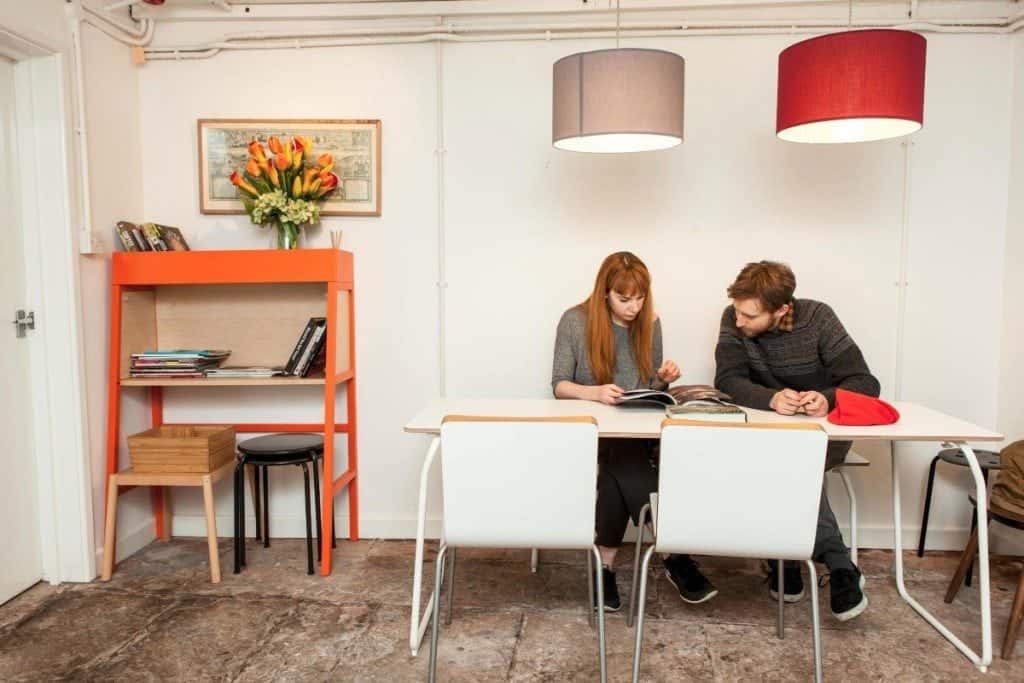 For me, this summarises what they offer at Full Court Press. Every detail is worked out and simplified, meaning your coffee doesn't take too long to prepare but you can really taste the difference of each resulting cup. Being a popular café among the many biking groups of Bristol, you'll often find some impressive two wheeled vehicles stacked up outside the shop or on the cafes Instagram page. But let's face it, we are still here for the coffee.
N° 59 Broad St., Bristol BS1 2EJ, UK
Official webiste
Facebook
Tradewind Espresso
Now time for the roaster turned café. Roasted Rituals owners Patrick and Tahi Grant-Sturgis started trading from a vintage Citroen coffee van in Clifton, and later transferred into a café when a space opened up nearby. For those who don't know Bristol it's hard to walk anywhere without going uphill, and Clifton is at the peak after a twenty minute hike from the centre. Don't let that put you off though as it's one of the most aesthetically pleasing areas of the city. Spend a little energy to make it there and earn the reward, or if you're feeling lazy like I often do hop on the inner-city train or a bus (I won't tell anyone if you don't).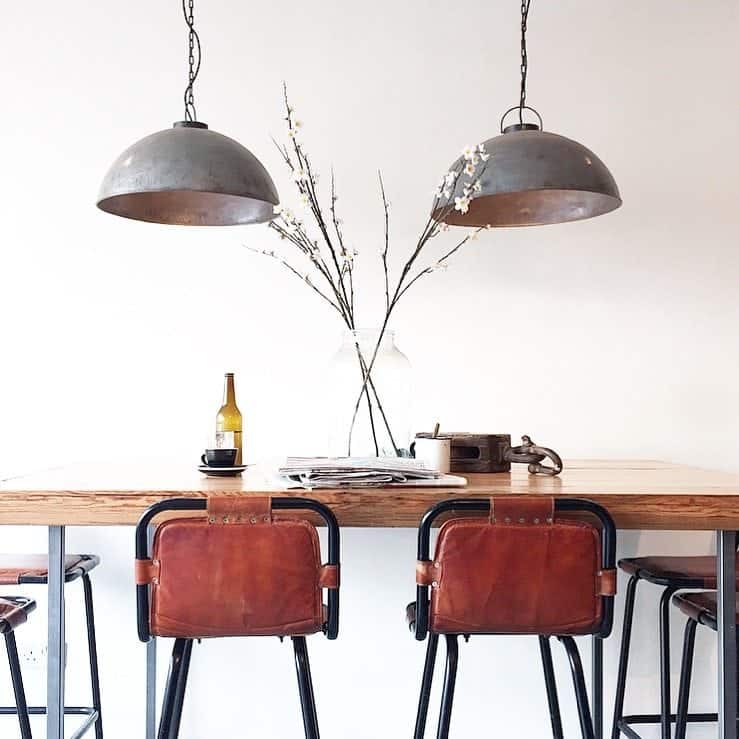 Fitting in perfectly with the Clifton style, Tradewind Espresso has a beautifully designed Scandinavian interior and offers an equally impressive brunch menu from their basement kitchen. Along with their food offerings and cakes, their coffee is superb. Having their own micro-roaster, they have almost total control over the process with an emphasis on sustainability and ethics with regular trips to Africa, Central and South America.
"Having full control over everything from sourcing green beans right through the roasting process and lastly presenting brewed coffee in a comfortable environment is definitely an advantage. This way we can especially ensure the quality," the plus sides of the concept were explained to me.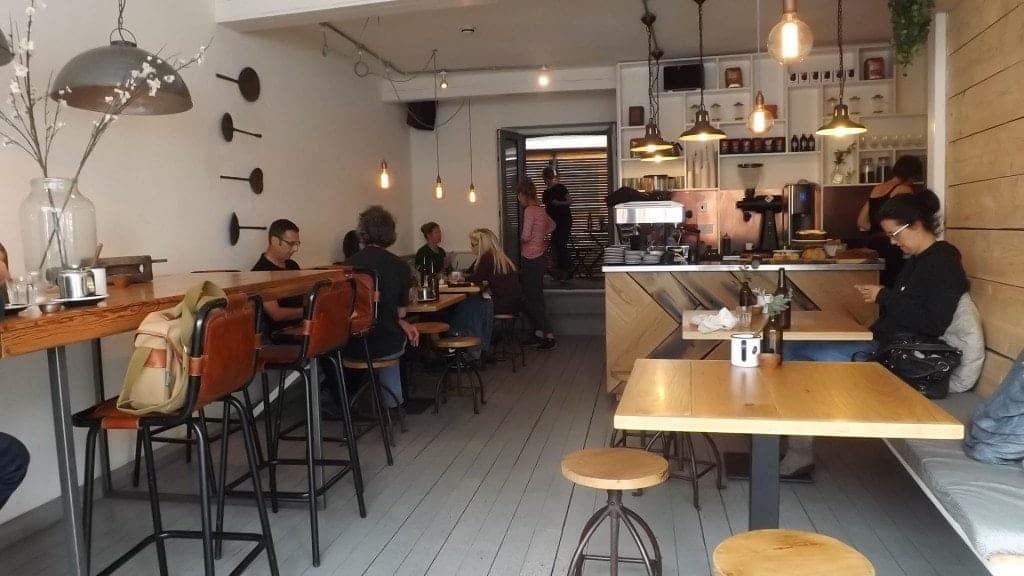 Being the only coffee shop in Bristol directly connected to the roastery is something that has been picked up on by coffee enthusiasts. If that's not enough to tempt you, they have a few special options on the menu. Cheat the system and order a Biggie Smalls, offering a variety of flavours in one serving, under one name. It's a single espresso with a full and complex taste, partnered by a flat white to soothe using their house blend 'Highground' which they crafted specifically for versatility within drinks.
Why Biggie Smalls? "Inspired by Patrick's passion for hip hop, rapper Biggie Smalls' music packs a serious punch much like the single espresso next to a flat white served to anyone needing that extra wake up kick in the morning! Also perfect for anyone who is curious about the flavour of our coffee with AND without milk. It has become very popular, indeed!"
Can't or don't drink cow's milk? This is the place for you. Tradewind make their own fresh almond milk on-site daily, giving you something that tastes natural and mixes oh so well with your coffee without overpowering the flavour.
118 Whiteladies Road, Bristol BS8 2RP, UK
Official webiste
Facebook
Mokoko
Back down the hill to the harbourside, and just a short walk from the centre, you'll find Wapping Wharf. Building work is almost complete with a new set of modern apartments combined with a range of bars, restaurants and cafes all over-looking the waterside. Opposite the previously mentioned 'Little Victories' on the Gaol Ferry Steps, Mokoko are taking good advantage of their earlier opening.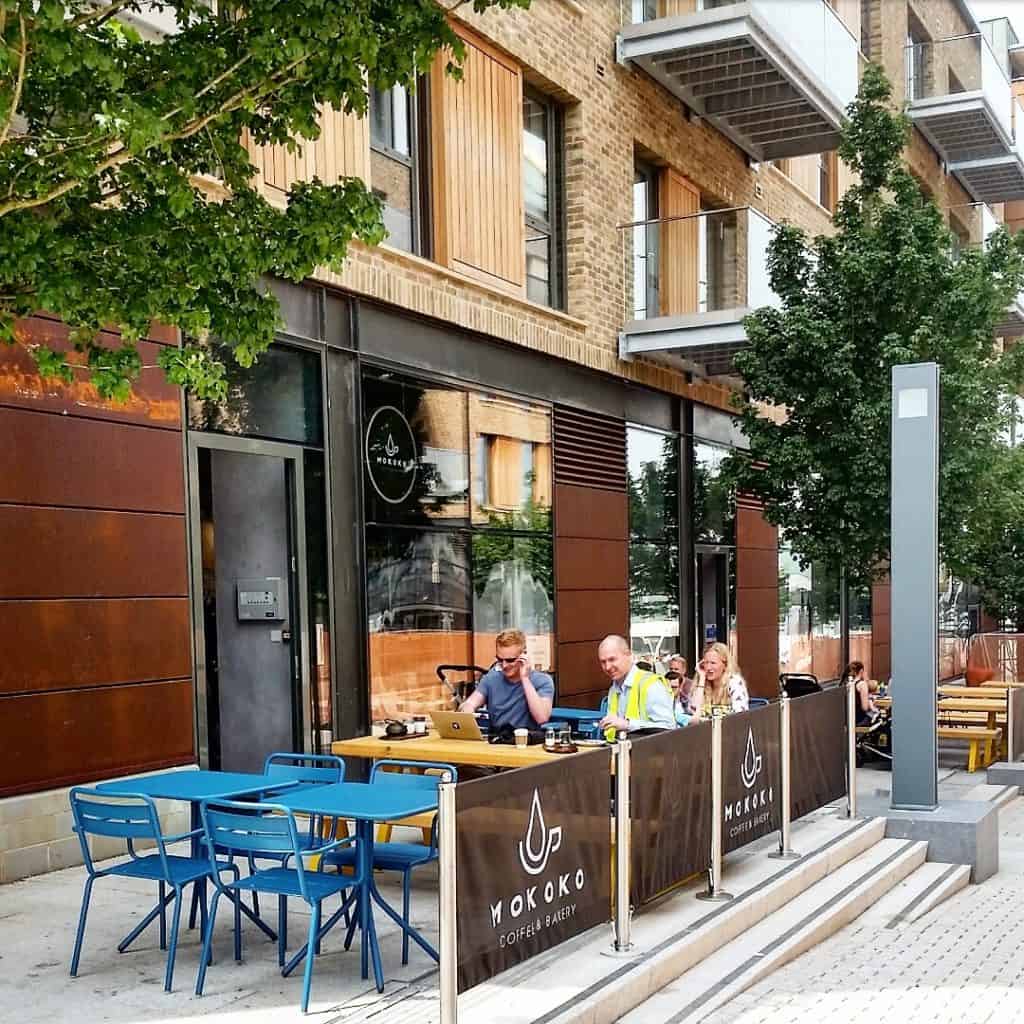 Most cafes offer a selection of tasty cakes, but usually the coffee or the baking is slightly more prominent than the other. Not at Mokoko. Upon entering one of Bristol's newest cafes, instead of the traditional counter or bar you're presented upon two large rectangular stations. One for baked goods and one for coffee, both balanced in the quality of what's on offer. On the coffee side of things, they offer multiple espresso and filter options supplied from Easy Jóse Coffee roasters.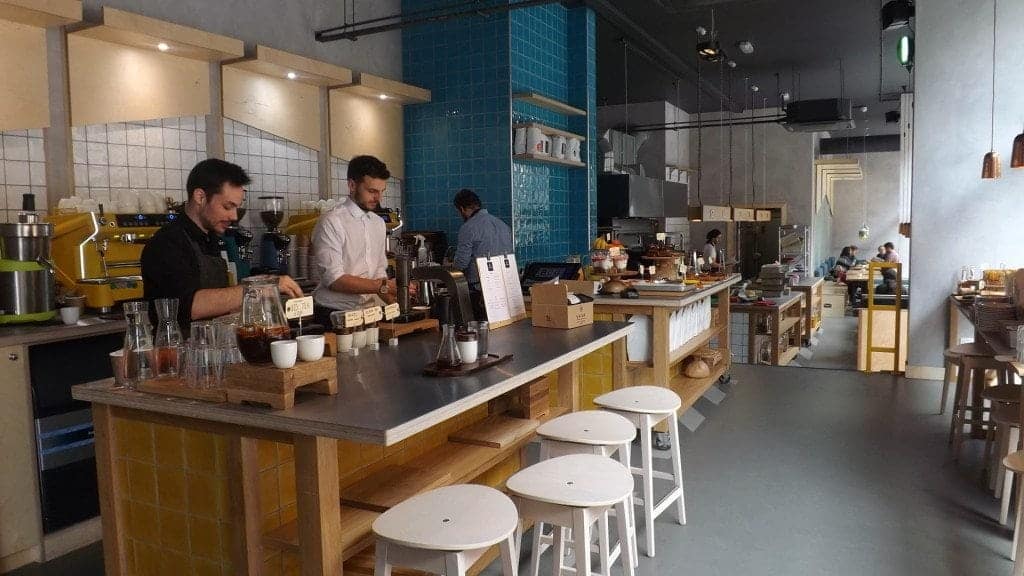 The open plan layout of the stations brings a comfortable feeling to communicating with your barista, as he talks you through the beans they have on that day and how you'd like your coffee brewed. As a bonus, speciality coffee nerds can watch intently as their V60 pourover is carefully brewed in front of their eyes. A similar approach is taken with the bakery. The cakes, pastries and pies are made on a huge open table next to the seating area. With no set menu, watch as the bakers let their creative sides run wild with the ingredients they have at their disposal to craft baked goods of all sorts of wonderful combinations and flavours.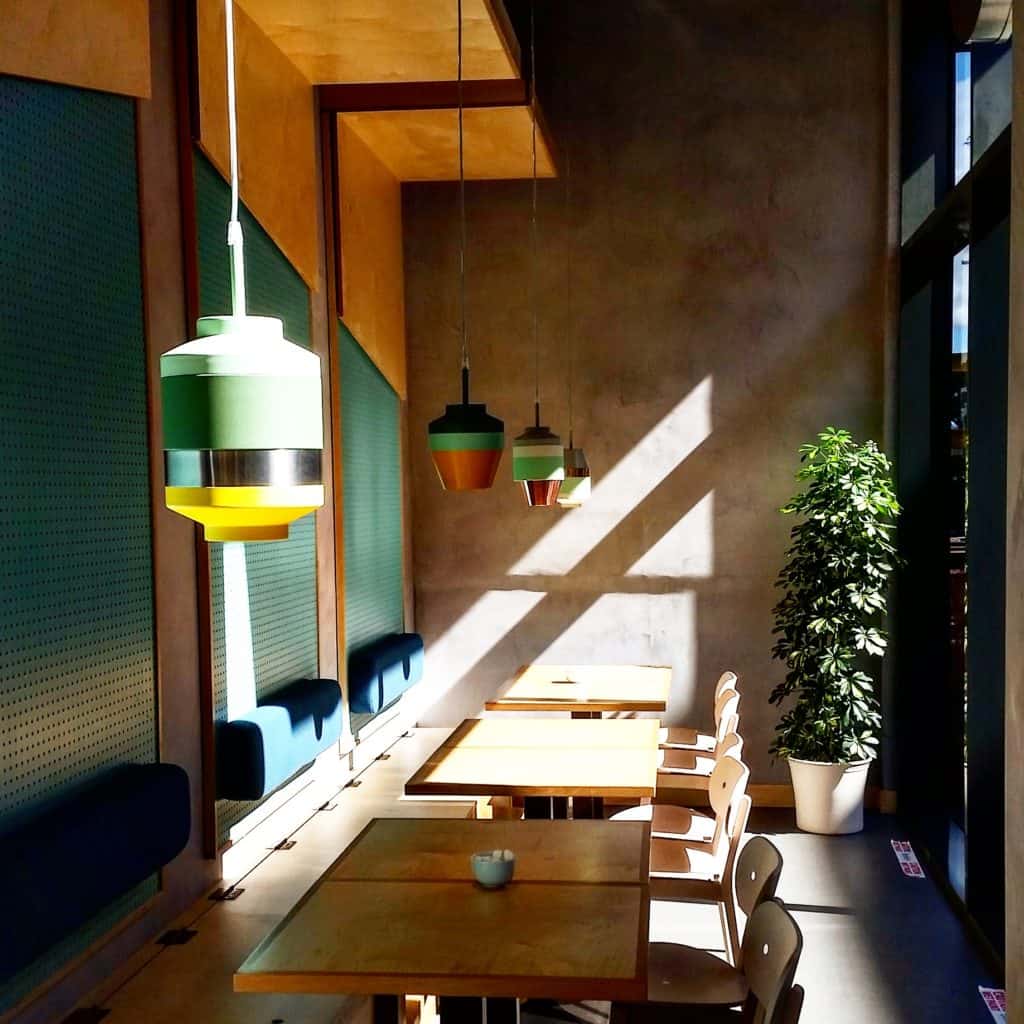 Being the new guys on the block, they're eager to show they mean business on the coffee front. Using their space well they organise regular open cupping sessions for their customers to join in on, with other coffee related events coming soon.
2 Gaol Ferry Steps, Bristol BS1 6WE, UK
Official webiste
Facebook
Playground Coffee House
Back to where we started, or at least close enough being just on the other side of St Nicolas Market, one of the top 10 markets in the UK, we have the aptly named Playground Coffee House. Nothing aids the relaxing nature of coffee like swaying gently on a wooden swing hung from the roof. Just remember not to fall asleep, or you could wake up on the floor. Owned by Fabian and partner Lily, Playground offers a lovely escape from the busy outdoors with a huge supply of board games and excellent coffee. When I say a huge supply of board games, I mean over 100, with staff posting their current favourites on the cafes website.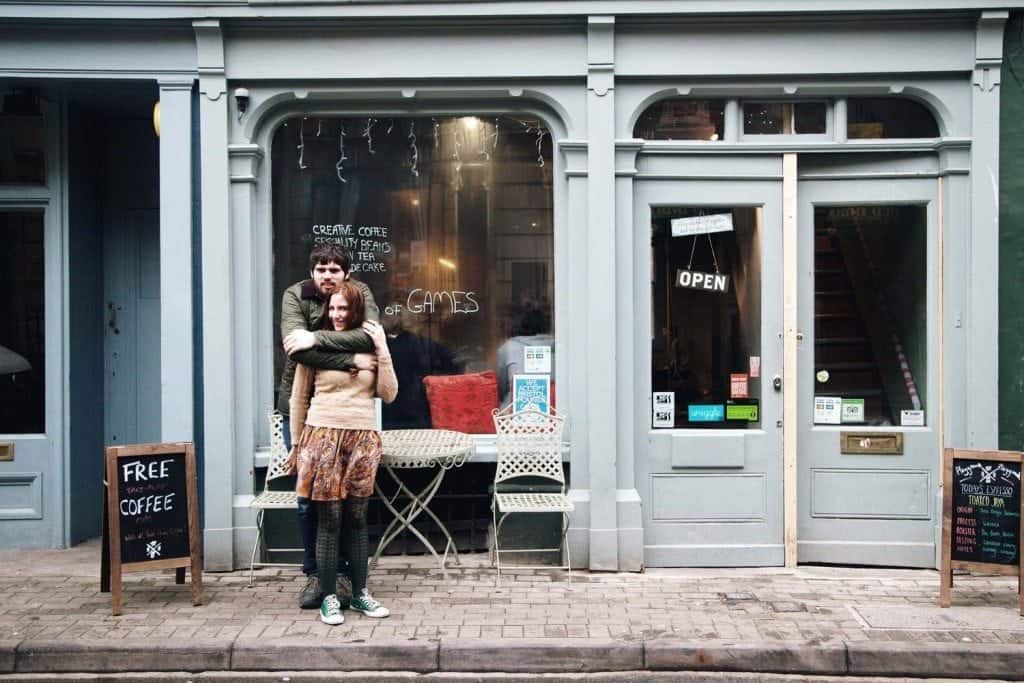 As for the coffee? After a trip to Berlin and an inevitable visit to The Barn roasters, Fabian was so impressed with the coffee he returned home as the UK distributor for The Barn. Loyal customers are reaping the benefits, with an impressive range of filter, espresso and cold brew beans to choose between.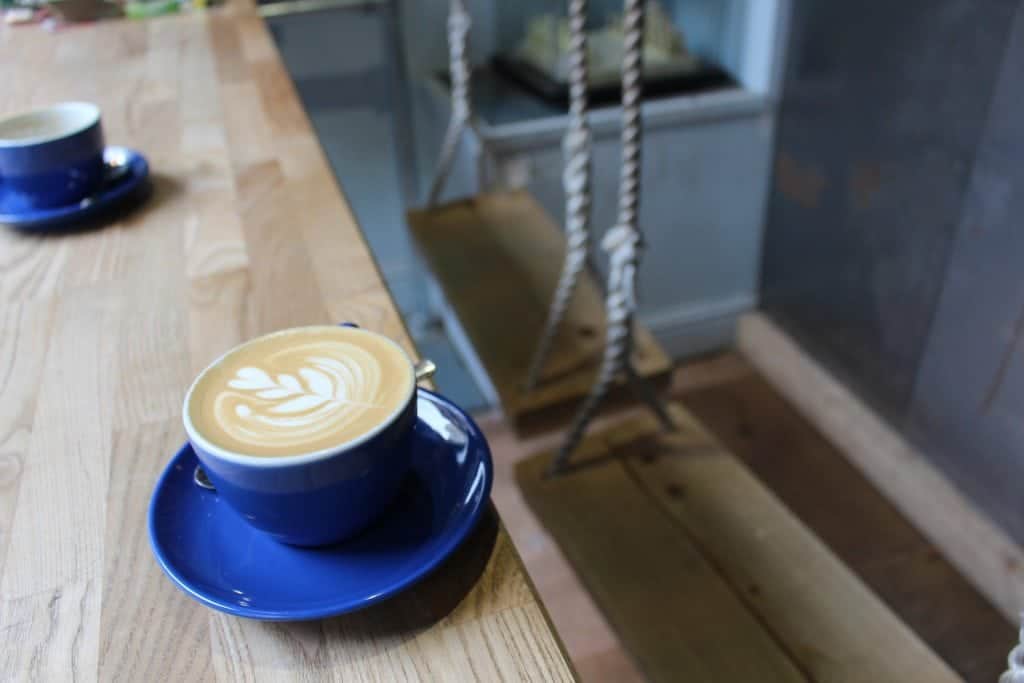 "Of course if there's something out there that I really like, I'll still offer a few different coffees in store from other roasters, however it's so great having such a wide range at my disposal from a brilliant roaster like The Barn" – Fabian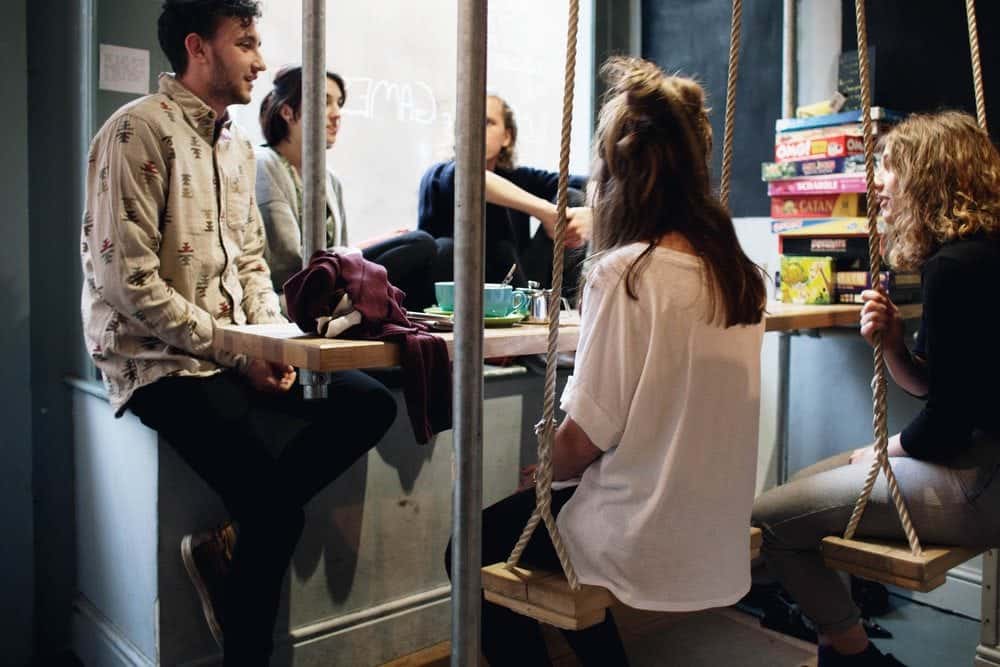 I already mentioned they have swings for seats right? But, for those who don't want to risk to be swept off their feet they have a range of simple chairs, a few comfy armchairs and a mixture of tables. However, for those who welcome some excitement they've launched a new summer menu featuring intriguing cool-down options such as Espresso & Tonic. Come here to relax, play games with friends, have a swing, or simply drink great coffee. Your choice!
45 Saint Nicholas Street, Bristol, BS1, UK
Official webiste
Facebook
So there you have it, my personalised and hopefully not too opinionated guide to the Bristol coffee scene. I hope it has filled you with desire to visit, or if you are local to Bristol has inspired you to venture out and get your fix somewhere new.