Krakow is one of the main tourist destinations of Central Europe, well known for its cultural heritage, diverse art scene and amazing architecture. It survived the destructive times of wars almost untouched. The city's infrastructure was maintained and so was its natural warmth of a place that feels like home.
Invest some time in Krakow to explore its life rhythm. It is different here than anywhere else. Life is driven by the cafe culture – with steamy windows, milky coffees accompanied by a cake, and a friendly chit chat.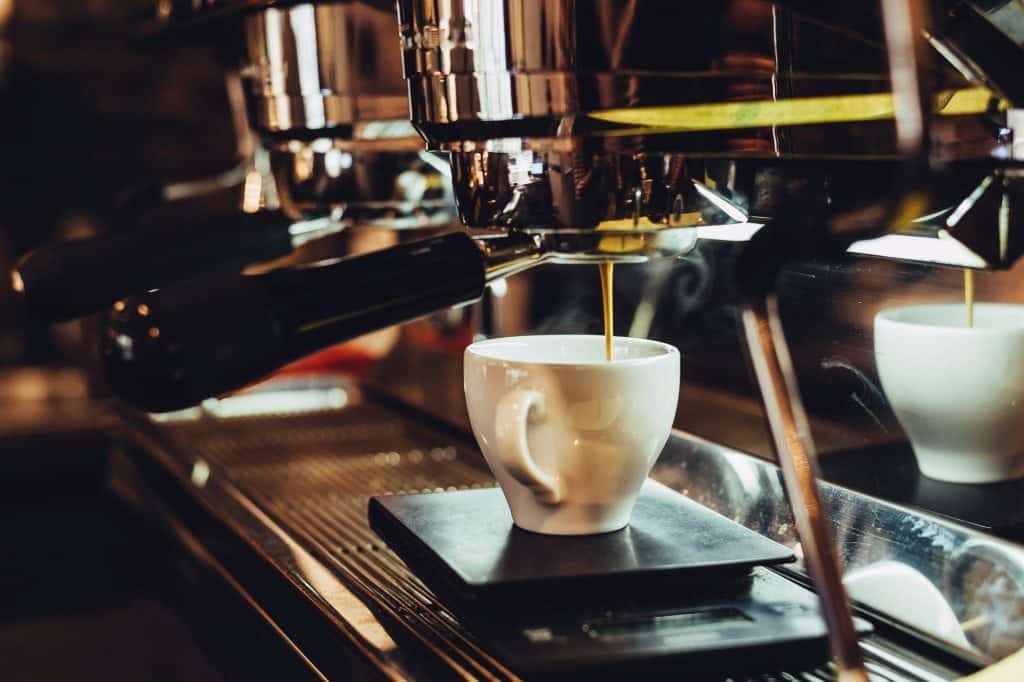 The coffee culture that runs the city on daily basis dates back to the times when Krakow was under influence of The Austrian Empire and its viennese coffee houses – smokers lounges with dim light, where so much of the city's intellectual life played out.
The tradition of socialising in cafes hasn't changed much. It is only dressed in a modern design now, whose key factor is the specialty coffee taking over.
Karma Coffee Roasters
Karma is an ideal starting point for a coffee tour around the town. A space lit with the morning sun seems even brighter thanks to two lamps, their light reflecting off the industrial details of metal beams and wooden table frames.
Baristas welcome you from across the counter that faces the entrance as you come in walking straight up to its silver Synesso, Mahlkonig EK43 and Mythos One. Both grinders are topped with Karma's seasonal coffees. Behind the bar, a bricked wall guards the kitchen preparing a tasty food menu. Those veggie quiches are not to be missed!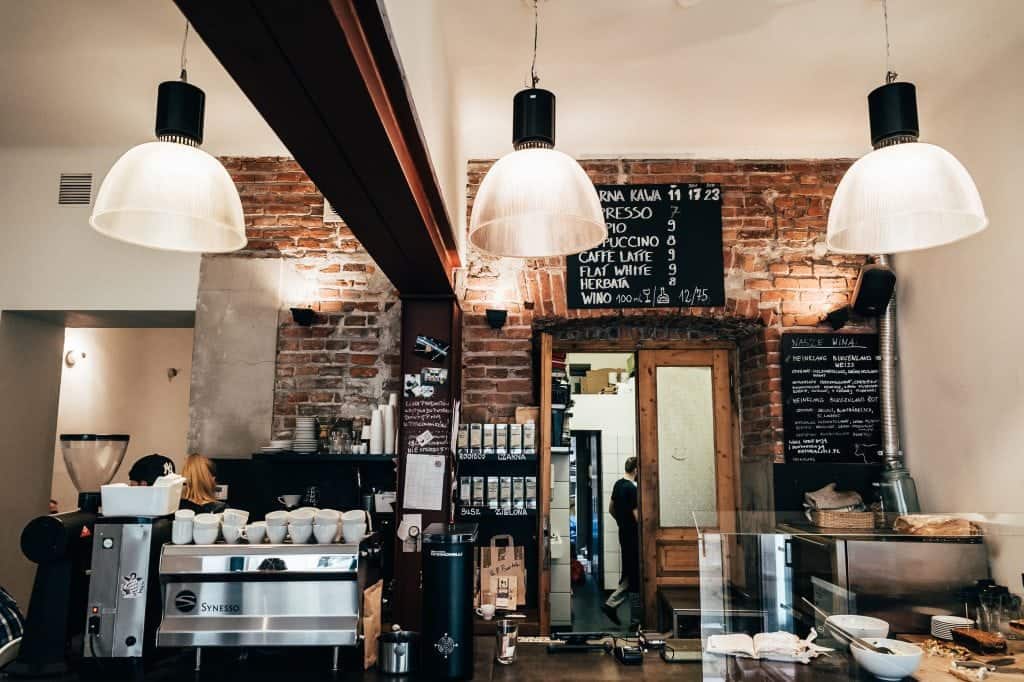 A short walk from city's main square, in the heart of Krakow, Karma was the first specialty coffee place setting up the standards for good coffee in town.
Opened 2010 by Bartek Kozina, the cafe worked closely with London-based roastery Union Hand Roasted, delivering third wave espressos and introducing a new coffee concept to the people of Krakow. Thanks to Union's workshops, Karma's roasting and brewing skills were gradually becoming better. Karma quickly turned into one of the engines pushing specialty coffee in Krakow forward.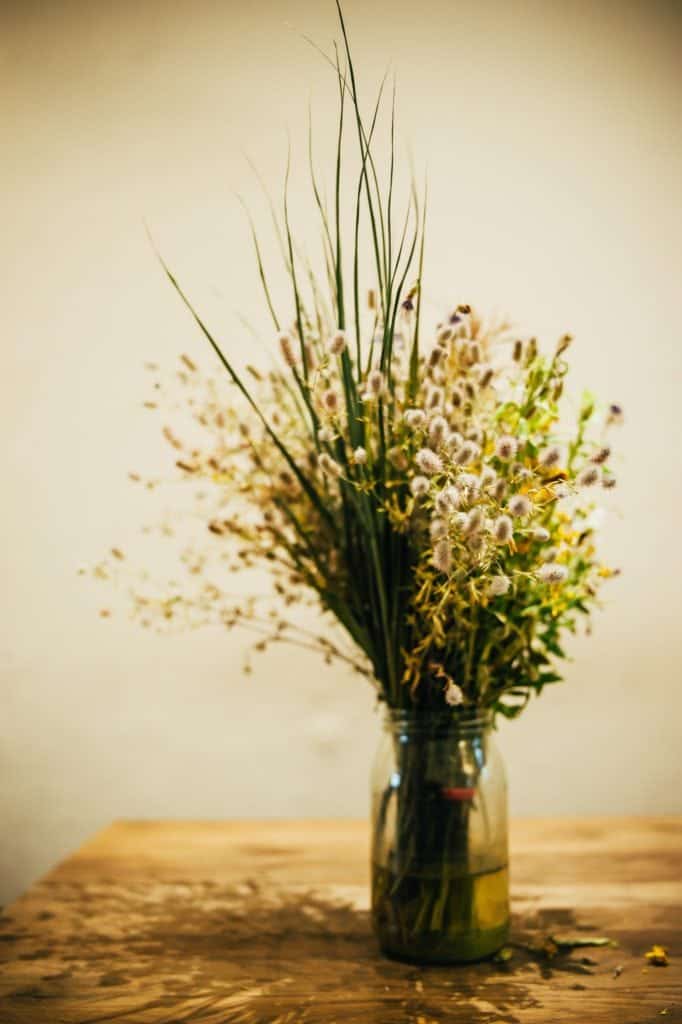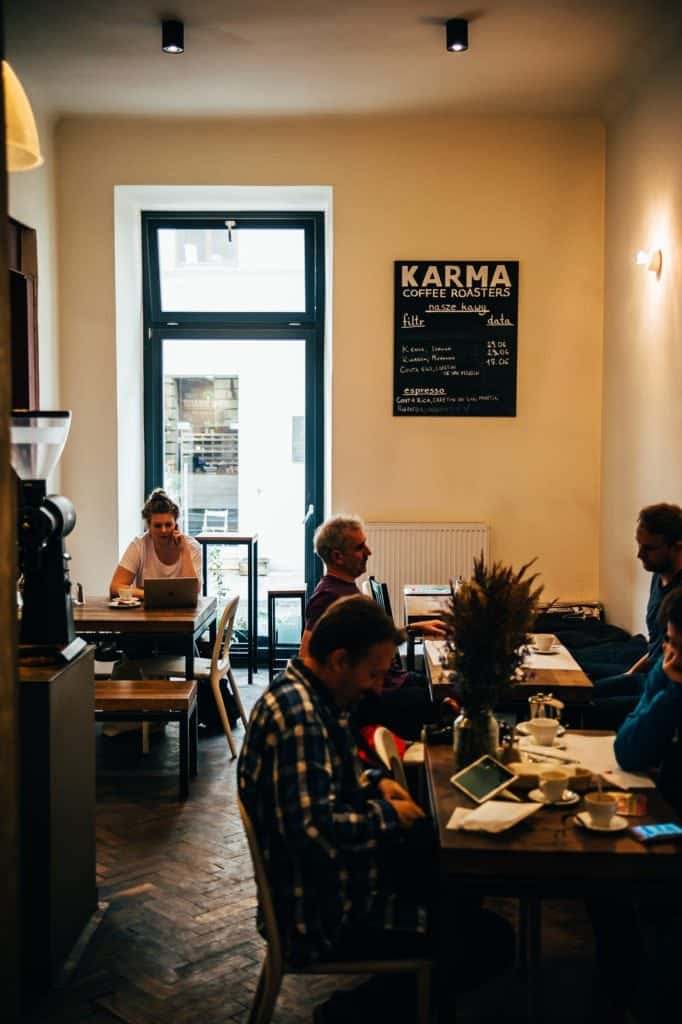 On their way to a great cup of coffee, Bartek realised the need to be able to control more than just the extraction of his coffee brews. A decision of opening a roastery was made. Karma gained independence, offering baristas and the roaster a wider opportunity to learn more about coffee.
Public and private cuppings, along with latte art throwdowns, opened the door to a new world. In 2013, Bartek won Polish Cup Tasters Championships, adding an official achievement to his already successful business growth.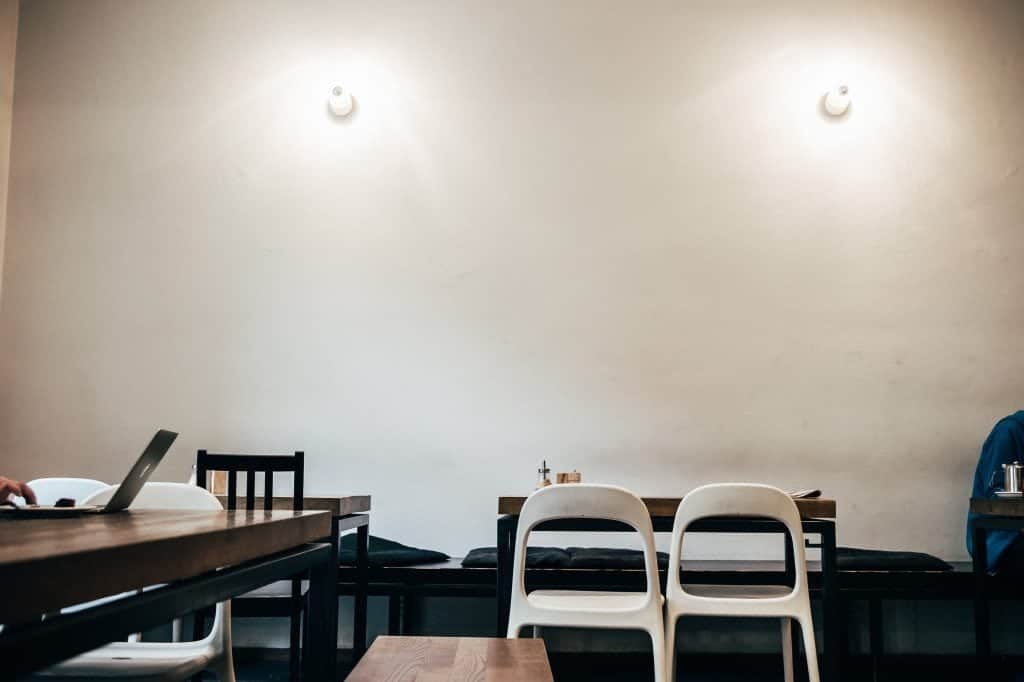 Eventually, Karma grew into a well-established roastery, now also supplying other cafes and a few restaurants, which means you might cross paths with tasty coffee when you go grab a lunch outside.
Wesola Cafe
Wesola Cafe opened its door in March 2014, and since than it is one of the best coffee places in town. Wesola's standards are of great levels, and even the newest competition opening up shops in the nearest surroundings must keep up with them!
It is a place driven by quality and passion for coffee, where baristas makes sure that you always get a bit more than just a good service. Be it a small talk about coffee you are having, or a full lecture during your lunch break, it is your choice.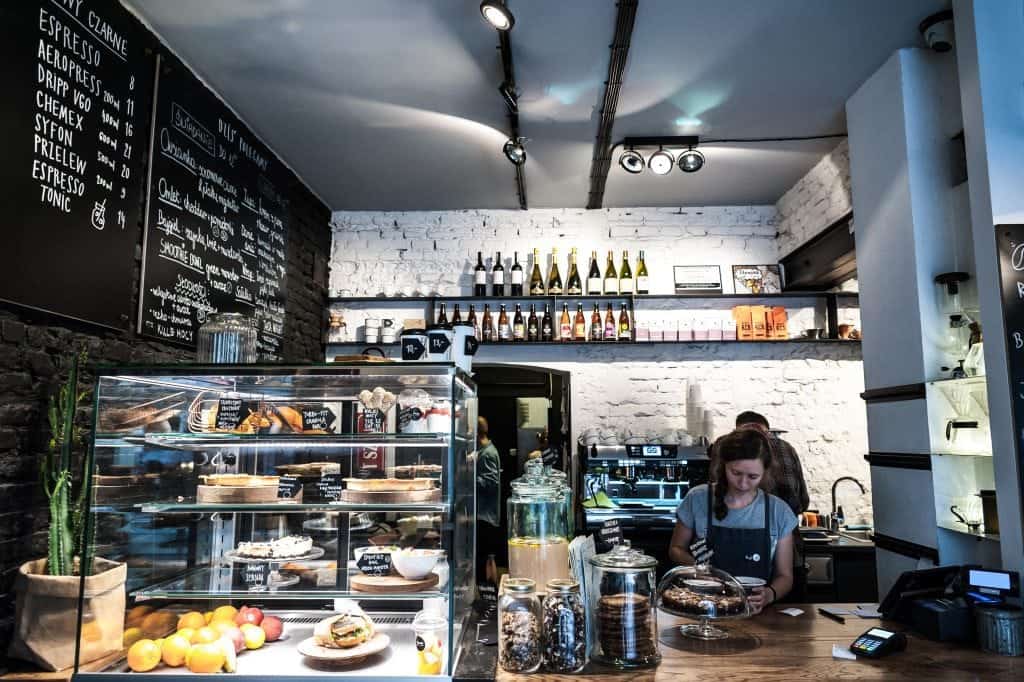 Rafal Mayer, owner of Wesola Cafe, ensures that baristas have possibilities to grow in their profession all the time. He assembled a skilled team of individuals with various backgrounds, a team that works smoothly, learning from each other. Internal cuppings and brewing classes are there to expand their skills and knowledge of coffees they are serving.
This continuous training is reflected in the daily work routine. Constant espresso checks, a water check happening three times a day and grinders clean on daily bases are the reasons why Wesola keeps the competition high.
Every year, Rafal is visiting best European cafes, looking for inspiration, keeping Wesola Cafe up to date with worldwide standards. "What is best is best, anything else is simply not good enough for us" he said. And you can see it in every detail of the place.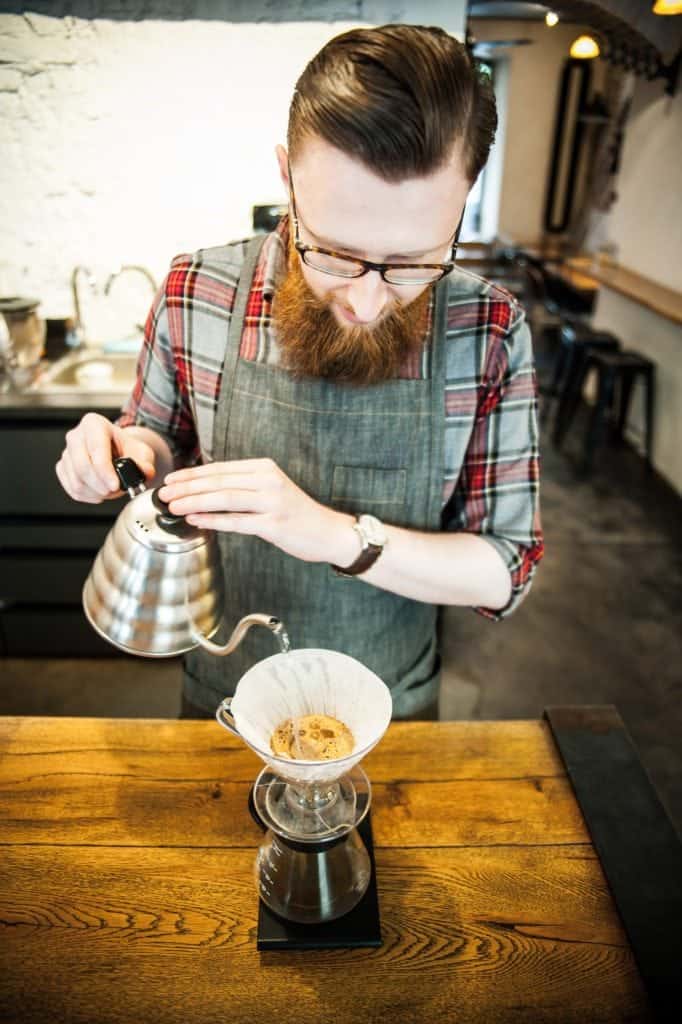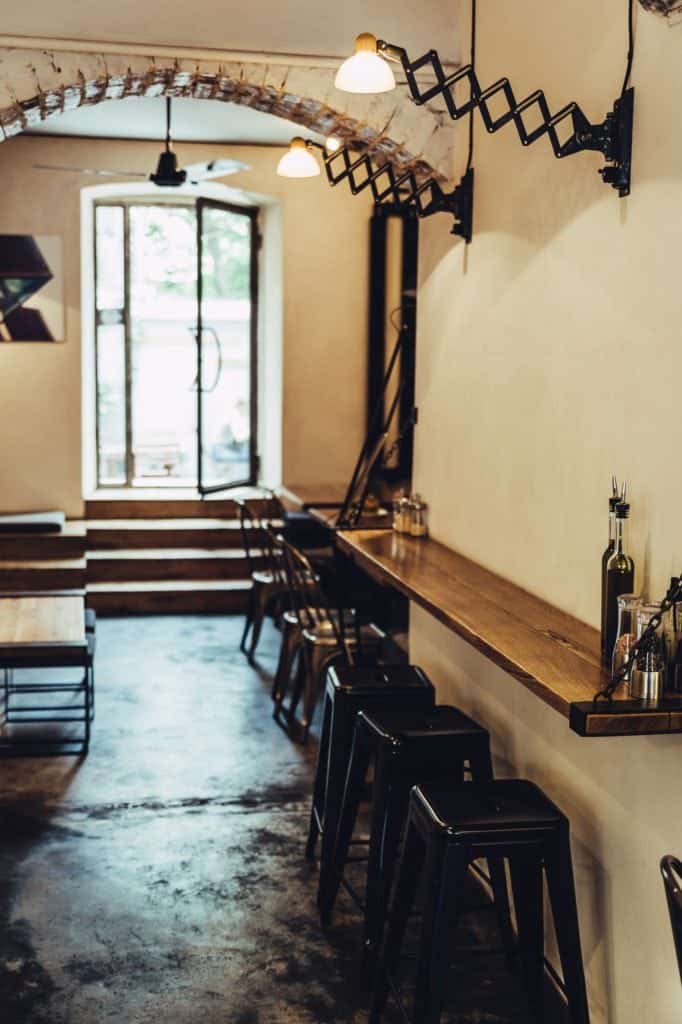 A two-room basement-like space has been worked out in details. The raw look of the naked red-brick walls was balanced with polished wood of the coffee counter and all other surfaces such as tables, bars or wooden steps. To brighten up the rather dark space, white paint was applied together with designer lamps. The space suddenly became so comfortable to spend time in!
The whole interior is topped off with a neon light sign on the wall – apparently, "It's better to drink coffee, than not to". And it is definitely the right thing to do here.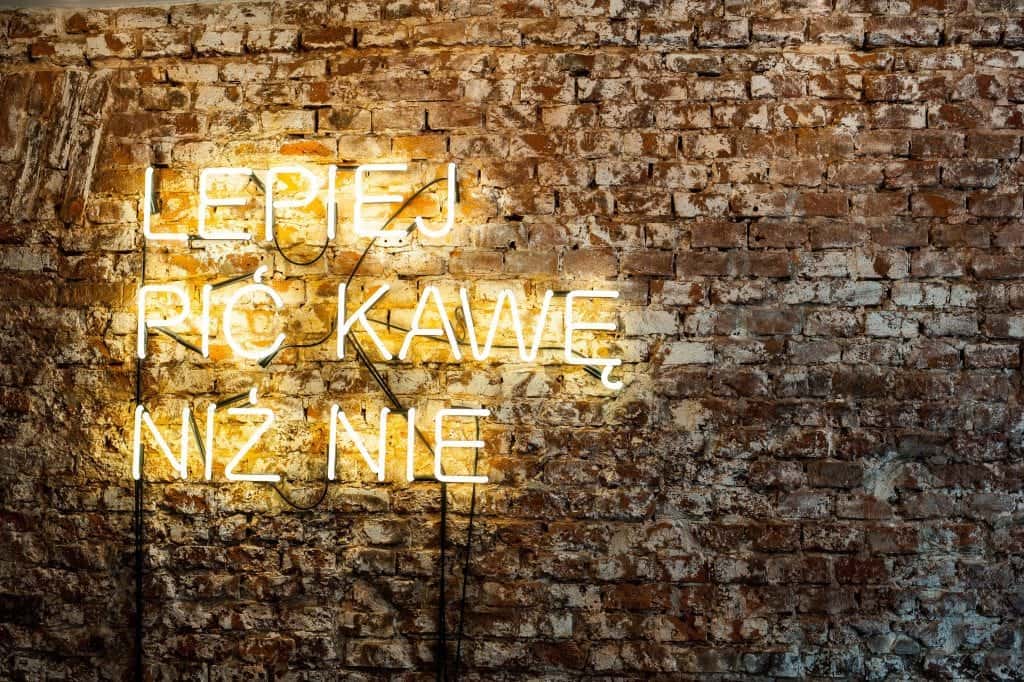 Wesola Cafe works closely with Coffee Proficiency, a roastery based in Krakow, serving their coffee as espresso beverages and filter coffee, also brewed alongside monthly guest roasters. Additionally to a great brew, there are fresh homemade pastries and a simple menu of salads, soups or wraps. Everything is made out of local and seasonal products. A great place to explore different flavours!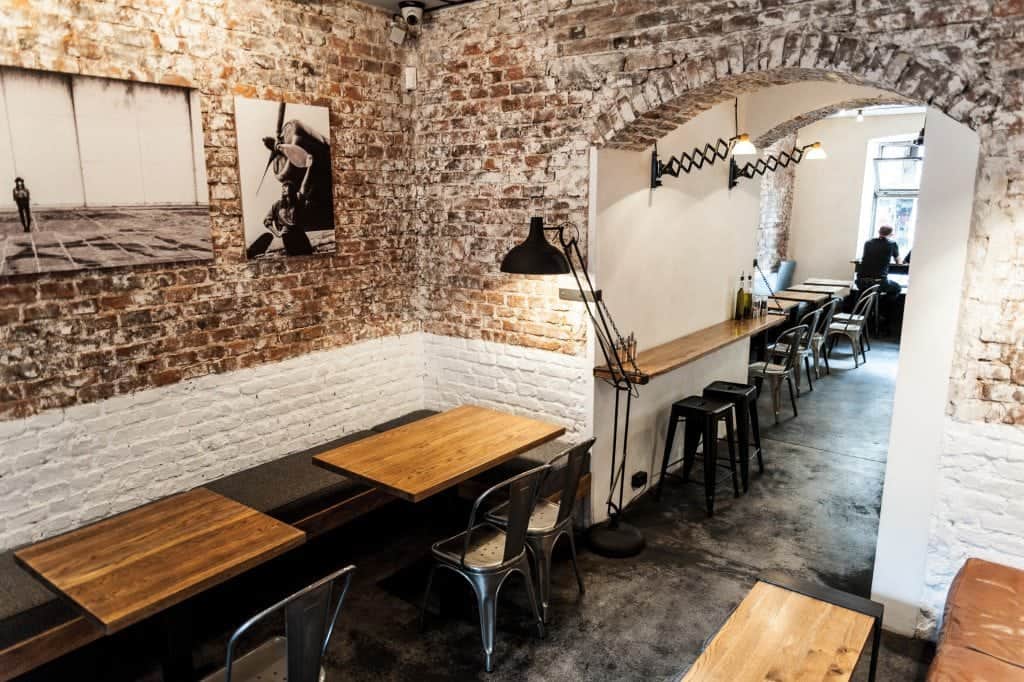 JAVA Coffee Showroom
A few months ago, during the spring solstice, a new coffee venue was opened in Krakow.
"It all started with an idea of a place, where the knowledge of baristas could be expanded through training. A place that could reflect the level and possibilities of local specialty coffee market. A showroom for a coffee in its pure form", says Krzysztof Bielecki, manager of Java Coffee Showroom.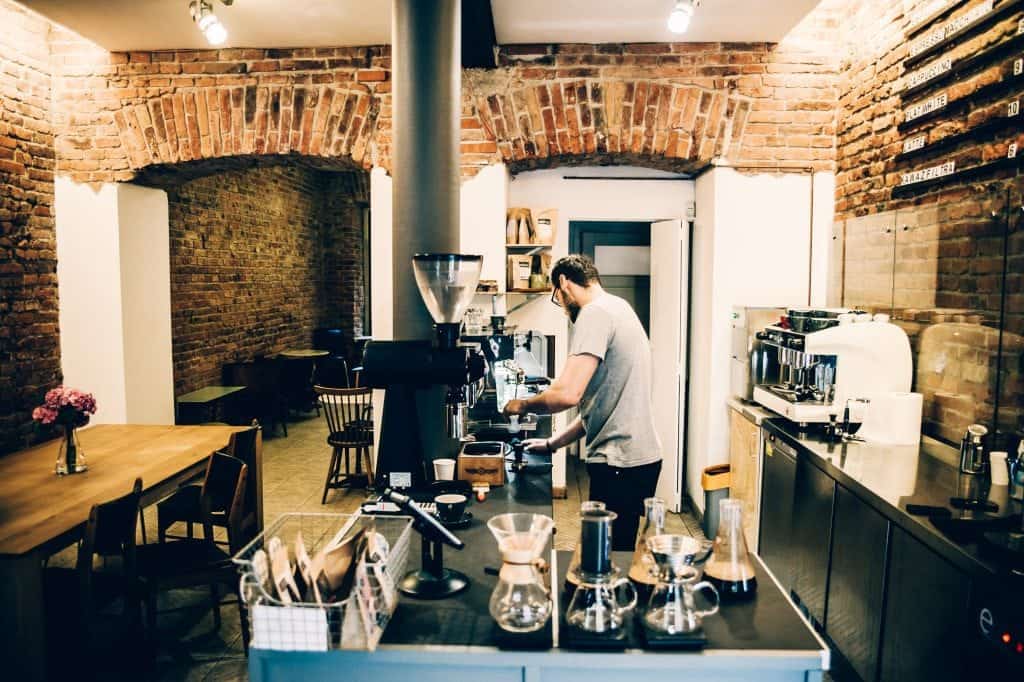 Thanks to JAVA Coffee Company, the oldest specialty coffee roaster based in Warsaw, Krzysztof and his friend Marek Wnek were able to create a coffee-focused-only environment. JAVA Coffee Roastery has expanded their business with coffee and other equipment via the Showroom, which does exactly as the name suggests – presents their range of coffees in the best way possible!
JAVA Showroom keeps a closer relationship with professionals from the region and those who are willing to get into the coffee world or simply learn more about the craft. It is really an approachable and welcoming training space for anyone who comes to Krakow, to try to brew coffee on home-like basis, and think about the right one for their cafe, home or the office.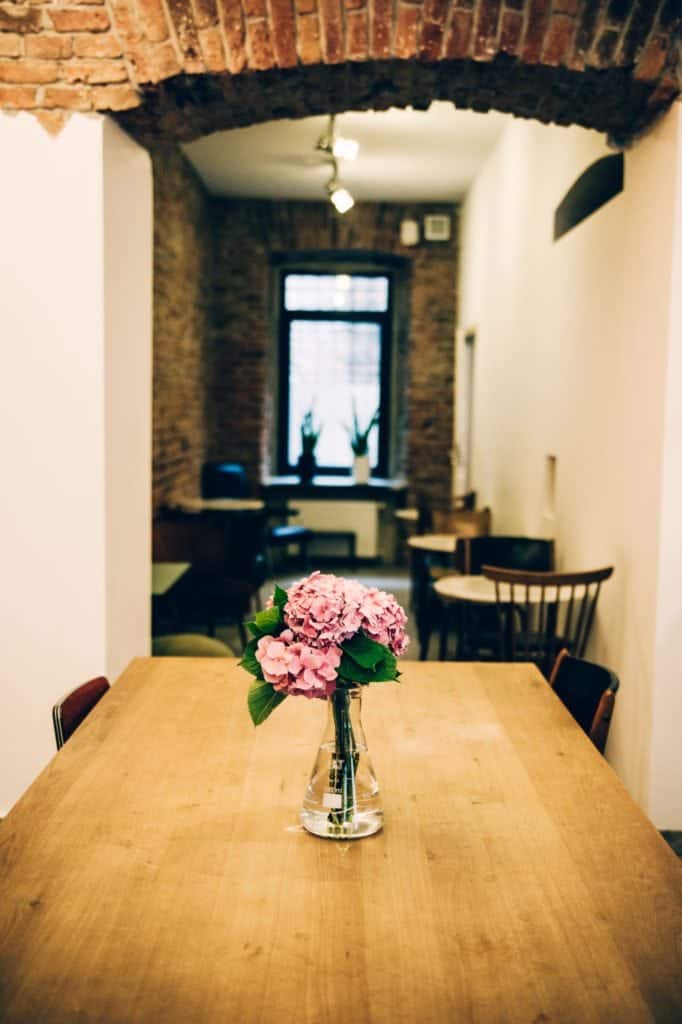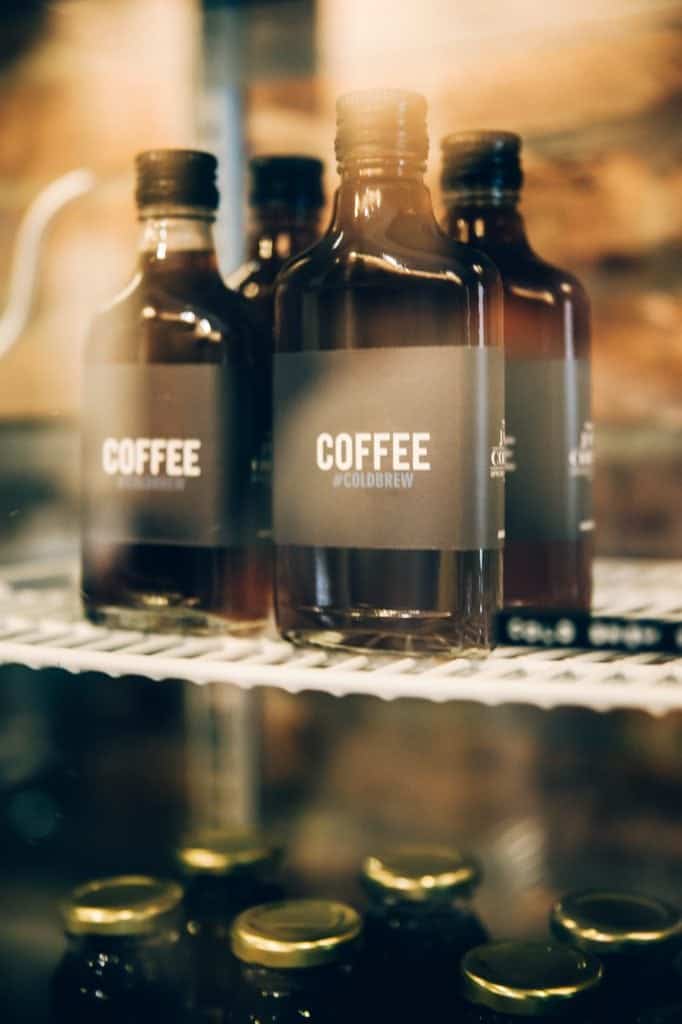 JAVA Showroom, yet again a cafe fitted out in-between red brick walls, has got more of an inviting feel to its industrial looks. Divided by a sizable bar, the space has got a comfy seating area with soft vintage sofas where you can relax in front of a street-facing window, or get engaged in a tasting session with the barista, if you choose to sit at one of the coffee tables placed next to the bar. This place is in a nice balance, as are their brews!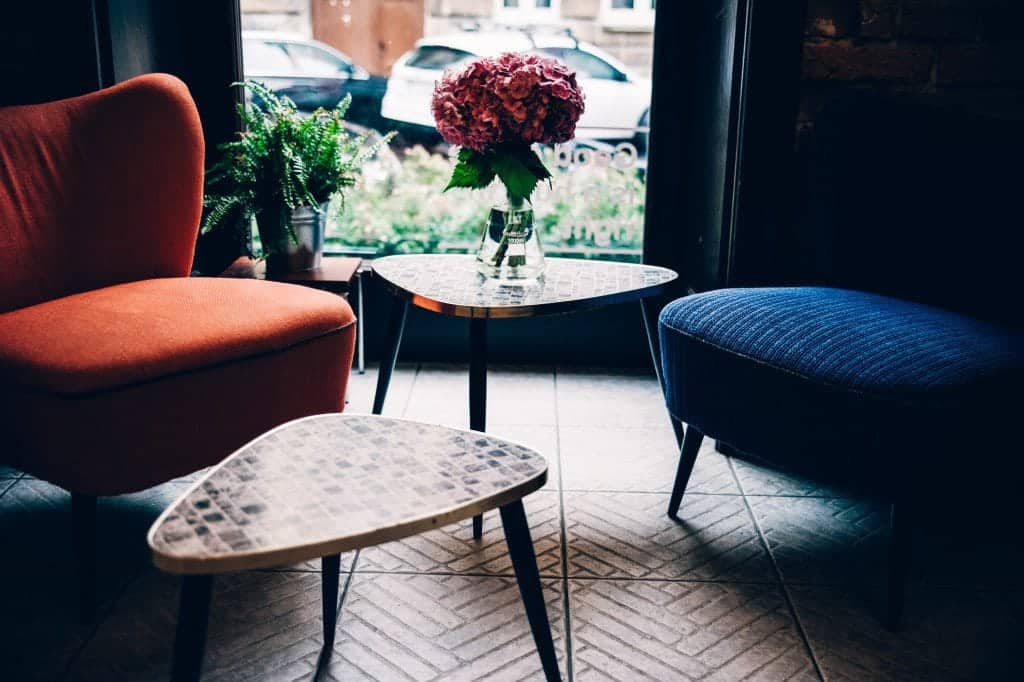 It is not typically a cafe, so do not expect to find much food here apart from occasional fresh croissants. The whole counter space has been taken by coffee equipment of all kinds – Mahlkonig and Mazzer grinders, Kalita Wave brewing station, filters, servers and any other possible brewing method, you name it. There is also a bottled cold brew from JAVA's seasonal coffees, chilled in the fridge and ready to be taken home.
Krzysztof and Marek are working hard on the development of the Showroom, systematically running trainings, open cuppings and lectures for baristas and individuals. The main aim is to grow the coffee community of Krakow bigger, and raise awareness of the specialty coffee within their local market. A good place, with great people!
ul.Berka Joselewicza 12/1u, 31-051 Krakow, Poland
Facebook, Instagram
Blossom
Blossom is a place that definitely stands out from most of the modern cafes in the city. The interior was set up with more traditional elements, inspired by the classic coffee houses of old times. This return to the old designs of coffee houses is so different from all the other cafes we see across the city!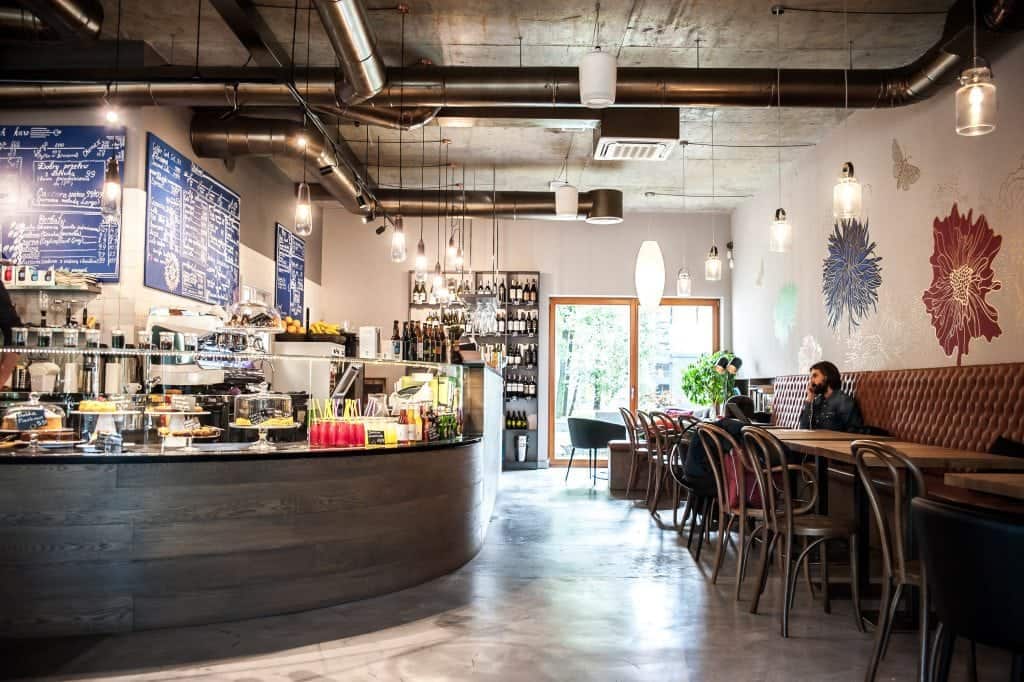 It created a comfortable, almost home-like atmosphere that makes you want to stay for long hours. Blossom's interior was divided into two parts – a typical dining space inside, with wooden tables, on the left, and a long sofa running along the wall on the right, with a bookshelf next to it.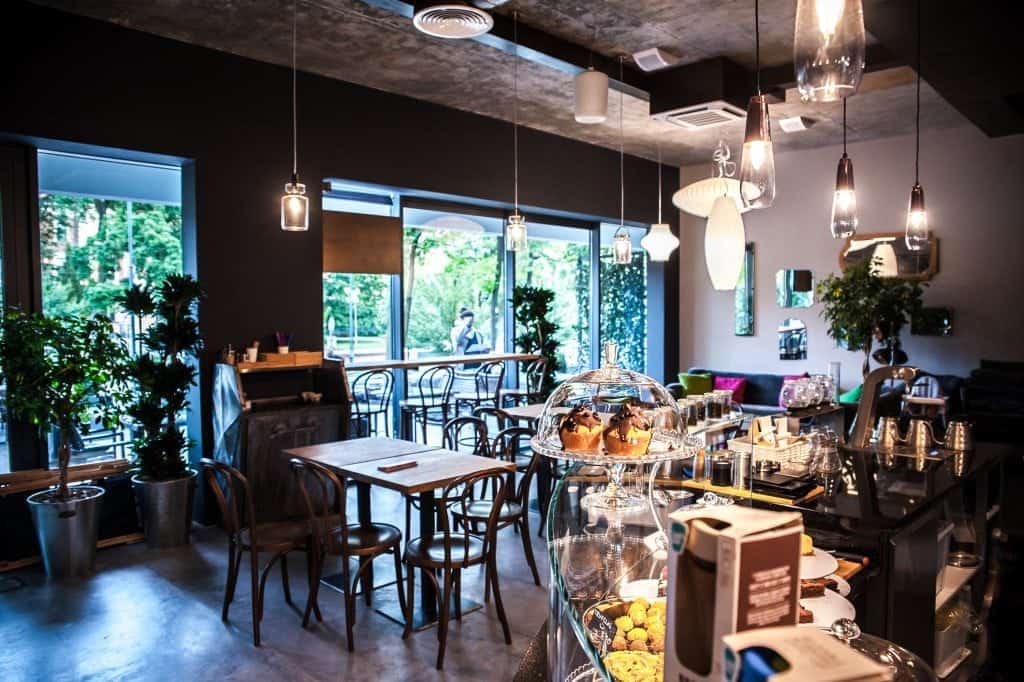 A marble counter with the front side covered in wood is shaped in a semicircle, connecting both parts of the cafe, so that it can be easily accessed, and baristas can easily watch over the cafe.
The idea behind Blossom was to create a place that would combine specialty coffee and all its potential with good and tasty food. Unique atmosphere of Blossom is the key factor to bring people together.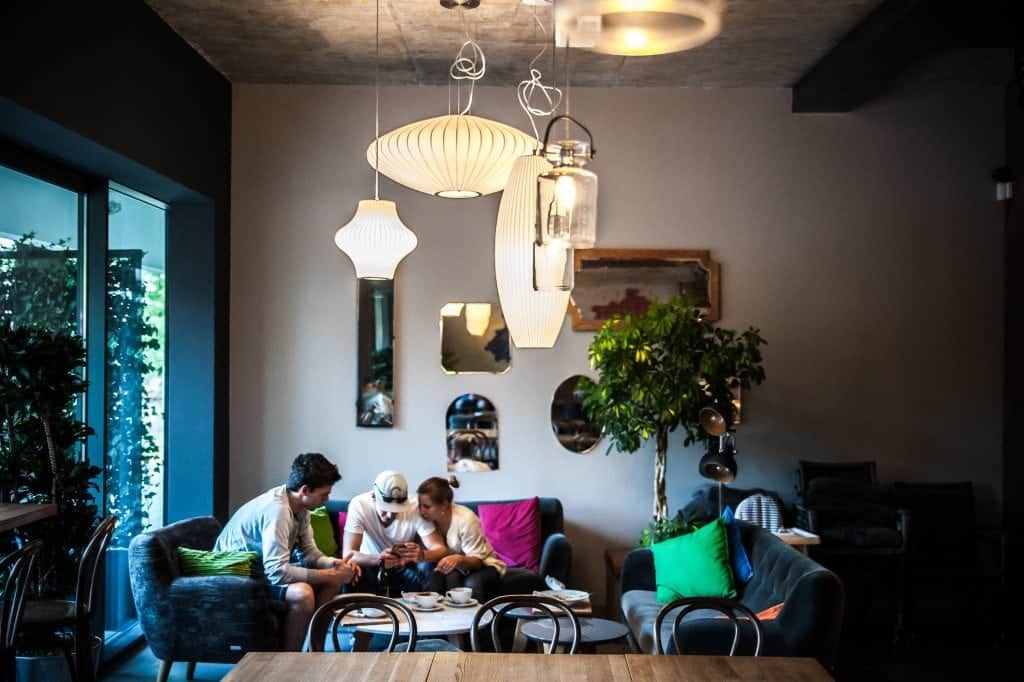 To achieve it, some of the top baristas in Krakow have been brought together to fully take over the coffee counter, deciding themselves what will be brewed at Blossom.
Two Mythos grinders for espresso serve two different coffees from its hoppers – a blend from Dublin-based Ariosa roastery, and a single origin from a rotation of international roasters. It was Berlin's Five Elephant when we last visited!
The brew bar offers a rotation of three different coffees from top european roasters, such as Gardelli Coffee, Coffee Proficiency, or Audun Coffee. A special tasting board with all three of them is on offer, just in case you cannot decide! Now you only need to pick your preferable brew method!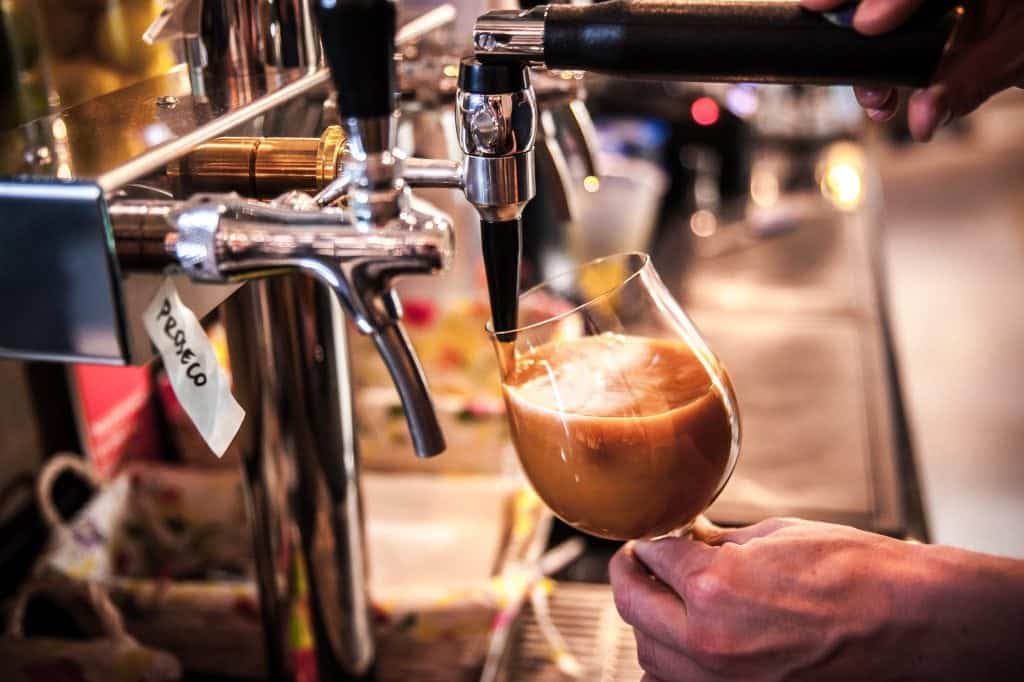 On warmer days, a cold brew or nitro coffee are available to drink in house or to take-away. A food menu is a nice complement to all of that, serving full breakfast, lunch, cakes and sandwiches, everything based on local, quality products. Blossom is a place that perfectly links the modern specialty coffee with a city coffee house tradition.
Coffeece
This small coffee shop was a game changer in expansion of Krakow's coffee culture and its approach to tradition of spacious, vintage sit-in cafes.
Located on the other side of the river than all of the above cafes, outside of the city center, the place is not bigger than 20 sqm, yet it has become a role model for organisation and execution of small, neighbourhood-like cafes. It opened less than a year ago by Michal Pluta (vice Polish Latte Art Champion 2013) and his team.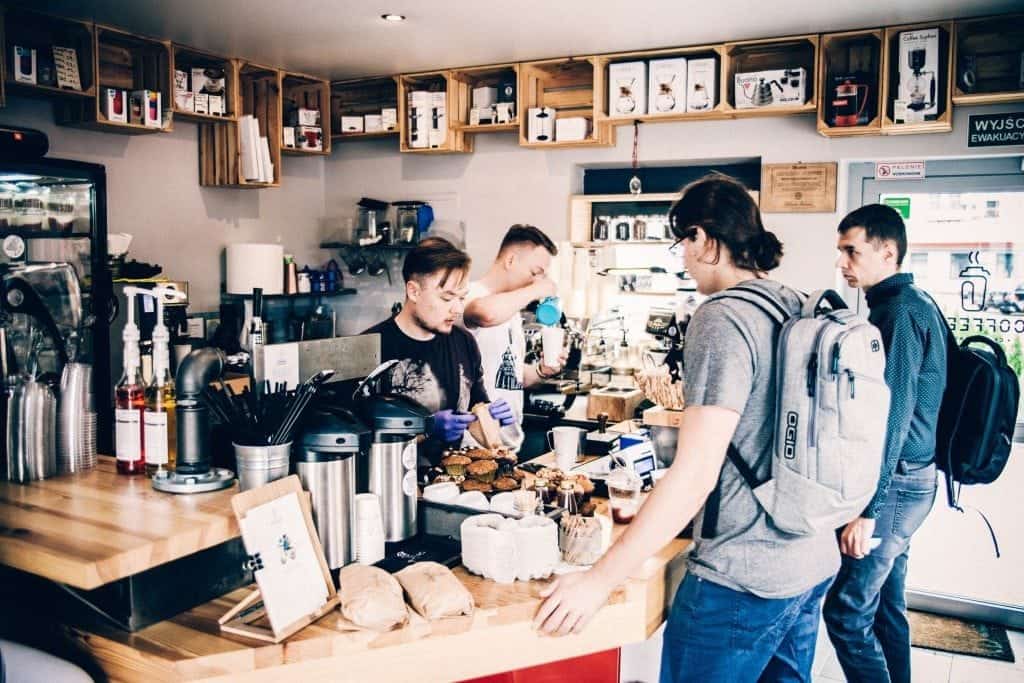 The whole project of the cafe was designed and constructed by the team itself. With only a few chairs it becomes almost a take-away cafe, but you can be sure there aren't any shortcuts on quality of the service provided.
The idea behind Coffeece is a fast-paced service and the highest possible quality of the product. The team wants to show that a small cafe can be great, too.
They use single origin coffees from top Polish roasters, as well as assembling their own blend from seasonal coffees – everything supported by Black Eagle Gravitech and Mythos One from Victoria Arduino. There is a really nice creamy Nitro Coffee available, along with fresh, homemade sandwiches. You can sit in or take it away, either way you won't be disappointed.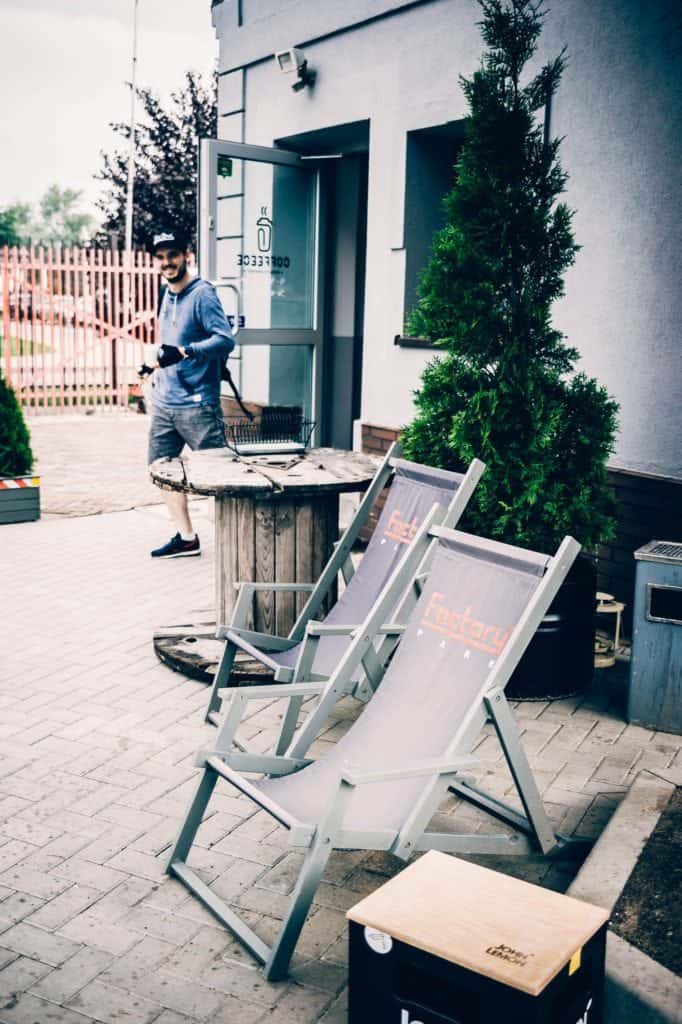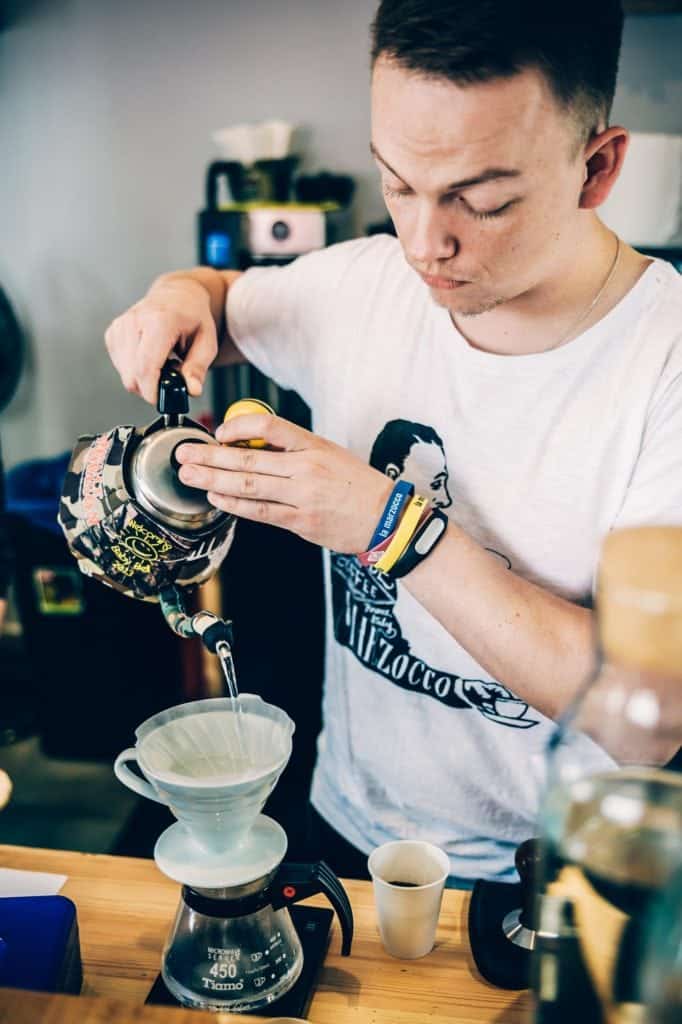 Coffeece is definitely a local and neighbourhood place, mostly serving coffee to a loyal customer base from the area. They also makes sure their guests can enjoy a good coffee at home, too, helping them to choose beans and equipment or giving some tips and short lectures about coffee. Everything available right there, at the cafe, when they need it.
Ul. Przemysłowa 12, 30-701 Krakow, Poland
Facebook, Instagram
Photos: Michał Ziębowicz took the great pictures for this article, helping out Wojtek as an external photographer!