We have the pleasure to introduce to you Katharina Ante, also known as Kathi, who is a coffee professional and the Head of Coffee and Manager at Lowinsky's in Hamburg. Kathi is 28 years old and originally from Cologne, but she moved to Hamburg in 2016 to pursue her passion for coffee. With her extensive experience in the coffee industry since 2013 and her focus on specialty coffee since 2018, she has been able to guide her team towards delivering exceptional coffee experiences to their customers.
Kathi made it to the finals of the German Barista Championship 2022 and she's currently training for this year's competition. She takes great pride in sharing her knowledge with others, and she is involved in teaching and hosting barista courses for home baristas. Her main goal is to spread knowledge and love for coffee, and she finds joy in seeing participants take the first steps of their individual coffee journey.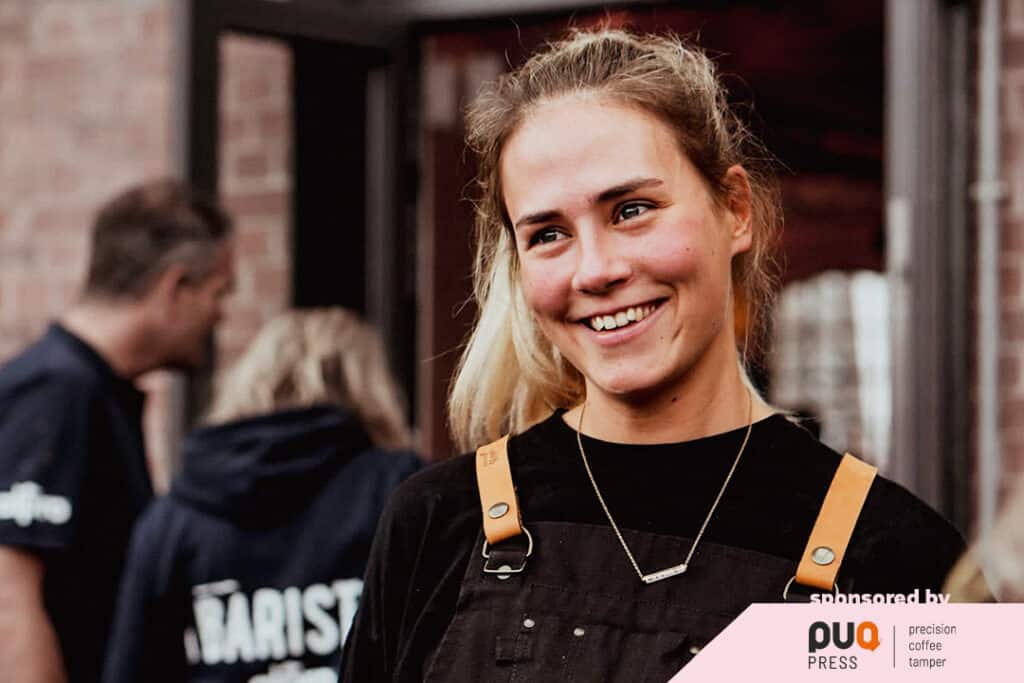 Kathi, what is your first memory of coffee?
My first memory of coffee is drinking tons of old filter coffee – like the cheapest one from the supermarket – straight out, just one big batch over the whole day. That was when I was 14. Actually, I really thought I liked it back then!
That finally changed when a colleague of mine made me try a cappuccino instead of my regular cafe latte. It was prepared with a beautiful Ethiopian coffee It is still one of the best coffees I've ever tasted and made me very curious about all the things behind that one "simple" cup of coffee.
​​What inspired you to pursue a career in the coffee industry, and how did you get started?
I started working in a specialty coffee shop back in 2018, during my acting studies. I needed something else to focus on, to get my mind off things and to be curious about. Working in hospitality was a part of my life since I was 14. I came across a tiny cute coffee shop which was close to my university at that time, so I just went with that.
After I had the first few shifts, I realized that there was just so much more behind a good cup of coffee than just thick foamy milk and some random beans. That got me hooked. I wanted to know everything. I wanted to really understand the product and the process I am working with. I asked my colleagues tons of questions, I went to every workshop there was, and I took every opportunity to cover shifts to become a better barista as soon as possible.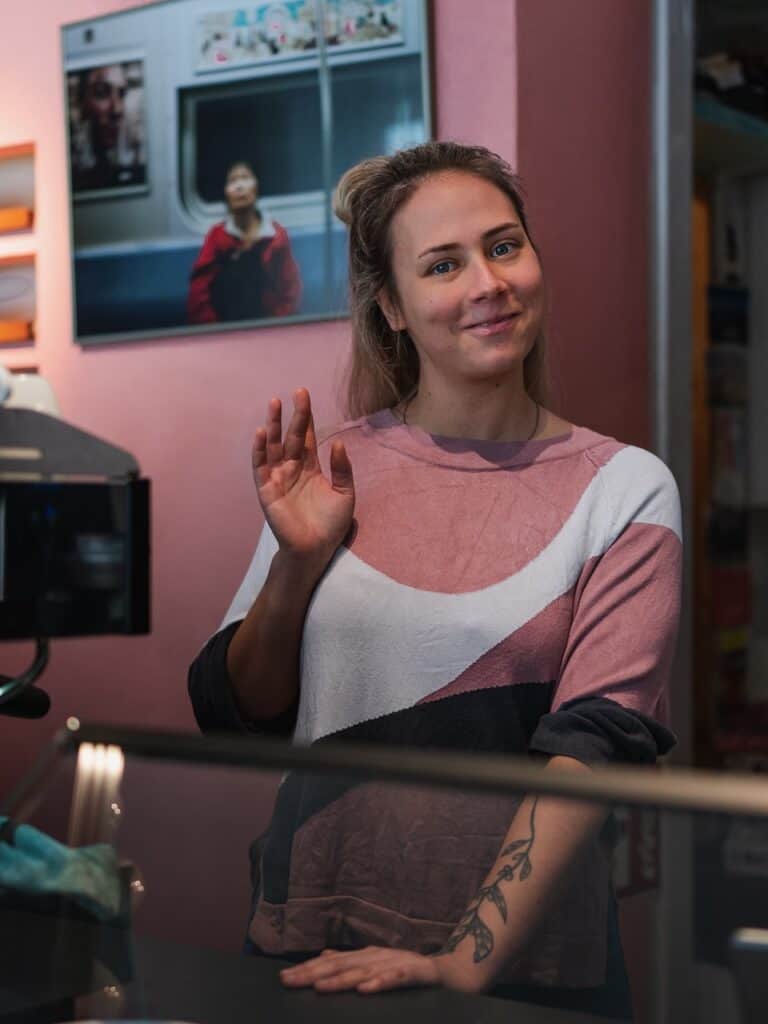 Kathi, tell us a bit about the place you work at. What is your role there?
At Lowinsky's I'm responsible for the everyday business. It's my job to make sure that everything is running smoothly, we always have enough of everything and that everyone knows what they need to know and to do. We are a small cafe with a small team, so we work together very closely.
I'm always trying to be a good teacher for our new baristas. I train them and make sure they know about our products and our company values. We also offer barista courses, which I'm hosting for home baristas. This is always a lot of fun. To take the first steps of their individual coffee journey together, to set the flame in their coffee hearts. When participants send me their latte art pics or a new coffee bean they found for themselves… This is something which makes me extremely happy and kind of proud. This is one of my absolute main goals in my profession: To spread the knowledge and love for coffee.
What kind of experience do you want your customers to have when they visit you at the cafe?
When you visit our cafe I want every customer to feel more than welcome. Hospitality and open communication are key. As I mentioned before we are a small team, so sometimes it can take some time to prepare every drink with the quality I aim for.
Communicating openly about the reasons, the products and the process is very important for me. But there are also some customers who don't really want to know about different origins and different processes. And that's also okay. I think a good cafe is always inclusive. When someone wants to have "just a coffee", I'll try to prepare them just a very good coffee.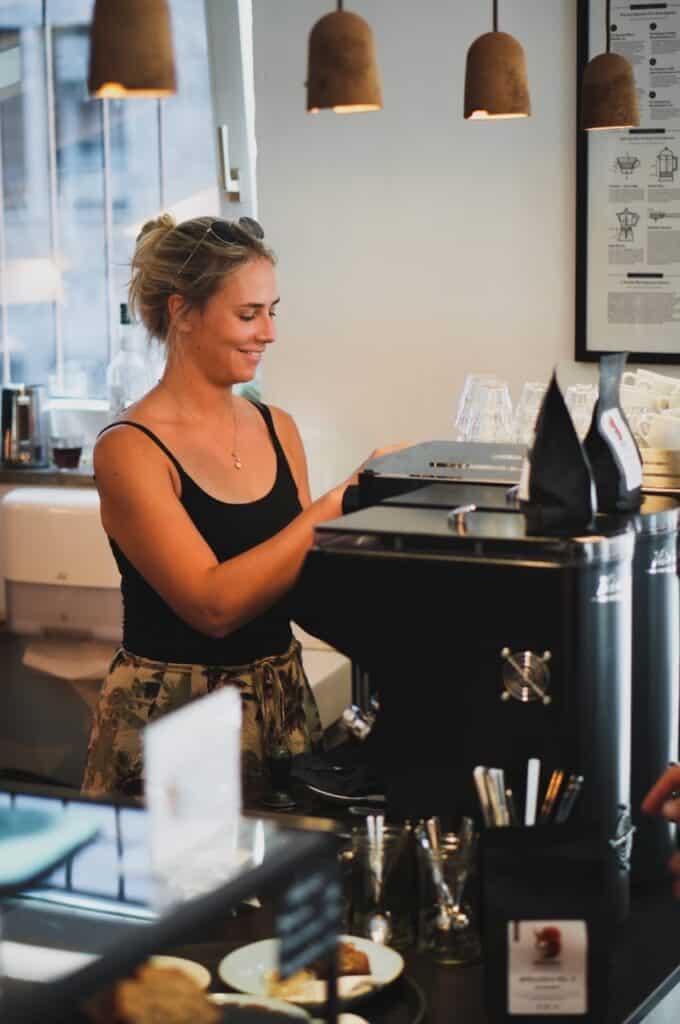 Same as when someone wants to know about the taste differences between two anaerobic processed coffee beans. For me, it's always about building up a community which offers a seat at the coffee table for everyone.
What is your favourite part of the day in your cafe, and why?
My favourite part of the day is definitely closing. It always has a beautiful calmness to it. It gives me time to think about the day and the experiences I made, the people I've met and the stories they told me. I like the meditative work of getting everything ready for the next day. Cleaning everything nicely and knowing that the person who is working in the morning will have a great start to her/his day because everything is prepared well and will run smoothly.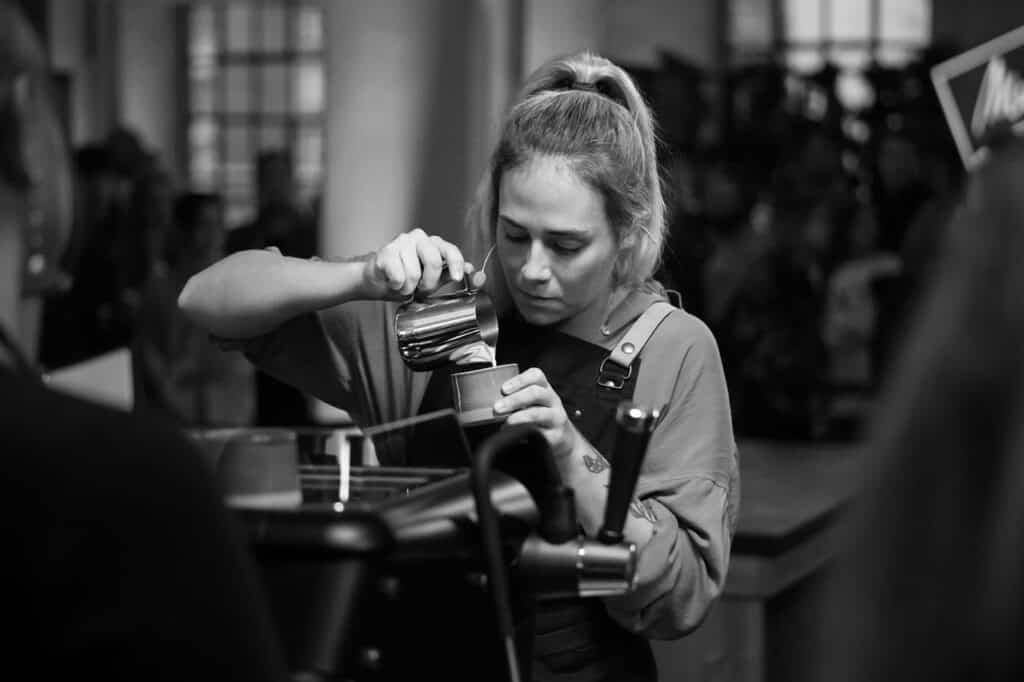 Kathi, how do you stay motivated and inspired to keep improving your coffee-making skills?
At Lowinksy's we have a new guest roaster every month. So every few weeks I have to find a new roastery that wants to collaborate with us. I'm always looking for new processes, well-known goodies and some exciting origins. We have to adjust our second grinder for that, I always cup a lot of coffee to find the best ones for our customers.
And to be honest, working behind the Coffee counter for me still has that special sparkle. After already five years I'm still looking forward to every single shift, every single drink and (almost) every single shot. I'm always searching for ways to be even more efficient, to serve even higher quality and to give the best possible experience to every customer that will visit us.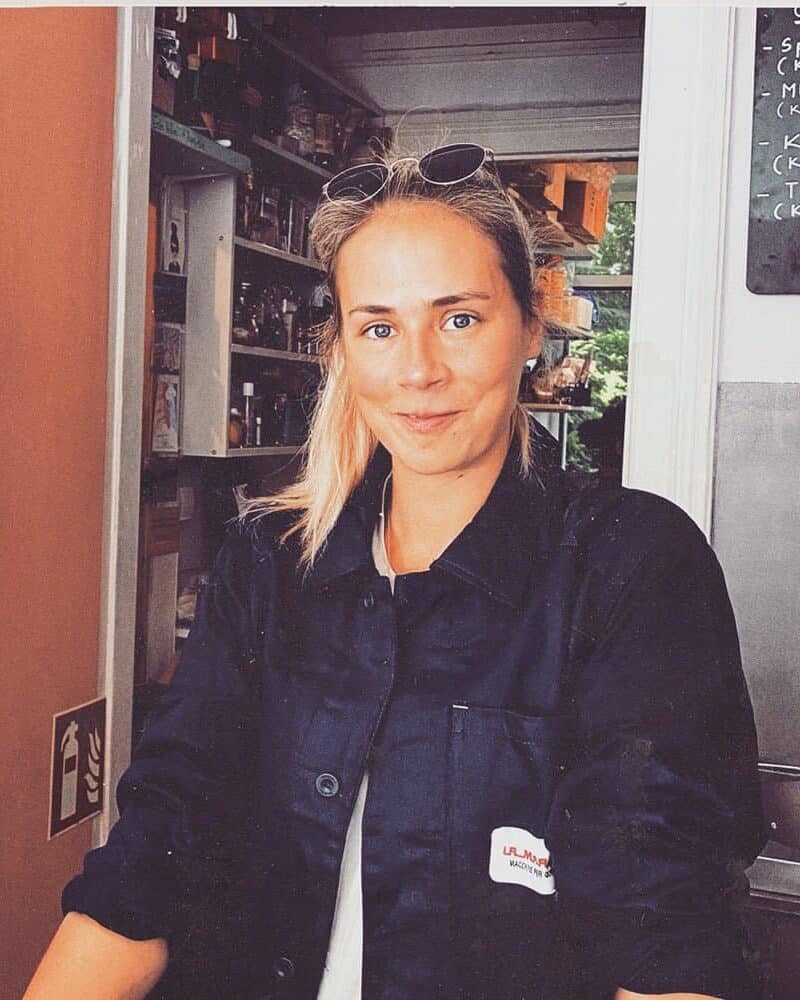 What are the current trends in cafes in your region? Are there any trends you promote yourself and would like to see more often in other places?
This is maybe not a trend but for me something very important I'd really like to focus on. High-quality cold brew and also nitro is still something which is somehow underrated. There are specialty coffee shops which are even using old-batch brews for cold brew… Rarely anyone is really focusing on how important it is to find suitable recipes for different coffees as cold beverages.
Especially in the summer days, there are so many awesome varieties we can offer. This a great opportunity to make people even more excited about specialty coffee in general and highlight the benefits of a beautiful filter coffee and the diversity there is in flavour profiles. Cold extraction methods can really enhance the qualities when used correctly. I'd really love to see development and honour the beans on a different level in this area.
Can you tell me about a time when you had to train a new barista? How did you approach the training process and what did you focus on?
Every time I'm helping someone to evolve as a barista Im focussing on the balance between knowledge and intuition, theory and practice. When you start with a theoretical session, most of the time new baristas are somehow disappointed because they want to directly start with latte art. For me, this is like the last step. When you understand the journey of the beans, you can start to appreciate the product.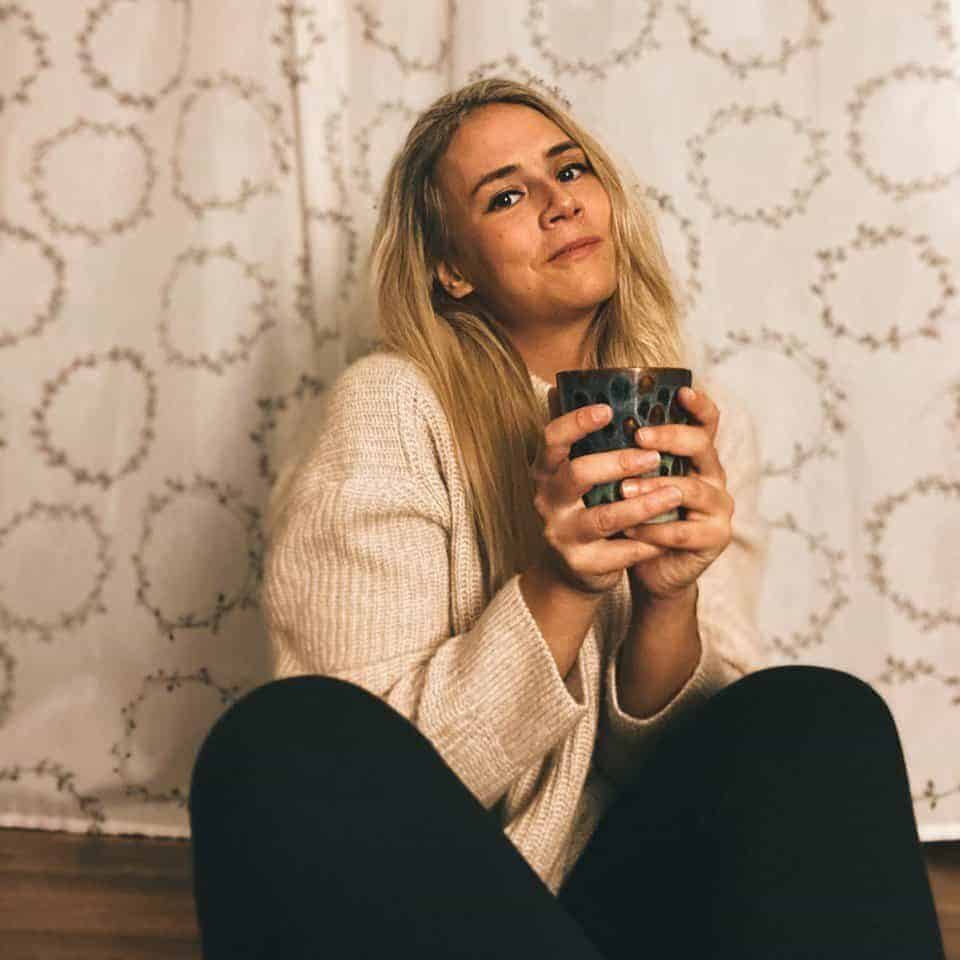 You start to understand how important it is to develop your skillset and to really honour the long journey the coffee took until it is finally in our hands. When you understand that, you can cut out a lot of errors. Same with working behind the coffee bar. When you understand the theory of extraction, the theory of creating a complex milk beverage you can save yourself a lot of disappointment.
What's also very important for me when I train new people is to underline the importance of a clean working environment and to focus on a great workflow with consequent efficiency.
What coffee challenges are you looking forward to? Any new projects or collaborations?
I'm really looking forward to the next German Barista Championship, which I'm preparing for at the moment. Getting ready for these kinds of competitions is not only very intense (in time and effort) but also so inspiring and fulfilling. You have to build a team around you with people who support you, challenge you and believe in you. It's a team effort in the end and I'm more than grateful for the people I have by my side.
Overall I can say: Coffee for me is about the community, the connection and the process. This is what keeps my spirit going, even during exhausting weeks or long-lasting days. This is the reason, why I partnered up with some brands to host a community event on the 12th and 13th of May in Hamburg to bring the community together. We will focus on education and also host an exciting competition to give new baristas a chance to participate – maybe for the first time and senior baristas to show off their skills. I really hope to see some of you there!

Quick Fire Questions for Kathi Ante:
Would you serve filter coffee with milk if asked for it?
I would always ask them to try it without, but then add milk if wanted.
Do you ever take sugar with your coffee?
Never.
Espresso or Filter coffee?
It's always a cold-brewed filter coffee.
Do you aim for Sweetness, Acidity, or Body?
Definitely for the balance of all of the above.
Milky or Black?
Milky.
Slurp or Spit?
Slurp.
Sit in or Take Away?
Sit in for sure.
Cake or Pastry with your coffee?
Always like to take a flat white and a filter. None of the above.
Favourite piece of barista equipment?
My Puqpress for sure!