Meet Luca Croce, a 22-year-old lad from Newcastle upon Tyne, who already stormed both the stages of the UK Brewers Cup and the World Brewers Cup in Athens. Luca became the 4th best Brewer in the world, even though he started competing only this year.
Luca was born into a coffee family yet he still has to climb all the steps himself. He started by becoming a barista in a chain cafe and slowly entered the family business and now helps out in Gold Box Roastery run by his mum – Barbara. She is his biggest mentor and definitely her coaching played a key role in the World Brewers Cup success.
We can't wait what will Luca bring next on stage and to the industry since his passion for hospitality and people is compelling crowds at events! Being humble, hardworking, focused and radiating youth energy Luca is already making a very positive impact on the specialty coffee scene.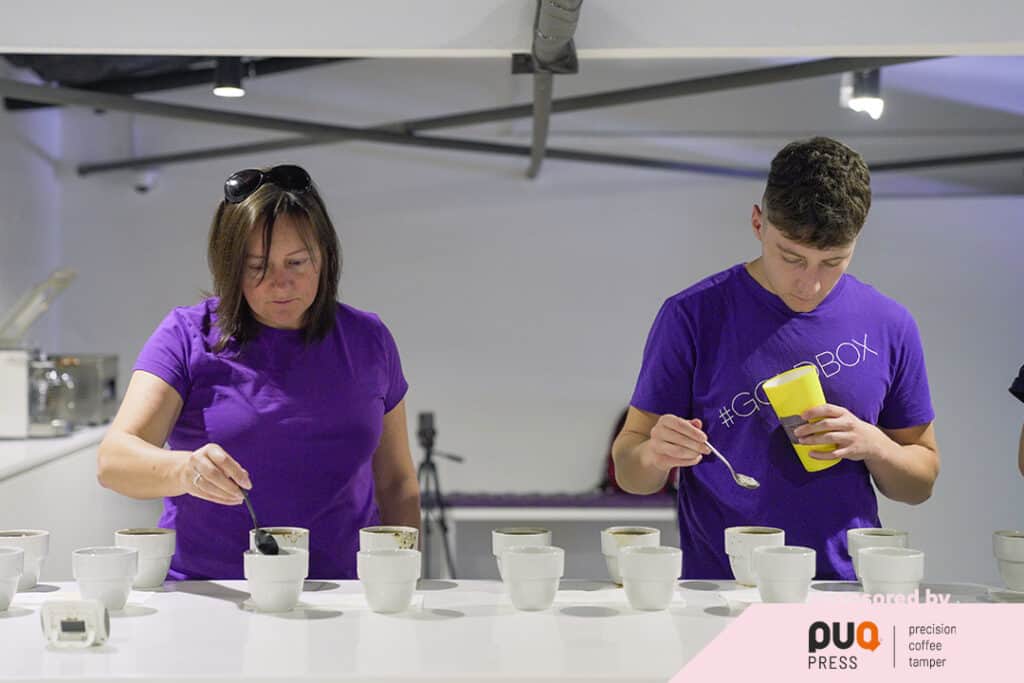 Luca, what is your first memory of coffee?
My first memories of coffee are when my dad would take me and my brothers to my grandparents' house, and we would all have a biscotti and an espresso at the table. My grandad is from Italy, so it's part of his heritage so it became a tradition for me. However being so little the espresso was not really what I looked forward to, it was dipping the biscotti in the espresso which is what I enjoyed the most.
​​​​​​What inspired you to pursue a career in the coffee industry, and how did you get started? What did you do before coffee?
My mum is my inspiration, she inspired me to work within the industry. She is a Q-grader and founder of Gold Box Roastery which has operations not only in the UK but also in UAE, so I learned a lot from her!
Before coffee, I had joined the Royal Navy. I really just wanted to leave home become a bit more independent and learn new skills. However It wasn't long before I found my way back to the roastery and realised how much I enjoyed being around coffee,
I asked my mum if I could join full time and she said NO. Her idea was for me to first demonstrate my commitment by gaining experience elsewhere. So I decided to get a job as a barista in a chain cafe. After working 6 months, my mum acknowledged my commitment and I stepped into the roastery where I started helping with the orders and packing.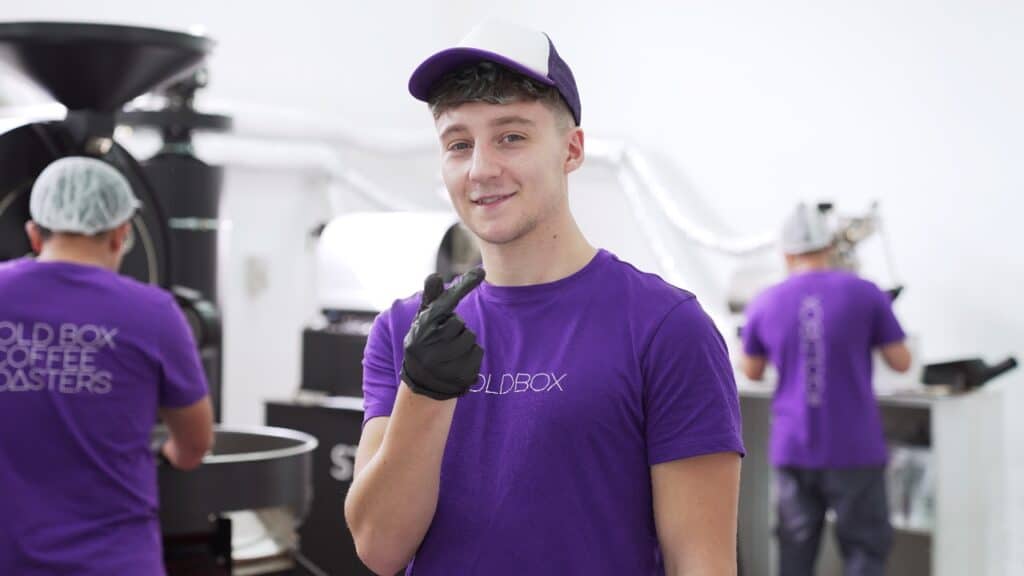 Tell us a bit about the place you work at. What is your role there?
So yeah, at Gold Box Roastery I am learning a little from each department, I can be helping pack orders on a busy day or out on a delivery but I really enjoy sales and training I enjoy learning and sharing knowledge.
What kind of experience do you want your customers to have when they visit you at the roastery/cafe?
When I'm working behind the bar I make sure that all of my customers are well looked after! I make sure I attend to all of their needs, And I go above and beyond to make sure every person that walks through that door feels special. I think it's very important because even if the coffee is exceptional but the customer service is not great I wouldn't return back to the cafe.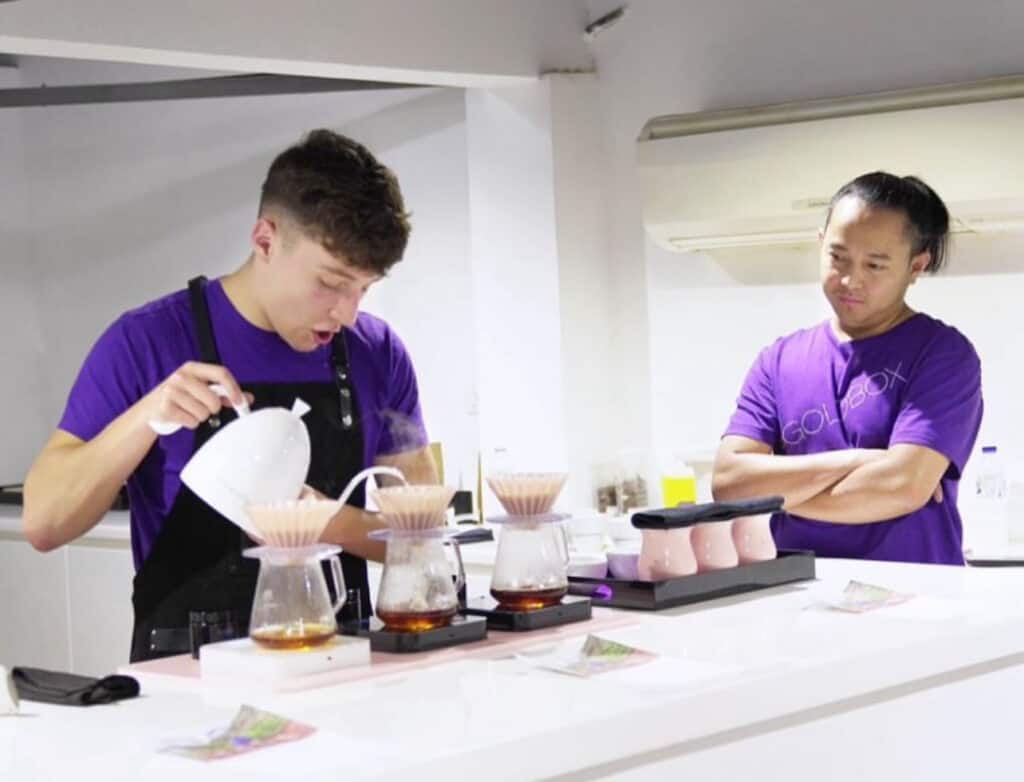 How do you stay motivated and inspired to keep improving your coffee-making skills?
I stay motivated by learning new methods and techniques to help improve my knowledge and skills. I often watch a lot of videos online which also help me improve my skills, which I can share with others.
You have amazing achievements in championships. Can you tell us more about them? What drives you to compete?
Yes, What a year,
It was my first time entering the UK Brewers Cup so I didn't expect to win, I had hoped I could get to the finals, but to win, I just really didn't expect it.
Then it was time for the World Championships in Athens, I had done all I could. I had worked on the routine daily, and I had great coffee. However, I did feel a little out of my league sharing a stage with big names who had so much experience in the industry. But everyone has a first time and this was mine. I can't find the words to tell you how I felt to get to the semi-finals, but when they called my name for the finals, I was in shock. There's a video on the Gold Box Instagram account and I'm not sure if I can breathe if I'm going to be sick or what. It was just shocking I just really didn't expect it.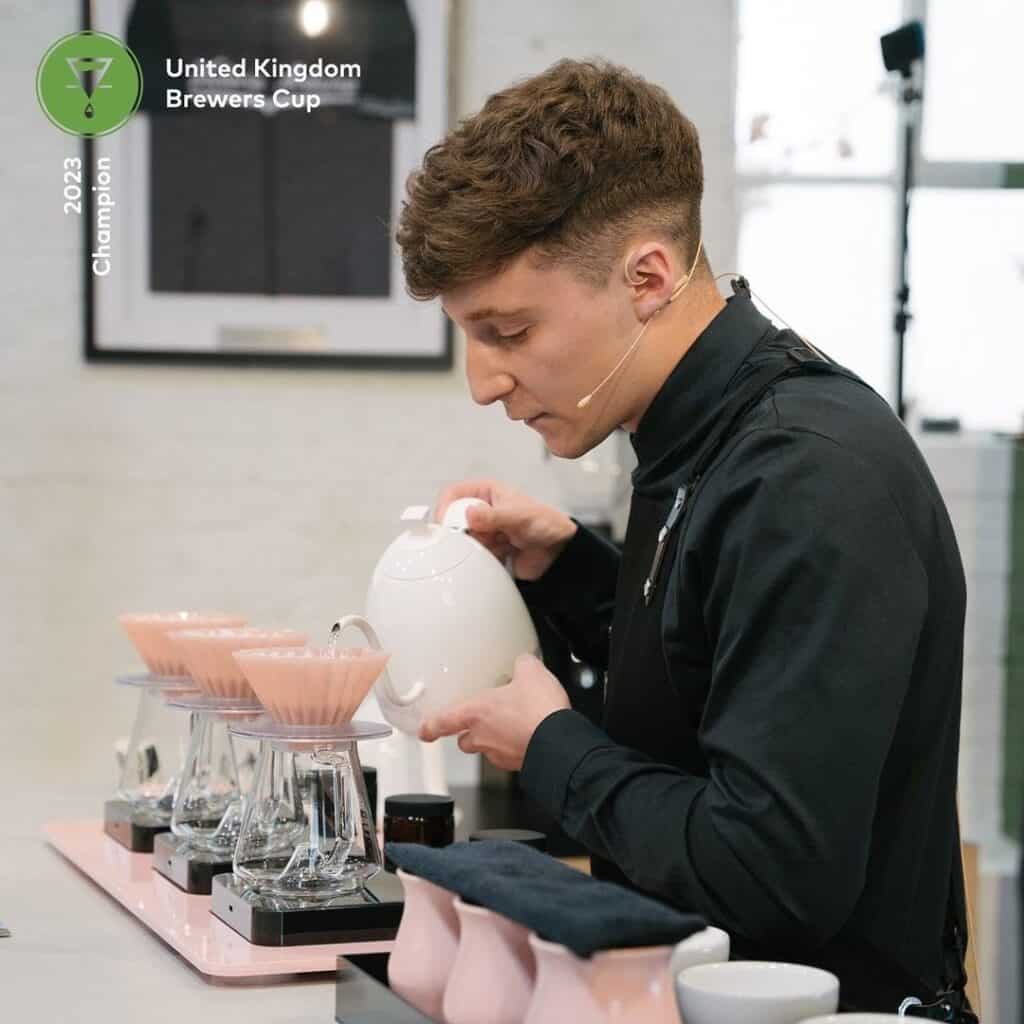 Competitions have given me an opportunity to meet so many people, to showcase our coffee and the origins and people behind the beans. However, think my main drive to compete is my personal development as I gain so much knowledge and new skills.
How did it feel to compete on the World Stage?
It was a fantastic feeling, and as I said I would have never dreamed I'd get that far. I have to admit I was super nervous. As soon as I said 'time' my legs started to shake a little but as I began to speak the nerves disappeared and I started to gain confidence. It was a fantastic experience and something that will stay with me for the rest of my life!
You once said that you would prefer to become a people's champion than a world champion. Can you elaborate on that a bit more?
I mean of course we would all love to become world champions, who wouldn't? But it can sometimes be associated just with personal success. And for me, the most beautiful and beneficial part of competing is meeting new people and building more of a community. Especially where I'm from because there's not much of a coffee community yet. But I hope in the future that will change.
For me, it's all about sharing knowledge with each other and helping each other improve our own skills to help others in the community.
What is in your opinion the most important thing to have in mind when you start to compete in coffee championships in general?
Sadly it comes down to time and money. Competing should be fun, but yes competitions are really time-consuming and can also be very expensive. So, time: be prepared to give up your free time to achieve your goals. Money: finding great coffee can be expensive as well as all the equipment and travel costs.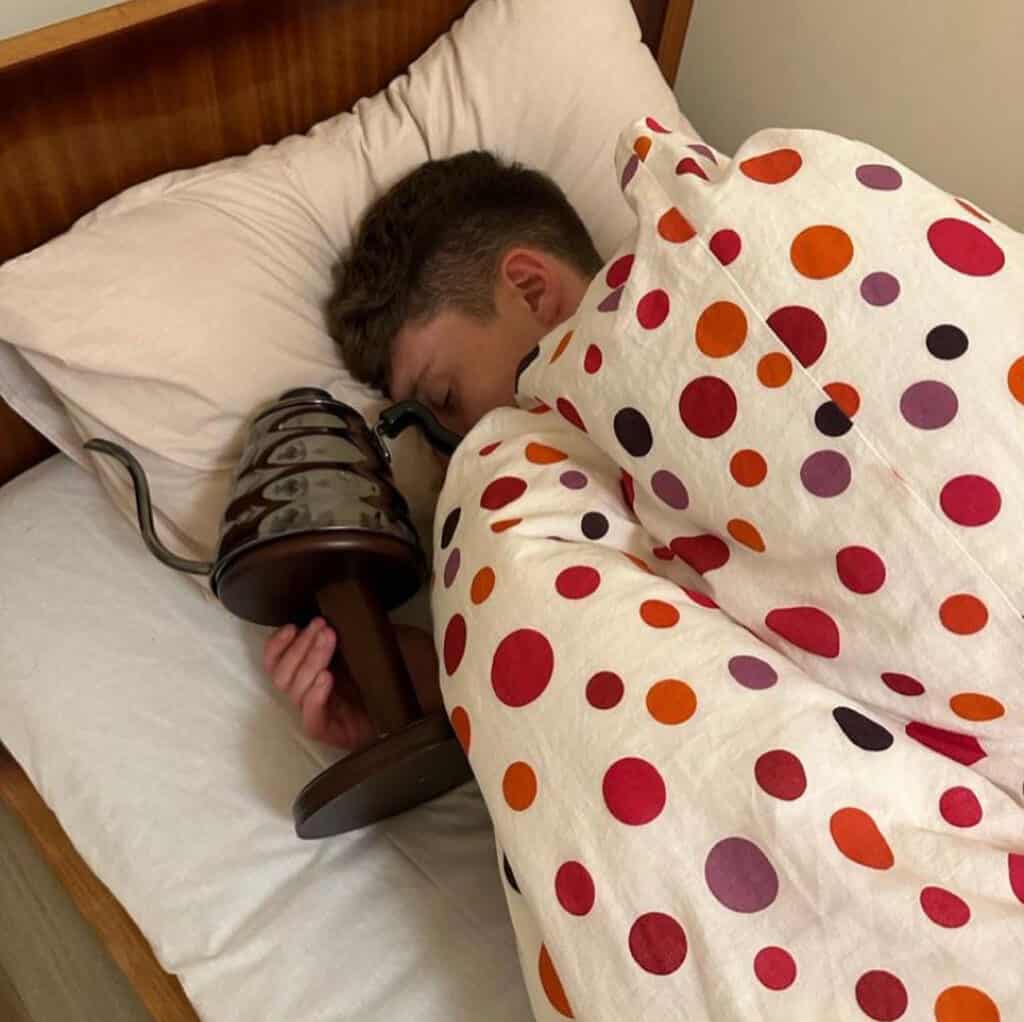 What coffee challenges are you looking forward to? Any new projects or collaborations?
I have decided to compete again in the UK Brewers Cup, the second time this year, to attempt to defend my title. I am really looking forward to working on a new project in Colombia – but that's under wraps for now. However, the biggest challenge I look forward to is that I plan to compete in the National Barista Competition in the UK sometime in the future.

Quick Fire Questions for Luca Croce:
Would you serve filter coffee with milk if asked for it?
I've never been asked but if I was, I would strike up a conversation to find out what kind of coffee they like or what/where they normally have it. I'm guessing if they are asking for milk, they are more into chocolatey kinds of coffees, Let's say it's a typical Brazilian, chocolatey nutty batch brew. It could work with milk – and maybe that's what they're used to somewhere else. It wouldn't be what I'd like to drink but it's not my drink
I'd present our filter selection and why they taste better black, But at the end of the day we all like what we like and I'm here to make the customer what they will enjoy.
Do you ever take sugar with your coffee?
No.
Espresso or Filter coffee?
Filter coffee always!
Do you aim for Sweetness, Acidity, or Body?
I always aim for all 3, I like a well-rounded cup.
Milky or Black?
Black.
Slurp or Spit?
Slurp.
Cake or Pastry with coffee?
Pastry.
Favourite piece of barista equipment?
The PUQpress.