Our Barista Profiles series has been long in the making. Since our first visits to cafes around Europe, we have met many amazing baristas who have had a number of interesting stories to share. We love the speciality coffee community exactly for the people building it and are thrilled to introduce some of those individuals to you.
Baristas truly are the ones who contribute to the atmosphere in the cafe and the key reason why we'd come back there.
Read on to meet Dominik Novák who brews your daily cup of coffee at Cukrárna Myšák in Prague.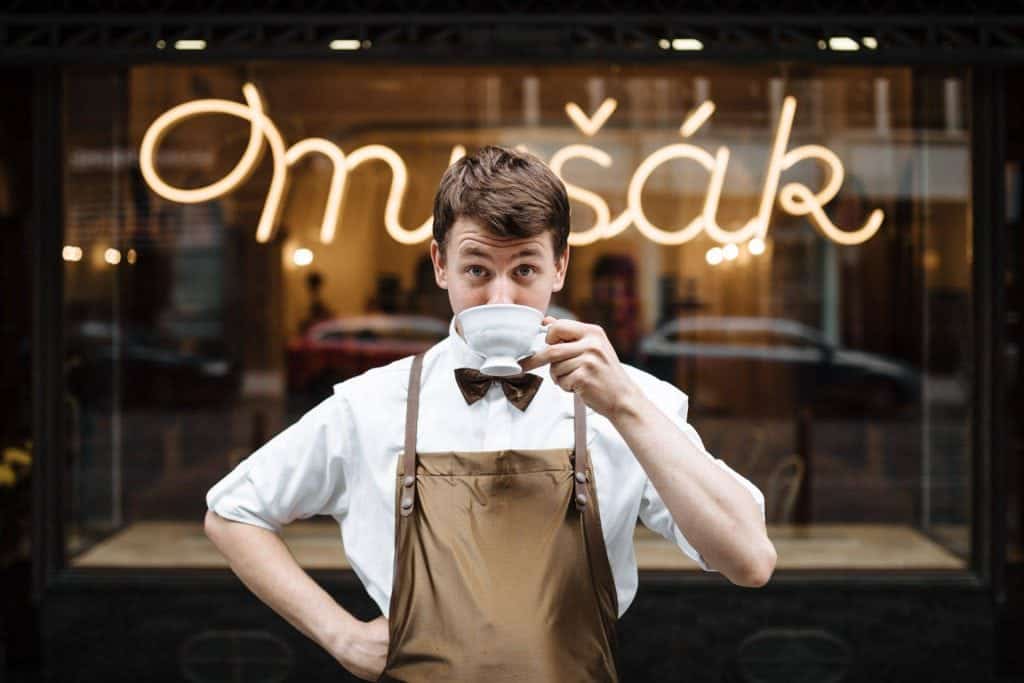 Dominik Novák is a 26-year-old barista, currently running the cafe Cukrárna Myšák in Prague as its Head Barista. Originally from Nové Zámky, Prague is his home now, since he works at the cafe full time. Dominik has been working in coffee for 6 years now.
A Few Questions for Dominik Novák
What led you to coffee? Could you describe the moment or situation that made you decide to become a barista?
I went to gastronomy oriented secondary school in my hometown. There we had some extracurricular activities such as a sommelier class, bartending and barista classes as well. I started to attend barista class because I was too clumsy to be a bartender and too much a punk to be a sommelier back then. Besides, there were some cute girls attending the course as well. Then I happened to need a part-time job and it was easier to get a better job knowing how to operate the espresso machine (at least I thought so). I enjoyed the job and so I figured out that if I am supposed to spend most of my productive time at work, I might as well do what I like to do.
What is the funniest thing that you have experienced behind the bar? Can you recall any embarrassing moment too?
I've had so much fun behind the bar over the years I can't figure out the funniest. Embarrassing ones are way easier to come by though. Perhaps meeting my girlfriend for the first time or Standart launch party at Prufrock café in London to name the finest ones.
What would you do if you were not working in coffee?
Not quite sure. I think I would end up somewhere in hospitality industry perhaps with wine or beer. Or in a factory that produces rubber parts in Nové Zámky.
What is an unusual habit or hobby that you love?
I like to make homemade foodstuff – growing kombucha and coffee plants recently.
What are bad recommendations you hear often in your profession? What is your advice for anybody starting a career as a barista?
Bad recommendations? Professionally I hear a lot of encouragement to pursue management positions or opening new places. It is not that people should not dream big, but being a good barista does not make you a great manager or employer. It works for some, but generally, it does more damage than good.
If you are starting, find a place where you can work with somebody who can really teach you about customer service. There are so many courses you can go to and so much information online about extraction and skills with technology but so little about customer service. So, to shorten it: learn how to work where they make people happy.
Looking back, what one thing would you wish to know when you were starting to work as a barista?
How to make coffee taste really great.
What qualities set a good and a great barista apart?
Good barista shows up on time and does the job.
Great one shows up 10 minutes before so he/she can do the job better.
Good barista serves great coffee to customers.
Great barista serves great coffee to the guests (štamgasti).
If you have a bad day at the cafe, what helps you to handle it and provide good customer service?
Most of the times I try to swallow the problems and pretend it's fine in front of the customers or guests and then, after the shift I grab a beer or five. Playing music that I like helps too, though it is not always an option.
What is the one thing that you would miss the most if you could not work as a barista/in coffee anymore?
I would most definitely miss the dialling in of the espresso. One just doesn't do that at home because at home there is no one that you can make that happy with it compared to a coffee shop.
Imagine the perfect day in your city. What would be the best three to five activities or places you would show your visitors in Prague?
In Prague, I would, of course, start the day at Myšák, since it is a great place for breakfast and coffee. Then we'd go to the Kafemat for some more great coffee and then it would really depend on the time of the year and what the friends are into. There are so many great places and things to do in Prague!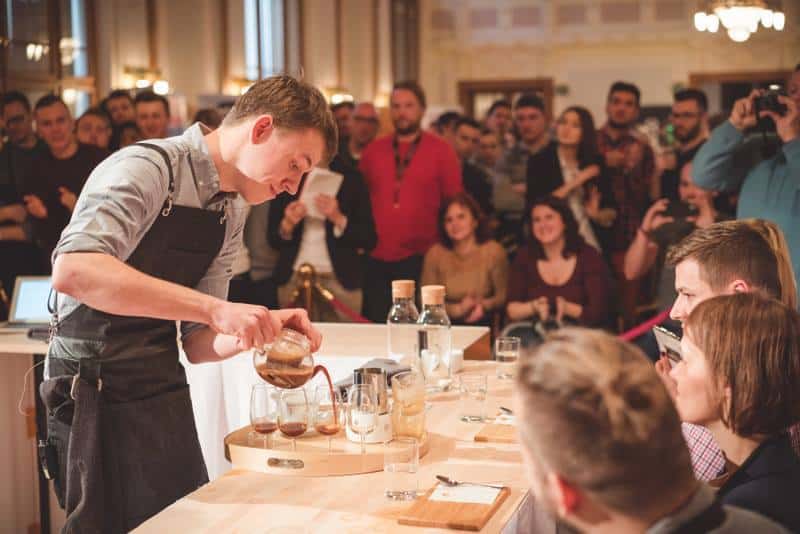 Quick Fire Questions
Would you serve filter coffee with milk, if asked for it?
Yes
Do you ever take sugar with your coffee?
No
Espresso or Filter coffee?
Filter
Do you aim for Sweetness, Acidity, or Body?
Happiness
Milky or Black?
Black
Slurp or Spit?
Slurp
Sit in or Take Away?
Sit in
Cake or Pastry with your coffee?
Pastry
What is your wifi password in a cafe?
Ambiente