Our Barista Stories series has been long in the making. Since our first visits to cafes around Europe, we have met many amazing baristas who have had a number of interesting stories to share. We love the speciality coffee community exactly for the people building it and are thrilled to introduce some of those individuals to you.
Baristas truly are the ones who contribute to the atmosphere in the cafe massively and are the key reason of why we'd revisit.
Read on to meet Bianca Ganea, brewing your daily cup of coffee at Trofic, Bucharest.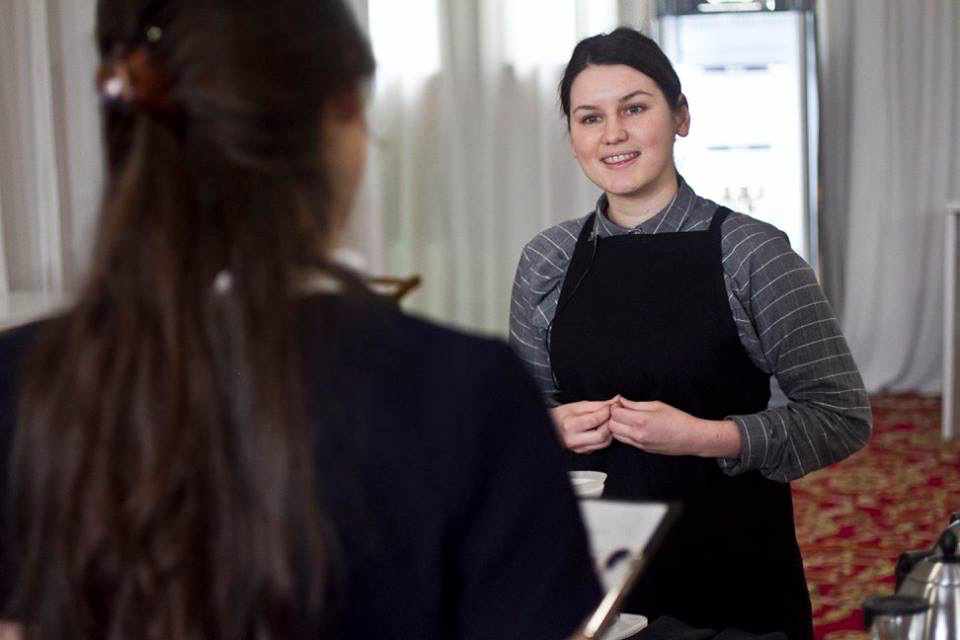 Bianca Ganea is a 25-year-old Romanian, originally from Sibiu, in Transilvania. Currently, she lives in the (coffee) capital of Romania, in Bucharest. She works as a Head Barista at Trofic, about which you might have read in our article. Besides her barista role at Trofic, a cafe project designed by Origo Coffee Shop & Roastery, she is also a "happy coffee trainer" at Origo Barista School. About her time in the coffee industry, she says: "I've been working for 4 years and I feel that is just the beginning."
A few questions for Bianca Ganea
What led you to coffee? Could you describe the moment or situation that made you decide to become a barista?
I started in HORECA industry 6 years ago. I was a student of Economics, getting a specialization in services in the industry. So I got curious to work and to find more about this field. My first job was at a boutique hotel with a small coffee shop. Here I had my first contact with coffee and hospitality. I fell in love with coffee and with the ideology of hospitality. At one point I realised that coffee has a lot of secrets that I could not break and it got my full attention.
I moved to Bucharest to learn coffee, knowing about Origo, the first speciality coffee shop in Romania. It was the perfect mix for me: great attention not only to make the perfect cup of coffee but also to serve it in an appropriate way.
What is the funniest thing that you have experienced behind the bar? Can you recall any embarrassing moment?
Most of the people appreciate the cup of coffee firstly for the aspect and latte art for me wasn't my strength, so any time when people ask me to make a swan in a cup always the pattern looked like a "dragon" and that amused people most of the time.
What would you do if you were not working in coffee?
I would like to cook. The dream of being a chef could have been another drive in my life.
What is an unusual habit or hobby that you love?
Well, my job involves being surrounded by people and talking every day. So in my free time, I spend my time practising yoga, which is my new hobby.
What are some bad recommendations you hear often in your profession? What is your piece of advice for anybody starting a career as a barista?
If you look from outside the bar, this job doesn't look very challenging and all of the recommendations would concern the fact that it is not a job that you can do all your life. The truth is that I can do it, YES, YOU CAN DO IT. If you have patience and you start looking with more attention you can discover a lot of things that can make a cup of coffee more than a black drink.
More than that, you have a job that you can practice all over the world speaking the same language and which can never be done by robots because it is something about the taste and the emotions, and people will always need that.
Looking back, what one thing would you wish to know when you were starting to work as a barista?
This job looks like fun, but sometimes it is more than that, you have to take serious decisions and deliver a good experience to the customer. You have to know how to guide him to choose the best beverage and product.
What qualities set a good and a great barista apart?
First is the attitude: smiling and spreading the good vibes. Support your knowledge with great people skill.
During the experience in the shop, one has to know that it is their responsibility to transform a visit in a coffee shop in a fantastic moment.
If you have a bad day at the cafe, what helps you to handle it and provide good customer service?
In general, if I have a bad moment before my shift, I would try to focus on absorbing the good vibe found in the shop. Let's say that, in general, I am a positive person, who sees the good part of the problem and I don't leave a bad thought to ruin my day. So why to be so serious…
What is the one thing that you would miss the most if you could not work as a barista/in coffee anymore?
That moment when you set the recipe for the coffee and the cup is amazing, so clear and sweet, and of course the satisfaction of delivering something that can change a bad day in a good day for my guests.
Imagine the perfect day in your city. Perhaps you have an old friend visiting. What would be top 3 to 5 activities or places you would show them?
I am not a big fan of visiting the main sights of the cities, I prefer authentic activities. I prefer to start the day with a walk from my home to the centre, in the neighbourhood. The first stop will be to the coffee shop where I work, having a cup of coffee. I will go and visit other places for food, have long walks by the big boulevards, making a memory of Bucharest's architectures style.
The biggest park in a city in Eastern Europe is in Bucharest, so the last place would be this one, having a tour on a bike.
What do you consider some of the best experiences you have had in coffee so far?
After one year of working with coffee, I decided to go for a competition, and all the training for the competition, the learning process and thirteenth place at the World Brewers Cup Championship 2016 made me think that this one was the best experience on my coffee journey. It made me feel more determined to show my community that being a barista is a great job.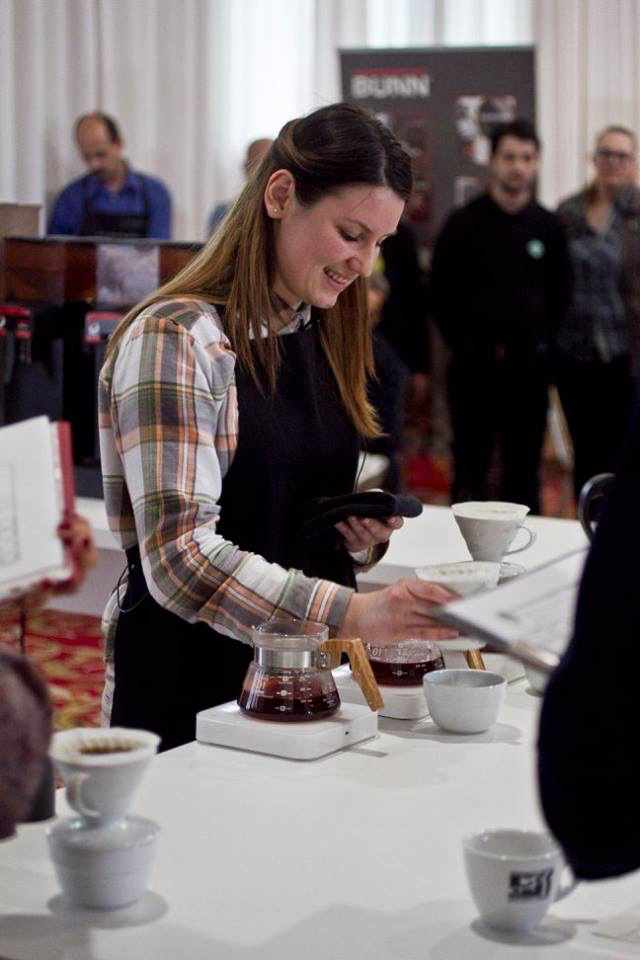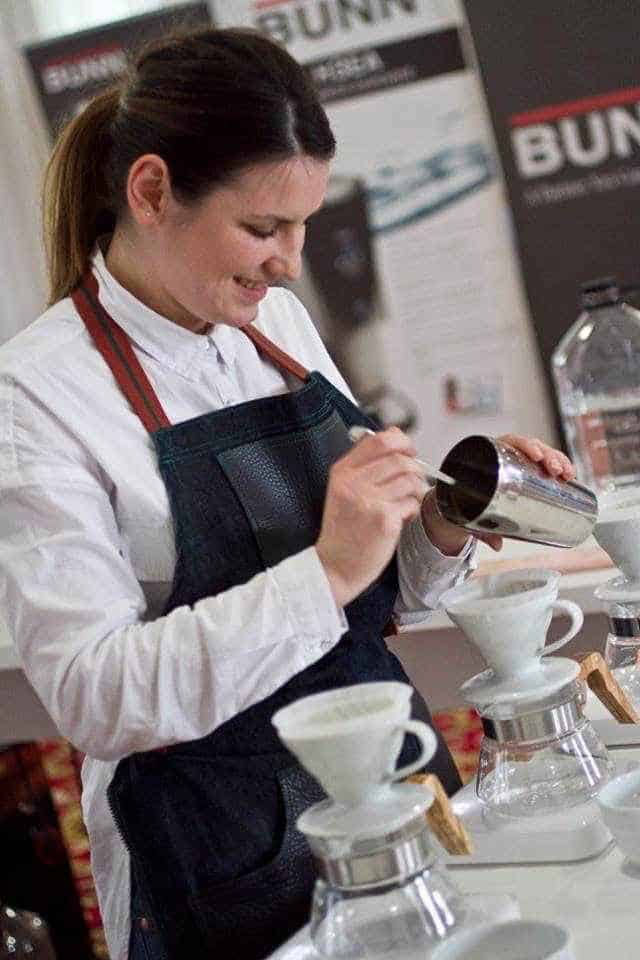 Quick Fire Question
Would you serve filter coffee with milk, if asked for it?
No
Do you ever take sugar with your coffee?
No
Espresso or Filter coffee?
Filter
Do you aim for Sweetness, Acidity, or Body?
I pay attention to all of them, but the most important is sweetness & acidity.
Milky or Black?
Black
Slurp or Spit?
Slurp
Sit in or Take Away?
Sit in ( especially at the bar )
Cake or Pastry with your coffee?
Pastry
What is your wifi password in a cafe?
Speak with me