Our Barista Stories series has been long in the making. Since our first visits to cafes around Europe, we have met many amazing baristas who have had a number of interesting stories to share. We love the speciality coffee community exactly for the people building it and are thrilled to introduce some of those individuals to you.
Baristas truly are the ones who contribute to the atmosphere in the cafe massively and are the key reason why we'd revisit.
Read on to meet Alessandro Chiodi, brewing your daily cup of coffee at Faro – Caffè Specialty in Rome.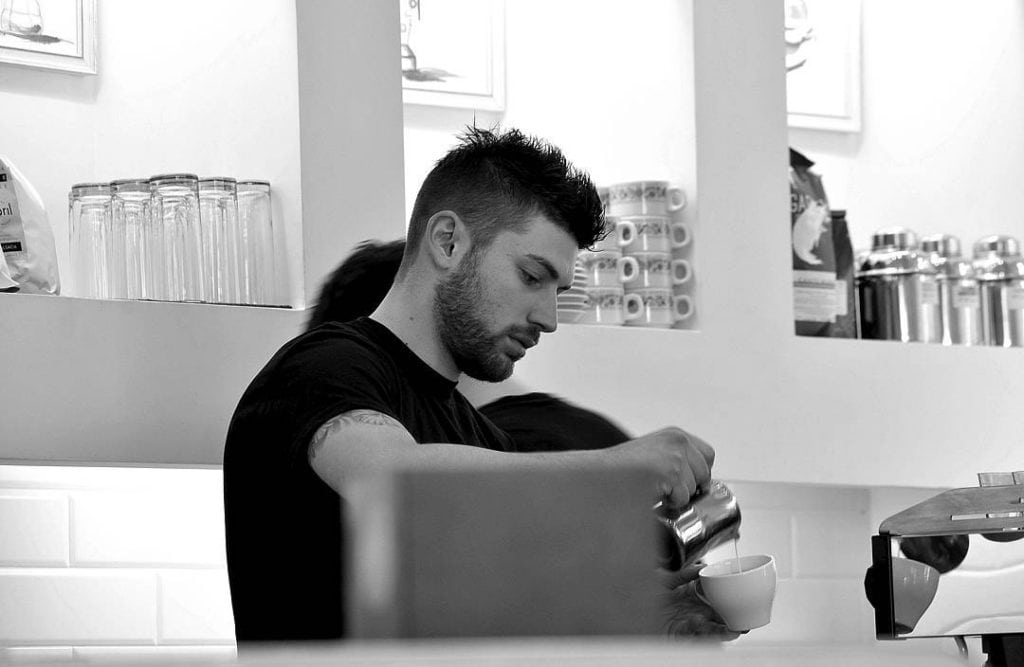 Alessandro Chiodi is a 25-year-old barista from Rome, where he also works full-time at the first specialty coffee shop in the city, Faro – Caffè Specialty. He is the head barista at Faro and has worked in the coffee industry for five years already.
A few questions for Alessandro
What led you to coffee? Could you describe the moment or situation that made you decide to become a barista?
Since I got my diploma in hospitality management, I soon realized I was not meant to be working hidden in a kitchen but behind a coffee machine. Indeed, I would rather see myself working closely with other baristas, interacting and engaging with customers.
Little by little, I developed a passion for coffee and I started tasting coffee at home with friends, mostly for fun. By doing it, I figured out that being a professional barista was not a "secondary" career option but a true inner desire.
Firstly, I was driven by the will to explore and study every aspect of the industry because behind every coffee cherry there is such an amazing world to be studied and discovered. This is something that has not been yet fully developed in Italy.
When Faro opened its doors in December 2016 – the first independent specialty café in Rome, I clearly realized that "this must the place"! The only cafe where I could develop my skills to become a top-notch barista and, moreover, to be part of a coffee cultural revolution in my hometown.
What is the funniest thing that you have experienced behind the bar? Can you recall any embarrassing moment?
I remember I was working at Faro on a Sunday afternoon when a sixty-year-old couple popped in. They ordered a single espresso and a cappuccino. While preparing the beverages, I started explaining the difference between a specialty coffee and a commercial blend, as we are trained to do with every new customer.
Thus, I described the peculiarities of the single origin Brazilian microlot they were about to taste and how much work is involved in the farm to select and hand pick every cherry from the coffee tree in order to get the best quality product. I was soon interrupted by the man who asked: "Do you believe it?". I was surprised and replied courteously: "Of course, sir, there is so much to learn from the hand-picking process which is a very important part, in order to get a quality cup."
He reiterated again: "And do you REALLY believe all these stupid stories? Come on man, what are you talking about? Do you really think I am such a fool to believe your stories?". Well, I stared at them literally astonished. I kept going on with the conversation but, as you may imagine, it didn't make a real change in his mind. Yet his wife really appreciated my cappuccino!
I think this story is a perfect example to stress how big is the challenge, especially in such country like Italy, to educate people and try to change their minds ruined by a poor quality coffee culture.
What would you do if you were not working in coffee?
Very likely, I would have been working in a restaurant's kitchen or, at another extreme, I would have loved to become a physiotherapist – can you believe it? Luckily it ended up differently.
What is an unusual habit or hobby that you love?
I am a professional volleyball player, in the role of "libero" and my team plays in D league. I think I love volleyball as much as coffee.
What are some bad recommendations you hear often in your profession?
Unfortunately, due to the Italian tradition towards coffee culture, you can often hear such request as "I want an extremely hot cappuccino" or "ristretto/lungo" or "schiumato". Also, I remember when I was taught to prepare a cold coffee without paying attention to the extraction at all in order to extract as much liquid as possible.
In addition, Italian culture is more into a dark roasting rather than a light one. Therefore, it is not easy to make them fully appreciate a 100% washed Arabica!
However, at Faro, our goal is to deliver the product in the right way and with the correct extraction: that's why we don't make "lunghi o ristretti". Without offending anyone's habit, this is the correct way to do it! At the same time, we explain how important it is not to brew a cappuccino above 60 degrees, otherwise, it can become harmful for your stomach.
What is your piece of advice for anybody starting a career as a barista?
Well, I would say to focus on a few core things: firstly, care and attention to details. Barista's work is made of actions repeated hours upon hours, but it's very important not to repeat them mechanically, as every single action requires the highest level of consideration in order to get the best result (and cup!).
Then, respect: the customers, your colleagues, your competitors and the environment.
Be humble and study as there is always something new to learn.
Improve yourself not only behind the bar but in your everyday life.
And lastly, enjoy it and love it and have fun!
Looking back, what one thing would you wish to know when you were starting to work as a barista?
Probably not to take everything too personally, mostly with reference to people's comments and judgements. It may happen to engage with people not appreciating your work and efforts and sometimes you have to deal with some rudeness. Now I learnt to let it go and move on.
What qualities set a good and a great barista apart?
As I said before, firstly I would mention concentration and attention to details. This implies a good mental organisation and, above everything else, patience and perseverance during your everyday work. But without passion and dedication, none of those qualities would be possible to put in practice!
If you have a bad day at the cafe, what helps you to handle it and provide good customer service?
I consider myself an adult professional, and one of the first things I have learned is to leave your problems outside the door and, quite the opposite, learn to breathe in focusing only on the beauty of this profession in order to be able to always show my best smile. People spend money to get a good product and service not to hear myself cursing at the world!
What is the one thing that you would miss the most if you could not work as a barista/in coffee anymore?
Beyond question, seeing people crowding at the bar while I am fully immersed in preparing their flat white, cappuccinos and filters… yes, I would definitely miss that feeling and fun!
Imagine the perfect day in your city. Perhaps you have an old friend visiting. What would be top 3 to 5 activities or places you would show them?
The perfect day would start at Faro for a good coffee and a delicious breakfast; then I would take my friend for a walk in the beautiful scenario of Villa Borghese (which is a 10-minute walking distance). From here, we can easily reach Piazza Navona, Via del Corso and Piazza Venezia: the walk is worth it to show the Roman grandeur in architecture and art.
After a pit-stop in "Rione Monti" – plenty of nice little shops and wine bars – I would head to Colosseum and then rest for an hour at Brewdog Pub, on top of Colle Oppio, to enjoy amazing craft beers in a company of good friends who work there. Lastly, what would be a better way to end such a day if not with a delicious pizza? I would recommend going to "Moma – Pizzeria Romana" located in a southeastern neighbourhood of Rome where I was raised (Tuscolano), indeed with a traditional (yet refined) Roman imprinting.
What do you consider some of the best experiences you have had in coffee so far?
I think to have started a new track where quality comes first in every single aspect of the job. Furthermore, related to that, I would never forget the first the cupping events I have participated at and set up at Faro.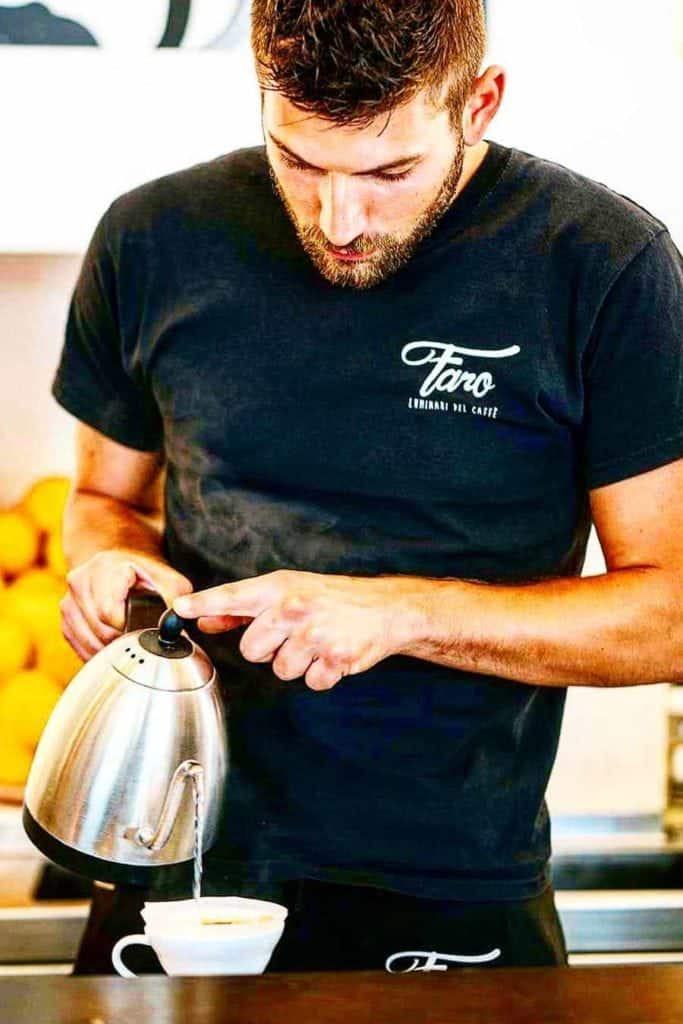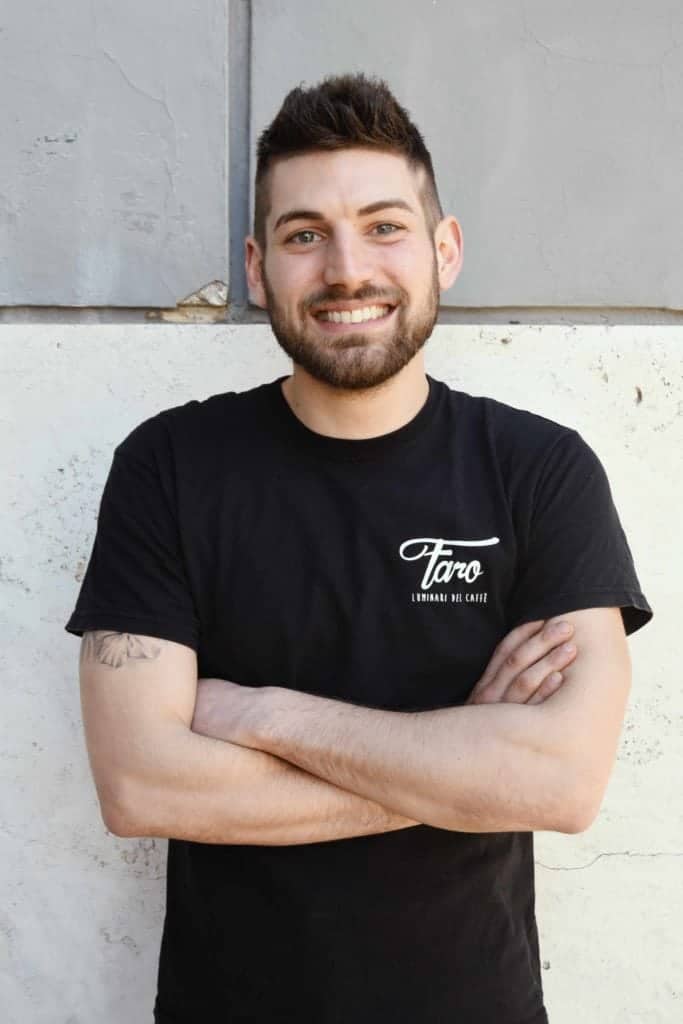 Quick Fire Question
Would you serve filter coffee with milk, if asked for it?
NEVER EVER! It is also written on our chalkboard.
Do you ever take sugar with your coffee?
Nope.
Espresso or Filter coffee?
Hard choice… I think it's like choosing who do you love the most between mum and dad!
Do you aim for Sweetness, Acidity, or Body?
Bright acidity.
Milky or Black?
Milky.
Slurp or Spit?
Slurp.
Sit in or Take Away?
Sit in. Relax and fully enjoy what you're having.
Cake or Pastry with your coffee?
It depends on the time of the day and on my mood.
What is your wifi password in a cafe?
senzazucchero