Dario Fociani is a barista since several years ago. The story of his coffee evolution may sound familiar to many international baristas living and working abroad, as you can read below, and his current projects and goals are ambitious and challenging. With his partners they just opened their new cafe, Faro – the first speciality cafe of Rome.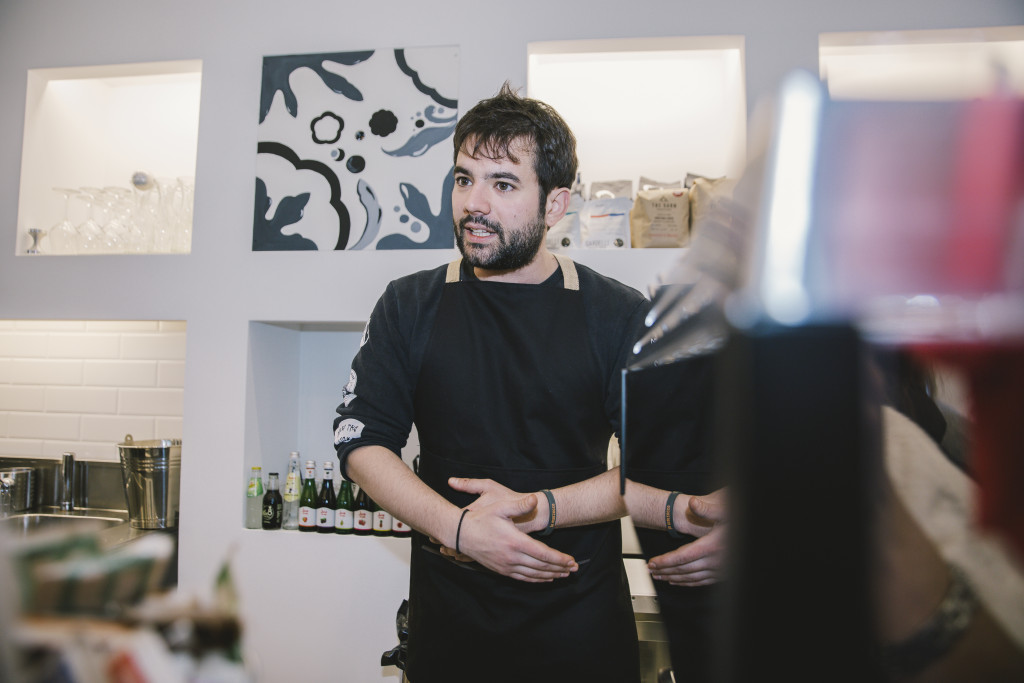 Dario, the awesome multitasker, created the December mixtape playlist for us in conjunction with the opening of the shop, as well as with his birthday. What is obviously a very busy end of the year can also be seen as a great start to 2017. We wish Faro open-minded, adventurous customers and only positive vibes. Congratulations!
Tracklist
01 – Road To Nowhere – Talking Heads
02 – Don Raffaè – Fabrizio De André
03 – Je So Pazzo – Pino Daniele
04 – Wake Up – Mad Season
05 – Reason to Believe – Bruce Springsteen
06 – Louisiana – Litfiba
07 – Love Illumination – Franz Ferdinand
08 – Last Nite – The Strokes
09 – Taro – alt-J
10 – Cuccurucucù – Franco Battiato
11 – Don't You Worry 'Bout A Thing – Stevie Wonder
12 – Everybody Loves the Sunshine – Roy Ayers Ubiquity
13 – Sun Is Shining – Bob Marley & The Wailers
14 – We Been Troddin (with Shalom) – Rhythm & Sound
15 – One More Dub – The Clash
16 – Roots of Dub – King Tubby
17 – Summertime Is Here – Theo Parrish
18 – Redondo Beach – Patti Smith
19 – Duet – Gonjasufi
20 – Nothing's Gonna Hurt You Baby – Cigarettes After Sex
21 – Hand Clapping Song – The Meters
Can you please introduce your team, yourself and your recently opened project Faro?
Our team comprises of Arturo Felicetta, Dafne Spadavecchia, Lorenzo Gregori and me, plus a few guys passionate about coffee who will help us during the busier times.
Arturo and I share the same ethic, same passions and when we met we understood it very fast. Arturo got into the world of alcohol mixology after he got bored with commodity coffee, working at Antico Caffè Greco, the oldest cafe in Rome. It led him to become a great bartender, serving me drinks over which we talked about our common interests. When I told him about my philosophy and plans, we both knew we wanted to be owners of something different in Rome.
Dafne is an event organizer who lived with me in London for two years, she is someone I trust 100%. She helped us with communication and she will be our front-of-house, the lady at the till. Lorenzo, the chef, is a young guy, very passionate about cooking. He has got a hospitality school diploma and a long career working in Italian kitchens.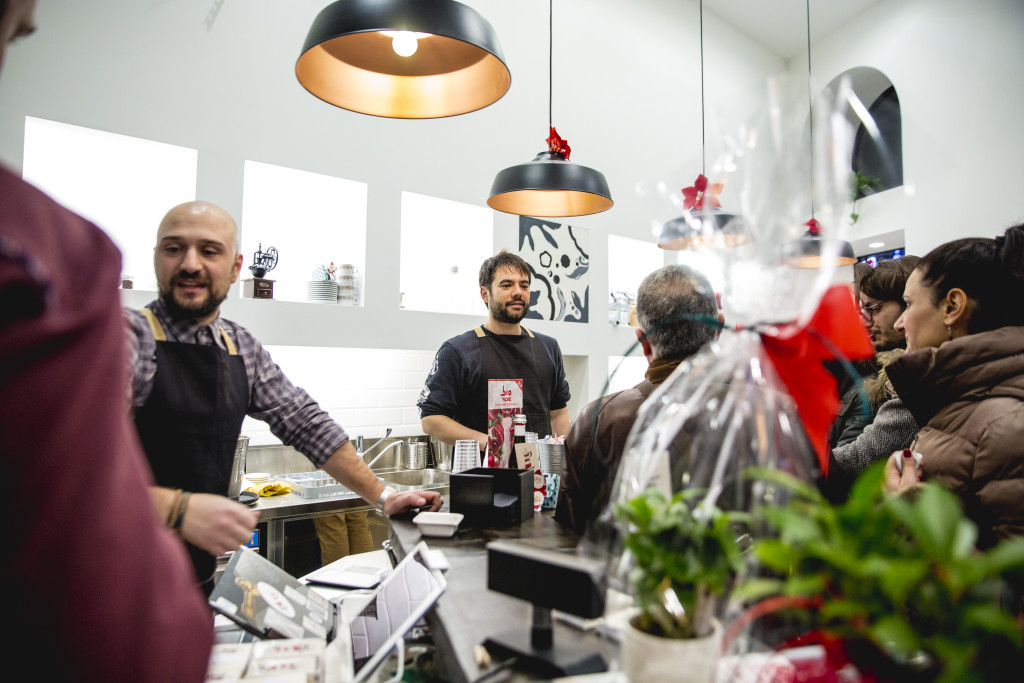 I first got in touch with speciality coffee environment in Melbourne in 2010. I was travelling after finishing my literature degree. Their great coffee culture impressed me a lot. Soon I realised the latte art was a hill to climb, while brewing great coffee became a huge mountain.
I went to London and I kept working at cafes, I loved the atmosphere straight away. London has really a high level of coffee culture and the economy is very fast. I used to work at Allpress Coffee and at Exmouth Coffee Company, both located near Brick Lane in Shoreditch, East London. I remember some days we went through 25 kg of beans. That way I learnt how to deal with quantity, while keeping the quality high. After two years, when London was about to kill me–it is a tough city–I decided to move to Berlin and was so lucky to get hired by The Barn. I learnt what focus on quality means, they shaped my rough skills and I will always be thankful to Ralf, Jess and Blazej for the work they did on me.
When I came back from Berlin in August 2015, Arturo and I started looking for the perfect place, the perfect address and the perfect partners to move forward with this project. That search resulted in Faro.
Tell us something about your motivations to open Faro and what challenges of traditional Italian espresso are you facing?
Faro is what I love in coffee and in a coffee shop. It is the concentrated juice of all the ideas I faced in Melbourne, London and Berlin with a touch of Italianity. The motivations are simple, I wanted to work at and be the owner of a place in which I can feel at home, a place that makes me do what I love to do, every day. Nothing else than this, I created my perfect environment and I hope to share it with as many people as possible.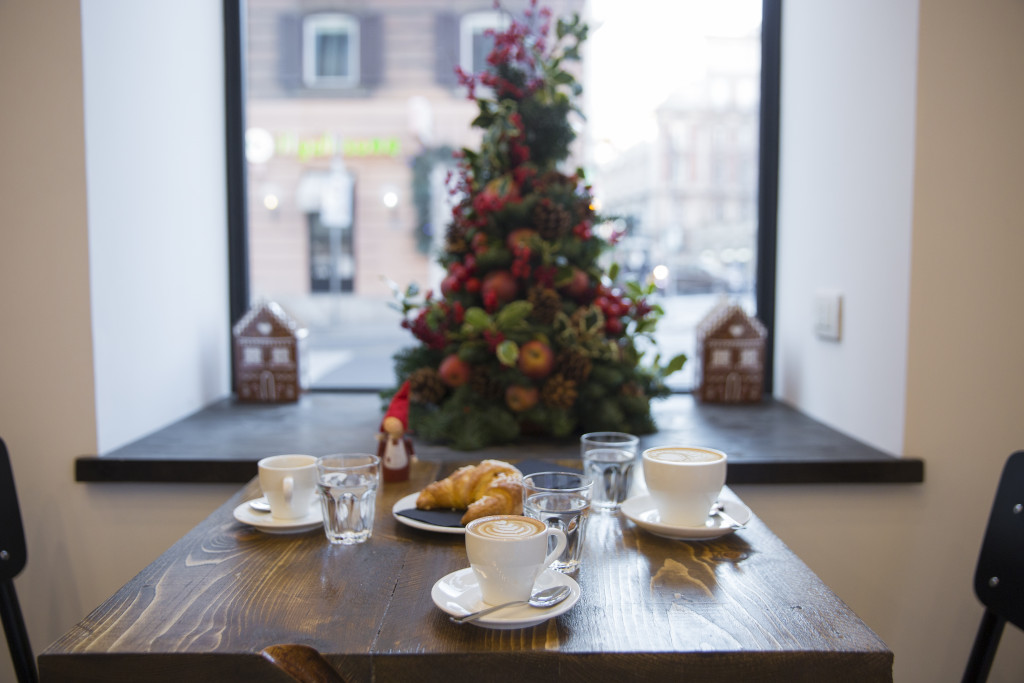 Italians, mostly Romans, have got a lack of quality with coffee and breakfast. Which is probably our challenge in this case. As much as we're not planning on killing any traditions, we would like to explain how science allows us to brew a great coffee the traditional way.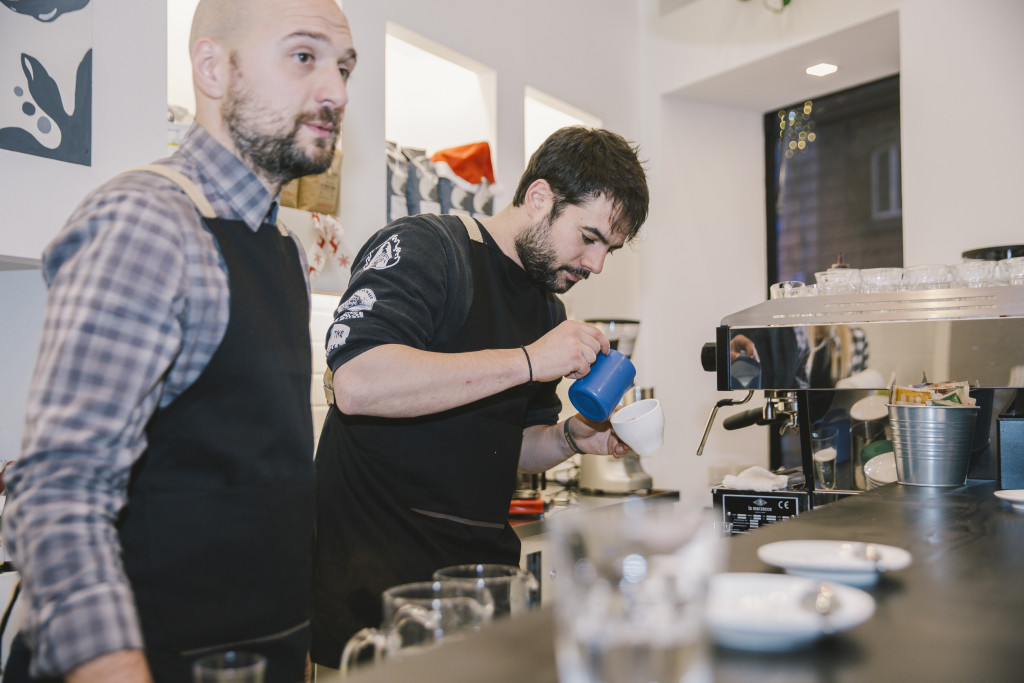 I love mokka, I love espresso, our Cigno Bianco espresso house blend roasted by Rubens Gardelli is not that light and every Italian who has tried it so far has had a great feedback to give us. We are simply doing things properly, we don't want to blame the past, we just love our progressive attitude and open the door to the future.
What makes your cafe unique?
We'd love to be speciality in every human sense. Sight, hearing, taste, smell and touch. With a nordic wood-and-white design features, we created an elegant and bright space. On top of that our La Marzocco Linea PB with built-in scales is a spaceship to admire and we love it.
Secondly, we selected music to please your ears throughout the whole day. Me and Arturo are quite passionate about music, we have collected vinyls since we were fifteen, from funk to dub, from rock to italian songwriters, and the playlist shows that. Taste and smell will be focused on our coffee, accompanied by Italian specialities and Nordic breakfast dishes.
What will be very different is the material setup of the cafe. To the touch the wood gives you a feeling of something with a story and an importance. Everything has been studied to be felt. The experience of the environment, the scenography were inspired as something that gets under the skin of the customer, which is completely different from what Italians are used to at a traditional cafe.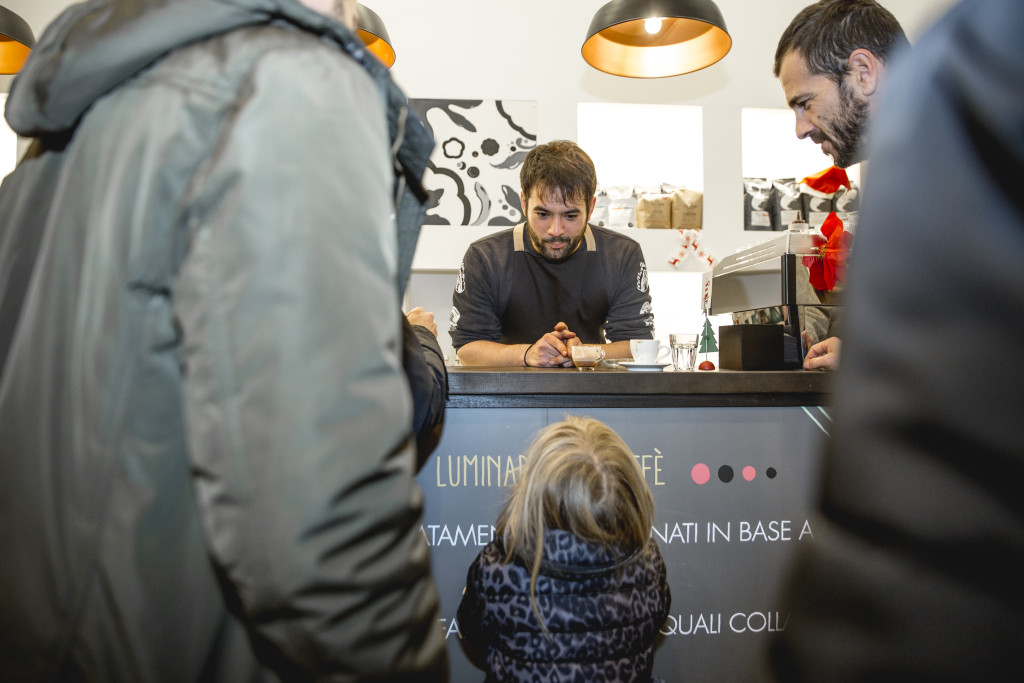 Do you see your music choice as an ice-breaker for your customers, since a big part of your mixtape is sang in Italian?
We love italian music, and since we would like the music to be a main part of the shop we want to reevaluate the relationship of coffee and music. There are plenty of amazing artists in Italy. We plan to organise concerts and spread good vibes in order to give a waking up to quality coffee in Rome. We believe Italians are ready for that, there is a whiff of change in the air.
For a long time liberal capitalists put prices down until the quality nearly disappeared. But now, in Italy, the country of thousands of great ingredients where every region has its definitive way to cook and is able to create twenty amazing regional recipes, people are ready for a great coffee too.
Coffee does not grow naturally in our country. It is not a typical Italian ingredient, and although we were the first to work with an espresso machine and we invented Bialetti, we need to be more humble with a product that is grown somewhere else. We would like to let people know that with the right amount of scientific approach everyone can do better than us. We need to get back on the rails and follow the speciality wave that is going on everywhere else. Faro doesn't want to fight the past, it wants to build the future.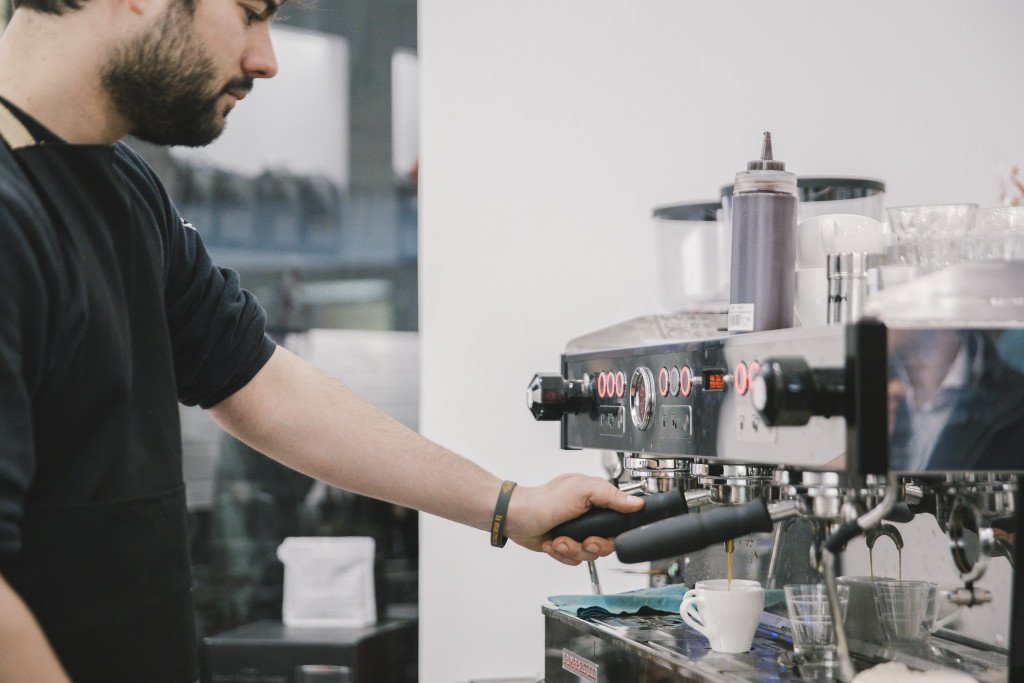 Where does the music inspiration come from, do you usually search for music ahead of your shift?
I have always been an incredible listener. I don't play any instrument, but since I was ten I have loved to search for music. I remember myself, long time ago, spending hours on Napster, buying vinyls, ripping new music and sharing it with the just growing internet scene. Chatting on mIRC about new stuff, I was allowed to go inside huge FTP servers where all I had to do was research music. I was more of a nerd then than I am now.
In any case, music is an important part of my life, quality research is an inherent part of it, be it with music as well as with coffee. Going through different genres, here at Faro we love rock, reggae, dub, techno, folk, indie, pop, classical and whatever is part of what we think is essentially the real quest of life: research and improve.
I hope you guys will be soon able to come and visit us at Faro, in the meanwhile we'll work hard to create a stable and happy working business, a lovely environment, a coffee place to share experience, chats, intellectual souls meetings of warm hearts and progressive attitude. We want to be always with a foot in the present and a foot in the future, looking for what is best outside and taking it inside, because the only way to make the Earth a better place is to share the knowledge.