Even though Prague's speciality coffee scene is as varied as one may imagine, there are several evergreen spots on the coffee map of the Czech capital, cafes that simply never fail to please. Café Lounge and EMA Espresso Bar would be, with no doubt, two of them. Belonging to the same owners, they both have had a significant yet different role in the emergence of the capital's speciality coffee scene.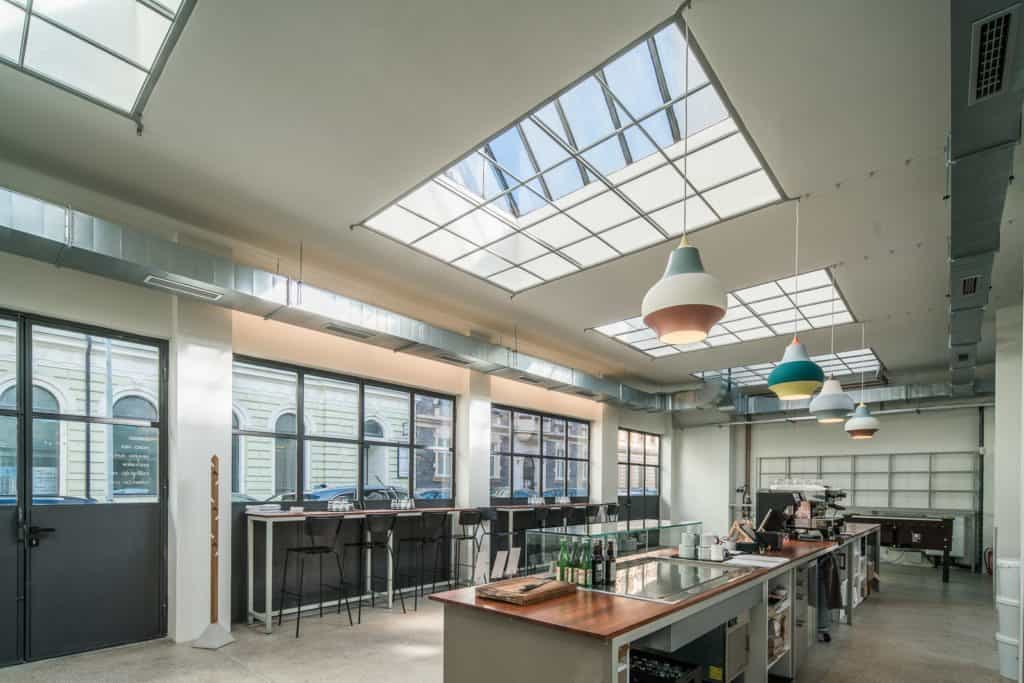 Café Lounge was probably the first café that introduced a totally different type of coffee to the people of Prague. Their focus has been on combining speciality coffee with high-quality food. As a growing number of customers was getting accustomed to the difference, they opened a new place in 2013. EMA Espresso Bar, influenced by the look of speciality cafes in Berlin, brought a breath of fresh air to a still relatively conservative scenery of Prague's coffee scene. It hit the jackpot.
EMA quickly became the most frequented place on the way to a good cup of coffee. Thanks to its location in the heart of the city centre, right between the central bus station and two railway stations, with its friendly atmosphere and amazing coffee, the cafe number two became a number one.
Now, almost 10 years since the opening of Cafe Lounge, the well-established café owners Mr Skrbek and his wife opened their third café. Here, they continue the enrichment of the capital's gastronomy. They called it Alf&Bet. As the rumours spread the questions arose: "Is it an espresso bar? Is there a roastery as well? Did anyone say anything about a bakery?".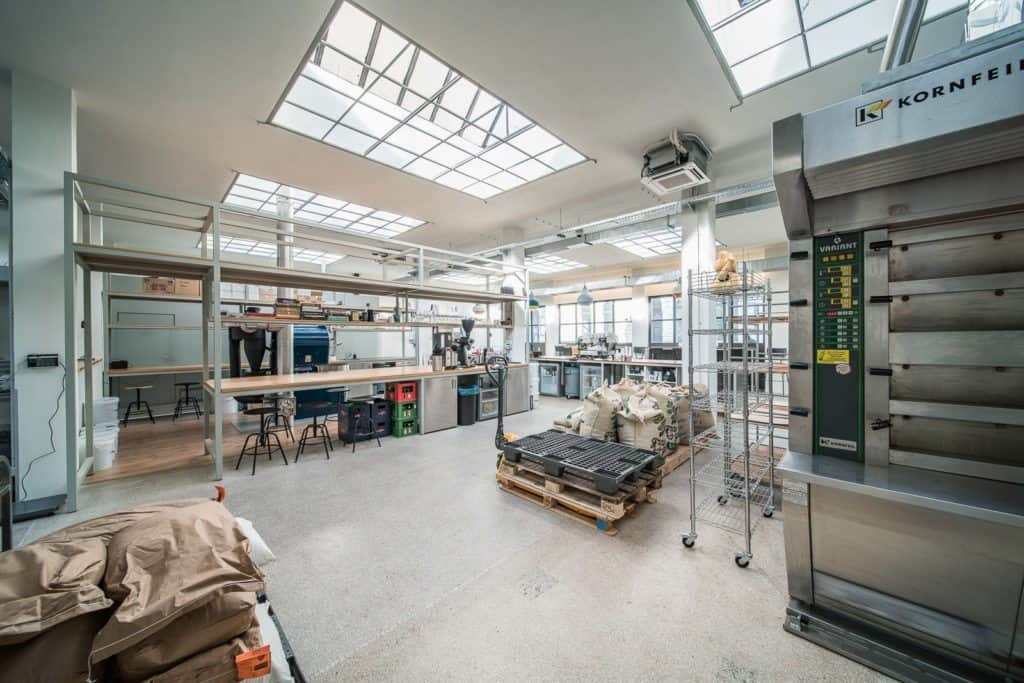 A space that houses multiple operations
Kamil Skrbek explains that Alf&Bet is a bit of a mutant of the two previous cafés. It is not only an espresso bar, as EMA is, nor a restaurant, which Café Lounge has become. It is more complex than that. There is an espresso bar in the front section of this huge bright space, revealing a beautiful Diedrich coffee roaster machine and an enormous bread oven behind the bar.
This answers all of our questions. As simple as it may sound, it was, however, a very hard work initiated by an idea from almost 3 years ago. To start their own roastery seemed like a logical step to Skrbek, considering the success and the growing sales of the two already established cafés.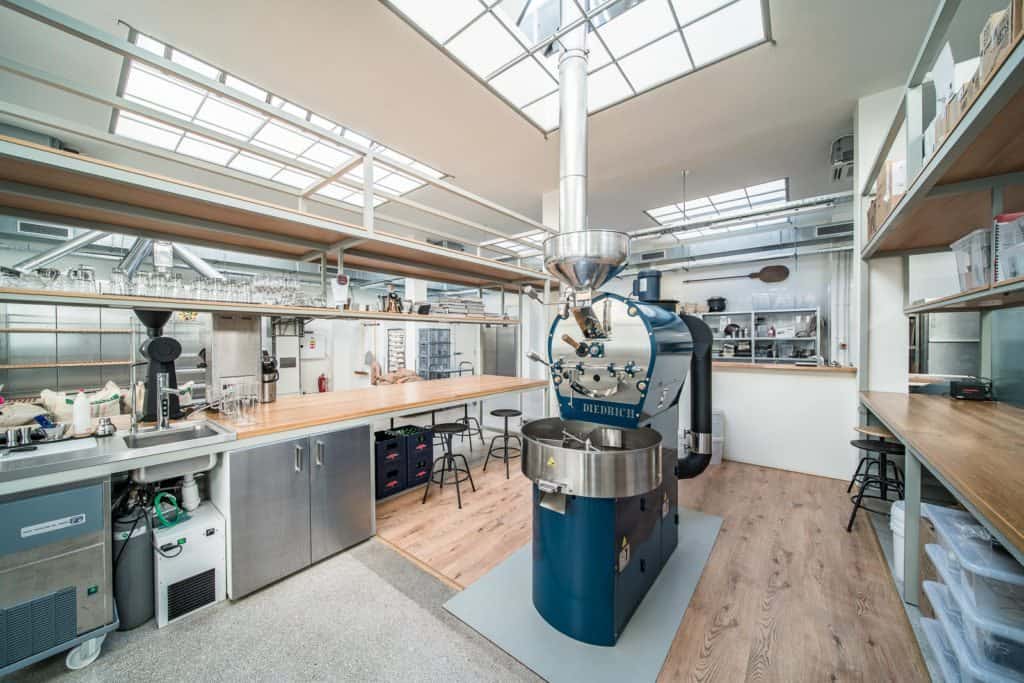 However, the roastery was not Skrbek's only goal. As their philosophy has been based on making all the food and snacks they serve themselves, a need for an establishment with a big kitchen grew day by day. When travelling abroad, Kamil also realized that high-quality homemade bread was yet another essential addition to the menu. So when they came across the huge space near Palmovka station, the idea of combining all these ideas together became clearer.
Alf&Bet, where Alfa is supposed to be the coffee and Beta is the bread, might just have all the things necessary to become successful: great coffee, homemade sourdough bread and exceptional atmosphere. It is also Skrbek's dream for Alf&Bet to become a rather small-town place with regular customers and a peaceful vibe, which is quite unusual in the capital. It will probably take some time to see if the dream comes true, yet, after visiting it recently, it is obvious that Alf&Bet does have something special.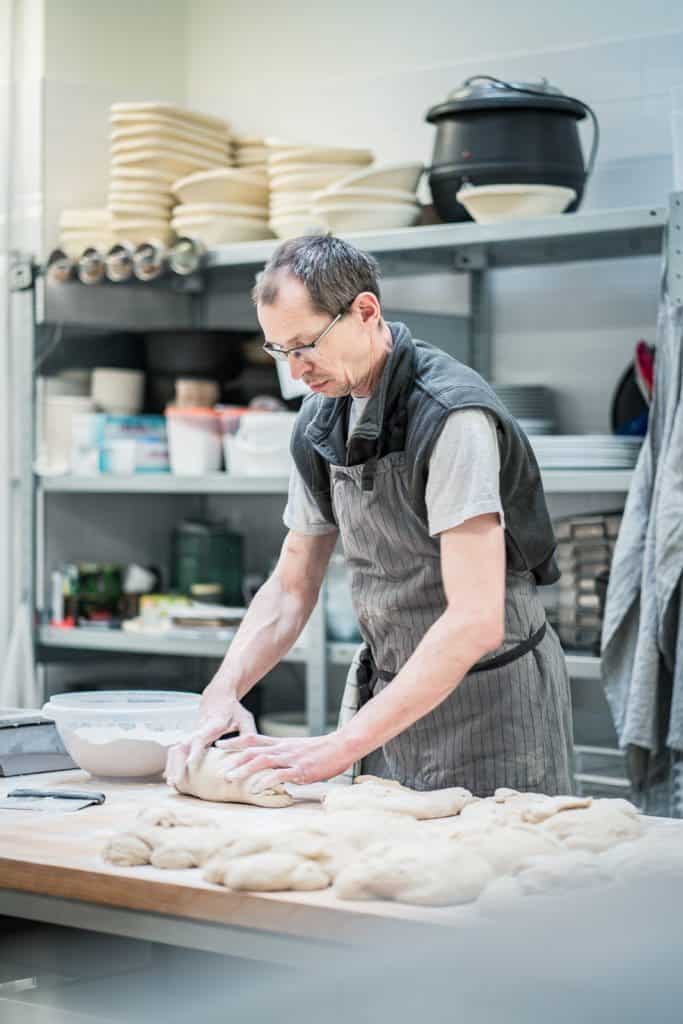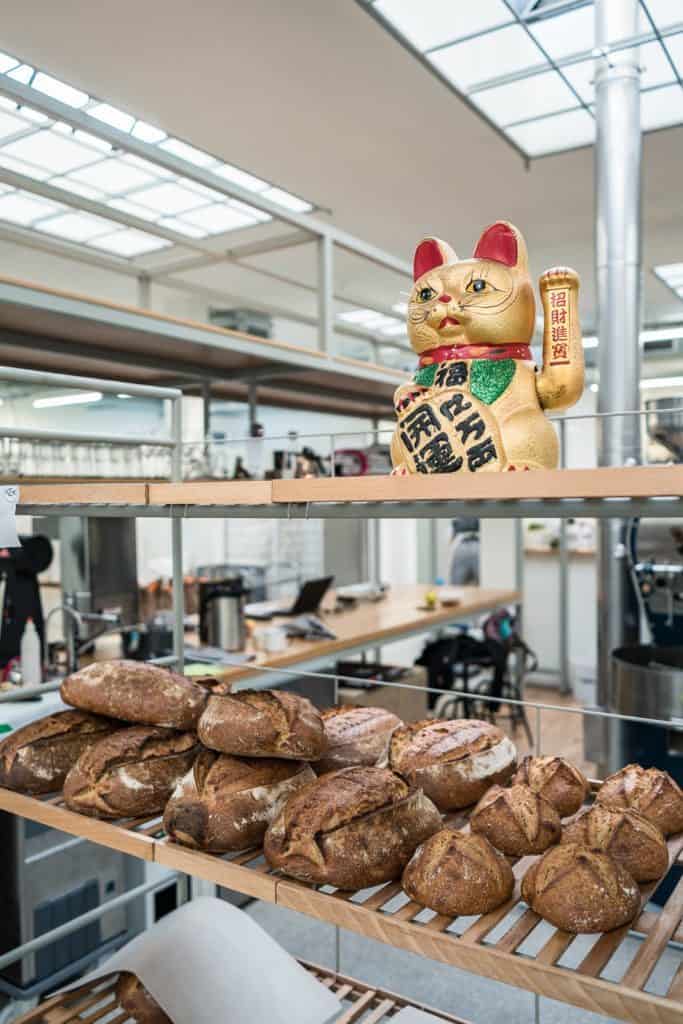 Amazing coffee in a relaxed atmosphere
Just a few minutes from the city centre by both metro and tram you find yourself in the quiet area of Libeň. With the ongoing construction of new office buildings and apartments and thanks to a lot of greenery in the neighbourhood, it is quickly becoming a requested part of Prague. Alf&Bet is located just a couple of minutes away from the metro and tram stations Palmovka.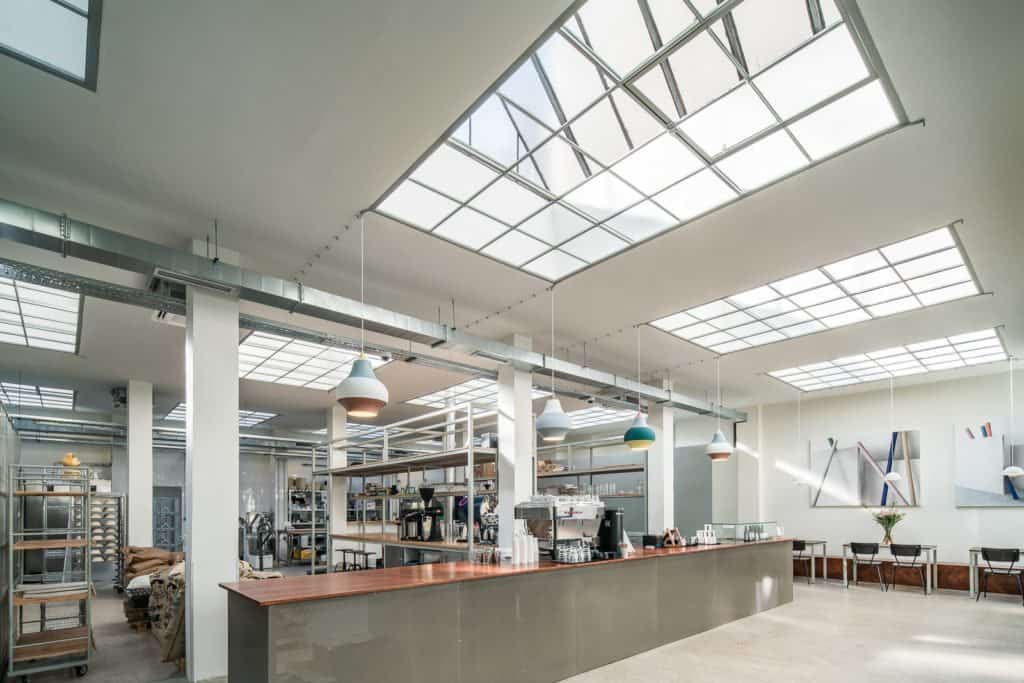 Its huge windows bring a lot of daylight into the interior so the first impression you get is how big and airy it is. You feel almost free, which is a rather unusual feeling, compared to the more-or-less confined cafés in the centre. At a second glance, this feeling of freedom is emphasized by no sharp borders between the espresso bar and the background area with the oven and the coffee roaster. You can see literally everything.
From the very first moment, you know exactly what you can get here. And the view is quite tempting. Not only for those who would appreciate the robust Diedrich coffee roaster IR-5 but for everyone who just likes to follow any process of creation, from the beginning to the result. This includes both coffee and bread.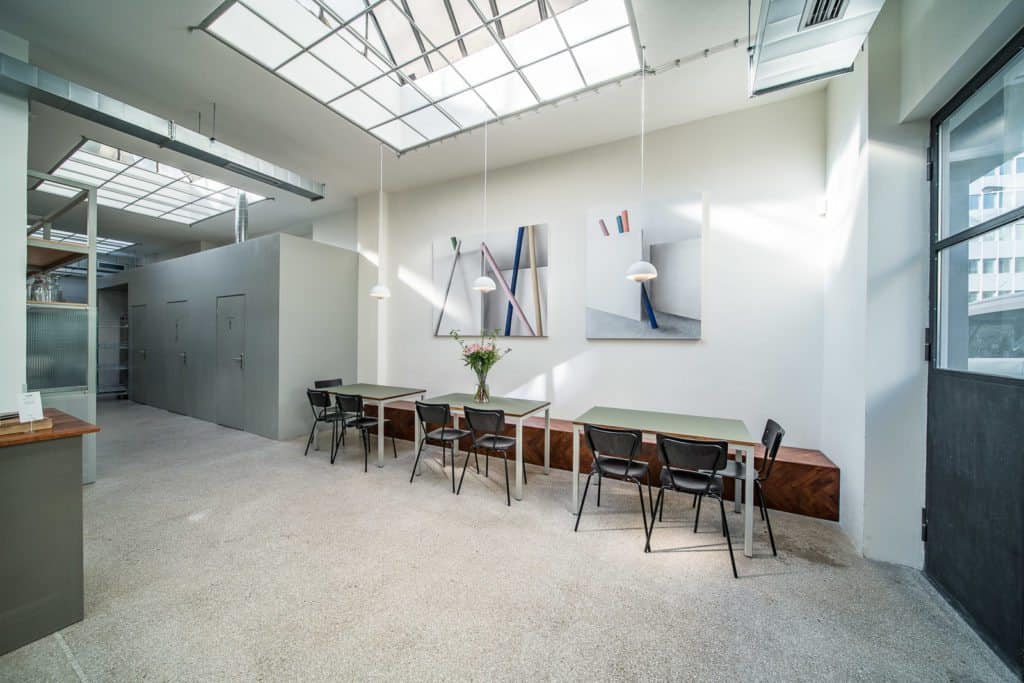 The minimalistic and temperate interior is softened with fresh flowers and a few pieces of abstract paintings. As if it was meant to say that the importance lies somewhere else. And it truly does.
The company has already started roasting their own coffee named Alf&Bet, which is supposed to replace the guest roasteries in all three stores, including filter, as well as espresso-based drinks. The coffee menu is similar to already mentioned EMA, however not that wide yet. Apart from espresso-based drinks and tea, there are only batch brew and hot chocolate available at the moment. Vegans will, however, appreciate the choice of Nemleko [NotMilk in Czech] – local milk substitute. If you are not fond of coffee that much, I suggest you try the hot chocolate as it is very rich and creamy. To me, coffee sounded just about right.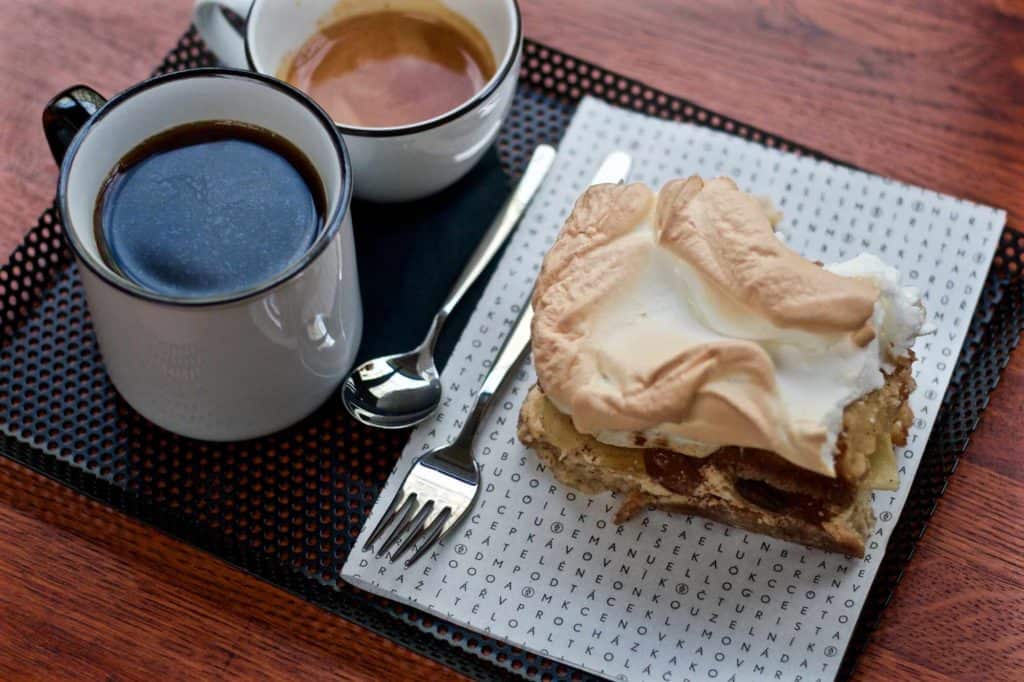 To my pleasant surprise, their double espresso prepared on a La Marzocco coffee machine of a washed Ethiopian tasted as if they have been roasting for years! Full-bodied, creamy, with just a perfect combination of acidic and sweet aftertaste. One of the best shots I had in months!
Unfortunately, their own filter coffee was not on offer yet at the time of my visit, on the other hand though, a Kenyan from the famous German roaster JB was more than satisfying.
Traditional recipes, done the modern way
It gets even better with food though. The bakery focuses on perfecting traditional Czech cakes and sweets, all made in-house from honest ingredients, baked fresh every day. What may seem like a limited selection of cakes to some was rather a choice to follow the Czech saying that 'less is sometimes more'. Plus, chances are high the bread menu will stand up to the demands for a wide variety of products.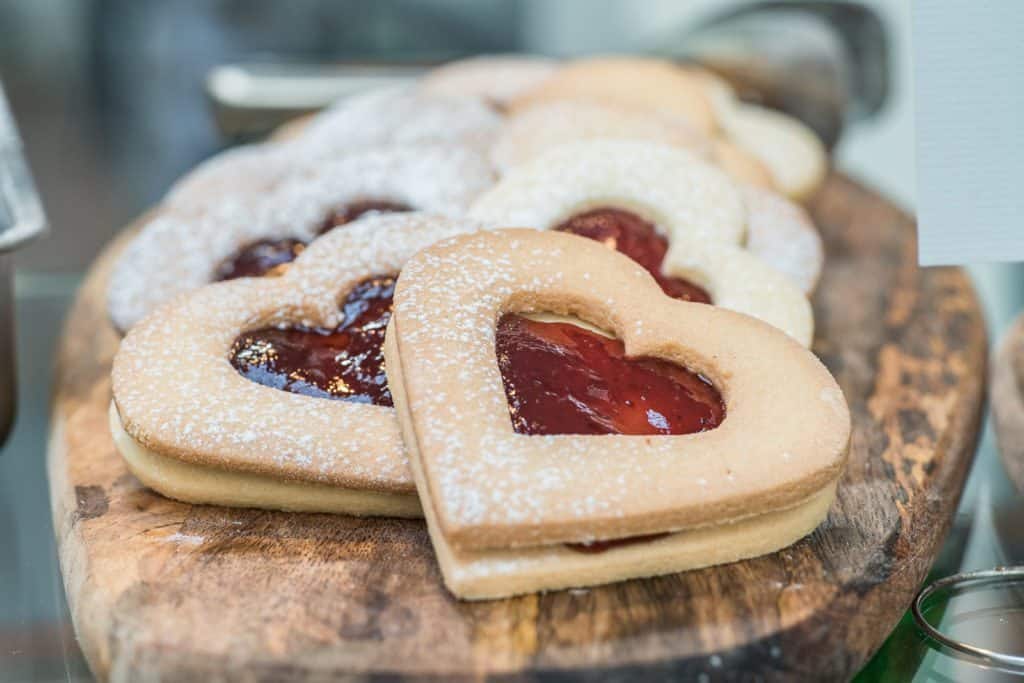 The best part is they make their homemade bread not only for their own toasts and sandwiches but for sale, too. You can actually buy a loaf to take home with you. I did. It was not cheap, but it was worth every Czech crown. They already must have a few secret ingredients and procedures to make it moister than your usual loaf from the shops. It tasted the same even on a third day, which is great when it comes to the size of the loaf—It is huge!
Alf&Bet offered three types of bread to choose from. There was the American, made from wheat (80%) as well as whole grain rye (20%) flours and potatoes (the moisturiser). They also make one more balanced ratio between wheat and rye flours (60:40), called the Czech. The last one you can buy on a regular basis is called the Italian for it is made with wheat flour only resembling Italian pastry or even pizza dough.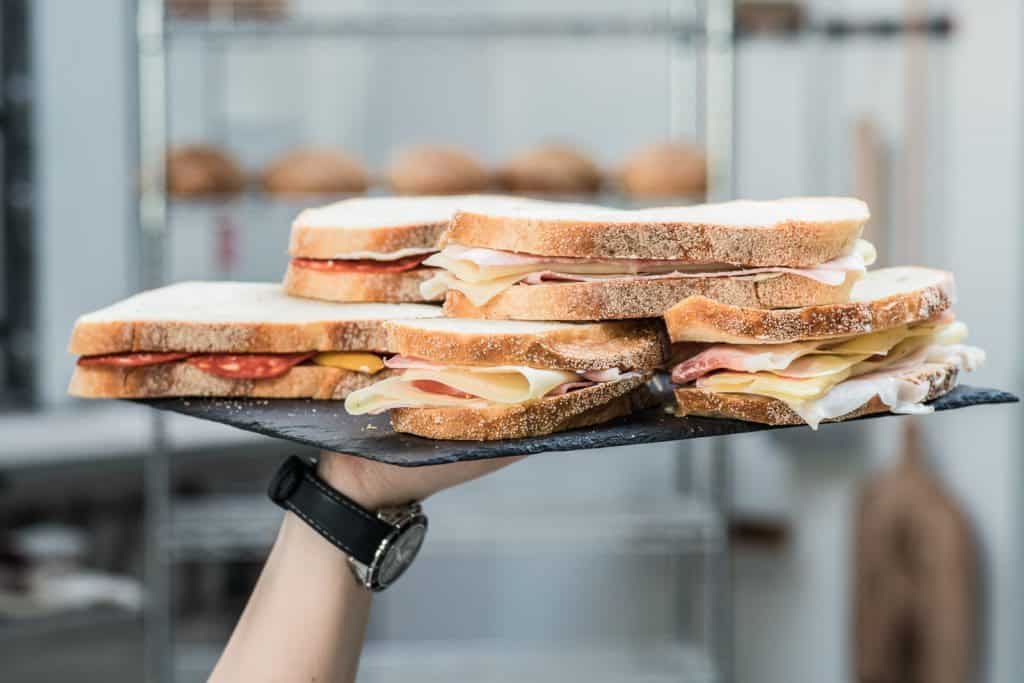 To sum up, I would say it is a pleasure to venture out to Liben district when there is a warm loaf of bread and a delicious cup of coffee waiting for you. No city rush, no pressure, just food and drink in their most enjoyable form. Leave the laptop at home and clear at least half of the day to really absorb this beautiful positive place. Perhaps with a good book sitting in front of one of the huge windows.
Alf&Bet – roastery & bakery
Světova 454/2, 18000, Prague, the Czech Republic
Website, Facebook, Instagram

Ema Espresso Bar #2 – espresso bar
Světova 454/2, 18000, Prague, the Czech Republic
Website, Facebook, Instagram
Photos: Pavel Šinagl, courtesy of Alf&Bet