If you were to visit Porto a few years ago you could see how its coastline is just blooming with life, lights and a great number of people enjoying themselves. Vila Nova de Gaia, on the other hand, a town separated from Porto by the Duoro river, was often overlooked. Partly because it never seemed to have much to offer. The landscape has started shifting though when vintners and other small business owners of Gaia realized what a great heritage they have.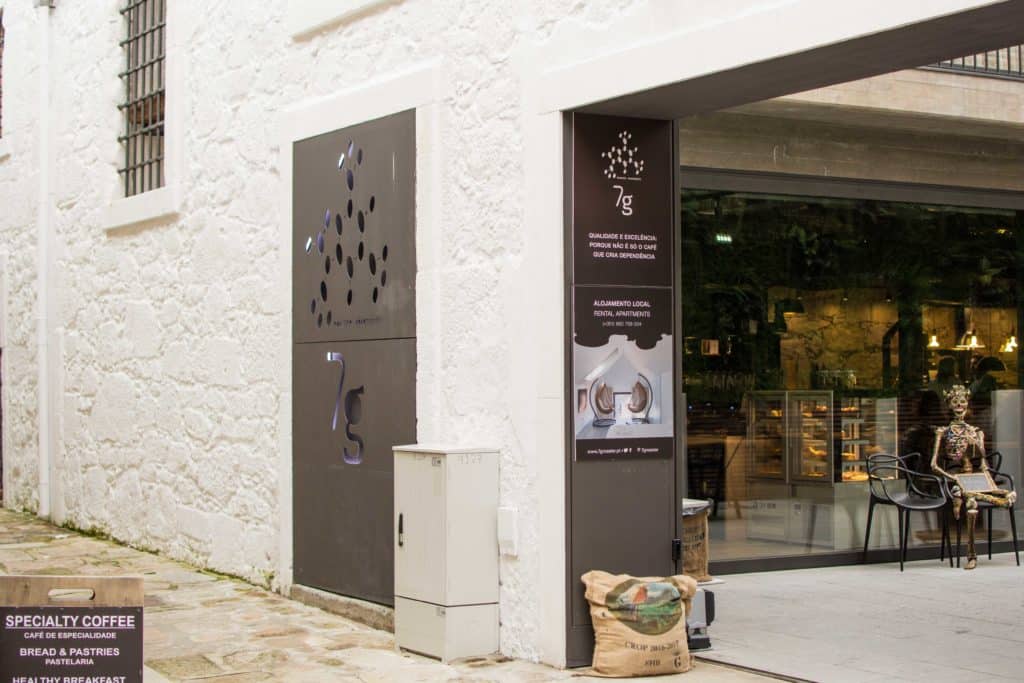 Portuguese have a long tradition of drinking 'bica'. It is a beverage derived from an Italian espresso, typically of lightly roasted robusta varieties. A shorter extraction time and a greater volume are typical of 'bica', the Portuguese version of an espresso. The traditions of coffee drinking have met with the rising standards of speciality coffee lovers and nowadays, there are coffee ambassadors passionately changing the approach to what coffee should taste like.
Carla Pinho was one of those to see the opportunity to establish a niche hospitality business and pursued her 7g idea, a joint project of 7 private apartments and a speciality cafe with its own roastery.
Artisan coffee from the Portuguese Barista Champion 2017
With an eye on a scarce speciality coffee scene in the area, Carla spotted the potential. For that reason, roastery and the cafe soon became the most important components. It did not take too long before she learned about David Coelho who happily joined her for the initiative.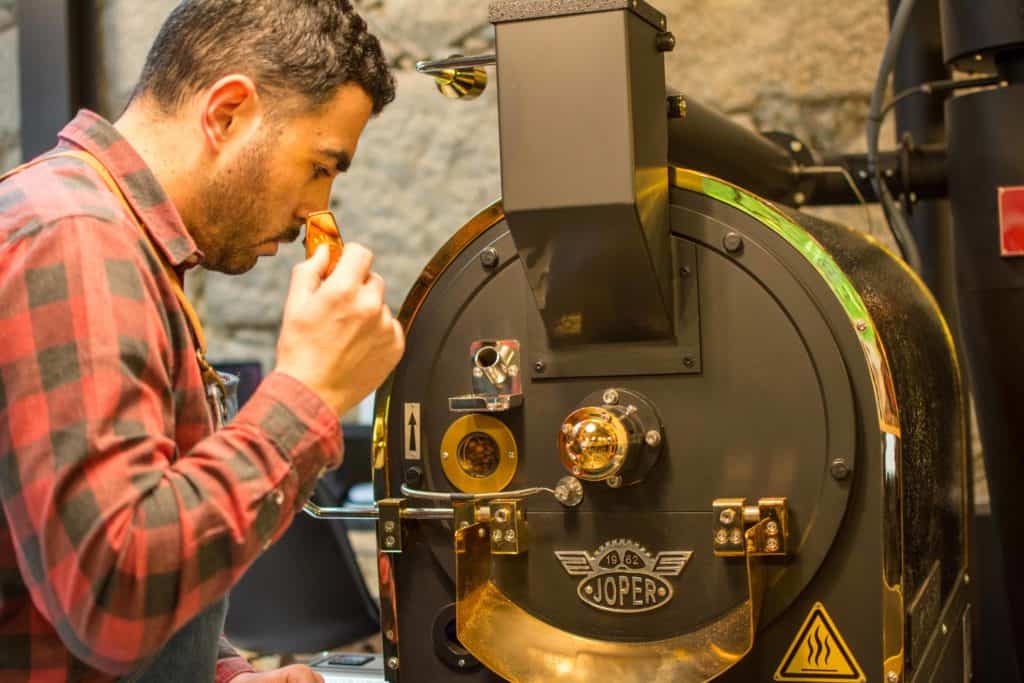 David found his passion for speciality coffee as long as 10 years ago, but his background was relating to service industry long before that. All the knowledge and experience he gained was due to his go-getter attitude. Yet, participating in competitions and getting a chance to meet other competitors was a great addition to his skillset. During these past years, David participated in national as well as international competitions, including 2017 World Barista Championship in Seoul. He passionately points out that he has got much more up his sleeve for the future events.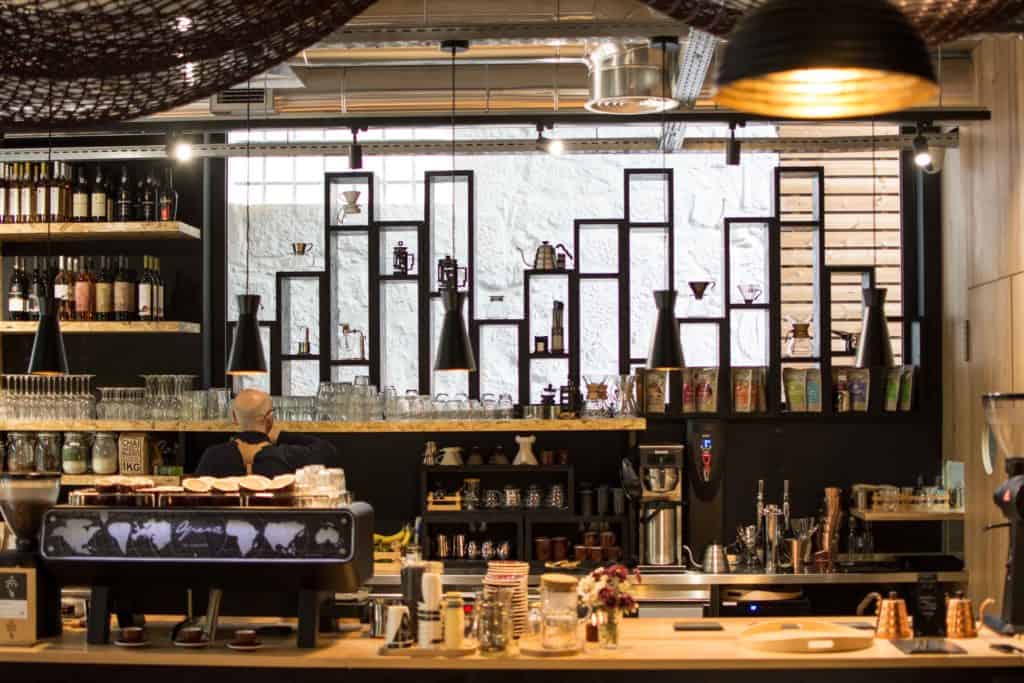 From day one at 7g David is responsible for the barista team building and managing, as well as coffee sourcing and roasting. There are many challenges running a coffee shop, but he copes with them well thanks to his great enthusiasm and passion for his job.
I was very excited about their coffee selection. The menu was very rich (yet not overwhelming) in choices of single origins, as well as blends for espresso. Being a huge fan of filter coffee I was pleased to find several different coffee origins on offer.To my surprise, the brewing station was equipped for making multiple filter coffees at the same time and all the major slow coffee brewing methods were available.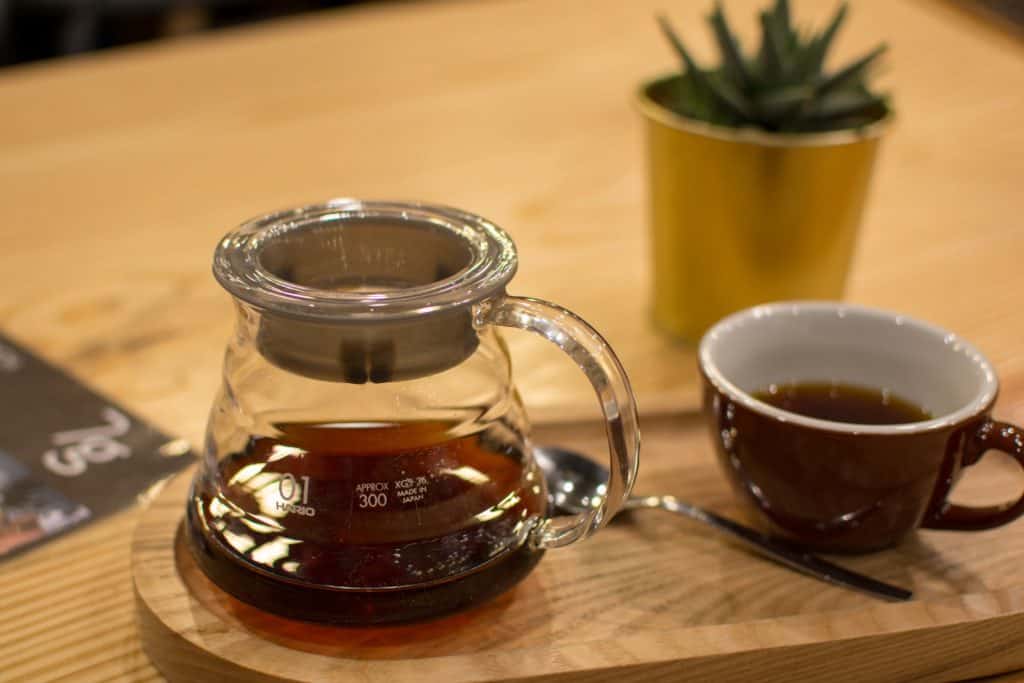 The V60 of Ethiopia Rocko Mountain that I ordered had a whole palate of exotic flavours, and the balance between acidic fruits and cocoa made it an absolute delight of a caffeine rush.
More than a commodity
Since third wave coffee is still not a term widely used in Portugal, customers often show interest in the process of roasting as well as brewing of their coffee. The giant "Joper" roaster placed in the very spotlight of the cafe is also the reason why David always engages in a conversation with his customers, explaining in a great detail the difference between the coffee served at 7g and coffees served elsewhere in Portugal.
"When customers drink their coffee, they understand better what is in their cup. Different taste notes, the meaning behind acidity, etc. It is like a circle. It is not enough to just serve good coffee. It is important to explain how it gets to their cup and to do so with attention to details and a smile!", David talked about the importance of communication with customers.
Inspired by the international cafe scene
For the opening of 7g, Carla gathered inspiration from numerous cafes all around Europe and therefore you will find Scandinavian designed furniture, with slightly industrial-like decor details. The cafe itself is very spacious and well-suited for groups of people and events such as public cuppings. Details of cork and a fishing net covering the ceiling stand out really nicely and make a very cosy, marine-like atmosphere representing Portuguese fishermen traditions. The shared seating area invites you to engage in a conversation with the coffee enthusiasts sitting across the table from you, which I enjoyed very much.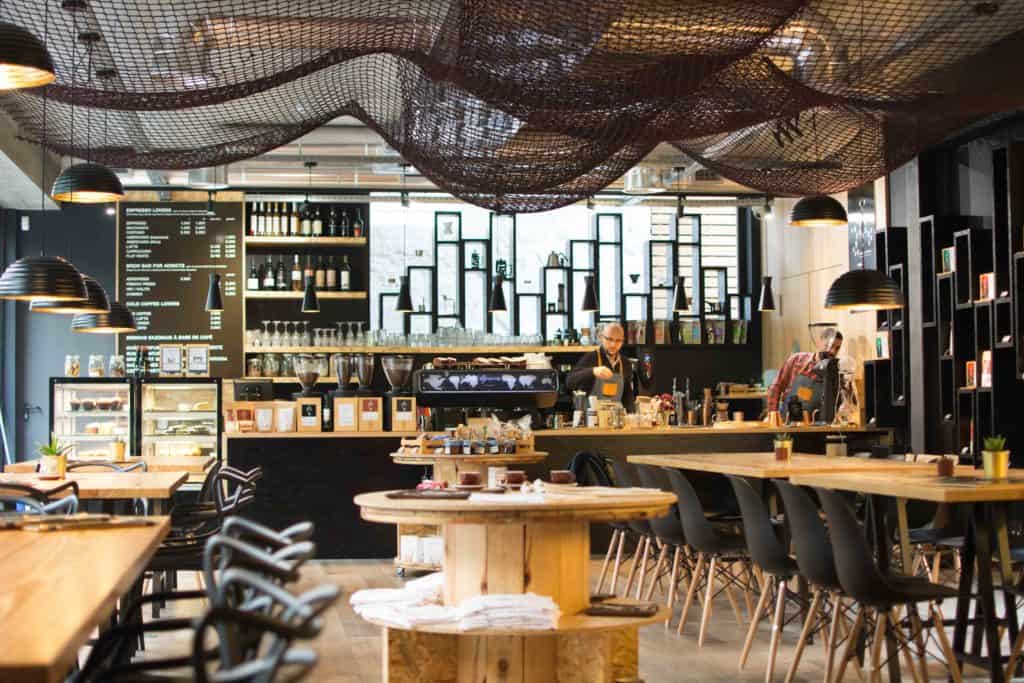 Menu representing the regional produce
Your experience at 7g will be complete thanks to the regional selection across their whole menu. You should not miss the selection of wines, or so-called "wine tasting experience". Although I found it slightly unusual, for a cafe, I soon related to it. A set of wines from different regions in Portugal are offered to you with a brief introduction to each of the wines followed by sampling. "Wine is the representation of what this region is famous and respected for", David mentioned the reason behind the wine list.
In general, the Gaia area has a very modest and genuine feeling. "We do not want to distance ourselves from the Portuguese culture, therefore we source our pastries, vegetables and wines from the Gaia region", Carla pointed out. Based on her words, drinks and food should not overlap or compete. Instead, the two should complement each other. Therefore, when considering new products whether that is new coffee origins or culinary delights, they look into how well those blend in with the whole menu.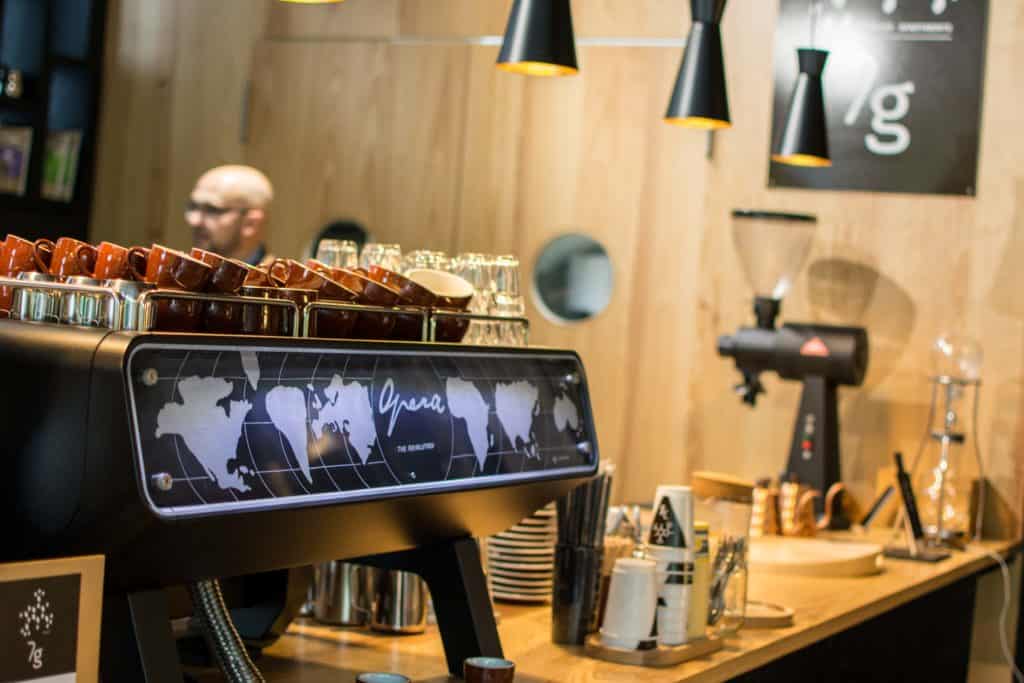 Roaster apartments bringing a coffee tourism bloom
The other essential part of Carla's vision was to build a complex of 7 apartments that would surround the cafe and the roastery. Hence the long name, 7 Gaia Roaster Apartments.
You will find 7 modern, cosmopolitan-style apartments just right above the cafe, offering visitors exclusive comfort. The main idea behind the apartments was not only to provide a comfortable stay for visitors of Gaia but to have them experience coffee from the moment coffee beans enter the roaster all the way to their cup. They are introduced to the cafe and the roastery, the concept of speciality coffee, brewing methods, diverse coffee origins, as well as the team at 7g. As part of the hospitality experience, guests get a well-balanced breakfast with a coffee recommendation from the baristas.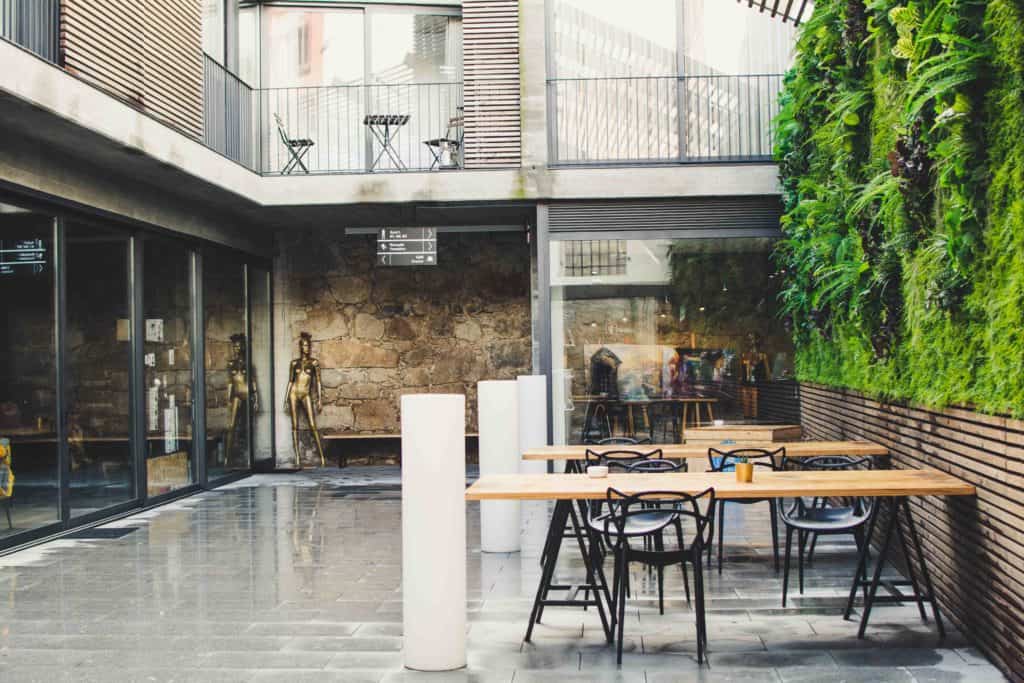 On the other hand, if you do not feel like leaving the comfort zone of your apartment, there is a French press and a bag of pre-ground coffee with a brief manual on how to make your own coffee. This makes the whole experience of staying at 7g apartments feel more coffee-bonded. You can already prepare your senses for the experience while you brew the French press, as the aromas of freshly roasted coffee beans escape the roastery just below the apartments.
I look forward to 7g expanding their spectrum of hospitality with, perhaps, a coffee cupping or other similar coffee activities for their guests.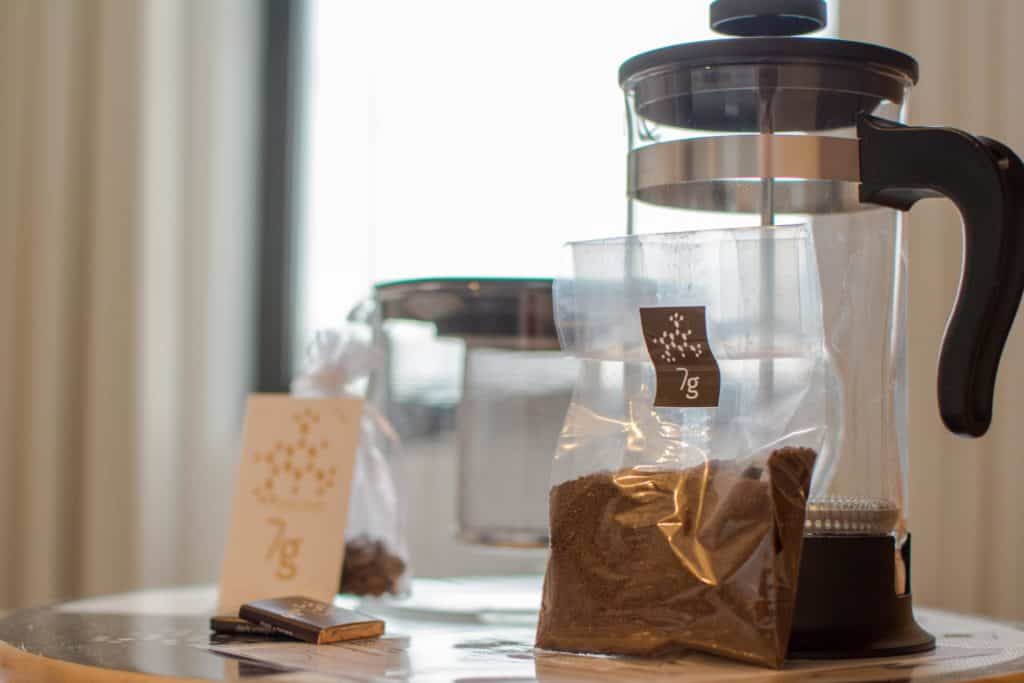 Gaia is the perfect destination for your next coffee quest. The combination of the idyllic location and a freshly roasted speciality coffee is added to with a highly comfortable accommodation. There is nowhere else to get better-rested while discovering the blooming Portuguese speciality coffee.
Rua França 26, 4400-111 Vila Nova de Gaia, Portugal
Website, Facebook, Instagram